We're SO EXCITED to share today's Christmas tutorial that we made exclusively for Winkelen Magazine!
Winkelen is a monthly online home magazine that we have been drooling over all year. They showcase unique and beautiful homewares, stylish DIYs and profile talented makers — all perfectly presented in their stunning publication with easy navigation. Can you tell we're in love?!
As you know, we can't get enough of our concrete DIYs and during the festive season when so much decor is made from plastic, it's nice to have a natural and organic form in your home.
These DIY concrete Christmas trees mix two of our favourite materials — raw concrete with blingy metallic — to create modern, minimalist and on-trend Christmas accessories for your home.
You will only need a few materials and can make these trees in five easy steps!
Items you will need
Steps:
Mix up the concrete using 1 cup cement, 1 cup sand and ½ cup water.
Create a plastic cone by rolling a piece of heavy plastic sheet on an angle. Sticky tape the sheet in place and seal the tip of the cone with a piece of sticky tape.
Burry the cone ¾ deep in the remaining bucket of sand to secure it in place and fill with concrete.
Allow to dry for 24 hours. If it feels like it might tip over during this time, gently position some objects around the cone to ensure it stays put.
Once the cone of concrete is completely dry, remove the plastic sheet and paint the tip of the cone in gold paint. If you don't have a steady hand, you can masking tape around the tip to ensure you get a clean edge.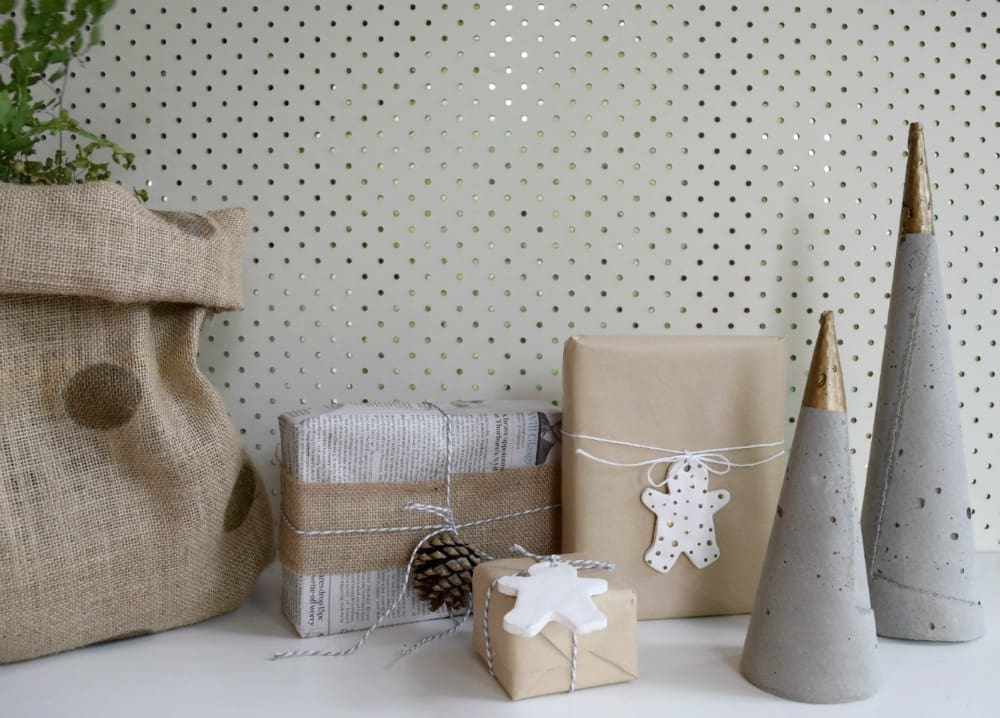 Tips:
Make sure the concrete is completely dry before you remove the cone from the plastic or your tree will crumble.
If you are making several trees, try rolling the plastic at different angles to create different shape trees and in a variety of sizes.
We love these stylish concrete Christmas trees and think they look best when you cluster 2-3 together in different sizes.
Check out our DIY, along with loads of stylish DIYs from Craft Hunter, and stacks of other Christmas inspiration in this month's free publication!