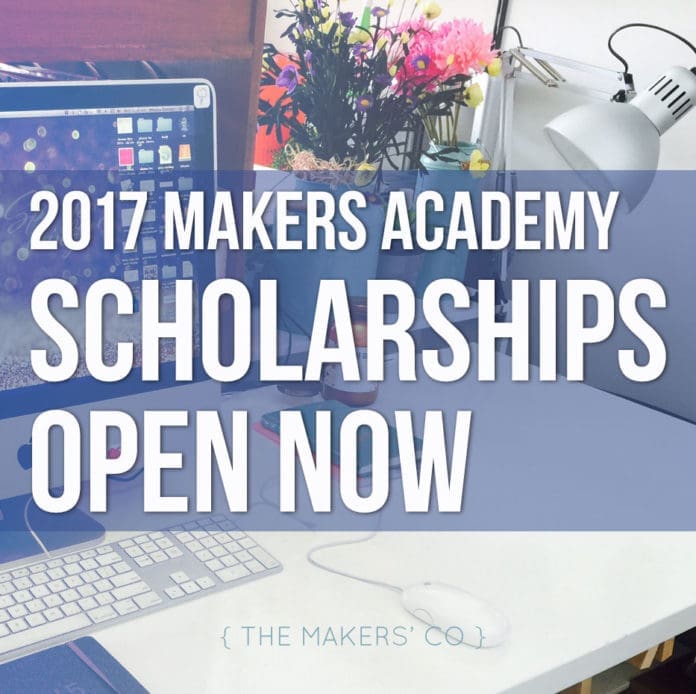 Have you ever wanted to kick start a creative career or know someone who does?
I was lucky enough to have a career in web development and social media before starting STYLE CURATOR which enabled me to turn my ideas into a business. After a heck of a lot of hard work, I'm now earning an income from SC while working flexibly around the needs of my little bub. Yes, it really is a dream!
Many people have terrific ideas to start their own creative businesses but not necessarily the experience or skills to make it happen.
I'm so excited to announce I'm partnering with the 2017 Makers Academy Scholarship program where there are 17 scholarships to help recipients do just that — kick start your own creative career!
The Makers Co is founded by Mikaela, a qualified teacher, photographer, graphic designer… and many other skill sets! She is offering 17 full enrolment packages to the Makers Academy plus a 30 minute virtual mentioning session, each scholarship valued at $645.
Knowing Mikaela personally, I'm confident this scholarship will help you learn new skills, gain confidence and boost your motivation to pursue your creativity.
About the scholarship
If successful, you will gain access to the Makers Co full enrolment package including:
– Build Your Own Website course
– Divi Masterclass
– Blogging for Beginners
– Photography for Beginners
– Product Photography
– Photos for Social Media
– Business – Plan Class
– Business – Launch Class
– Business – Grow Class
– Graphic Design for Small Biz
– Clever Design Club
– Design Tech Skills
– 30 Minute Virtual Mentoring Session.
As you can see, this scholarship will help equip you with the broad range of skills you need to launch any creative business.
How to apply
Mikaela is passionate about supporting women, particularly those who are struggling with financial hardship, have survived or are experiencing domestic violence, are of Aboriginal or Torres Strait Islander descent, or are recent refugees. She will personally select five of the scholarships to support these women.
I have been invited to select one lucky scholarship recipient and I am looking for people with a clever (or stylish) product they want to launch or need assistance in rebranding or boosting.
You need to have a desire to develop your learning and make the most of these online courses and live workshops to take action with your business idea.
Open to international readers, you can apply from anywhere in the world.
Complete the online application form here before 12 May 2017.
Good luck!