We love reading what designers and industry experts speculate the big trends for the year will be so when World of Style expert designers released their 2017 Interior Design Trends Forecast Report, we of course had to take a look.
From wall paneling to galley kitchens, the forecast discusses 6 of the hottest interiors trends for 2017 for the modern Australian home.
"Thanks to popular television shows like The Block and House Rules, consumers are wanting to keep up with the latest trends and incorporate them into their own home. We have put together the 2017 Interior Design Trends Forecast based on the findings from our extensive travels, where we have spotted the interior styles and features trending around the globe. These results reveal what are sure to be the most vogue additions to homes in 2017," says Patrizia Romeo, Interior Designer at World of Style.
Feature tiles
"This year, unique tile formats will take centre stage in the interior design world. Gone are the days of regular shapes and rudimentary lays — 2017 will see the emergence of invigorating new tiles designed to enhance central areas of the home, including kitchens, bathrooms, entrance ways and porches.
"Large format tiles are a relatively new phenomenon, thanks to recent advancements in tile technology, and we foresee this as one of the major interior design trends of the year. Another striking trend in 2017 interior design will be 3D feature tiles. This brand new tile design features curved and triangular shapes that add a stylish art deco spin to any living space."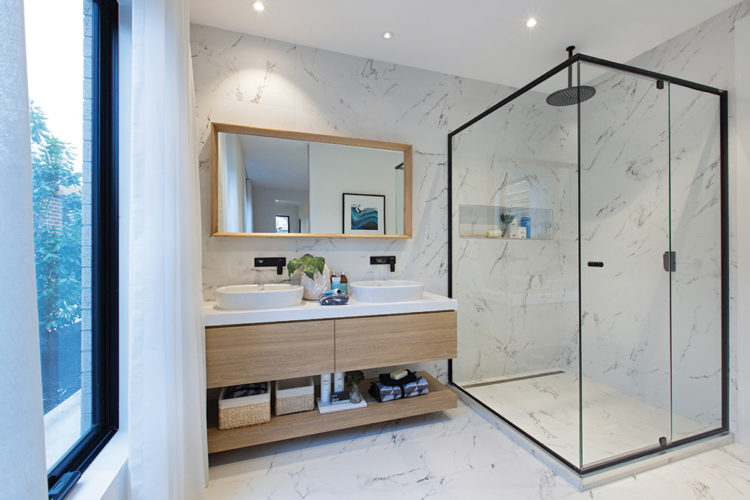 Contemporary wall panelling
"2017 is the year of reinvention for traditional wall panelling. The introduction of different materials and applications has created fresh surfaces and textures that are set to dramatically redefine the look and feel of interior spaces. Raw timber panelling will be highly sought after this year, allowing for simple yet eye-catching designs that ensure perfect uniformity from floor to wall. And white wash timber creates an illuminating atmosphere that helps to open up indoor spaces.
"Interior cladding is another form of wall panelling that will be making a spectacular entrance in 2017. While in the past cladding has predominantly appeared on exterior façades, this year will see cladding making its way indoors, acting as an extension of the outdoor space."
Wine cellars
"For any wine connoisseur who has ever wanted to showcase their collection to best effect, this 2017 interior design trend finally gives them the time to shine. Wine cellars are quickly rising in popularity, handily combining aesthetic design with functionality. Tucked right into nooks and crannies around the home, modern wine cellars invest these smaller spaces with fresh purpose and new dimension. This trend represents a new way of thinking outside the box when it comes to different interior areas. Decorative elements of wine cellars include customised timber or chrome wine racks and LED feature lighting. The results can be dramatic, transforming the practical storage of ordinary objects into a statement piece of art."
Matte black finishes
"In 2017, interior design will have the chance to experience this trend in the form of the matte black finish. This finish will appear on various fixtures and fittings throughout the home, enhancing modern interiors in a trendy yet sophisticated and beautifully understated manner.
"With its edgy appeal, the matte black finish marks a stylish departure from traditional chrome finishes. It is especially well suited to the aesthetics of contemporary and designer homes."
Marble surfaces
"Marble look surfaces have been an interior design favourite in recent years, coveted for the aura of luxury and sophistication they bestow upon interior spaces. 2017 will welcome new iterations of this trend, breathing fresh life into kitchens and bathrooms and ensuring marble's continued popularity.
"While 2016 introduced Calcutta and Carrara marble in a plethora of shapes and patterns, this year different marble tones and colours will be coming through with stunning natural variations. Emerald green and silver grey marble looks in particular will be dominating the interior design scene. These European-sourced stones exemplify the beautiful elements of nature in an indoor setting, while adding a touch of opulence to benchtops, feature walls, and other tiled surfaces."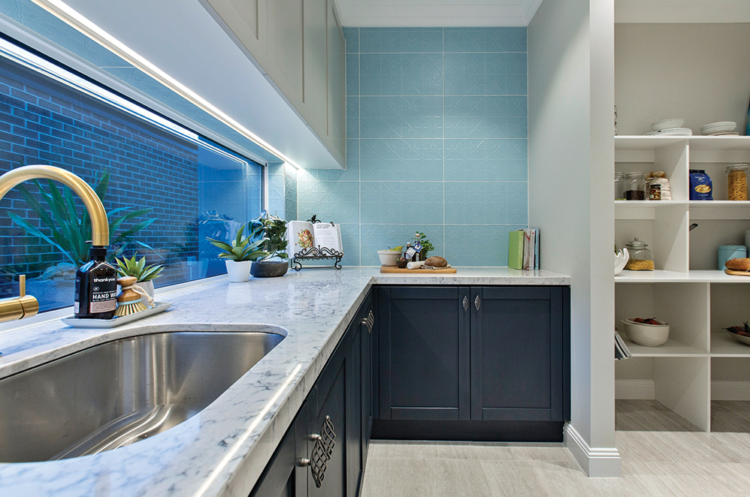 Galley kitchen
"In 2016, we saw the shift in kitchen design as they developed into multi-functional spaces. No longer just a communal area, the kitchen quickly grew to occupy the role of central hub of the home. With food preparation still requiring a dedicated zone, however, the presence of a secondary kitchen space became necessary. Introducing the galley kitchen, another interior design trend set to hit the ground running in 2017.
"Ideal for larger families and entertaining guests, the galley kitchen is a smaller room adjacent to the main kitchen. It typically contains a long benchtop and storage options for dry foods and your most-used smaller appliances, although extra facilities such as a sink, oven and cooktop can also be added. Walk-in pantries are a common feature of the galley kitchen, providing handy shelving for packaged goods and crockery. The galley kitchen ensures less benchtop clutter, offers extra storage space, and allows for a smoother cooking and meal preparation process, out of sight of guests.
"2017 is an exciting year for interior design with interesting design elements, ideas, materials and techniques now more readily available and accessible for consumers to include in their own home. Consumers are also being bolder and more brave in their design choices and are adopting trends earlier than in the past we have noticed," says Ms. Romeo.
Read the full forecast on the World of Style website here.
What do you think of this trend forecast? Is it more of the same to you or are you excited by these predictions?