It's hard to believe that this time last year we were polishing the concrete of our newly poured slab…
2015 was an epic year, filled with highs and lows but looking back I'm proud of what we achieved and feel excited about launching into 2016!
That Italian proverb my father-in-law once told me — you know nothing of this life until you've married or built a house — rings all the more true now. Perhaps we were a bit ambitious building two houses for our first crack… and managing the project ourselves made it all the more challenging… but we got there!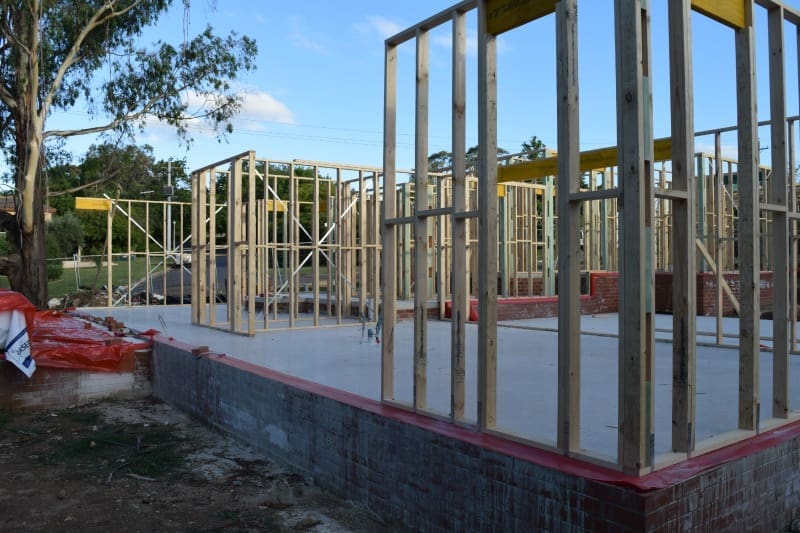 I hope my regular build updates and honest accounts of our struggles — selecting windows, managing a budget, managing expectations — helped you if you're building or renovating, or at the very least were entertaining 🙂
If there's one thing I can say about the whole process, it's that I learnt a lot! And despite it being harder than either of us imagined, we now have a home that's just right for us.
I'm glad I stuck to my guns on many things during the build like keeping the polished concrete in our lower ground level (so many people tried to warn me against it and it made a big dent in our budget but it's one of my favourite features of the house) and splurging on some little fixtures that I just love (like the copper tap in the kitchen and Copper ID pendant light in the dining room).
But I also learnt to compromise and forgo some things that just weren't that important which helped us finish relatively within budget. Sure under-slab heating, a glass ceiling in the ensuite and outdoor swimming pool would have been nice… but having a finished house is nicer and there's no way we could have afforded those luxuries. As it turns out the bath didn't even fit in our ensuite so the glass ceiling would have been wasted there, I did manage to get under-tile heating in our ensuite, and there's always the hope that one day I could get that pool 😉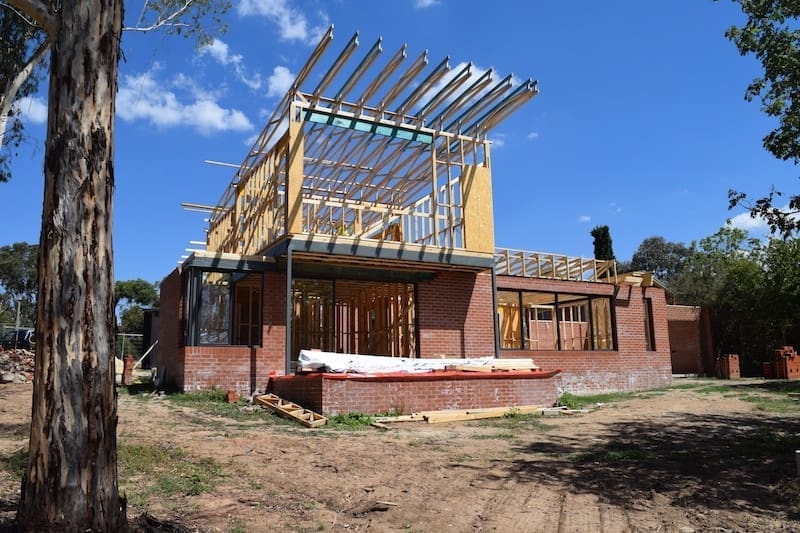 If you followed my build journey you'd be aware of many of the hiccups we experienced along the way, like the constant delays and incidents like flooding! But there are so many more stories I could tell you that I can now look back on and laugh about.
Maintaining a good sense of humour and keeping focussed on the bigger picture of finishing the house are the two things that probably kept us sane. It's inevitable that things will go wrong and there'll be issues you have to deal with that you won't want to, but how you deal with them will make all the difference.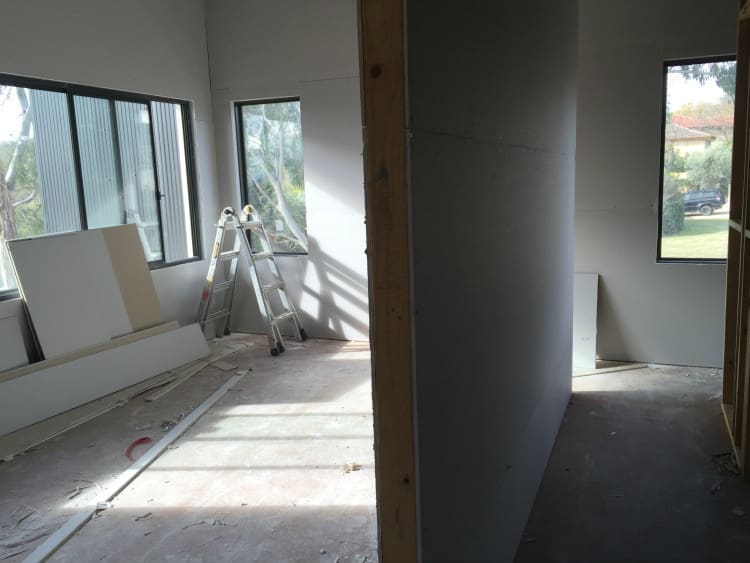 It's been a couple of months since we moved into our new house and each week it's feeling more and more like the home I always dreamed of.
While there's still a way to go yet — I have a long list of furniture pieces I want/need and our front garden still looks very much like in the photo above! — we are making constant progress.
Just this week my original Annie Everingham artwork arrived and it now hangs in our dining room. Annie was the first artist I ever interviewed for SC and this is my first commissioned artwork so it's extra special to me… now to finish the dining room I just need to get a sideboard and decor to style it, ha ha!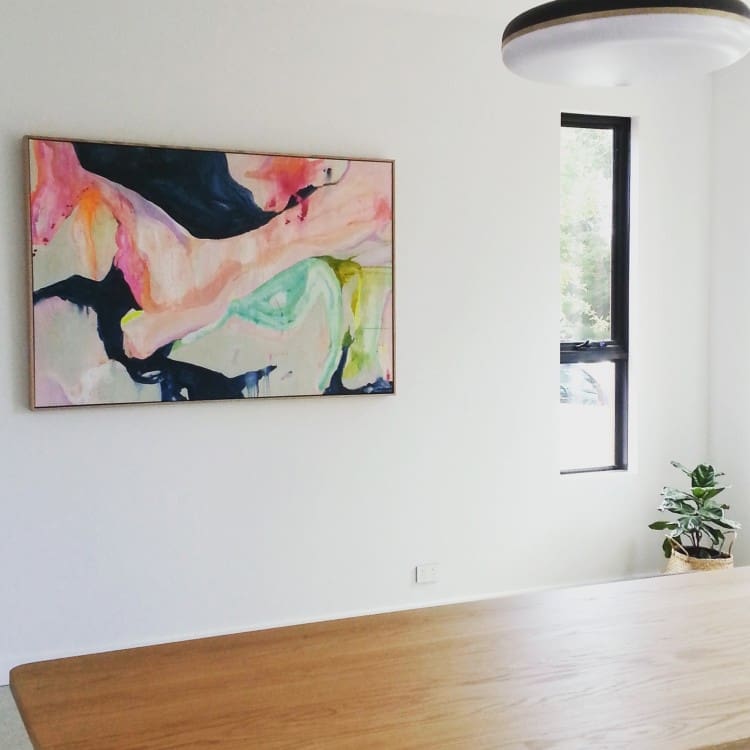 These Christmas holidays I'll be focussing my attention on the nursery and transforming the room in the pic below into a welcoming space for mini Ciancio who will be here before we know it!
I've got some thrifty DIYs and hacks in mind to create some low-cost furniture pieces, and am starting to get a clearer idea of the room I want to create so stay tuned…
Earlier this month I revealed the first room of our home, our ensuite, and over the coming months I look forward to finishing and revealing more rooms in our house. Fingers crossed in Jan I'll be able to share our kitchen with you.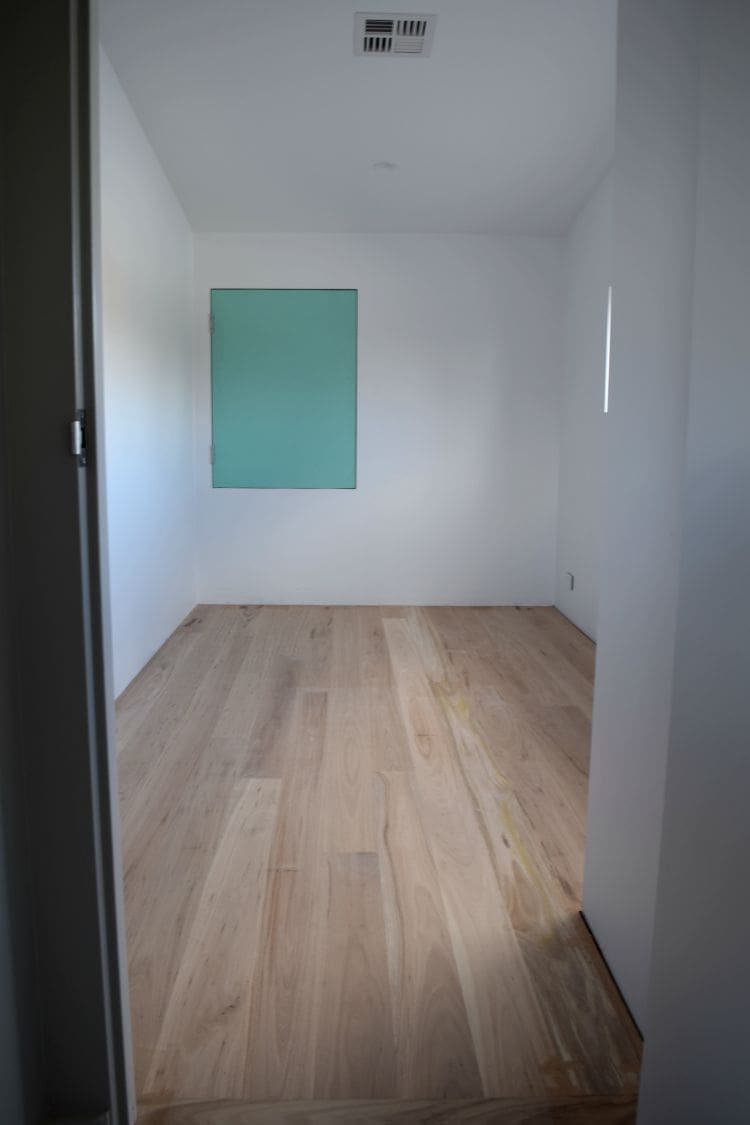 Thanks to all of you for your constant support during our build — your words of encouragement and advice helped me more than you'll ever know! xx