Today, I'm excited to share a sleek and sophisticated black kitchen, I recently completely for a new home by R.E.P Building.
I often get asked which colours to choose for a kitchen. A kitchen is a big investment, so I often recommend a timeless and classic palette. Personality can be added through textures and details, like pendant lighting, handles, tapware and kitchen styling.
The brief for this new kitchen (cabinetry by Impact Joinery) was modern, minimal and sleek. My absolute favourite way to design – balancing function, beauty and simplicity.
The overall finishes for this new home, was a mix of warm timbers, polished concrete, black fixtures and crisp white walls, so a sleek and sophisticated black kitchen, I knew, would be a show stopper. However, minimal and sleek often benefits from a pop of something textural to give the space visual interest.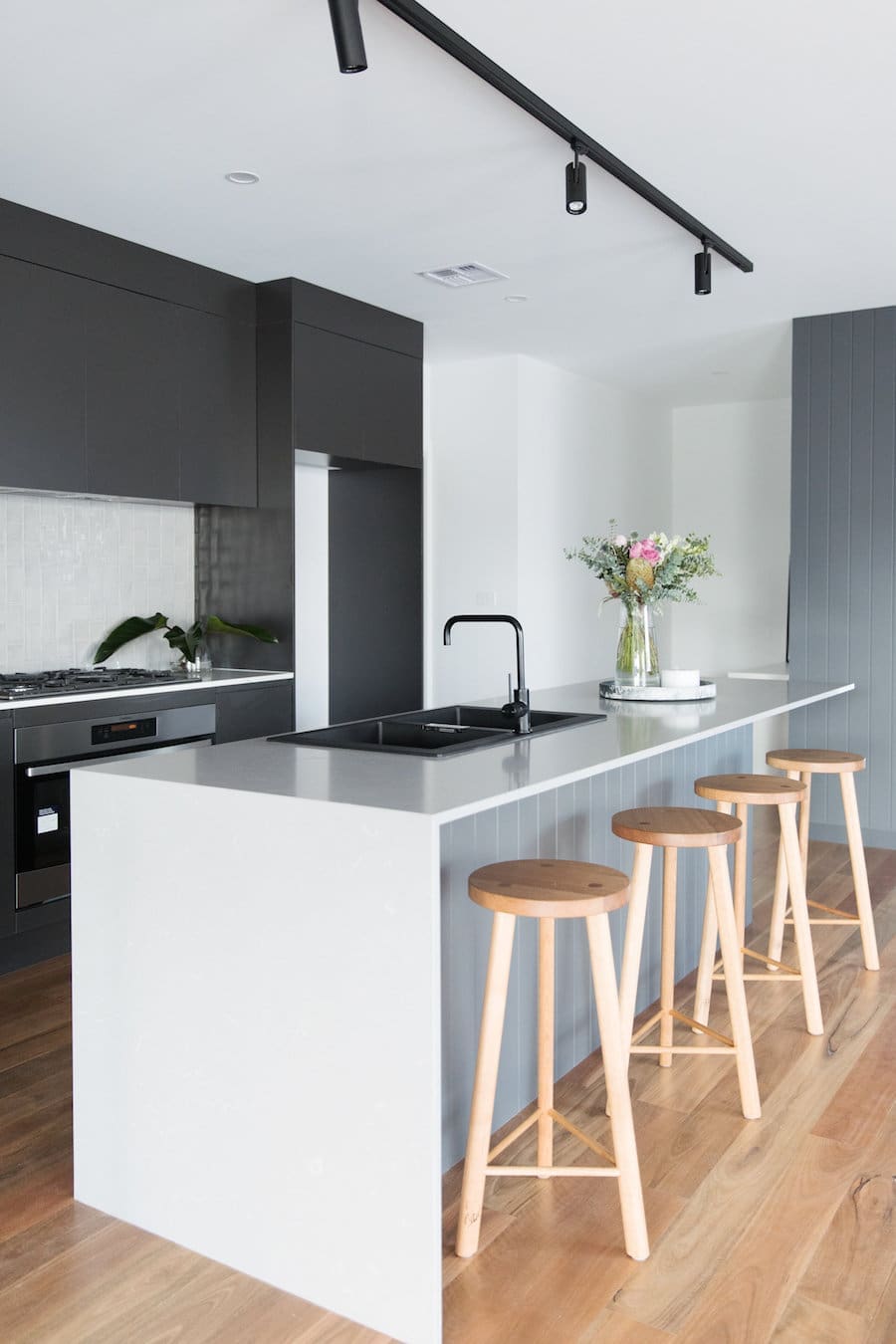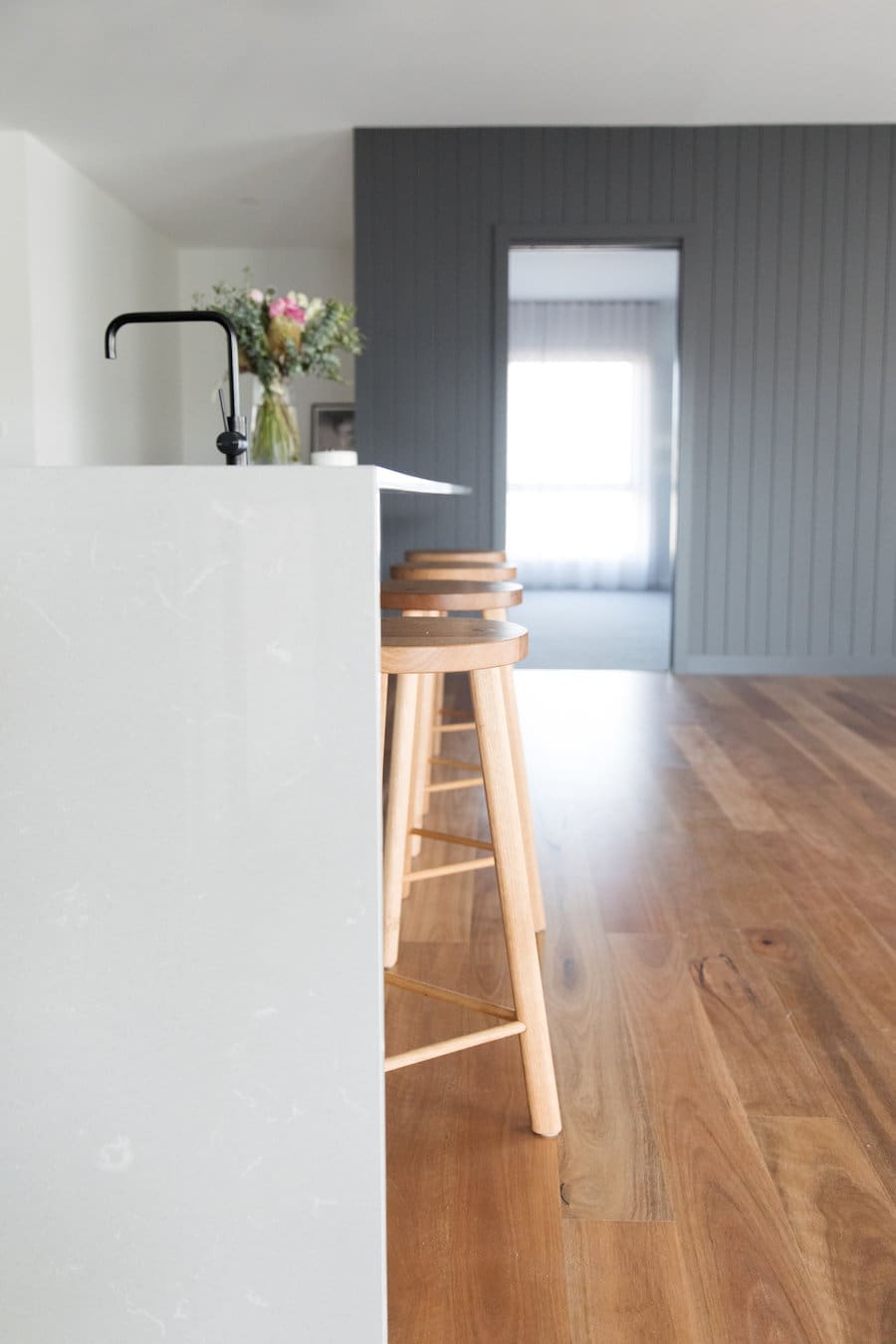 The two areas I often use to give visual impact are the kitchen splash back and the island bar back (the bar back is the panel underneath the island benchtop). There are so many interesting things you can do in these spaces to make a kitchen go from ordinary to extra-ordinary!
To add some interest to the matte black joinery ('Cider matt' by Polytec), I was immediately drawn to some soft grey, handmade subway tiles that were all a little uneven and had a slight sheen that caught the light. Instead of tiling them in the traditional horizontal brick pattern, I went for a vertical brick pattern, to tie in with the rest of the home where I used vertically panelling as a feature.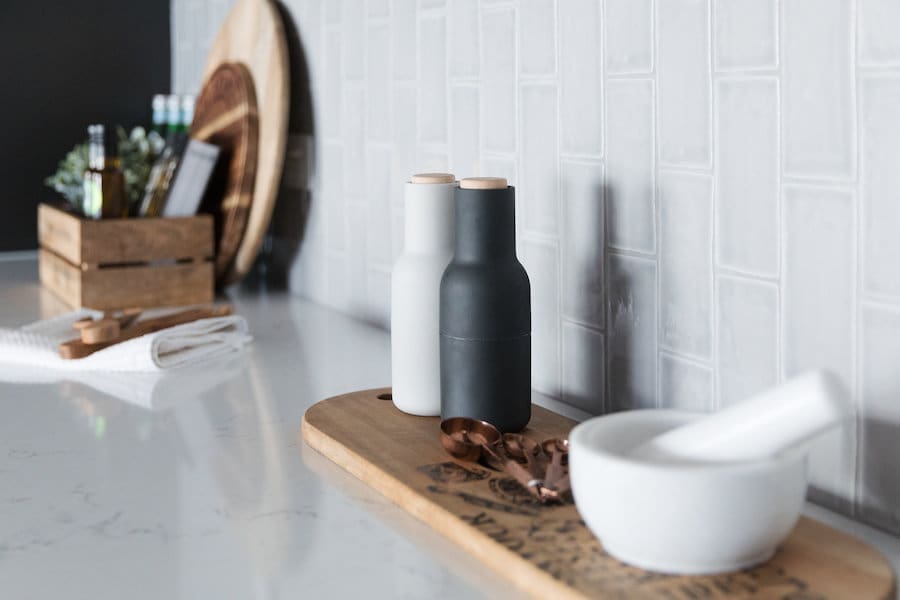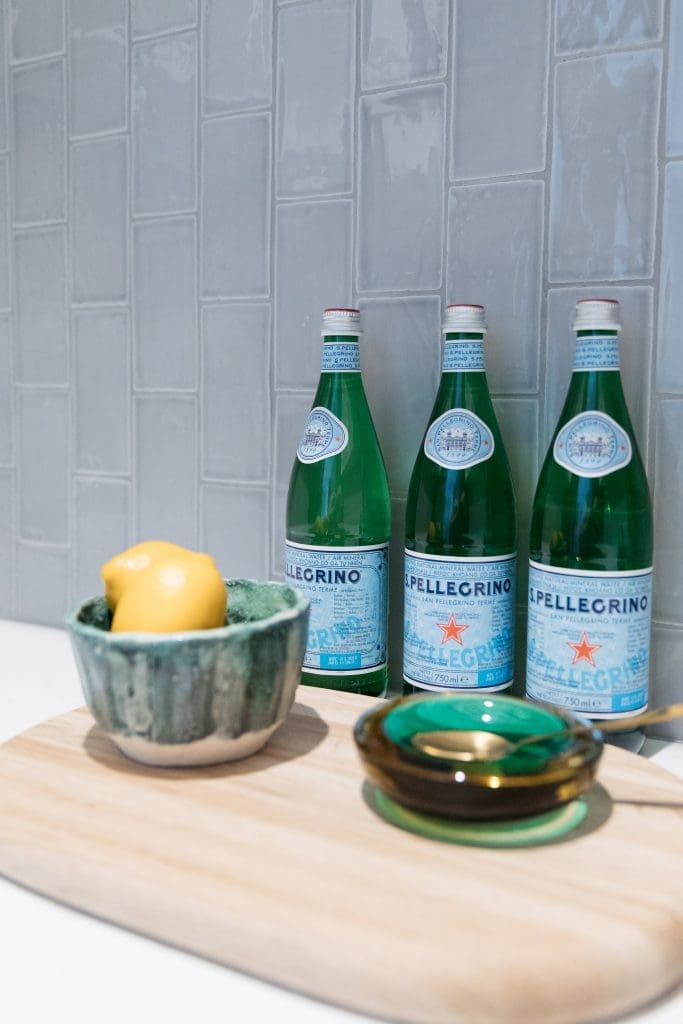 I wanted the island bench to look like a piece of furniture. To achieve this look, I opted for only one waterfall edge (benchtop is 'Pietra Serena Quartz' by Quantum Quartz), and extended the benchtop on the other side so it had an overhang. This meant I could wrap vertical panelling along the island bar back and around the side of the island. This feature brings texture and interest into the kitchen along with vertical subway tiles. The dark panelling, along with the concrete look benchtop is a great way to break up the matte black joinery.
The walk-in pantry (WIP) is also a space that needs to be carefully considered in the overall look of your kitchen. The challenge here, was to make the WIP look like it was part of the kitchen joinery. So, I recommended that we remove the WIP sliding door and make the whole section joinery with a bifold door. This ensures that the whole kitchen looks cohesive and the WIP was not an afterthought.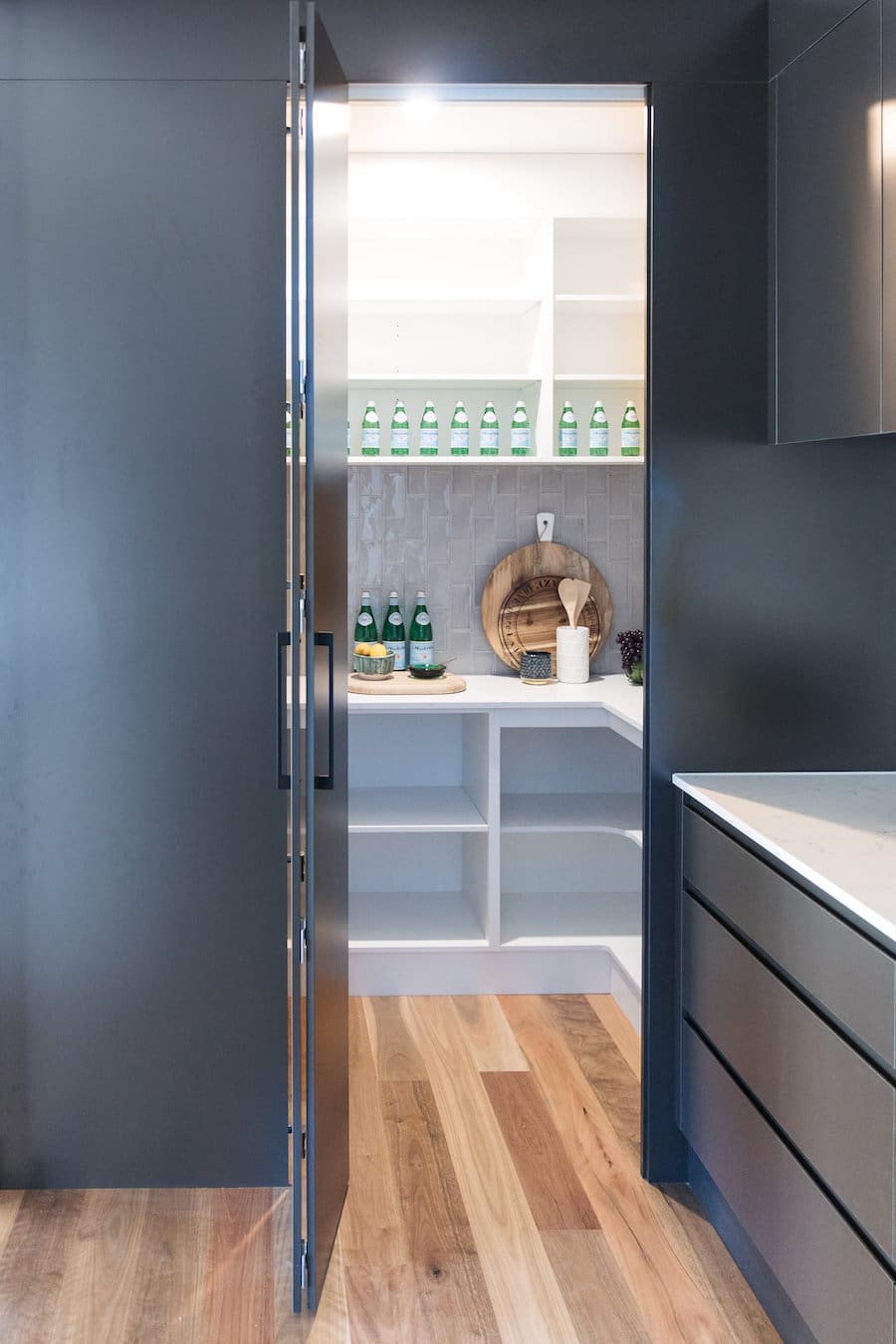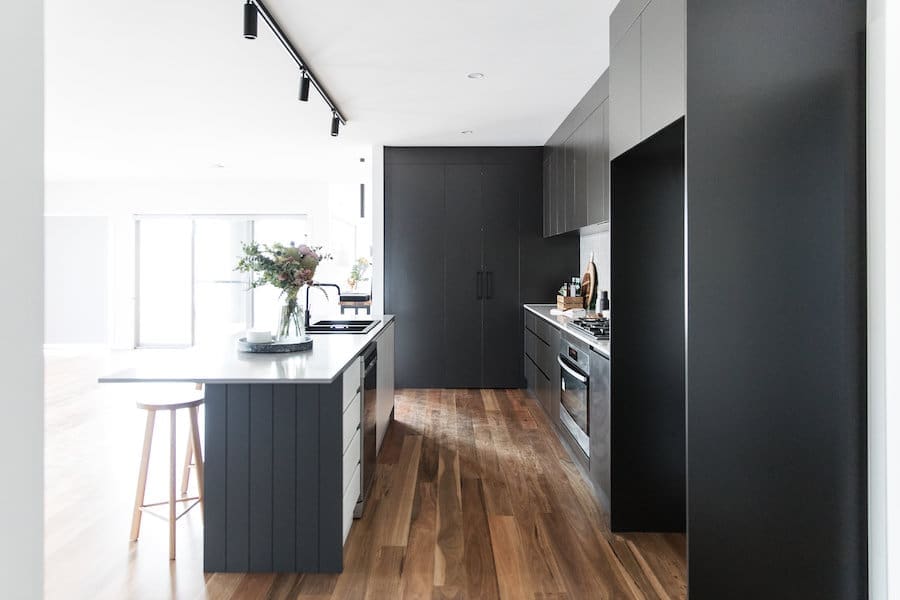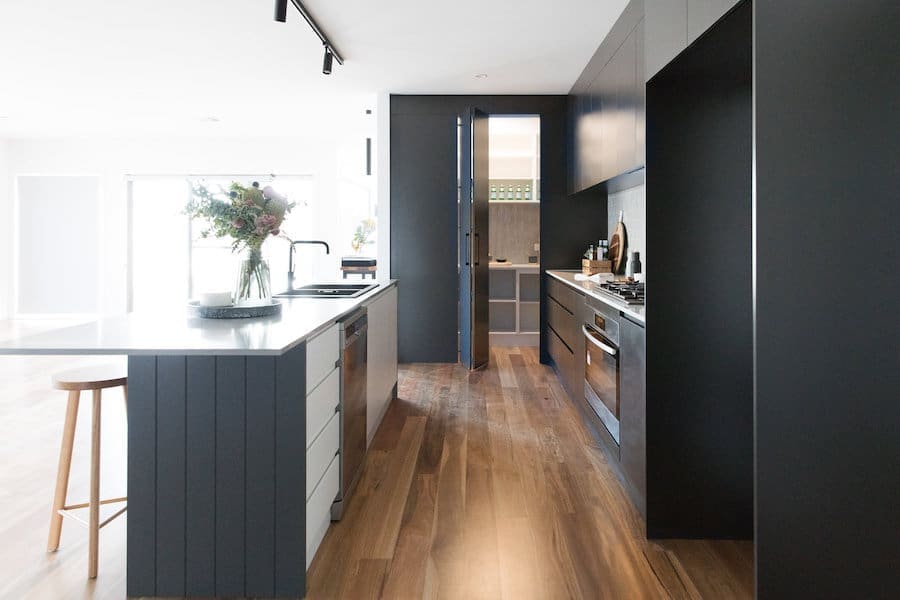 For a stylish and sophisticated alternative to an all-white kitchen, consider coming to the dark side — a black kitchen is classic, timeless and uber chic.
Builder: R.E.P Building
Photography: Thorson Photography
Design and Styling: Studio Black Interiors