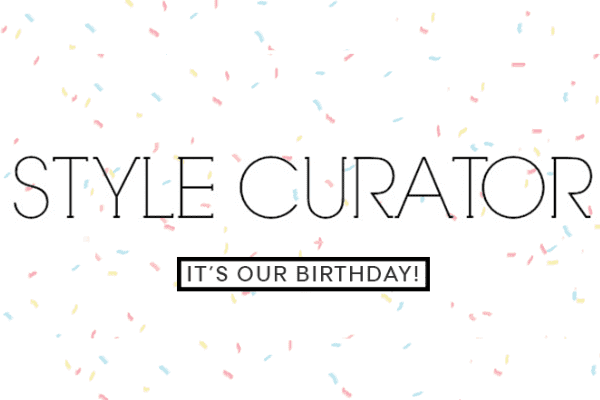 There's a big party happening at HQ today as we celebrate STYLE CURATOR's first birthday!
It's been an amazing year of inspiration, happiness and a wonderful sense of community. THANK YOU for joining us on the journey!
I started SC 12 months ago when after a rough day at work I decided it was time to begin pursuing my dream… trouble is, for a long while there I didn't know what my dream was. So in the routine of daily life, I had forgotten to stop and wonder what I'm passionate about and what I would do for the rest of my life if I could do anything!


When the idea struck me to start a blog about home and interiors it seemed so obvious and silly I hadn't thought of it earlier. I grew up with strong influences of architecture, design and decorating and always had a serious passion for the home. About to start the build of my new home, it felt like the perfect time to launch the blog and journal that experience.
It's been an amazing 12 months with too many highlights to mention. Most of all, I've loved getting to know our readers and helping to inspire you to create your most stylish home — one that reflects your individual style and makes you feel happy.
It's also been wonderful to use the blog as a way to share the stories of small businesses, artists and makers to support them on their journey. These have included artist Annie Everingham, newly launched lifestyle brand Nathan + Jac, and TANDA candles.
And we're SO EXCITED they've decided to join in on our birthday celebration, providing some truly awesome products that we'll be giving away this month! We'll be playing some fun games on Facebook and Instagram, and running giveaways on the blog too. If you're not already part of the SC e-newsletter community, be sure to subscribe so you don't miss a thing!