Today we are so excited to introduce you to a fellow blogger — Helen Edwards of Recycled Interiors.
We met Helen at a blogging event last year and are huge fans of her eclectic style and brand values.
"Recycled Interiors is your go-to resource for being sustainable, healthy and happy at home with four main elements to the brand — the blog, our online store, the newly launched Sustainable Decorating Directory, and my decorating services," says Helen.
Our motto is "A happier, healthier home, that doesn't cost the earth".
Helen loves homes that are individual, unique and precisely how the inhabitants want it to be.
"I don't follow trends and prefer an un-trends approach. There is nothing better than walking into someone's home and knowing who they are from the environment they have created.
"At Recycled Interiors blog, you will find sustainable decorating and design, DIY and upcycling ideas, as well as healthy lifestyle and wellbeing tips and inspiration.
We take an holistic approach with daily posts about how to make mindful, sustainable and ethical choices in your interior decorating and design without compromising on style.
We asked Helen to share her top five tips for creating a more sustainable home.
"Firstly, always consider where your furniture and homewares have been made and buy local.
"Don't go for it just because it's cheap. If it costs bugger all, it has probably been made in unfair conditions with low-quality materials, and will end up broken and in the rubbish in six months. Look at the fair trade elements of the piece and whether the maker has been treated well, or buy direct from the maker if you can.
"Thirdly, I suggest looking for recycled, upcycled and sustainably grown materials.
"You can make great changes in your home by rearranging current furniture and homewares, shifting around artwork or even swapping with a friend for something new — reuse, reinvent and restyle!
"Finally, you can shop vintage and second hand, the most sustainable pieces are those that already exist."
Talking about buying sustainable and recycled, we are drooling over the latest additions to the Recycled Interiors online store.
"The online store and Adelaide studio offers one-off, hand picked vintage and upcycled pieces, as well as sustainable, eco-friendly and fair trade homewares. We have an eclectic array of homewares and furniture, carefully curated by me to create a sustainable and stylish home."
The newest arm of the Recycled Interiors brand is the Sustainable Decorating Directory.
"The aim of the directory is to create change of thought and action for consumers — to highlight and promote businesses that tread more lightly on the planet — and we can't wait to launch it soon.
"The directory will bring together homewares, furniture, textile, DIY, lifestyle and even building brands. When people pick off the directory they know they will be supporting a business that meets our strict criteria of being locally made, sustainable, recycled, fair trade or eco-friendly."
There are lots of perks for business to be included in the directory so if you're a maker or small business owner, we suggest getting in contact with Helen to find out more. And if you simply enjoy living in a sustainable way, why not follow and join the hashtags on social media #recycledfinds #recycledyou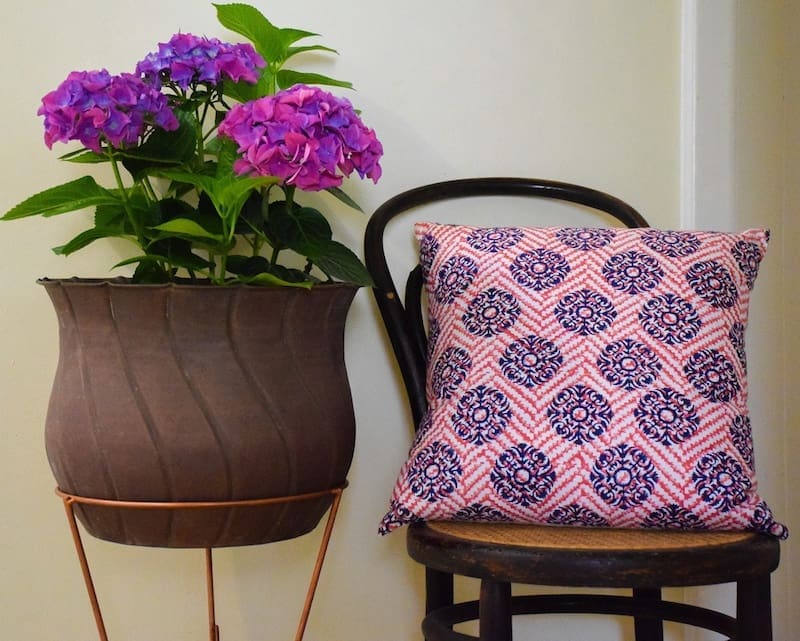 Currently finalising her studies in Design at the International School of Colour and Design (ISCD), Helen offers styling, decorating and colour consulting services.
"I guide clients around all of their decorating needs. My aim when decorating is to first look at making changes to your space through rearranging and repurposing existing furniture and items, and then looking at adding new pieces made by Australian designers and artisans in a sustainable manner.
Use your gathered treasures and beloved pieces and sure add in new things, but look carefully for things that reflect who you are and not what you think will make you "fit in".
"Lots of people tell me they just don't know how to put things together and they don't like the way their home feels. My e-styling service is a fantastic way for people to get some new ideas and inspiration if they're stuck with what to do."
Helen started Recycled Interiors in April 2013 after becoming burnt out from many years working in diabetes and running her diabetes charity. She also lives with type 1 diabetes and studied a PhD in Medicine around diabetes.
"I have always been very creative and wanted to write since I was a small child — I even won awards for several books when I was only in grade 1!
"Interiors and home are my world and I used to rearrange my bedroom and create zones as a child — I could be found shoving wardrobes around and faffing even all those years ago. I am also a painter, singer and a passionate advocate for human rights, sharing resources and saving our precious planet.
"Recycled Interiors was a way to incorporate all of my passions and give me that creative outlet I craved. Little did know how fast it would grow!"
As a wellbeing expert with over 28 years experience, Helen also offer wellbeing tips and ideas.
"I also help people with things like mindfulness training, relaxation and stress management strategies and positive visualisation, healthy eating and activity ideas and how to stay motivated."
Sustainable living isn't just a fad for Helen.
"I have been an op-shop and vintage fanatic since my bohemian parents introduced me to the magic of dusty second hand shops when I was just a little girl.
My own home is decorated in vintage, quality pieces and a few other items I have fallen in love with along the way. It is the blend of old and new that make my heart skip a beat.
"Sustainable living is important to me because the world is changing so fast and we're losing touch with what really matters. The drive from big media and corporations to consume, consume, consume, consume that is suffocating us and our world.
"I am passionate about living a life that leaves this beautiful planet in a state that allows future generations and other creatures we share the world with, to live long and well. I believe your home should create a little magic in your life. I am also passionate about health and wellbeing and believe these things can not be separated."
Helen's passion has seen the Recycled Interiors brand grow faster than she could have imagined. We wanted to know what's next.
"Oh there's so much going on!" laughs Helen.
"I am in the early stages of writing a book about decorating outside the square to create a sustainable home that includes house tours and advice on a range of things.
"The Sustainable Decorating Directory will soon launch. And the Stylist Collective is another initiative I started last year with three other fabulous stylists. We ran our first shoot at Christmas and I'm trying to find time to prepare for our next project!
"And in May we're hosting a reader event in Melbourne with special guest Barry Du Bois. The theme is using sustainable timber in your home, how to source and work with bespoke makers, and how to make your own sustainable timber projects."
You can visit Recycled Interiors to book your ticket for this free event and to check out Helen's fabulous blog. You can also connect with Recycled Interiors on Facebook and Instagram.