Houzz is one of our go-to sites for interiors and design inspiration.
There's an almost endless supply of professional photos from interior designers, stylists, architects and landscape architects. It was on Houzz that Gina spotted a kitchen designed by Greg Natale using quartz benchtop and marble splashback that inspired the use of materials in her kitchen.
And now everything that makes the Houzz website great and MORE has been turned into an app. Here's why you need it in your life!
1. Over 10 million photos
Yes, you read correctly. There are more than 10 million retina-quality photos on Houzz ready to inspire your next home project — whether it's designing a new home or simply redecorating a room. Houzz actually has the largest residential design database in the world!
As you find photos that inspire you, you can add them to your personalised Ideabooks which is the next reason you need the app.
2. Ideabooks
On the app you can create personalised Ideabooks to help you sort, edit and refine your inspiration.
Save photos or products you like, or take your own photos as you find inspiration, add comments or sketches (read more about this below), or play the Ideabook as a slideshow, or share it and collaborate with others… Phew! There's a heck of a lot it can do and this is only some of our fave features.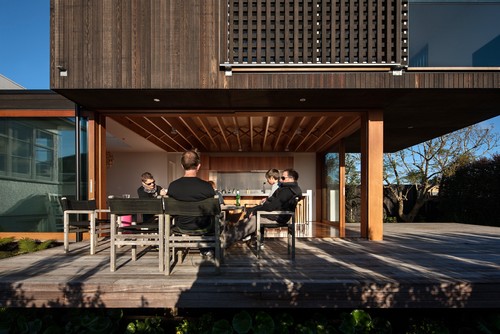 3. Curated products that will complete your home
Something readers tell us they often struggle with is finding the right pieces to buy for their home — pieces that will work with their colour palette or aesthetic. Well, the Houzz app can help with this too!
Under the 'Products' tab, you can browse through thousands of stylish products from furniture to small decor, and sort by category (i.e. room of the home or product type), style (e.g. eclectic, traditional, Scandinavian) or simply see what's popular today.
As you find products you like, you can add them to your personalised Ideabooks too.
4. Find professionals
If you need a professional to turn your ideas into reality, Houzz is the place to find them!
Search for professionals by type (joinery and cabinet makers to renderers, landscape designers to heating and air-conditioning contractors and more) and by location, and sort by best match or reviews.
You'll find photo galleries of their recent work, reviews from clients and other useful information to help you narrow your search.
5. Sketch tool
Saving the best to last, our top reason for loving the Houzz app is their new Sketch tool!
If you're a visual person, you'll become addicted to Sketch, which makes it even easier to communicate through images.
With Sketch, you can add products, comments, stickers or scribbles onto any Houzz image you like or your own photo.
So, say you're on the hunt for a new coffee table but can't visualise what will look good in your space… take a photo of your living room, upload it to the Houzz app and begin dropping in coffee tables from their database to see what style looks best.
You can experiment with a tonne of home decor options, adjusting the size and proportion of items until you're happy. It's like 3D moodboards, meets Pinterest, meets Polyvore but better.
You can also collaborate in real time with others, perfect if your stylist or home professional wants to show you a new look, or you want to get the OK from your partner before purchasing a new product.
To start Sketch'ing, you simply tap the Sketch button on any photo on Houzz or upload a photo to an Ideabook.
Check out this short video for more about the Sketch feature.
These are our top 5 reasons why you need the Houzz app in your life! Google Play seems to think so too, naming it the best Android app of the year at their recent Google Play awards.
Oh, and did we mention it's FREE?!! Get on it people! The app is available for iPhone from the App store and for Android from Google Play.