Supported by Canberra Outlet Centre
We've run some incredible giveaways and competitions over the years but we're pretty sure this one takes the cake!
I've teamed up with Canberra Outlet Centre – the home of many of my favourite furniture and homeware stores – to give away a huge $1000 Canberra Outlet Centre gift card PLUS a one-on-one shopping spree with me so I can offer my styling advice and help you shop up a storm!
With a wide range of stores including Freedom, Adairs and Provincial Home Living, the Centre is the home for your home furnishing needs.
You may have seen that I recently ran a mood board workshop with Canberra Outlet Centre and offered my top tips on how to create a mood board, and now we're asking YOU to use those tips to design a mood board for your home.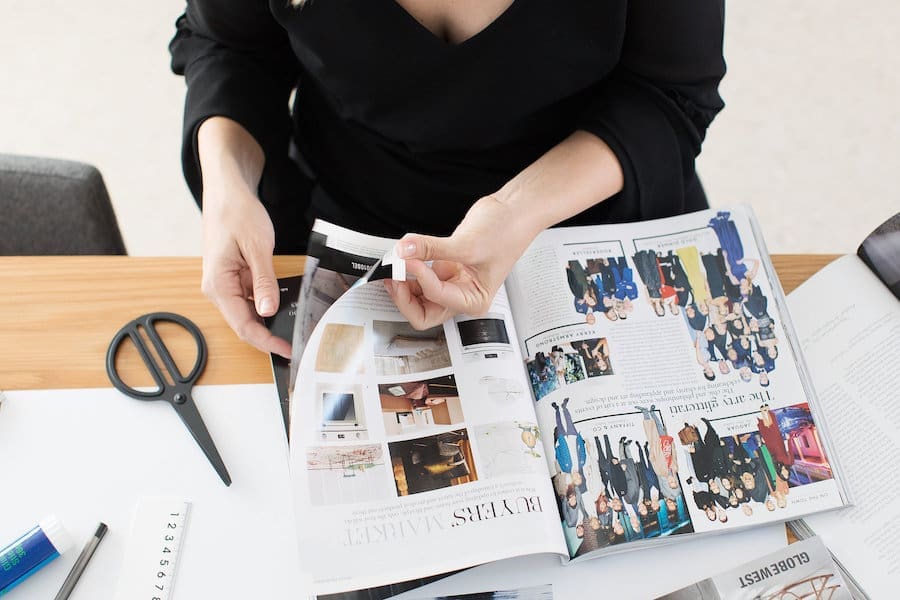 Competition details
To join in this incredible competition, we're asking you to submit a photo of the space you want to style in your home using the $1000 Canberra Outlet Centre gift card and to create a mood board of your inspiration for the space.
Before you think creating a mood board sounds too hard, let us assure you that you don't have to be computer savvy to create a beautiful mood board thanks to a range of free, online tools (such as Style Sourcebook) that take all the hard work out of it! We're also happy for you to submit a photo or to scan in a traditional scissors and glue mood board if you prefer. You can find all the info you need on how to create a mood board here.
How to enter
1.Take a photo of the space in your home you want to style. On your phone is just fine, this isn't a photography competition 😉
2. Create a mood board of your inspiration. Check out our article on how to create a mood board and then create your own mood board for the room you want to style in your home.
3. Upload your mood board to Instagram. Be sure to include in the photo caption the #canberraoutletmoodboard hashtag and our handles @canberraoutlet and @stylecuratorau. It's also a good idea to tag us on the pic so we definitely see it now that Instagram is shadow banning some accounts!
Note: we can only see entries from public Instagram accounts. If you don't have an Instagram account, or your account is private, you can submit your mood board and photo here instead.
4. Follow Canberra Outlet and Style Curator on Instagram. Be following both Canberra Outlet and Style Curator on Instagram.
Note: if you don't have an Instagram account, you can subscribe to our mailing lists when you use the form above.
5. Show some love. Check out the mood boards other people have created for their home by following the #canberraoutletmoodboard hashtag. Like, comment and encourage each other along. You can also 'share' this page to any social media site or email it to a friend to encourage more people to join in.
Did you know you can enter this competition more than once? So why stop at one mood board – perhaps you want to try a few different looks or enter a few spaces in your home? Best of luck!
Terms
The prize is a $1000 Canberra Outlet Centre gift card that must be redeemed in the centre, therefore we can only open this competition to people living in the ACT region or who are available and able to organise their own travel to Canberra during August 2018 to claim the prize. Competition runs from 4 June 2018 until 6 July 2018, and the winner will be announced on 12 July 2018. You can enter as many times as you like during the competition period provided each entry is valid and unique. This is a competition of skill and we will select the winner based on the person we think best develops a mood board to restyle their space.
Mood board inspiration
To inspire you to join in, I've created four mood boards that cover popular interior styles – minimalist, boho, Hamptons and contemporary Australian – using products available at Canberra Outlet Centre and offer my top tips on how to nail these styles.
Minimalist
The pared back aesthetic, strongly influenced by Scandinavian design, focuses on ultra-clean lines and comes down to a sense of functionality.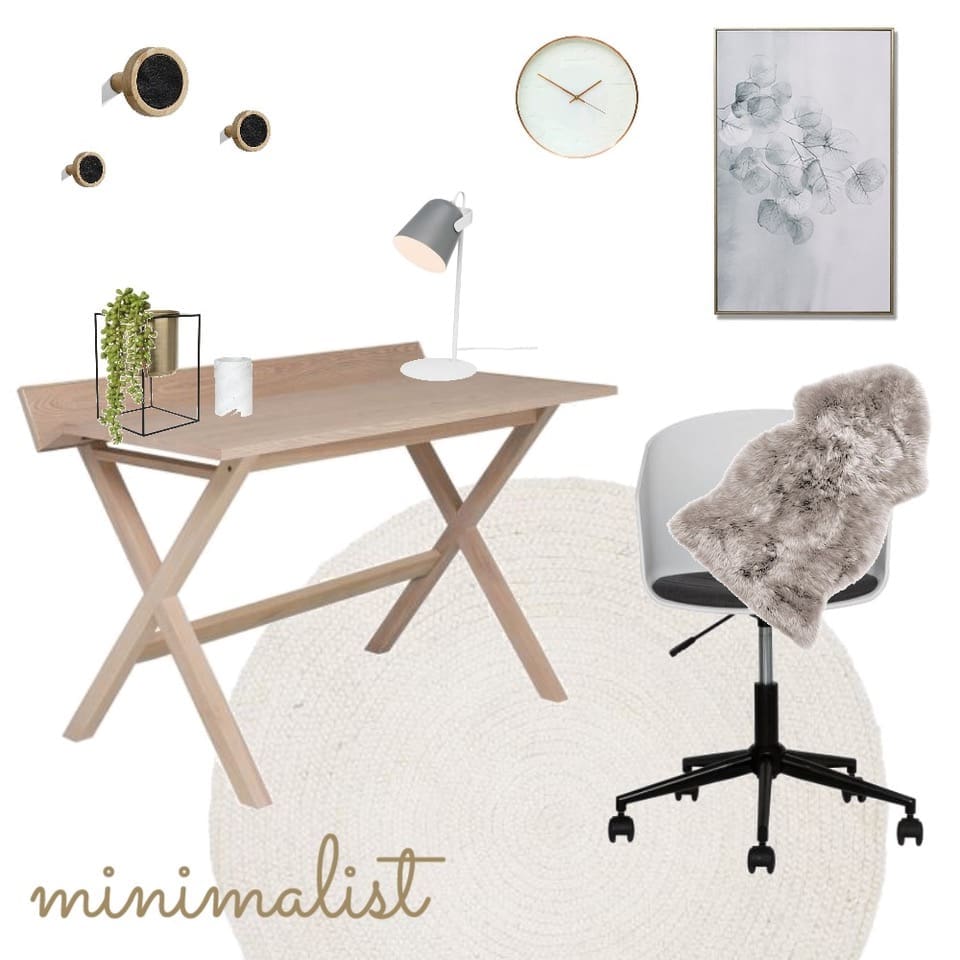 How to nail the minimalist style:
– Look for furniture and décor that has clean lines
– Keep to a restrained colour palette of predominantly neutral and airy tones
– Clear all surfaces of clutter and keep styling to a minimum
– Pops of luxe, such as marble or brass accents, work a treat
Boho
The Boho style is warm, earthy and celebrates natural materials such as jute, timber and natural textiles. It embraces a neutral palette that's brought to life with texture.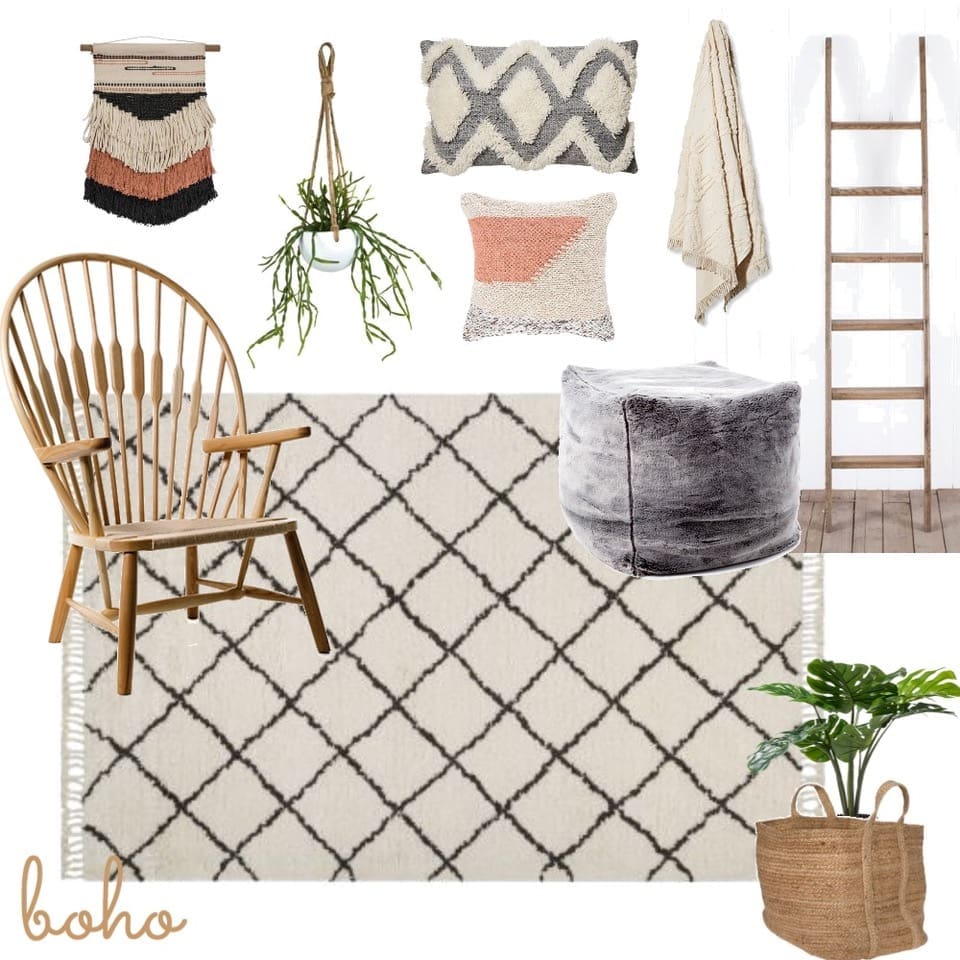 How to nail the Boho style:
– Embrace textures such as jute, macramé, timber, chunky knits, woven baskets and other earthy materials
– A base of greys and whites can be used to give the look a more modern feel
– Consider adding a hanging chair, statement chandelier, large floor cushion or wall weave for wow factor
– Flex your green thumb and embrace indoor plants
Hamptons
This style hails from the iconic beachside area in America and features a light and airy base, with accents of blue and green. It's all about creating a relaxed and comfortable environment that's inspired by the ocean.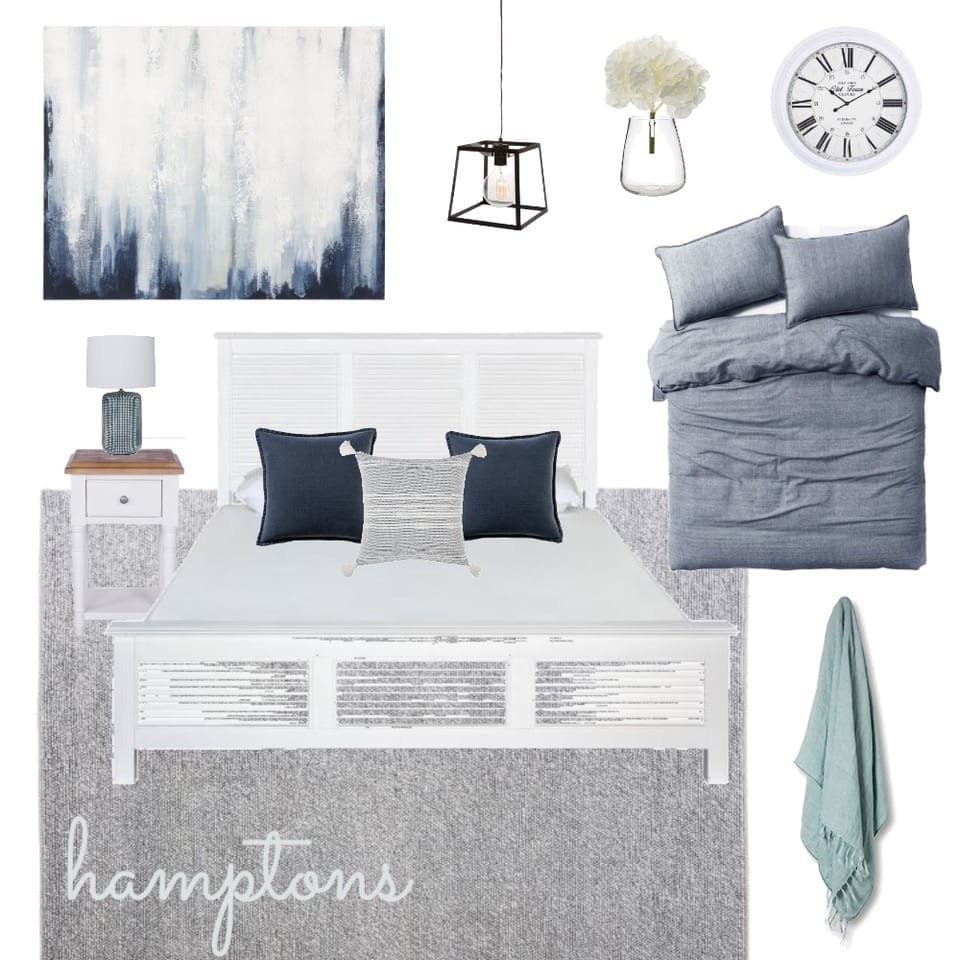 How to nail the Hamptons style:
– Embrace a neutral palette of white and cream, and add colour with ocean tones
– Look for natural textiles such as linen and raw cotton
– Distressed timber, metal light fixtures and décor inspired by the ocean are all on brief
– For more permanent decorating, consider adding wall panelling, switching to glass French doors or replacing flooring with wide timber boards
Contemporary Australian
Contemporary Australian style celebrates the current trends in Australia – a confident colour palette, oversized abstract artworks, printed textiles and pops of luxe. Unique pieces designed by Australian creatives are the heros in these fun and vibrant spaces.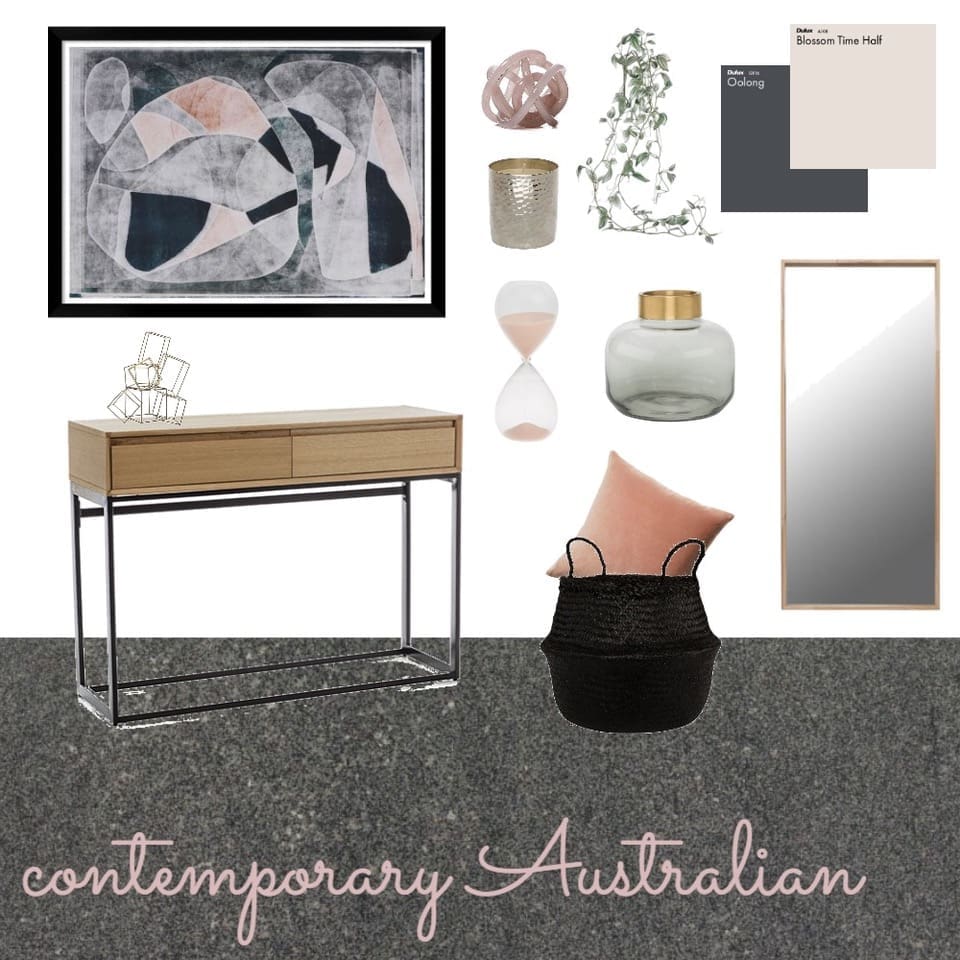 How to nail the contemporary Australian style:
– Bold colours are big here, particularly in statement cushions or artwork
– Have fun with patterns and be open to mixing grid with spots, typography and abstract florals
– Quirky décor and pieces that push the boundaries fit right in
– More is often more in these layered yet inviting spaces
These are just four interior styles that could inspire you — there's a world of design out there and of course we'd love to see your own interpretation.
I can't wait to see what mood boards you create and to go on this incredible shopping spree with one of you!