Go social and grow your business with STYLE CURATOR!
STYLE CURATOR is a rapidly growing, award-winning home and interiors blog, influencing tens of thousands of readers in Australia and abroad each month.
Whether you're launching a product, telling a new brand story, or simply want to reach our savvy STYLE CURATOR readers, we can work with you to create and implement a social marketing strategy that builds buzz.
All content and social media campaigns are created by Gina, a qualified and experienced writer and social media adviser with over ten years of experience in branding, online marketing and PR.
We've worked with brands including Adairs, Westfield, Icon by Design, The Block Shop, IKEA, Officeworks among others and we're eager to collaborate with our favourite brands.
What our clients have said…
"We partnered with Style Curator on a recent giveaway and it was one of our most successful ever – and we've worked with accounts that have a huge following. It shows how engaged the Style Curator audience is. Style Curator is also consistently one of our top referring websites. We love to continue working with Gina and her team."
— Freddy, Bluethumb
"We work with a number of bloggers in the interior design space, yet it's obvious that Gina and the team at Style Curator run a very professional operation. Everything is well thought-out and evaluated, so you can easily assess the impact activity is having on your bottom-line. Gina has been great in coming up with creative ideas to promote The Block Shop and our products to her readers. And she enabled us to start small, see the value and then grow our campaigns as time went on."
— Emma, The Block Shop
"We were launching SieMatic kitchens to the Canberra market, and I was looking for a stylist/photographer team who could capture the existing SieMatic brand and recreate it in our Fyshwick showroom — but with a distinct, local flair! And Gina and her team nailed it. Gina was able to interpret my brief perfectly, and brought the right amount of luxury and Australian style to the photoshoot. Her styling completely elevated the look of the kitchens and our other products in the showroom. The ease in dealing with Gina and her team is a testament to how professional they are and the level of quality in their work. Gina also provided great social media support afterwards. I would highly recommend the team at Style Curator!"
– Kataraina, Southern Innovations
Keen to work with us?
We believe in working with brands that share our passion for the pursuit of a stylish home! Our partnership opportunities will connect your brand directly with our niche and captive target audience in a meaningful way.
Services offered include:
– Sponsored posts
– Style Curator Challenge
– Workshops
– Advertising (leaderboard, EDM and sidebar on a monthly or impressions basis)
– DIYs
– Video advertising
– Guest speaking
– Brand ambassadorships
– Styling services
– Giveaways
– Reviews
– Social media campaigns
Our stats:
– 82,000+ page impressions per month
– 52,000+ unique visitors per month
– 3,400+ newsletter subscribers
– 18,500+ Pinterest followers
– 5+ million Pinterest monthly viewers
– 25,000+ Instagram followers
– 9,600+ Facebook fans
– 18,500+ Pinterest followers
Recent work
– How to turn your bedroom into a sleep sanctuary for Sealy: promoting the importance of sleep for mothers in their Mother's Day campaign. Gina's 10 tips to create a sleep sanctuary achieved over 3 times regular engagement across social media channels and was picked up by Sky News Real Estate, where Gina spoke on behalf of Sealy resulting in national television coverage for the client
– Styling the Southern Innovations showroom for a professional photoshoot: styling multiple kitchen displays to convey the design, functionality and luxury finish of the products
– Promoting DIY Online Blinds: giving advice to readers about how to select the right window treatment for their home. This article has been shared thousands of times across social media channels and continues to attract readers, resulting in ongoing brand exposure
If you would like more information about how you could work with us, please get in touch by emailing advertising@stylecurator.com.au now to discuss these opportunities.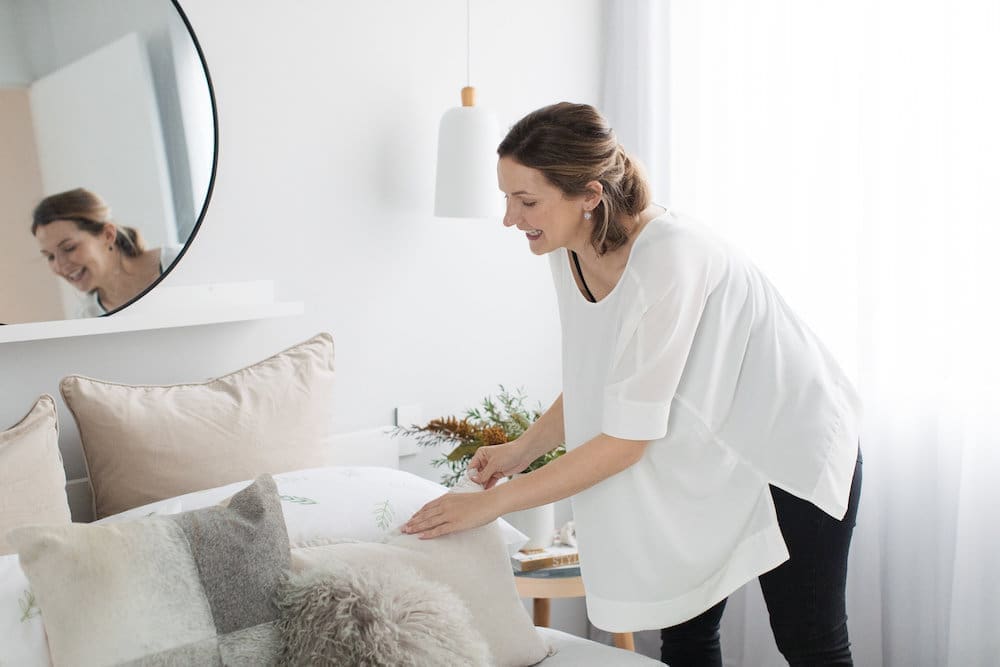 DISCLAIMER
Please note that only brands that align with STYLE CURATOR and our readers will be considered for sponsorship. We only feature products and services we believe in and feel will help our readers in their pursuit of a stylish home.
Opinions are always our own and any paid posts on STYLE CURATOR will be clearly disclosed within the post.
If you have any concerns about this, please don't hesitate to reach out via our contact page.