Christmas wreaths are such a beautiful and traditional Christmas decoration. But they don't have to be that traditional as Kathleen O'Brien from Flower Dayz shows us!
She's with us today sharing how to make this spectacular modern Christmas wreath which uses Christmas ornaments rather than the traditional look of florals and foliage. And the best thing is you can customise this tutorial to suit your Christmas colour palette.
If you are feeling a little creative this year and would like to make your own wreath instead of buying one, follow Kathleen's tips on how to make a modern wreath.
Items you will need:
Foam ring (also known as oasis ring, we used 50cm diameter)
Mix of Christmas ornaments in your colour choice
Wire cutters
Glue
Ribbon
Steps:
1. Place all the items you need on a large surface area so you have everything in close reach.
Tip: You might like to start by looking for design inspiration on sites like Pinterest or other design blogs — it will give you an idea of colours and ornaments you could incorporate into your design. To make a modern wreath, try and stay away from too many traditional elements like bows and keep greens and reds to a minimum.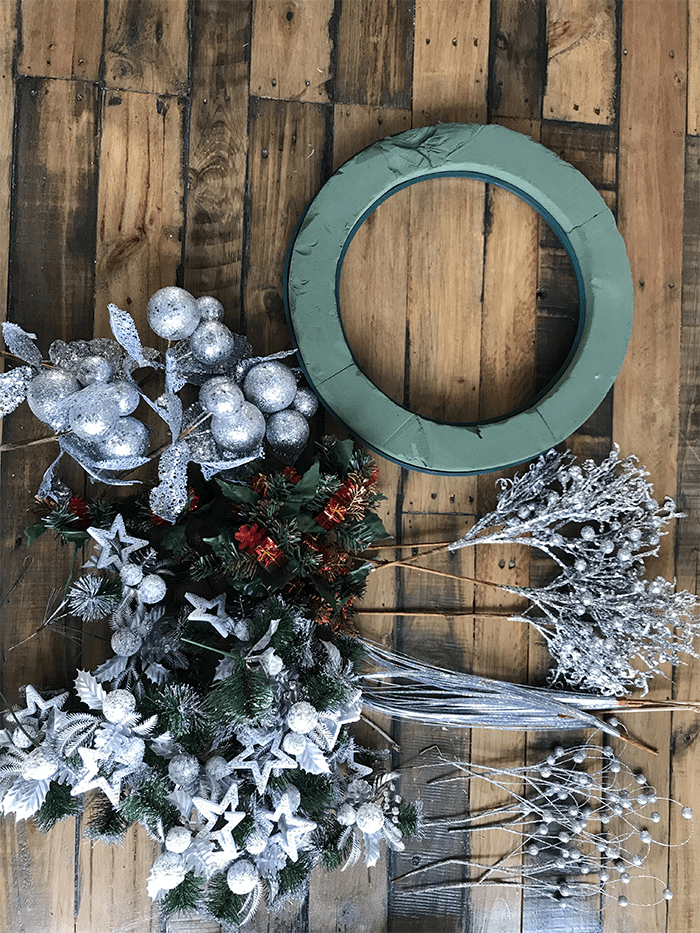 2. Begin by gluing your focal items onto the wreath. For this wreath, Kathleen used large silver ball clusters. Always go with odd numbers as you will get a better balance. Place them at even distance around the ring and in the middle from edge to edge.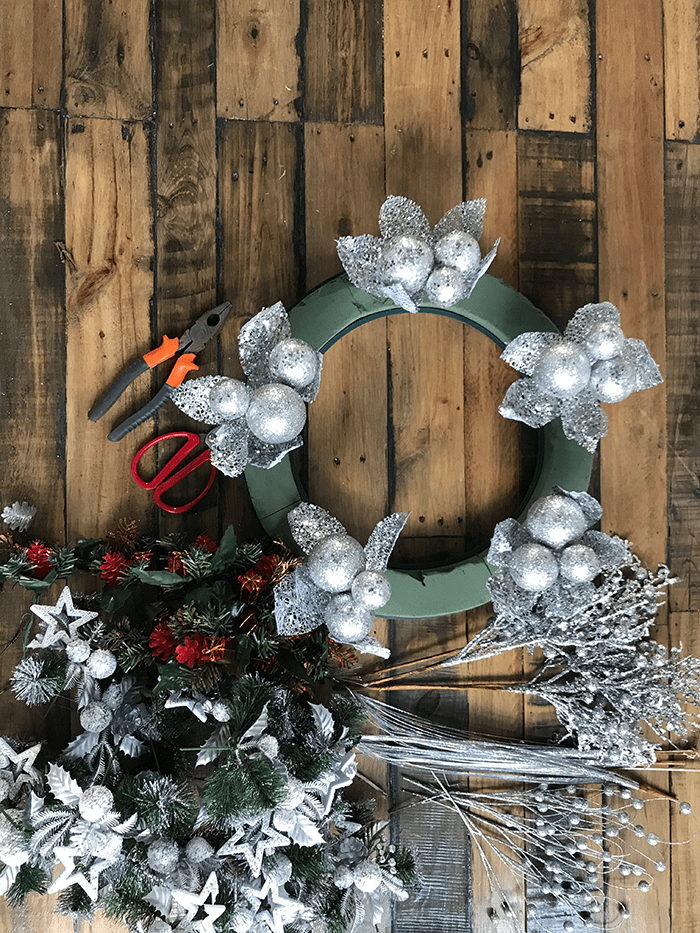 3. Next, you are going to place the items you have chosen to contrast. Our wreath uses details of mini red Christmas gifts and red pinecones attached to green ascents. Glue them evenly between your focal items.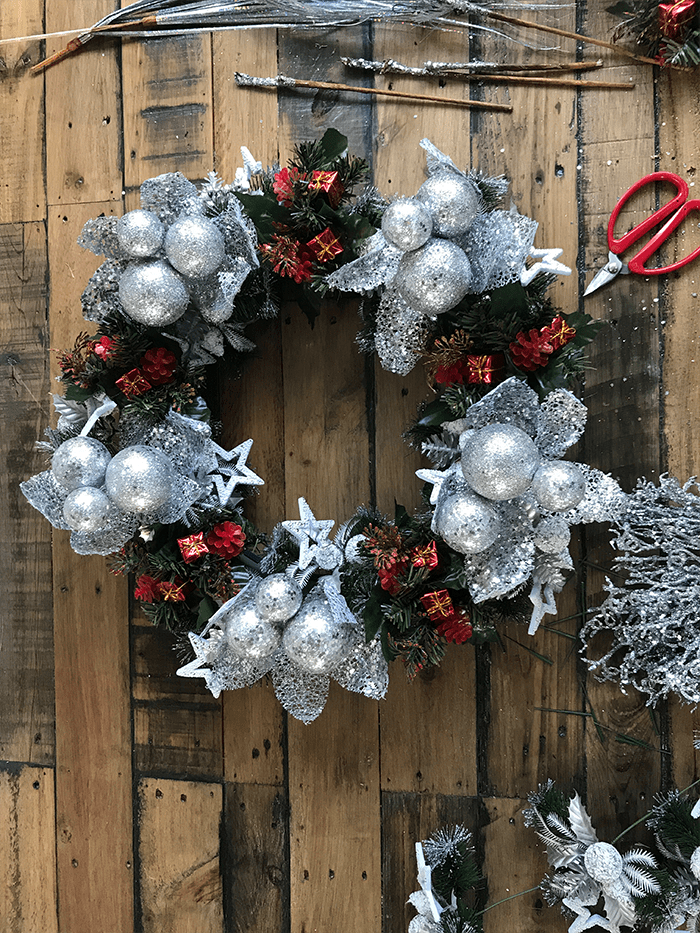 4. Then you will need to add filler items. Kathleen has chosen a cluster of white and silver balls, white and silver stars, and silver pinecones and leaves. Work your way around the wreath, adding your filler items around the focal elements and contrasting elements you have already got in place.
Tip: Check for balance and placement. You want to create a full look so the foam ring isn't visible.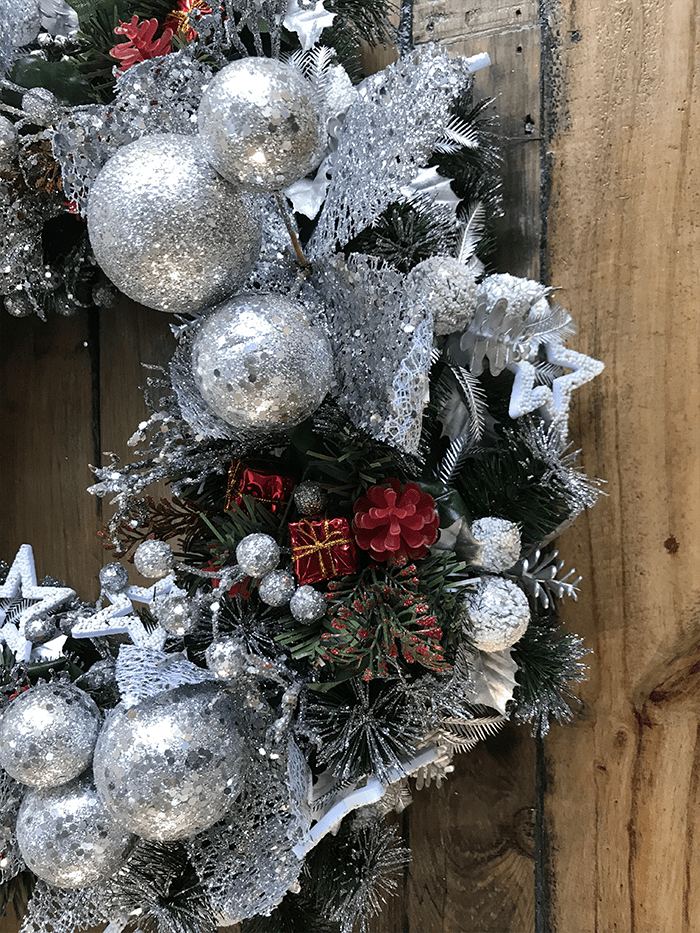 5. Once you are satisfied that you have covered your wreath enough, you can add the finishing touches. You might like to add some ornaments that bring a different texture or height to the wreath for added interest. For example, Kathleen used sticks with five silver glitter balls and glittered silver branches. Then you just need to wrap some translucent fishing wire around the top of the wreath in a loop so you can hang your wreath. Using fishing wire gives the illusion that your wreath is floating and you don't have a piece of string that detracts from your design.
Additional tips:
– If you're worried any items could fall out, you can put glue on the end of each piece before you insert it into the foam for extra security
– If you are using fresh flowers, you will need to soak the oasis wreath in water which will add weight to it therefore your hanging line will need to be stronger.
Now all you have to do is hang your new modern and get excited that Christmas is coming!
About the author
Kathleen is an Interior Designer turned Floral Artist. She's passionate about creating floral filled event spaces that push the boundaries and loves bringing client's ideas to life.
Web: flowerdayz.com.au
Instagram: @flower_dayz
Facebook: facebook.com/flowerdayz