It's time for the final room reveal of our Erskineville project — the downstairs bathroom. I won't lie, this space was a challenge. Measuring just 1.5m by 1.5m, we needed to squeeze a shower, toilet and vanity into the smallest bathroom I've ever tackled!
Related article: Everything you need to know about lighting your bathroom
Related article: Olivia from House of White reveals her stunning bathroom makeover
Downstairs bathroom before
The original configuration of the bathroom was functional and made best use of the space so we decided to keep the layout the same (also helps to keep bathroom renovation costs down if you can keep plumbing in the same spot).
What needed to be changed though was the basin as it was too wide for the doorway and people kept hitting it, and of course all of the fixtures needed an update too!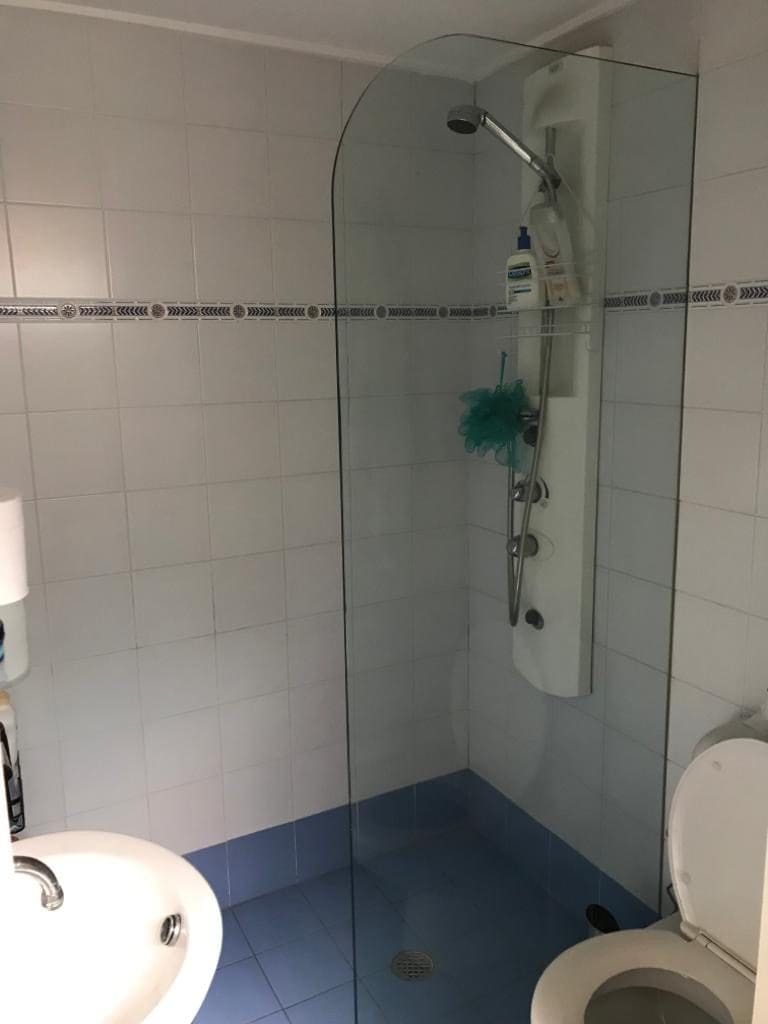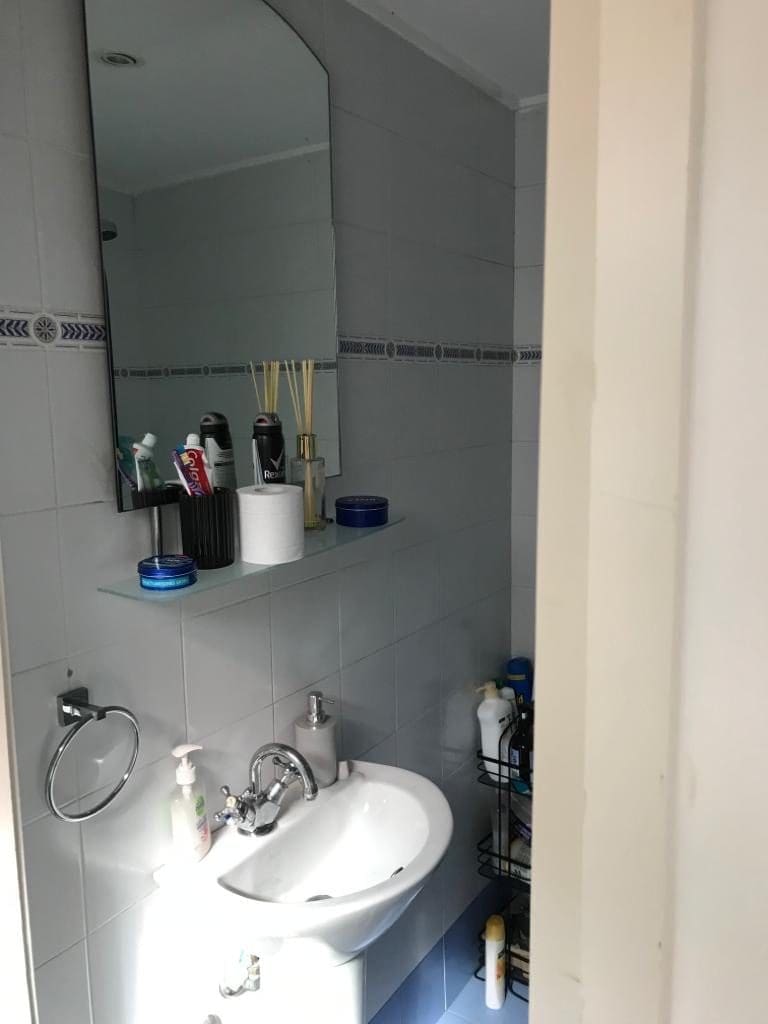 Downstairs bathroom after
Small but luxe is how I'd describe this bathroom!
We used a combination of 150×150 white handmade square tiles on the wall (a way of adding pattern and interest is with shape rather than colour) and 450×900 soap stone black tiles on the floor from Tile Republic.
The basin was replaced with a wall-hung vanity which is narrower but has added storage space. It also allowed for a robe hook to be added to one side for a hand towel and the toilet roll to be added to the other as the toilet space is so narrow that people struggled to access the toilet paper before.
We replaced the standard mirror with a mirrored shaving cabinet for more much-needed storage. (This is mounted to a brick wall so it wasn't possible to recess the cabinet.) The added storage in the vanity and shaving cabinet meant we could remove the caddy that was on the shower floor before to free up the floor space.
The bathroom didn't have enough wall space for a towel rail so we added a robe hook for this. All of the tapware and accessories are 'Champagne' finish by Meir from Tile Republic. We actually sourced everything you see in this bathroom from Tile Republic, including the toilet, shaving cabinet and vanity.
Shop this bathroom look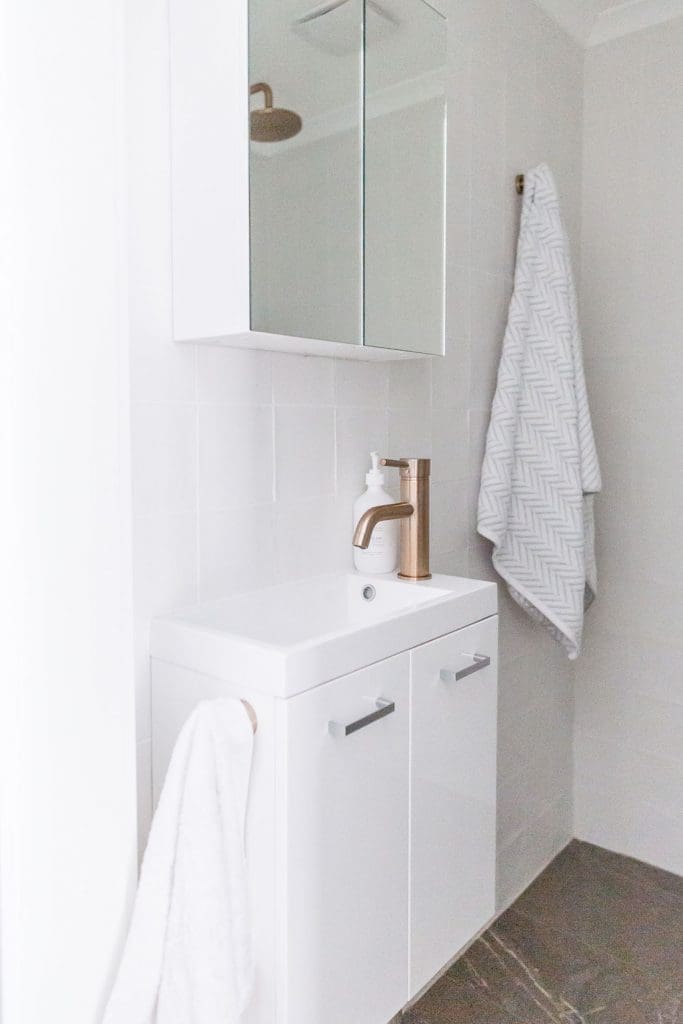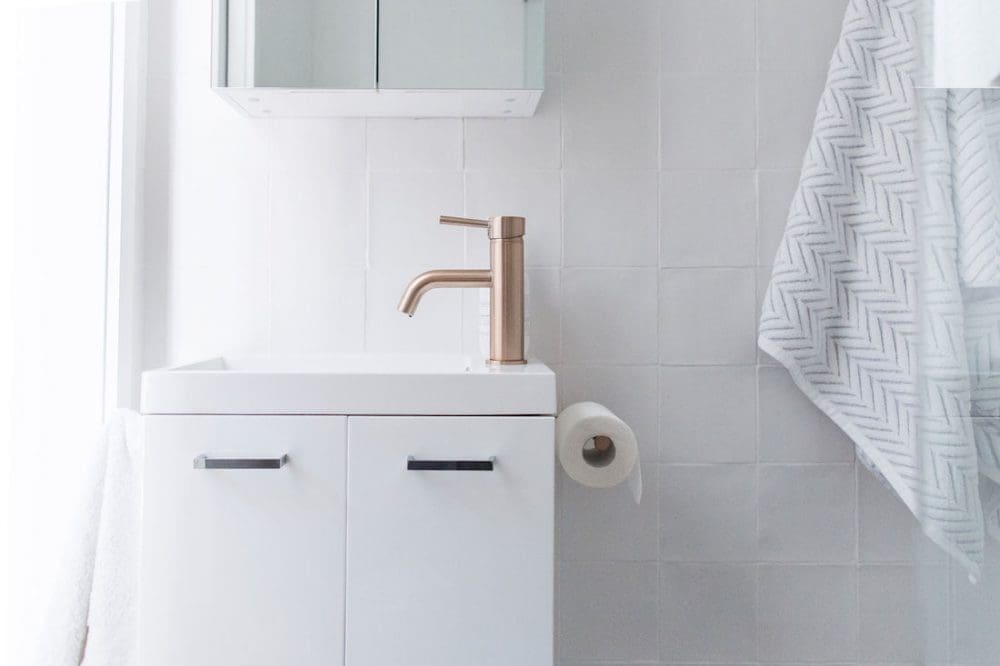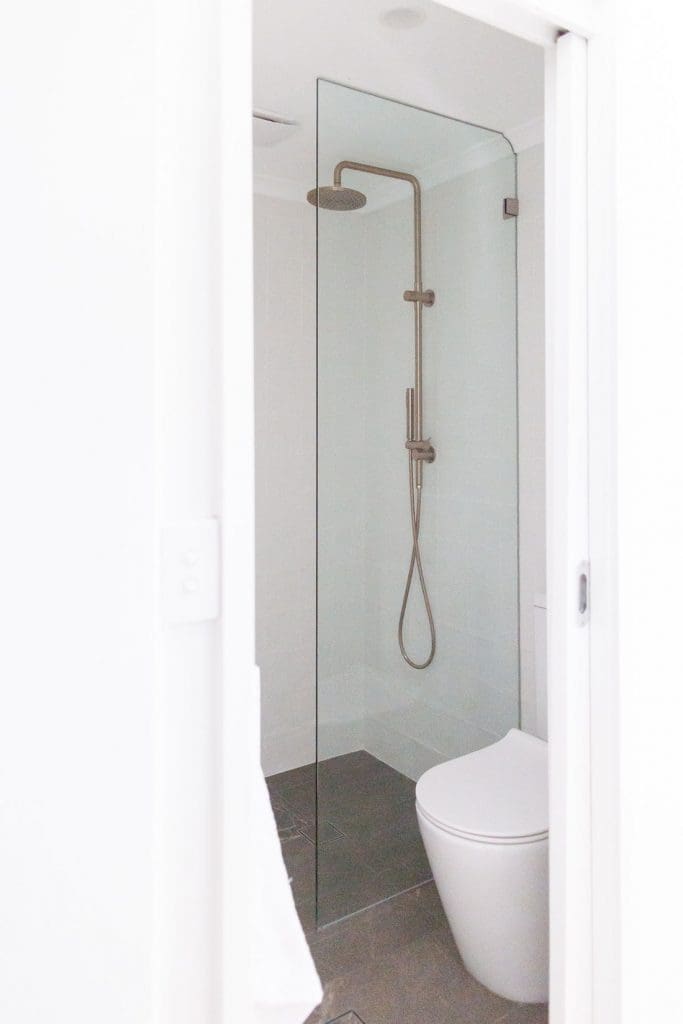 Top 5 tips to renovate a small bathroom
1. Layout is more important than ever
When you're short on space, you don't have the option to get the layout wrong. While keeping plumbing in the same location keeps costs down, it may make more sense to move things about. For example, in Olivia's bathroom here she moved the bath and vanity to create more floor space.
Get out a pen and paper, sketch out your room taking note of doors and windows, and try a few layouts. A walk-in shower can be a good solution where you don't have space for a swinging door, or if you're trying to fit a bath and shower in perhaps a 'wet zone' where the bath and shower are side by side is a better solution? Don't forget you can also find ensuite vanities that are narrower (i.e. not full depth) which can be a great option.
2. Look for ways to integrate storage
What makes a small bathroom feel even smaller? When it's overflowing with things!
Look for ways you can integrate storage into your space and remember drawers are always better than cupboards if you can fit them as they naturally allow you to make full use of their depth. Mirrored cabinets are a great idea for small bathrooms too and you don't have to go with a standard rectangular one — nowadays you can find pill shaped, round or even those with integrated timber shelves.
Shop this bathroom look
3. Avoid creating a feature wall
A popular design decision in bathrooms is to create a feature wall — often using a mosaic or coloured tile on one wall — but in a small bathroom, it's best to use the same tile on all 4 walls to open the space. Some people even use the same tile on the floors as well!
If you do decide to use a feature tile, a soft shade that compliments your other wall tiles is best to avoid that ultra-high contrast look which can make your space feel smaller.
4. Tap into your wall space (if you can)
Every millimetre counts in a small bathroom so why not tap into your wall space if you can? A niche in the shower is useful for holding everyday bathroom products, recessing your mirrored cabinet into the wall, and using a toilet with an in-wall cistern are some of the ways you can make use of your wall space. Of course, if you're working with a brick space these ideas may not be possible.
5. Let there be light
Nothing opens up a space more than light so don't overlook your lighting plan. There are many ways you can incorporate functional and ambient lighting in your bathroom — even in a small bathroom — and we discuss all of these with lighting expert James in this article.
I hope you found some ideas or inspiration from this renovation. You can see all of the before and afters of the Erskineville project here. If you have any questions, pop them in the comments section below and I'll get back to you.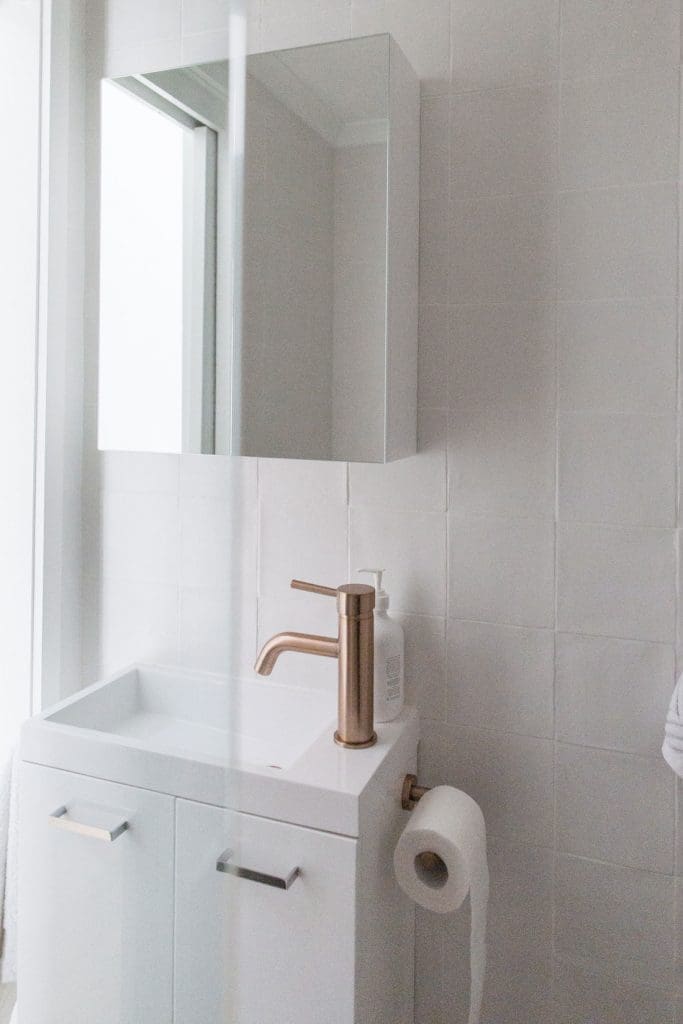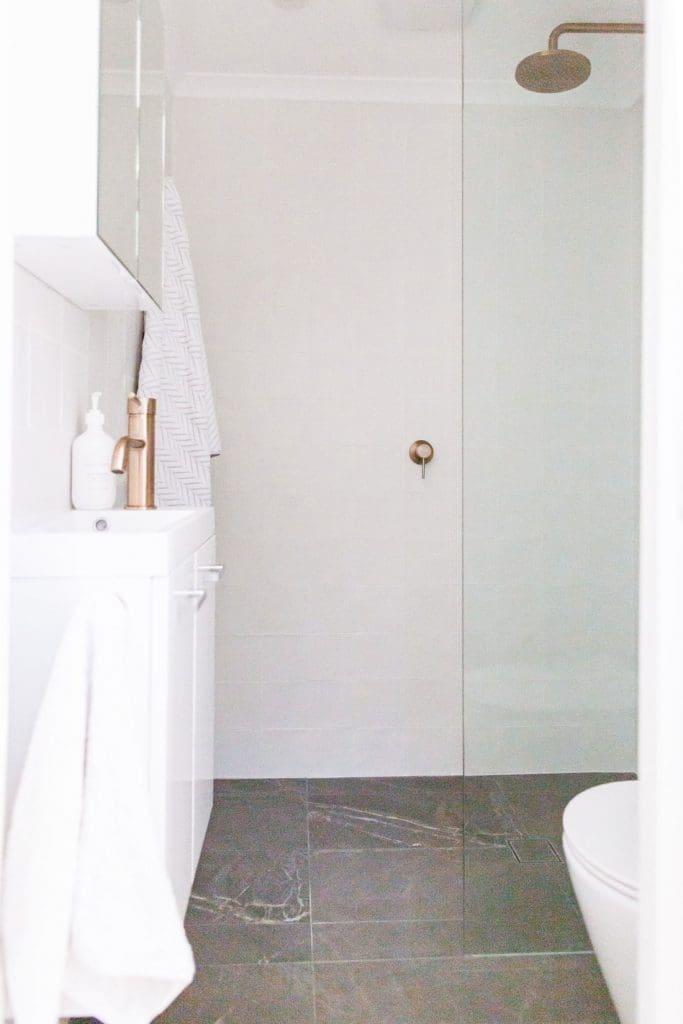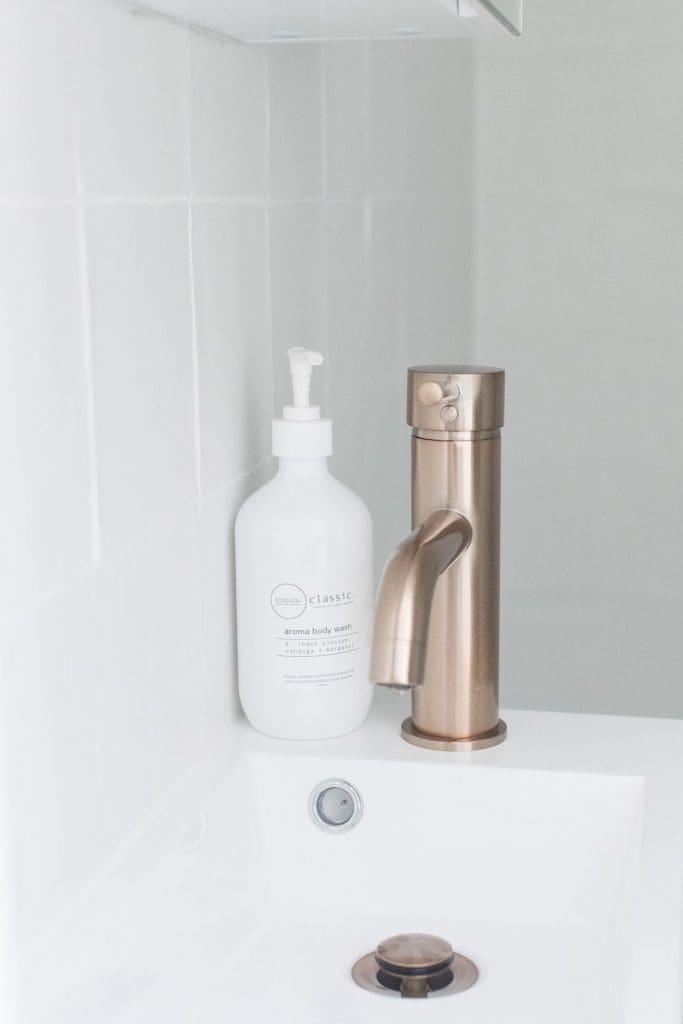 Photography by Thorson Photography
Disclaimer: This post contains some affiliate links. This means that when you click on a link and purchase something from that site, we may make a small commission at no extra cost to you.