Everyone loves a sticky beak. And when you're getting a glimpse into an interior designer's home, you know you'll be in for a treat!
Christiana Masina, creative director at Design Divine, is the owner of this beautiful Sydney beach style inspired home. Sharing it with her husband and three children, she loves to push the envelope and create surprising spaces.
"It was a massive task to renovate and decorate our home — everything was in the wrong spot!
"The bathroom was in the living room, there was no flow between rooms and I wanted to create a better indoor/outdoor experience.
"We turned it from three bedrooms into two, to make way for a large, open-plan living and dining area that flows into the outdoor terrace and pool.
"The new layout is so much more livable — especially with my young family. I can keep an eye on the kids playing outside while I'm busy inside.
"With all the projects I work on, I try to allow as much natural light in as possible. The house was dark and closed in when we bought it so I designed for the back wall to be entirely bi-fold doors. It lets so much more light pour in and makes a massive difference to the whole space."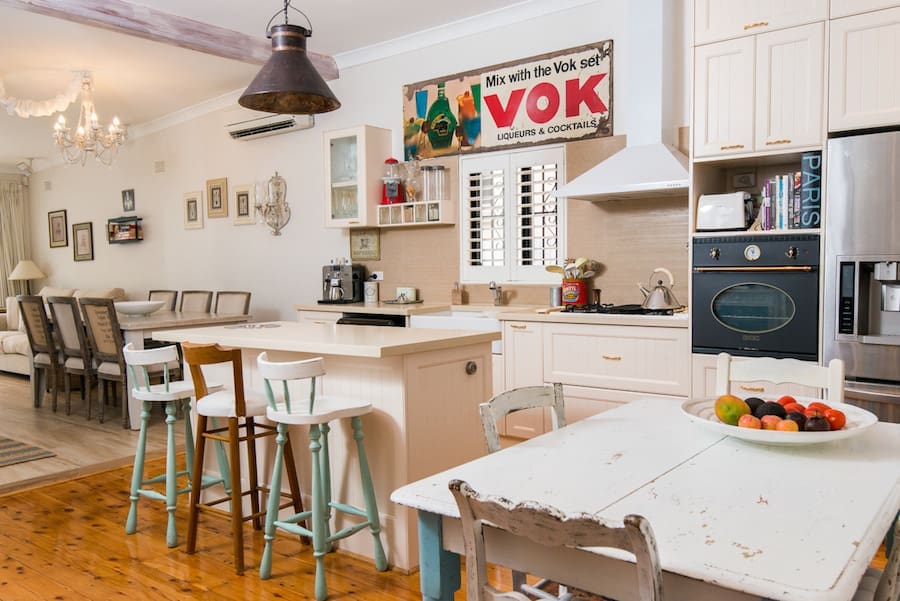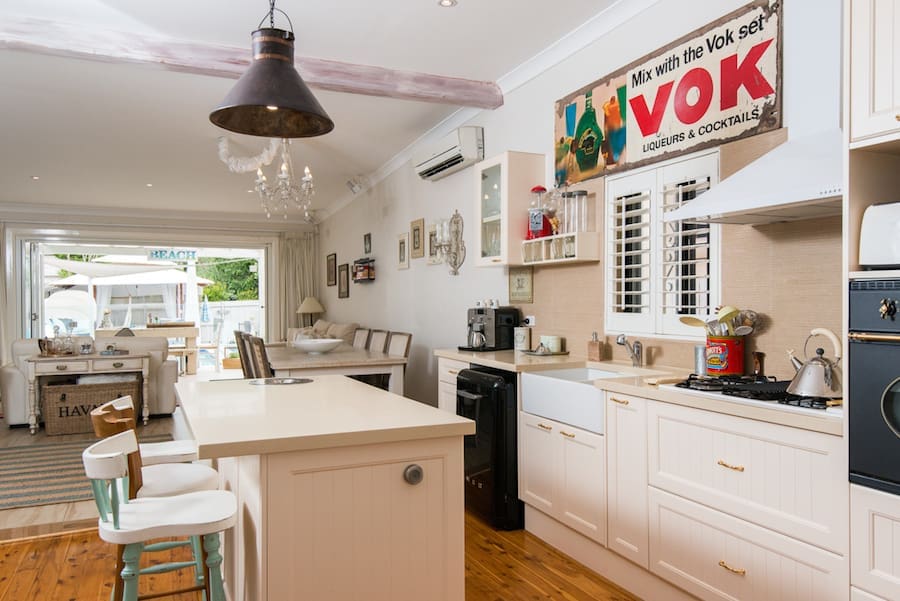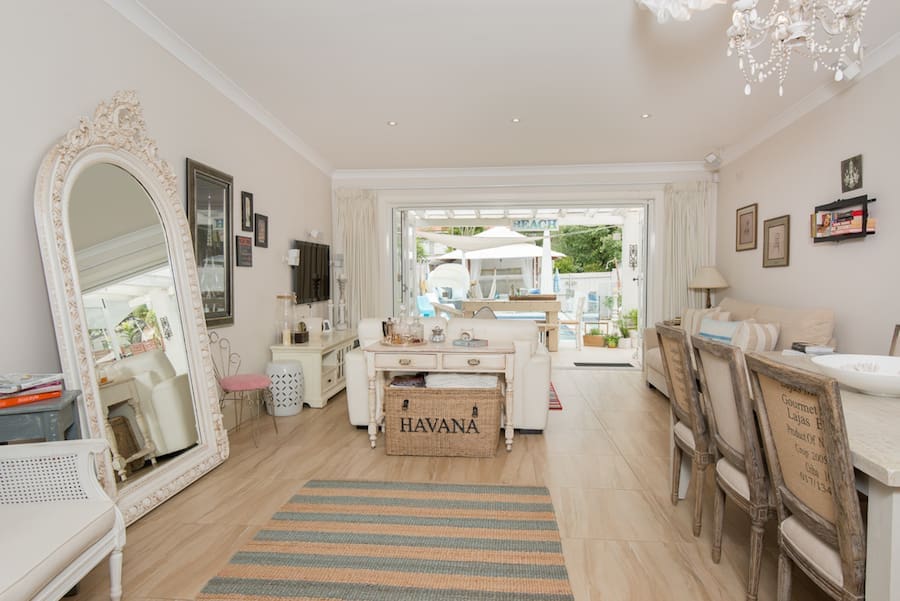 You've got so many fun and unusual pieces in your home, did you source all of them yourself?
"Yes, I sourced the items in our home and I do that for just about every design project too.
"I also up-cycle a lot of furniture or restore vintage pieces.
"In our home I up-cycled the kitchen bench bar stools, all the chairs around our kitchen table, the white armchair near our large mirror, the console table behind our mirror and all the bar stools under the Cabana!"
What design decisions in your home are you most happy with?
"I love the Cabana at the back of the pool. It's very resort style and my family use it all the time."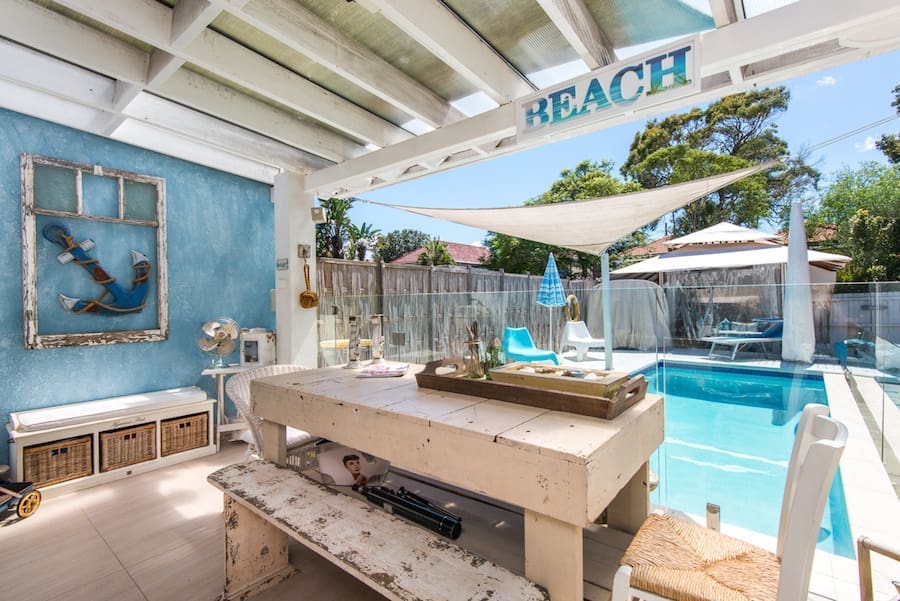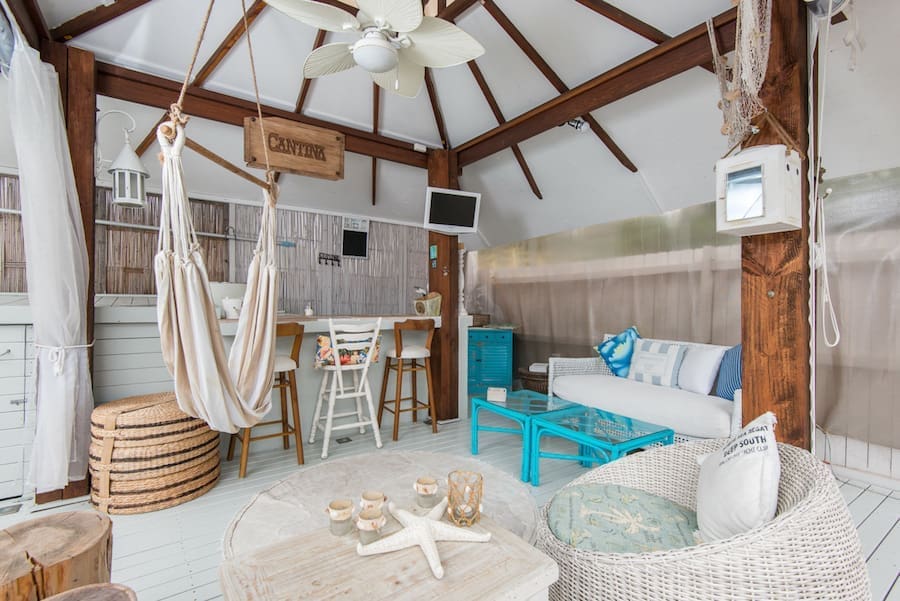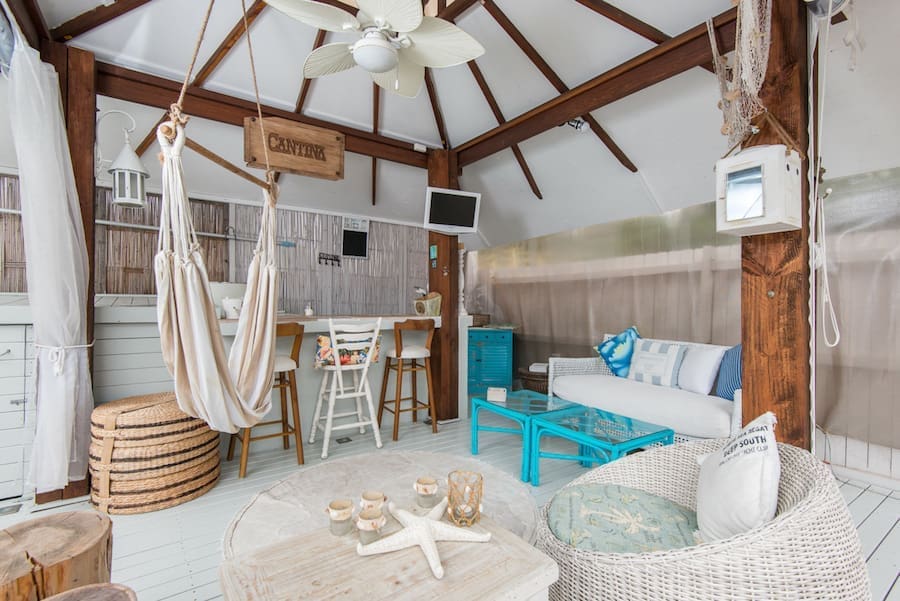 What do you love most about being an interior designer?
"I love that every project is so different and I can interpret the brief of clients in unusual ways to deliver a result that's even better than they expected.
"I've been a stylist for over 10 years and every project has been different — no two days are ever the same.
"At Design Divine we have a fun loving approach to the process. I like to break the rules a little bit and take inspiration from unexpected places.
"I also enjoy working with so many different people. Some of my clients have been young couples, families — I even recently redesigned the living area of an 83-year-old client!
"Most of all, having the opportunity to create spaces that are loved and lived in everyday gives me a lot of satisfaction."
With her fusion of coastal, Hamptons, French provincial and vintage style, Christiana creates luxe but inviting spaces. Just check out some of the pics from a flower shop she guttered and completely redesigned!
"I wanted to create a vintage and industrial style flower store.
"I sourced everything in the store down to the copper pendant lights that I selected to tie in with a custom bench I had my husband make out of Carrera marble top and copper pipe legs."
For even more photos of other projects Christiana and the Design Divine team have completed, check out the portfolio on their website or follow them on Facebook for regular behind the scenes of their current projects.