For years I've been meaning to create a spice drawer and I've FINALLY DONE IT! It may be a tiny space but every time I open this drawer, it brings me so much joy. Because I know you're my people and get it, I'm sharing all the pics with you. And if you want to create the ultimate spice drawer of your own, we've compiled a complete A-Z list of 99+ spices, herbs and seasonings!
Related article: 7 steps to a Pinterest worthy pantry
Related article: Fridge organisation: How I took my fridge from disgusting to dreamy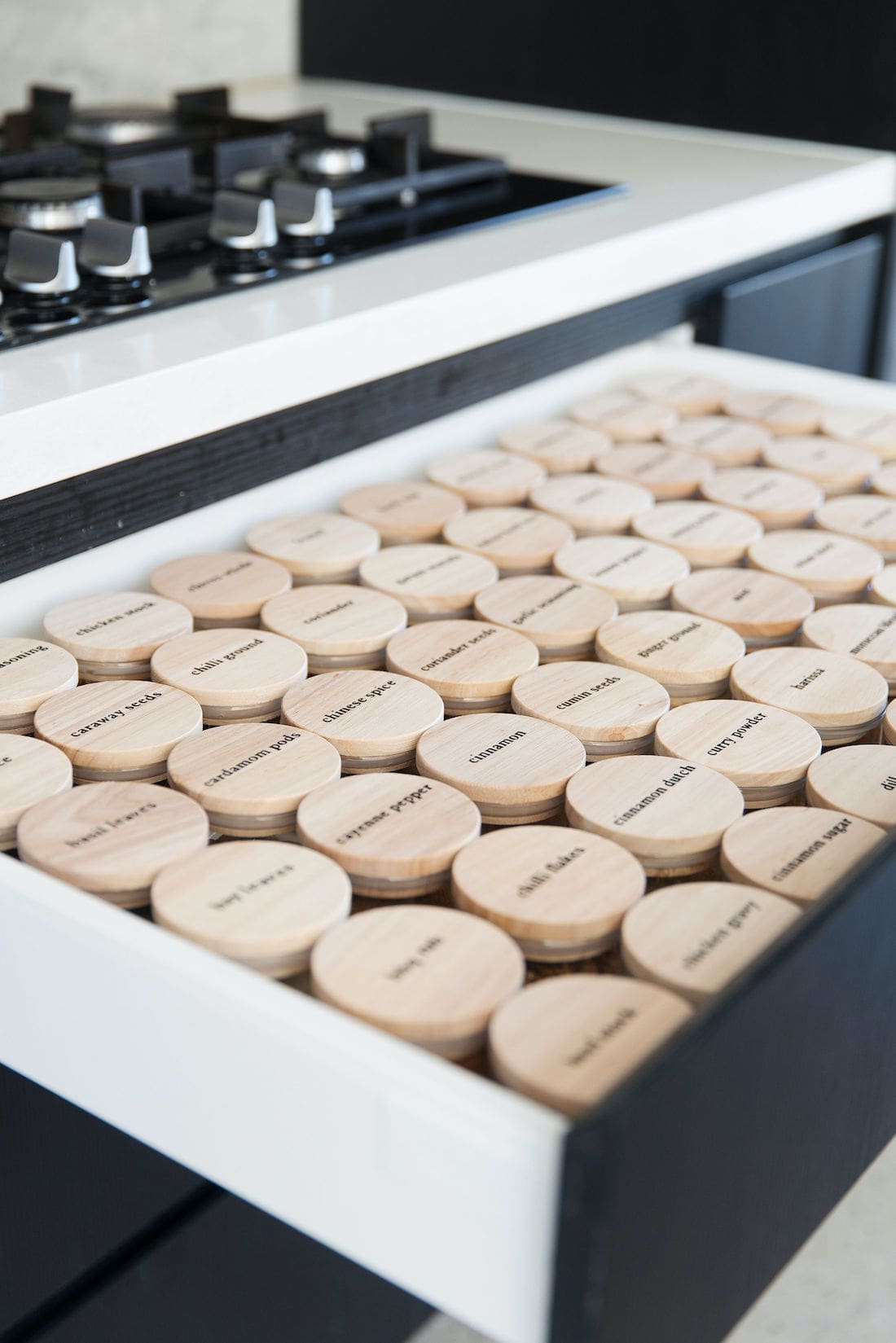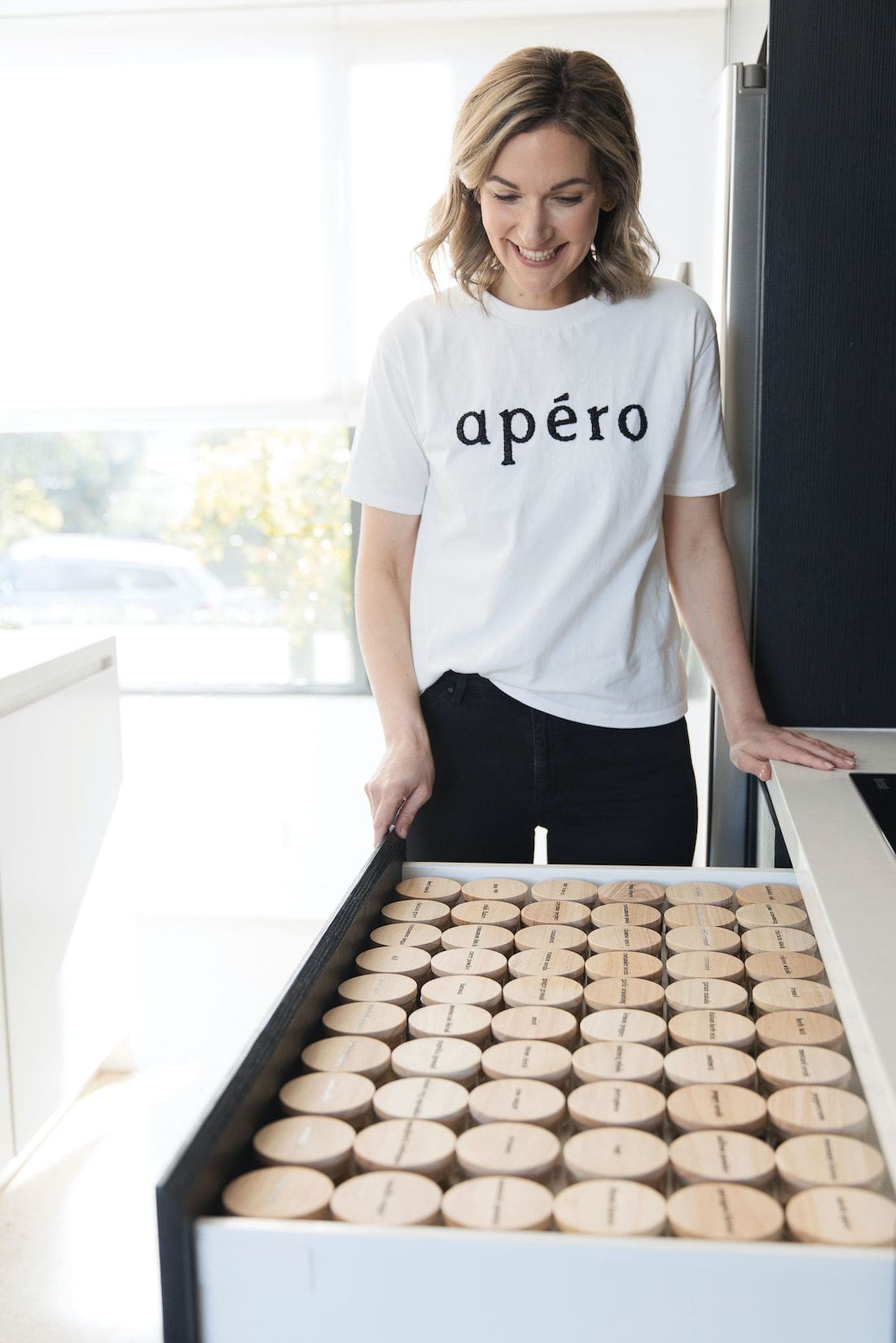 My spice drawer makeover
Up until recently, I used this drawer to store utensils. But as I only use a handful of utensils on a weekly basis, it felt wasted. My spices on the other hand were all thrown into a basket in the bottom drawer. Every time I cooked, I would dig around hoping to find a spice that would complement the dish.
So I moved the utensils I use frequently into my cutlery drawer. I then gave up this prime real estate to create the ultimate spice drawer. And the formula for a dream-worthy spice drawer? Perfectly matching canisters, vinyl labels and more spices than you can poke a stick at, of course!
I picked up these simple glass and timber lid canisters from Kmart. I then used my Cricut machine to make the labels but there are plenty of online stores that sell these. (Here's a list of Australian stores on Etsy that do custom vinyl labels.)
Not going to lie, there are loads of spices in here that I've never used… or even heard of… but a girl's gotta do what a girl's gotta do to get the spice drawer of her dreams!
Pretty sure the look on my face sums up how I feel about the results. LOVE!!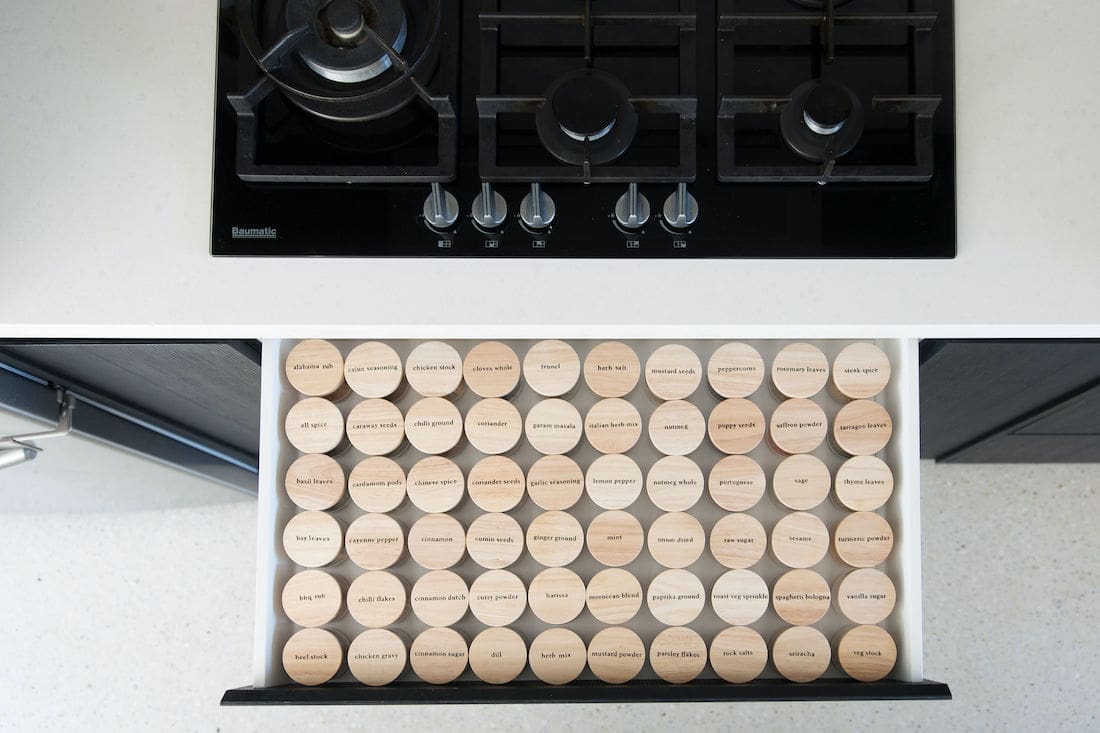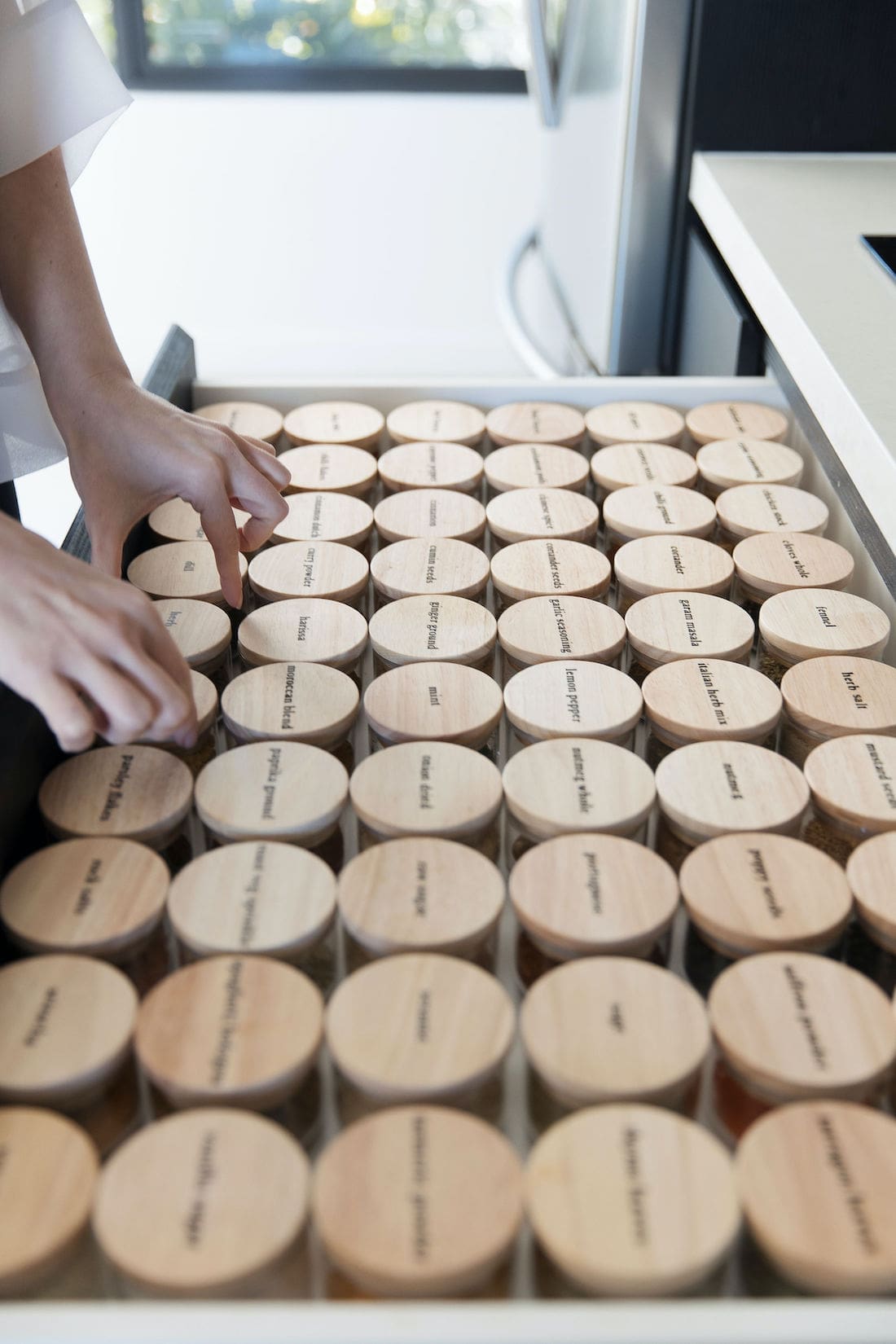 The complete A-Z spices, herbs and seasonings
If you're looking for inspo to create your own spice drawer, chances are you'll need to expand your selection of seasonings. We've done the hard work for you, tracking down 99+ spices, herbs and seasonings!
Ajowan seed: Widely used in Indian dishes, this seed has a thyme-like aroma perfect for veggies.
Alabama rub: An American style BBQ rub. With an onion, paprika and mustard powder combination that has a sweet and tangy taste.
Aleppo pepper: A unique spice used in Turkish and Middle Eastern recipes with a mild but fruity chilli heat.
All spice: Receiving it's name in the 17th century for tasting like clove, cinnamon and nutmeg all at once, it's the most versatile spice, perfect from sweet to savoury.
Amchur: Made from dried green mango, it's mainly used to sour Indian dishes. Amchur can be used on your favourite meats and fish for a zesty taste.
Aniseed: Native to the eastern Mediterranean region and Southwest Asia, aniseed has a warm licoricey taste. It's the perfect addition to curry powders and pastries.
Annatto seed: Used primarily in South and Central American cooking. Annatto can serve as a natural red food colouring and has a soft lemon and pepper taste.
Barberry: Less sweet than cranberries, the berry is used in Middle Eastern cooking and are high in Vitamin C. You can use them to make juice or add them to dishes for a sweet-sour contrast.
Basil leaves: Need to add some sweetness to your dish? Basil is an aromatic herb with a flavour balance between sweet and savoury, and can be bought in many forms.
Bay leaves: A staple for every kitchen, bay leaves have a pungent herbal scent and sharp taste.
BBQ rub: There are many different styles and mixes of BBQ rub. We recommend experimenting and finding your own personal favourite.
Beef stock: Beef stock works as a perfect base for many recipes, including soups and stews. This is a must-have for any spice drawer.
Black lava sea salt: Has a distinctive smoky and earthy flavour. Black lava sea salt is activated with charcoal from volcanic areas in Cyprus. Sprinkle it over white fish or chicken to impress dinner guests. Use it to create a spectacular rim on your Margarita or Bloody Mary.
Bohnenkraut (summer savoury): A staple in any German bean dish. Summer savoury is a sweeter alternative to its winter counterpart and can be used as an alternative to sage.
Cacao powder: Basically, chocolate in its purest form. The powder is the raw version of cocoa that can be added as a dusting on top of your desserts. You can also make homemade hot cocoa.
Cajun seasoning: A blend of paprika, cayenne pepper, garlic powder and more, this mix makes for a spicy but delicious earthy taste.
Caraway seeds: With a distinctive anise flavour, add a subtle liquorice hint to any dish. Can also be ground but beware, this makes the seeds A LOT more potent.
Cardamom pods: Has a fun mix of piney, fruity, and even menthol-like flavour. This spindle-shaped spice is used in both savoury and sweet dishes.
Cayenne pepper: A moderately hot type of chilli pepper perfect for adding heat, they are a staple in Mexican and Southwestern American cuisine.
Chilli flakes: A condiment made up of whole peppers — and that means everything — this spice will add some serious heat to your dish.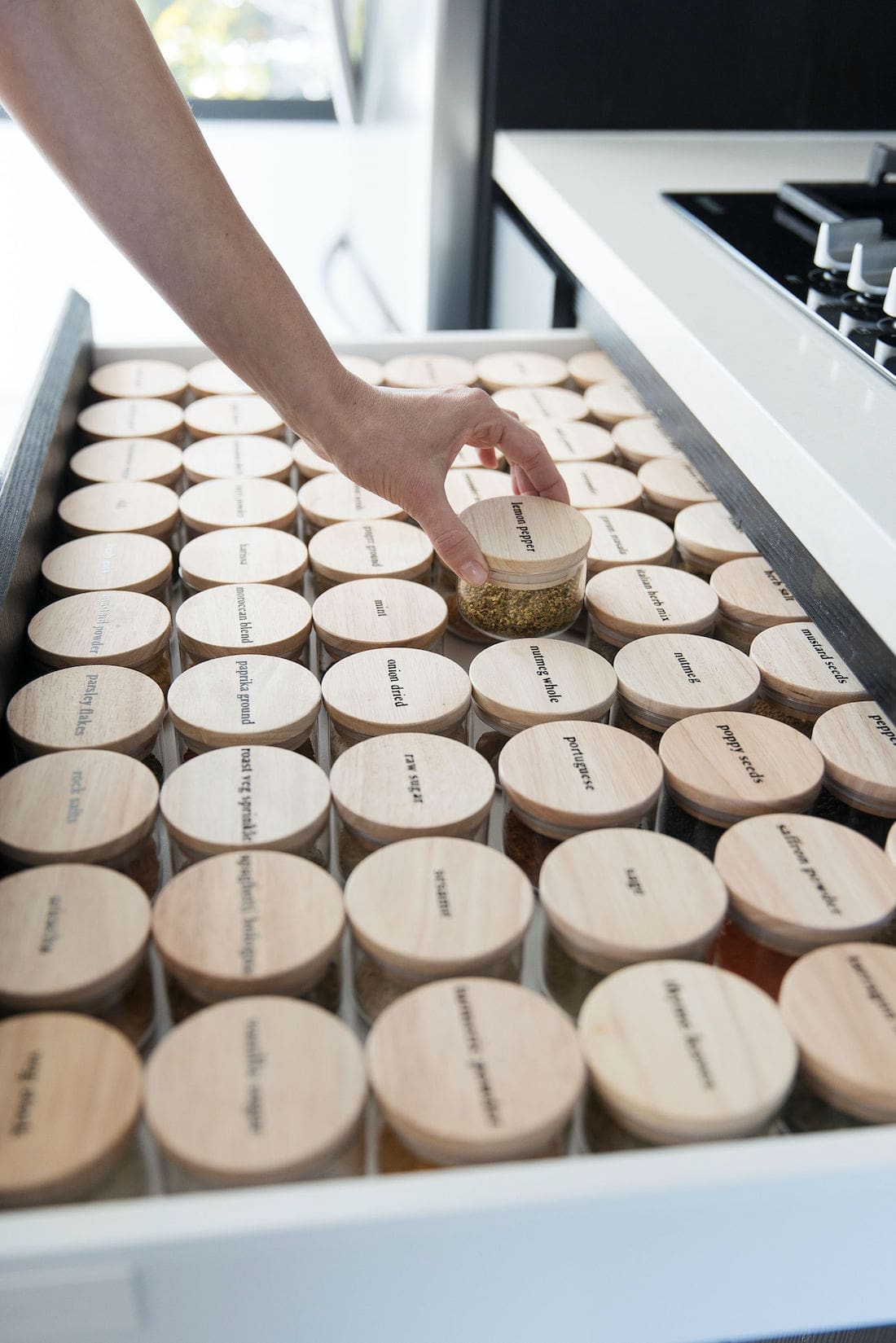 The A-Z of spices, herbs and seasonings cont.
Chicken gravy: We're all about making life easier. Why not have your chicken gravy powder set aside and ready to go for a quick mix before dinner?
Chicken stock: Chicken stock is a great flavour base for anything from soups to casserole sauces. We also love adding it to liquid when cooking rice or grains. Be sure to sprinkle it over chicken or veggies for some extra flavour!
Chinese (five) spice: Made of star anise, fennel, Szechuan peppercorns, cinnamon and cloves, this spice also refers to the five flavour groups. A versatile spice perfect for adding a little zest to any dish.
Cinnamon: Another staple in the house has to be cinnamon. You can use it in its stick form in stews and curries or ground in sweet dishes. It's a pleasant tasting spice that can only enhance your dishes.
Cinnamon sugar: Perfect for sprinkling on buttered toast, pancakes and cookies. Use cinnamon and sugar in a mix as a sweet ingredient or topping.
Cloves (whole): Dark brown in colour and shaped like pins, whole cloves are fragrant and add depth to meat dishes and sauces. A household tooth ache remedy uses a clove between your upper and lower teeth to relieve some pain.
Cloves (ground): Ground cloves are often used in spice mixes to bring a warm flavour to chutneys and curries.
Coriander: One of the most dividing spices, coriander has a strong taste that isn't for everyone! If you're in the camp of people who love it, use it to season and flavour a variety of domestic and international recipes.
Coriander seeds: Used ground or whole, coriander seeds add an earthy and sweet taste to any meal. They are also toasted to give a floral aroma to dishes.
Cumin seeds: Originating in west Asia, cumin seeds have a nutty and slightly peppery flavour and are a typical ingredient in many spice blends. This spice is also thought to have a wealth of health benefits ranging from aiding in weight loss to lowering cholesterol.
Curry leaf: Matching well with seafood, the curry leaf serves as an enhancer to complement Indian curries. 
Curry powder: Usually a mix of turmeric, chilli powder, ground coriander, ground cumin, ground ginger and pepper. It's perfect for dishes like soups, stews and of course, curries! It's good to have your mix ready should your dish need a quick boost.
Dill: Also called dill weed, this herb is found throughout European and Asian cuisines. It's great to add to seafood and yogurt dishes, to flavour preserves or to garnish.
Dried onion flakes: Made from dehydrated onions, flakes make a good emergency spice drawer staple should you need to fill a dish with an oniony flavour when you can't get to the shops.
Dutch cinnamon (cassia): Although very similar to cinnamon in scent, cassia or Dutch cinnamon tends to have a bitterness not found in regular cinnamon.
Fennel seeds: The entire fennel plant is edible with a variety of uses in the kitchen. Fennel seeds add a liquorice flavour to your cooking and are commonly used in fish dishes and salads.
Fenugreek leaf: A versatile leaf that can be used as a curry flavourer and a garnish, fenugreek leaves have a less bitter taste than the seed.
Fenugreek seed: Used widely in Middle Eastern and South Asian cuisines, fenugreek seeds have a complex taste described as nutty and slightly bitter. Traditionally used in curries, soups, chutneys and pita bread.
Funghi porcini: Unsure with the name? Funghi porcini is a mushroom powder made with crushed or ground porcini mushrooms. It's said to have a creamy and meaty taste.
Furikake Japanese seasoning: Meaning 'To sprinkle,' this is a spice blend perfect for adding onto seafood and meat dishes when cooking, or to sprinkle over steamed rice.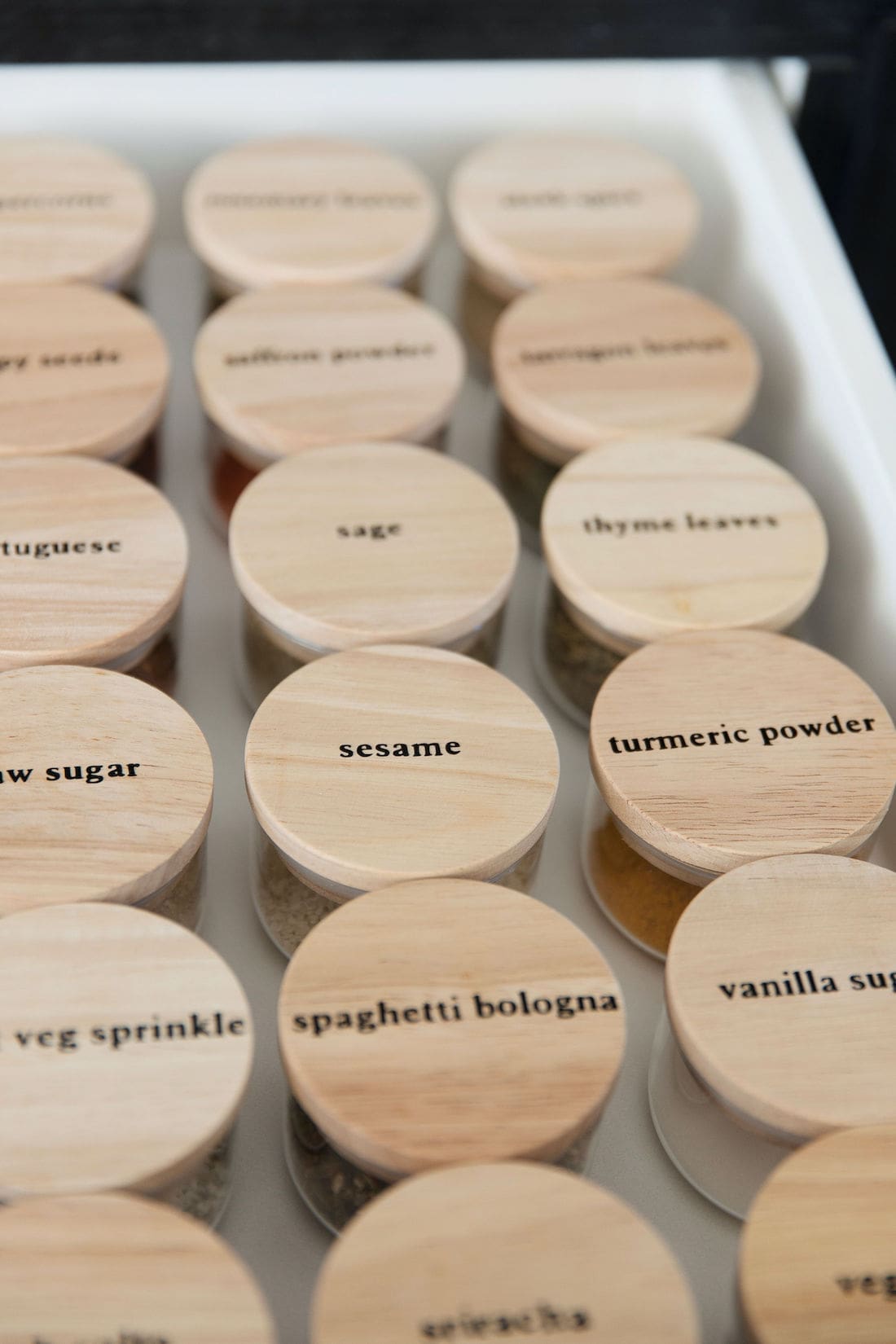 The A-Z of spices, herbs and seasonings cont.
Galangal: A surprisingly hot spice with a similar taste to ginger. Galangal is used in Asian cuisines for its hit to the sinuses. Use it in Thai soups, laksa and fish dishes.
Garam masala: A mix of spices that has a stronger and more complex flavour than curry powder. Some ingredients include peppercorns, nutmeg, mustard seeds and mace.
Garlic powder: Garlic powder is quite literally just powdered garlic, but it has a much milder flavour and aroma to fresh garlic. Use it when you don't want an overpowering garlic flavour. You can even mix it into your own spice blend, such as when making a BBQ rub.
Garlic seasoning: Garlic herb seasoning can go into just about anything from rice to meat dishes, and there are so many easy recipes available online. Perfect to add that little extra flavour!
Ground chilli: Mainly used in Mexican cuisine, add a little heat and spicy flavour to your dishes. It would probably be best to measure this one out the first few times.
Ground paprika: A herb best suited to savoury dishes. Paprika adds a flavour depth and aroma while igniting your food in a vibrant colour. It is recommended that you start off sparingly though.
Grains of paradise: A rare spice with a black-pepperish and citrusy flavour, this spice originates from the west coast of Africa and can be used as a substitute to cardamom and ginger.
Ground ginger: Instantly add a warm, spicy-sweet aroma with ginger. Commonly used in Asian and Indian dishes, including stir fries, soups and marinades, cooking with even a little can up your flavour.
Harissa powder: Harissa powder is the ground spice blend of the spicy, earthy North African paste with a base of smoked chilli peppers. A versatile spice that works especially well in a rub to roast and grill meats.
Herb mix: Another easy but useful mix to have ready to go is your herb mix. Generally a mix of oregano, sage, marjoram and thyme, it's perfect to add to just about any dish. You can also make your own herb mix using your favourite ingredients.
Herb salt: Comprising of sea salt and a variety of herbs, herb salt is most often used as a garnish on the table. If you're a big fan of herb salt though, nothing's stopping you from using it during the food preparation. Be aware — a little goes a long way!
Horseradish (grated): We love horseradish but it's seasonal and can be hard to find. Grated horseradish is a great addition to any spice drawer so you have it at hand when you need it. Serve it with roasted meats or as a flavouring to hearty soups or stews.
Horseradish (ground): Perhaps more convenient than grated horseradish, ground horseradish is easier to store. Horseradish powder has a potent flavour, commonly described as hot, spicy and peppery.
Italian herb mix: If you haven't realised yet, mixes are our flavour friends. An Italian herb mix is perfect for some extra flavour to pizza, bread and pasta sauce, but it works just as well in other cuisines. The main herbs in this mix generally includes oregano, basil, thyme and rosemary.
Juniper berry: Used dried or fresh, juniper berries have a spicy, aromatic taste that can be used in both sweet and savoury dishes. While they can be used whole, ground Juniper berries offer maximum flavour.
Kaffir lime leaf: Used in South-eastern Asian dishes, the leaves have a distinctive citrus flavour most commonly used to infuse soups and stir fries.
Kofta spice blend: Perfect for the whole family, use this spice blend when making Kofta or Felafel — it offers a bit of heat… but not too much!
Lavender flower: Although not commonly used in food, lavender flower has a soft, sweet taste that you can explore or use in baking. 
Lemongrass: A staple in East Asian cooking, keep lemongrass powder in your spice drawer to add a zesty flavour to dishes.
Lemon myrtle: A beautiful Australian shrub, lemon myrtle has a rich lemon-lime aroma that complements a range of meats including kangaroo, lamb and chicken. Packed with antioxidant and mineral properties, this is another one to use sparingly!
Lemon pepper: A seasoning made from granulated lemon zest and cracked black peppercorns, this seasoning has long since been a staple in fish dishes, whether you sprinkle it on before grilling or make a compound butter with it.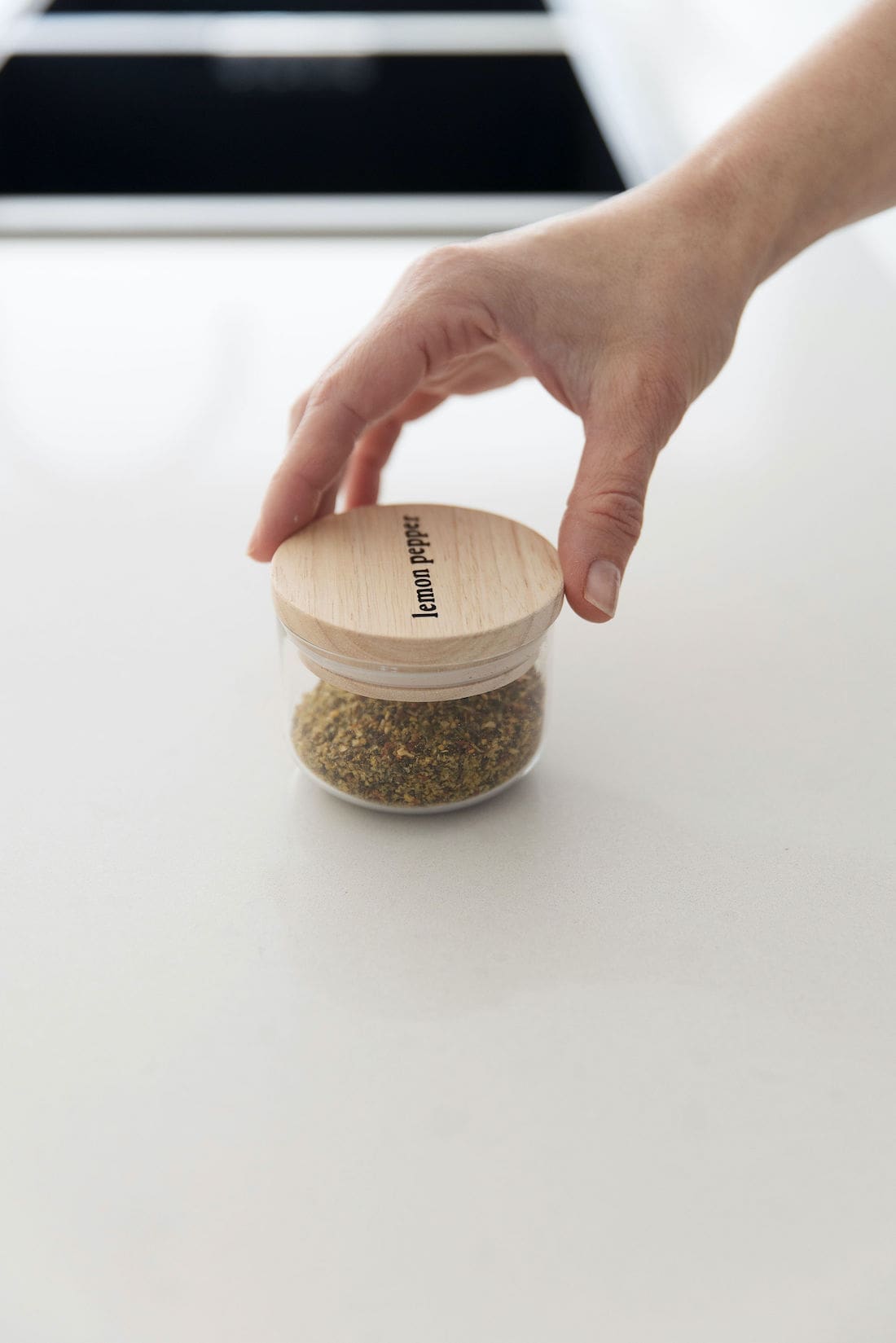 The A-Z of spices, herbs and seasonings cont.
Mace blade: Mace is the lacy dried covering of the nutmeg seed. It can be used as a substitute for nutmeg in any dish and has a softer, sweeter and more delicate flavour than nutmeg.
Marjoram: A subtler alternative to oregano, marjoram is an aromatic herb well suited to vegetables, tomato-based dishes and poultry.
Mint (dried): Mint, with it's versatility, can be used dried in yogurt, adds a depth of earthiness to dishes and can still be used in tea.
Moroccan blend: A basic Moroccan blend includes ground coriander, ground cumin, paprika, ground turmeric, sea salt, and garlic salt. Why not add a bit of Morocco to your plate tonight?
Mustard powder: Mustard powder gives a kick to meat dishes and blends well with other spices like cayenne pepper. Use it to bring a distinctive tanginess to grilled meats.
Mustard seeds: The most common use for mustard seeds is in fact to be ground down into a mustard powder. There's not much discussion on whether it makes a difference in flavour, so why not experiment with it yourself?
Native red gum smoked salt: Smoked on the Australian red gum, this salt is an especially delicious change in flavour from your classic sea salt.
Nigella seed: Sprinkle on savoury pastries and vegetables to get the best out of the nutty, earthy taste.
Nutmeg: Found in many Indian dishes and spice mixes, this aromatic flavourful nutty spice is suited to cakes, puddings, and cookies. Whether whole or ground, the flavour and aroma of nutmeg is unmatched, so use sparingly.
Orange peel: Need something to complement your duck? Try orange peel that has a bitter sweetness. You can add it to gravies, sauces, even cakes and puddings.
Parsley flakes: Another good emergency staple, parsley flakes brighten flavours and add an attractive colour to everyday dishes.
Pepperberry: Picked in the North of Tasmania, pepperberries are an excellent spice to grind down for a bite that lasts in your meal.
Peppercorns: Arguably the most popular spice in the world, ground peppercorn is considered a pale comparison to whole or freshly ground peppercorn in terms of flavour and aroma.
Piment e'Espelette: From French and Basque cuisine, this ingredient is a mild chilli. Prized for its warm, sweet and fruity taste, it's a unique seasoning to your dishes.
Poppy seeds: These seeds are commonly used throughout Europe and Eastern cooking, and are great as a filling for cakes or sprinkled on top of baked goods.
Portuguese spice: Made up mostly of paprika, Portuguese spice has a rich, earthy balance that'll enrich your dish to new heights!
Roast veg sprinkle: Whether roast veggies are your once-a-year specialty or a go-to dish in the cooler winter months, roast vegetable seasoning is a great and easy way to add those enriching flavours with a blend of rosemary and garlic.
Roasted wattleseed: Traditionally eaten by Indigenous Australians, wattleseed is endlessly versatile. Use in the same concentration as you would cinnamon. Just a pinch for some mild flavour, more for a complete aromatic effect.
Rock salts: Less refined than your regular salt, rock salt comes from minerals left behind by dried up water bodies. It's a great way to encrust your meat during cooking, which keeps it soft and moist.
Rosemary leaves: A versatile herb that you can grow in your backyard. Or for those of us with a brown thumb, simply keep some dried rosemary in your spice drawer! Use it in everything from salads to soups to fish dishes.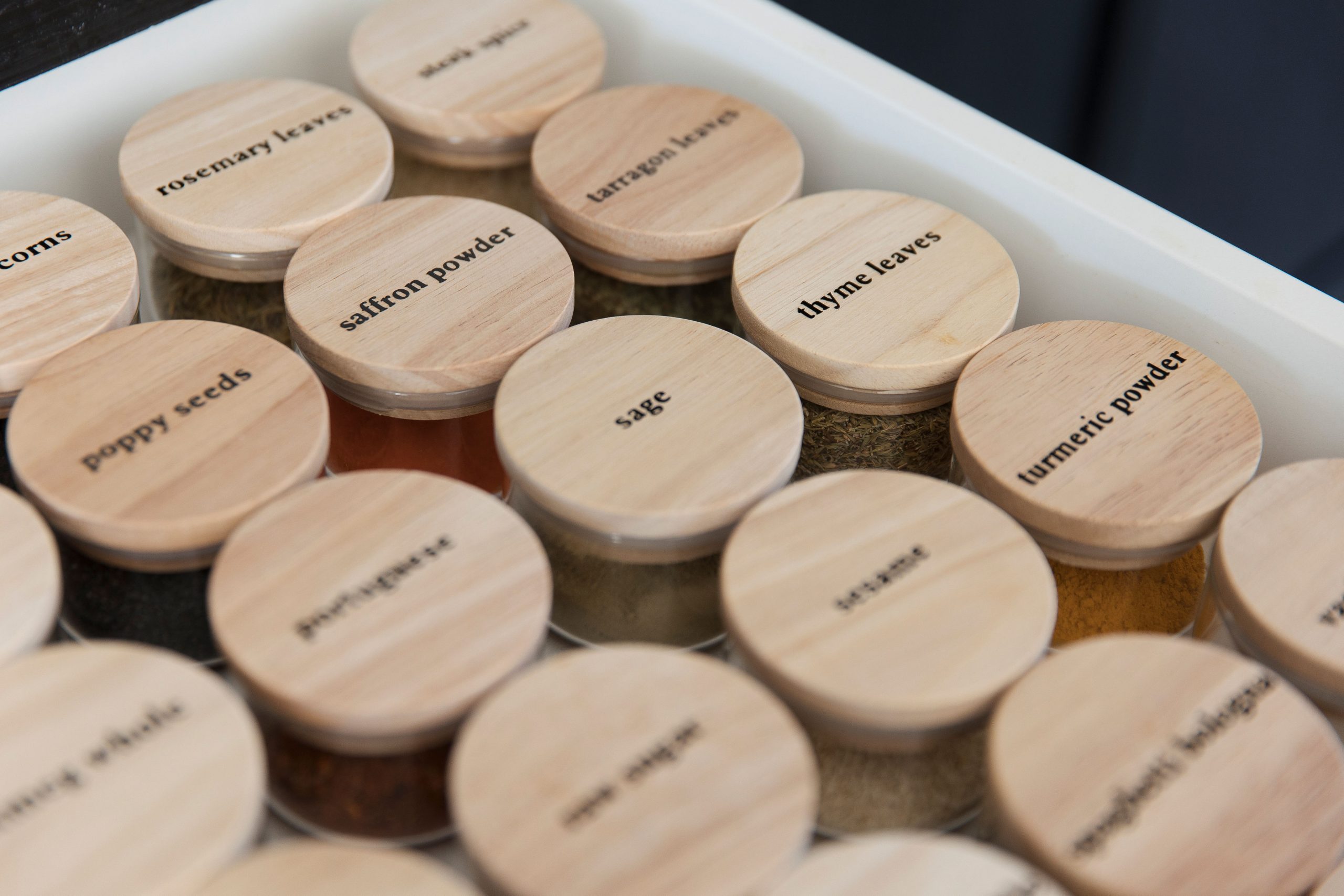 The A-Z of spices, herbs and seasonings cont.
Rose petal: Used in Middle Eastern cuisine, rose petals are great to add a soft sweetness to both savoury and sweet dishes. You can use them to make your own rose water or add them to your fruity cakes.
Saffron: One of the most expensive spices in the world, saffron provides a great gold colour to your dish and you only need a little bit. It can come in two forms: powdered or thread which work differently in a dish.
Sage: Add herbal flavour to your sauces, pastries and breads with sage. If you find it a bit strong, frying the leaves will help soften the flavour.
Salt bush: Called one of Australia's best herbs, use the dried leaves of a salt bush when cooking meats or breads. You can also sprinkle it over salads for a salty flavour.
Sesame seeds: A great source of B vitamins, sesame seeds work particularly well with meat dishes and in warm salads and salad dressings.
Spaghetti Bologna: A staple in every home, no spaghetti Bolognese recipe is the same. If you're struggling to find the right balance of flavours, you can use a blend of herbs and spices specifically for that. Don't worry, we won't tell.
Sriracha: A chilli sauce made from red jalapeno peppers that can be used in sauces, hamburgers and other dishes to add a bit of heat.
Star anise: Not to be confused with aniseed, star anise is used in the east, mainly in Chinese cuisine, for its powerful liquorice taste.
Steak spice: Flavour your perfect steak with a seasoning mix of your choosing. Having a ready-made steak spice in your drawer will make whipping up the perfect steak a breeze.
Sugar (brown): While typically used in baking, having some sugar — especially brown sugar — in your spice drawer can make life more convenient. Add it to a range of savoury dishes including fried rice and laksa.
Sumac: From the Mediterranean region, Sumac comes from the outer flesh of a berry. It adds a tangy, lemony taste to dishes.
Tarragon leaves: A key ingredient in French cuisine and popular in European cooking. Tarragon leaves have an anise-like flavour that can serve as a great garnish or roast vegetable flavouring with its fresh, spring taste.
Thyme leaves: Used fresh or dried, thyme is ideal for seasoning poultry as well as flavouring cheeses and tea. Another spice that's perfect to add to just about anything!
Turmeric powder: Available in a variety of forms, turmeric has an appetising fragrance and warm taste that is unlike any other spice available.
Vanilla bean: Using fresh vanilla will give your recipe a warm and rich vanilla flavour. Perfect to add to warm drinks or sweet dishes. Note, it's best to store these in an airtight container to avoid them getting moldy.
Vanilla sugar: Use vanilla sugar as a replacement for regular sugar and to add a special flavour to sweet dishes.
Vegetable stock: Available in both liquid and powder forms, having powdered veggie stock in your spice drawer will mean your next flavourful dish is never far away.
Urfa Biber: A dried Turkish chili pepper, this spice is dark, almost black red in colour. It has a warm fruity, slightly roasted flavour that makes it a highly desirable spice.
Za'atar: A Middle Eastern blend used to flavour breads and season dishes. You can use it when frying, grilling, barbecuing or roasting.
If this article inspires you to create your own spice drawer, I'd love to see! Be sure to tag me @stylecuratorau when you post images online or email them to us at hello@stylecurator.com.au.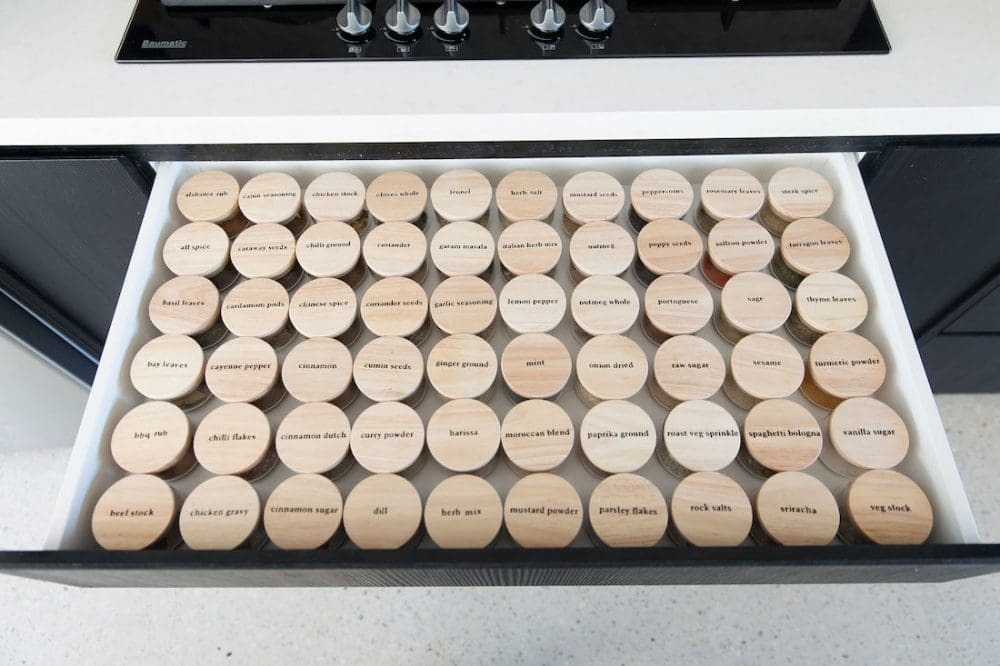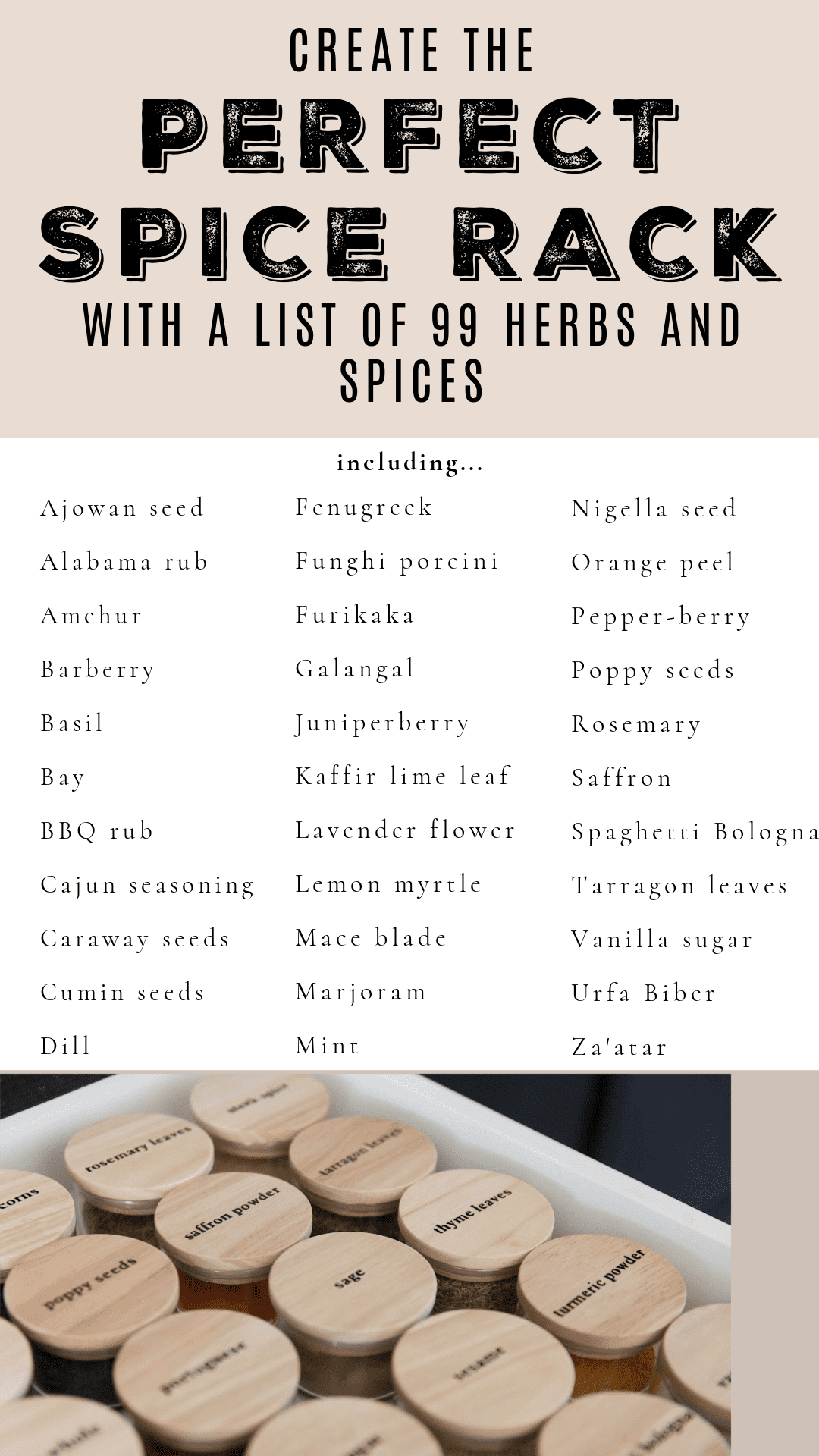 Photography by Thorson Photography
Disclaimer: This post contains some affiliate links. This means that when you click on a link and purchase something from that site, we may make a small commission at no extra cost to you.