If you are renovating your bathroom or designing a new one, this post a must read!
The bathroom can be one of the trickiest spaces for a first-timer to get right. If you're an avid Block fan like us, you would know 'Bathroom Week' is where we see most couples fall over – not quite building in in-built toilets, making the shower head far too low, placing the toilet right in front of the door so it's the first thing you see (which Darren Palmer says is an absolute 'no no'), or inadequate lighting are just some of the blunders that have happened.
Well we want to save you those headaches and costly mistakes!
Today we're chatting with Steve Maddalena who is the Managing Director of Versa-Tile. He has been tiling and renovating bathrooms for over a decade and during that time has seen his fair share of 'face-palm' moments. We asked him to share the top 5 biggest bathroom blunders to avoid.
1. Layout
"The biggest mistake I see people make is with the layout of their bathroom," says Steve.
"It's worth taking the time to really consider your bathroom layout and the scale of the vanity, bath, toilet and shower before the works start. And if you don't know what you're doing, seek professional advice.
"Space is one of the biggest luxury items in your bathroom so you may want to reconsider having a double basin if it means having no space around the toilet!
"Also, avoid making the shower or toilet the first thing people see when they enter your bathroom — ideally it will be the vanity."
Reece have a free 3D bathroom planning tool that can help you visualise your bathroom. Set the floor plan to the size of your own bathroom and play around with different configurations and finishes.

2. Tile colours
"Like clothing, tiles come in and out of fashion.
"I always recommend sticking to neutral-coloured tiles in grey, white or black and using bathroom accessories to add colour. Accessories can be easily updated each season — tiles not so much.
"Can you remember back five years when red gloss tiles were the latest trend? And what about 8-10 years ago when blue mosaics were the 'It' tile? Trends date quickly so it's best to choose tiles that are timeless."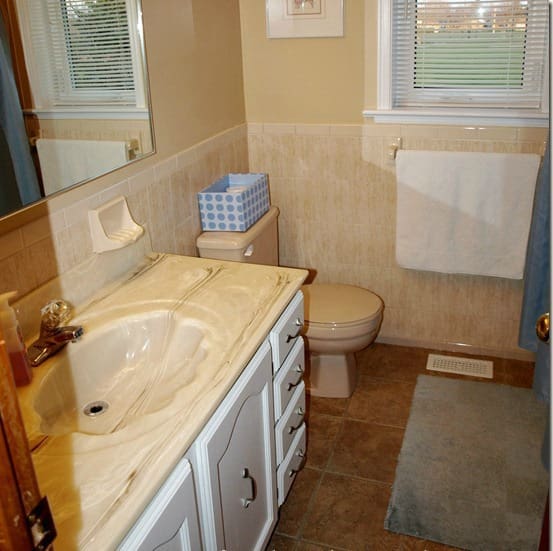 3. Grout colours
"As if picking the right tile isn't hard enough, I would say selecting the right grout colour is just as important.
"A good tiling job can look bad with the wrong grout colour and a bad tiling job can look good with the right grout colour — if the colour is wrong or too similar to the tile, it has the ability to make a tile look odd.
"One of my most memorable jobs was when a lady selected deep blue floor tiles and wanted the grout to be a perfect match. Despite my efforts to advise her to use a grout colour that would contrast with the tile and make the tile the feature, she was adamant that's what she wanted. Sure enough, as soon as I laid the tiles and she saw the sea of blue — it looked like a blue painted floor — the job had to be redone."

4. Lighting
"You want your bathroom to be like a retreat and lighting plays a big part in getting the mood right.
"Stark lighting can make a bathroom feel cold and insufficient lighting can be impractical.
"Strike the right balance by considering the three layers of light you will need.
"Task lighting is required over the vanity, such as downlights or wall lights near the mirror. Ambient lighting illuminates the general bathroom space, and accent lighting is used to add interest, for example a small light in a wall niche.
"Also consider how much natural light will come in to your bathroom. If you don't have windows or natural light is limited, it's a good idea to add more ambient lighting, for example using LED strip lighting under a floating vanity."
5. Simplicity
"The best advice I can give is to keep it simple.
"Showing your personality in the home can be great but not in the bathroom.
"Just because you love terracotta handpainted tiles, doesn't mean everyone will. If you are ever planning on selling your house, having a tile that 97% of buyers hate won't do you any favours.
"Some choices can also require high maintenance and can turn buyers off. Moisture sensitive natural stones like green marble are a shocker in the bathroom — just touch it and it will mark!
"One of my top picks would be Travertine — it looks great in a bathroom and isn't too bad with maintenance."
Thanks Steve for your helpful bathroom advice! We hope it will help you to renovate or design your own bathroom.