Supported by Canberra Outlet
When decorating any space, it's important to have a clear idea of the type of style or colour palette you want to use. Few of us are blessed with the innate ability to simply pull items together and make them 'work' — including us!
It helps to have an understanding of different interior styles, so you can more easily identify what your personal style is, which may very well be a blend of two or more styles!
Let's run through the most popular interior design styles so you can find out which one/s speak to you most.
Related article: Do you know what your interior style is? Take the quiz!
Related article: The ultimate guide for achieving a coastal interior style
Contemporary
This style stumps a lot of people — and for good reason — it's a fluid design style that's based on what's in style here and now (not to be mistaken with 'Modern' style). For this reason, the characteristics that define this style are continually evolving. We also believe place plays a large part of shaping this style; certainly, the contemporary Australian interior style looks very different to contemporary American, which is far more ornate.
Right now, the contemporary style in Australia is defined by large, abstract artworks, panelled feature walls, punches of colour in deep, muted tones and highly textured décor.
There's a newfound appreciation for artisanry, such as beautiful handmade woven baskets or hand-thrown ceramics.
A common theme of the contemporary interior style though, no matter how it morphs over time, is an emphasis on connecting the indoors to the out. Generally, there's also a focus on form — right now we're seeing curved, arch shapes coming through whereas up until recently, clean, minimal lines dominated.
I mentioned in the intro the idea of fusion styles. Many interior styles can blend, so long as they share some similar characteristics or values. When it comes to the contemporary style, you'll often hear of hybrids like 'contemporary boho', 'contemporary coastal' and 'contemporary minimalist'.
Minimalist
As the name suggests, this interior style is all about simplicity. From the shape and style of furniture, to the colour palette of the space, and of course the decorating — the saying 'less is more' applies.
Minimalist design takes notions from modern and Scandinavian styles and simplifies them further. Despite being stripped back, it needn't be stark or sterile. In fact, many people embrace minimalist styling because it creates a soothing and inviting ambience. There's serenity in simplicity.
Typically, minimalist spaces embrace a monochromatic colour palette of white, grey and black but you do see occasional accent colours.
Everything should have a purpose. In minimalist design, function and form are key. Styling is deliberate and everything in the space belongs (a far cry from the eclectic style where 'more is more').
Lighting also plays an important role in bringing this style to life. Where there isn't ample natural light, floor lamps almost always feature in a space.
This style can blend with almost any other as it's about removing clutter and simplifying a space to only that which belongs.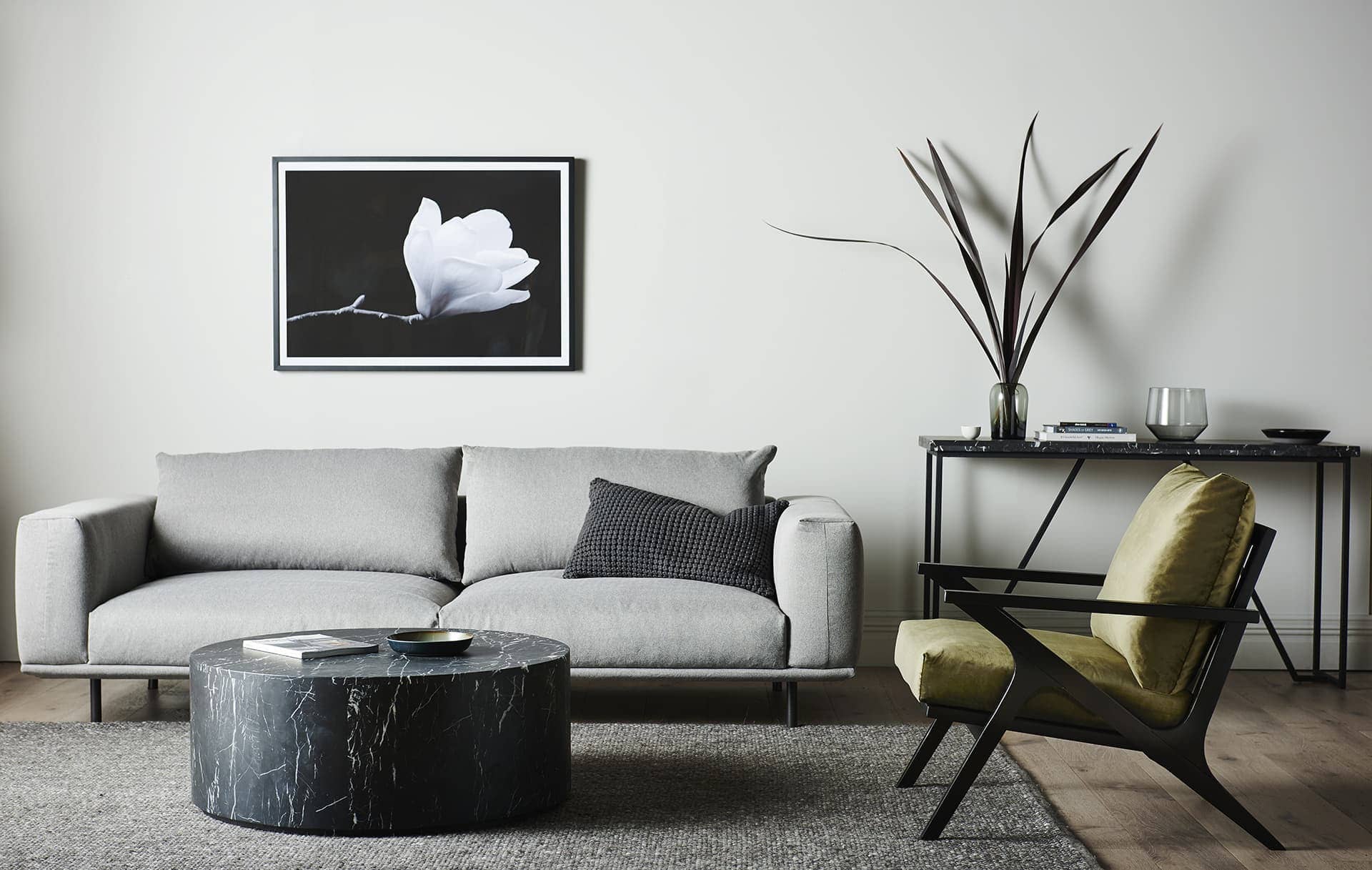 Boho
Gaining popularity as one of the most popular interior design styles in recent times, the boho style celebrates culture and travels. Unique objects and artwork are the hero pieces of these spaces.
Boho interiors embrace a neutral palette that's brought to life with texture. Think rattan, knotted wool, jute, woven baskets, raw cotton, cane, macramé and ceramics. Indoor plants also play a leading role.
You'll often see hanging chairs, worn furniture, large floor cushions, wall weaves and statement chandeliers in these spaces. The modern take on boho style is less hippy and more elevated though so luxe items can also be thrown into the mix.
There's no defining colour palette for the boho style — some are ultra tonal, playing with shades of one colour, while others inject bold accent colours.
Most recently, the boho style has taken a moodier turn with dark-coloured or even black feature walls creating a dramatic statement — a drastic change from the bright, all-white and airy look that dominated for so long.
When it comes to hybrid boho styles, you'll find 'boho luxe' and 'boho coastal' are two of the most popular.
Coastal
Move over '90s beachy decorating, today's coastal interior style is far more contemporary. Inspired by the sea and sky, the coastal style is light and breezy, and embraces a colour palette drawn from the ocean.
The coastal style is defined by natural materials and textures. The base is generally light and airy, paired with accents of blue and green. Timber plays a leading role, acting to ground spaces while adding warmth.
Décor needn't be overtly 'beachy'. In recent years, cliché coastal wall art has been replaced by more sophisticated photographic pieces, and décor of oars and lifebuoys have been set aside to make room for abstract pieces such as bowls made from aged wood or shell.
Linen slip-cover furniture, raw timber tables, woven baskets and jute rugs all suit this style to a T. Don't forget to add some oversized cane pendant lights into the mix for serious wow-factor.
The new brand of coastal style is focused on creating a relaxed and comfortable environment rather than filling the space with ocean-themed references to the point of feeling kitsch.
The coastal style is perfect for mixing with contemporary or Scandinavian.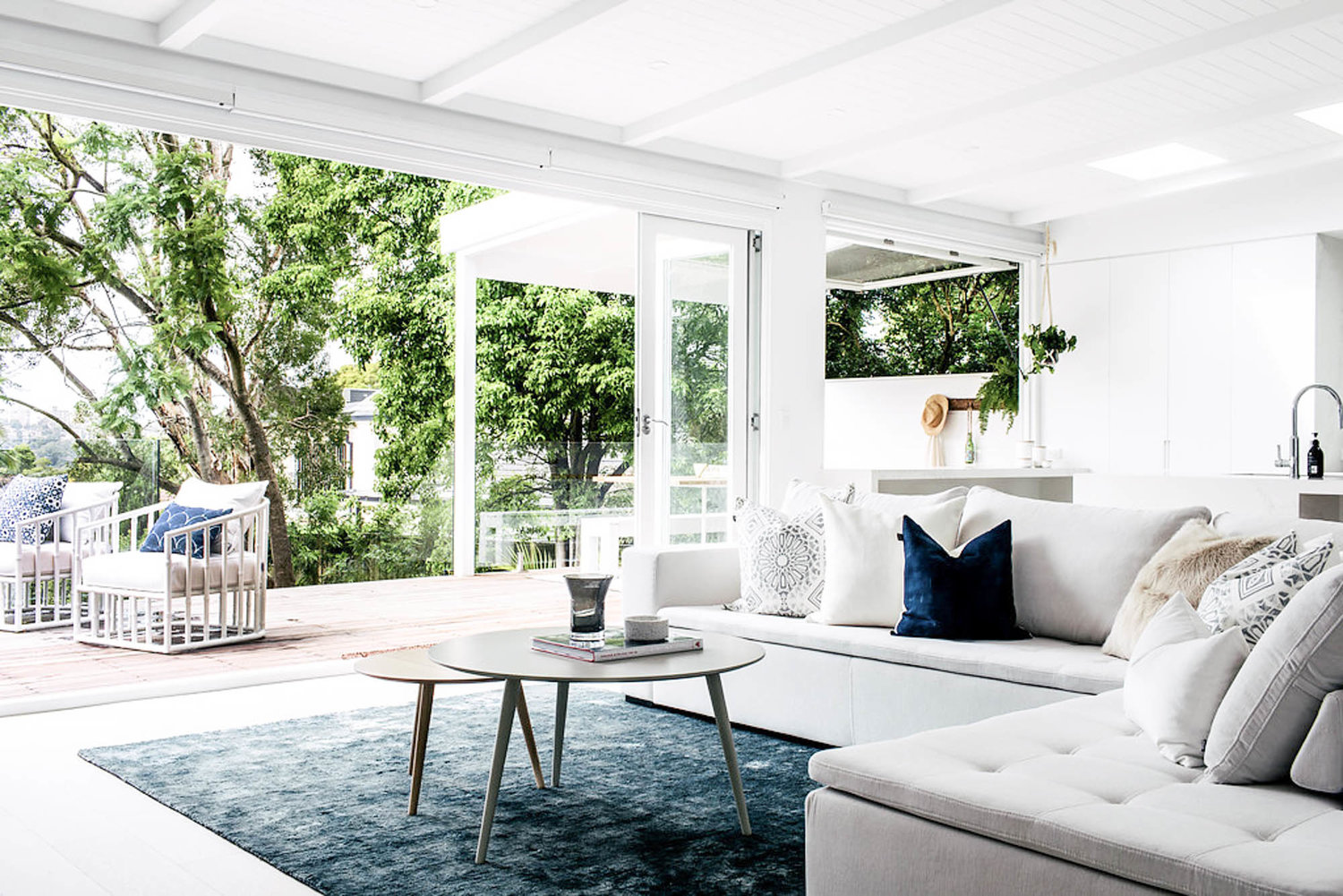 Provincial
Sophisticated and timeless, the Provincial style is all about quiet elegance achieved through impeccable craftsmanship.
Furniture is ornate and often combines soft with hard. Think upholstered bedheads with tufting or studding detail, carved chests with gilding, and armchairs with cabriole legs.
Natural materials like stone, brick and gold often play a role in these spaces. Textiles are generally heavier — embossed silk, mohair velvet or 100% linen — and often patterned, such as stripe, floral or check.
The colour palette in Provincial spaces is a mix of creamy whites, dove greys and ivory with splashes of soft green, duck egg or inky blues. For something more adventurous, you could try accents of lavender, turquoise or dusty pink.
If you want to play with the Provincial style, it's been known to blend with everything from coastal to industrial.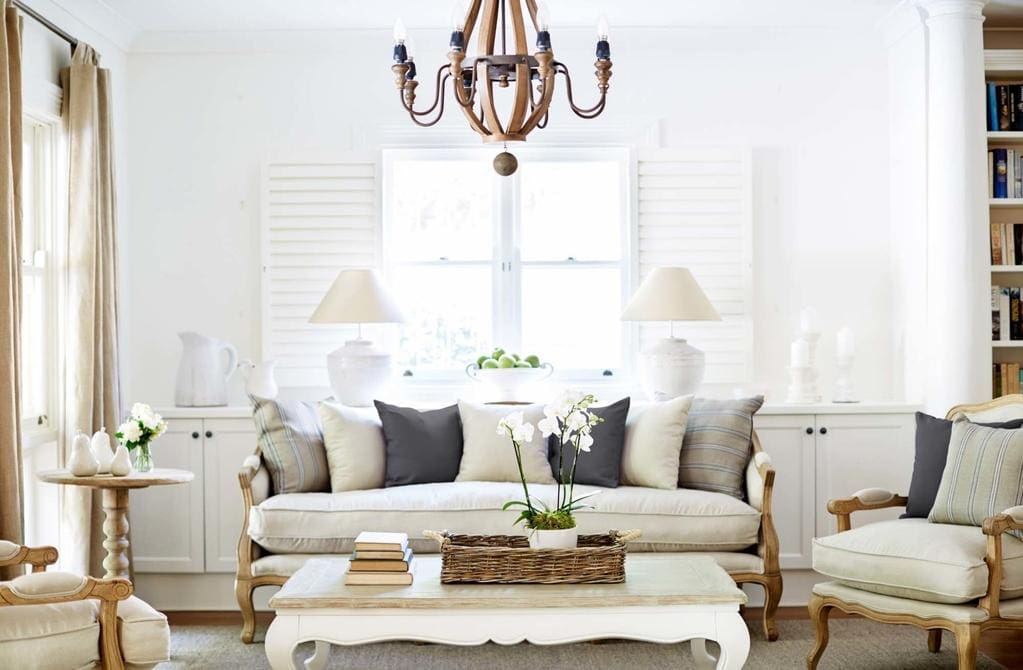 Mid-century modern
This design style refers to the resurgence of mid-century design (spanning from roughly the mid-1940s to 1970s) but through a modern lens.
Mid-century modern focuses on clean lines and contemporary patterns that are carried through from fixed materials (linear mosaic kitchen splashbacks or timber panel walls, for example) to soft furnishings (cushions or rugs with modern patterns). Natural materials, especially timber, are celebrated and used abundantly.
Iconic mid-century furniture items are often the hero of the room, such as furniture designed by Herman Miller or Hans Wegner, and combined with contemporary art and décor to create a fresh, modern look. Alternatively, new furniture could be custom made taking inspiration from the mid-century era.
Statement lighting, period art, neutrals paired with bright pops of colour, and quirky accents decorate these homes.
There's plenty of scope to create a unique mid-century modern look of your own but if you feel like incorporating other design influences, consider trying 'mid-century eclectic' or 'mid-century boho'.
Industrial
The industrial style is about exposing what lies beneath to achieve a raw, edgy style. The bones of a building are often the hero in the form of exposed ceilings or beams, brick or concrete slab walls, and even exposed pipes and hardware.
When it comes to styling, sparse, functional furniture, metal light fixtures and large-scale abstract photographic artwork are used. Colour palettes can be muted and play more with texture and material, such as combining leather and metal, or at times you'll see bold accent colours like red and yellow used.
In early 20000s, the industrial style was done to death and once it hit its peak, many of us needed a break from it. So for some time, we haven't seen industrial design making a big appearance in Australian homes… but that's beginning to change and industrial is re-emerging as one of the most popular interior design styles.
The new wave of industrial is more luxurious. DIY timber pallet furniture has been replaced with refined pieces that embrace texture. And it's less masculine with warmer textures and indoor plants used to soften spaces.
If you like the industrial style but want to give it your own spin, consider trying a 'mid-century modern industrial', 'luxe industrial' or even 'coastal industrial' version by incorporating other design elements into the mix.
Scandinavian
We've seen various interpretations of the Scandinavian design evolve, from warm and homely interiors to ultra-minimal black and white spaces. However, Scandinavian design is all about pared-back style that's centred around warmth.
Generally, the Scandinavian style is defined by a crisp white base that incorporates natural elements such as wood, furs and indoor plants. Although moodier colour palettes, including the rise of black feature walls, are gaining popularity.
Similar to the minimialist style, there's a focus on function and clutter-free spaces, but texture plays a more leading role in Scandinavian interiors.
You can't go wrong with some iconic Scandinavian homewares, such as the By Lassen Kubus candle holder, marble décor and a gallery wall to decorate. Large, statement lighting is always a winning idea too.
Scandi is one of the most popular design styles so if you love this style, you can find 13 ways to achieve a Scandinavian style interior here.
Luxe
The luxe style spells elegance and opulence. There's usually a bold application of pattern and colour. Spaces are intricately layered and beautifully measured with nothing but the best.
Large mirrors, architectural lighting and patterned textiles feature heavily in luxe interiors. Almost everything can be, and often is, custom made to fit the space perfectly. From uniquely patterned carpets to custom joinery, everything in the space has precision.
You'll often see glimmers of gold or brass throughout to give these spaces sophistication and presence. Other materials that feature heavily include natural stone (and the more rare or unusual, the better) designer wallpaper and furs.
Fusion styles you often hear are 'boho luxe' or 'coastal luxe' but it blends with any style as it's all about taking things up a notch and using the highest quality materials and finishes.
Eclectic
Do you love to let your creativity run wild? Then this playful design style could be the one for you. The electic style is a mix of old and new, luxury and salvaged, East and West… almost anything goes!
You do however need to have more of a styling eye to pull off this look! Otherwise, all those items you're throwing together could just look like a hot mess.
Some defining characteristics of the eclectic style are celebrating the use of reclaimed materials or objects, contrasting rustic against elegant, and unexpected accents.
A trick to elevate your eclectic styling is to introduce repetition. Display a collection of similar objects together or create a gallery wall with some common elements. Across the room, you can also repeat colours or shapes. This will help to create rhythm in your space and avoid the issue of it feeling chaotic which is a trap to watch for in eclectic design. The aim is to create an engaging mix of objects that emulate warmth.
If you want to give the eclectic style your own spin, consider trying a 'luxe eclectic' look where you dial up the elegant pieces in the space and embrace a more opulent colour palette.
Did this guide to the 10 most popular interior design styles shed some light for you on what your individual style could be? We'd love to know what style or fusion style you are — tell us by posting a comment below! Of course there are also many more design styles out there, including shabby chic, Hollywood glam, and modern.
This article was first published in January 2020 and continues to be updated with the latest information and images.