No one would ever accuse our latest real home owner of being boring! We are delighted to chat with Tash from The Colour Tribe about her '80s brick home which she has turned into a colourful wonderland.
Tash shows us that homes in their original condition can be beautiful if you just use a bit of originality and creativity.
Related article: Fun home tour with pops of colour around every corner
Related article: The myriad of creativity and colour that is Sage x Clare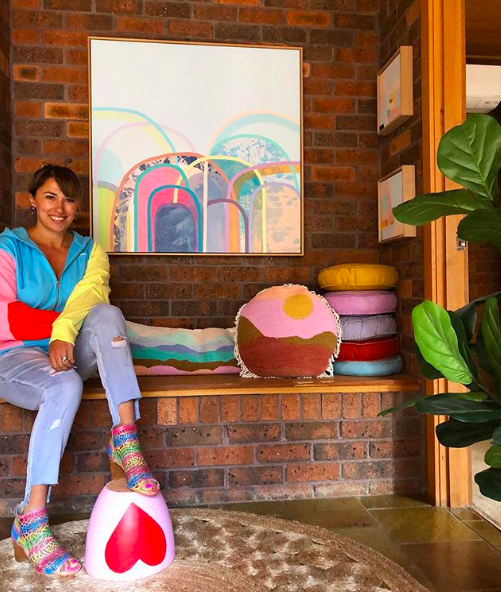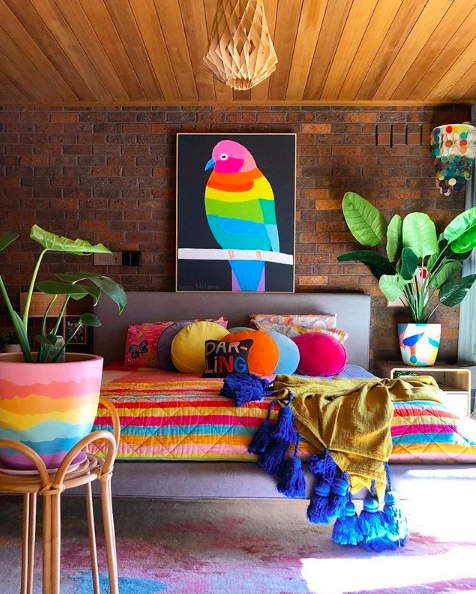 Always a fan of colour and the '80s, Tash and her husband knew this home was for them from the get go.
"I live in this original '80s brick home with my husband Anthony and my two boys, Tom (8) and Harvey (4).
"It was clear from the moment we walked in that this home was built solid!" smiles Tash.
"A lot of the fixtures and fittings seemed as perfect as the day it was built. I have always been fond of the '80s and who doesn't want to step back in time?
"Every time a friend or client walks into my home they say, 'This reminds me of my aunty's home growing up!' or something along those lines.
"However I do enjoy decorating it with contemporary colours, patterns and textures."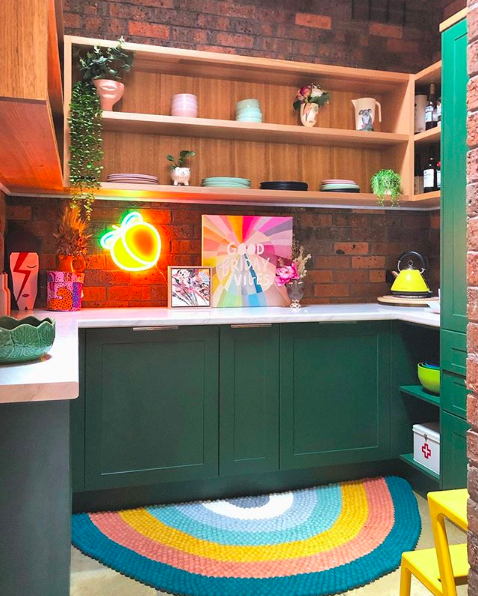 This solid 4 bedroom, 2 storey home has most of its original features, but Tash was still keen to put her own twist on things.
"I have a strong desire to keep this home original," she says.
"When we bought it, there wasn't much inspiration on how I could decorate a brown brick home. All the magazine had beautiful crisp white walls.
"So I went rogue and did my own thing, decorating it with colour, clashing patterns and textures and truly embraced the joy of the '80s.
"However, the walk-in pantry was a blank canvas that we felt we could put our own stamp on. We engaged Kaboodle Kitchens through Bunnings to install a fresh new pantry in the colour Vivid Basil, which is a nod to the retro and vintage feel of our home."
Shop Tash's colourful style
With such vibrant colours splashed throughout the entire home, we were curious to know what Tash's family makes of her bold style.
"To be honest, the brown brick is quite oppressive without colour! Having young kids, I was keen to use a more colourful palette to engage in the wonder and joy I see through their eyes.
"I don't think my husband or boys care — they let me be me. If they had a choice, it probably wouldn't be quite this colourful!
"Yet home decorating isn't their passion, it's mine. So I'm grateful they allow me this joy to faff around the house," Tash says with a laugh.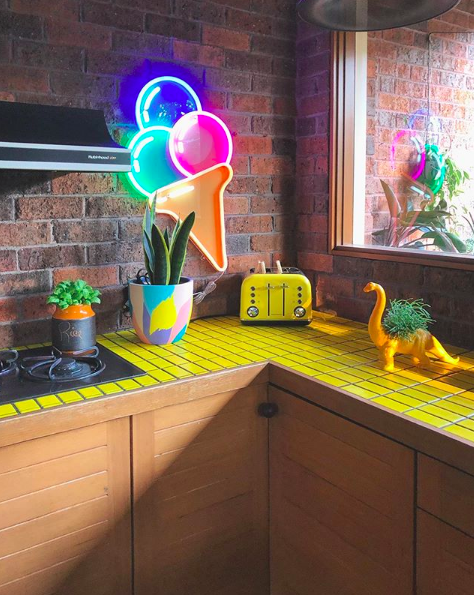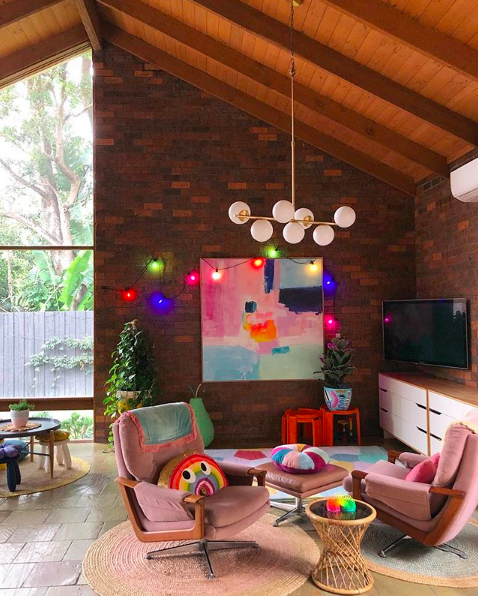 With so much to look at and inspiration to be found, Tash has a few sneaky favourites of her '80s brick home.
"I'm such a girly girl and love blending contemporary homewares with vintage furniture. I'd describe my style as vintage contemporary," says Tash.
"I love that our walk-in pantry is a room I walk past which often makes me do a double-take — it's more of an art gallery than a pantry!
"My retro yellow kitchen is often an underrated room. I mean, who would choose bright yellow tiles nowadays?! I love this kitchen!
"Another favourite is our family room with the soaring cathedral ceilings. My husband's favourite room is probably the sunken lounge room with the fireplace."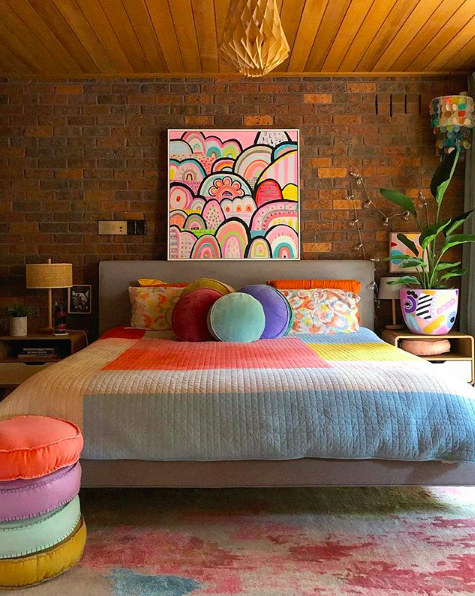 Tash's unique style has to be applauded, with a hugely successful Instagram following of over 100K fans, so we wanted to see if she could share some of her styling tips with us.
"Without a doubt, my greatest achievement since starting The Colour Tribe on Instagram was having this brown brick home featured in Origin Magazine! I never would've thought my home would be worthy!
"All in all, it's been amazing and I am grateful for this experience."
Art is key
"Invest in one big print or painting that will be the focal point of your home. Scale is everything and most people look at a wall and always go too small… go large!
"Go an extra year without a painting if it means you get one the right size. And when you do invest in artwork, get it hung correctly and at the right height.
"I see so many paintings hung too high or low and it doesn't feel right when you walk in. It's worth paying a professional to do it right."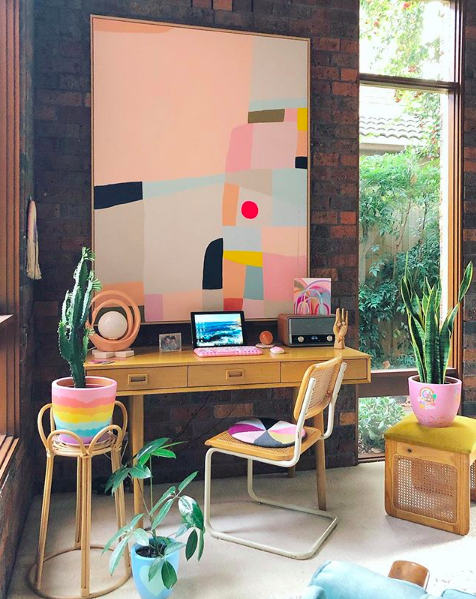 Add colour with cushions
"Colourful cushions and throws on a couch are a safe and simple way to start playing with colour. My favourite brands are Sage x Clare, Kip & Co and Rachel Castle."
Less is more
"Just because you have an empty corner in your home doesn't mean you need to add in table and cover it with nik naks. If you can, ditch the table and replace it with plants instead."
Plants are life
"Plants are everything! Remove decor in place of a plant."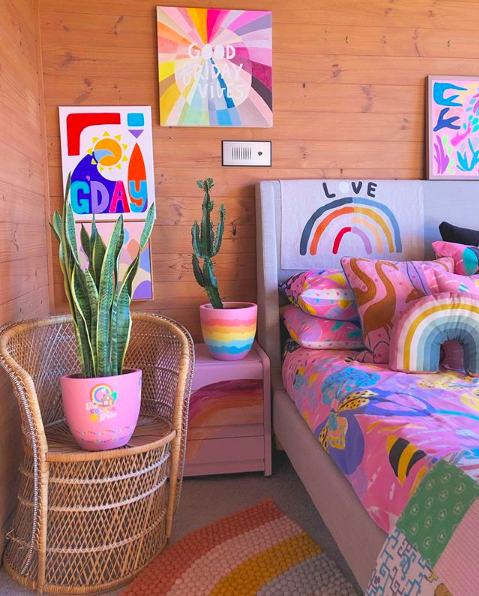 Storage is key to a happy home
"I have 2 kids which means we have A LOT of stuff. Our family room is our hub but I don't like looking at all their stuff!
"So I invested in Ikea drawers that look like a cool tv cabinet yet it hides ALL their toys. You wouldn't know our family room has a mountain of toys in it!"
Love it? Keep it
"Only keep what you absolutely love. Donate the rest," says Tash.
Wow! Who else loved taking a trip down memory lane through this '80s brick home turned colourful oasis?! Thank you to Tash for taking us around her fabulous home. Check out what she's up to over on The Colour Tribe's Instagram page.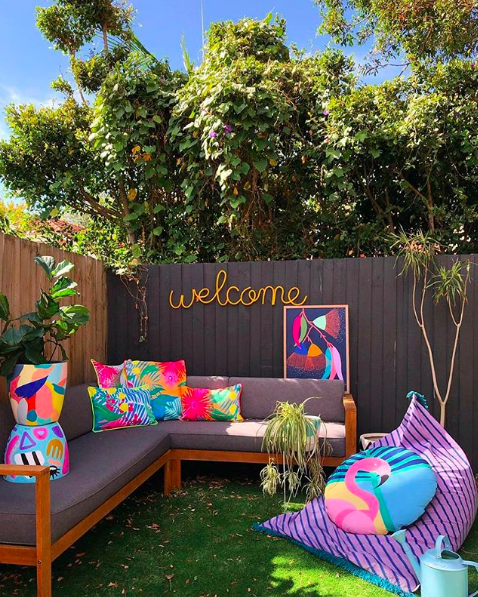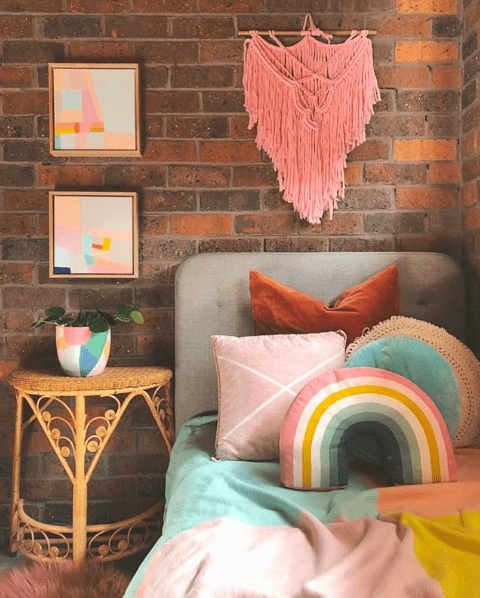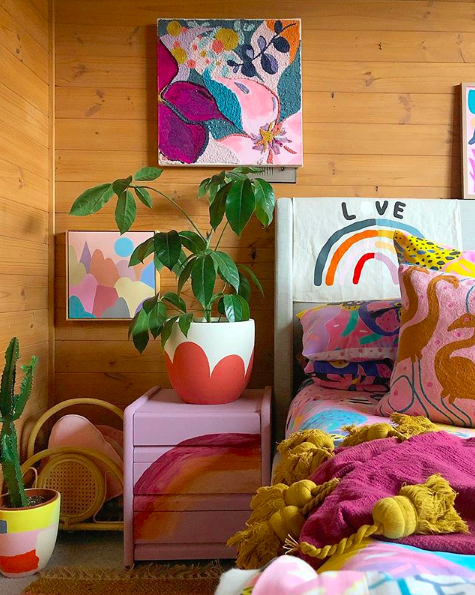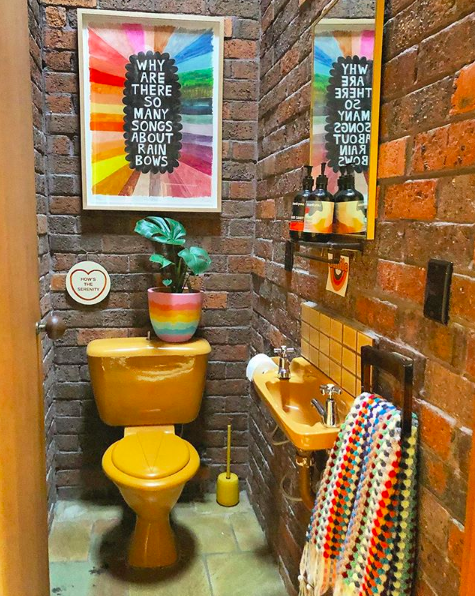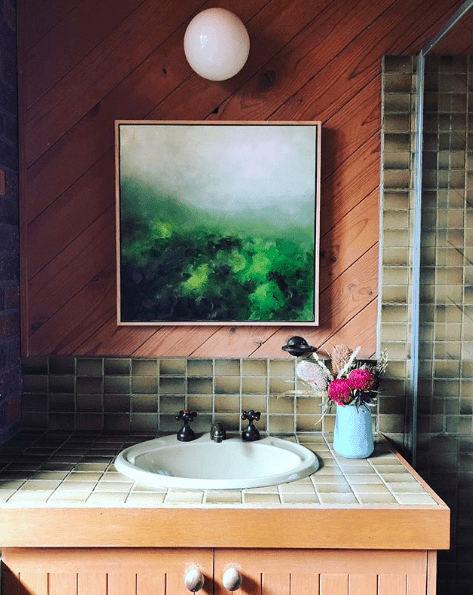 Shop Tash's colourful style
Disclaimer: This post contains some affiliate links. This means that when you click on a link and purchase something from that site, we may make a small commission at no extra cost to you.