In today's real home tour, we visit a stunning home in Baxter on the Victorian Mornington Peninsula. Featuring a refreshing colour palette of dusty tones mixed with bright pastels, this is a home which perfectly marries together warm country vibes and cruisy coastal chic.
We chat with the home's interior designer, Tara Daniels from Seahaven Interiors, as she takes us for a sneak peek through this home.
Related article: Chic boho coastal home tour
Related article: Luxury coastal home: Kyal and Kara's Long Jetty home tour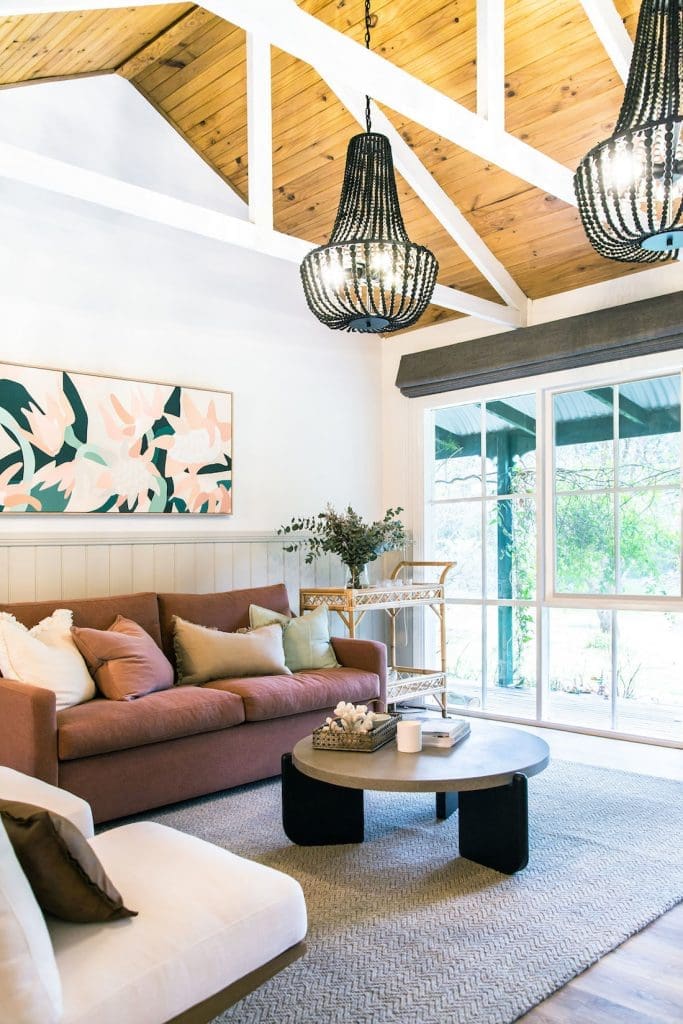 The first thing that struck us about this home was the fabulous dusty pink sofa! So we wanted to know who was lucky enough to call this place home.
"This property is actually a holiday home!" smiles Tara.
"A large extended family bought the property as a place for everyone to enjoy. They usually spend their weekends here, but it's also now available to rent on Airbnb for anyone's getaway needs!
"The home is located in Baxter on the Mornington Peninsula so encapsulates the beautiful countryside but also those easy coastal vibes."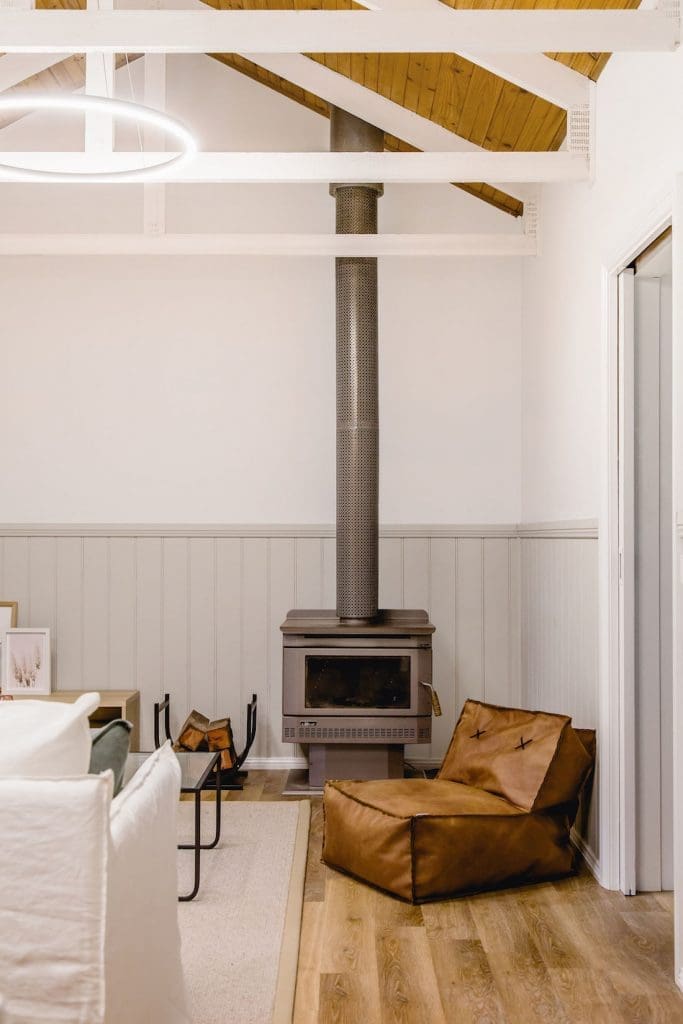 Starting with a rundown country shack, Tara and her team transformed it into a 4 bedroom, 2 bathroom retreat. But the renovation wasn't without its challenges!
"The homes location is absolutely beautiful, but when I first came to have a look around, I was greeted with a dreary space, yellowing pine, outdated beige tiles, disjointed styling and rotting carpet!" she laughs.
"There were some pretty big dramas when it came to replacing the flooring. We were laying planks during the coldest week Melbourne had seen all year and had to get creative to stop the floors re-freezing while being laid!
"Another challenge was our window furnishing installer turned up with the wrong brackets so it took an additional 3 weeks to be resolved and installed. We made it though, with just 2 days before our project deadline and photoshoot!"
Shop the look — country meets coastal
Taking what some might consider a more unique colour palette for the home, Tara was able to introduce mustard tones, clay-greens and of course, THAT sofa!
"The colour palette was inspired by our first consultation with the client. Pops of colour were really apparent, especially greens.
"I think the coral fabric on the sofa was actually a fluke! When I saw it in Warwicks showroom, I just couldn't resist!"
"Then I see if the client goes for it as well. Which luckily in this case, they did!"
Blending country with coastal, Tara managed to keep the homes style balanced to create a perfect cohesion of different tones and textures.
"I adore the master bedroom — I wish it were mine and could wake up to those beautiful cathedral ceiling every day! The green paneling is another favourite. I find the whole room exudes cosiness and serenity," Tara says.
"The family room is also a great space to hang out. The existing Coonara fireplace creates a great focal point, paired with a custom woollen rug, linen sofa and wicker armchairs.
"It's very textural and inviting — plus the green kitchen is a fantastic backdrop!"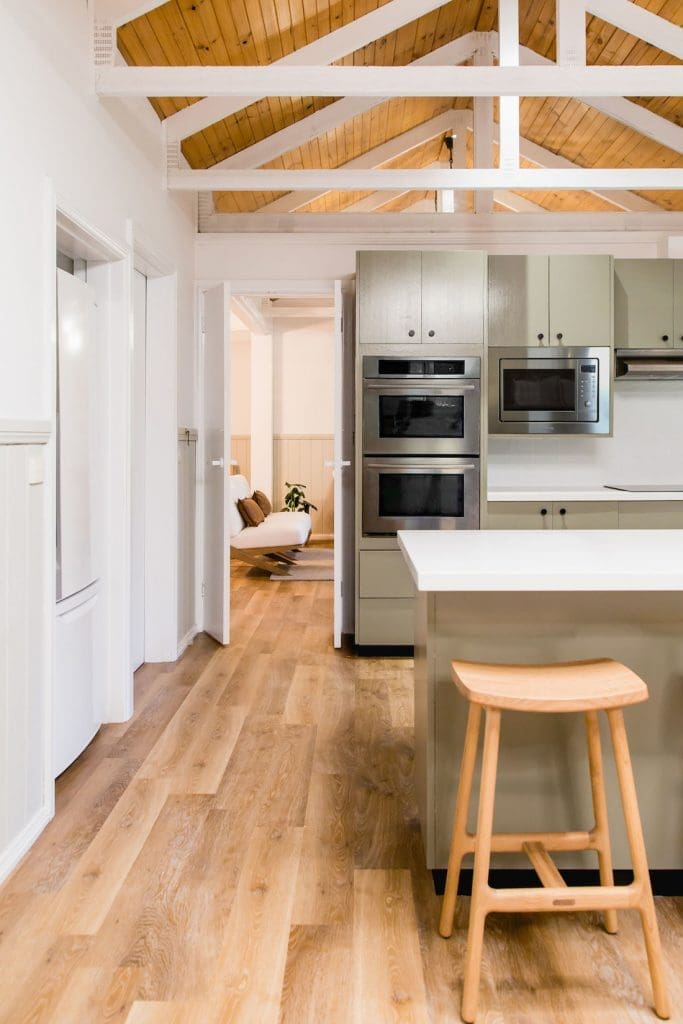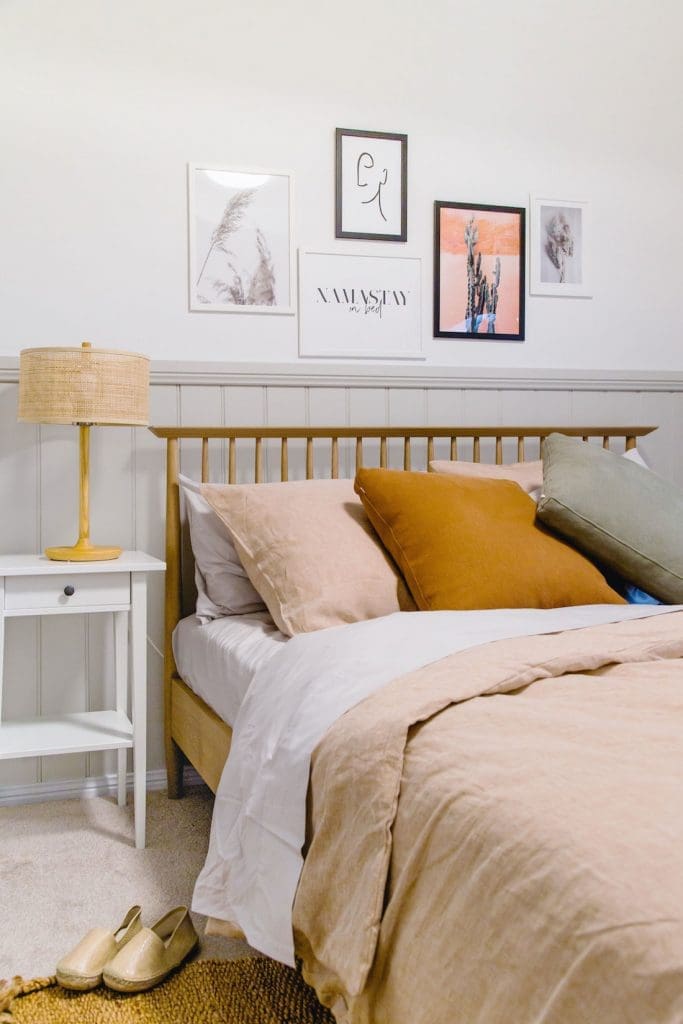 Balancing style with functionality can be tricky, so we asked Tara's top 5 tips to create that perfect blend.
"Firstly, storage is key. Being able to hide items like your keys and mail in a drawer by the front door, will leave the top of the unit clutter-free for you to style and maintain as a beautiful entryway.
"Next up, think about how you will use the space. A beautiful handmade ceramic bowl on your bedside table, not only looks good but holds a practical purpose of holding your jewellery too.
"Something we often forget is, less is more! Always stand back, then take one thing away," Tara says.
"I love to add florals to any space, either fresh or dried. These natural elements bring life to every space, making you a happier human.
"And finally, don't just buy, buy, buy! I live this rule, even for my own home! Right now, I'm looking for the perfect ceramic vase but have to remember to be ruthless and only buy when I know it will suit my style and needs."
Thank you to Tara for showing us around this beautiful country meets coastal home and sharing some of her fabulous styling tips with us. To find out more about the interior design services offered by Tara, check out the Seahaven Interiors website or Instagram page.
Photography by Suzi Appel Photography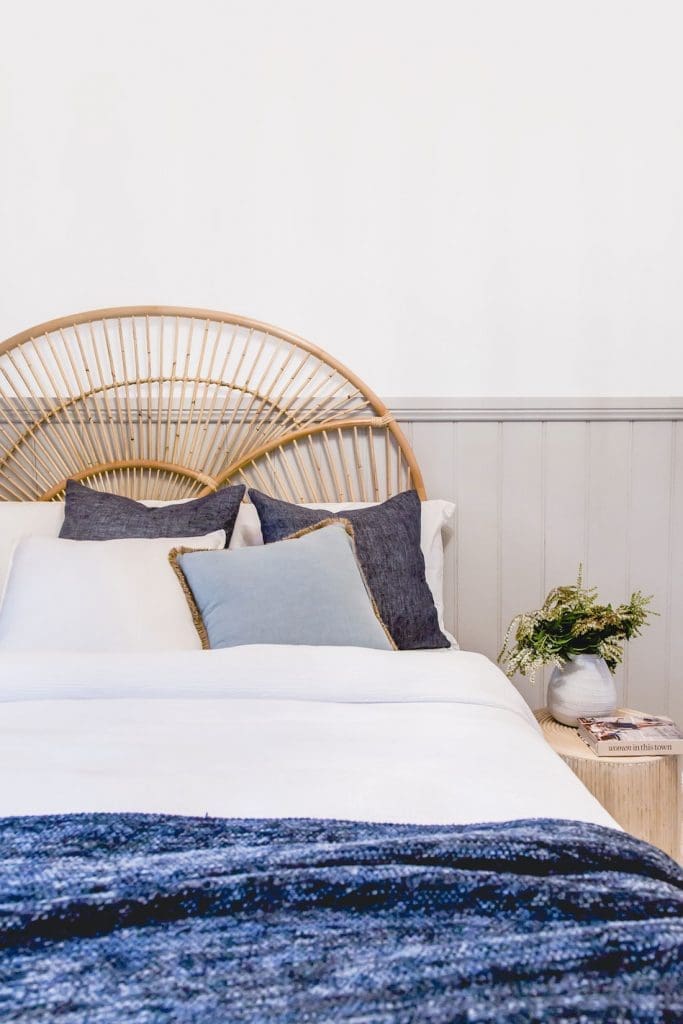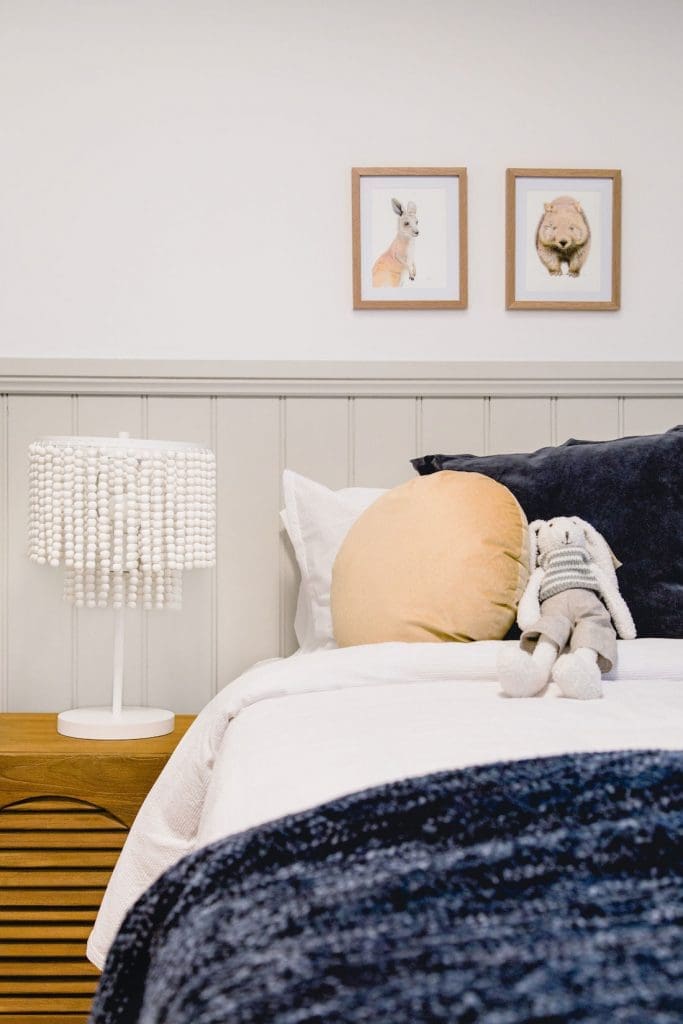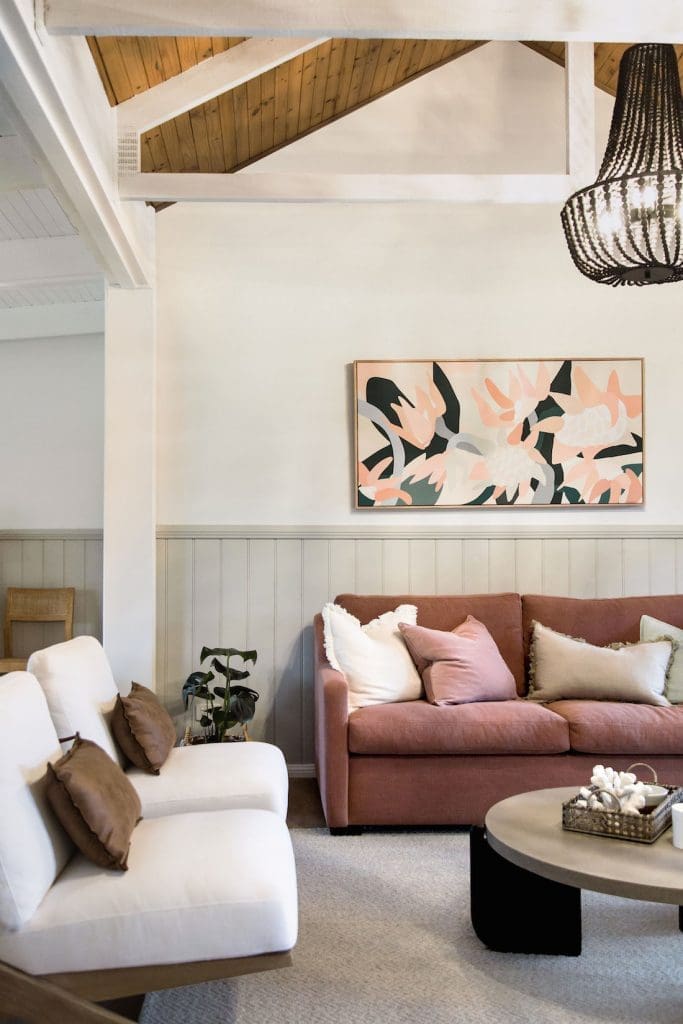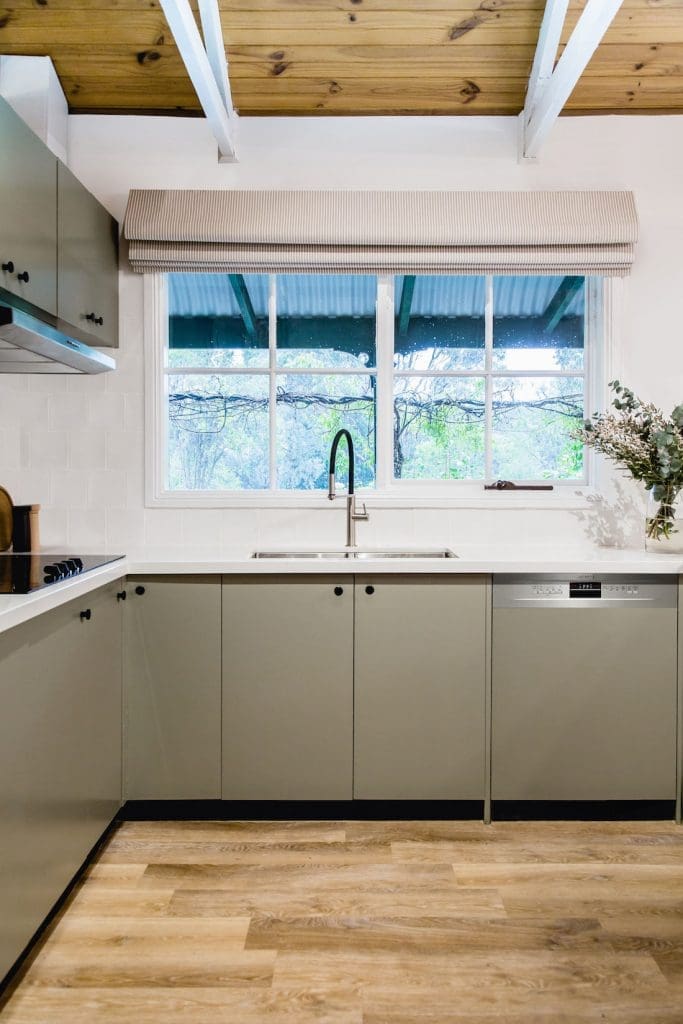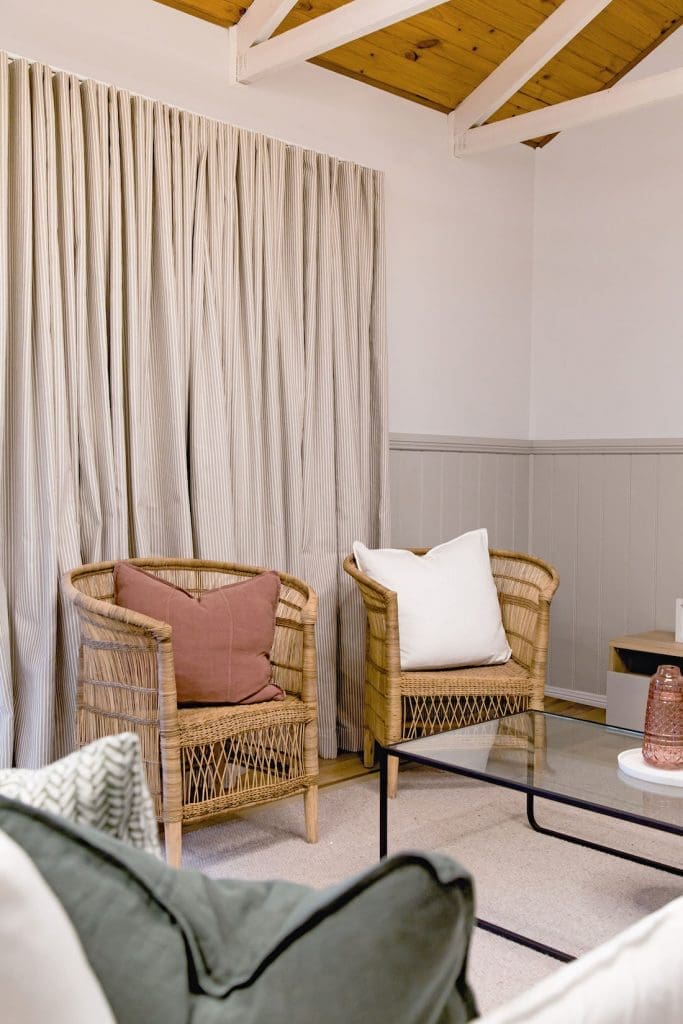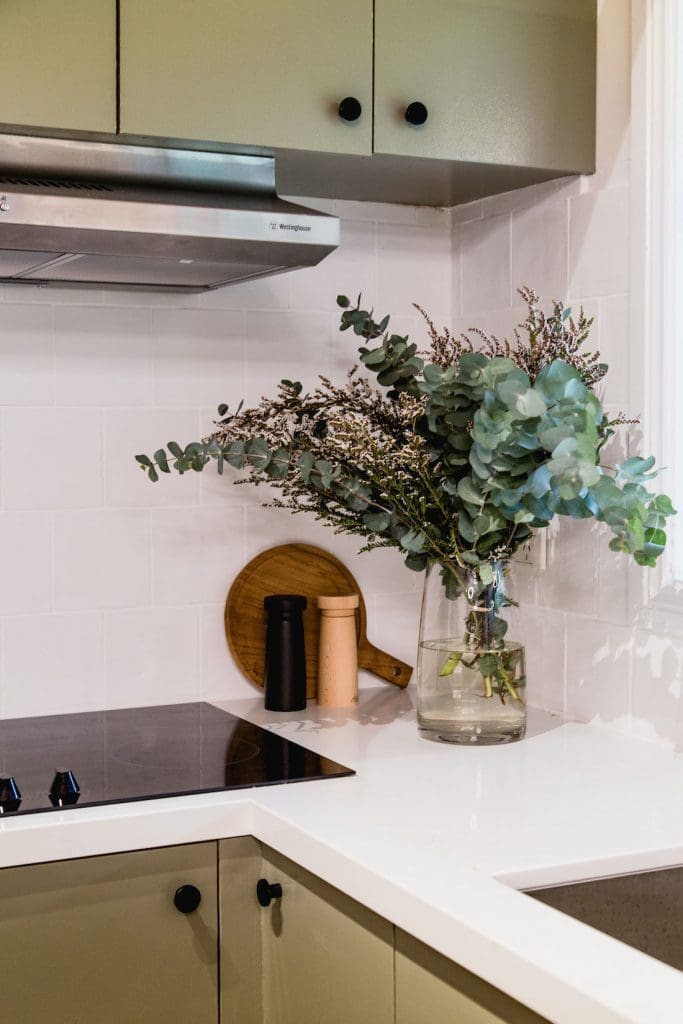 Shop the look — country meets coastal
Disclaimer: This post contains some affiliate links. This means that when you click on a link and purchase something from that site, we may make a small commission at no extra cost to you.