When we first saw this kitchen transformation, we couldn't believe it was the same space! Today we're exploring this bright and airy coastal boho kitchen that dreams are made of — and see the massive difference a renovation can make.
Come with us as we take a tour and chat with Stephanie Varacalli (@_stephanievara on Instagram), mastermind behind this kitchen, to learn all about what goes into such a massive transformation.
Related article: A stunning before and after home transformation: Inside this contemporary Hamptons home
Related article: Design inspo: Beautiful breakfast nooks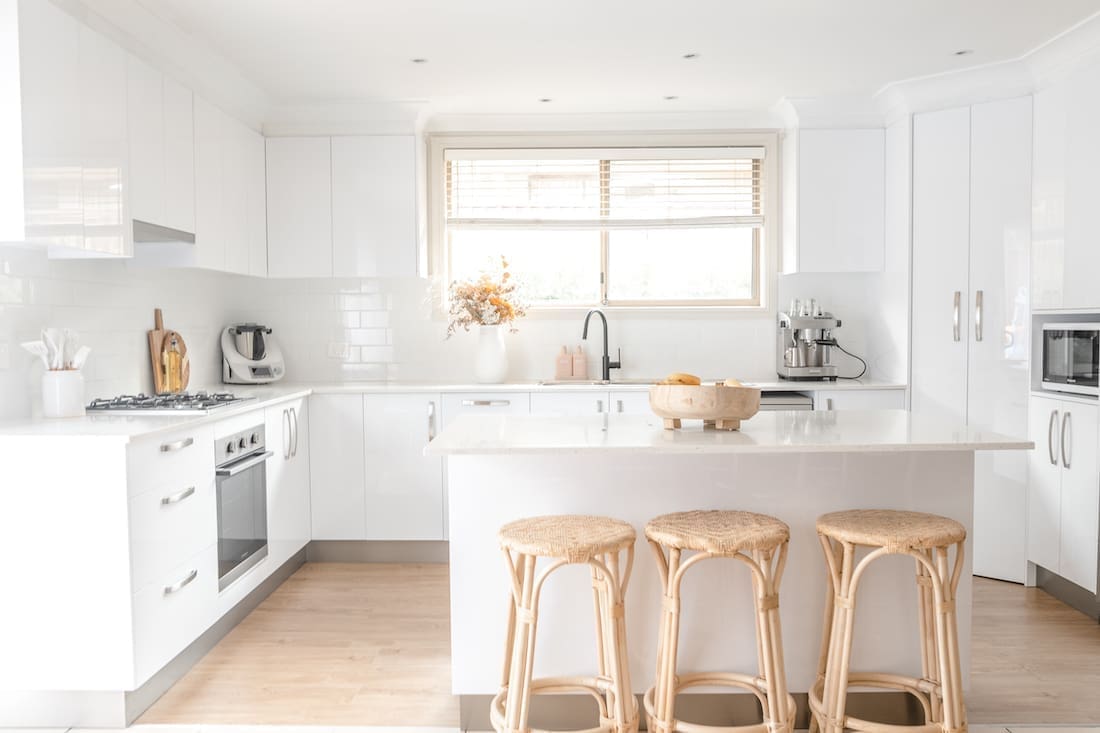 Home to a family of four, this 90's home was in desperate need of facelift, but the kitchen renovation took some time.
"Before we moved in around 10 years ago, we did a partial renovation as the house was really outdated. With ugly carpets in the living areas and pink walls with green blinds, we gave the home a facelift. New tiles, fresh paint and we even knocked down walls.
"Although the kitchen didn't match the new renovation at the time it was still functional. We just left it but knew sometime in the future we would need to renovate for resale purposes. In 2020, after 10 years and 2 kids, the kitchen was falling apart and we finally took the leap."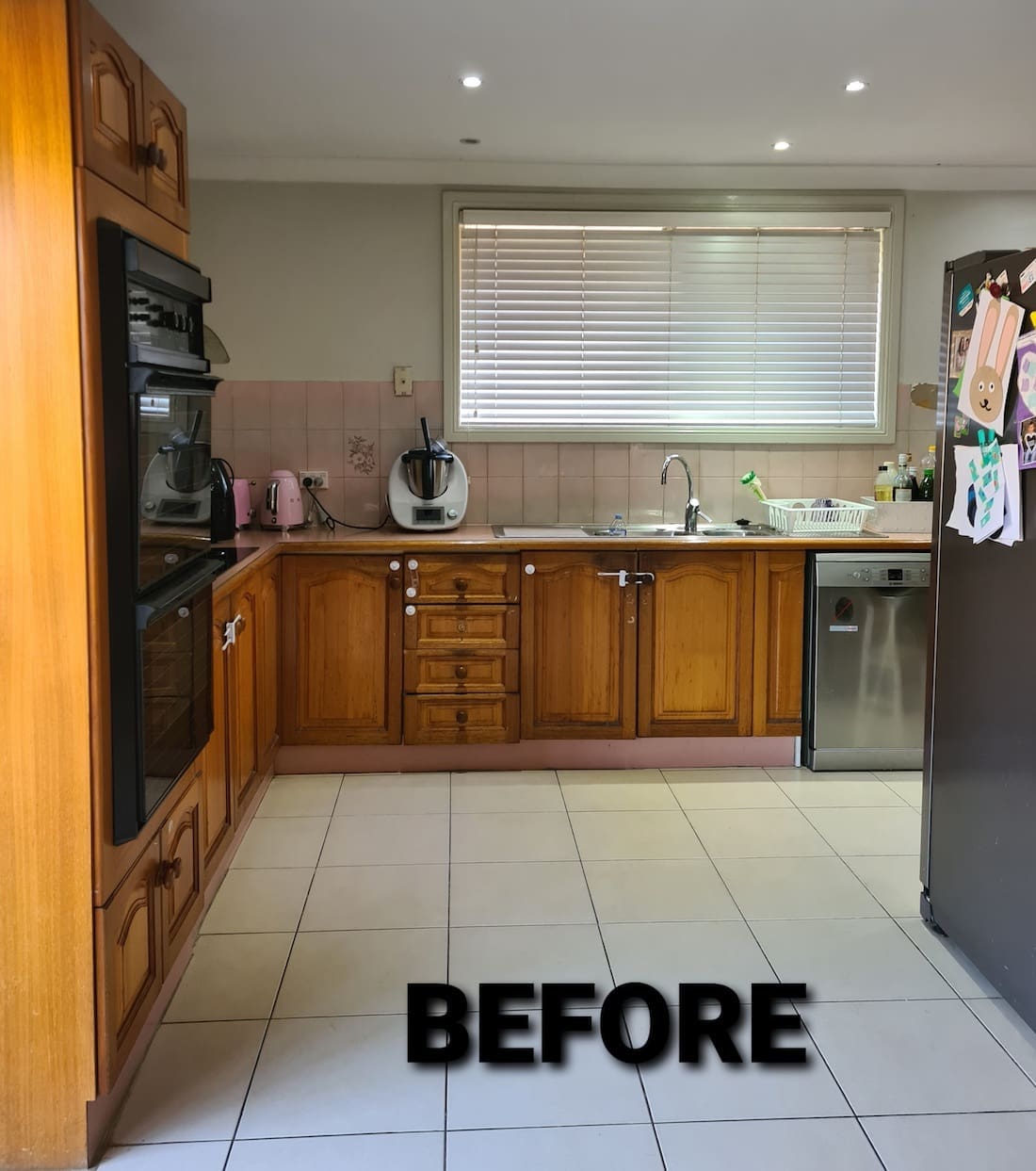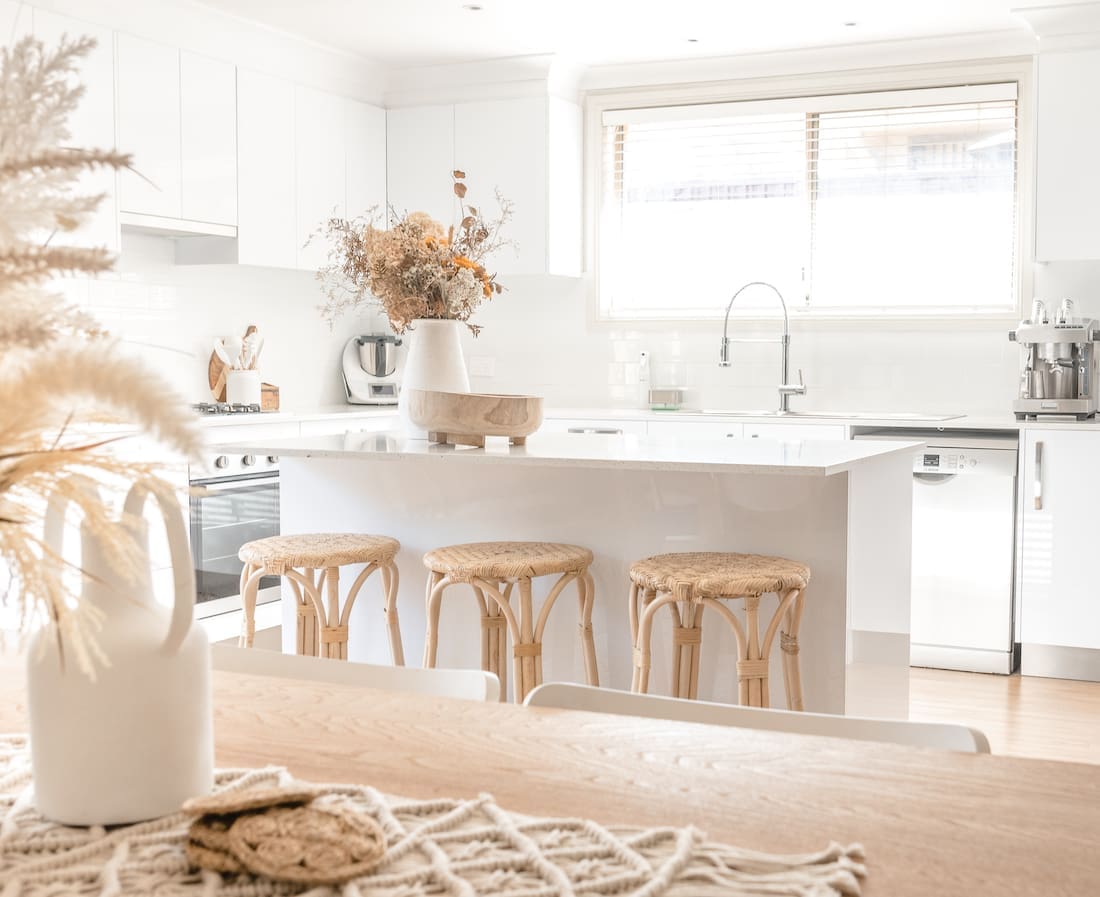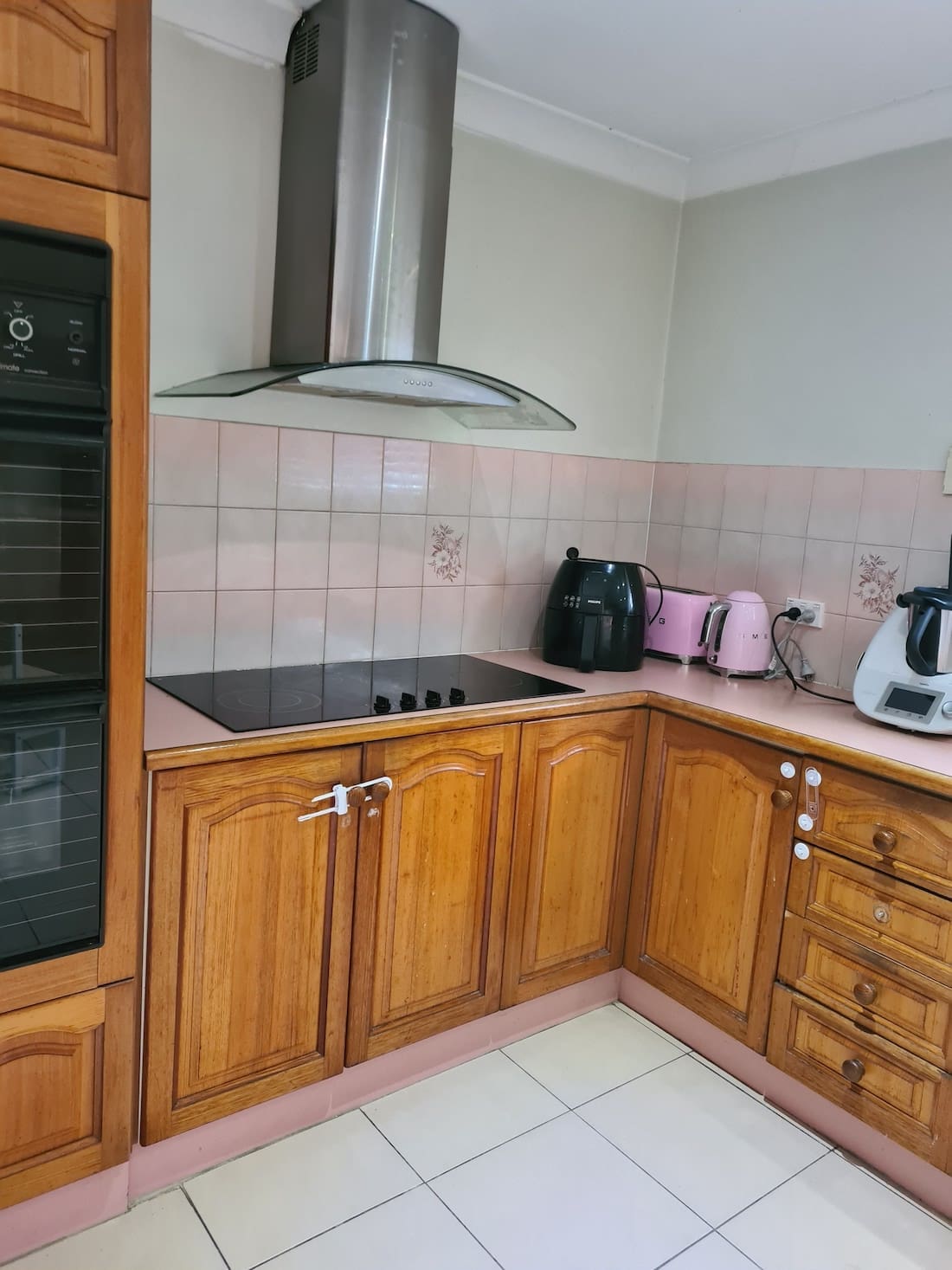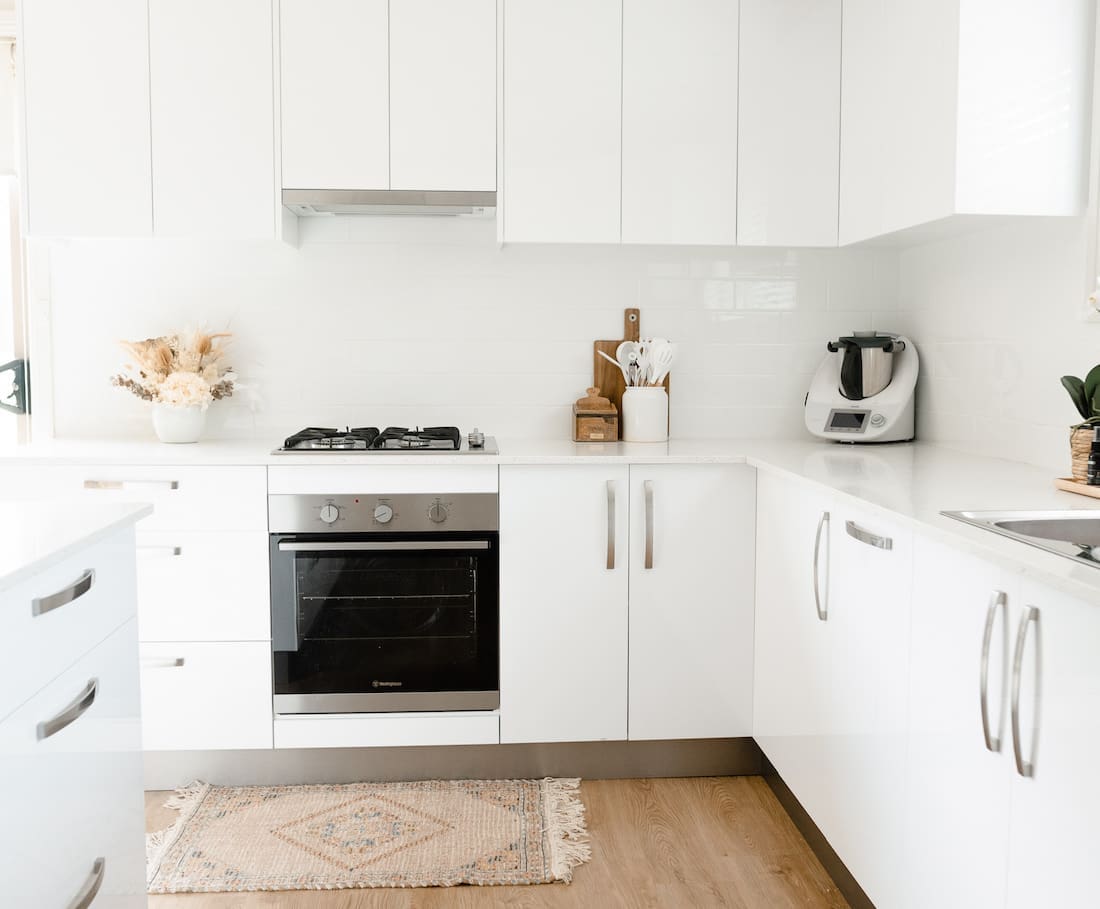 The stunning before and after makeover left this kitchen bright and welcoming, and it took a surprisingly short time to get there.
"My brother is a cabinet maker, so the process was a little different for us. We told him our plans, wants and desires and he measured up the kitchen. We also knew we needed to knock the wall in-between the kitchen and dining room down to make it one big open plan area.
"Our dream kitchen was then drawn up. We chose and ordered our new appliances and fixtures. My brother and husband demolished the old kitchen, laid down our new flooring and installed the cabinets along with the new stone bench.
"We didn't plan on having to lay new floors. Initially I wasn't a fan of the floating floors but now I'm totally in love. Eventually we'll lay the entire house with new flooring to match.
"Within three weeks the kitchen was delivered. It was a tough few weeks without a kitchen right before Christmas."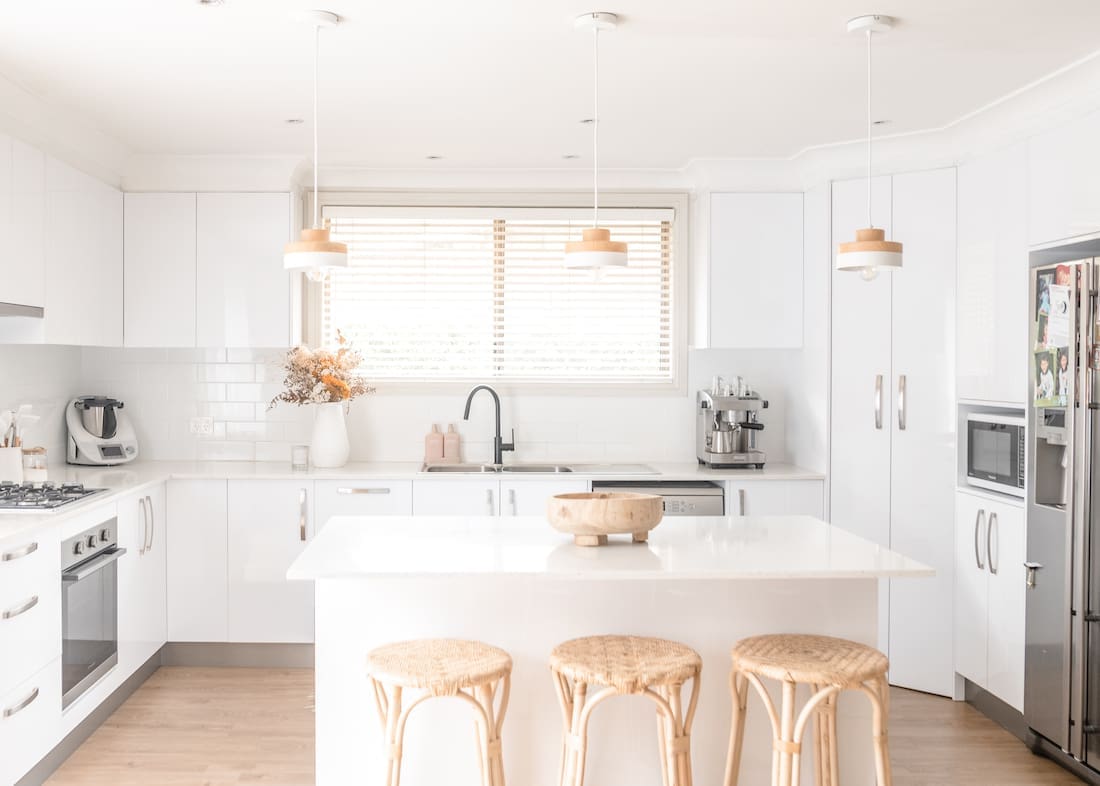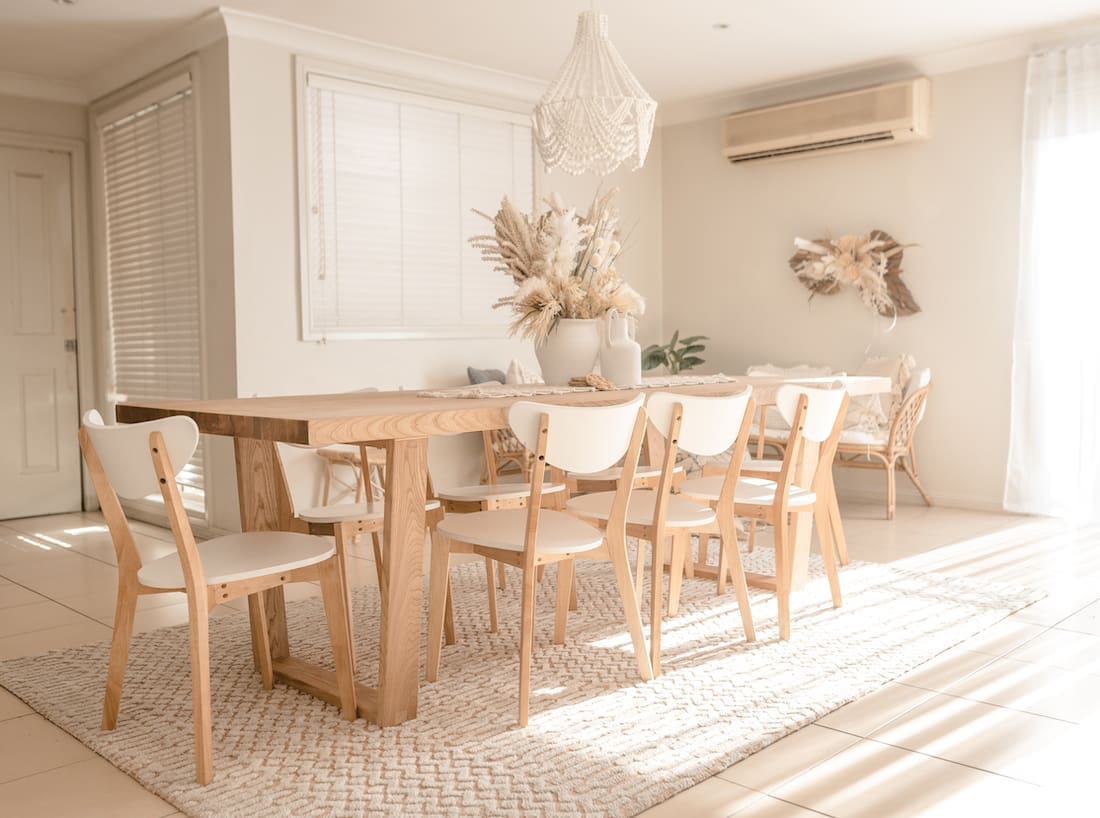 What sparked our attention was the light and inviting feel of the kitchen, designed with future in mind.
"Honestly, my inspiration for this kitchen renovation was for resale purposes. We wanted something neutral with a colour scheme that wouldn't date. I love white, which is why we went for a coastal boho vibe with our accessories.
"I did have a few must haves. We needed lots of drawers, including a bin drawer. The island bench top was at the top of my list.
"Although we had a tight budget, we splurged on our stone bench top, soft close and cabinet drawers. Later we pulled back and saved on our splash back. We just got the subway tiles from Bunnings.
"Next up, we plan on renovating the bathrooms and laundry. We will most likely buy the materials to do it ourselves to save costs. I must admit I'm lucky my husband is a real handy man."
Kitchen — Brilliant Kitchens
Tap — Yabby
Light fixtures and rattan stools — Bunnings
Thank you Stephanie for showing us around this stunning kitchen makeover. To see more from Stephanie, you can follow her and all her future projects on her Instagram.
Do you feel inspired after seeing this coastal boho kitchen? Are you ready to start renovating? Can you believe the difference in the before and afters? We'd love to hear your thoughts in the comment section below!