Today we're taking you on a tour of a Sydney home in the bayside suburb of Burraneer. With spectacular views and plenty of design features to blow you away, you'll want to 'pin' more than a few of these pics to your Pinterest account, we're sure! We chat with Richelle Langdon of Oliver Myles Interiors who is the design guru behind this incredible home makeover. Get ready, it's a goodie.
Related article: Before and after: An oversized garage becomes a parent's retreat
Related article: House call: A classic cottage meets modern construction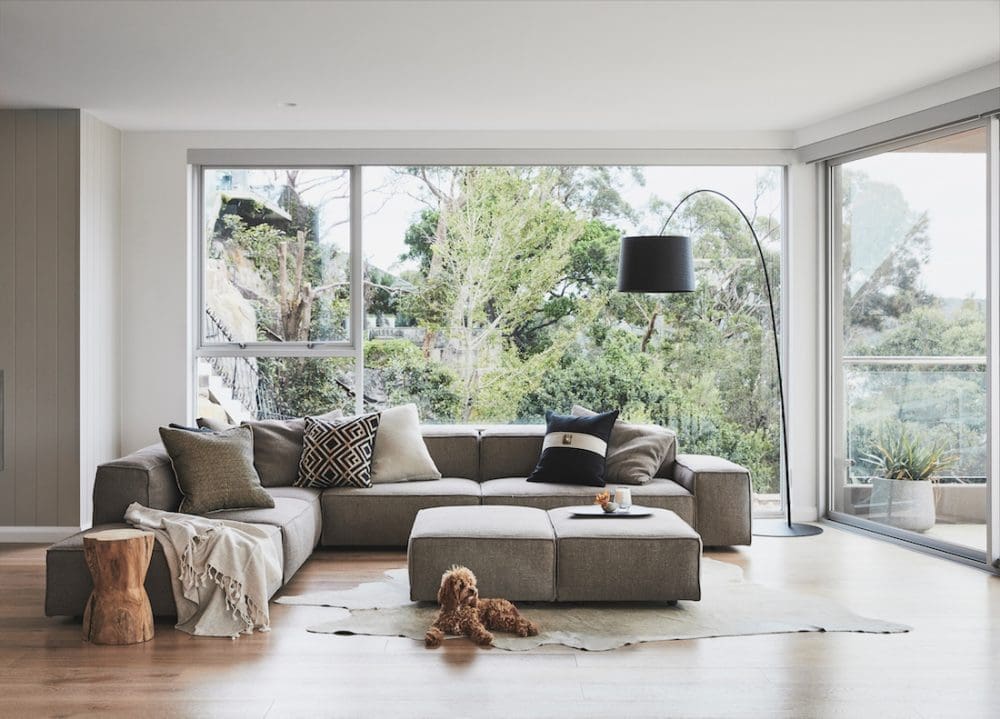 Going from a dark, cavernous space to a warm and inviting family home, Richelle explains that the view inspired the whole home makeover.
"The clients wanted their home to be light, bright, airy and fresh. Clean lines, uncluttered and chilled," Richelle explains.
"This was all discussed over crisp white wine and a very chilled playlist while we soaked up the panoramic water and national park views!"
Being so open proved to be somewhat of a challenge when it came to warming up the home for this busy professional family of five (plus two adorable Cavoodles!)
"While almost every room in this house is all about the view, the interior lacked any detail. We didn't want to compete with mother nature, so instead we needed to nestle this space into its surroundings.
"Subtle changes in visual interest inside the home now complement its environment," says Richelle.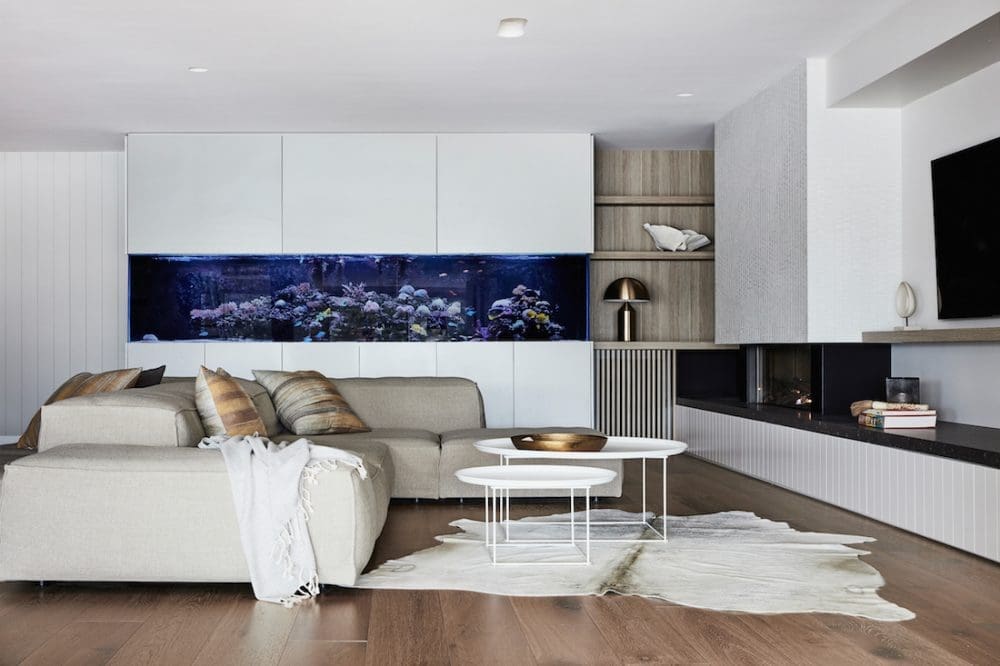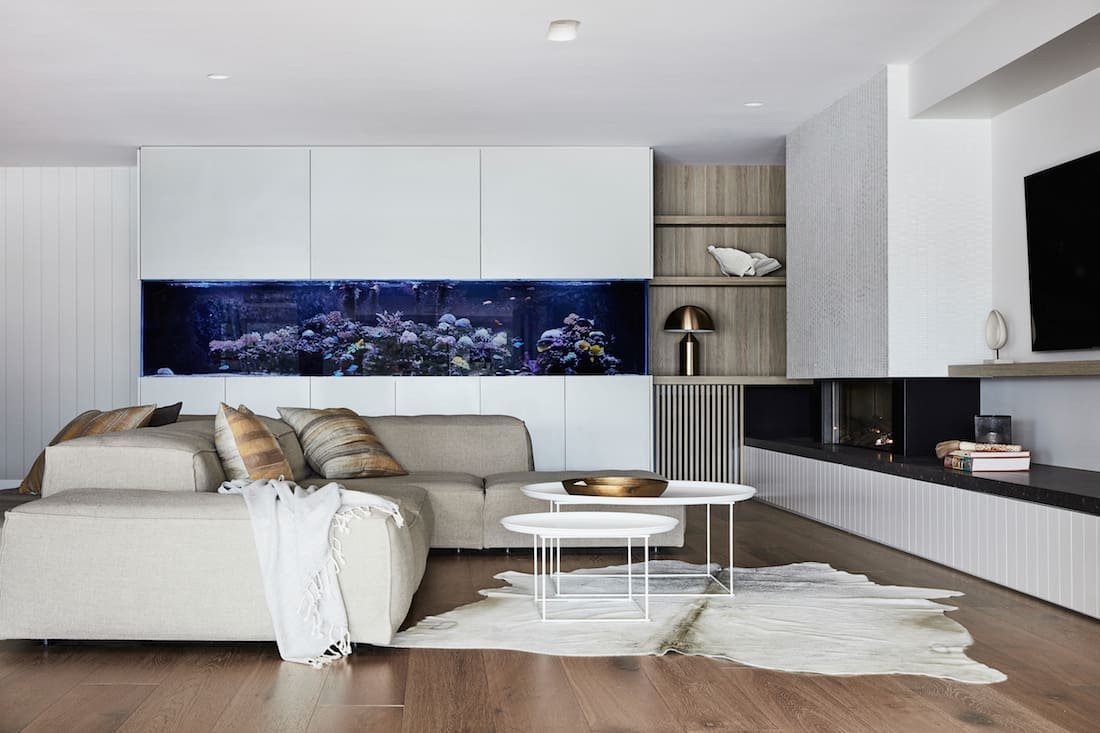 We simply couldn't ignore one of the home's most impressive features — we're talking about 'that' fish tank.
"The family's love of tropical fish created the focal point here. This space doesn't have full access to the expansive views or natural light like the rest of the home so attention to lighting was super important.
"The tank is 3.5m long. Its placement was carefully considered in order to balance the large volume joinery required to house it, while not dominating the space.
"Keeping it chilled (like the fish), detail was introduced through material selections of V Groove, stone, tile and timber, as well as making use of negative space," says Richelle.
View aside, we wanted to know Richelle's favourite part of the home makeover.
"The big ticket items like the fish tank and wine fridges are the real wow factor elements," says Richelle.
"But what really pulls everything together — and what I'm happiest with — are the smaller details.
"The ones that would have been impossible to get over the line at the beginning of the project. Adverse to pattern, my clients really surprised themselves when they embraced things outside of their comfort zone.
"Things like the splash back tile, tribal inspired cushions and cowhide rug. It's the little things," says Richelle with a smile.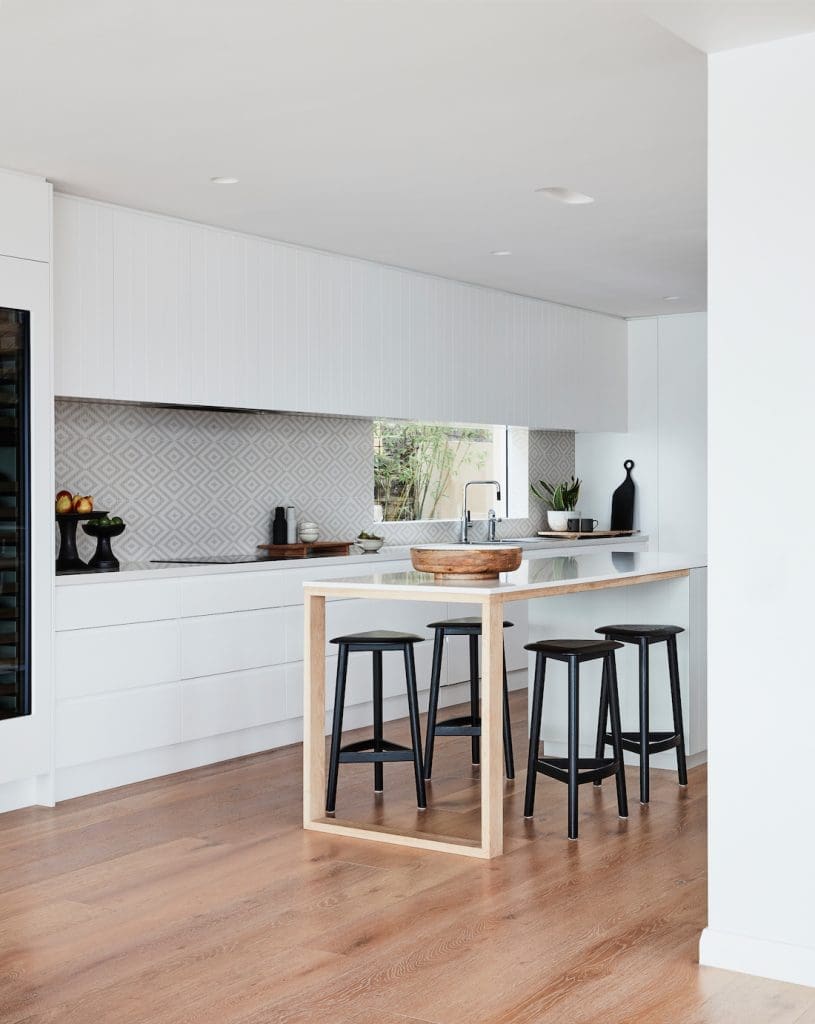 With style this good, we just had to ask Richelle her top home styling tips.
"Think of the use of black as punctuation marks. Little hits thoughtfully repeated will create connections and stimulation.
"If you're not confident with colour, layer up using texture and pattern in neutral tones — it will create depth.
"Always add greenery — plants are game changers. That pop of green excites the senses, their organic shapes fill corners and voids like no manmade object can. This is a absolute must!
"My top tips on how to choose the best white paint is firstly to decide on a warm or cool white. A north-facing room can warm up a cool white, while a south-facing room could be left feeling cold.
"Hot tip — view your choice next to a pure white paint like Dulux Vivid White and like magic, all will be revealed! You can now confidently select a tone for your home.
"Remember — always check with a test pot or two (or five)!" says Richelle with a smile.
Thank you so much Richelle for showing us around this enviable home and for sharing your styling tips with us. To see what projects Oliver Myles has on the go, visit their website or take a look at their Instagram.
Oliver Myles has recently opened a new studio and homewares store in Sylvania, Sutherland Shire. It is chock full of beautiful products including cushions, throws, home decor, tableware and wall art.