In today's real home tour, we take a look inside the beautiful Brisbane home, affectionately known as Amaroo. Meaning 'beautiful place' in some Aboriginal dialects, it's easy to see how this home got its name.
We go on a tour with Amanda Attwood from Divine Renovations, the talented team who built this spectacular home.
Related article: From worst to first: An incredible before and after home transformation
Related article: A look inside The Glasshaus: Alissa and Mark's stunning new home build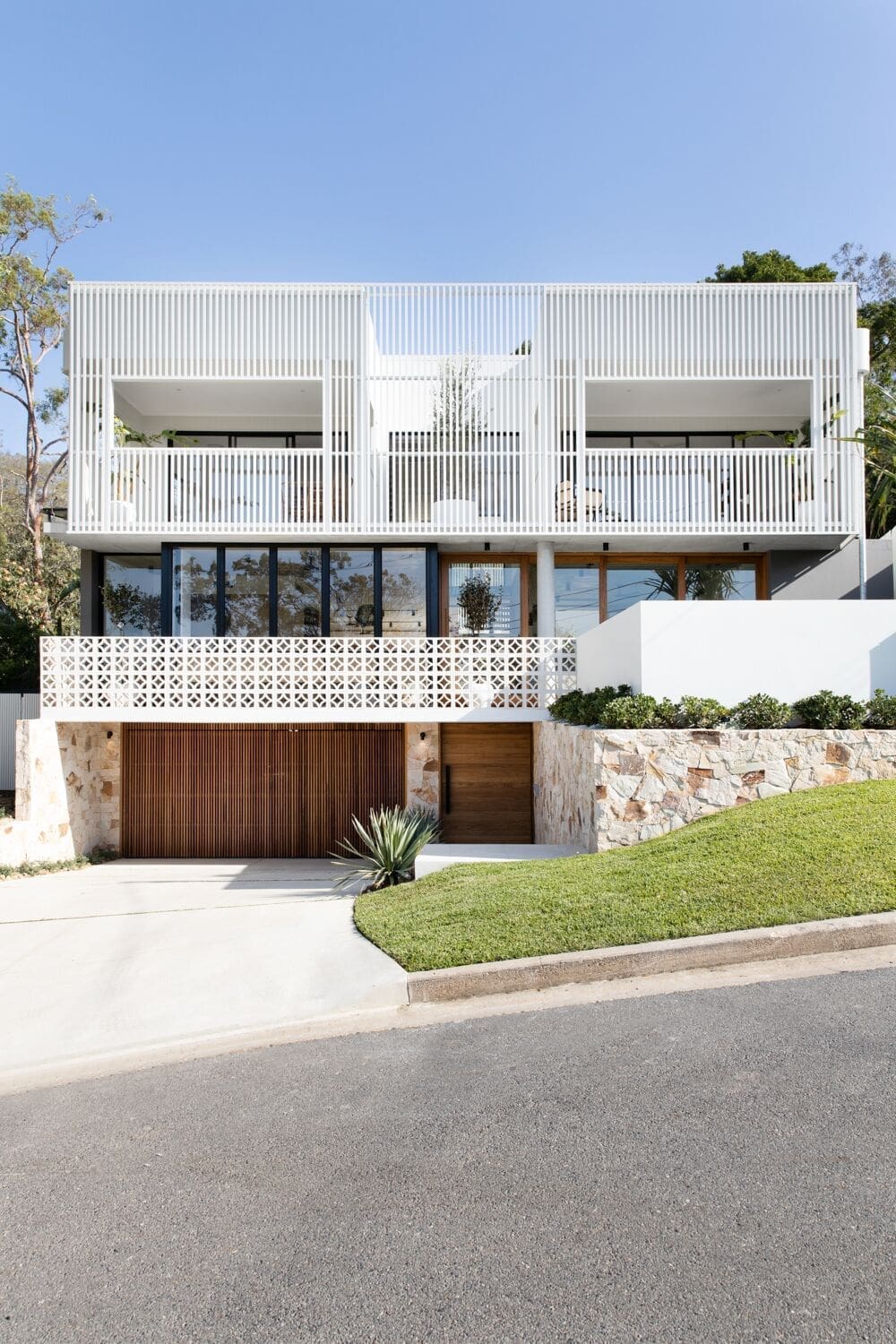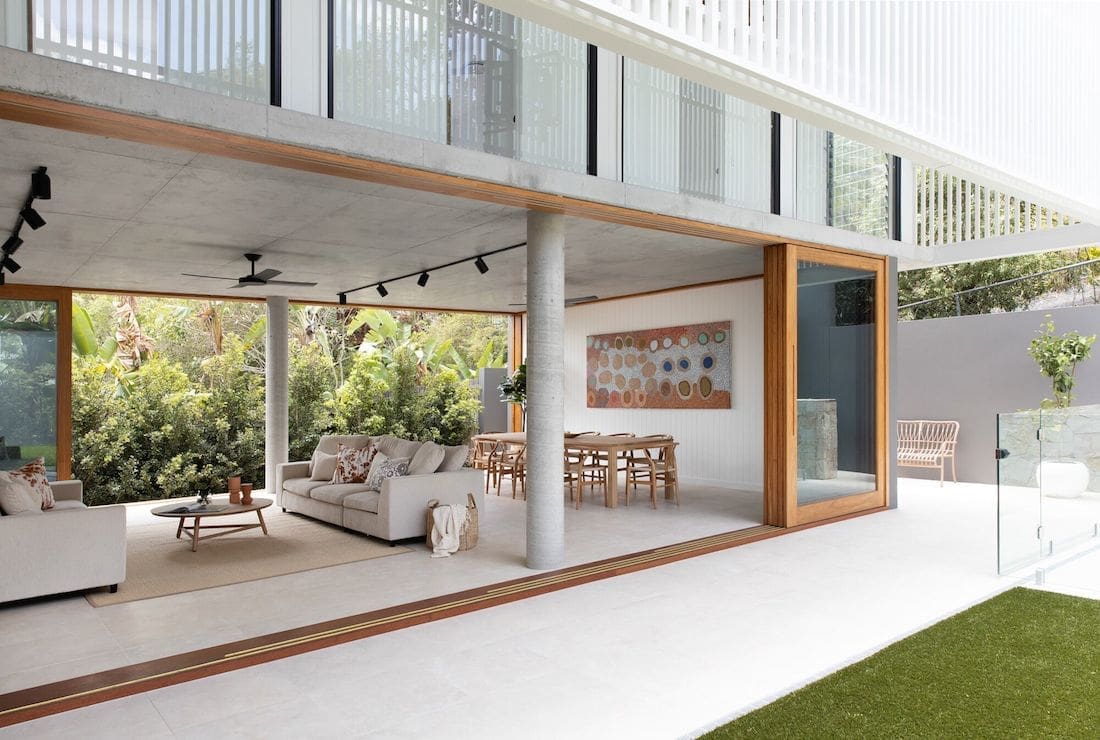 Located in Bardon, a much sought-after suburb of inner-Brisbane, Amanda and her husband Jim already lived close by when they discovered the site for sale.
"The suburb of Bardon is referred to as 'God's country' and we totally agree," says Amanda.
"When we purchased the property a few years ago, there was a brick duplex here. We were looking for a site we could demolish for a new build.
"The location appealed because it's only 10 minutes from Brisbane City with great schools, cafes, the botanic gardens and national parks close by."
The build was completed in late-2019 and is home to the Attwood family.
"We moved into Amaroo in October 2019. My husband Jim, and I, and our 3 daughters, Eve, Bonnie and Frankie. Oh, and we can't forget Alfie the Cavoodle, too!
"Our home is such a pleasure to live in. The quiet colour palette and use of materials such as timber, concrete and tile, have come together even better than we'd hoped.
"We just love it," Amanda says happily.
Shop the Amaroo look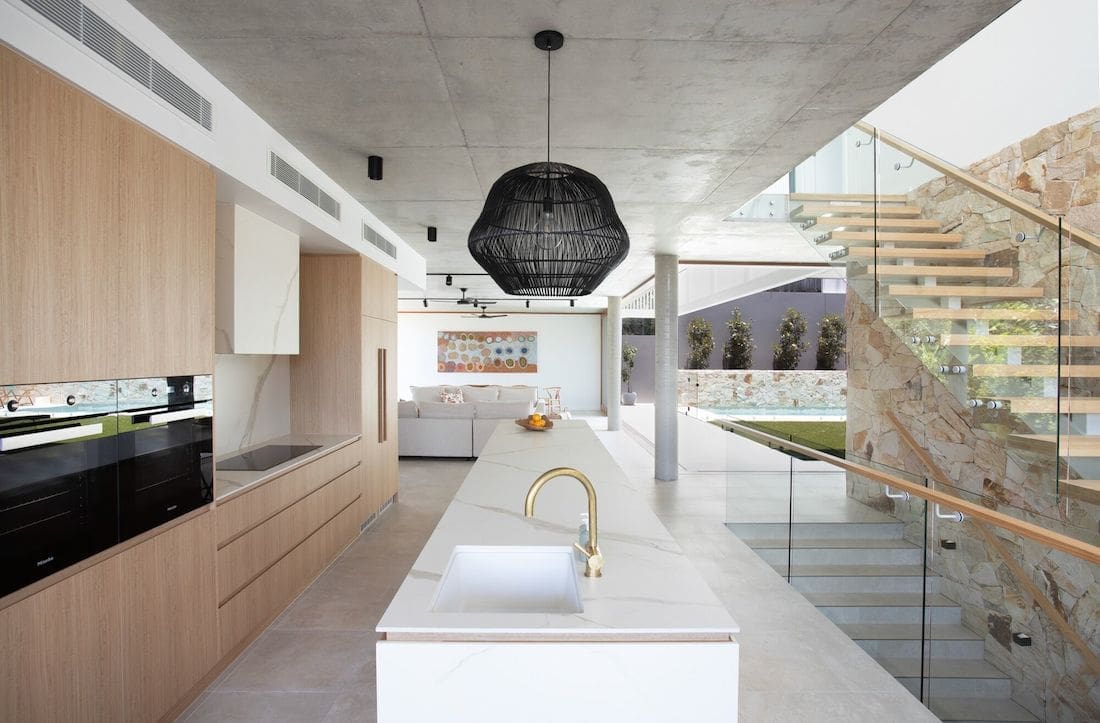 With a business in the build and construction industry, Amanda and Jim knew they wanted their own home to be something truly special.
"Each and every house we have renovated or built is a physical structure — bricks and mortar.
"But to create a beautiful place like Amaroo, as its name suggests, you need to evoke an emotional response," Amanda says.
"We all live at such a frantic pace these days, we just wanted to create a space that felt calm, peaceful and had a seamless connection to the outdoors.
Built across 3 impressive levels, Amaroo house certainly stands out amongst its peers.
"It's got 3 storeys, a basement, 2 living areas, media room, 5 bedrooms, pool, outdoor kitchen and a 6-car garage," says Amanda.
"One of our favourite features is the beautiful stone staircase which we also used in the pool area. The stone is from Eco Outdoor and is called Crackenback.
"Using this stone on the stairs and pool was the starting point and first design decision for the home.
"We carried the stone from the front, into the house and around the pool. It's a beautiful feature that's stunning to look at and creates a real warmth in the home."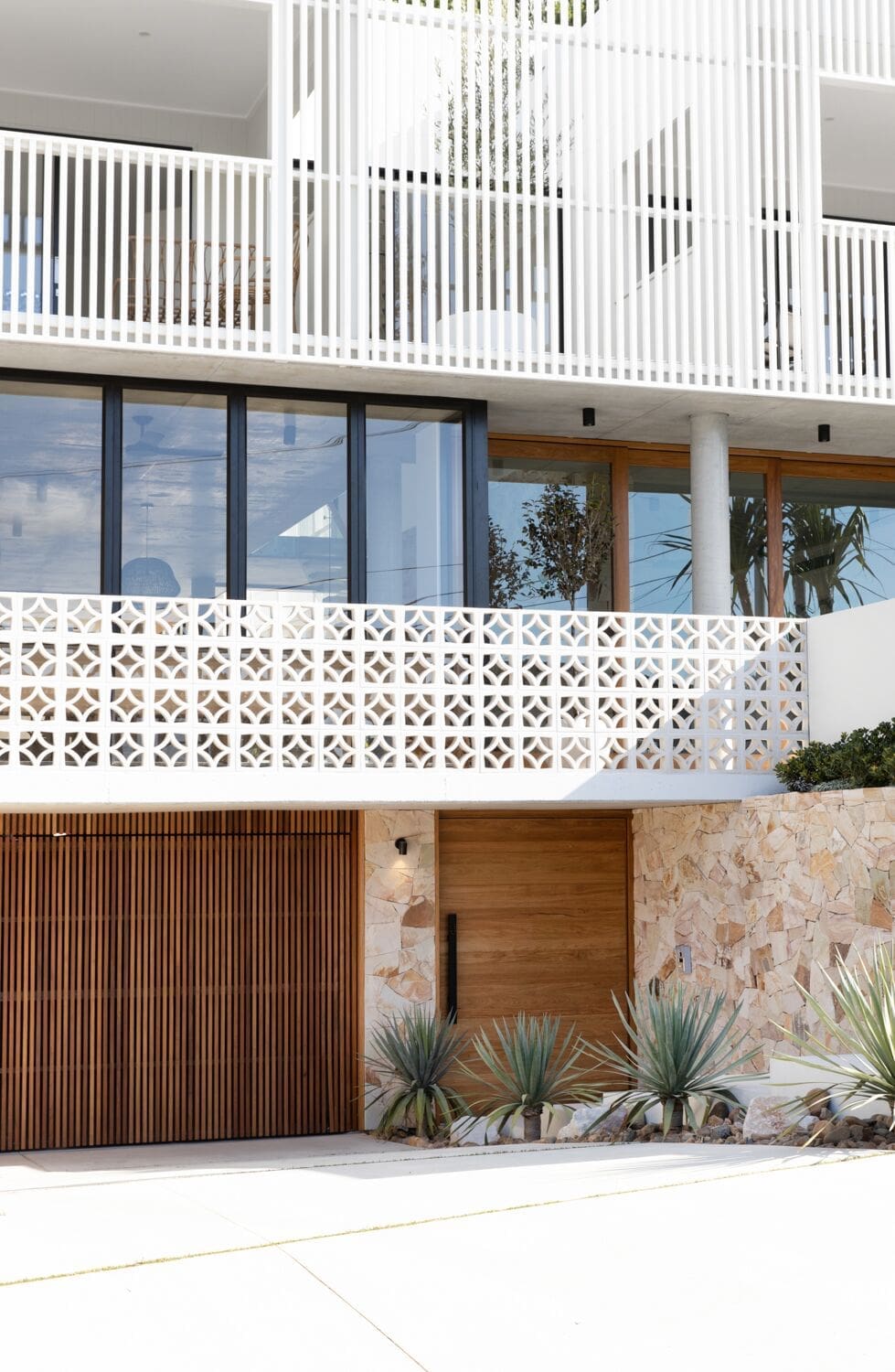 From the home's layout to the high-tech inclusions, there are so many incredible features to Amaroo.
"The layout and flow of the home works well for our family. We have the garage on the ground floor, living on one level, and sleeping on another.
"I adore the huge kitchen and our laundry. And the kids just love how much space there is for them to enjoy. They especially love the huge garage which is also a multi-use space for them.
"We added a TV, bean bags and a ping pong table, and there's still plenty of space for them to ride their scooters around too.
"Another feature I can't get enough of, are the concrete ceilings. Visually, they are stunning, but they have a dual-purpose as they keep the house cool.
"The air-conditioning, lights, music and irrigation system are centrally controlled via a mobile device. It's wonderful to come home on a hot day and have the house ready-cooled.
"Or, if we come back late at night, we're able to turn on the lights before arriving home. The front door entry is touch-pad too.
"The technology in this home is pretty great," smiles Amanda.
Thank you to Amanda and Jim for showing us around their incredible home. To see what other projects they have on the go, visit their Instagram page. Are there any features in Amaroo you're lusting after?! Tell us in the comment section below.
Photography by Villa Styling Studio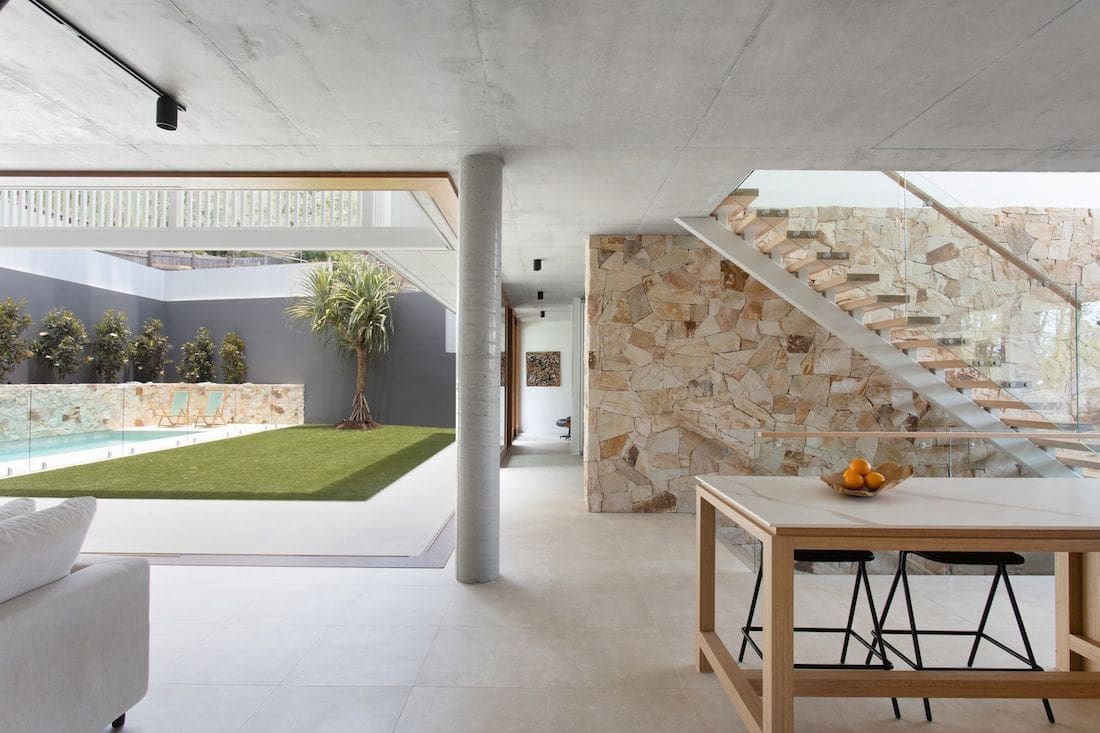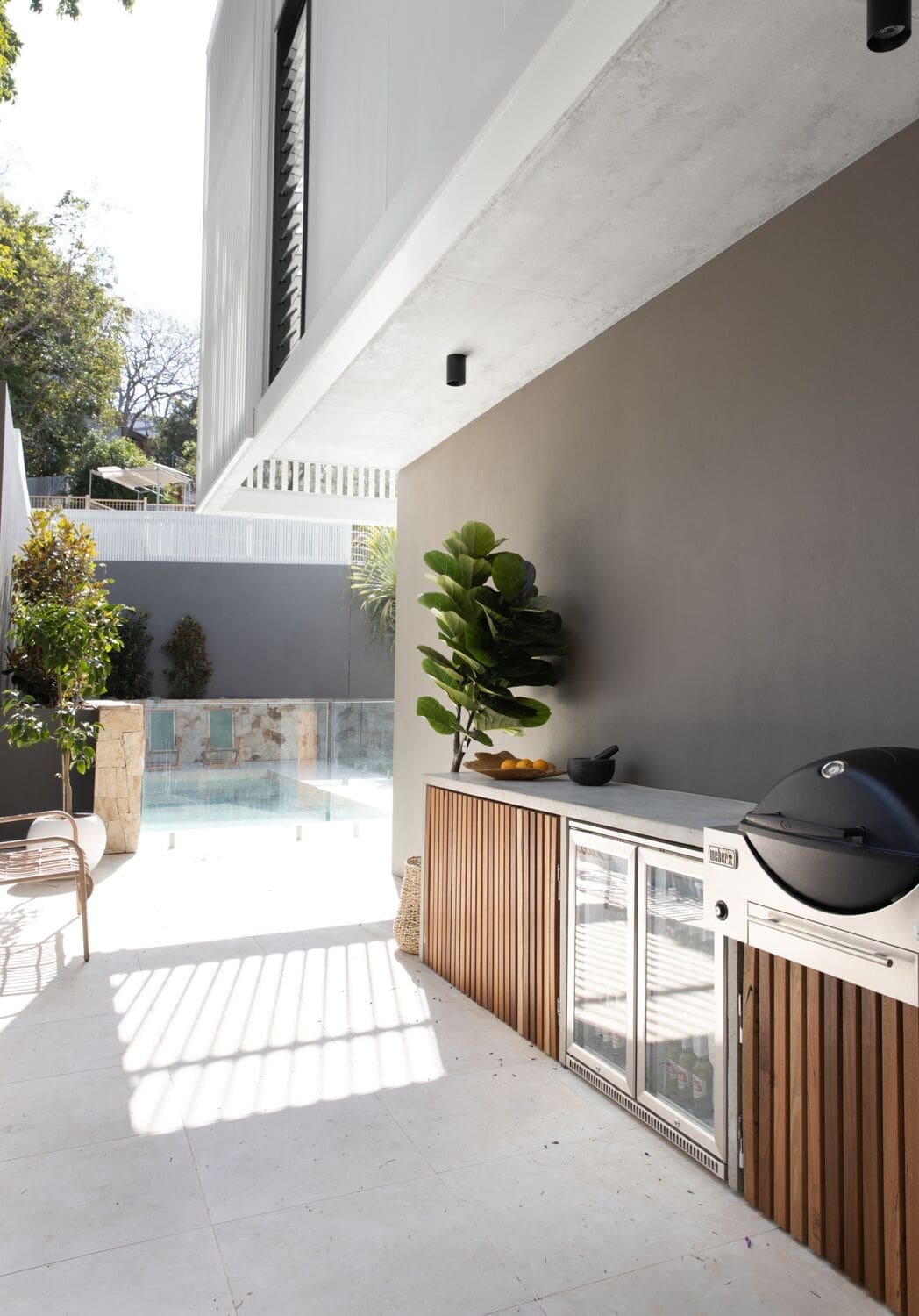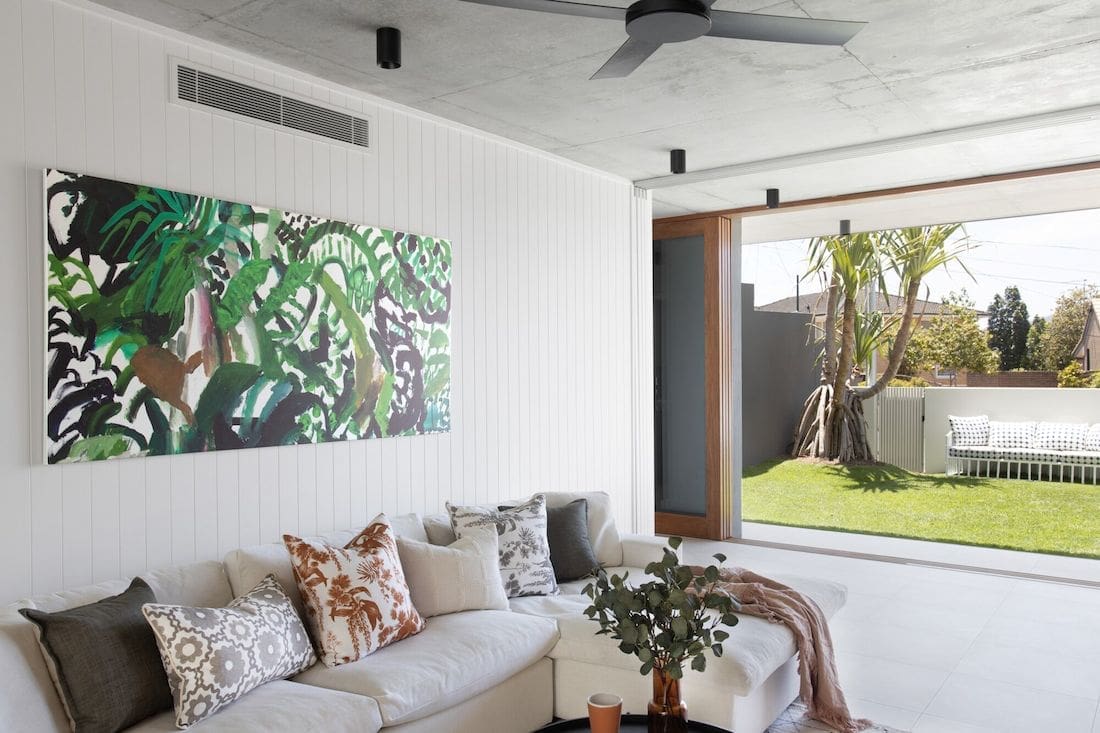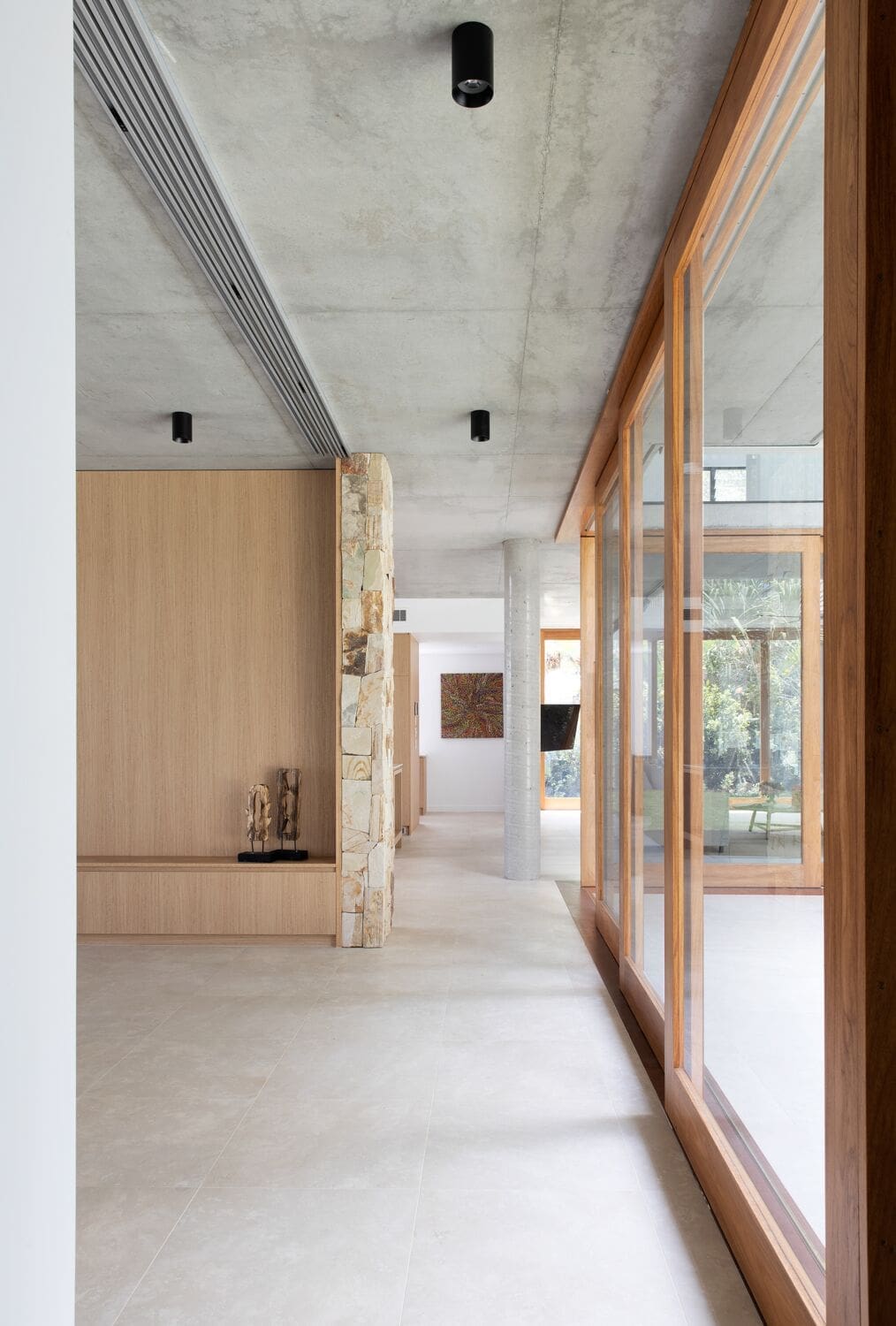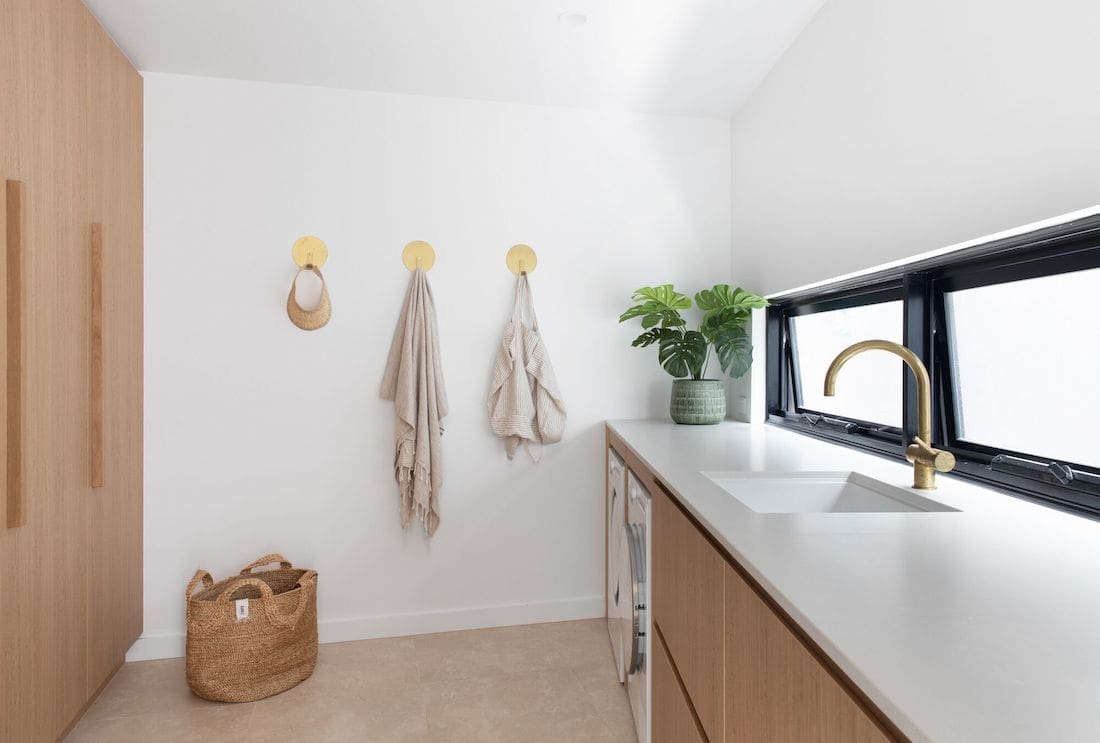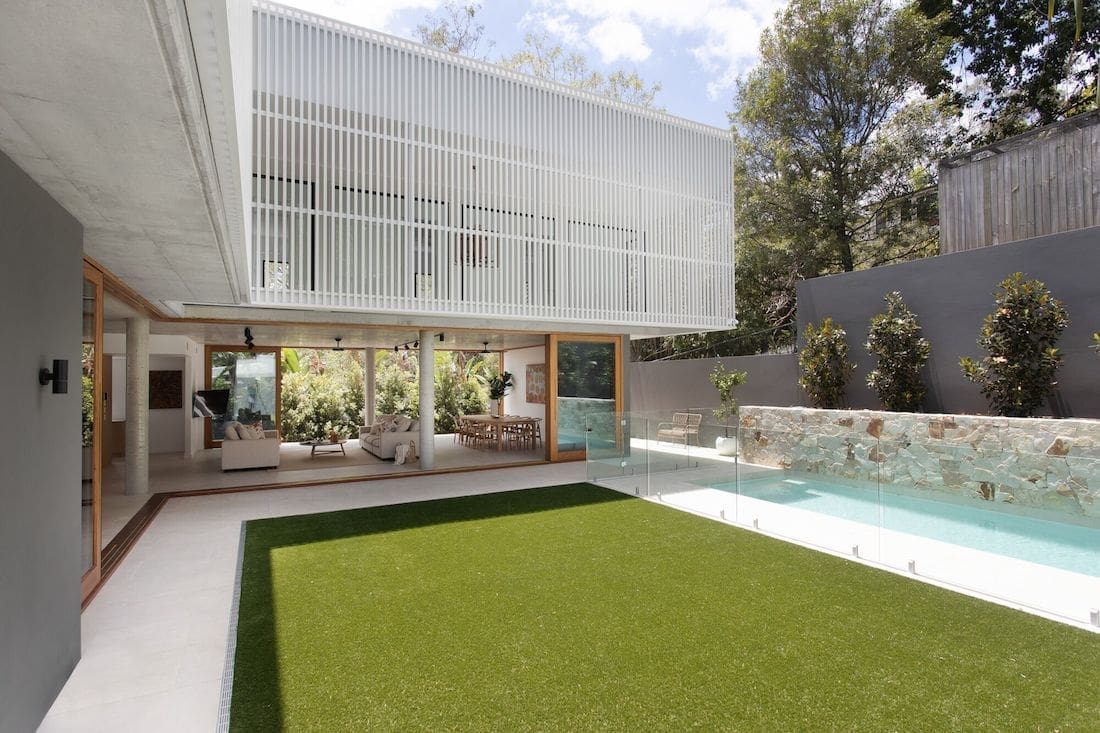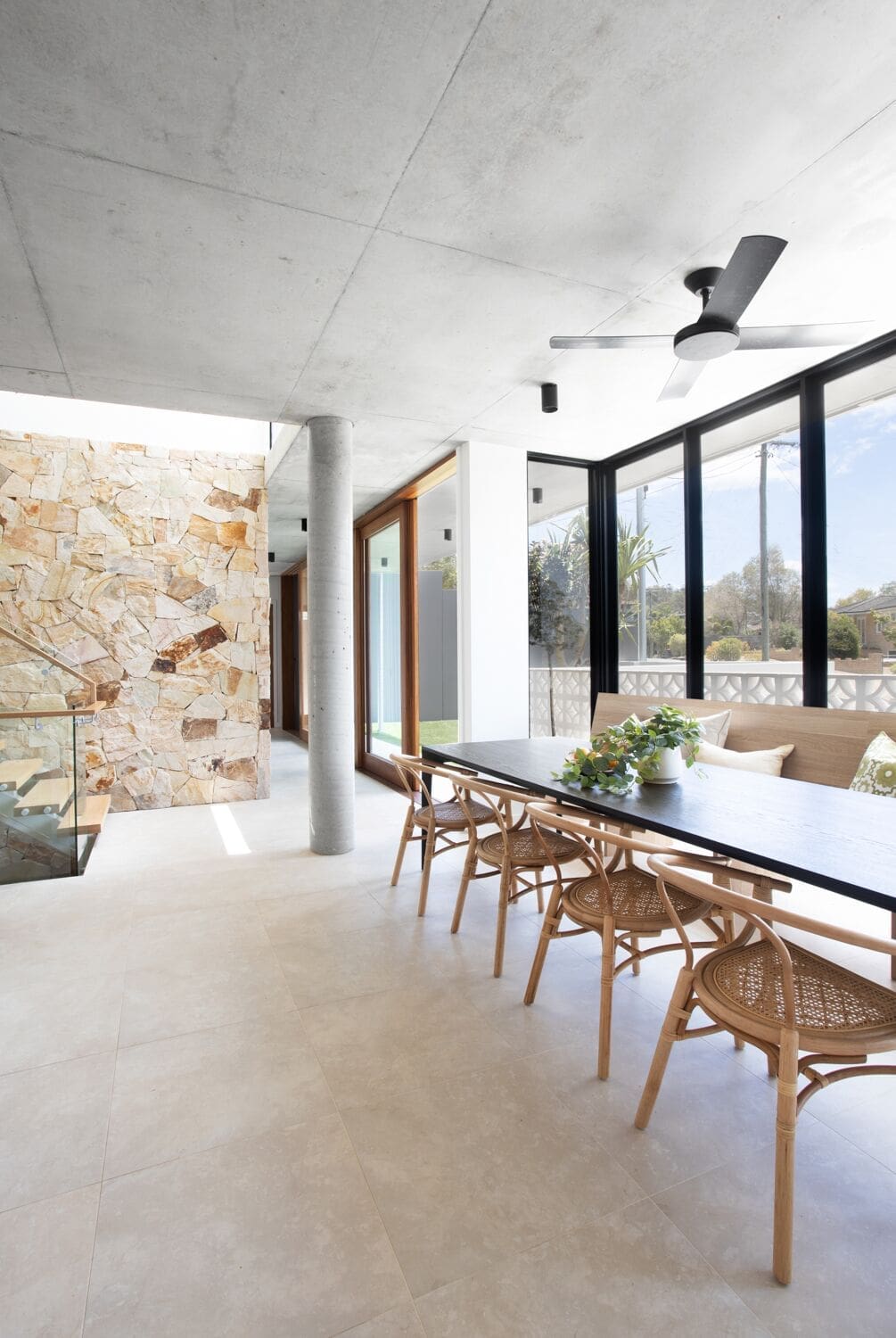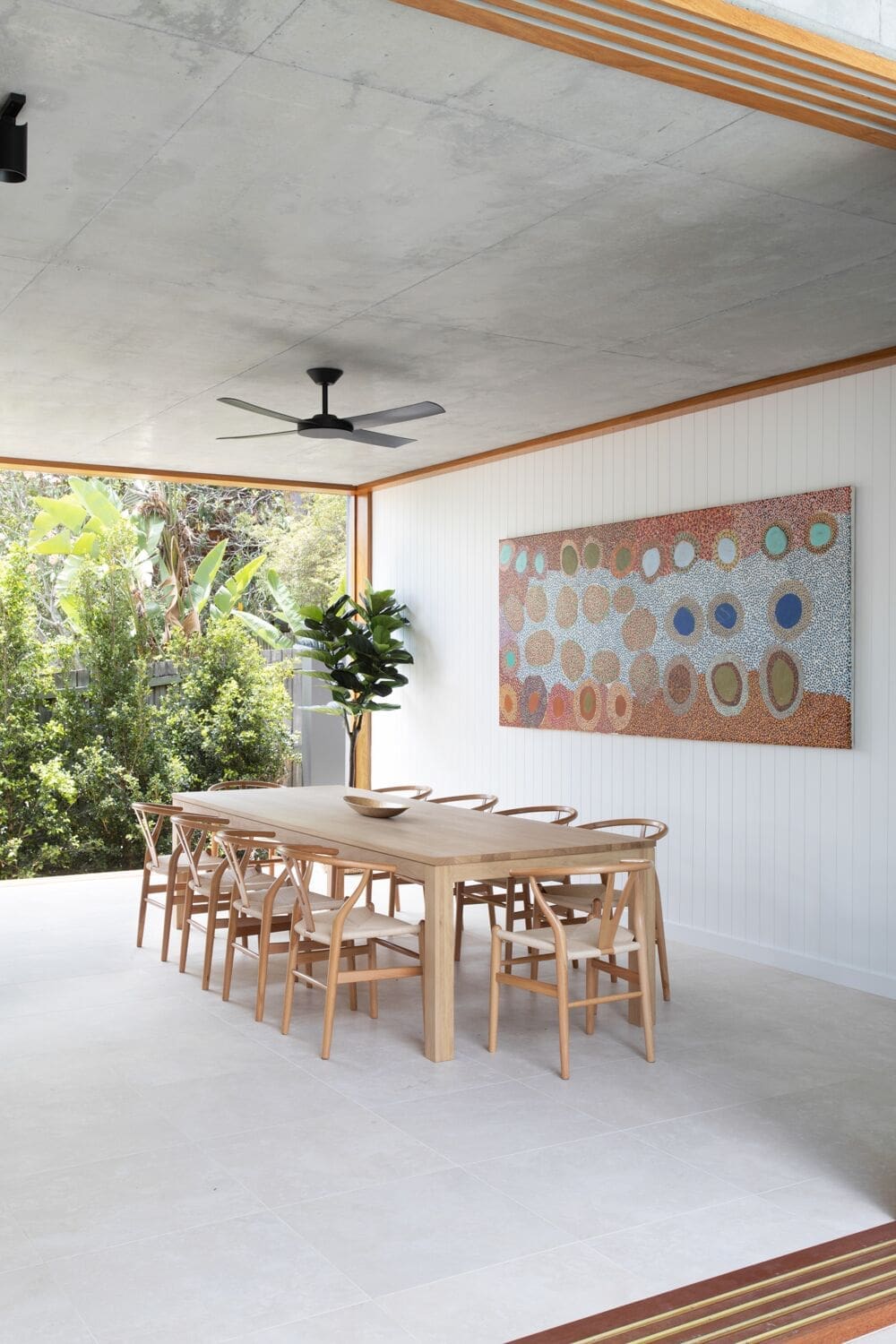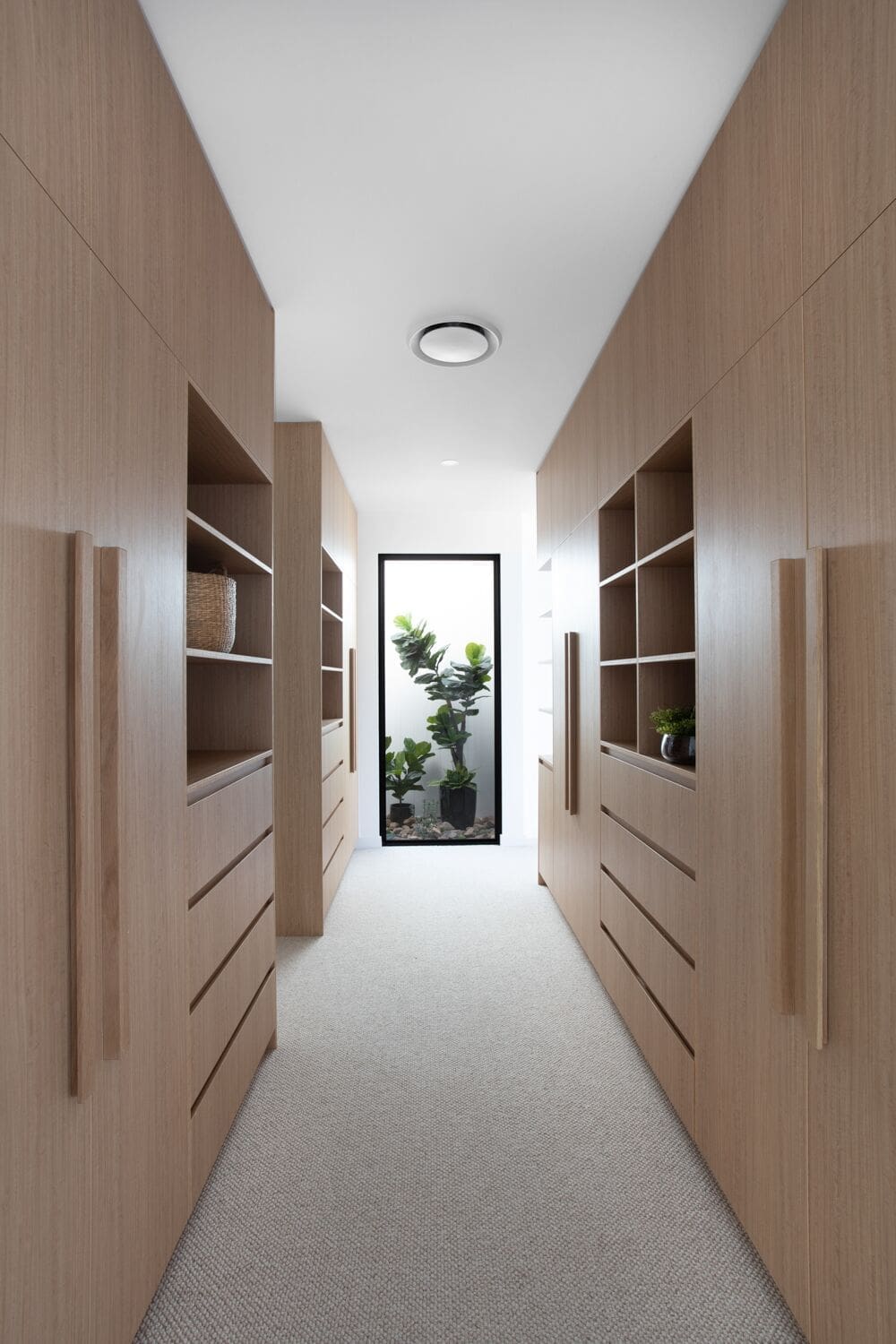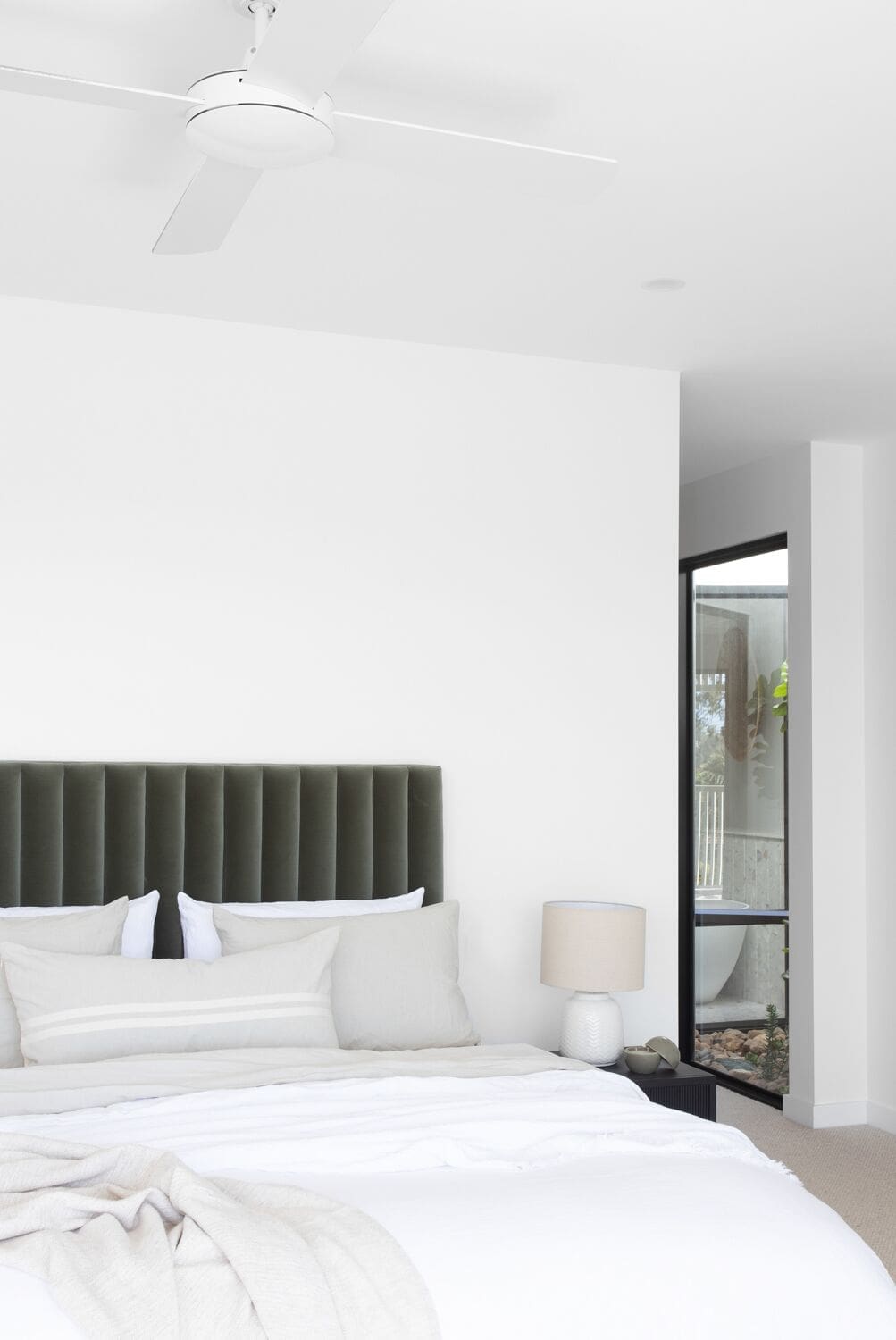 Shop the Amaroo look
Disclaimer: This post contains some affiliate links. This means that when you click on a link and purchase something from that site, we may make a small commission at no extra cost to you. We promise we only work with brands we know, love and trust.