When it comes to any room in the house — especially the kitchen — storage is key. We take a look around this contemporary renovation to check out all the clever kitchen storage ideas.
Melissa Lunardon, the interior designer responsible for this fabulous space shares her best tips and tricks for renovating your kitchen and getting in that all important storage!
Related article: Tips on how to plan the perfect kitchen: A dreamy, contemporary coastal kitchen
Related article: Interior inspo: Pocket doors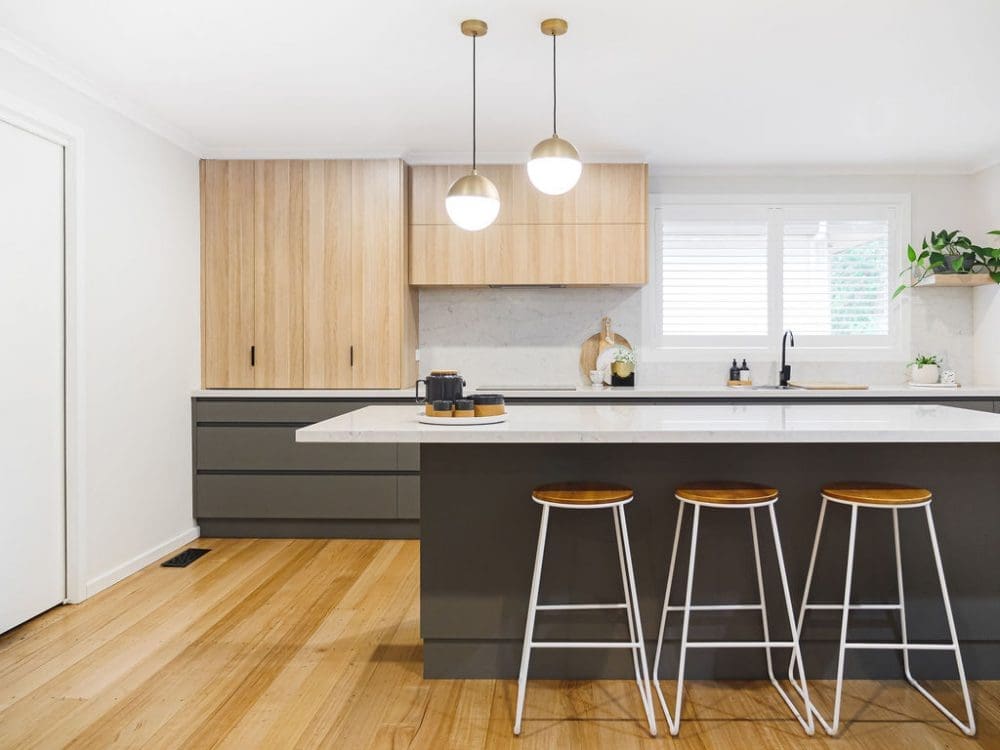 Originally a small and poky space, this kitchen wasn't very user friendly, especially for a client who loves to cook.
"The kitchen that was here before the renovation had seen better days," says Melissa.
"It had a tiny island bench and there wasn't a lot of room to prep and entertain. The kitchen look up a large room of the house but the space was under-utilised.
"My client loves to cook and uses a fair few appliances. We designed an appliance cupboard which hides all the chunky appliances away giving this space some really clever kitchen storage.
"The dedicated appliance cupboard includes lots of integrated lighting and powerpoints, meaning she can use each item without taking up prime benchtop real estate. It's definitely one of the best uses of space in this kitchen."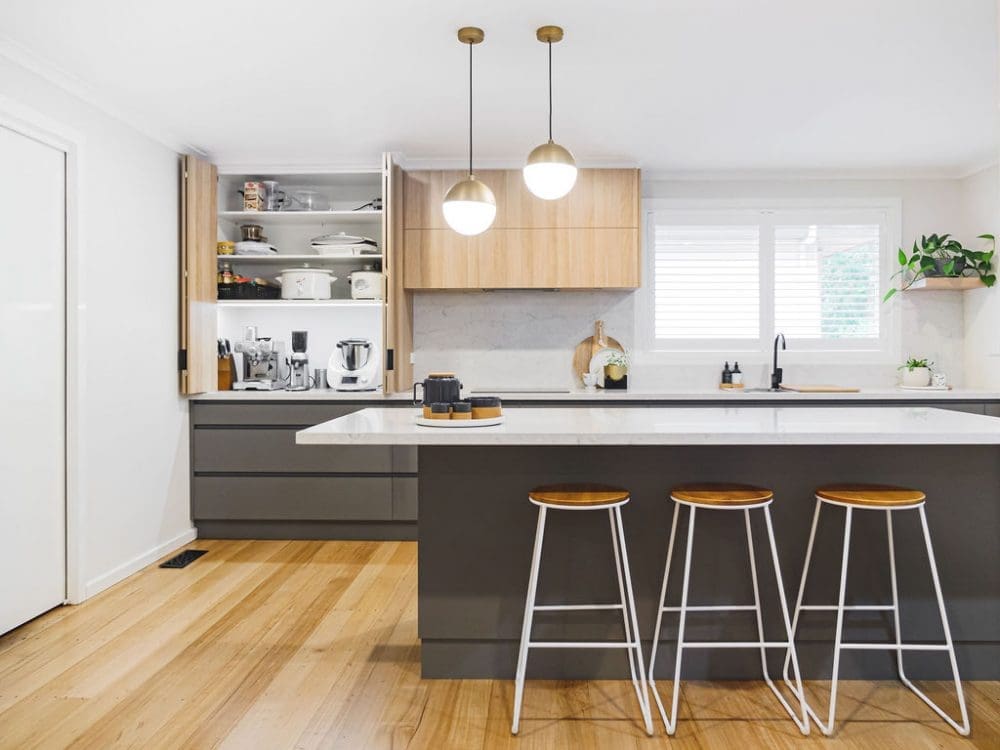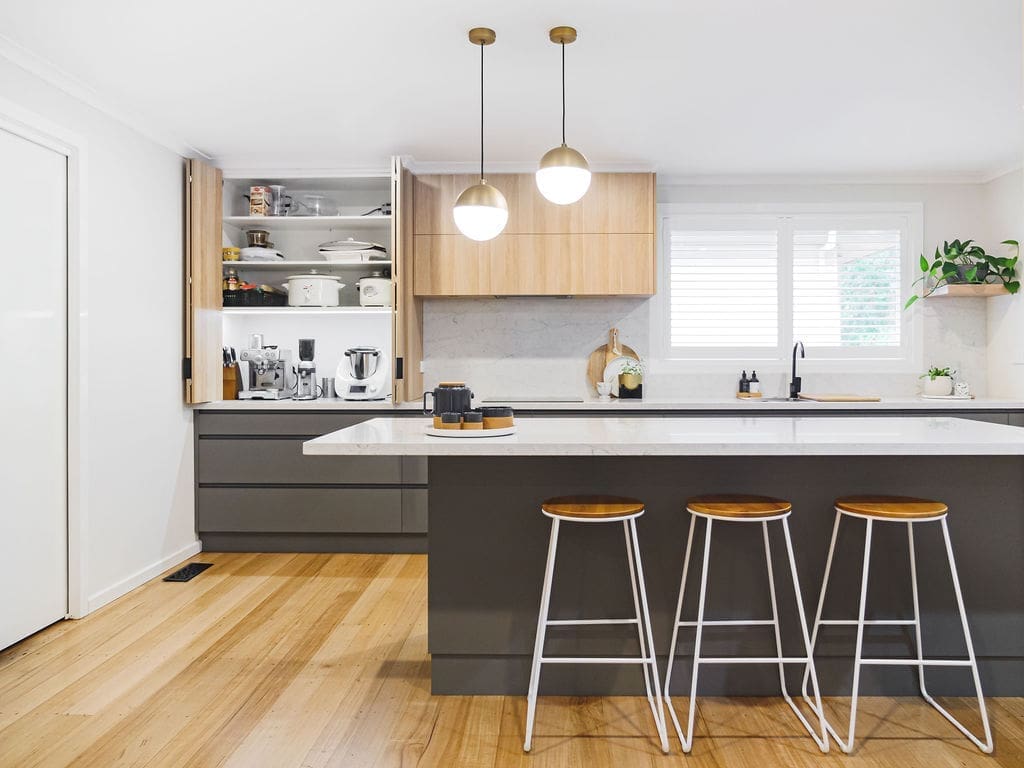 A clever way to save money in a kitchen renovation is to use what you already have.
"The original kitchen had a window above the sink which was quite special. It allowed so much natural light to come in.
"We toyed around with the idea of removing the window to create a window splashback but that was going to blow the budget. We kept within our means and left it as is.
"Now looking at the design, the original window highlights the asymmetry of the kitchen and is a prized feature," smiles Melissa.
"Another thing we did was use the floor as inspiration. The original timber floors were stunning so we wanted to tie them into the kitchen. We found a very close textured timber laminate for the overheads.
"As you know, it's hard to get an exact match on 2 different materials. By using the timber for the overheads, it meant it was far enough away from the flooring to not have to be a perfect match.
"We used deep charcoal for the base cabinets to help break it up."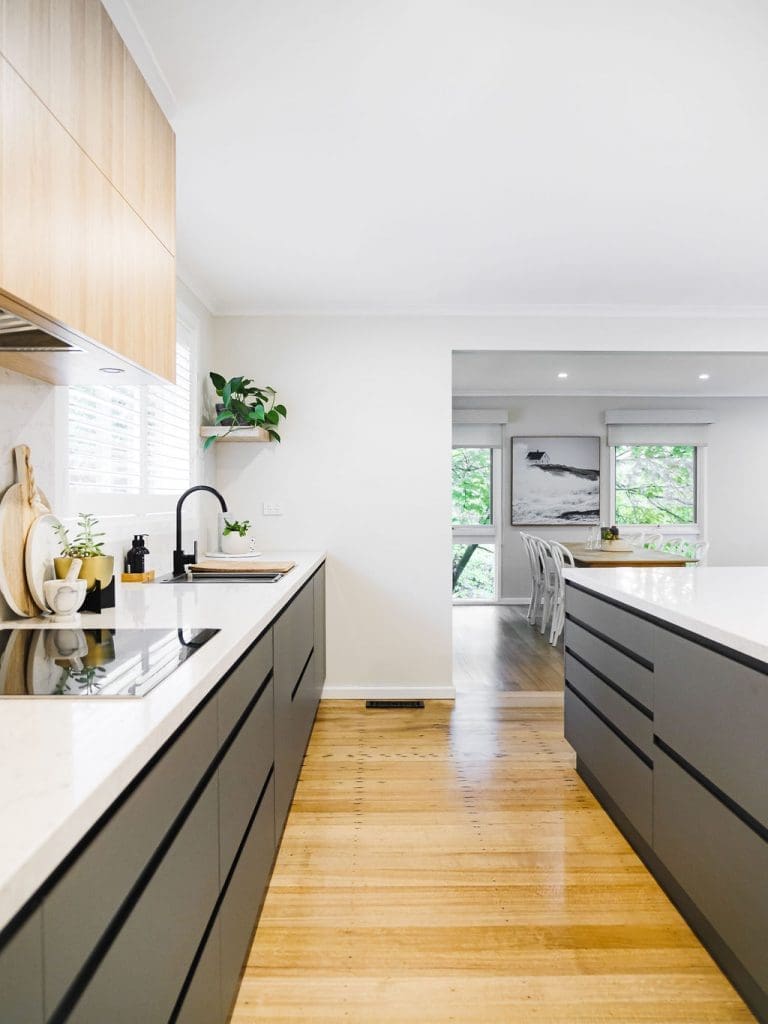 Having clever kitchen storage is great, but there are other things to consider when planning a kitchen renovation project.
"Getting the layout right is what will make your kitchen," says Melissa.
"Before you start scrolling Pintrest or Instagram for other people's ideas, it pays to get really clear on what is not working in your current kitchen and how you want to use your new space.
"Be sure to have a minimum of 600mm bench space on either side of your cooktop. This will give you enough room to prep and move hot pots and pans away from the cooktop safely.
"Stick to the working triangle rule (the connection between your sink, fridge and stove). It will make cooking so much easier and save you from constantly walking from one end of the kitchen to the other!
"If you can, think about including more drawers for clever kitchen storage. They're very practical as you can see all the contents of the drawer at once. It'll save you from digging around, trying to find that lost Tupperware lid!"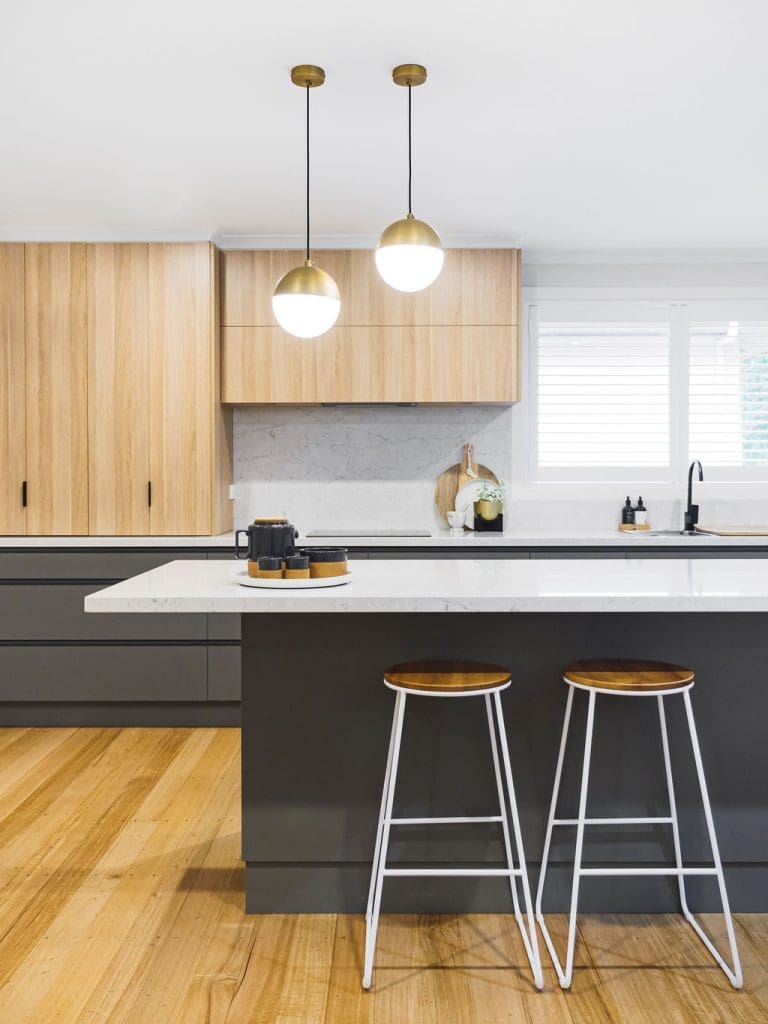 Melissa has first hand experience at the top 5 'must have' inclusions in any kitchen.
1. You can never have enough power points! Sprinkle them in the pantry, conceal them in the side of the island and on either side of the cooktop. Trust me. You won't regret this!
2. Add an integrated bin. It's such as shame spending so much money on a beautiful kitchen only to have these ugly bins in the corner.
3. Flu your rangehood outside, rather than in your roof space.
4. Be sure to choose a kitchen mixer that's tall enough to wash those large pots and pans.
5. And my number one kitchen must have… a decent dishwasher! This is one area where you should definitely spend on quality.
I speak from experience when I say there's nothing more annoying than opening the dishwasher after a cycle only to realise it hasn't cleaned properly. Invest in a good model now to save yourself double washing.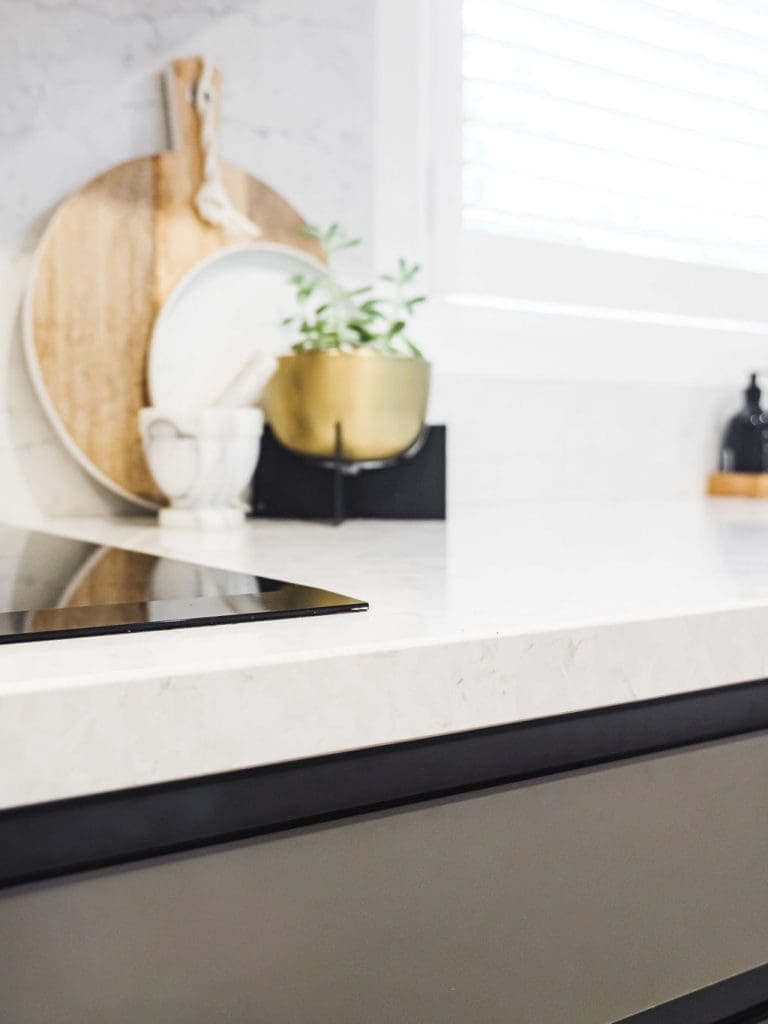 Having worked on more than her fair share of kitchen renos, Melissa knows a thing or two about where to splurge and where to save.
Splurge
"Splurge on things you really want. For example, my client wanted a splashback that was easy to clean with no grout lines. We ended up continuing the porcelain benchtop up onto the splashback.
"This did cost more than a glass or tile splashback, but you don't see any streaks or mess. Plus it created a cohesive look, especially with the contrast cabinetry.
"Splurge on wide pot drawers with soft close hinges," Melissa suggests.
"I also think it's a smart idea to splurge on full-height overhead cabinetry. No one likes a dust collector!"
Save
"Some people want an induction cooktop for the look of it but don't realise the cost involved upgrading to 3-phase power. If you love the look of an induction cooktop, maybe save with a gas one.
"They now have gas cooktops with a sexy glass top and cast iron trivets. It also saves you from having to buy a whole new set of pots and pans!
"If you love the look of 2-pac cabinets but don't have the budget for it, consider looking at some of the amazing silky smooth melamines that are available."
Thank you Melissa for sharing some great and practical kitchen renovation tips with us. We especially loved the clever kitchen storage ideas! If you liked Melissa's tips, check out her private Facebook group 'The Design Collective Workshops' where she shares tips on kitchen and bathroom designs, trends and heaps more. You can also see other projects on her website or Instagram.
Supplier details
Photography — Kate Hansen Photography
Cabinets — Polytec
Lighting — About Space
Appliances and tapware — E&S Trading
Window treatments — BBC Design
Homewares — Casetta Living