Supported by Manchester Collection
Who doesn't love the feeling of getting into a hotel bed? That high thread count and those perfectly tucked sheets! While your holiday plans may be put on hold at the moment, it is possible to create your own luxe bedroom look at home. Today I'm sharing my tips on how to style your bed like a hotel thanks to Manchester Collection.
Related article: 20 bedside styling ideas
Related article: How to incorporate elements of Feng Shui into your home
1. Get the basics of quality sheets right
When styling a bed, it's tempting to only invest in the quilt set as you don't generally see the sheets. But the trick to styling your bed like a hotel is to get the basics right — and that means starting with a quality sheet set.
The sheets are after all what you feel so for maximum comfort, always look for sheets made from natural fibers such as linen, bamboo or cotton.
For this bedroom look, I used 1000 thread count, 100% cotton sheets from the sheet set range by Manchester Collection. They offer ultimate comfort with a silky-sateen feel.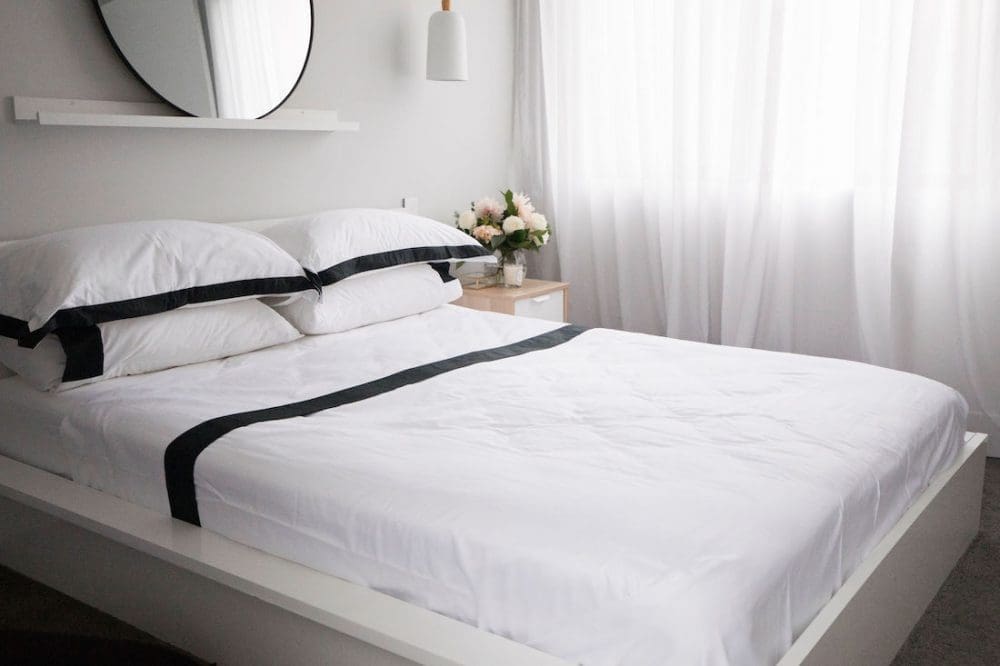 Of course it isn't just about the sheets you select but also how you use them and in a hotel, it's all about the tuck! For the fitted sheet, that means lining up all the corners perfectly and pulling the sheet down hard so there are no ripples.
With the flat sheet, place it evenly on your bed and fold the top to expose the detailed edge of your flat sheet if it has one (this sheet set has a black border detail) and use a hospital fold to tuck the sheet at the end of your bed.
Optional: Depending on the time of year, you may also like to add a blanket on top of your flat sheet. If you choose to do this, you would lay it directly on top of the flat sheet, and do the hospital fold with the flat sheet and blanket at the same time. You would also wait to fold down the detailed edge of your flat sheet until the blanket is on top so it sits over the blanket.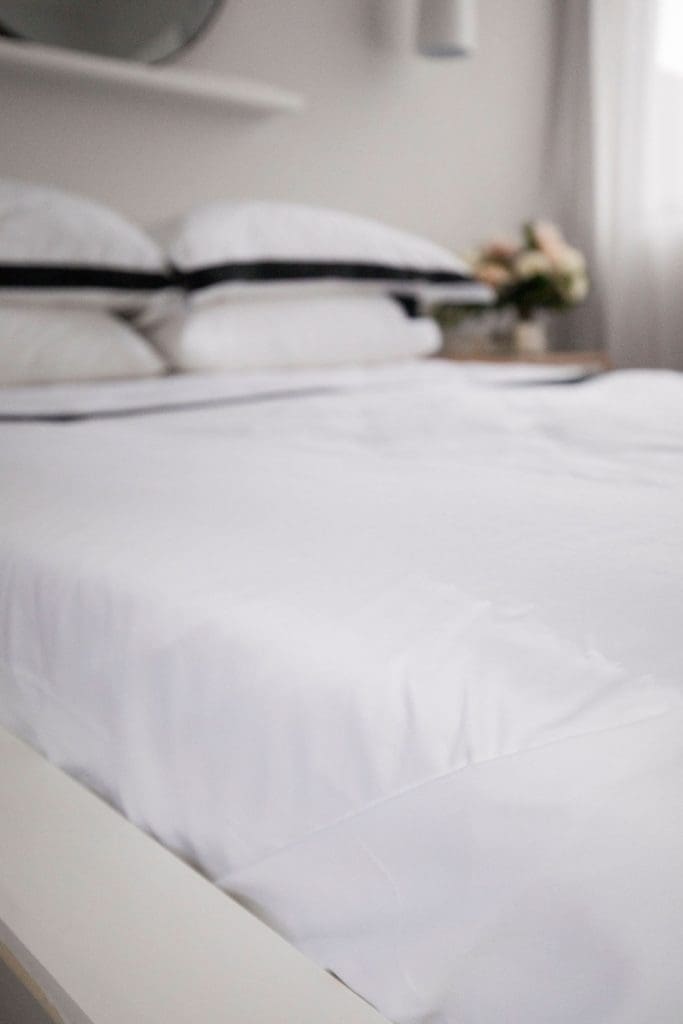 2. Decide on your cushion arrangement
Traditionally, hotels would stand 2 or 3 Euro cushions along the bedhead with two stacks of standard pillows in front. Depending on the hotel, you may also find a lumbar, bolster or other feature cushions in front.
Cushion arrangements have been getting changed up though, with some hotels choosing to place the Euro pillows in front of the standard pillows for a more contemporary look.
There's no hard and fast rule on how to arrange your cushions but generally, you would see 2 Euro pillows + 4 standard pillows + optional feature cushion/s.
You'll see in this article that I've demonstrated a few ways to arrange your cushions for inspo (ie Euro cushions at the back or front, with and without a feature cushion).
I suggest trying out a few arrangements to find what you like the look of best.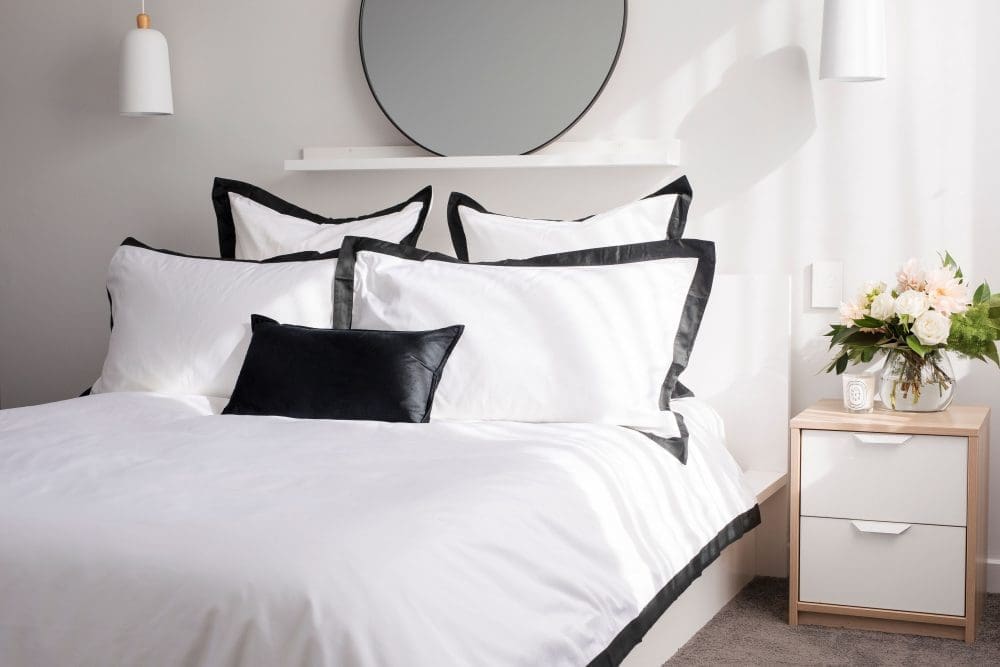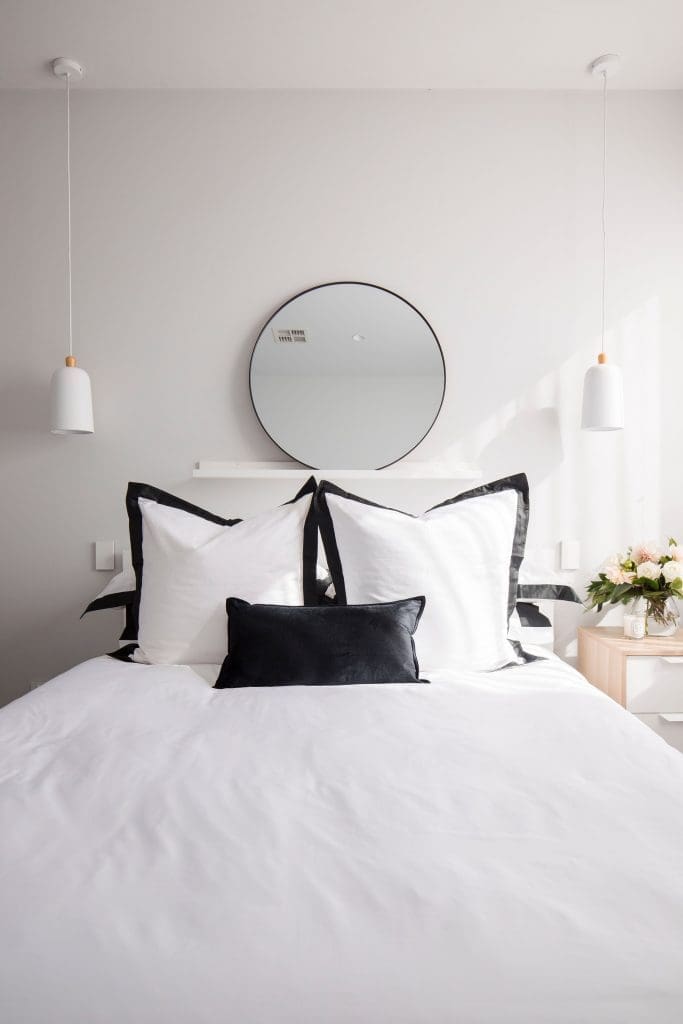 3. Add the quilt
The quilt forms the largest surface area on your bed. It's hard to beat white quilt sets for a hotel bedroom vibe… unless of course you find some with a beautiful trim like the black border quilt I used.
If you love colour though, you could embrace a quilt set in your preferred colour. Generally, prints are kept to a minimum with interest added through texture, such as a quilted finish.
Manchester Collection has a fab hotel inspired quilt cover range, including the quilt set I used, some solid colour options, and even black quilt sets for a moodier vibe.
It's up to you whether to tuck your quilt in or not. Personally, I love the luxurious look of an oversized quilt on a bed (and will often size up, choosing a king quilt on a queen bed for example) but traditionally quilts would be tucked in.
Similarly, you can decide whether to roll down your quilt or keep it flat and place the cushions on top. For a streamlined and modern look, I kept the quilt flat.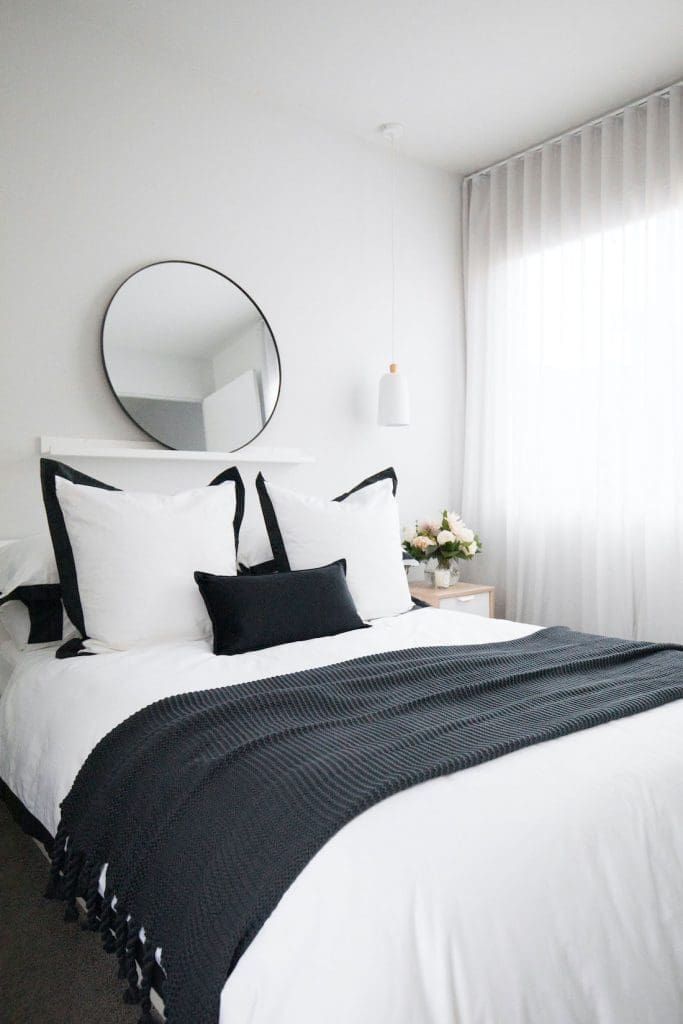 4. To add a throw or not?
Another area where you have scope to put your own personal twist on your hotel bedroom look is whether or not to add a throw blanket. These can be draped over a corner of the bed or laid symmetrically and straight across the bed.
I've done all three looks — without a throw, a draped throw and a straight across throw — to give you an idea of what you might like best.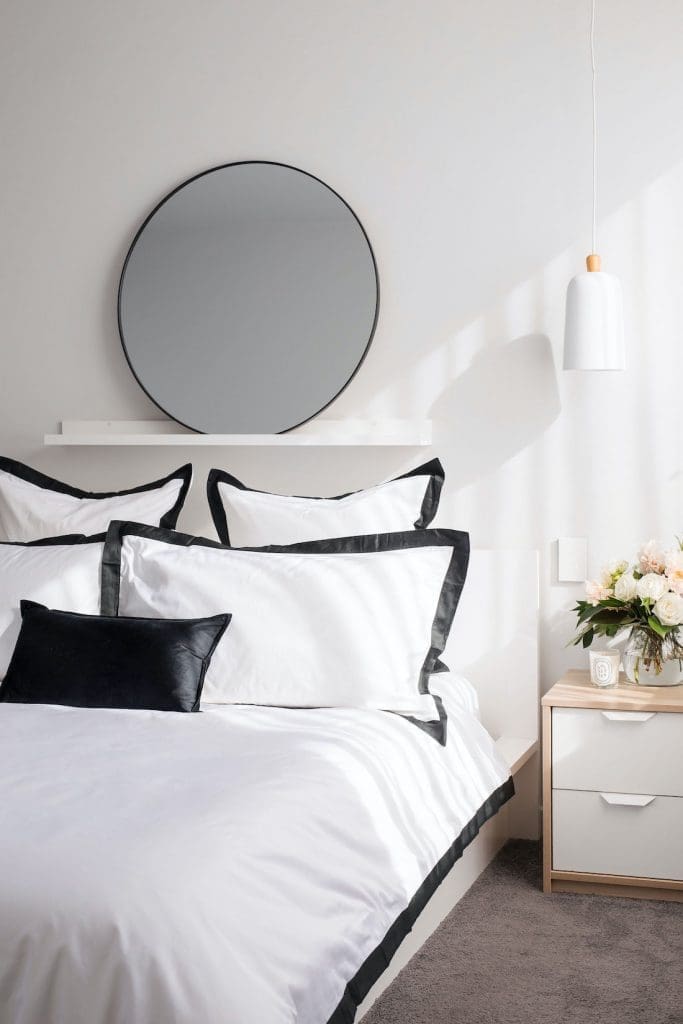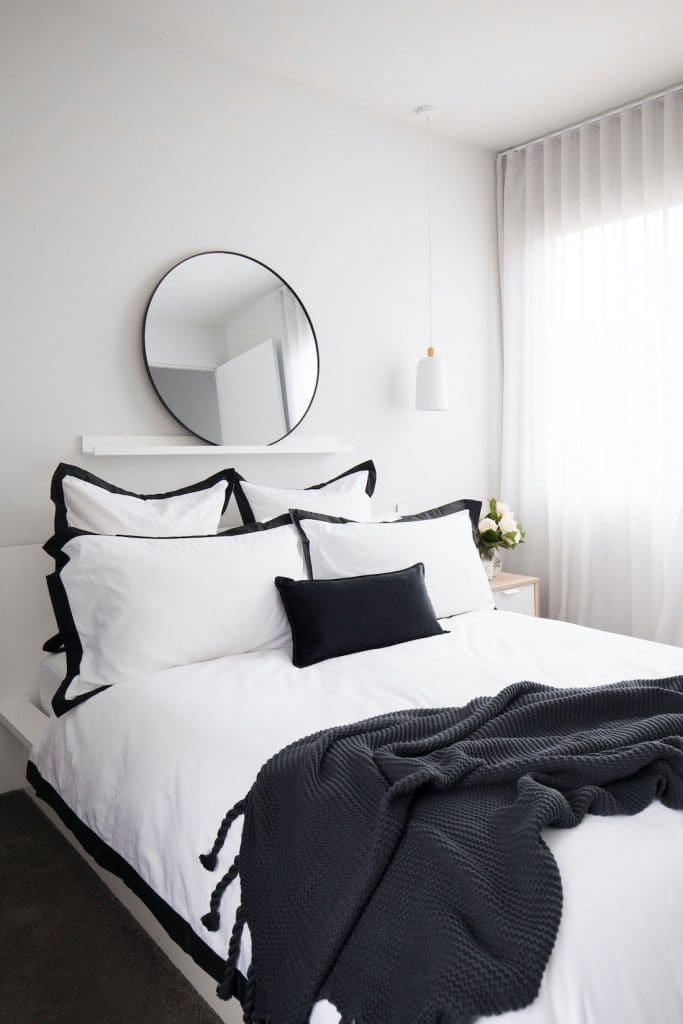 5. Keep styling to a minimum
I believe one reason why we sleep so well in hotels is because there's less clutter or visual noise in the room. As much as I love bedside styling and bold artwork, for this look, I kept bedside styling to a minimum and used a mirror instead of art to reflect light.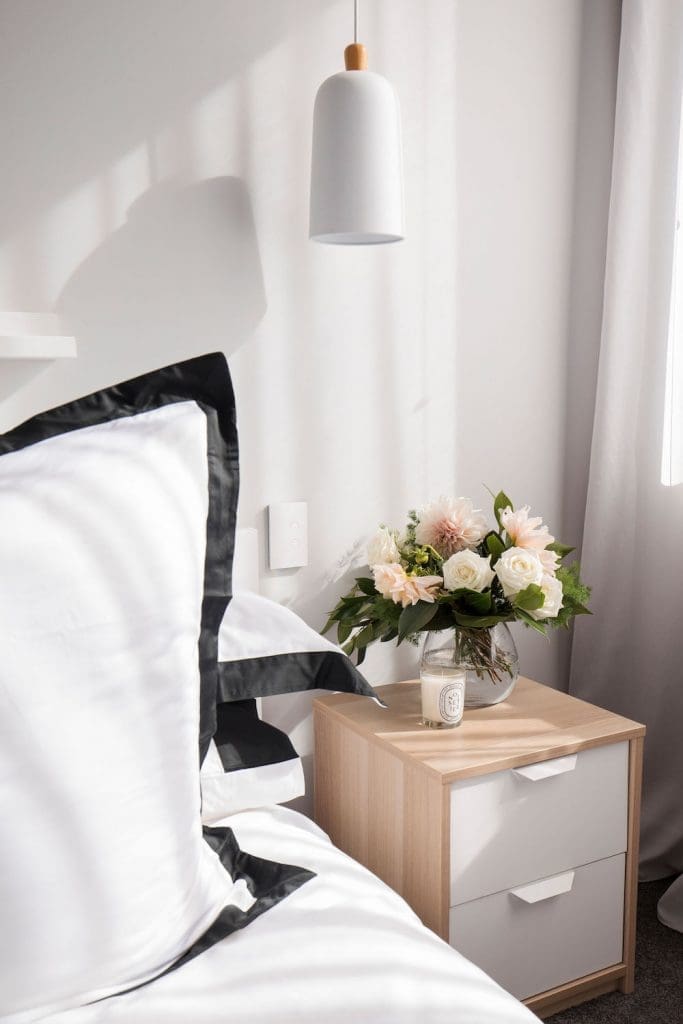 If you love this hotel bedroom look, you can find all of the bedding I used at Manchester Collections. Tell me, do you have more hotel bedroom styling tips? Post them in the comments below!