Sometimes it can feel like trying to keep your house tidy is a losing battle.
Spend hours cleaning only to find 5 minutes later it's a mess again… pets, kids and just life will do that!
While keeping your entire house orderly or clean is near impossible, a small space that can have a big impact is our bedside table.
Your bedside table can be a lot more than just a place to rest your phone so why not try some of our ideas here and makeover your bedside table?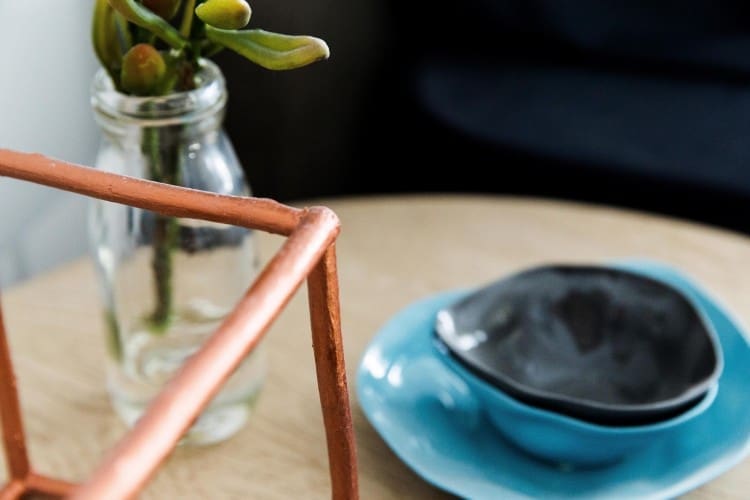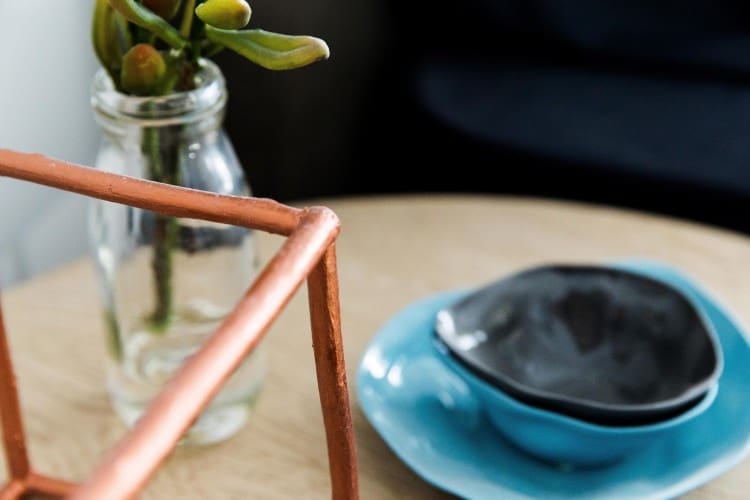 1. Start clean. Remove everything from your bedside table and give it a good clean. If the table itself isn't great, you may want to consider adding a large tray or trivet on top, or even take on our DIY concrete side table or an upcycling project to give your table a new look.
2. Have a plan. Great bedside styling doesn't just happen, there's generally a well considered plan behind it. Often that plan starts with a colour scheme — monochromatic, natural or complementary are most common. Other times people start with a style they want to carry through such as classic, eclectic or rustic. Think about the style you want to achieve and start collecting ideas and inspiration.
3. Let there be light. Unless you have hanging pendants or a wall light, your lamp will most likely be the largest item on your bedside. Decide the best lamp and position on your bedside so you can work the smaller items around it.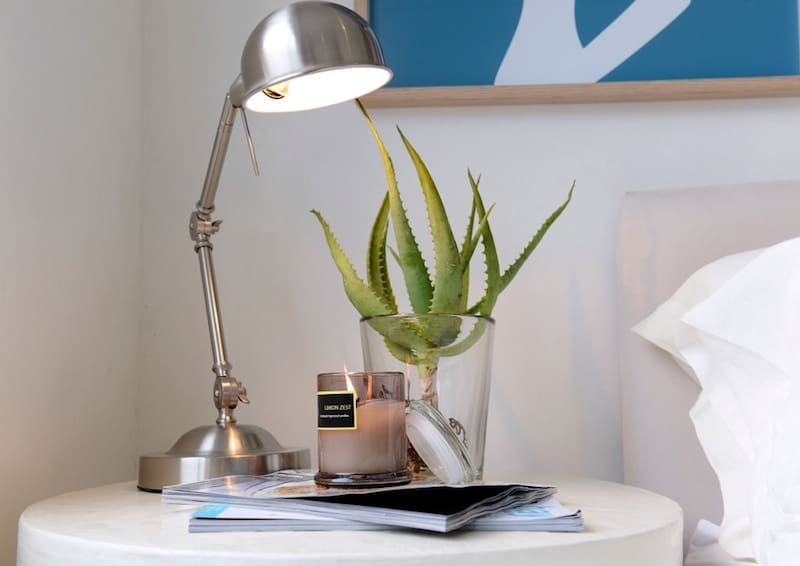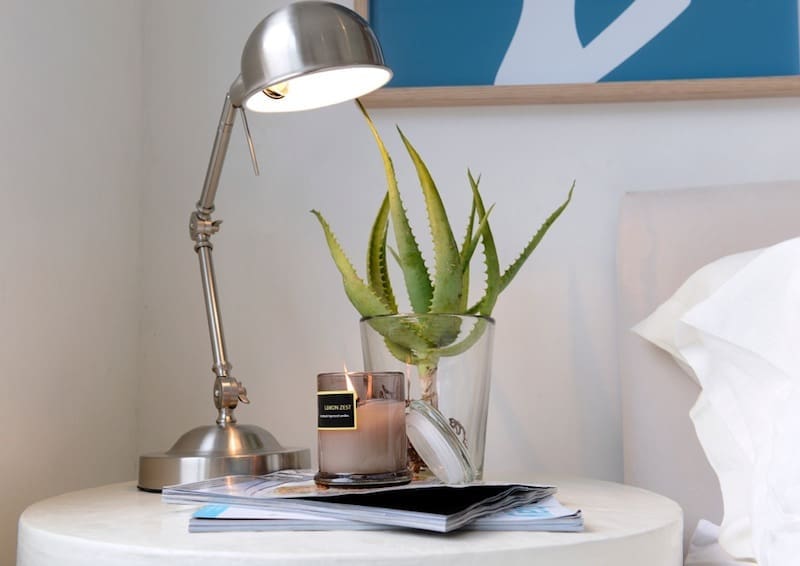 4. Reading material. A small stack of books doesn't just look beautiful, it helps to create height and interest on your bedside. Stacking some books vertically and horizontally is our hot tip to style like a pro.
5. Art that makes you smile. Whether it's a special birthday card or postcard from your travels, why not pop it in a small frame and stand it on your bedside table. This is about capturing something that has sentimental value and presenting it beautifully so you can admire it every day.
6. Candle. You knew this one would be on our list! With the gorgeous range of candles on the market today, they offer a lot more than just soft lighting.
7. Greenery. A succulent, air plant or fern adds life to your bedside table. Find the top 10 trending indoor plants right now here.
8. Cool clock. A vintage or analogue clock that has character is a cool way to add interest and can help to keep your bedroom a digital-free zone. Gina has used a minimalist white square clock from London Clock Co on her bedside.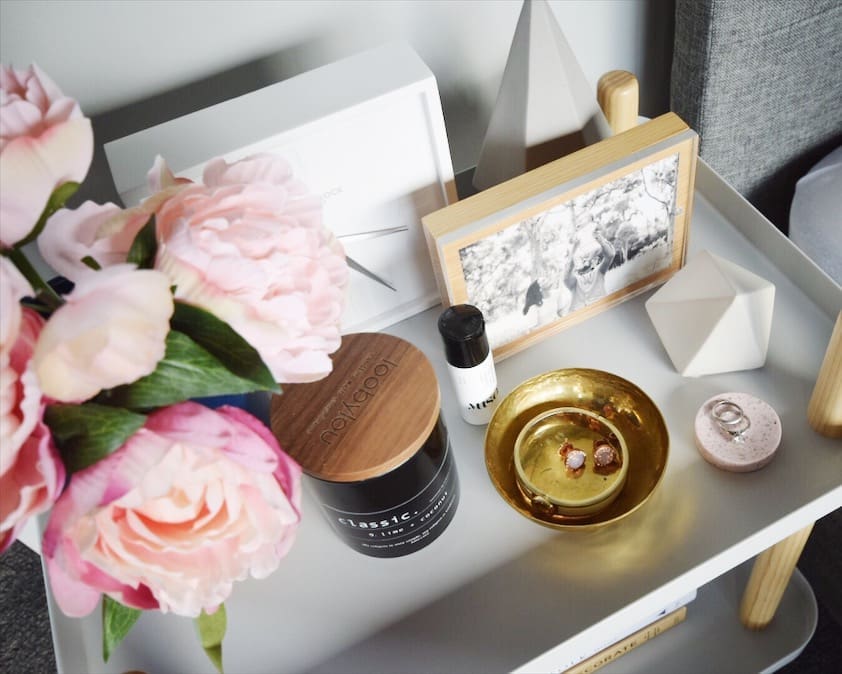 9. Ring dish. Keep your jewellery safe while you sleep and pop a ring dish on your bedside table. They can add a bit of bling, unusual pattern or shape.
10. Fresh flowers in vase. There's something so special about having fresh flowers in your home. You don't need to go out to the florist each week and invest in a big bunch of flowers, a single rose from the garden in a vase is just as beautiful. We've also got expert tips on how to extend the life of your flowers here.
11. Organic items. If flowers or plants aren't your thing, it's nice to introduce something else organic to your bedside like a piece of coral, shell, marble or timber accessory.
12. Add some bling. Depending on the style you're going for, a touch of gold, copper or brass can add a bit of luxe to your bedside.
14. Decorative ornaments. Pieces you've collected from your travels, thrift shop finds or latest decor pieces is a way for you to inject your personality.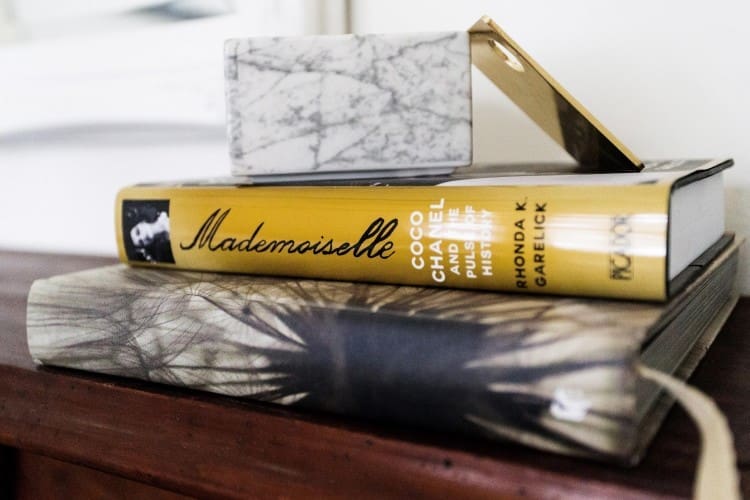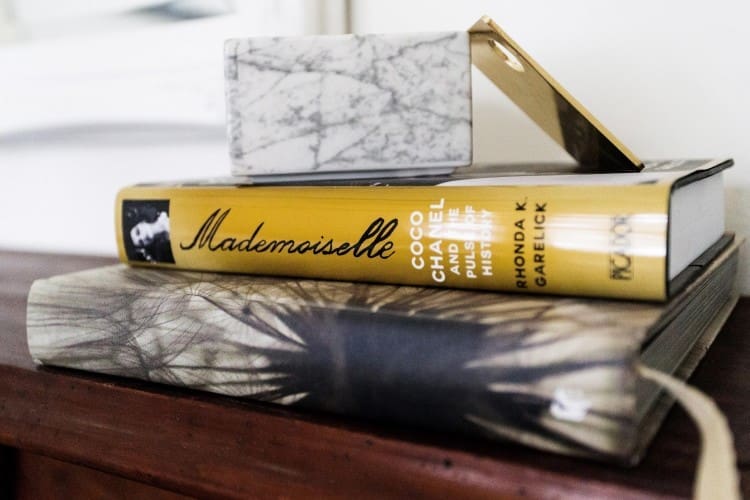 15. Box. Ceramic or wood, woven or glass, a box on your bedside serves many purposes — it's stylish, practical and creates height for more interesting bedside styling.
16. Night cap. If you enjoy a drink before bed, make space for this on your bedside table and work it in to your style.
17. Pop of colour. If by this point your bedside is still feeling a little 'Meh', it might be lacking a pop of colour. Experiment and have some fun, you can always remove it if it doesn't work.
18. Layer it. Layering objects, such as sitting your ring dish on top of a book, or resting two photo frames to overlap, adds visual interest.
19. The bigger picture. Depending on your bedside table, you may need to also consider what's happening below the table top. Nowadays many people don't just have a bedside with two drawers — trolleys and open box side tables are more popular than ever — so look at what's happening below the table top.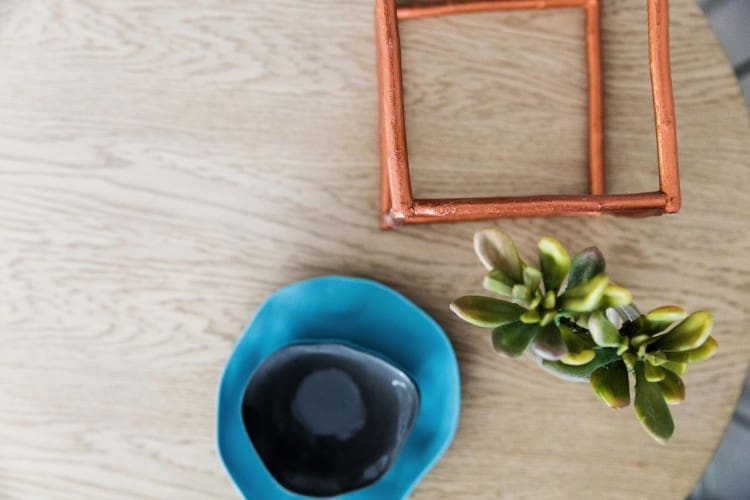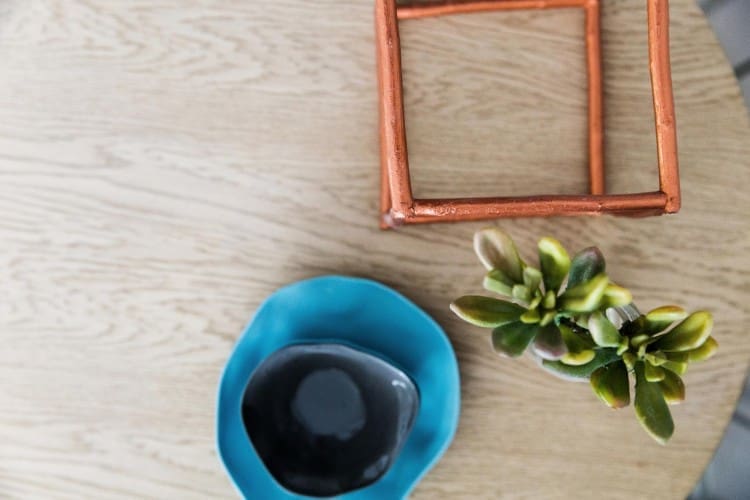 20. Final check. Great bedside styling is all about balance — of height, colour, texture and shape. Look at your bedside and consider if it's missing anything or needs some editing.
Here we've listed a bunch of ideas to inspire you to style your bedside but remember, less is often more!
Sometimes the most beautiful bedside tables simply have a few items such as a lamp, vase of flowers, candle and ring dish.
What are your top tips for styling a bedside table? Share them in the comments below!