Katie and Mitch, a young couple from Brisbane, recently completed building their first home. We sat down with them to hear their experience of building and get their top tips. Over the next few weeks, we'll be taking you inside their home and sharing their advice with you.
Today we find out how the project came about and what steps they had to go through before they could build.
Related article: Katie's top 10 tips on building your first home
Related article: Design greenery into your renovation: How to create an indoor outdoor connection
"We purchased the block of land in early 2013 in Brisbane's inner east, approximately 4 kilometres from the CBD," says Katie.
"It was Mitch who found the block on realestate.com.au and although we weren't looking to buy at the time he (thankfully) convinced me it was a great opportunity so we decided to check it out.
"A good friend of Mitch is a builder and we went out there together. We could immediately see why it was priced so well," laughs Katie. "The block was a monstrous mess of trees and shrubs on a heavy slope and backed onto a railway track.
"Another obvious challenge was the split level street which would make access for trucks difficult. It was also in a zoned area so we would have to build to certain specifications.
"Although it would be difficult, our builder said it would be possible."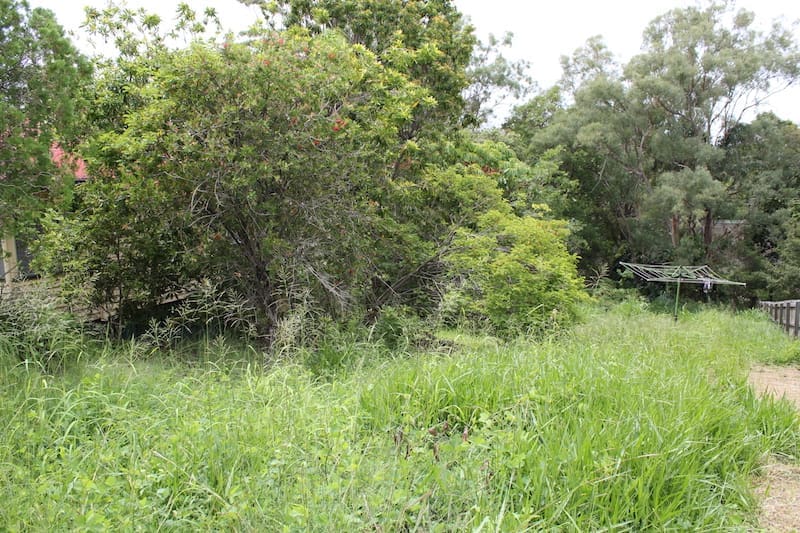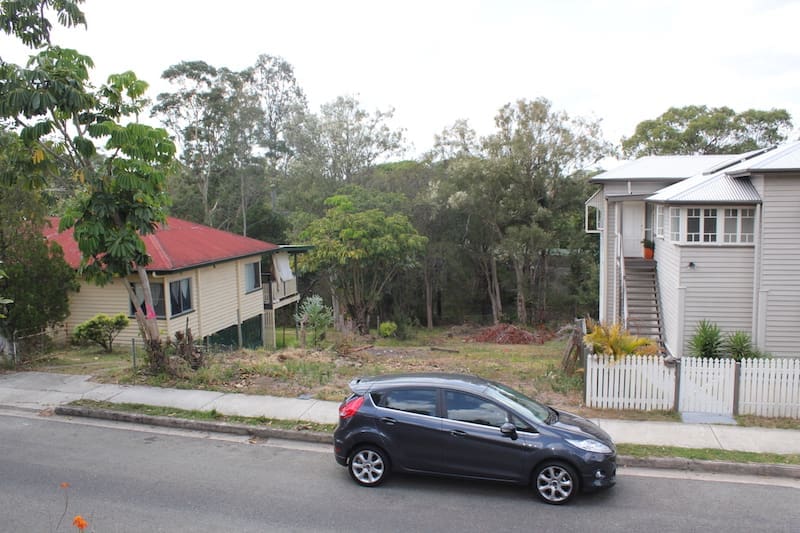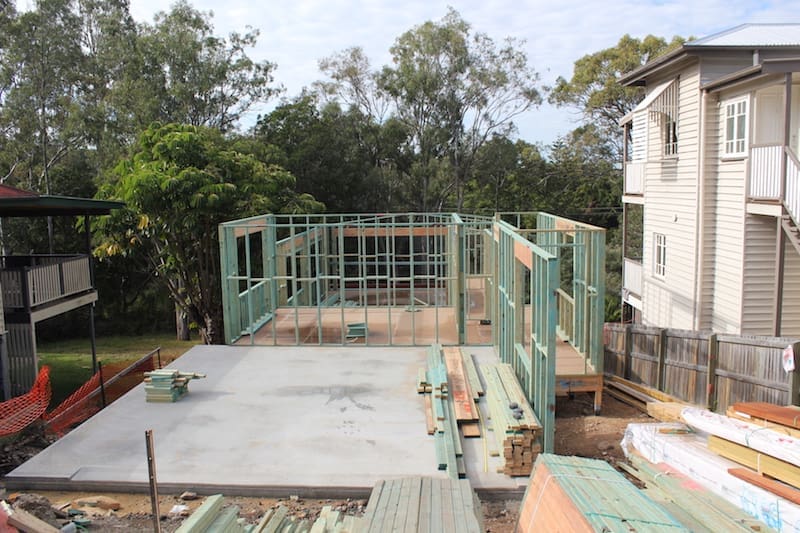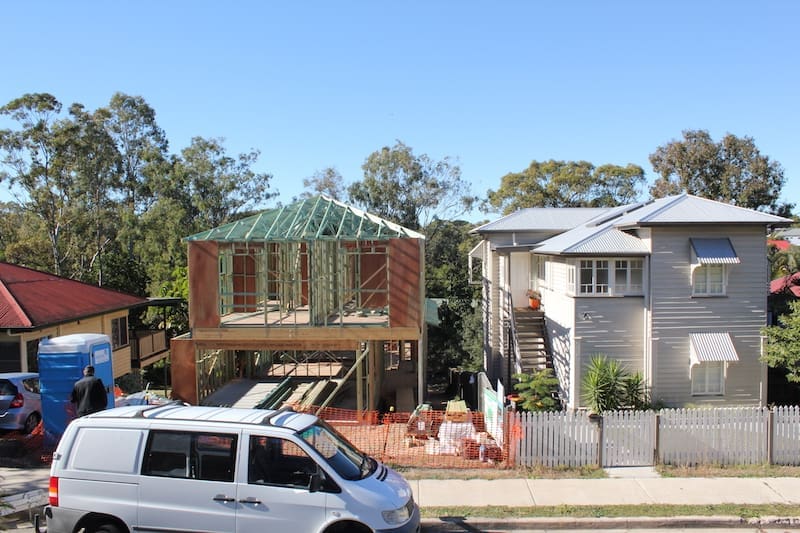 So you decided to go ahead with a challenging yet doable build?
"Yes," laughs Katie. "We spent one year planning and saving and in May 2014 begun the build.
"Mitch designed the house himself," says Katie. "He came up with the best plan for our block while taking into account the requirements of the Brisbane City Council's character and small lot codes.
"He considered Brisbane's climate when he designed the house to ensure it would best capture breezes and provide solar access with northern facing windows to our living areas. He located the bedrooms at the front of the house and the active living areas such as the kitchen and dining closer to the railway.
"Once we settled on our design, we engaged a draftsman to create a final set of working drawings and a town planner to assist with the necessary approvals.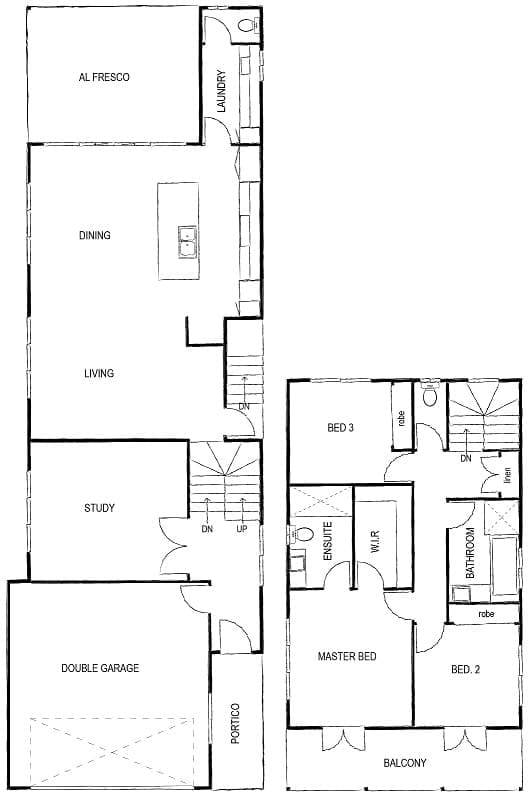 How did you address the acoustic requirements in your build?
"We engaged an acoustic engineer to assess our block and find out what we would need to do to comply with the condition. Due to the topography of the land and requirements of the character and small lot codes, we were advised that it would be near impossible to comply without significantly over capitalising.
"One of the challenges was the need to use lightweight materials in the construction of the house to reflect the pre-1946 housing character of the area which in turn made it more difficult to control rail noise.
"Sticking to our original design was very important to us so we decided to fight the condition through a series of submissions," says Katie. "We also made some adjustments to the design, including upgrading various windows and the doors leading on to our deck. After many months of negotiation, we were successful in having the condition removed and could begin building."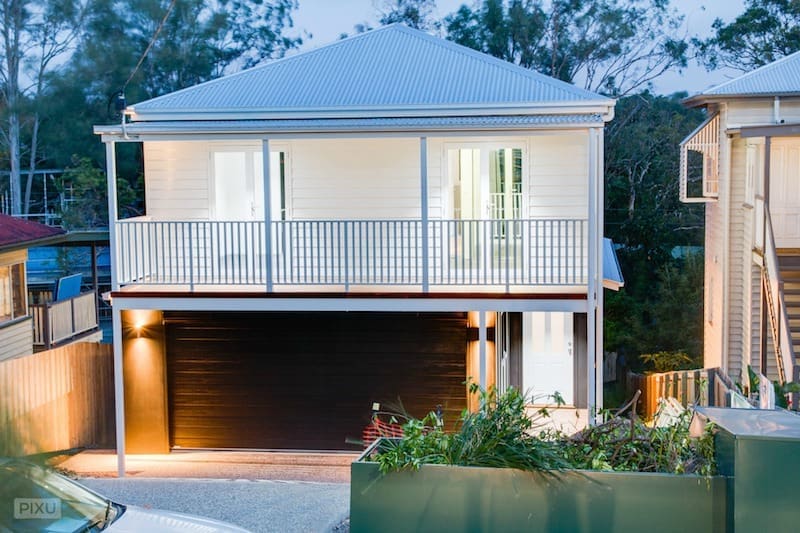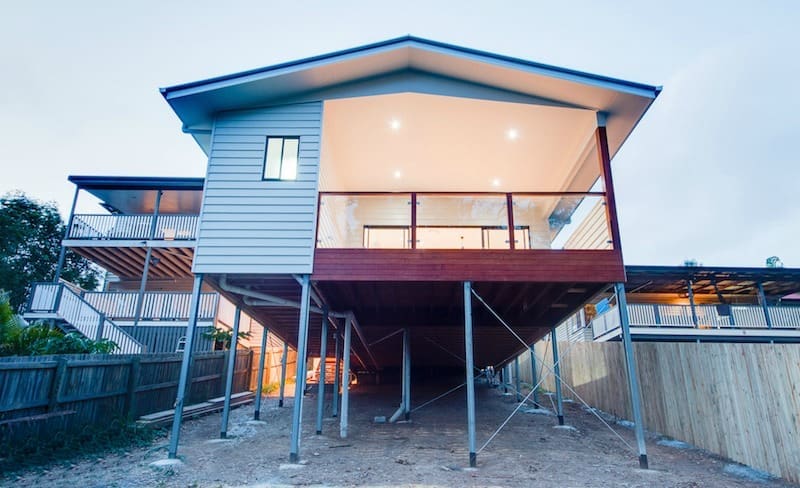 Talk us through the house design.
"The house is a modern take on a classic Queenslander. It is a two-story home, with the lower story split over two levels.
"As you enter through the front door you are greeted by an open-tread feature timber staircase that takes you upstairs to the home's three bedrooms and two bathrooms. Two of the bedrooms, including the master, have french doors out to the front balcony.
"Heading downstairs leads you to a large open plan area which includes a generously-sized kitchen, living and dining areas and doors leading out to our back deck nestled amongst the gum trees.
"The laundry is located off the kitchen, and includes a separate powder room. Back on the entrance level is a double garage with internal access and an over-sized study," says Katie.
"We used Australian Beech hardwood flooring throughout the house (other than the bedrooms which we carpeted) and a colour palette of white, charcoal and black.
"The bedrooms are painted in Dulux 'Natural White' with built-in wardrobes and mirrored doors and a walk-in robe in the master. They're also fitted with ceiling fans."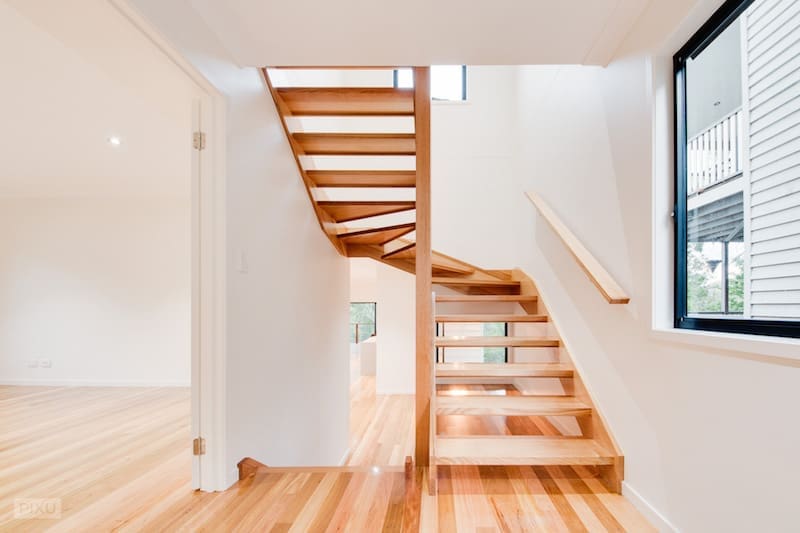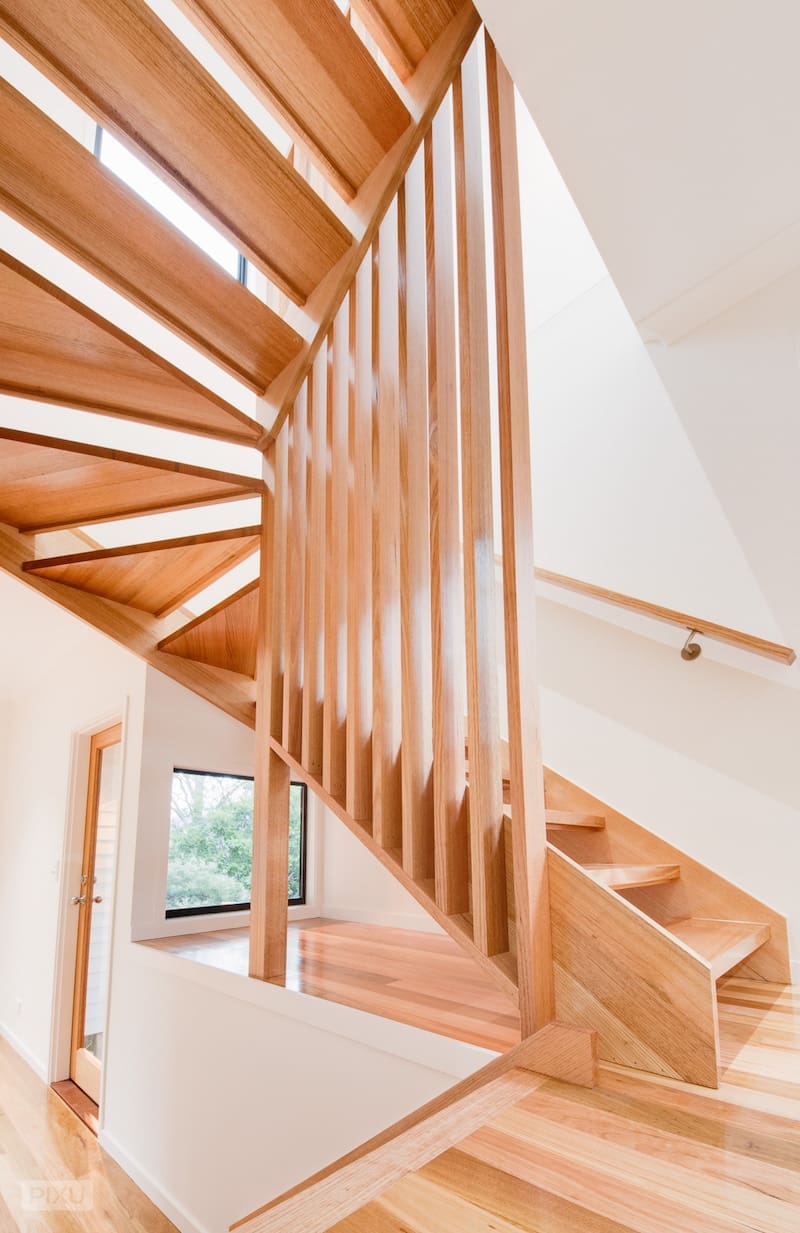 We're going to wait to share details of the other rooms in your home. If you don't mind talking money, readers often ask us how much a new build or renovation costs — are you happy to tell us what you paid.
"In our area, the current median house price is approximately $750,000 so we were lucky to get the block at the price we paid. We bought the block for $300,000 and completed the build for around $350,000. There were also some further expenses not covered in the build such as fees for a surveyor, draftsman, town planner and acoustic engineer.
"We were clever with the money we spent and were always conscious not to over capitalise. Older houses of similar size in our area sell for above the money we invested so we're confident we will see a good return when we sell."
Thanks Katie for sharing your first time home builders story with us. We can't wait to show readers the other rooms in your house soon!