Maxine is the blogger behind We Love Home and lives in the UK with her dog Teddy… and until recently, her kitchen was hiding a stack of nasty problems.
"The back wall was damp to touch. When I opened the base units, the mouldy smell was rank. Rain water had been pouring down the wall from the bathroom window up above and into the electrics of my oven. That meant no oven for 6 months.
"I mustn't forget to mention the crummy windows, the stinky fridge and the horrible office strip lighting above. The layout was just plain silly – I couldn't even open my fridge door fully. The sink was crammed in a corner. Urgh! One word could sum up my old kitchen: Grim!"
What's a girl to do but a complete kitchen remodel?!!
Maxine took the opportunity to create her 'dream kitchen' and we can't wait to share it with you!
Here is the kitchen before…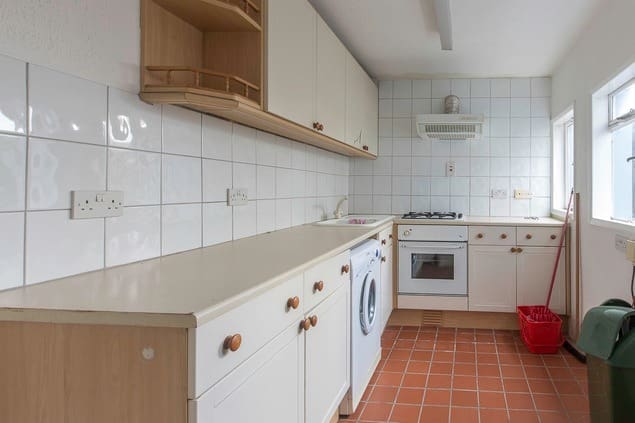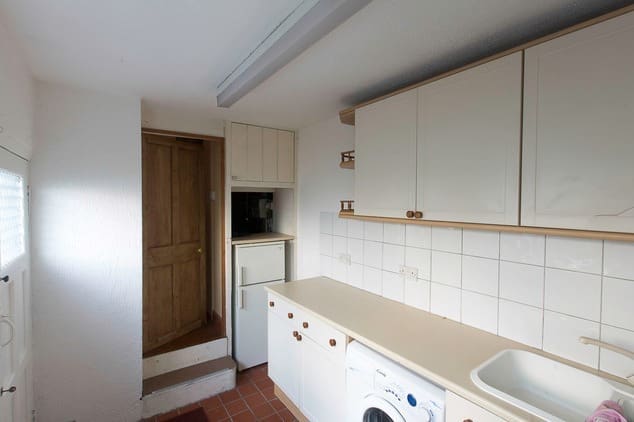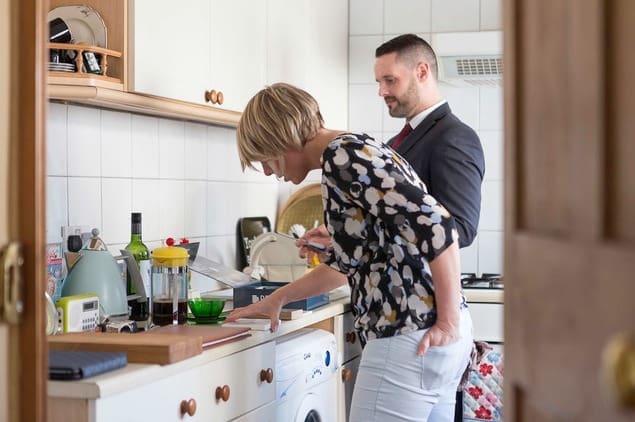 Maxine says renovating the kitchen was always a top priority but she wanted to get the space just right so she spent hours researching ideas and worked with Russell, a kitchen designer at Hehku, to finalise the layout and details.
"Starting from scratch in this room meant I could design my dream kitchen just for me," she says.
"I had an idea on the look I wanted for my kitchen, I was clueless about what to do with the layout. Lots of the houses on my street have galley kitchens with a bank of units either side, and a door at the other end. I felt they made the space feel cramped, and you can only fit one person in the kitchen at a time. That wasn't for a party-girl like me."
New layout
To maximise the space, allow her fridge door to open fully and to fit more than one person in the kitchen at a time, Maxine knew she needed a new layout.
"I wanted my new kitchen space to be a sociable space, where I could have friends hang in it. That's where Russell stepped in with his expert know-how. It was his idea to block off the cupboard where the fridge was, and put in a bank of units including my to-die-for pull out larder. And he managed to squeeze in a dishwasher, washing machine and a range cooker. Bingo!
"It was my builder's idea to put in a window at the end of the kitchen. It lets in so much light and it means I can look out over my garden. Looking out onto the garden also makes the room feel bigger."
New finishes
New kitchen cabinets from Symphany Kitchen's Cranbroom range painted sage, handmade handles from copper piping, new copper tap and bold 3D-look geometric floor tiles are just some of the new finishes in this space.
"The units have a classic Shaker style but without it looking too fuddy-duddy," says Maxine.
"My 3D crazy tiles from British Ceramic Tiles are a talking point in my home — they're trippy when you look at them too long. I picked pattern tiles inspired after a trip to New York last year. All American diners have these mad tiled floors which I lusted after for my home — bringing a bit of NY home with me. Oh, and having underfloor heating installed was a brain-wave.
"The difference this new space has made to my home is insane. No longer a damp and smelly room. I have my dream kitchen not something I would say lightly."
Amazing work Maxine and thanks for sharing your kitchen remodel with us!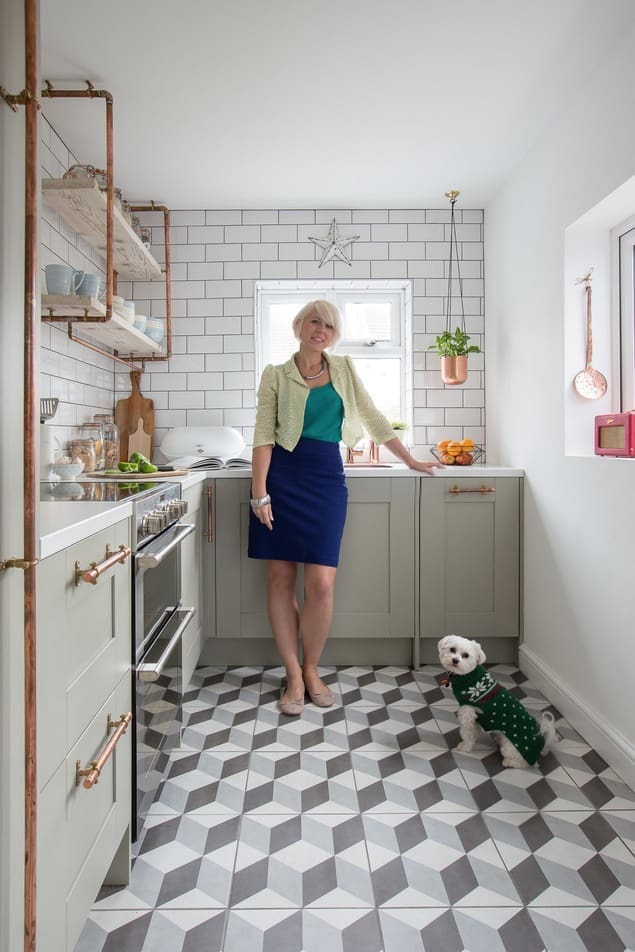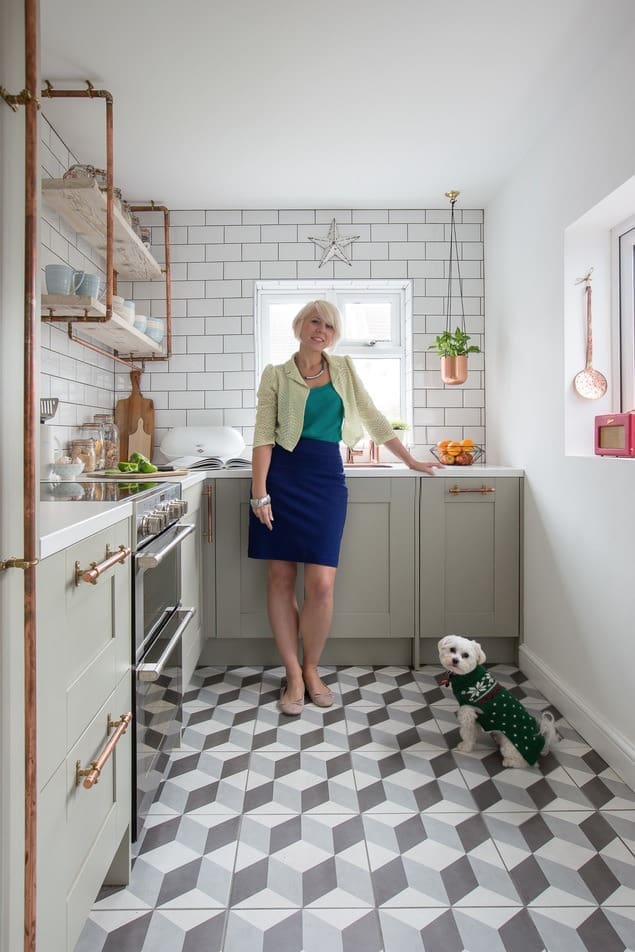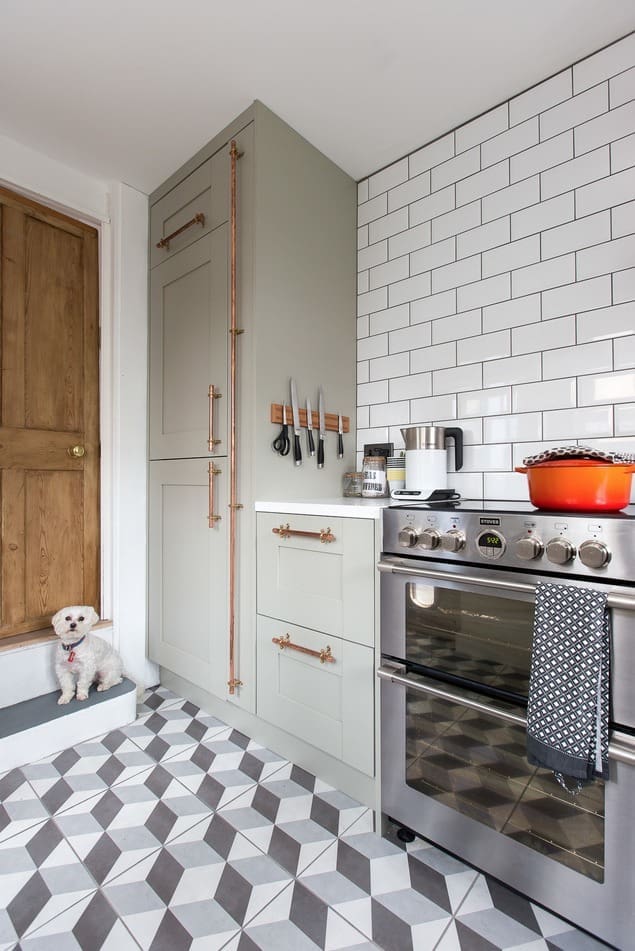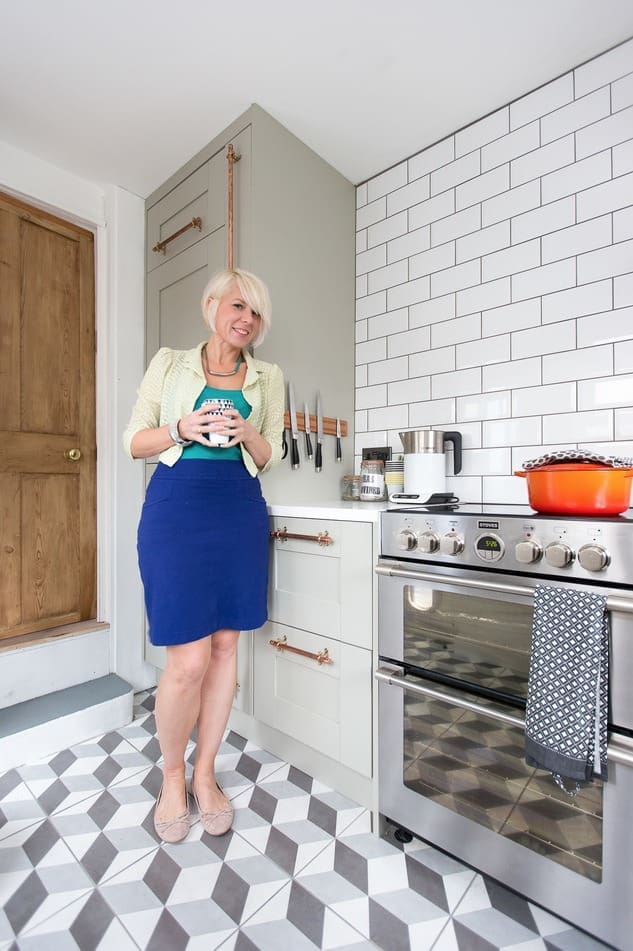 Follow STYLE CURATOR with Bloglovin