Following on from her stunning bathroom renovation which we featured earlier this year, Olivia from House of White recently completed a chic laundry renovation and of course we asked to take a sticky beak around!
Make yourself a cuppa and sit back while we show you around her stylish and functional laundry, and get her top reno tips!
Related article: Designing the ultimate laundry, all the tips and trick you need!
Related article: How to style your laundry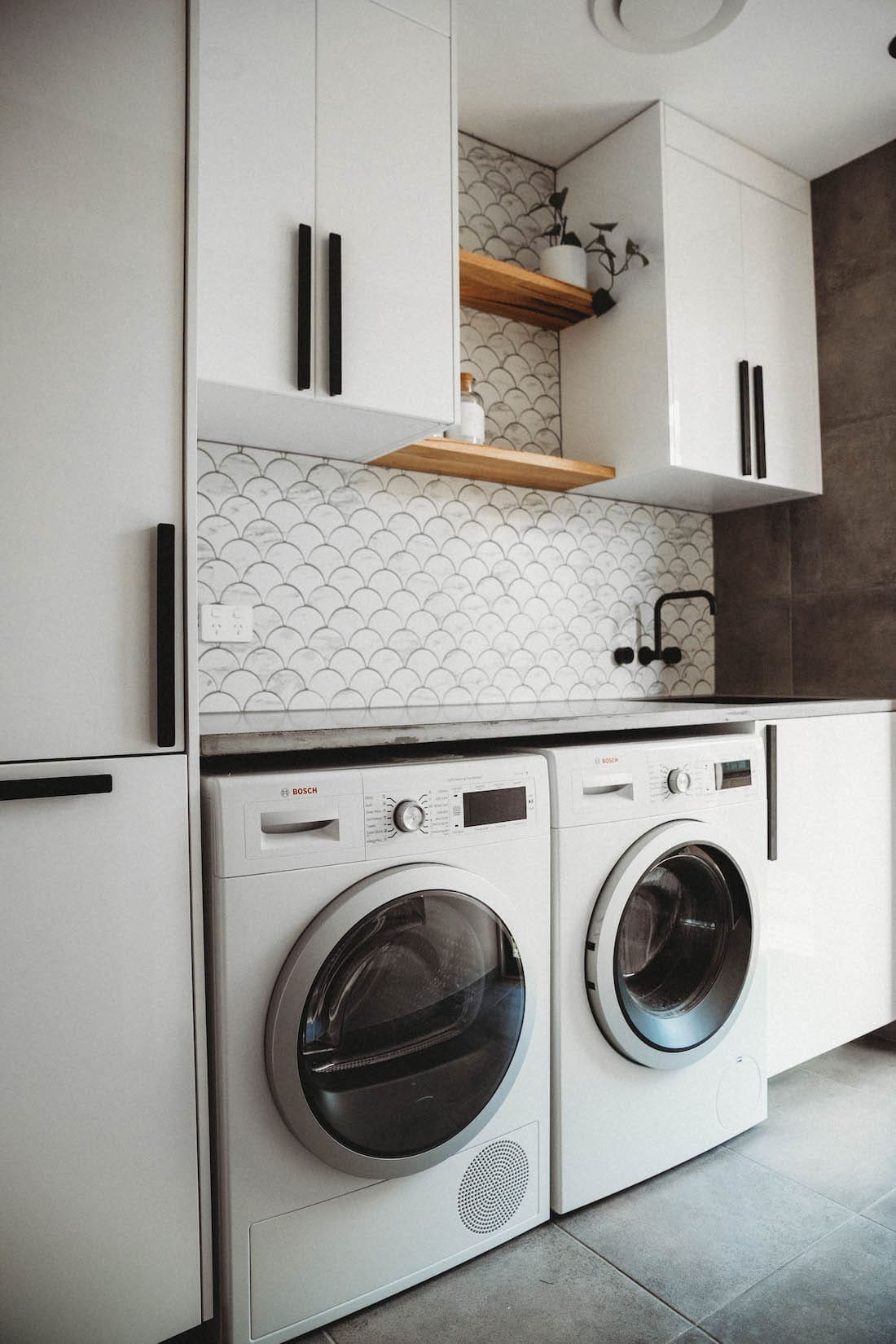 Having already renovated their bathroom, Liv knew exactly what she wanted for her dream laundry.
"The laundry was next on our renovation to-do list after we finished our bathroom so I was keen to keep the same look and feel and colour palette throughout.
"It was pretty simple really. I wanted something functional but beautiful and I definitely think we achieved it," Liv says happily.
"I also knew I wanted everything to be tucked away. We only had a small space to work with so I didn't want any clutter or mess.
"My super talented husband created these awesome pull out draws which I just love.
"He created a draw where the cupboard was supposed to go by cutting down Ikea cabinets so I could have a pull out wash basket. It's such a clever use of space.
"And he did it, even with my near-impossible request which required him to create the actual brackets himself!" Liv says with a laugh.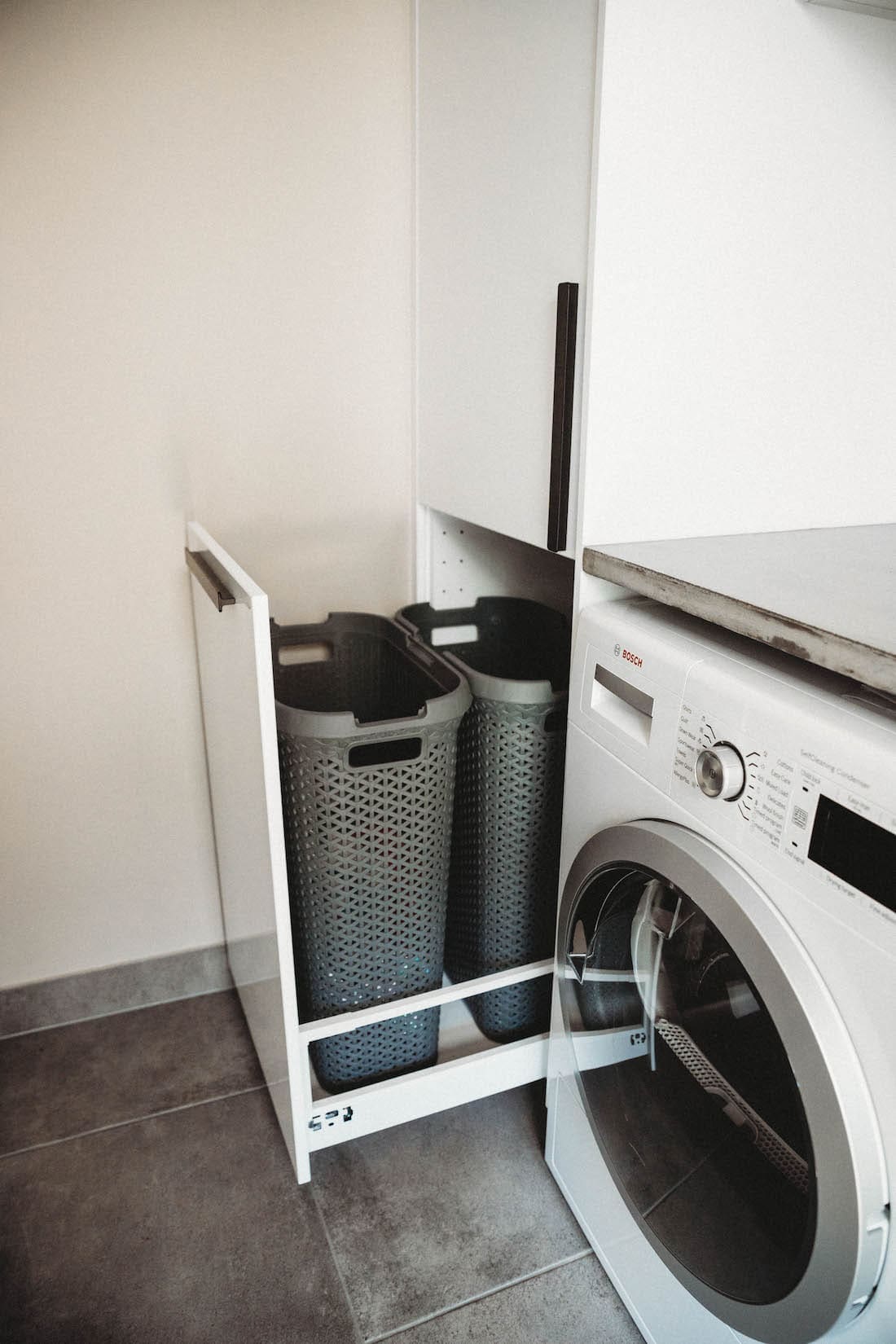 The chic laundry renovation was inspired by the family's recently renovated bathroom.
"We planned our laundry and bathroom at the same time.
"Apparently, the fish scale tiles are hard to lay, so I don't think our tiler was too happy when he realised I'd chosen the same ones for in here!"
"My favourite feature of this renovation has got to be the custom built concrete benchtop from DLH Designs. I chose the same colour as the sink in our bathroom.
"They're a local business and create the most beautiful stuff. I will 100% be using more concrete throughout our house moving forward."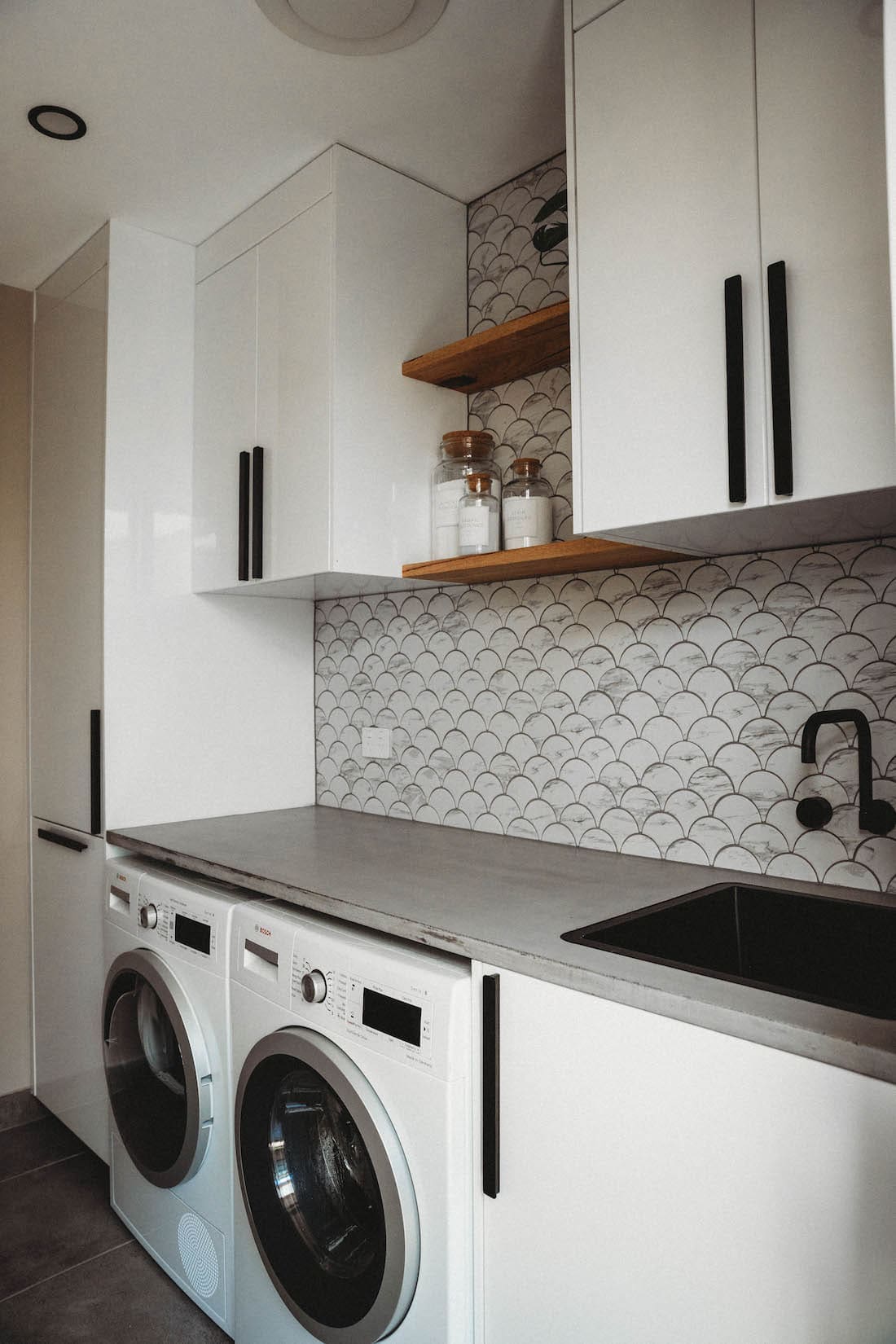 With 2 room renovations under her belt, this one wasn't without its dramas, however Liv still happily shared a few tips she's learnt along the way.
"I'll be honest, this one took a little longer than expected.
"We also had to re-do the tiles as they weren't laid correctly the first time around.
"To keep costs down, we opted for Ikea cabinetry. However, we were 50mm off and had to cut one down — it was tricker than expected which contributed to the time delay," Liv recalls.
"Another thing we did to keep our costs down was sourcing a lot of the products at the same time as the bathroom renovation. Buying in bulk can often reduce your costs and also means the tile cost was included in the bathroom budget."
"Having said that, don't just do boring. It's still a room in your house you need to look at. I enjoy my laundry so much more now I have the beautiful bench and tiles to look at!
"And my final tip… don't pay your builder until the job is 100% done!"
Tapware and sink — Burdens
Custom concrete bench — DLH Designs
Photography — Olivia White, House of White
Thank you to Liv for taking us on a tour of another beautifully renovated room. To find out what she's up to next, check out her Instagram or visit the House of White blog.