Today's home tour is all about taking us back to the 1950s. Love & Mutiny was renovated by sister duo Sarah Hall and Emma Read (@readandhall) into a unique, fully-equipped beach house.
Full of colour and vintage elements, this stunning pink coastal cabin is unlike anything we've featured on the blog before. So get ready, there are so many details you don't want to miss.
Related article: One for the colour-lovers: A tour through Paul's Place
Related article: Colour and emotion: How to select colour for the mood you want to achieve in your home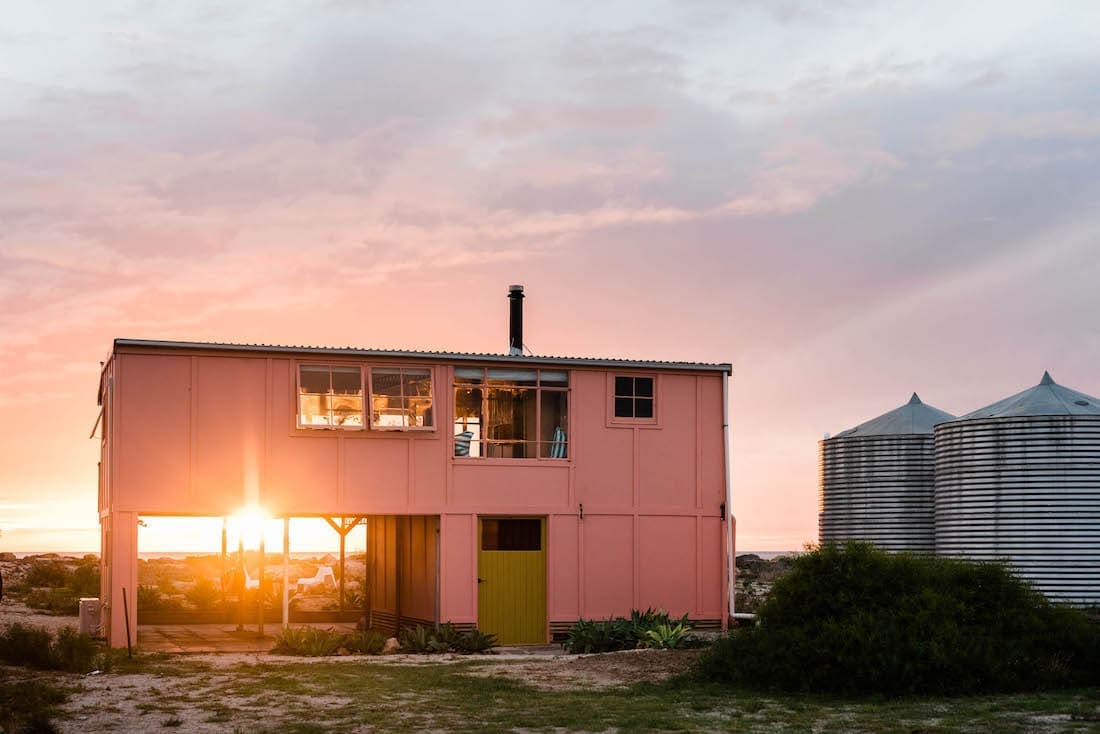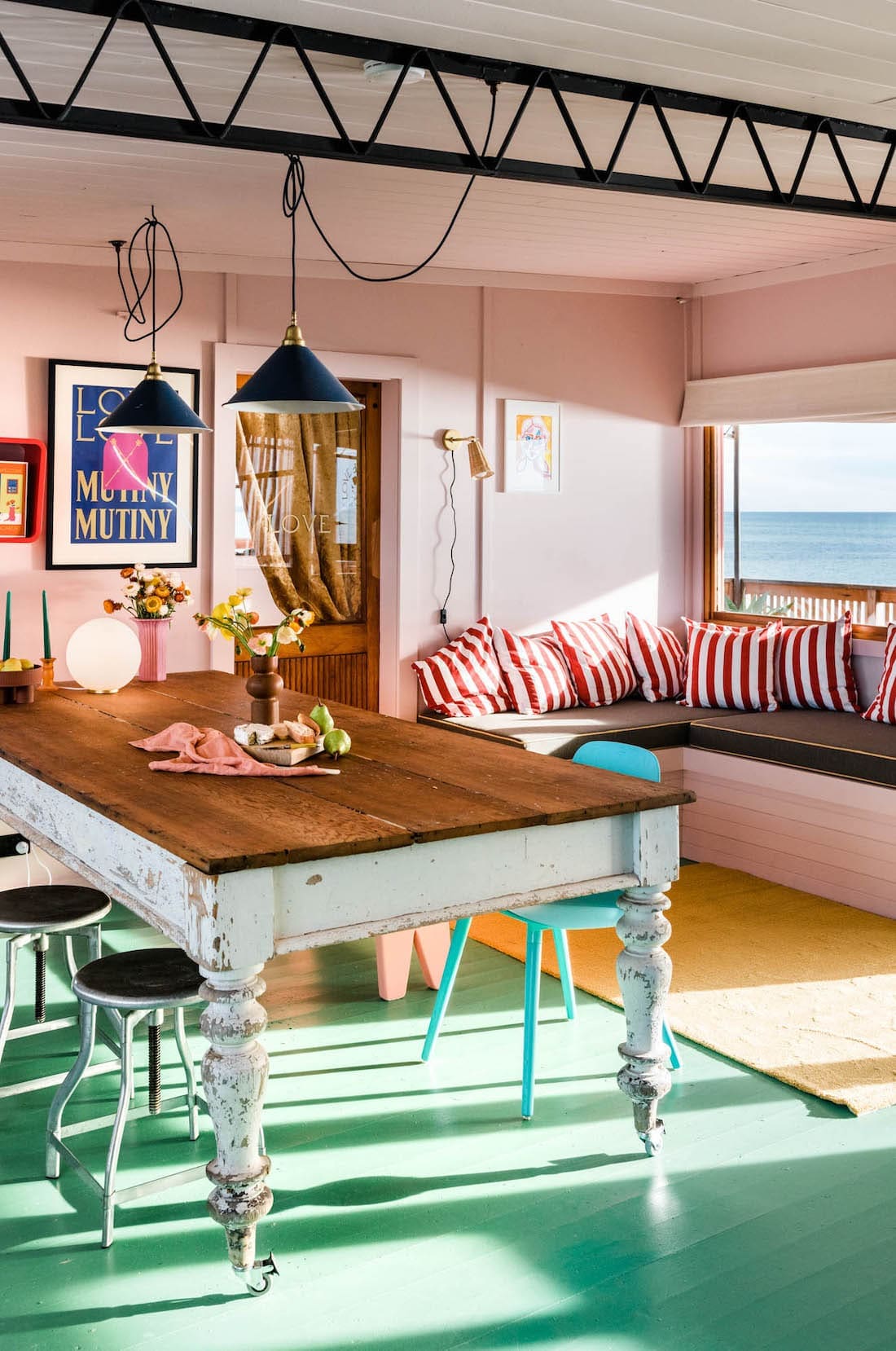 When transforming this 1950's fishing shack into a pink coastal cabin, Sarah and Emma had a clear vision in mind.
"We thought about who would live there and what we would like to find for a holiday cabin in an ideal world. With that in mind, we just let ourselves run with the magic of our imaginations. We want guests to feel transported out of themselves and their lives.
"We also knew from the outset that the exterior colour had to be pink. With the help of some locals we were thrilled to learn the original shack had been pink and had stayed that way for many years.
"We were also inspired by how the sun sets into the see in front of the cabin which lit the interiors with a golden glow. So we went with a soft pink for the interiors, with golden highlights. It seemed like an unusual choice, but our instincts guided us.
"We are all artists. Yet everyone is scared of taking chances with houses because we feel like they are supposed to be serious and a specific style. Part of the creative process is giving yourself permission and allowing yourself to make 'mistakes.'"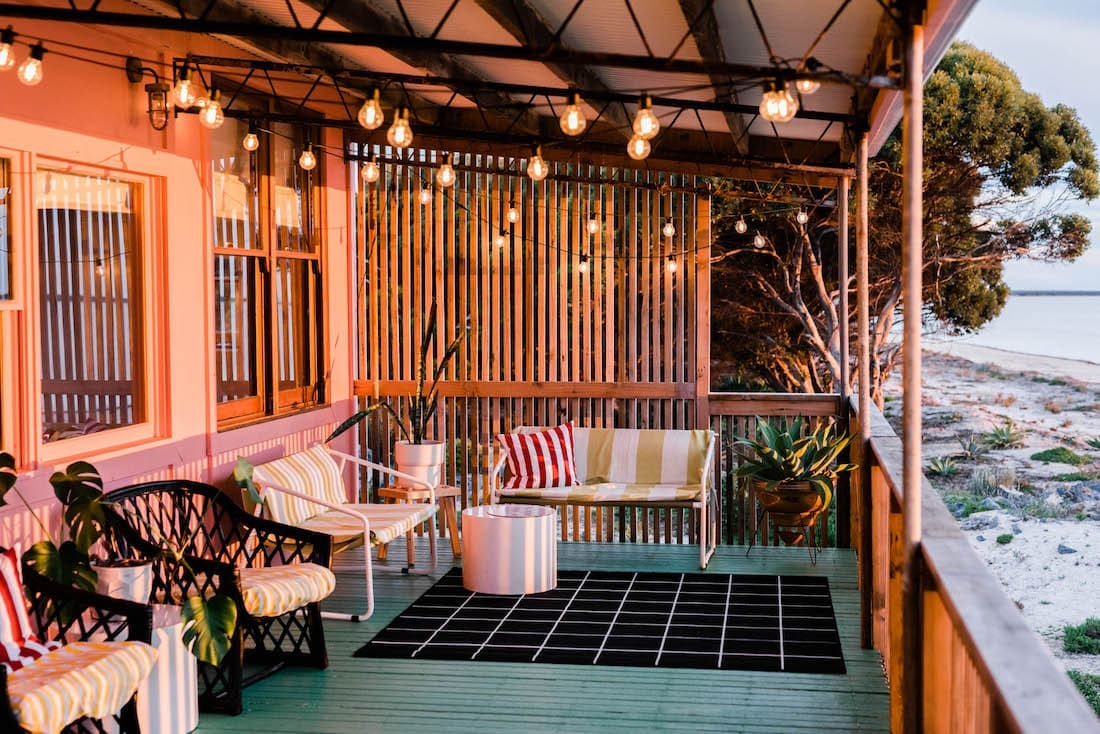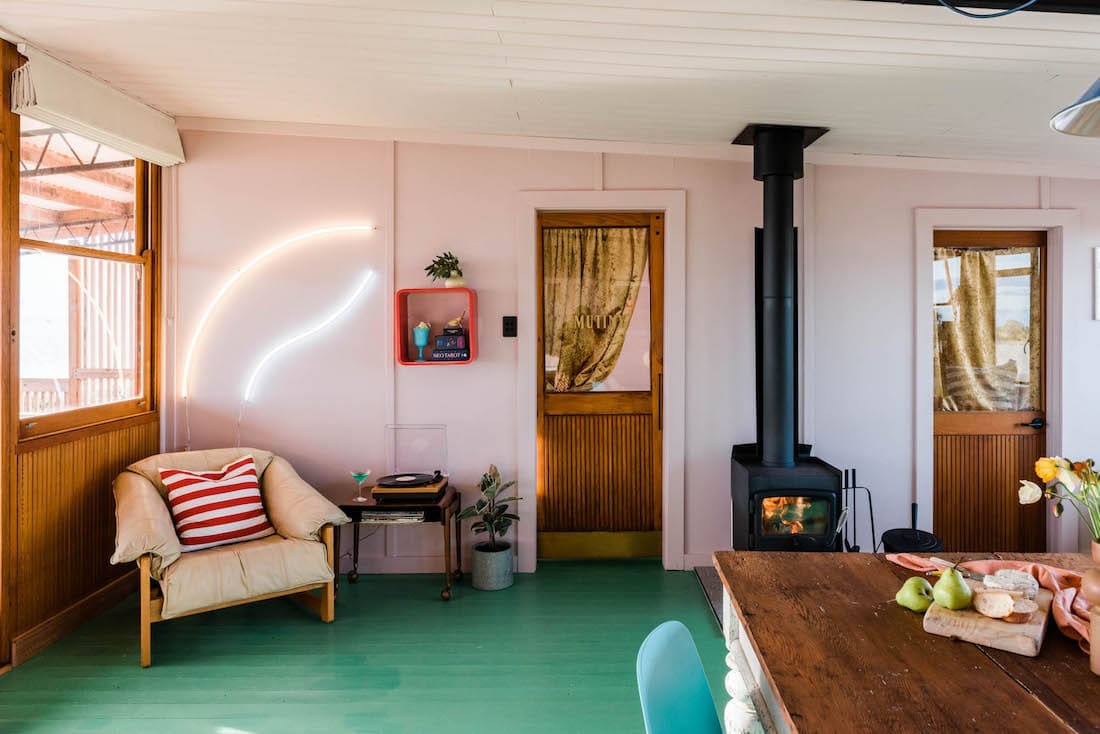 Love & Mutiny is the result of an incredible artistic journey.
"The cabin is really all one room. The big living room/kitchen is where you can watch the sun rise and set. You can just sit and be. There is nowhere to go and nothing to do.
"We really believe you need to step out of your life to reconnect with yourself. We wanted to make a space for guests to do this. Happily, it has turned out that many creatives have responded to this and understand how powerful and important this is.
"Our guests love the sunsets and sunrises. That it feels like an adventure to get there. And sitting by the firepit out the front on the sand and watching the sky and ocean."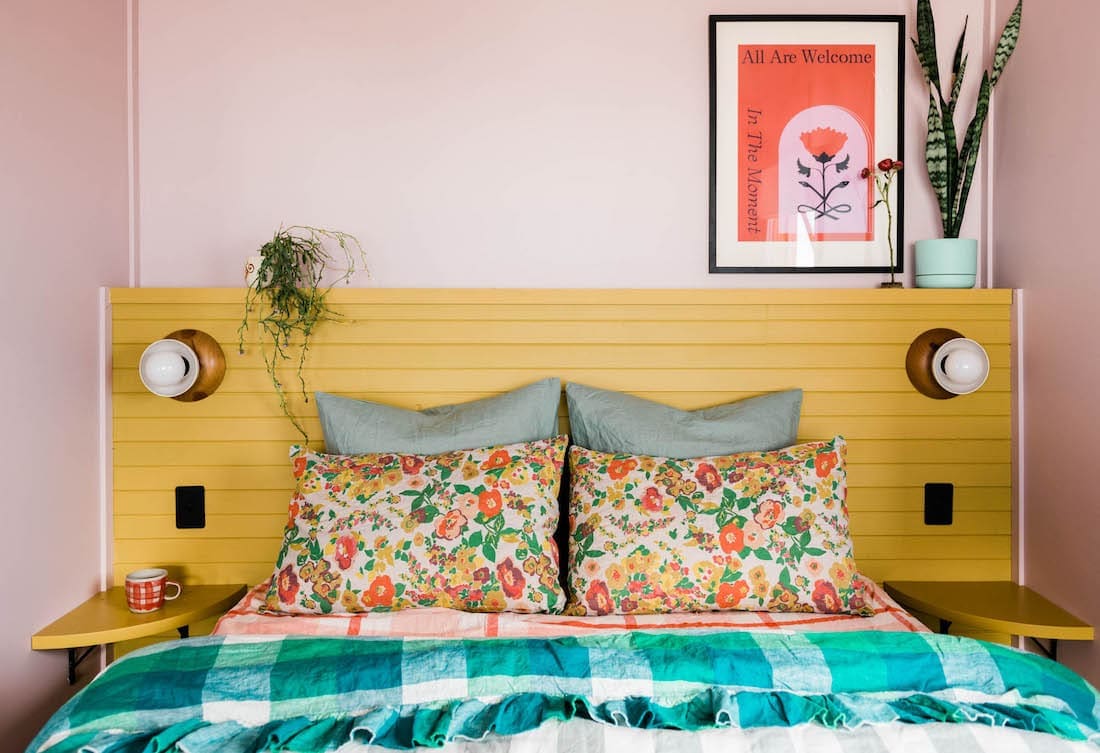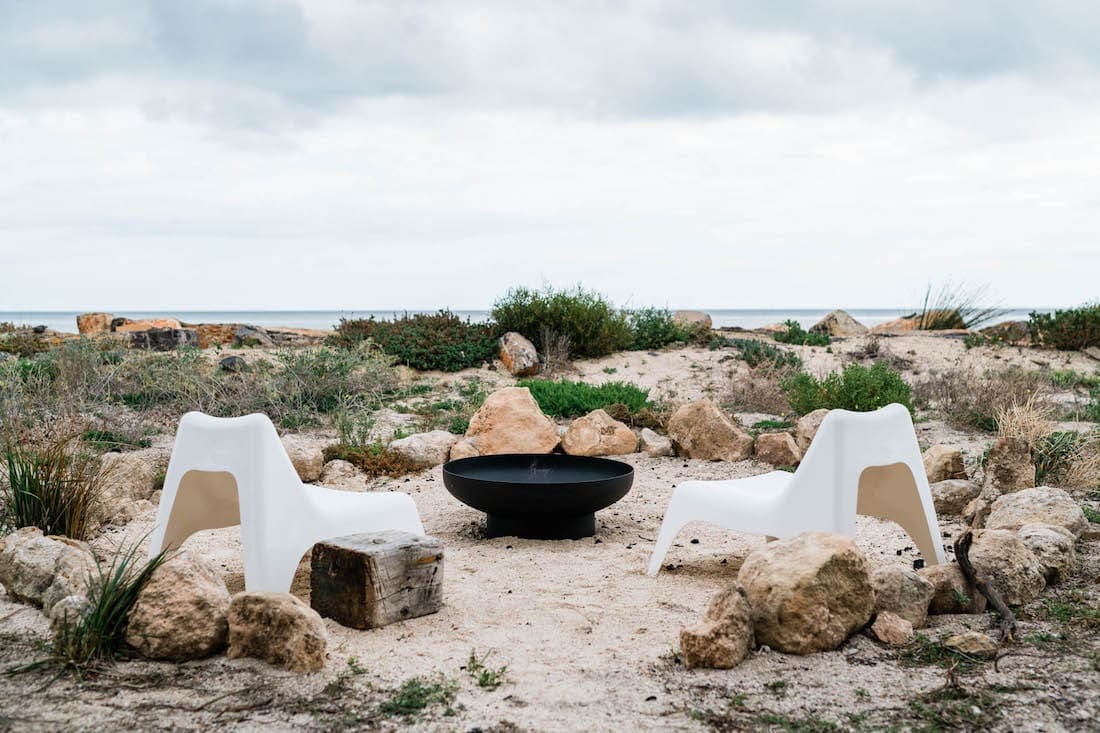 The unique combination of texture, colour and quirky pieces give this home its one of a kind style and character.
"The downstairs area was boarded up with corrugated iron. We removed all of it and instantly the cabin breathed again. The 1950's steel rafters stayed and were repainted — we wanted to preserve its fishing shack history.
"We added salvaged vintage windows to add charm, and they're probably similar to what was there originally.
"The bedrooms are cabin-like and intimate. As such, we wanted guests to feel comfortable in the space. So we indulged in French linen bedding and added huge windows that we salvaged from an old school to see as much of the ocean and sky as possible.
"We found the tiny boat tiles for the kitchen first and had to use them. Then we found the benchtops from an old bowling alley. There was definitely something missing and so we thought wallpaper from the era would look great. And so it evolved, piece by piece."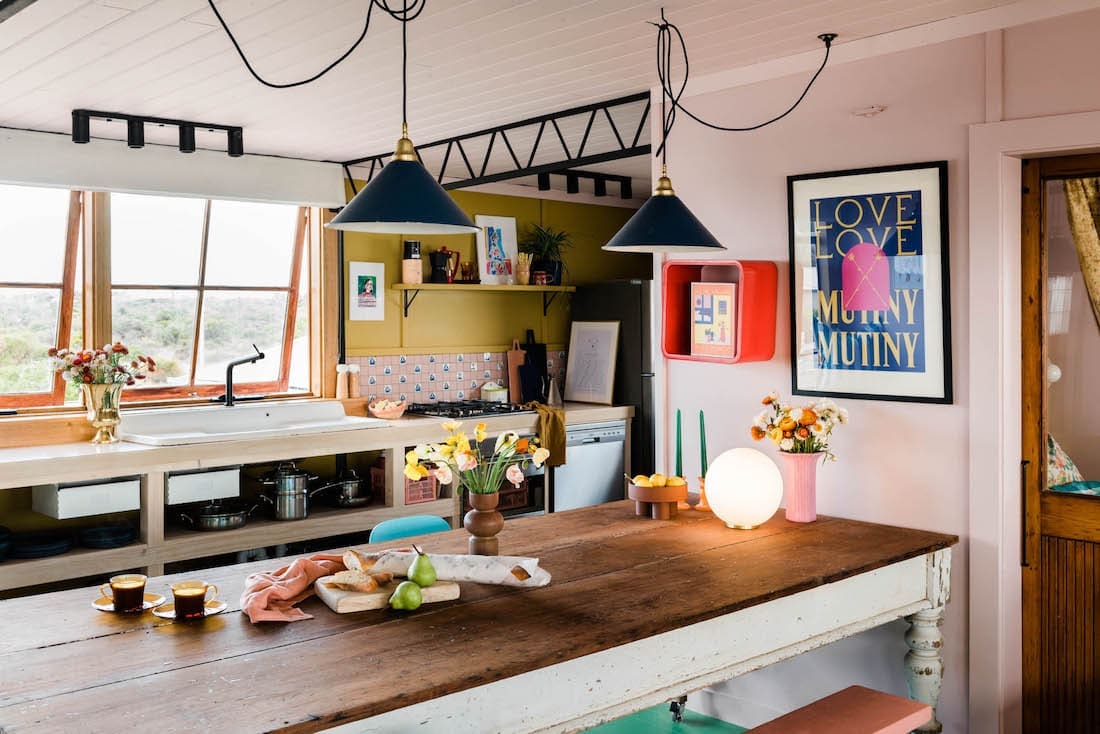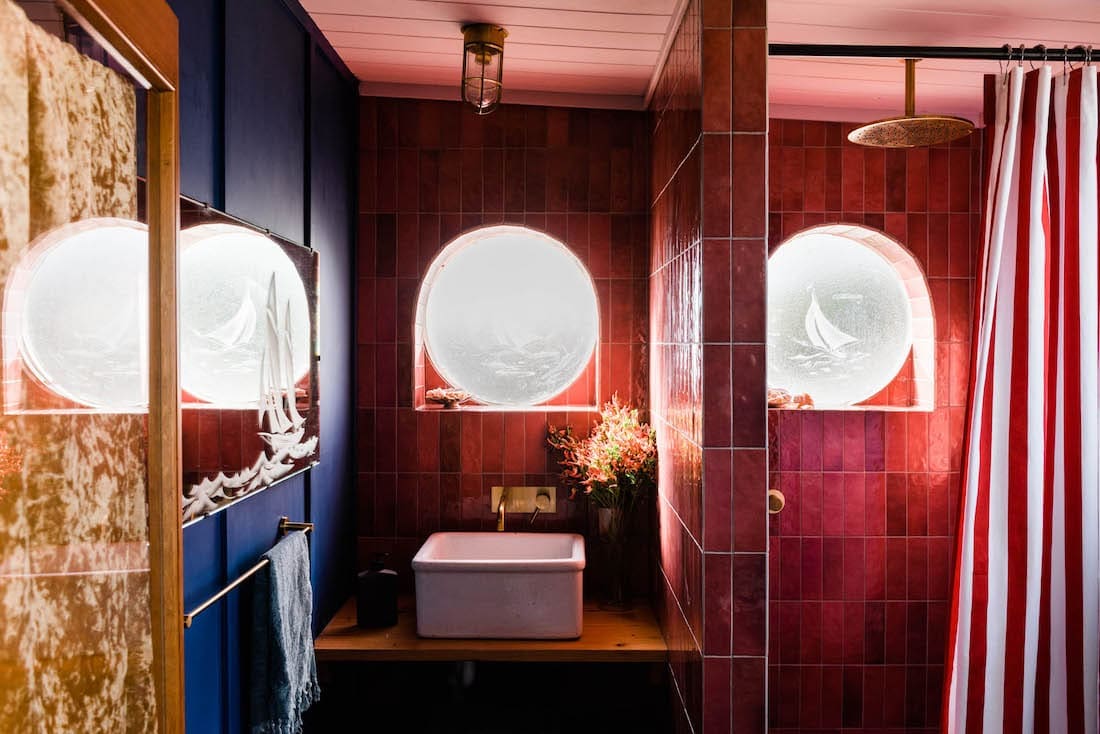 With so many gorgeous elements, it's hard to pick a favourite, but we can't pretend the bathroom didn't catch our eye!
"We loved the pinky red tiles because they reminded us of 1950's bathrooms which were often pink so it's a nod to the era of the house. The porthole windows were found at an antique shop and we knew instantly they had to feature.
"We found it hard to find the shower curtain that is in our imaginations so we made this one, and we keep getting asked where it's from so we made some extra for our online shop."
As part of the Love & Mutiny design process, Emma and Sarah were inspired by vintage travel souvenirs to create a line of merchandise. Working with Super Assembly, they created three posters, a jigsaw puzzle, house fragrance (with Rewind Co Company) and matches for anyone to purchase. Find these in their website shop.
We'd like to thank Sarah and Emma for taking the time to chat with us today. You can follow the sisters and their design journey via their Instagram. You can also find more from Love & Mutiny on Instagram here, or check it out on Airbnb here!
So what did you think of this pink coastal cabin? Do you like the unique features? We'd love to hear any thoughts you have in the comment section below!