Supported by Hafele Home
It isn't until you're planning a kitchen remodel that you realise just how many decisions there are to make — including deciding on a new kitchen sink. We've come a long way from the days of just stainless-steel options and one of the latest materials to gain popularity are quartz kitchen sinks, like those that have just been released by Hafele.
I'm going to run through the pros and cons, and everything you need to know about quartz sinks, to help you decide if it's the right option for you.
Related article: Designing the ultimate alfresco kitchen, all the design tips and tricks you need!
Related article: The kitchen design measurements you need to know — from an Interior Designer!
Pros
Highly resistant
Quartz sinkware is designed to last. Quartz is incredibly durable and is heat, scratch and stain resistant — ensuring it looks good for many years.
Given the higher performance of these sinks, they generally also come with longer warranties. For example, the new range of quartz sinks from Hafele come with a 20-year warranty on manufacturing defects. It's also hard to beat the quality German manufacturing.
Hygienic
Being smooth and nonporous, quartz has bacteria and odour resistant properties. It's the ideal material for a kitchen sink.
Quieter
This may seem like a strange benefit to add to the list but as a mother of two young children, it's a big selling point! Quartz sinks have natural soundproofing capabilities that make them much quieter than stainless steel and other materials. The sound of water from the faucet and then clanging of dishes in the sink will all be significantly reduced.
Modern design
One of the biggest pros of quartz sinks is simply how stylish they are! These sinks can be a focal point of your kitchen with their clean, modern design.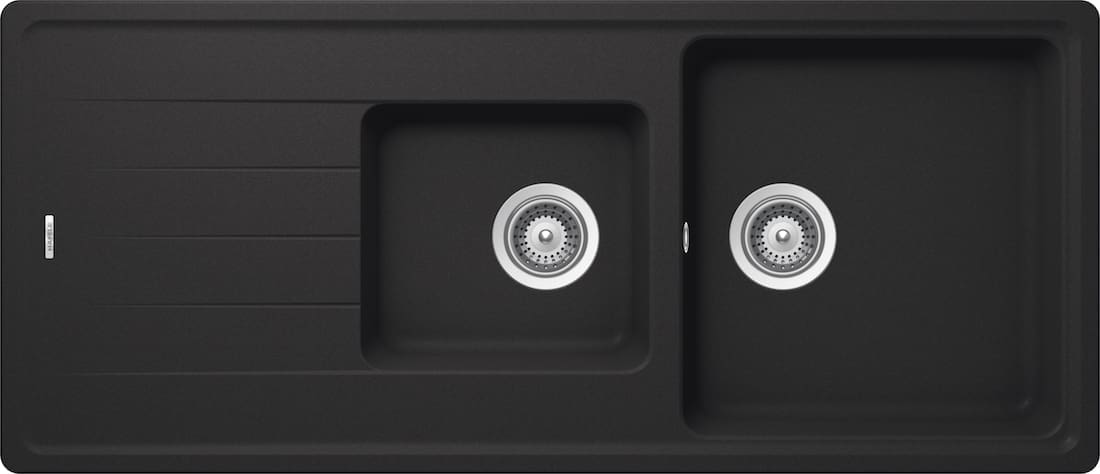 Colour options
Continuing with the aesthetic benefits, another pro of quartz sinks is that they are available in black (onyx) or white so you can select the finish to suit your space.
Cons
Cost
The only con of quartz kitchen sinks is that they are slightly more expensive. Although a lot more affordable than fireclay kitchen sinks and other premium materials, quartz is slightly more expensive than stainless steel equivalents. The benefit of their sleeker yet understated design, and high durability, justify this additional expense.
Other important info about quartz sinks
Do quartz kitchen sinks scratch?
The main concern I hear people raise when you mention a black or white kitchen sink is a fear of them scratching but quartz sinks are scratch resistant. Personally, I've had my sink for over 4 years and do all of my dishes by hand — and there's not one scratch, dent or imperfection.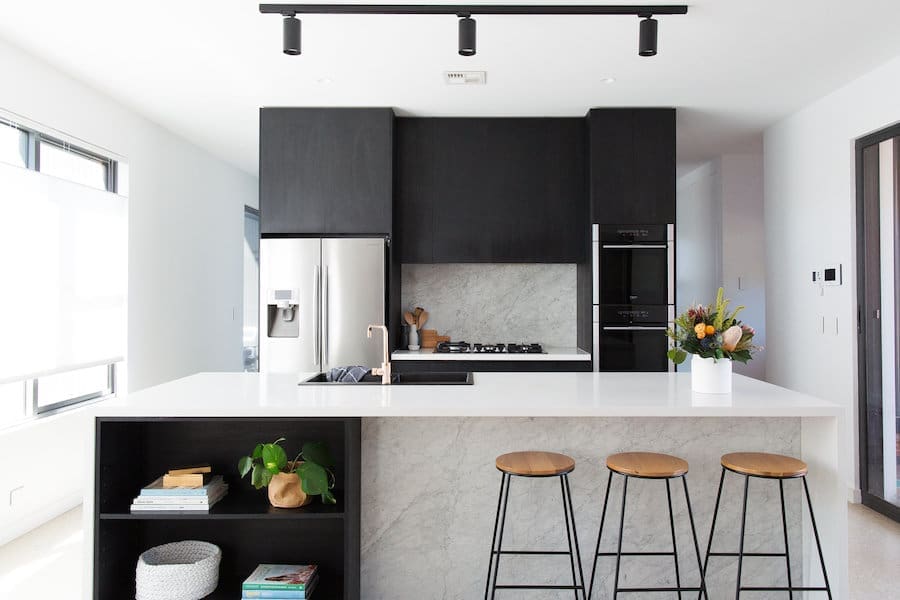 Can quartz kitchen sinks crack?
Quartz is one of the most durable materials available. It can withstand the highest temperatures and is resistant to stains, scratches, dents and chips. Quartz sinks are made with a composite of quartz and acrylic (generally 80% quartz and 20% acrylic), which offers strength and flexibility, making them highly unlikely to crack. Hafele are so sure of the quality of their German quartz sinks that they back it with a 20-year warranty on manufacturing defects.
If you love the look and durability of quartz kitchen sinks, you can browse the new range at Hafele on their website here or pop into their nearest showroom.
Do you have any questions about quartz sinks we didn't cover? Pop it in the comments section below and we'll get back to you asap.