Supported by Hafele Home
An alfresco kitchen is always a good idea — especially in Australia where our climate allows us to make use of it year-round. A basic outdoor kitchen includes a barbecue, sink and fridge. Of course, there are plenty of additional features you could include to elevate your alfresco kitchen to the next level.
In this guide, we cover everything you need to consider about designing the ultimate alfresco kitchen!
Related article: Quartz composite sinks pros and cons: What you need to know about quartz sinks
Related article: Outdoor kitchens: Round up of the best!
1. Location, location, location
Before jumping into your alfresco kitchen design, pause, and take the time to consider the best place to locate it.
Sometimes your options are limited. Even if you have just one outdoor zone, the wall that you choose to run your kitchen along can make a big difference.
Your outdoor kitchen should be an extension of the home. Creating it off your indoor kitchen or main living spaces is an ideal location. Given most outdoor kitchens have a sink and tap, access to water is also key. If possible, locate your kitchen where you can also run a gas line to avoid the need to refill gas bottles for the barbeque.
In contemporary homes, it's increasingly popular to create an outdoor kitchen that mirrors the indoors.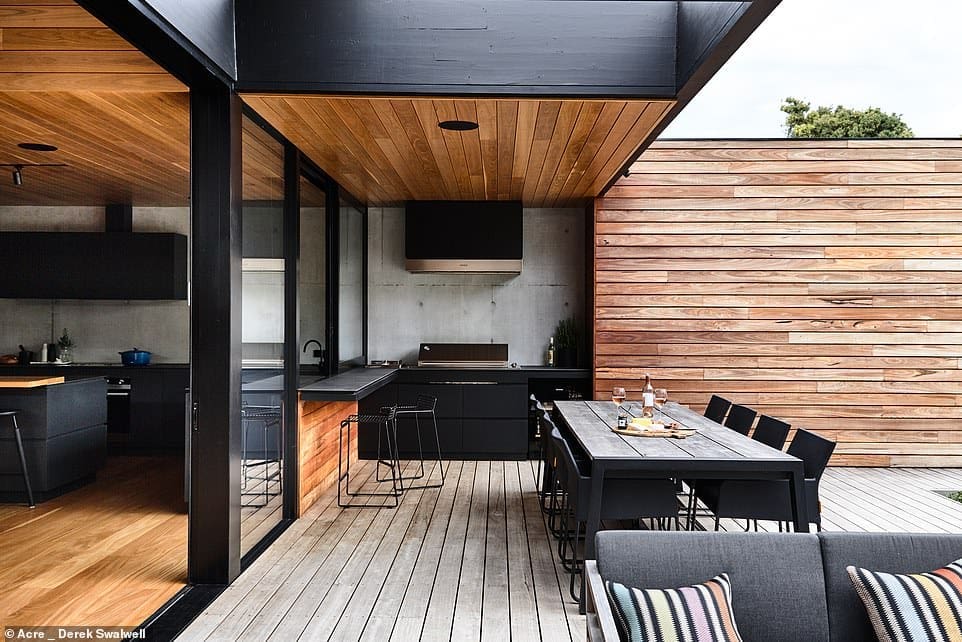 2. Appliances
The next step in your outdoor kitchen design is to choose your appliances. Although it's tempting to get caught up in materials and finishes, it's important to get the functionality right first.
As mentioned in the intro, a basic alfresco kitchen has a barbeque, sink and fridge but there are many other appliances you may want to incorporate into the space. Popular options include a rangehood (we'd consider this essential in undercover kitchens), pizza oven, smoker, deep fryer or hotplate.
Your barbeque is the hardest working appliance in the space though, so do your research to buy the right one. A generous 6 burner barbeque, like this barbeque from Hafele, is ideal to suit large gatherings or just a dinner for 2!
Tip: generally, space or budget constraints mean we can't get everything we desire in our outdoor kitchen. To get the best result, write a 'wish list' of what's most important to you and eliminate from the bottom. Don't settle for inferior products or cram everything into the space just to tick them off — a well-considered design and quality products is always the way to go.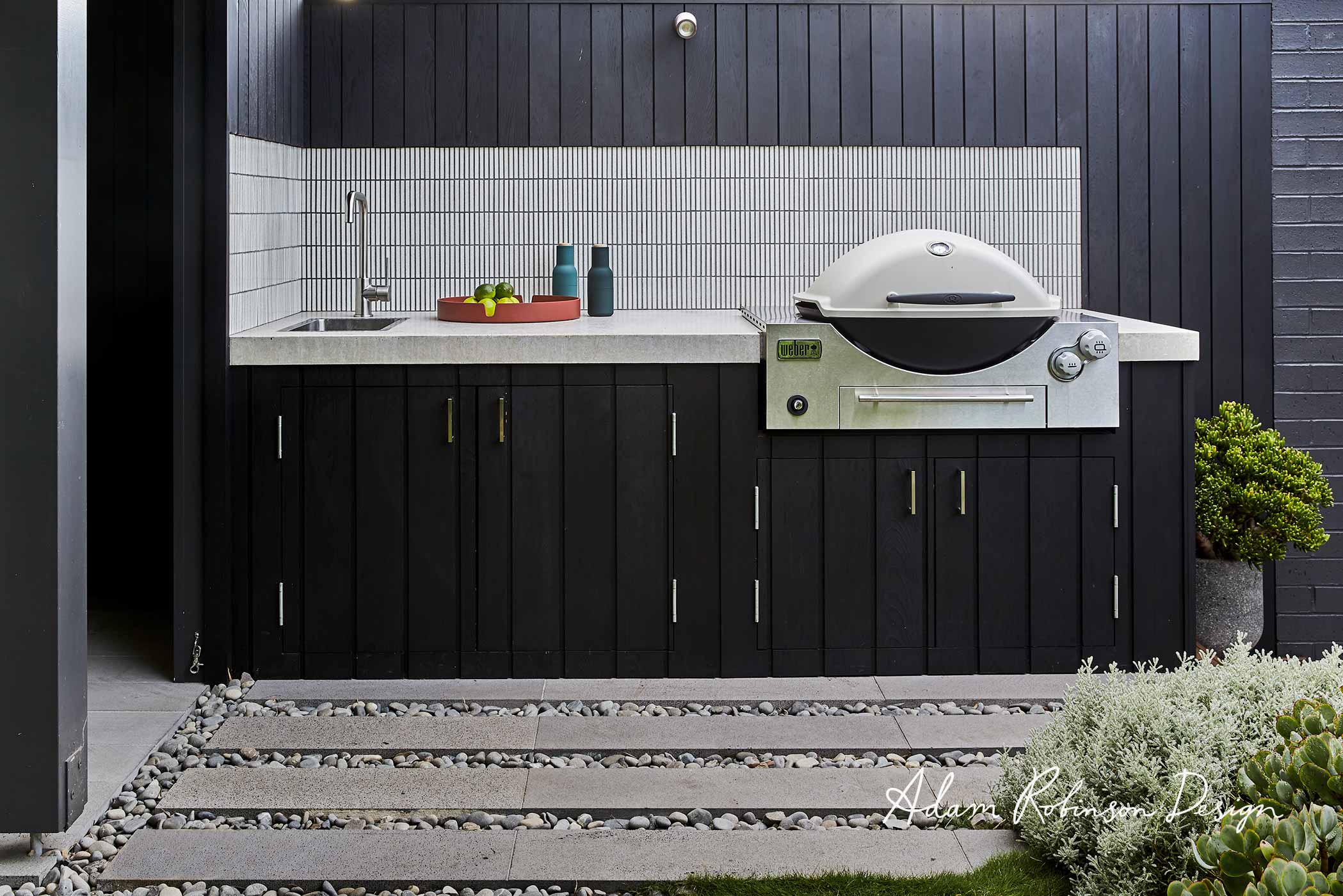 3. Sink and tap
The other big decision is your sink and tap. Durability, maintenance, style and size are the key considerations here.
Stainless steel or hardwearing quartz are ideal sink materials to withstand outdoor use. That being said, there are other options including granite, ceramic, and concrete or formed concrete (looks especially good if the benchtop and sink are formed from one piece of concrete). For the sink, you only need a single bowl to rinse off utensils or hide some of the cooking mess.
You may like to check out this article on the pros and cons of quartz sinks.
With tapware, stainless steel is the most popular option. This is because it has natural protection against the elements and requires minimal care. If you desperately want to use a specialty finish, look for PVD or electroplated finishes. Avoid 'powdercoated' at all costs as this type of coating will fade or scratch off over time.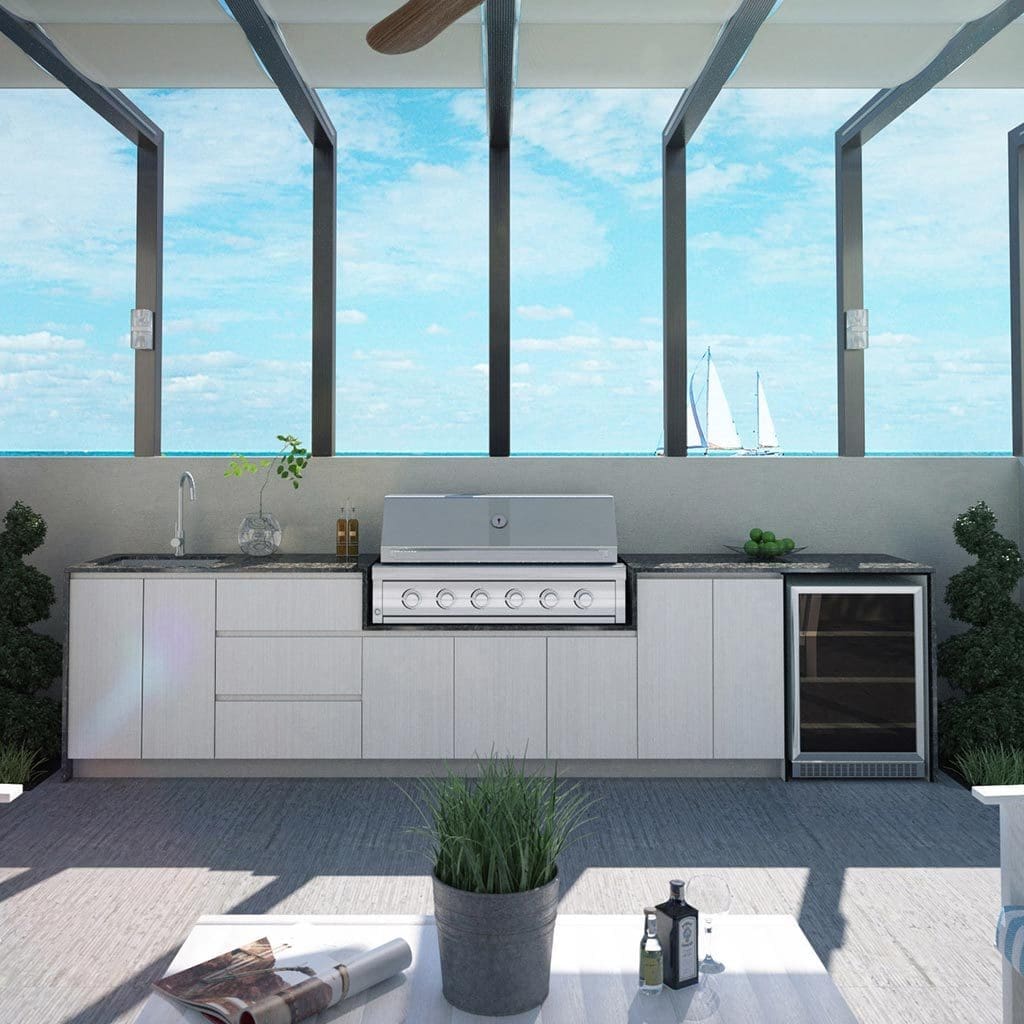 4. Layout
Now that you have the essential items decided on, it's time to work out the right layout. Just like an indoor kitchen, you want to create an ergonomic design. In an indoor kitchen, there is a 'triangle rule' where there should be no more than 3 steps between the sink, fridge and cooking area. In an outdoor kitchen, the fridge tends to be a bar fridge for drinks so it's placement can be — and generally is — at the end of the kitchen. Instead, we suggest having no more than 3 steps between the sink, benchtop prep space, and cooking area.
It's also essential to have a decent amount of bench space next to your barbeque. If you're short on space, it's worth downsizing your sink to allow for more bench space here.
If you can incorporate drawers into your design, do it! By nature, drawers allow you to maximise space as they bring all of the contents of the drawer out. This is way better than having to crouch down and rearrange items to get what you need.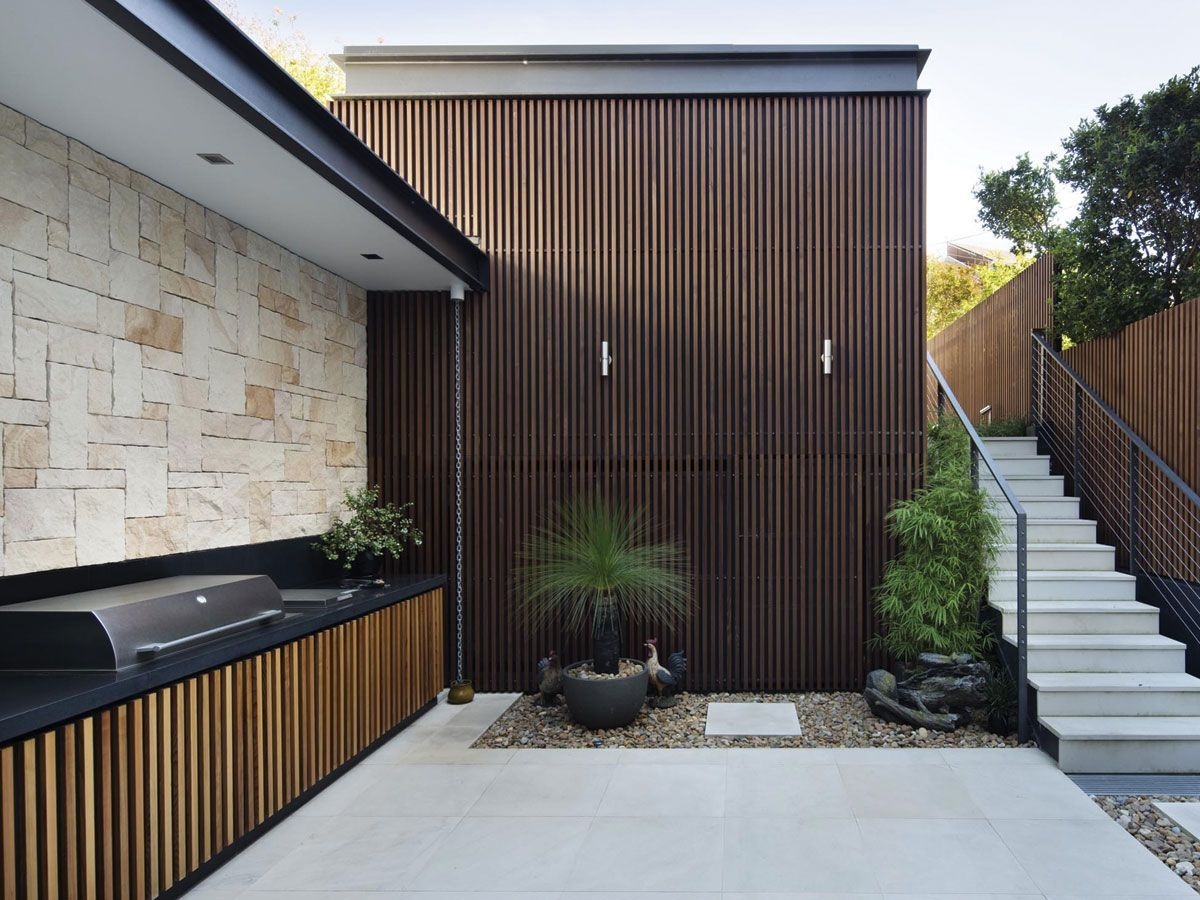 5. Cabinetry and benchtop
Now comes the fun part of bringing the design style to life. Once upon a time, outdoor cabinetry options were limited. Now there is way more colours and timber-look grains that have come onto the market. These give you the option of a white and bright outdoor kitchen, black and contemporary, industrial metal or earthy timber. Some people also opt for glass doors which are durable but can be difficult to keep clean as they show water marks. Solid timber is also be a beautiful option! Just be sure to choose a timber that is rated for outdoor use, such as Jarrah.
Tip: choose cabinetry fit for purpose. Even some 'outdoor kitchen' options are only suitable for undercover areas as they are weather resistant and not waterproof.
Look for bench top durability above all else — especially if your kitchen is exposed to the elements. Granite, engineered stone and stainless steel are the most popular options (although stainless steel will scratch with use). Another beautiful option is concrete. However, these need to be custom made (generally on-site) by specialist tradespeople, costing a premium.
Whatever benchtop material you choose, make sure your kitchen bench is deep enough for your appliances and sinks. Indoor kitchens have a standard depth of 600mm however, in an outdoor kitchen where oversized barbeques are often used, this isn't enough. We recommend referring to the spec sheets of all the appliances you've chosen so you can adjust your benchtop depth to accommodate.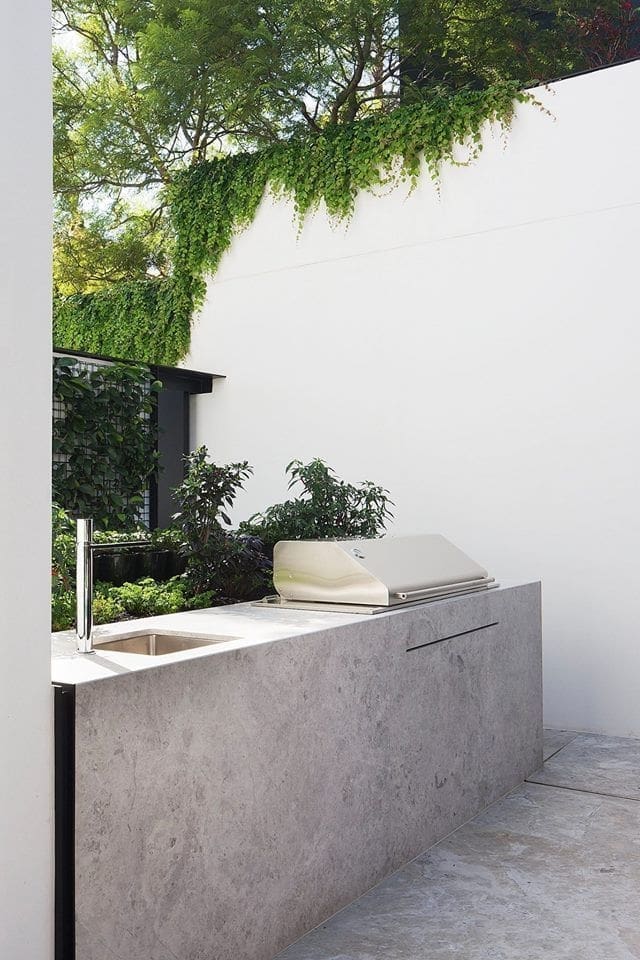 6. Alfresco kitchen flooring
There are many things to consider when selecting the perfect flooring material for your outdoor kitchen, including durability and weather resistance, ease of cleaning, safety and aesthetics.
Popular outdoor flooring materials for an alfresco kitchen are:
outdoor tiles (porcelain tiles or natural stone)
concrete
natural timber decking
composite decking.
Each flooring material varies in cost and has different qualities in terms of durability and longevity. While natural stone tiles are considered a luxe option, they do require regular sealing and can be difficult to clean. We recommend opting for denser stones, such as basalt, rather than softer stones like trending Tundra marble which can easily stain.
A cost effective flooring material that is easy to maintain is composite decking. Available in a wide range of colours and plank widths, you'll be able to find an option to suit your home's aesthetic. Our tip, the best composite decking has long warranties and latest designs mimic the colours and patterns of natural timber so compare your options.
7. Weather-proof the space
To ensure you can use your outdoor kitchen year-round, it's a good idea to look at the space as a whole. Are you able to install a ceiling fan to help keep the space cool and flies away during summer? Or if you really want to get fancy, why not install a misting system. And what about in winter? Radiant strip heaters are a sleek option, especially when they are hardwired into the ceiling or walls. If you have space for it, including an outdoor fireplace or firepit can seriously elevate the space!
You should also consider wind and rain. Sunscreen blinds or waterproof blinds are popular inclusions.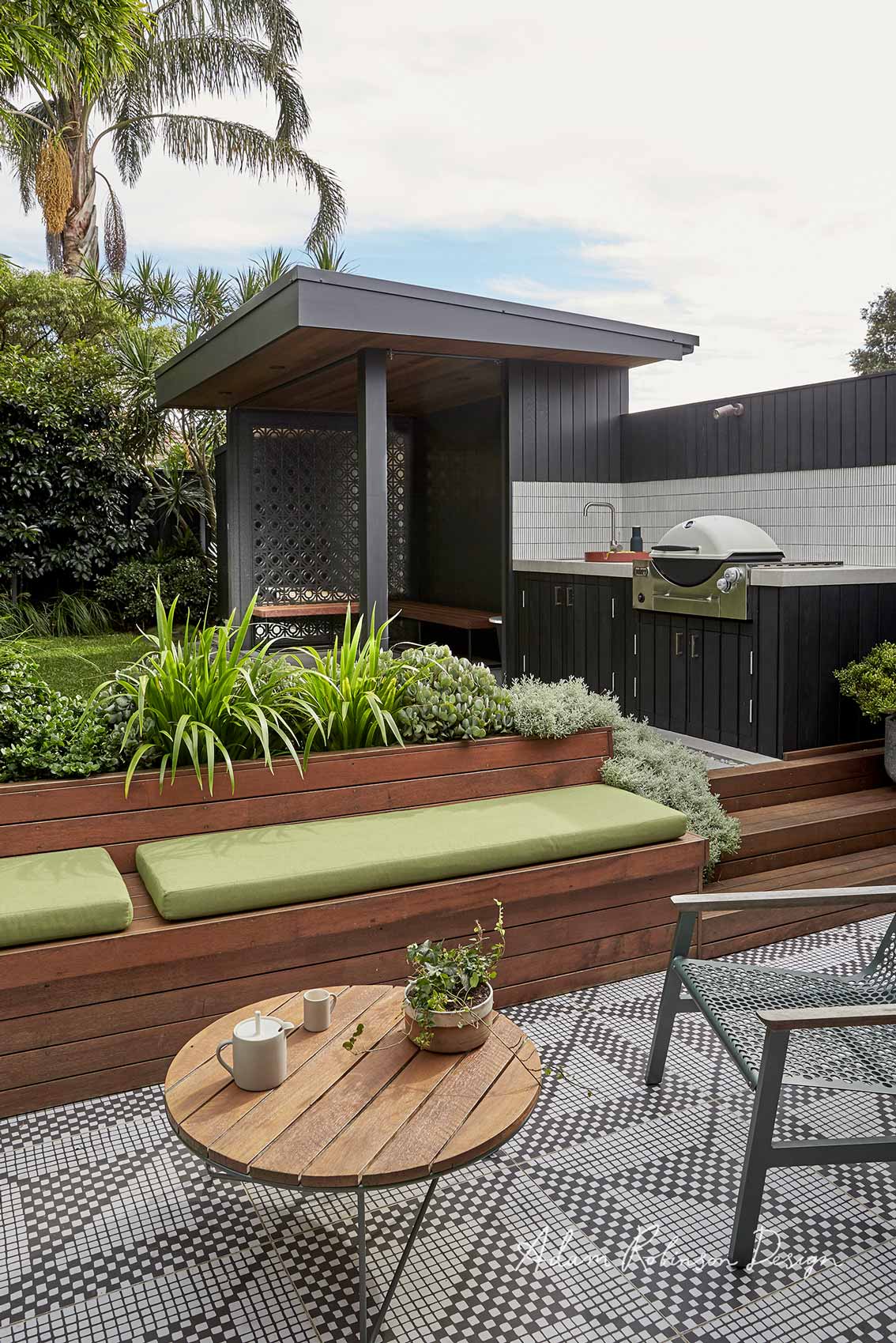 8. Design details we love
Now that you've got the key elements of your outdoor kitchen decided on, it's time to finesse the finer details.
Pull out bin: you know this is a must-have feature in kitchens and equally so in an outdoor kitchen if you can fit one in. A pair of large pull-out bins that integrate into your cabinetry will allow you to prep food and stash away empty drink bottles without the need to continuously go inside.
Lighting: an often-forgotten design element of most spaces is lighting! Plan for this early to create unexpected wow-factor without blowing the budget. For your functional layer of lighting, wall lights above the barbeque and benchtop are essential — don't just rely on downlights in your alfresco area.
Accent lighting, or mood lighting, is where you can have some fun and push the boundaries. There are waterproof LED strip lights on the market that can look fabulous when done right. Our tip is to decide what you want to make a feature out of rather than installing them everywhere just because you can. And please, be sure to conceal the lighting strip for a designer-look finish.
Festoon and fairy lights are always popular accent lighting ideas in outdoor space, too.
Splashback: somewhere you can bring a pop of colour or play with texture is your splashback. While you can use just about any material here, including timber cladding, glass, stone or brick, tiles are gaining popularity. Depending on the tile you choose (we recommend porcelain), these can be the most hardwearing and easiest to maintain option with the largest selection of colours, shapes and patterns. Just check out that dreamy outdoor kitchen below!
Gas outlet: this is more of a practical design detail but if you're planning the outdoor kitchen from scratch (particularly for new builds) be sure to run a gas outlet to the space so you won't need to continually change over gas bottles for your barbeque. It also creates a more streamlined result.
Has this guide to designing the ultimate alfresco kitchen helped you to design a space? Can we help you with anything else? Do you have any other tips to add? Share them in the comments below!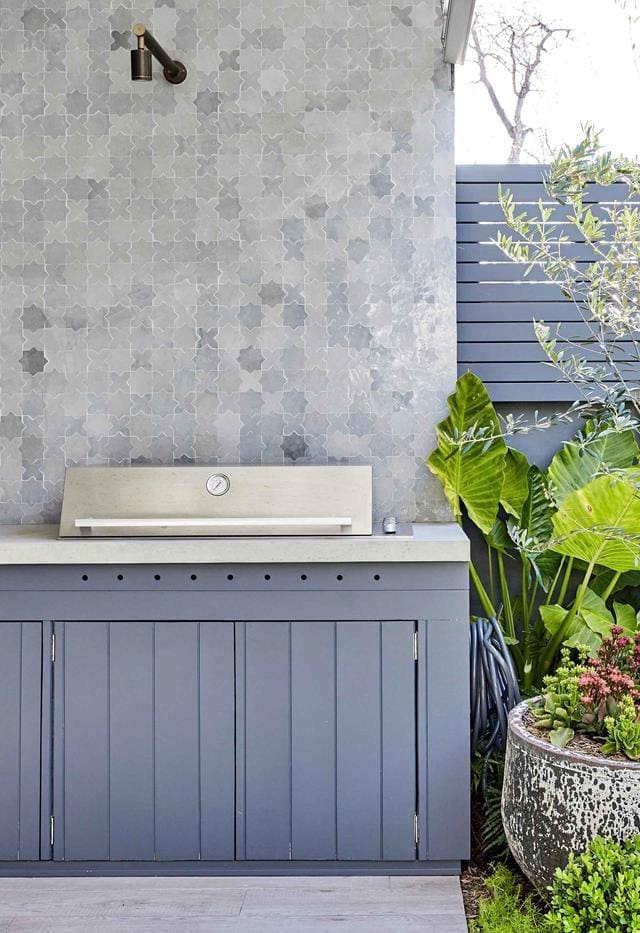 This article was first published in April 2020 and continues to be updated with latest information and images.