Doing the laundry and dropping off school bags doesn't sound like it can be glamorous. But just wait until you see this sage green and marble laundry and mudroom combo… it is utterly drool-worthy!
We take a look around this stylish and sophisticated space, and get top tips for planning the perfect laundry and mudroom with the talented Kate Walker from Kate Walker Designs (KWD).
Related article: Designing the ultimate laundry, all the tips and tricks you need!
Related article: A day in the life of Interior Designer, Kate Walker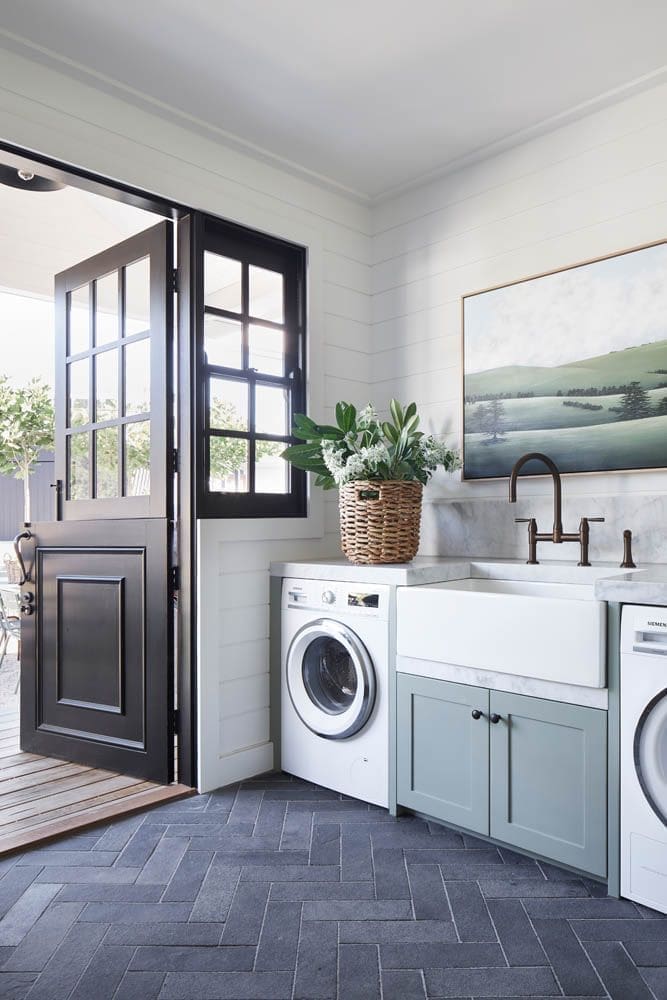 Bringing all the modern farmhouse vibes, this space was specifically designed for Kate's own family.
"When it comes to designing laundries at KWD, it's all very bespoke. We work closely with our clients to understand how they live and what they will use the space for. So when designing the laundry for my family home it had to serve as a multi-use space.
"It's the main family entrance, mudroom and the laundry. And I've always longed for a Dutch door. Incorporating this into the design added to the romance," smiles Kate.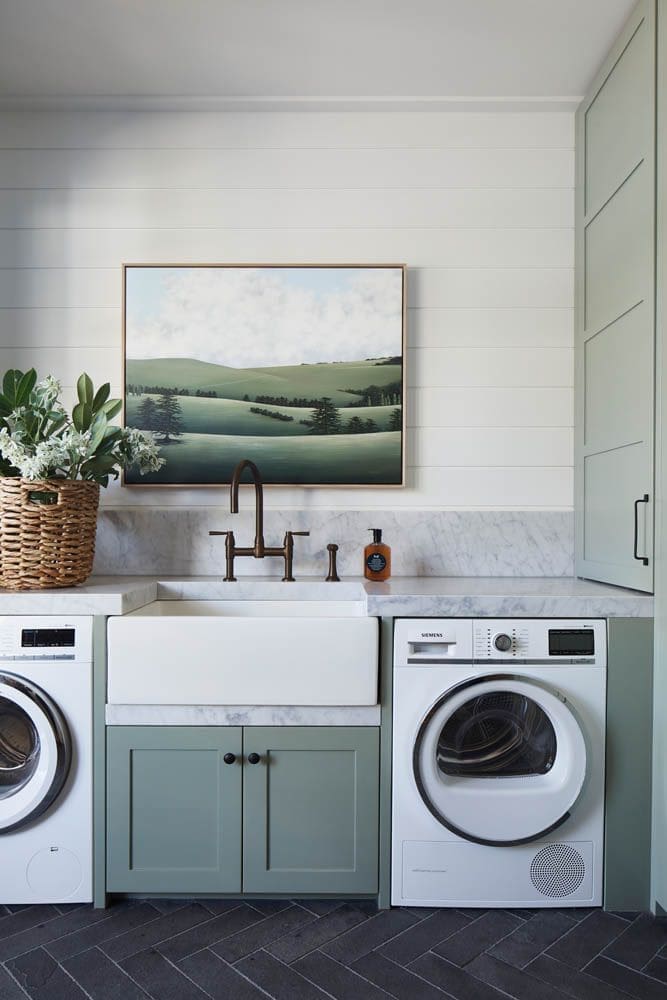 What's refreshing about this space is it embraces colour through the cabinetry and is balanced with the artwork.
"The aesthetic for the entire home is modern farmhouse. It's all about bringing the outside in. This aesthetic blends old with new to balance comfort, simplicity and modern influences in perfect harmony. The hand-ageing, hand-chiseled stone used for the floor help create this look.
"The backdrop to this laundry and mudroom is essentially black and white, highlighted with shades of green. I wanted to have a laundry that didn't feel like a utility space, hence the artwork. It makes it a really considered room… one that's beautiful to be in.
"When it comes to choosing artwork for your own laundry and mudroom, I suggest going for a painting that resonates with you. That way, you can get lost in it when taking care of boring laundry duties!"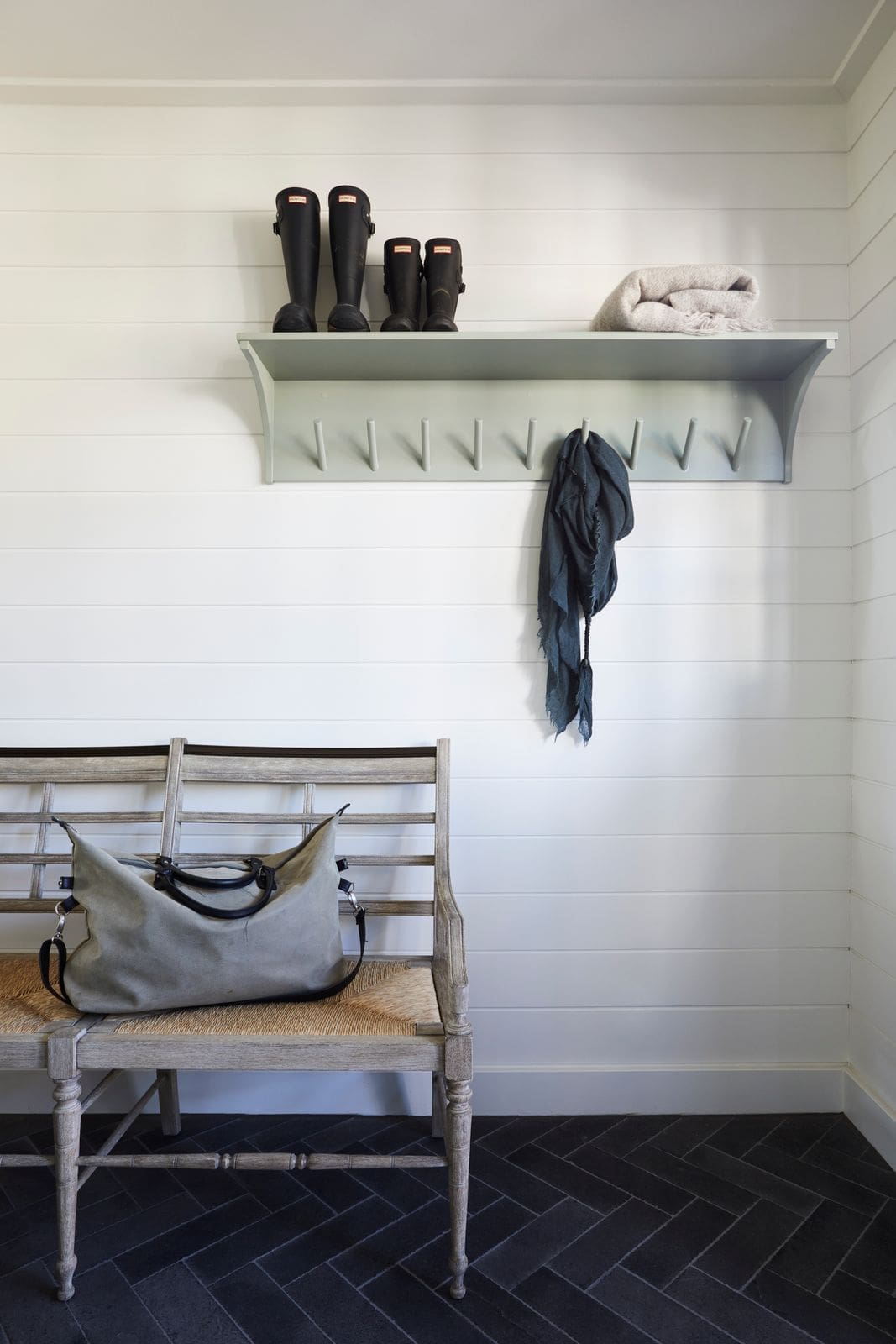 With some incredibly luxe finishes in this space, we asked Kate where to save vs splurge in laundry and mudroom design.
"Splurge on space planning. Having a designer look at the room and reconfigure it to make the best use of the space in terms of movement and sight lines can often be the most important part of a renovation.
"It's incredible how you can elevate the function and form of a laundry with the right layout. One that considers the way you use the washing machine, dryer, sink and benchtops," suggests Kate.
"I personally love the washer and dryer to be separated by the laundry sink. That way, you can take your wet washing out of the washing machine and put it in the sink to sort. Then, either hang items in the drying cupboard or pop them in the dryer.
"Sometimes in laundry design we elevate the dryer. Here however, it would have taken away from the bench space which I felt was needed for my laundry and mudroom.
"Also, take care to think about the hard finishes. With the moisture and humidity a laundry can generate, it's important to choose your hard finishes carefully. I'm a huge fan of natural materials that have a textural finish and age beautifully over time.
"If you choose carefully, the finishes will last for the lifetime of your laundry, whereas often appliances won't. The best way to save is on your appliances — keep your eye out for a great deal."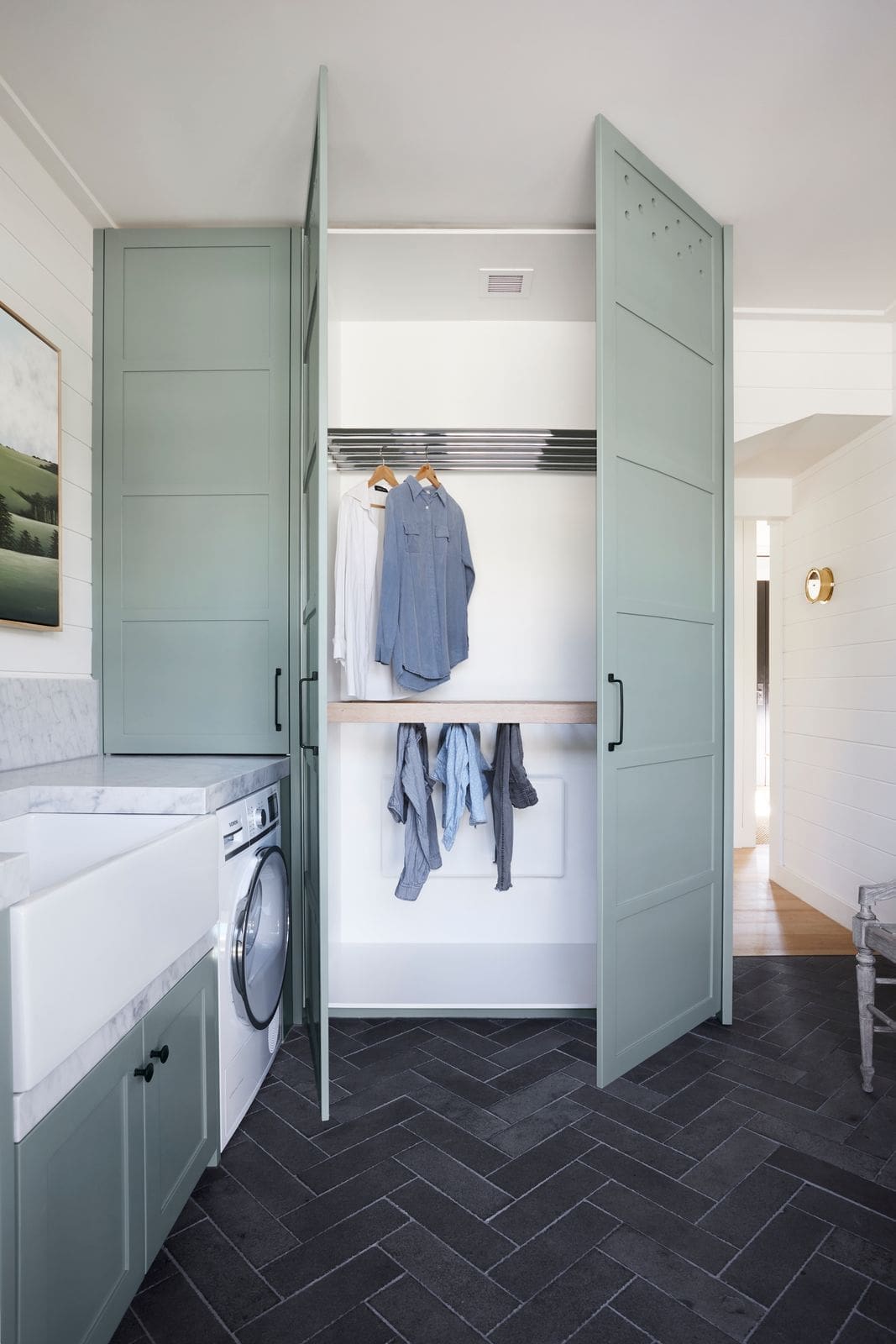 This space also includes a mudroom — a room which is gaining in popularity in new-builds and renovations.
"I think mudrooms are one of the most underrated rooms in the home," says Kate.
"They're often forgotten about during the design phase. Provided there's space, at KWD we always try to include a mudroom. They're the perfect drop zone for school bags, sports gear and all of the other paraphernalia associated with running a household. Especially one with children!
"A mudroom acts as a transitional space when you enter your home. It's where you can remove wet and dirty shoes, store school bags, coats and umbrellas.
"This mudroom forms part of my laundry, which is our everyday entrance through the Dutch door. The kids can clean out their sports bags and pop their dirty gear straight into the laundry tub.
"Another inclusion you may like to consider in a laundry and mudroom space is a drying cupboard. It's such a functional addition that removes the need for clothes airers and things hanging all over the house! However, a key consideration here is to think about the need for a heat source and ventilation."
Photography — Armelle Habib
Builder — KLS Built
Cabinetry — Gravina Cabinets and Interiors
Styling — Greenhouse Interiors
Artwork — Debbie Mackenzie
Tapware — The English Tapware Company
We can't get enough of this stunning sage green and marble laundry and mudroom! To see more projects and get loads more design inspo, visit the KWD website or take a scroll through their Instagram. Did you love taking a look through Kate's own laundry and mudroom? What was your fave feature? Tell us in the comment section below.