Think you had a busy day? Think again! When we chatted with Interior Designer, Kate Walker, we were blown away by what she packs into a day! Turns out there's a whole lot more that goes on behind the doors of an Interior Designer.
The founder of Kate Walker Design (plus a few other highly successful businesses!) is an aspirational business woman with impeccable style and an amazing business ethos. So let's check out what a day in the life of Kate Walker, Interior Design Queen, looks like.
Related article: Sage green and marble laundry and mudroom oozing modern farmhouse vibes
Related article: A day in the life of a professional organiser with Chelsea Smith
Getting started…
"My love of design was really formed in my early years. Growing up in a large family of 7 children, I shared a room with my 3 sisters. We would always be moving our furniture around, changing our bed linen and redesigning our personal spaces.
"As a teenager you would always find me reading my mum's interiors magazines, happily dog-earing pages with pictures of houses I loved.
"Working in our family business formed a strong foundation and knowledge base of hard finishes, and I learnt about design from the ground up.
"I started Kate Walker Design (KWD) in 2013 after working in the tile industry for over 15 years. I realised there was a gap in the market for busy people who needed support with their complete hard finish requirements."
Not satisfied with just one successful business (and not busy enough!) Kate then expanded her portfolio.
"Now we have KWD & Co, an online hard finishes portal and KWD Access, a platform that makes interior design accessible to anyone on any budget."
"I'm lucky enough to front a dynamic team of project managers, interior designers and design professionals with an incredible network of manufacturers, importers and trades. My team help bring my vision to life," says Kate proudly.
A day in the life of an Interior Designer…
Getting ready
"My alarm goes off at 4.15 every morning. I lay in bed and work on my Instagram, respond to messages and check emails.
"At 5am I get up and have a shower — I use a lot of water because that's where I do all my thinking! Next up I exercise between 6 and 7. I do this every day," says Kate.
"At 7, it's coffee time! Then from 7.30am, I get my children ready and off to school.
"Once the kids are sorted, it's time for me to get ready. Often I'll have a hairdresser come to my home because this is really valuable time for me to be able to answer emails and multitask.
"I head to the office at around 9.30am, knowing I've exercised, spent some quality time with my children, set my team up for the day and prepared myself mentally for the day ahead."
In the office
"My day is highly scheduled — there's no wriggle room at all! I have an Executive Assistant and a Personal Assistant who keep me on track. Every appointment and every phone call is scheduled.
"I'll often have a driver so I can work in the car on my way to meetings. It's great because I don't have to worry about parking or traffic. If my staff need to meet with me, often they'll come along to appointments so we can chat in the car.
"Most days I have on site meetings and a client presentation in the KWD Studio plus some internal meetings. For me, communication with my team is so important.
"We talk about what they're doing well, where they might need help and what I can do to assist. My team are just incredible and keep all of our KWD projects on track. They're the reason I can work across so many projects.
"Media interviews also take up a fair bit of time during the week!"
Back home
"It takes a team of people to organise my life," Kate laughs.
"From my hairdresser who comes to my house, my housekeeper who prepares all my meals and runs my errands, to my driver who drives me to all my appointments.
"I'm a single mum but I'm not a lone wolf. Scheduling time with my children means they know there is time for them, and they can also enjoy their own space. Luckily, they love the routine too!
"They arrive home from school at 4.30pm however I'm never home before 6.30pm. They're at an age where they can look after themselves, but our housekeeper helps out so when I get home it's tools down.
"The three of us sit down together and enjoy a meal and chat about our day. When it's their bedtime I sit with them every night to have some one-on-one time.
"Once they're in bed, I usually have a bath, answer my emails, and crawl into bed. I always have a candle burning next to my bed and do my Instagram updates until around 11pm.
"Weekends are of course my downtime. I just love when I'm not regimented and have no plans."
Best part of the job…
"It's really wonderful when our clients ask us to visit once they're settled in. Seeing them enjoying their home in the way the design was intended and knowing what we created has exceeded their expectations. That's the most satisfying part of what I do," says Kate.
Not so fun part of the job…
"The stuff no one sees on Instagram! Documentation, chasing up stock and deliverables. As well as dealing with tight timelines and budget blowouts."
Best piece of advice you've been given…
"Employ your weaknesses," says Kate with a knowing smile.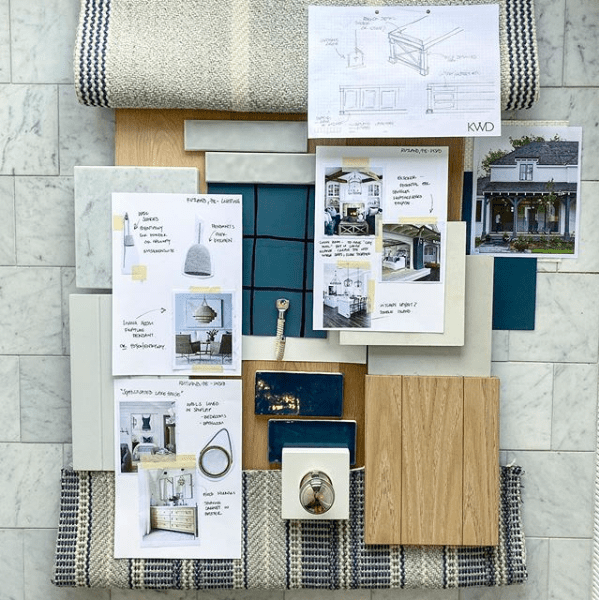 What sets you apart from others in the industry…
"We're really proud that we've created a platform that makes interior design accessible to anyone, on any budget. And that's why KWD & Co was born — a sister business to KWD which is our bespoke design service.
"Previously, we've had difficulty finding new, interesting and innovative products so that's why we started our own curated collection. We've collaborated with well respected importers of tiles, timber, carpets, rugs and more. Plus we have our own exclusive patinas, stains, colours, shades and sizes. It's really exciting!
"And because we also want to ensure we deliver something special for each and every project, we are always on the hunt for that perfect material, piece of furniture, fabric, wallpaper or lighting for our clients.
"With KWD Access, you can get inside the brain of the KWD design team at a fraction of the price that it would cost for a bespoke design service. At the end of your consultation we'll create your very own flat lay and provide a schedule of colours and finishes created just for you and your project," explains Kate.
What do you most want to be known for?
"I most want to be known for creating a workplace that offers opportunities to my team in a well-supported environment. A happy workspace that fosters creativity and inspiration which then flows on to our clients who benefit from this mindset.
"An engaged, creative and innovative team creates the best possible results," says Kate.
Thank you so much to Kate for making time in her crazy schedule to share a day in the life with us! To find out more, visit the KWD website, check out KWD & Co, or view daily snippets on Instagram.