As filming on The Block began in early 2020, week 4 was when the chaos of the global pandemic hit the contestants head on. Despite all this, the couples kept going and delivered their master ensuite.
As avid Block watchers, we know it's already a busy, stressful and emotional time for the contestants, but throw in COVID and… well, it was next level hectic! They were also asked to do the almighty task of ordering everything, yes everything, to complete the rest of their build. In the building industry, it's known as a 'takeoff'.
For experienced builders, ordering all the materials for the job is pretty standard. For The Block contestants who (rightly so) change their minds daily, it was a huge ask. Some coped better than others, but with the very real risk of shops and suppliers closing down and no materials being available, it had to be done.
But you're here for the room reveals, so let's see how the teams fared for this week's master ensuite reveal.
Related article: The Block 2020: Week 3 — Master bedroom reveal
Related article: The Block Glasshouse: Week 8 room reveals
Harry and Tash
After taking out the winning master bedroom last week, Harry and Tash delivered a master ensuite which the judges loved. Thank goodness for that, because their previous bathroom was kind of a flop!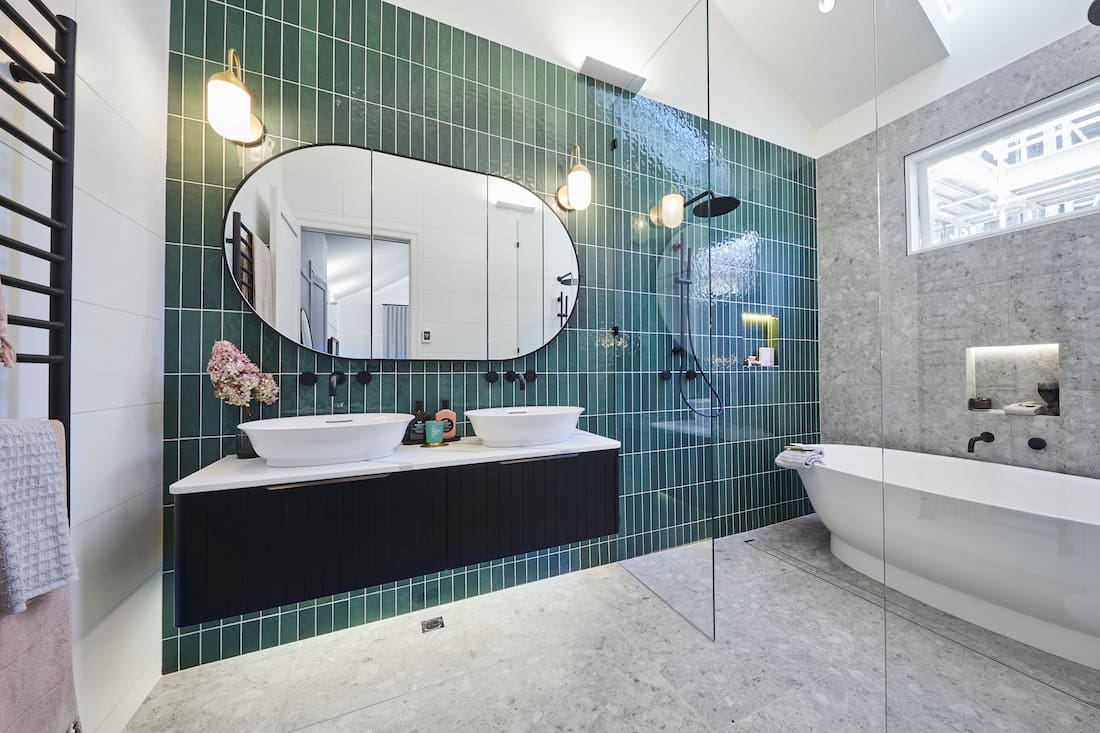 The judges loved Harry and Tash's 3 tile choices and we were stoked to see them create a more balanced and refined master ensuite. We thought the green subway tile was divine and loved the subtle colour variation between pieces. We also gave them bonus points for the mitred edges around the niches instead of an angle.
Pairing the green tiles with a terrazzo-look floor and wall tile was a gorgeous combo that perfectly fits their style while still appealing to modern tastes. Darren praised them for getting the right mix of luxury meets 1920s and Shaynna gave Tash props for her styling and lovely finishing touches to the overall space.
It's a huge step up in our minds! Kudos, Harry and Tash!
Score: 28.5 / 30 (joint 2nd place)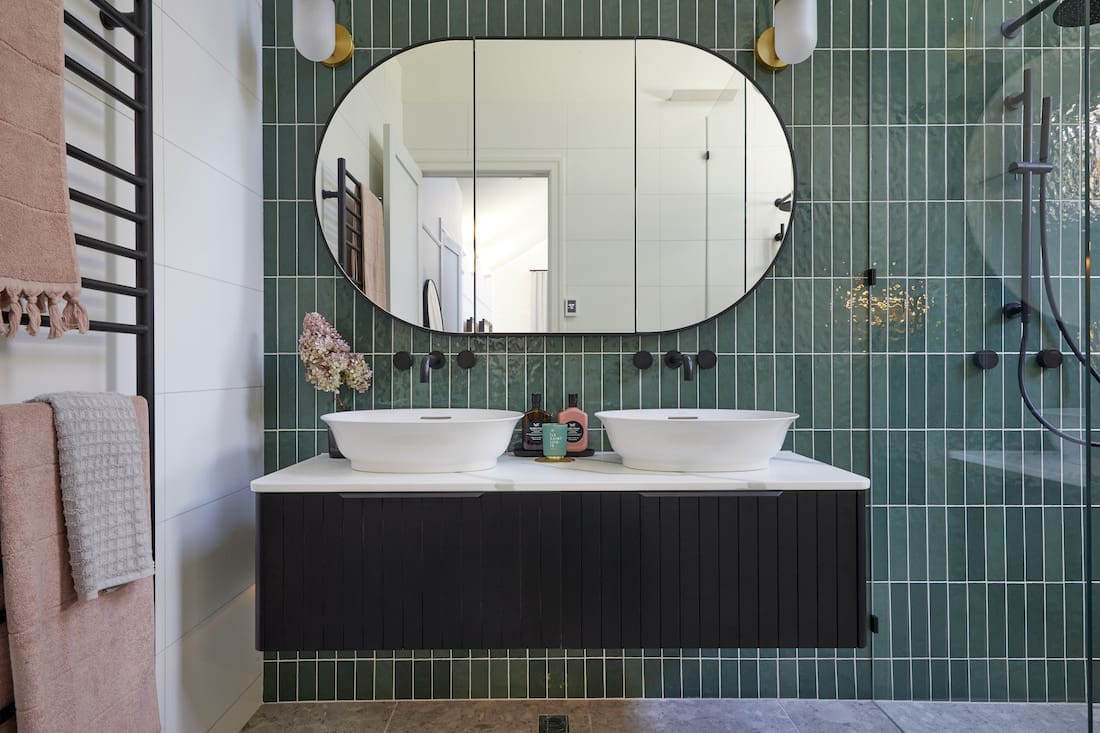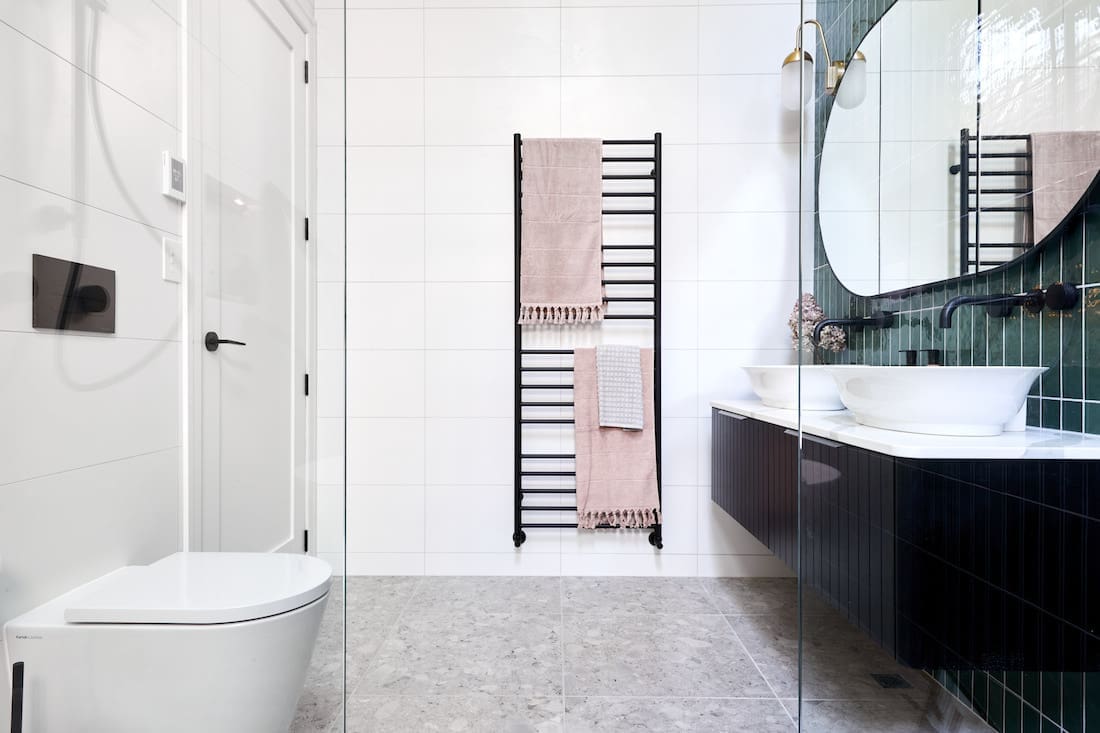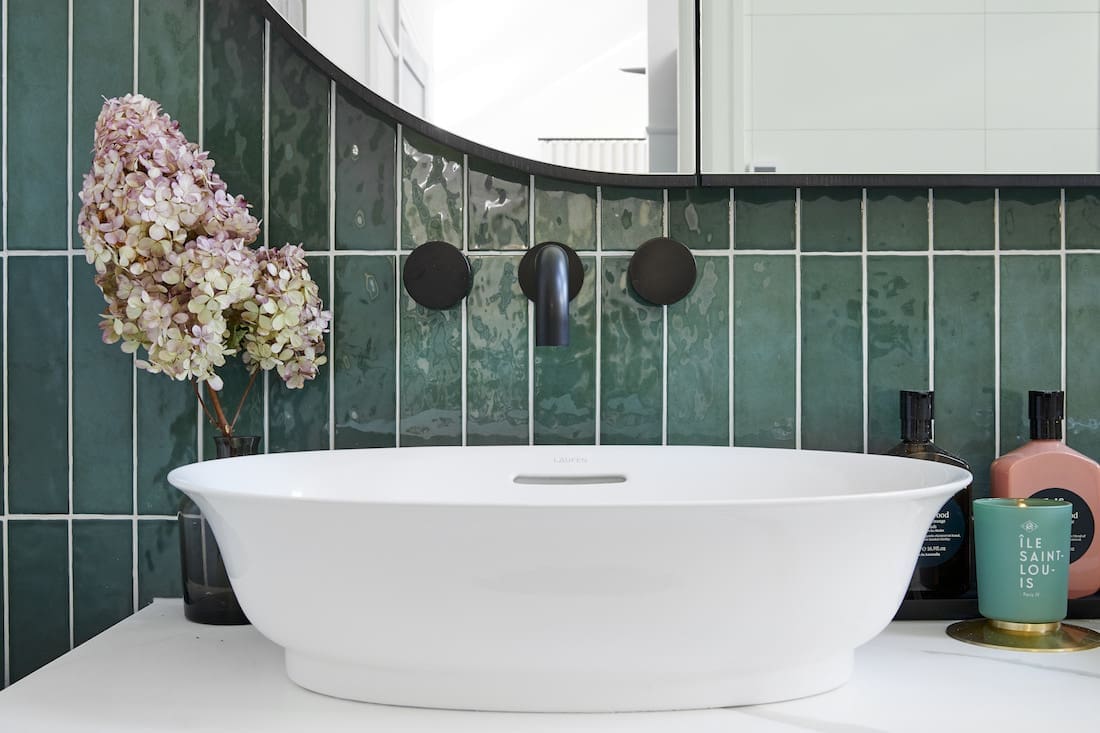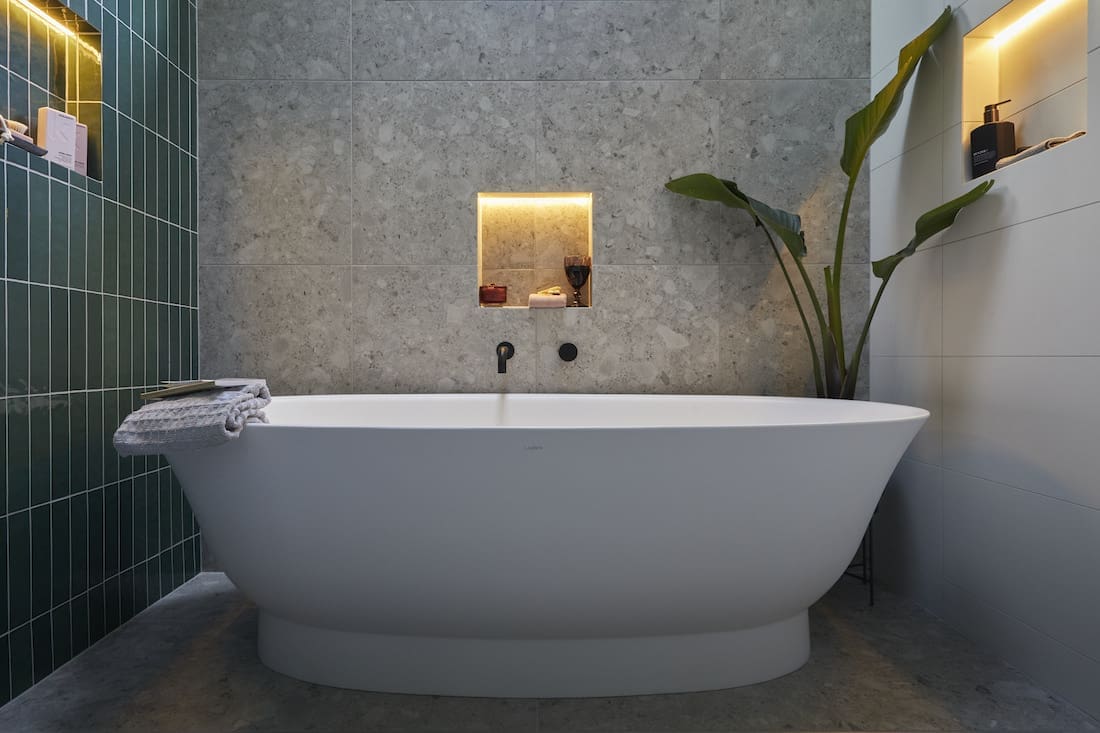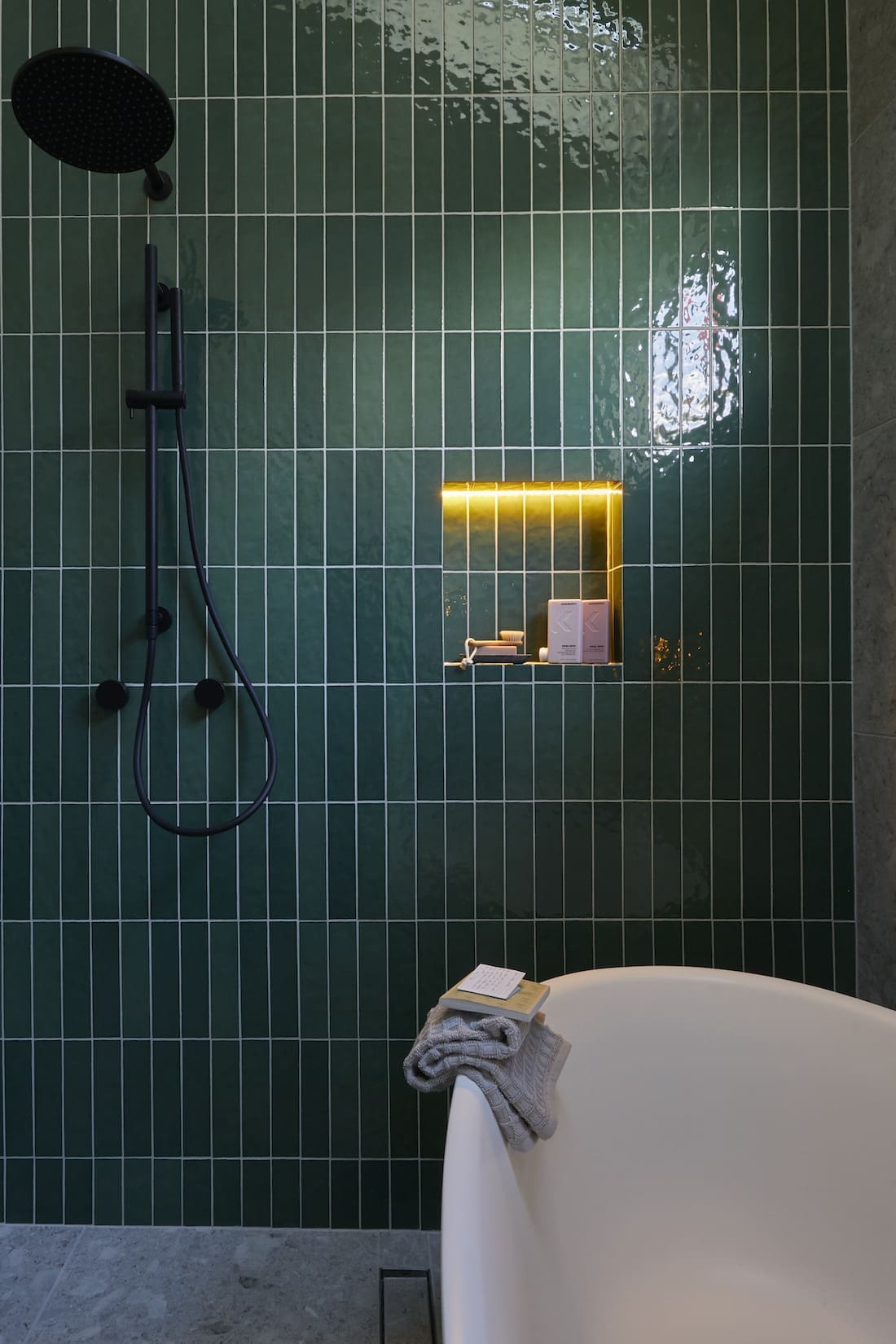 George and Sarah
Taking a few days out to mourn the passing of Sarah's Grandmother, these guys had a rough week, emotionally speaking. Due to the pandemic, the pair decided not to travel to attend the funeral — something we have no doubt was an incredibly tough decision to make.
With a brilliant team of trades behind them, they were still able to deliver what the judges said was a beautiful and spacious master ensuite.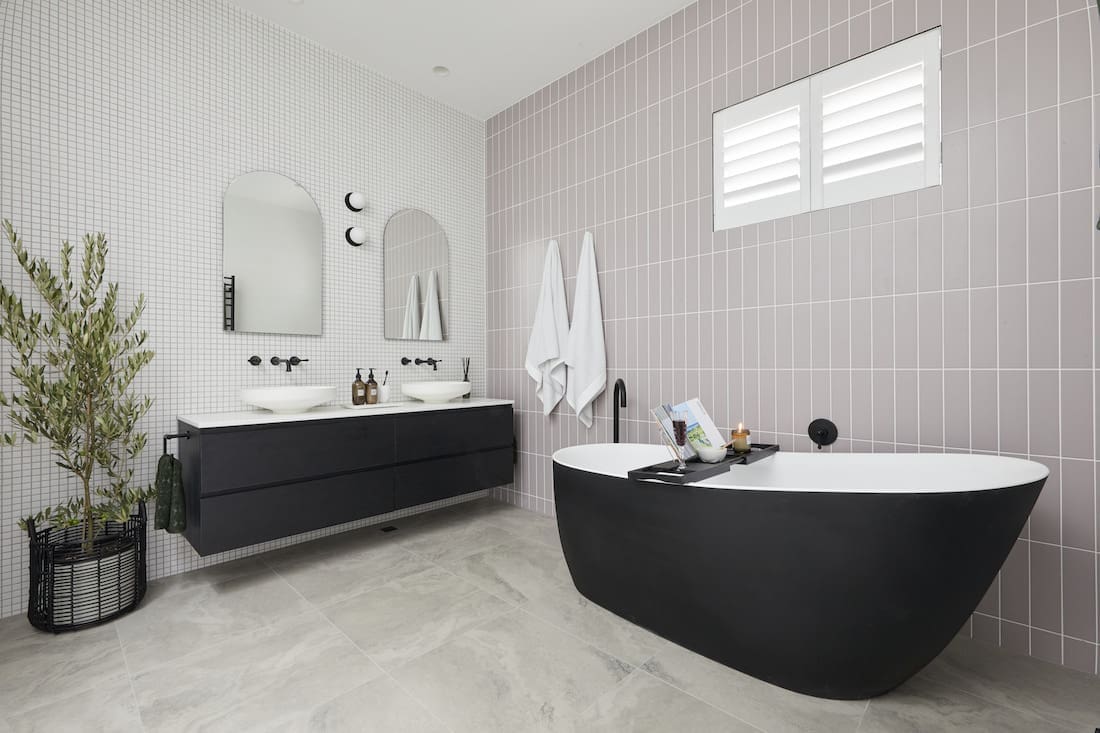 Their choice of soft pink and grey tiles was lovely and Shaynna even ok'd their use of 4 different tile choices. That's big praise from someone who usually hates that many tiles in one space.
We liked how they kept a similar tile combo to their previous bathroom and loved the addition of the white grid tile and vertical straight stack of the pink subway in this space. It gave the ensuite a bit more of a mid-century vibe, but the decorative tapware, arch mirrors and basins scored enough points for the era to get away with it.
Just missing out on top spot, these guys are hitting their stride.
Score: 28.5 / 30 (joint 2nd place)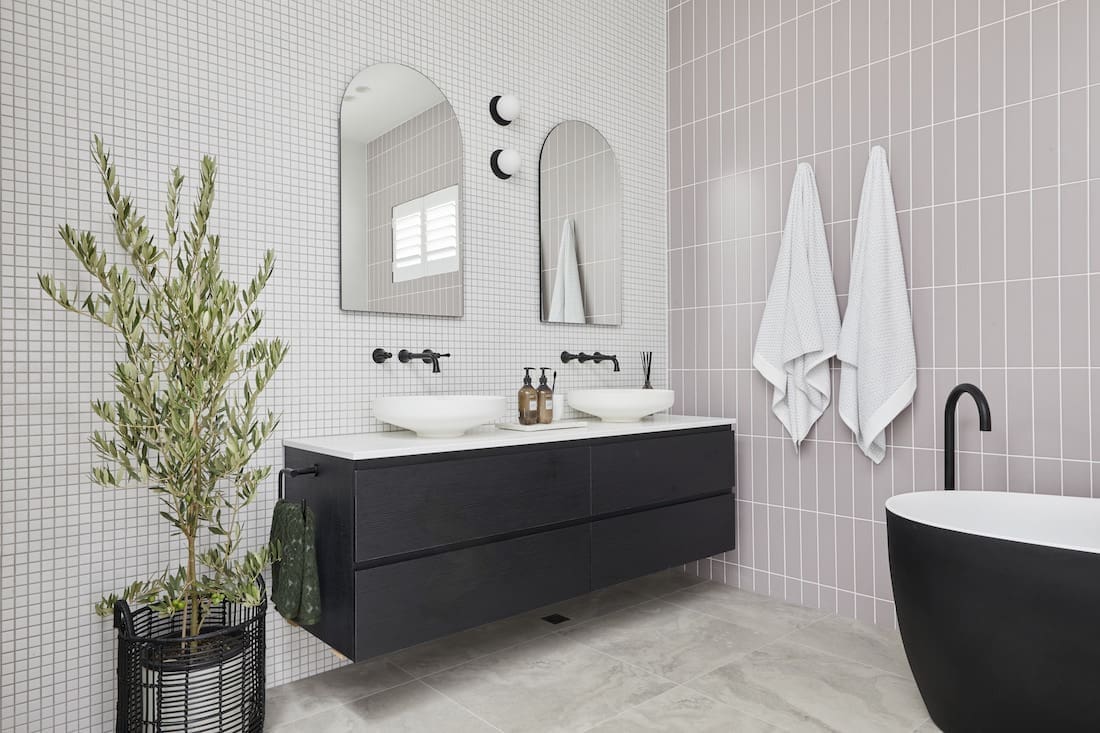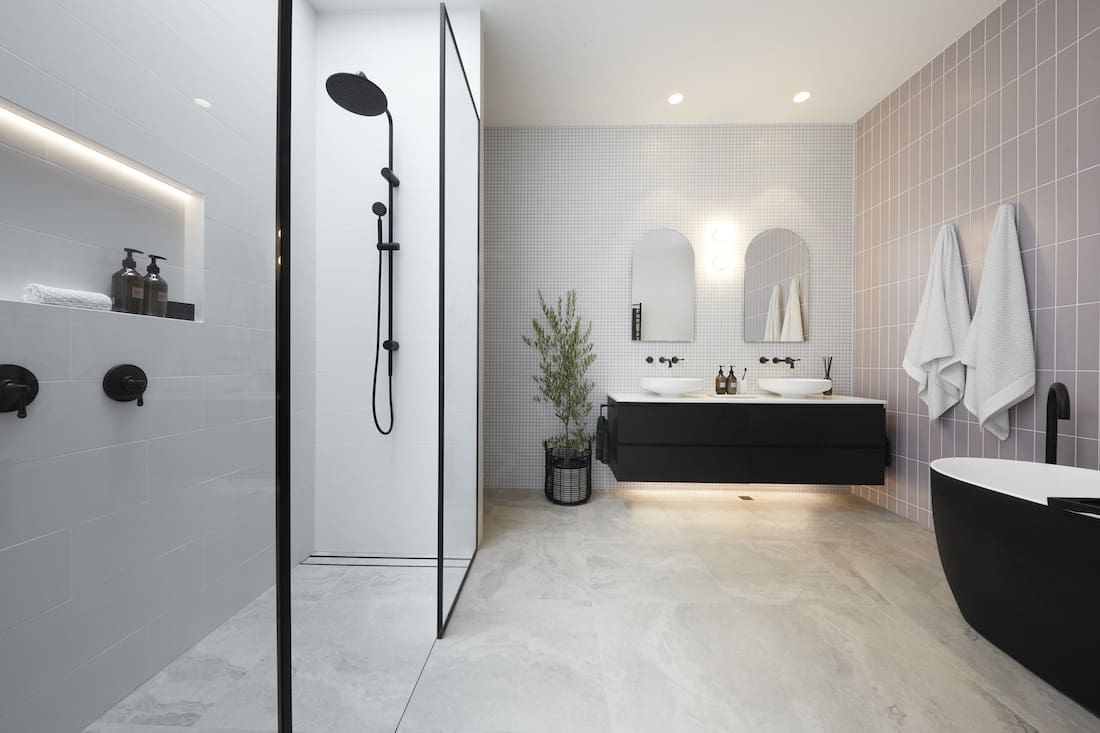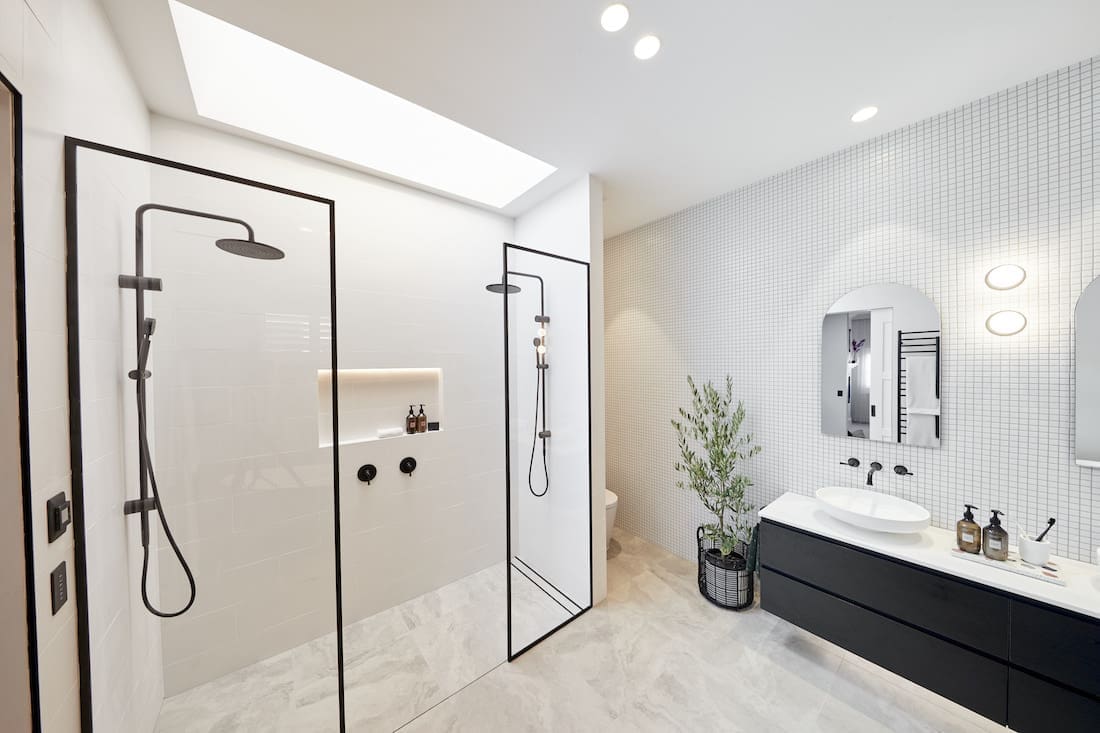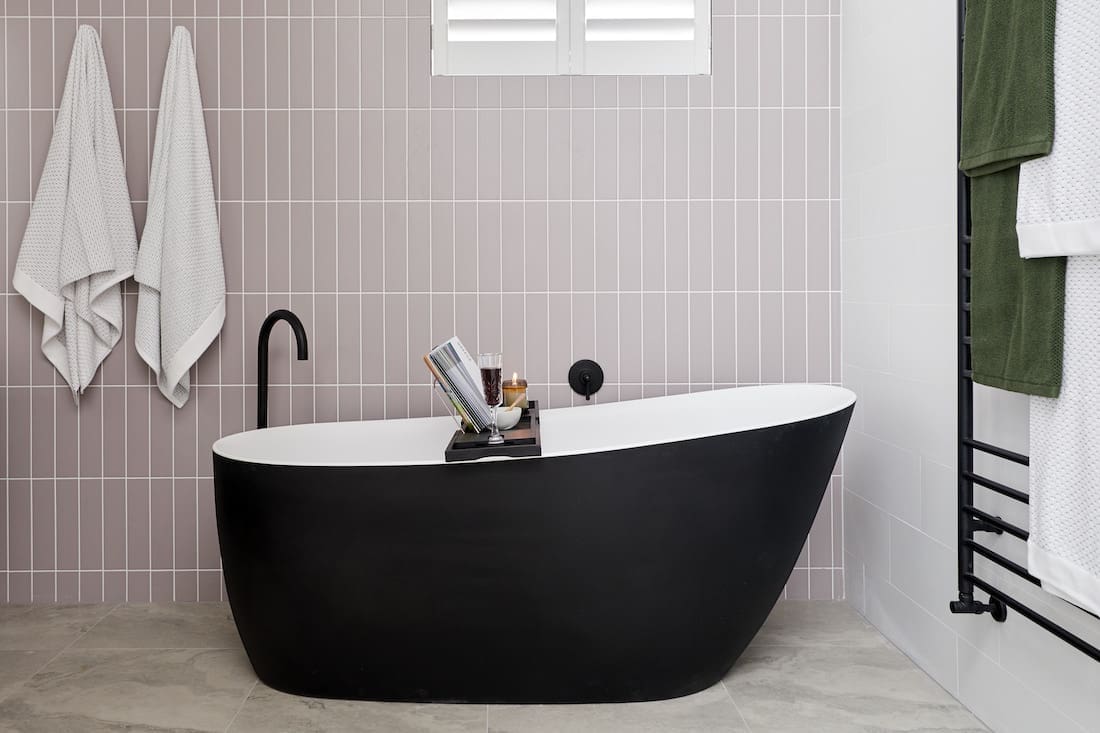 Daniel and Jade
The judges thought it was wonderful and could have taken out the win. We… did not agree.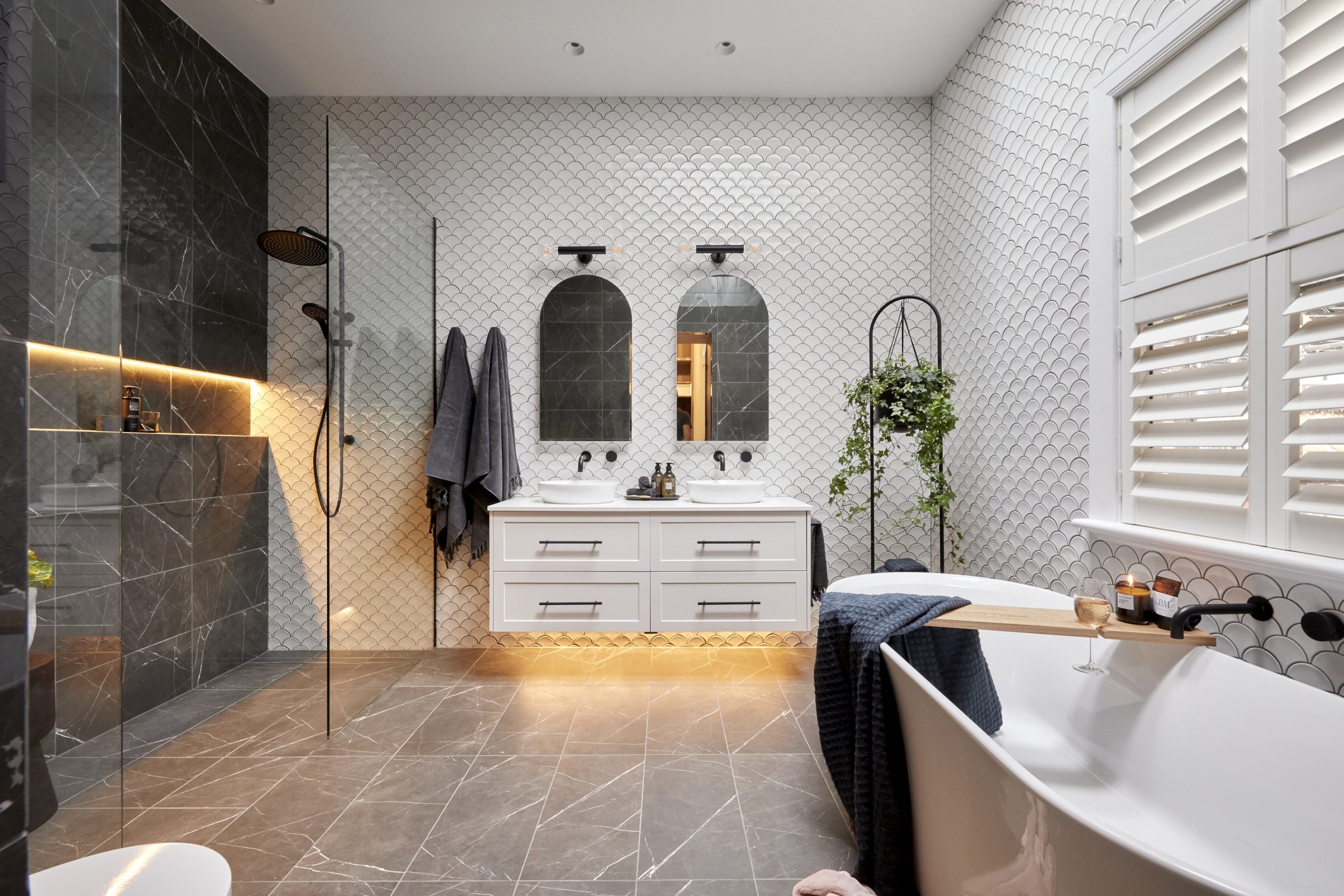 We loved the wall-to-wall niche in the shower… but that was about it. Holy moly, this bathroom was all a bit too much for us! Everything felt like it was screaming at us and rather than picking one idea to make a statement, it's like they tried to create a wow feature with all their choices. The result, in our opinion, was just too busy. We hope they take a less is more approach next time!
But the judges liked it, loving their fish scale tiles and saying they were the perfect nod to the 1930s. Darren made a snarky comment on the slippers which seems completely irrelevant when there are bigger things to mention in a bathroom renovation!
Score: 28 / 30 (3rd place… but technically with all the ties, 5th place)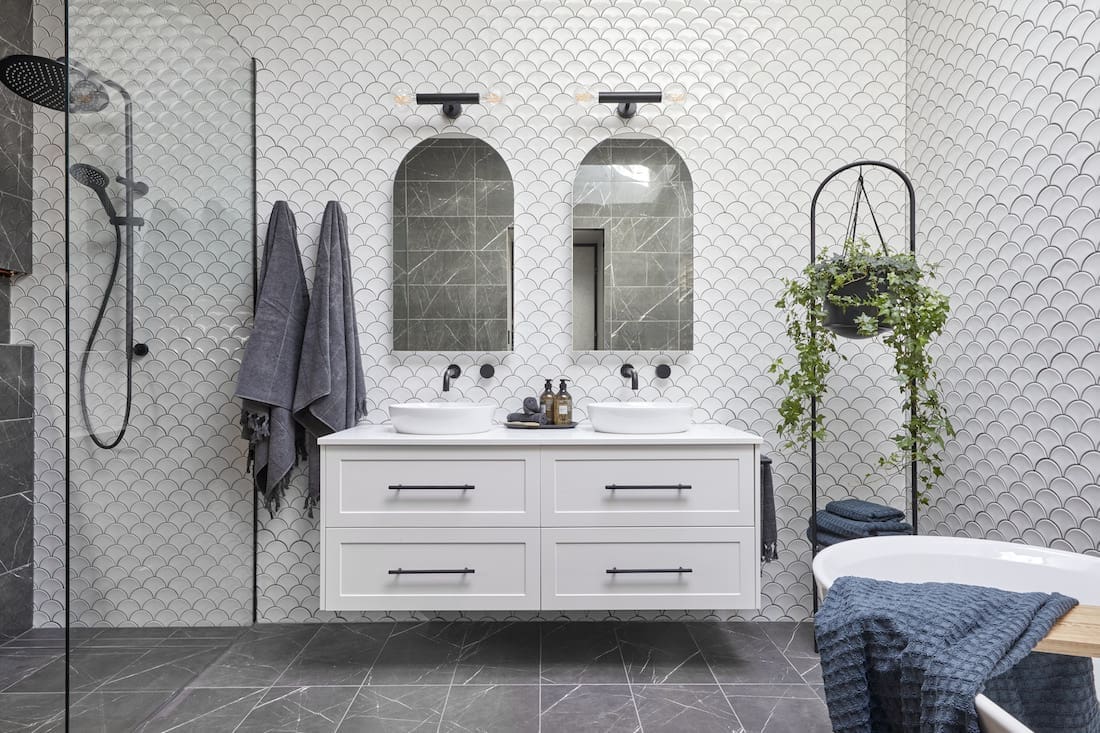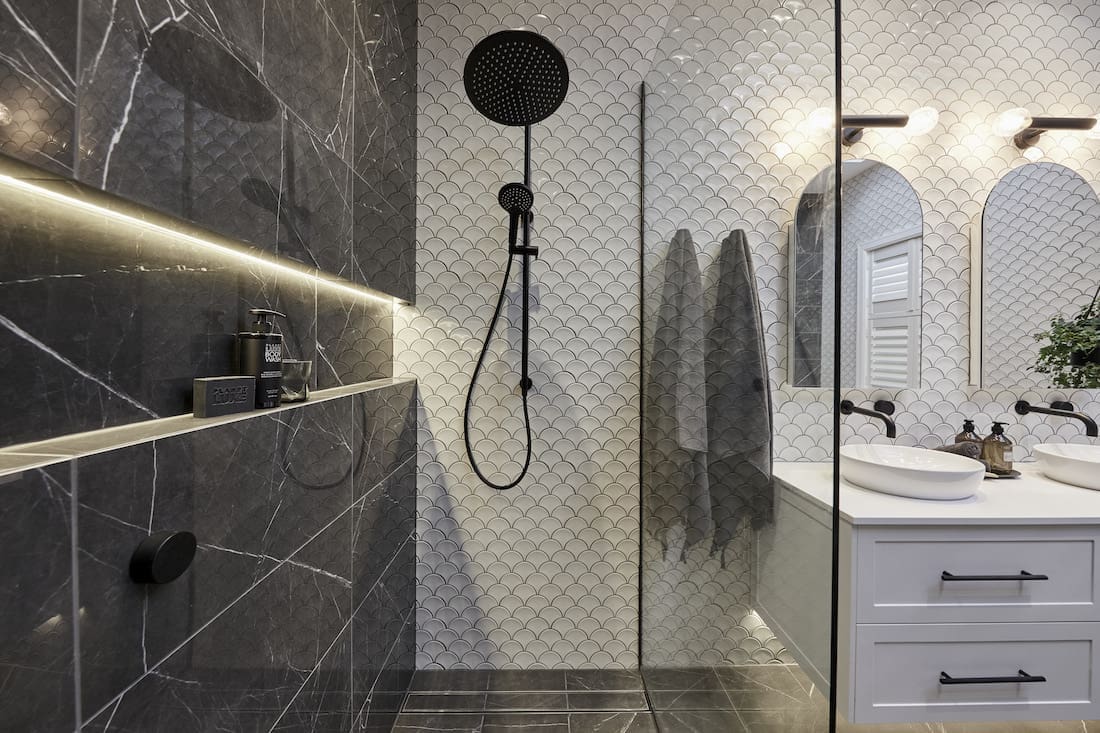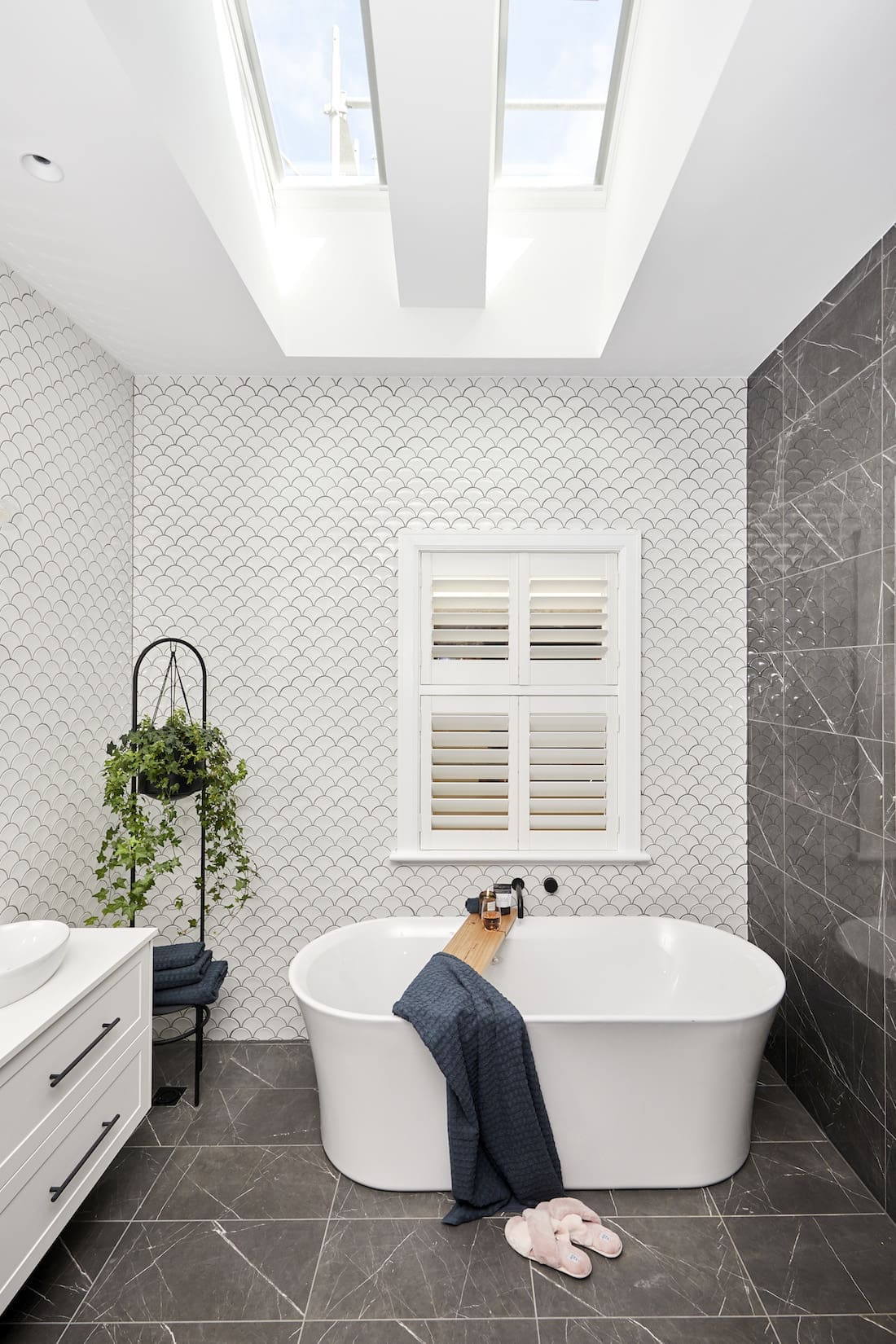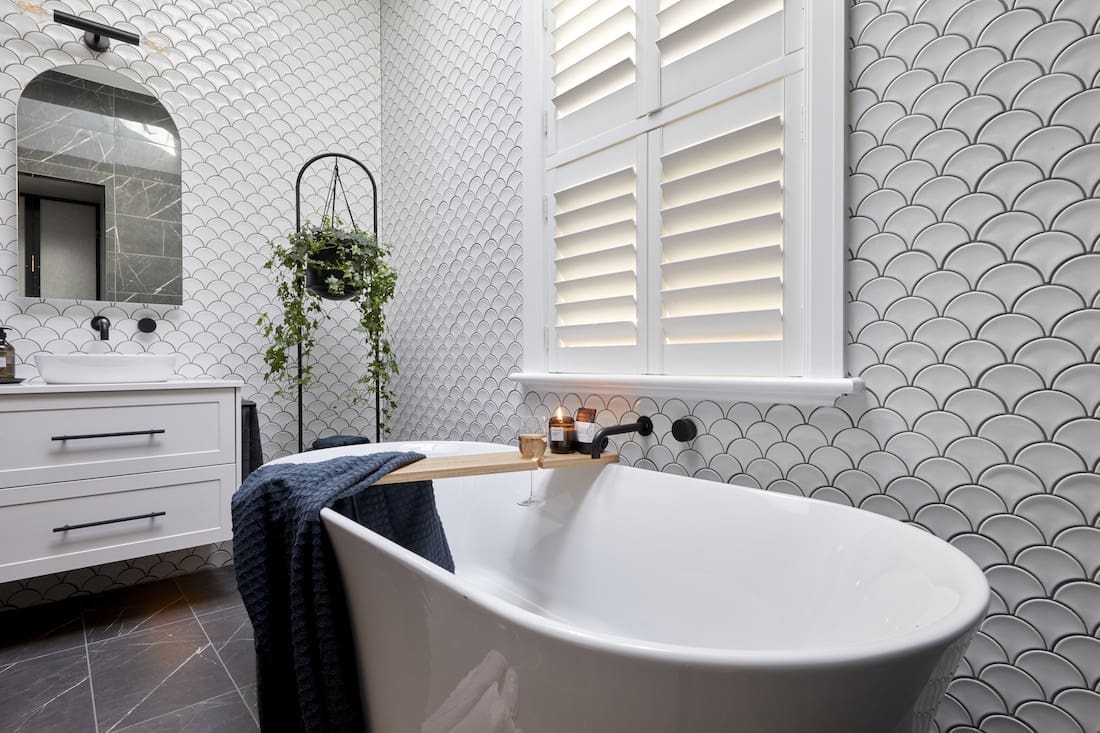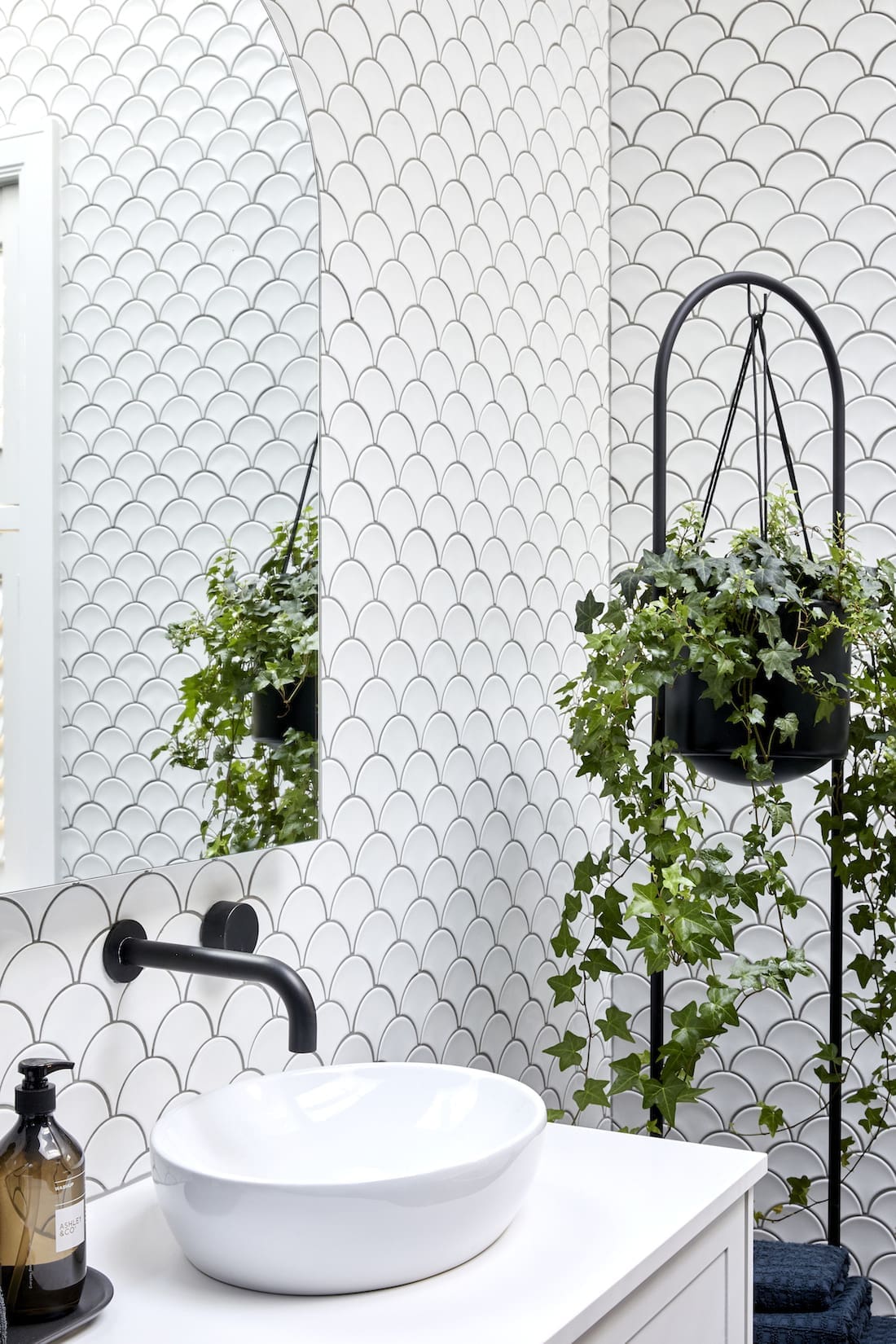 Luke and Jasmin
Wow… that's the best way to describe this week's master ensuite from Luke and Jasmin! A bathroom that we, and the judges, agree is sure to appeal to the future buyer.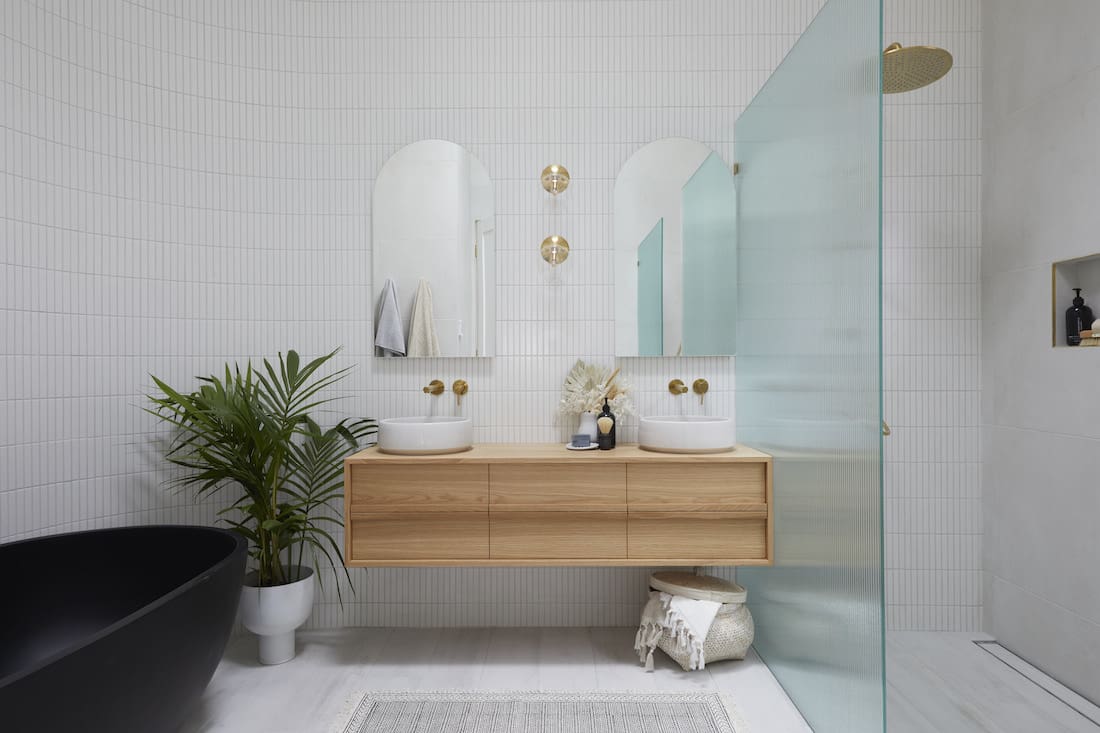 We're starting to see the curved wall as a trend on The Block 2020, and we're not mad about it. This paired with the white tiles, skylight and black bath were all complimented by the judges.
You all know we thought these guys were robbed of victory last week, so we were stoked they won this week — even if it was a tie! The curved wall in that white Kit Kat tile was a stroke of genius and we're so glad they used another reeded shower screen.
We would have loved this space even more if they'd used a white bath, but wouldn't complain one bit if this was our bathroom! Divine!
Score: 29 / 30 (joint 1st place)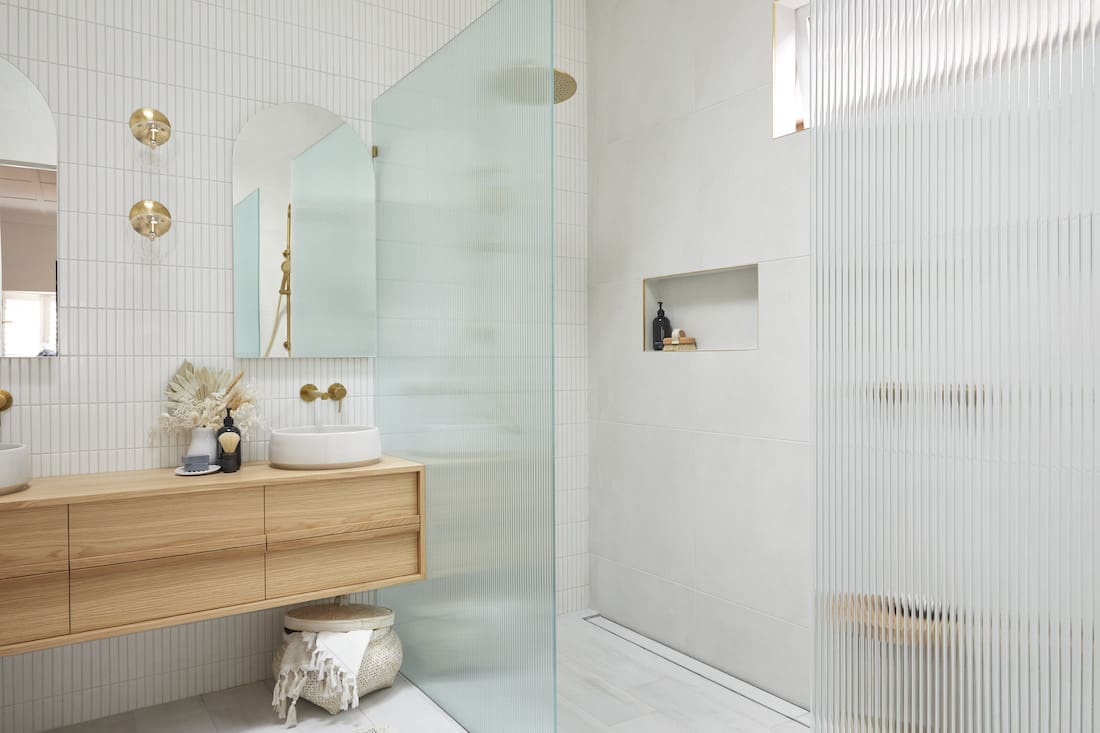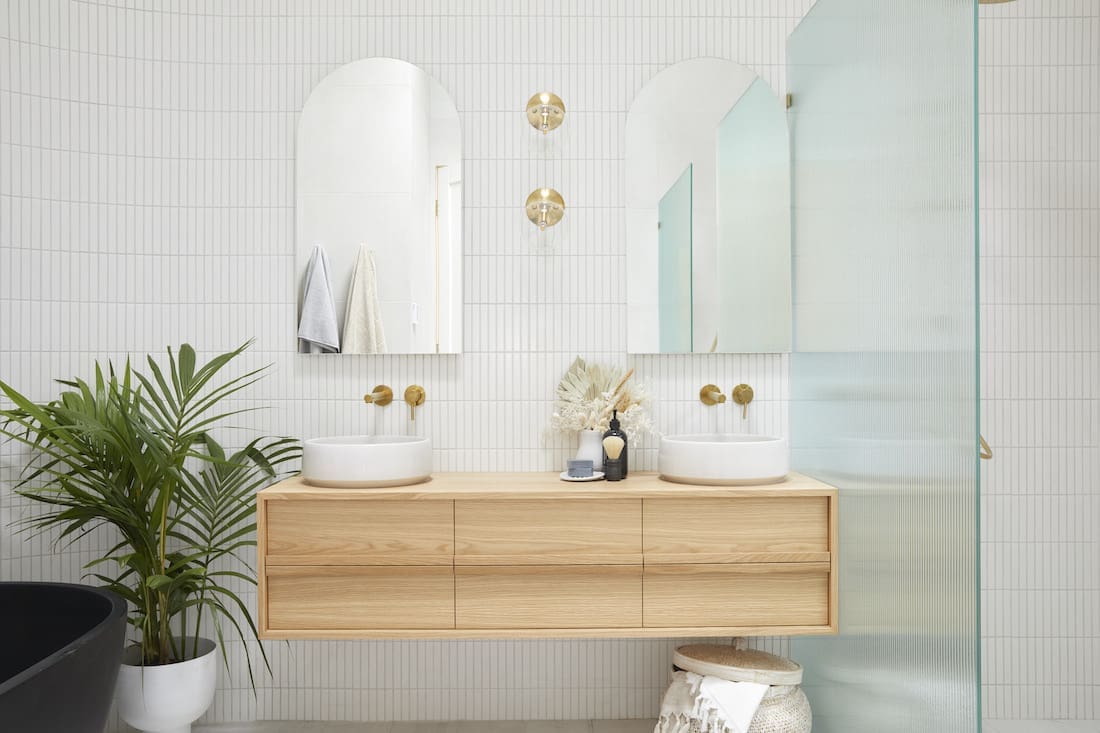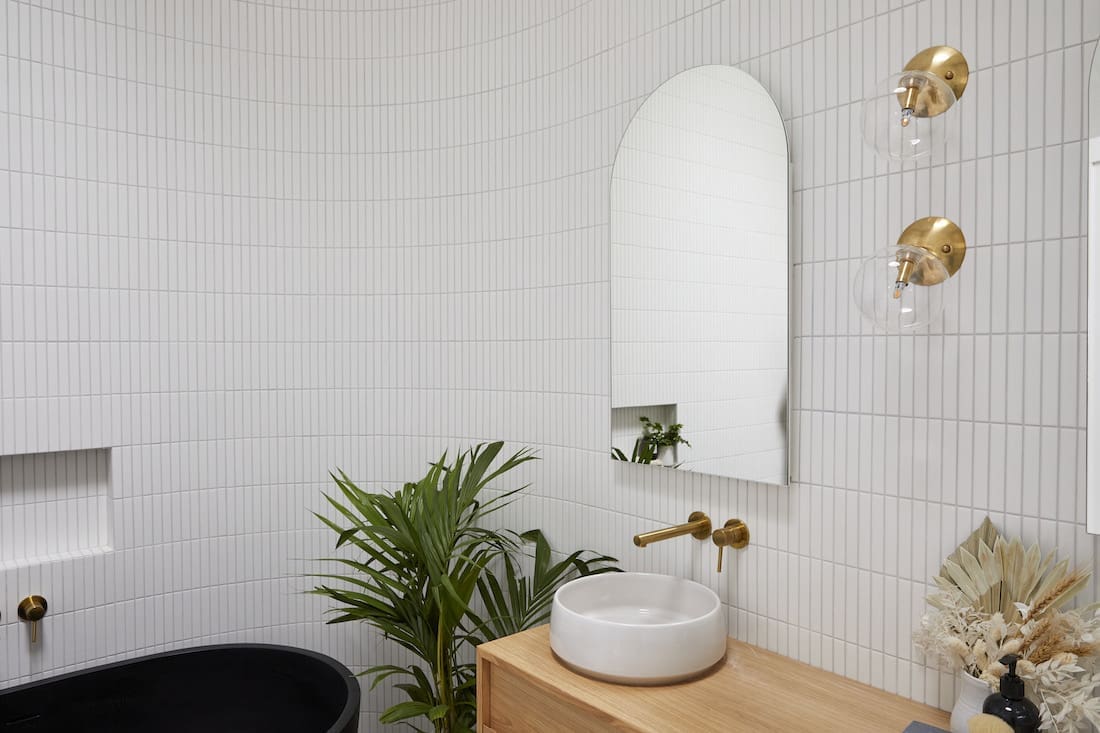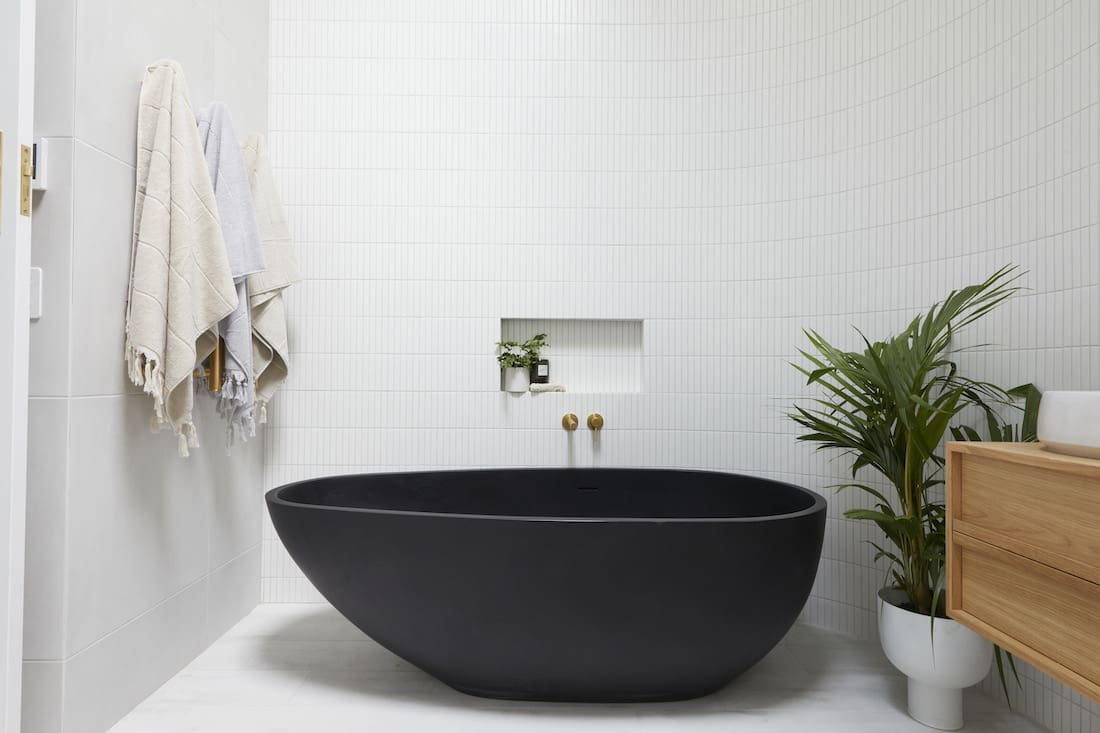 Jimmy and Tam
Jimmy and Tam are taking the view of go bold or go home… and so far, it seems to be working! These guys won a mid-week game and their prize was 'the gnome angel', gifting them an extra point in this week's judging.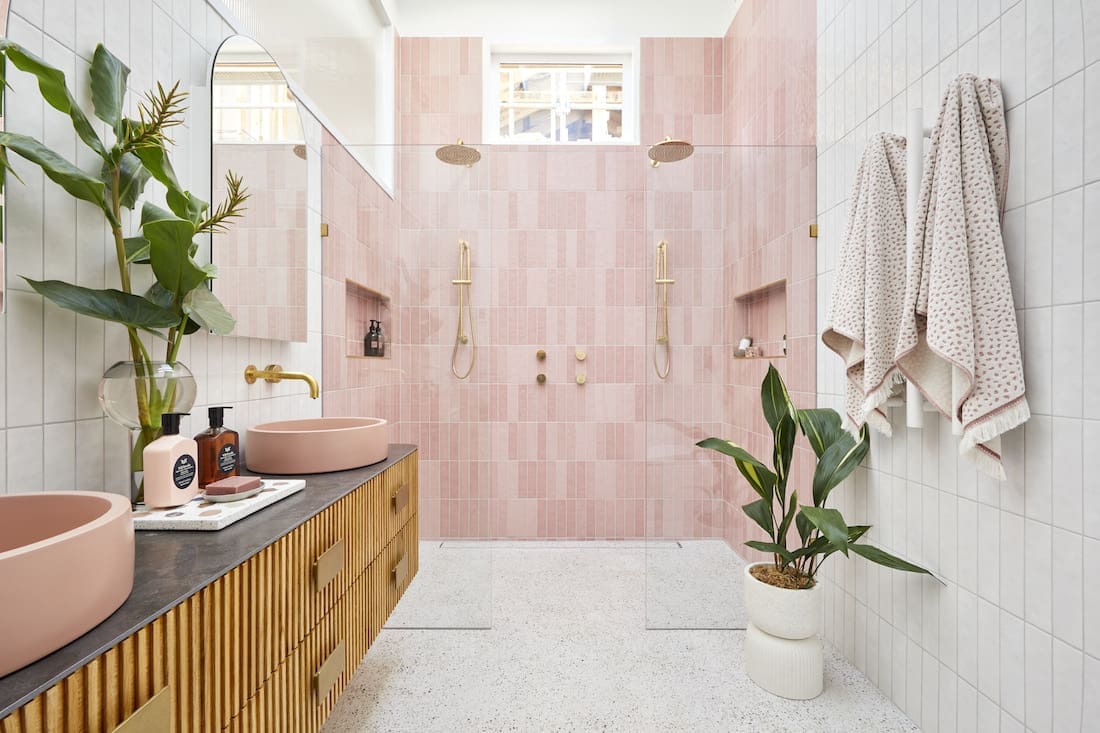 The judges loved the pink statement tiles and how they paired with the nude-coloured basins. The vanity matched the couple's master bedroom bedside tables to perfection. Another plus was how they reworked their layout, separating their master ensuite to their walk-in-robe which gave them the wooden spoon last week.
From our point of view, sticking with their winning formula of colourful tile + white tile + terrazzo floor and this bathroom felt a lot more successful to us than their last one. The pink shower worked better for us than the half height wall, and overall we thought it was a playful and fun space that someone is truly going to love.
We probably would have toned down the brass accents a tad though and would have loved to see them use a mitre around their niches rather than highlighting these with brass angles. Small details in an otherwise fab space.
Score: 29 / 30 — (a judges score of 28 + the gnome point giving them joint 1st place)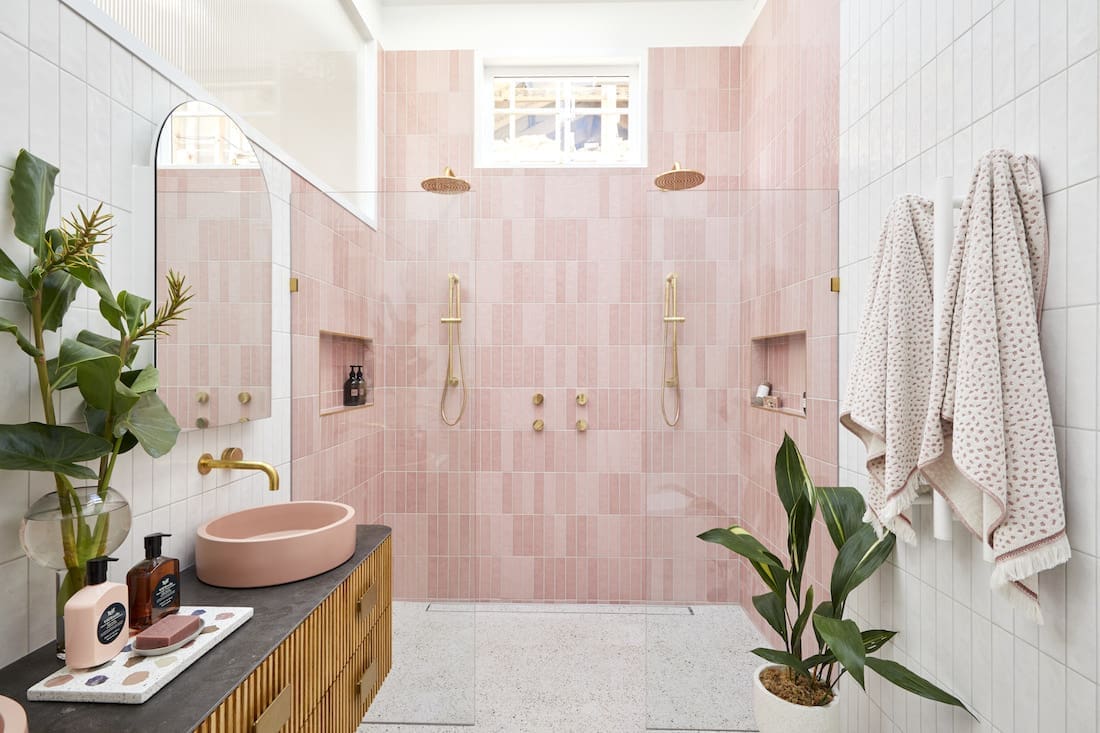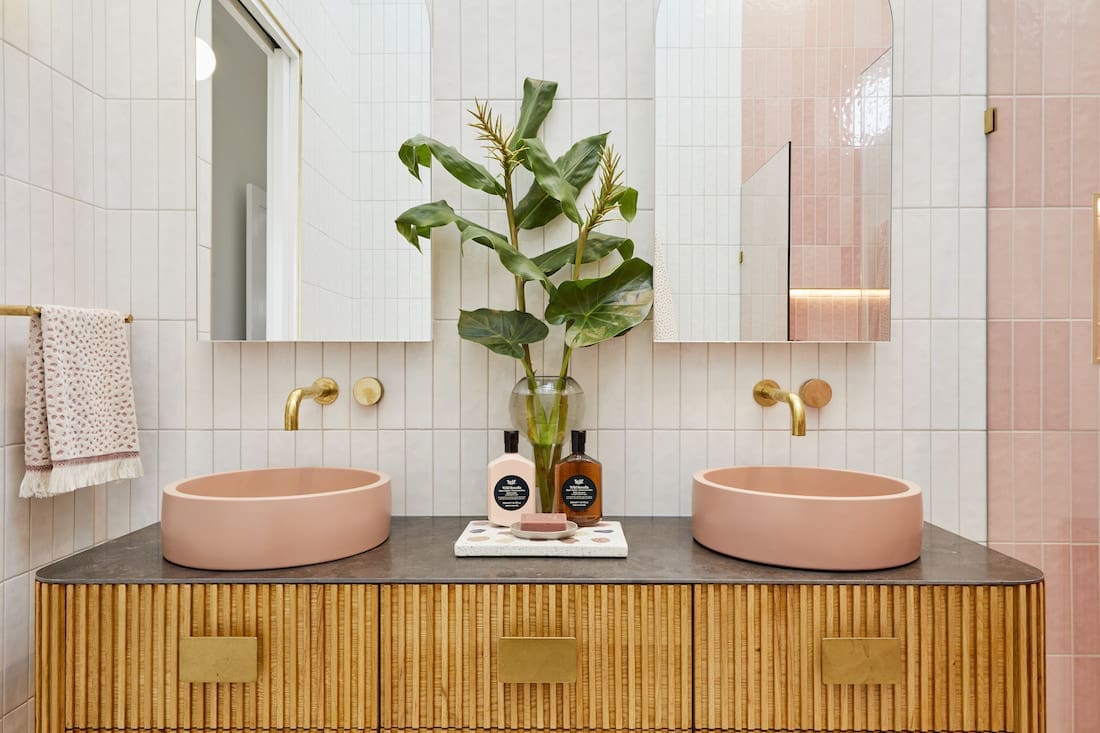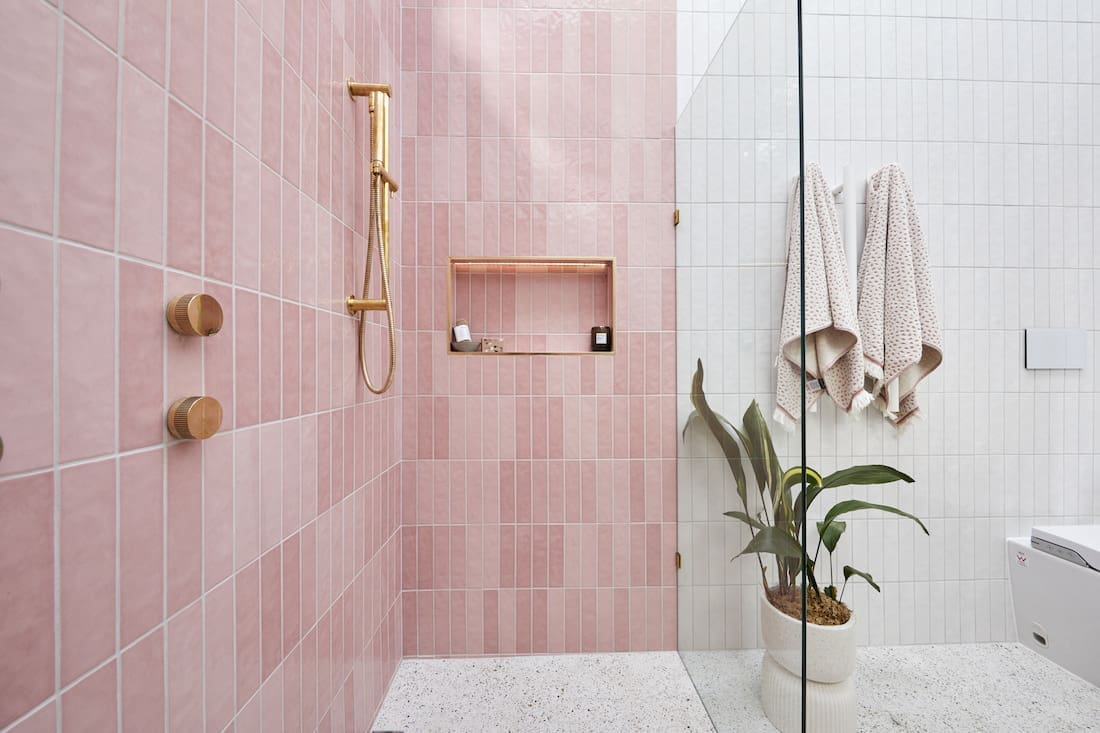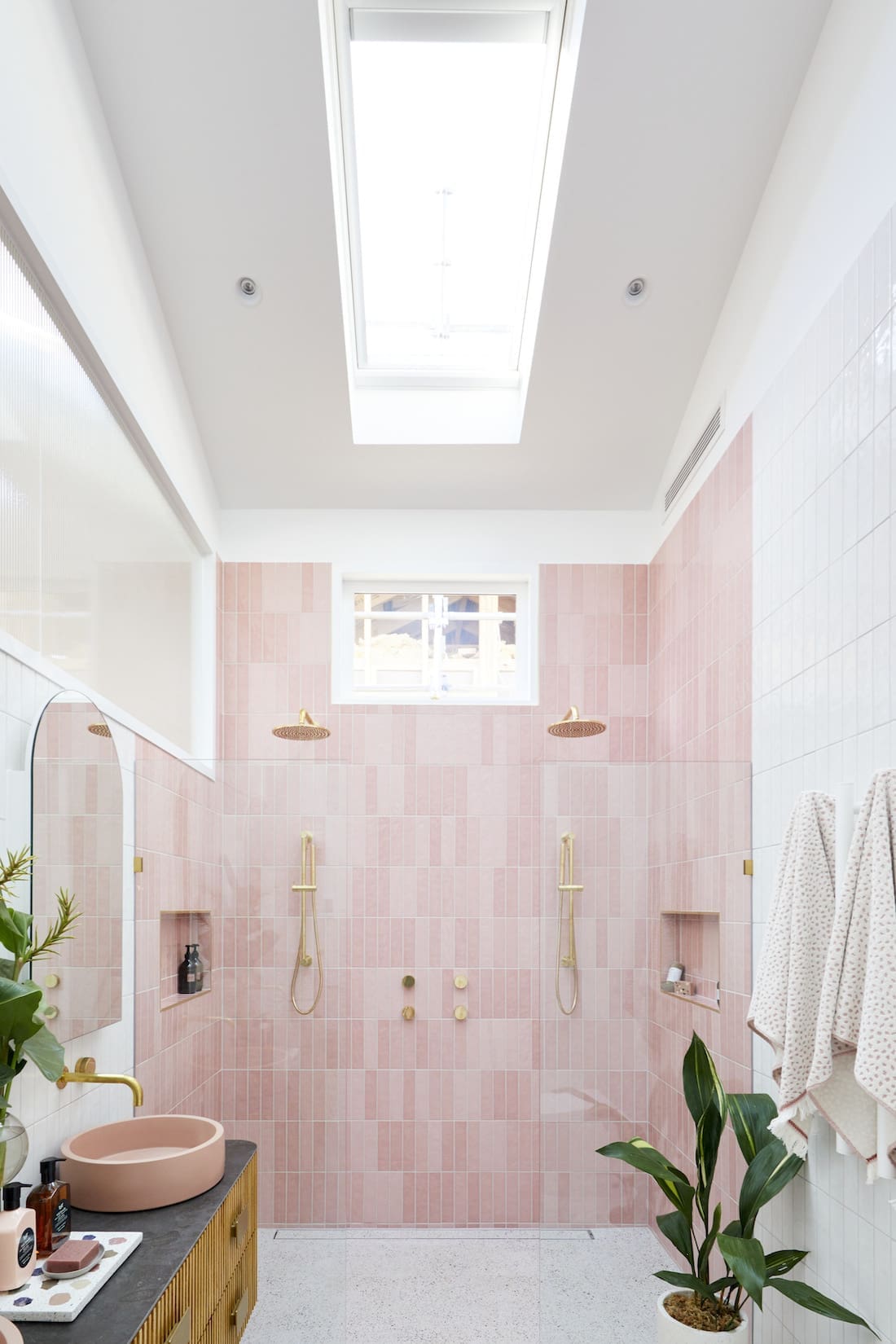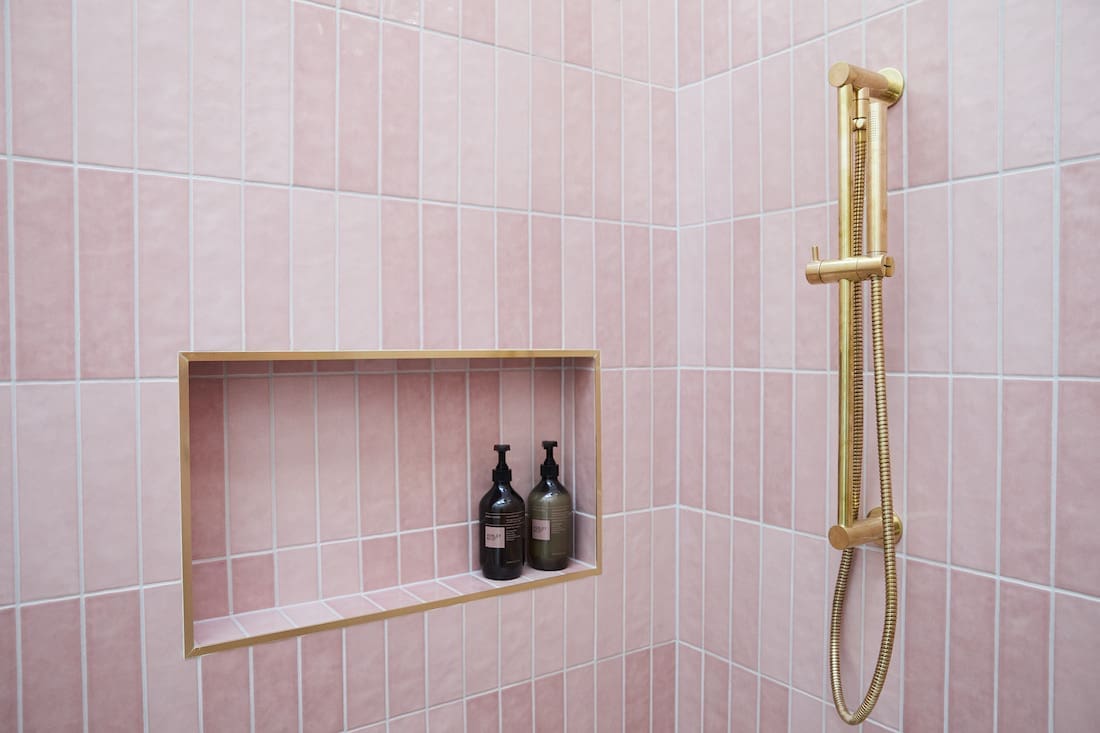 What did you think of the master ensuite reveal for The Block 2020? Did you agree with the judges (or us?!). Tell us in the comment section below!
Be sure to check out The Block Shop if you've spied something you love in this week's room reveals. And you can catch all The Block 2020 goss on the official website.
All imagery by David Cook Photography