Guest ensuite time! This week saw a nice mix of styles and designs. We like that this year's teams seem to have very different ideas — it certainly keeps things interesting! But can we just say we weren't so sure the judges got the scores right this week!
Related article: The Block 2021: Week 1 — Guest bedroom reveal
Related article: The Block 2020: Week 2 — Guest ensuite reveal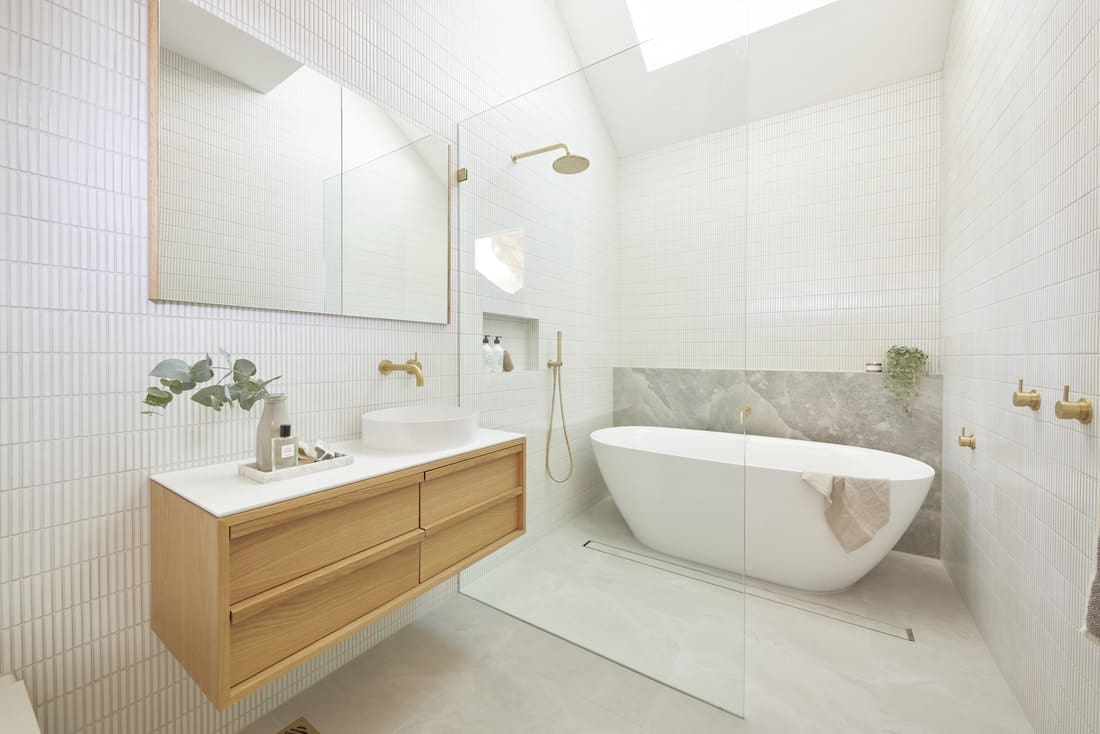 Ronnie and Georgia
Marrying perfectly with their winning bedroom from last week, Ronnie and Georgia totally nailed their guest ensuite.
This ensuite is bathed in gorgeous, natural light thanks to the super high ceilings and of course, a skylight. The judges loved it too, noting the similar colour palette and fixtures to the neighbouring bedroom.
These guys would have been our choice for first place this week. We mean it oozes architectural sophistication and there's a beautiful sense of balance and harmony. We've never met a kitkat tile we didn't love and because they wrapped it around the room, using white was a smart choice. The half-height ledge is an on-trend feature that's stylish and functional. Yes's all round from the judges and us!
Cost: $24,500
Score: 26½ / 30 (2nd place)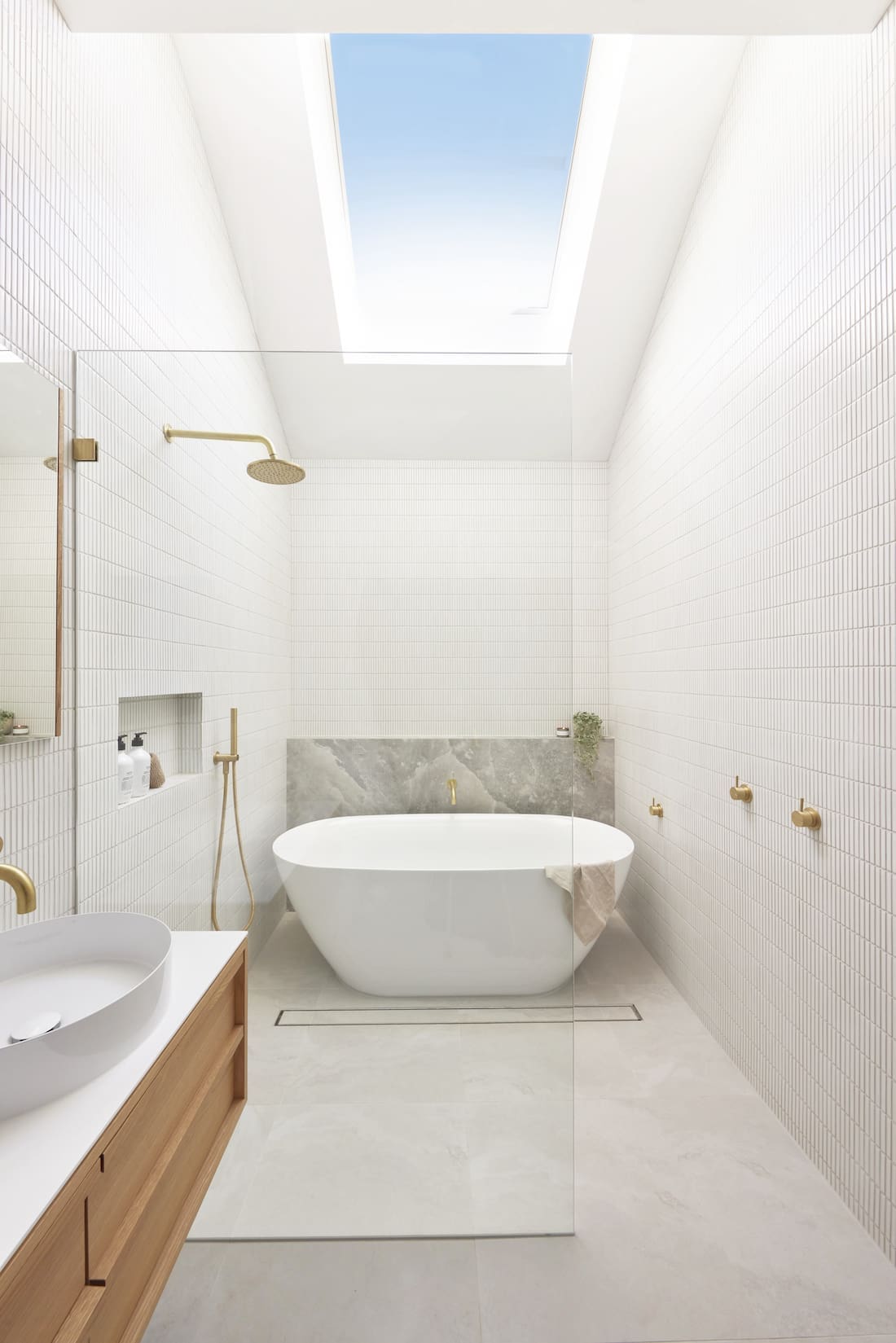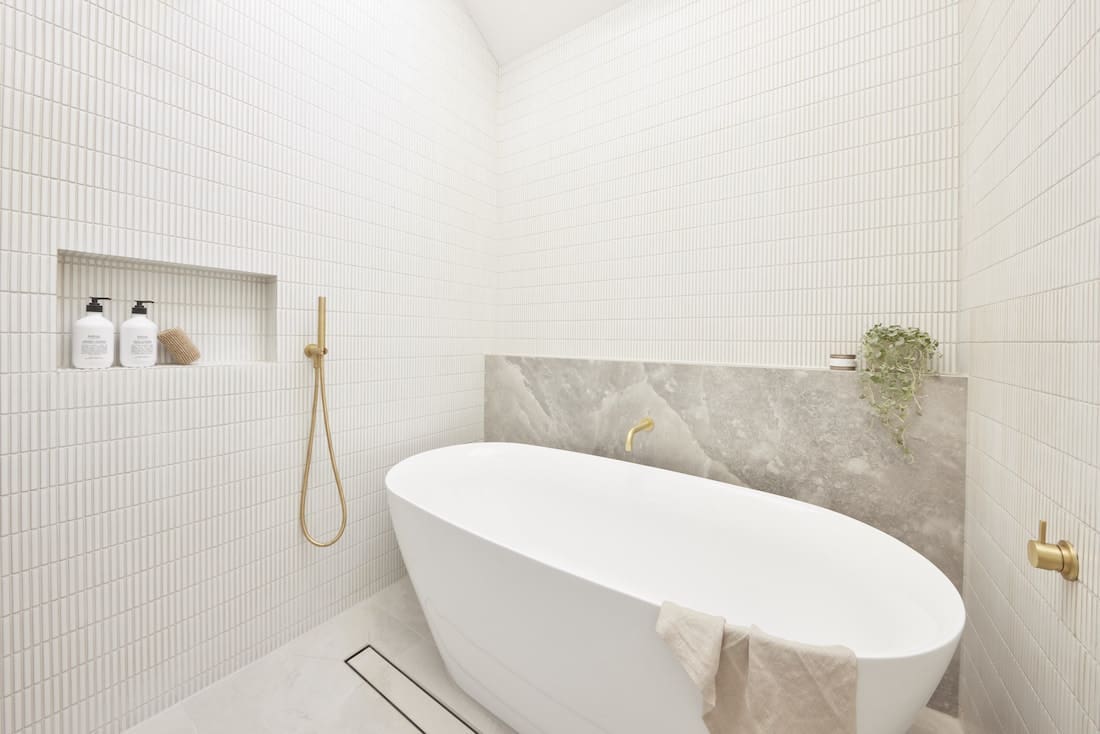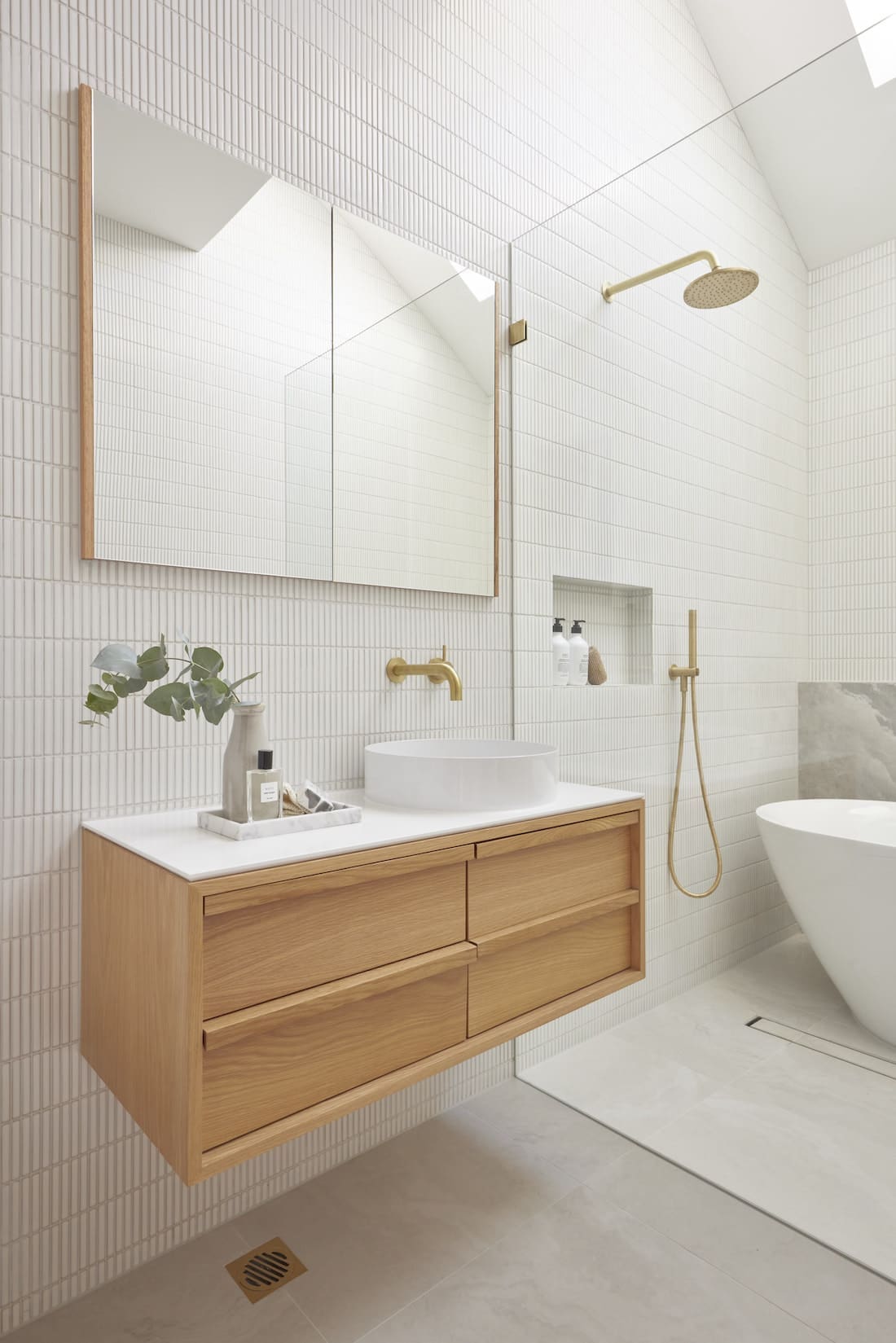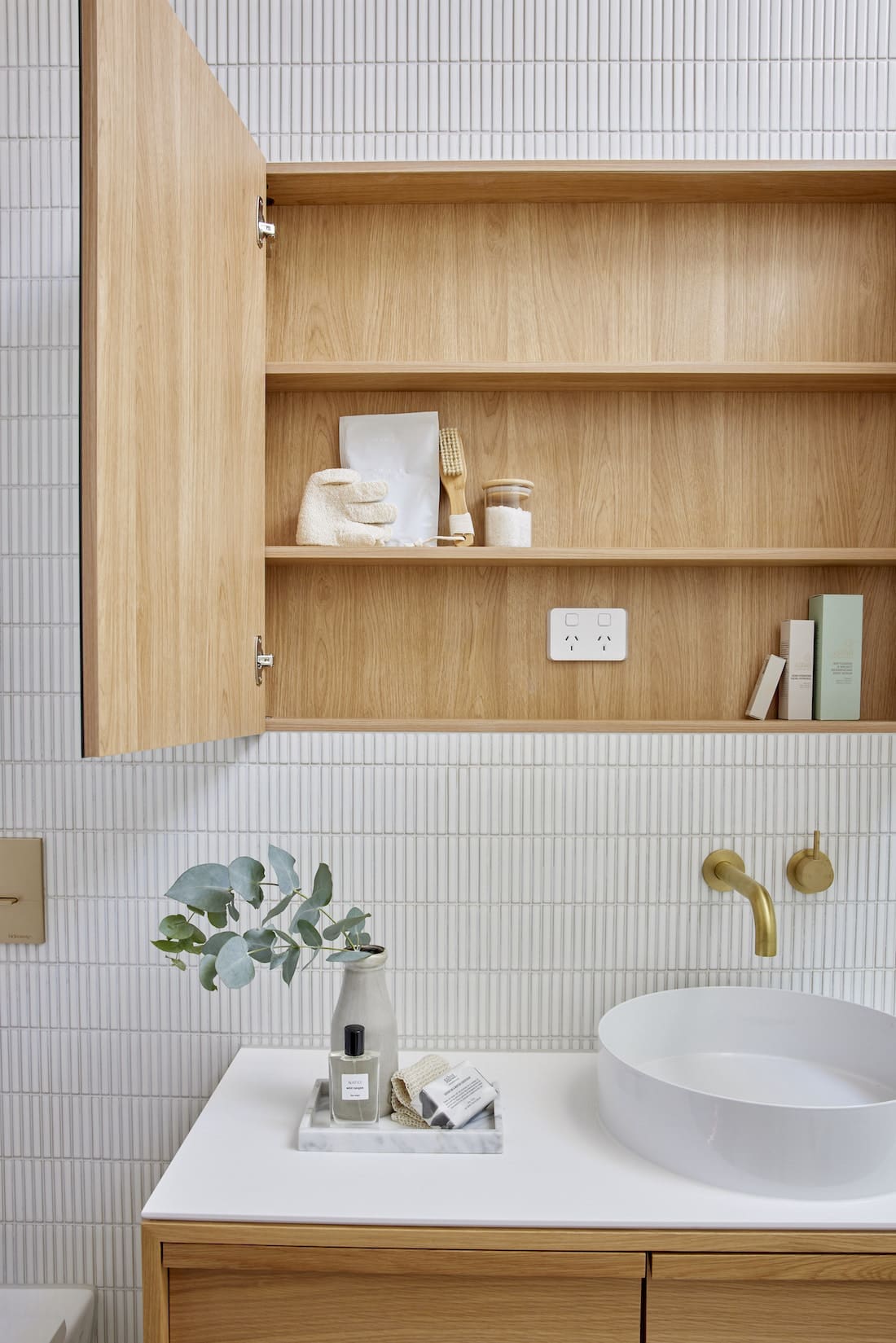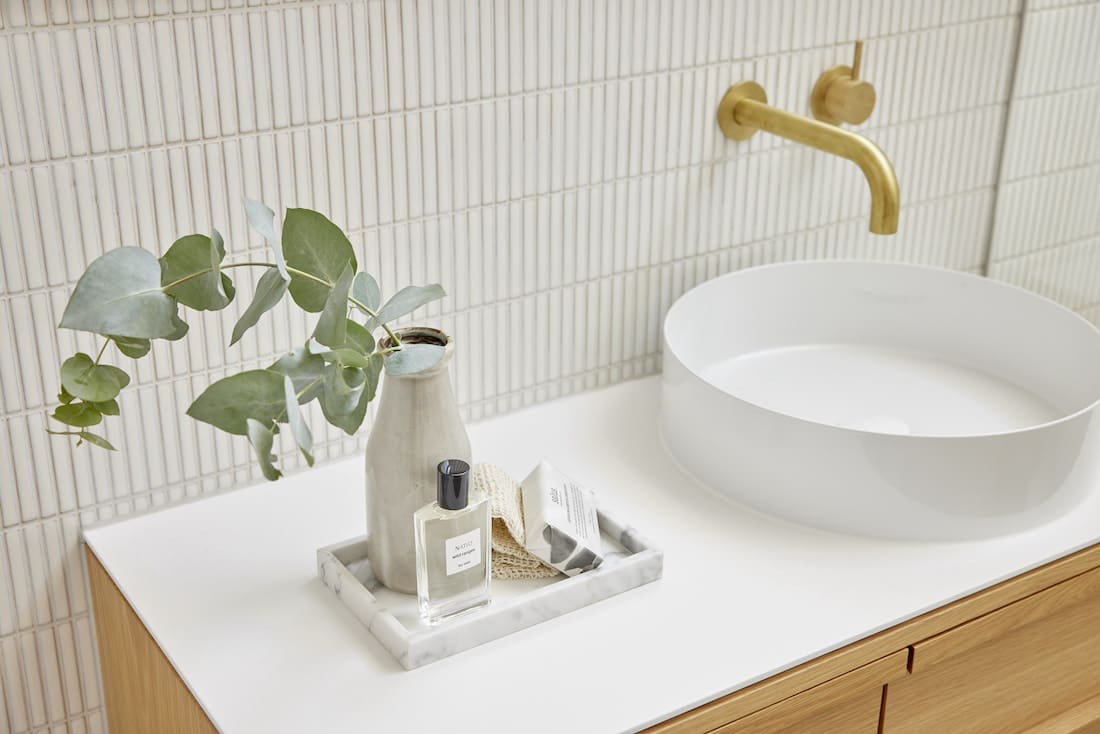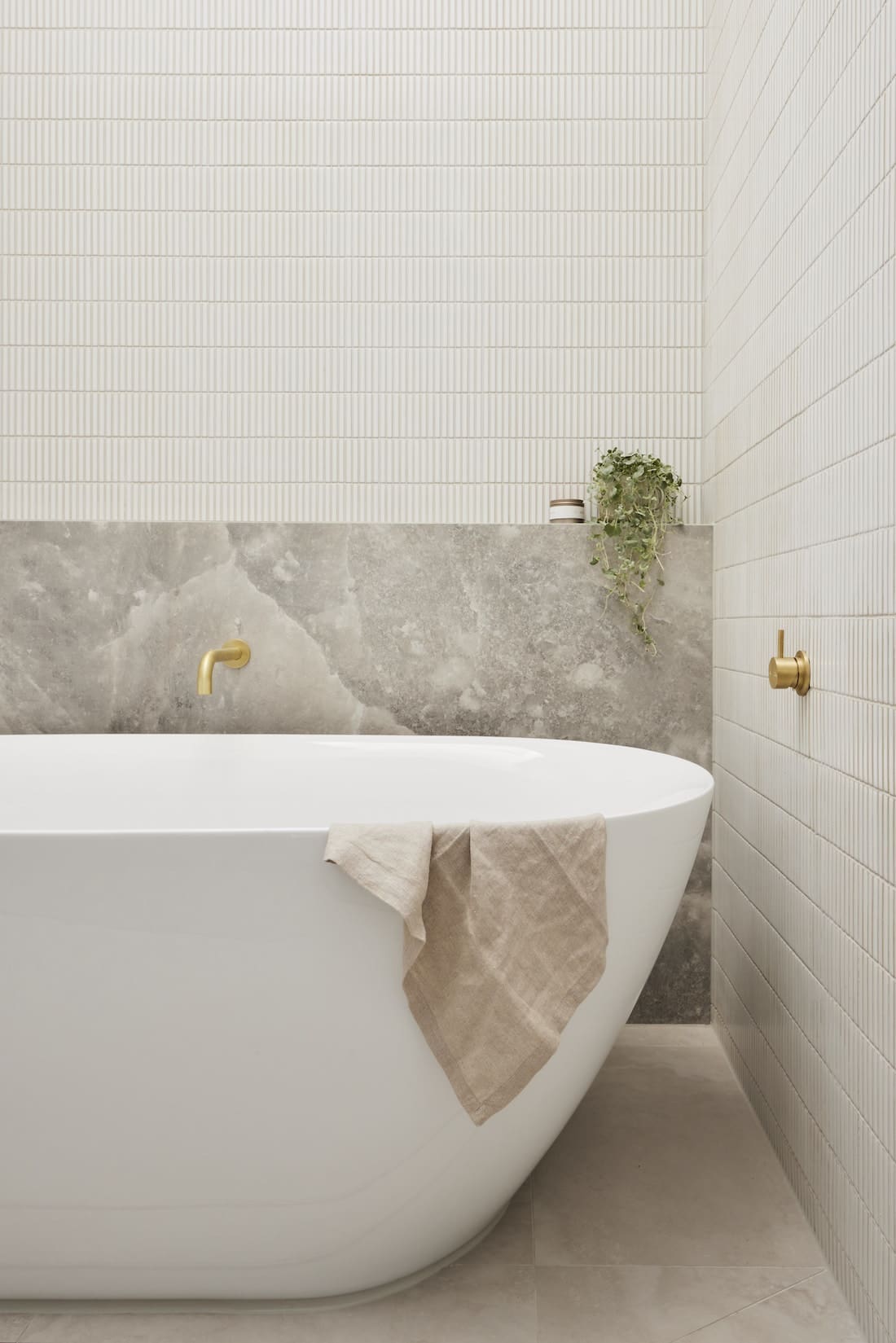 Mitch and Mark
Woah… was our first reaction when we saw Mitch and Mark's guest ensuite this week. Talk about a feature tile!
As much as we love that rose marble paddle-pop mosaic, less is more. We would have pulled things back, possibly just running it up the wall behind the vanity. The shower screen provides the perfect break to transition to a different tile. With the shift towards warmer and earthier tones, we also felt a less-stark floor and wall tile would have been more successful. And haven't we all agreed it's time to let go of using a feature tile in a niche?
Don't get us wrong, there's a lot to love about this space. That vanity, LOVE. Tapware, LOVE. Wet room design, LOVE!
We would have tied these guys in 2nd place with Tanya and Vito who are up next.
The judges on the other hand, loved the space, giving the boys top spot this week. The aged brass tapware, matte finish bath and basin got the tick of approval, along with more kitsch things like the gold bath ducks.
However, it was really the layout that won it for them. The judges noted they put greater thought into the placement of things such as the toilet tucked out of sight, the central door and the wall-to-wall strip drain. We agree — the layout is a total winner.
Cost: $20,833
Score: 28 / 30 (1st place)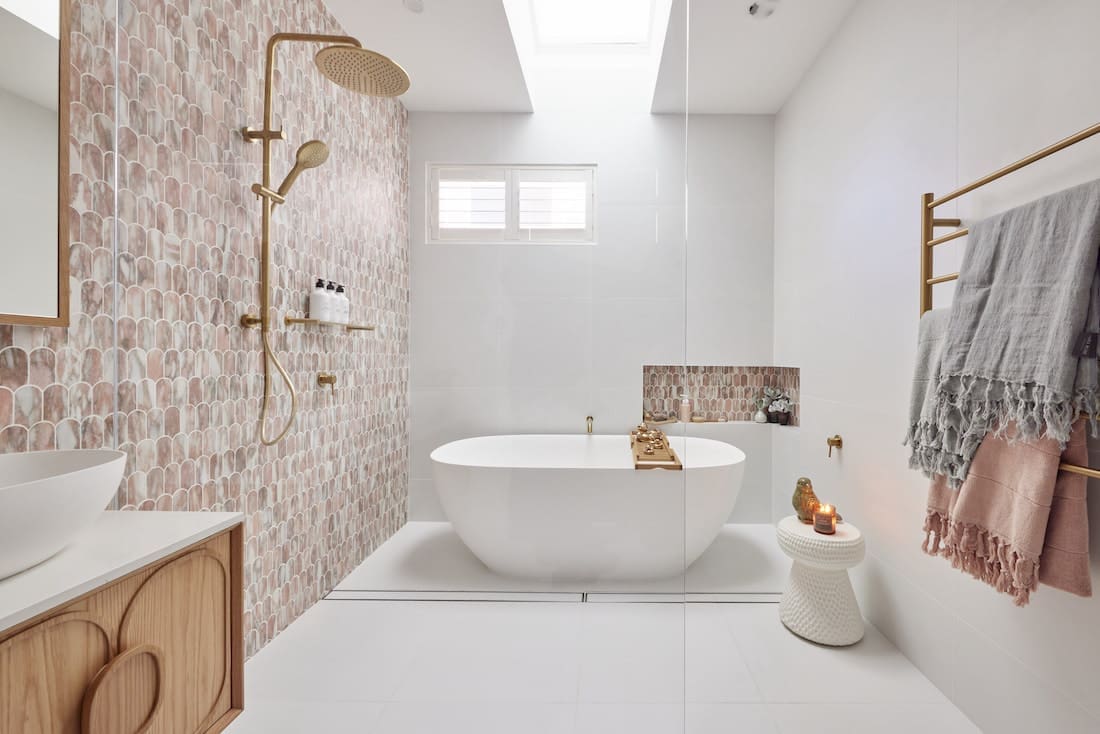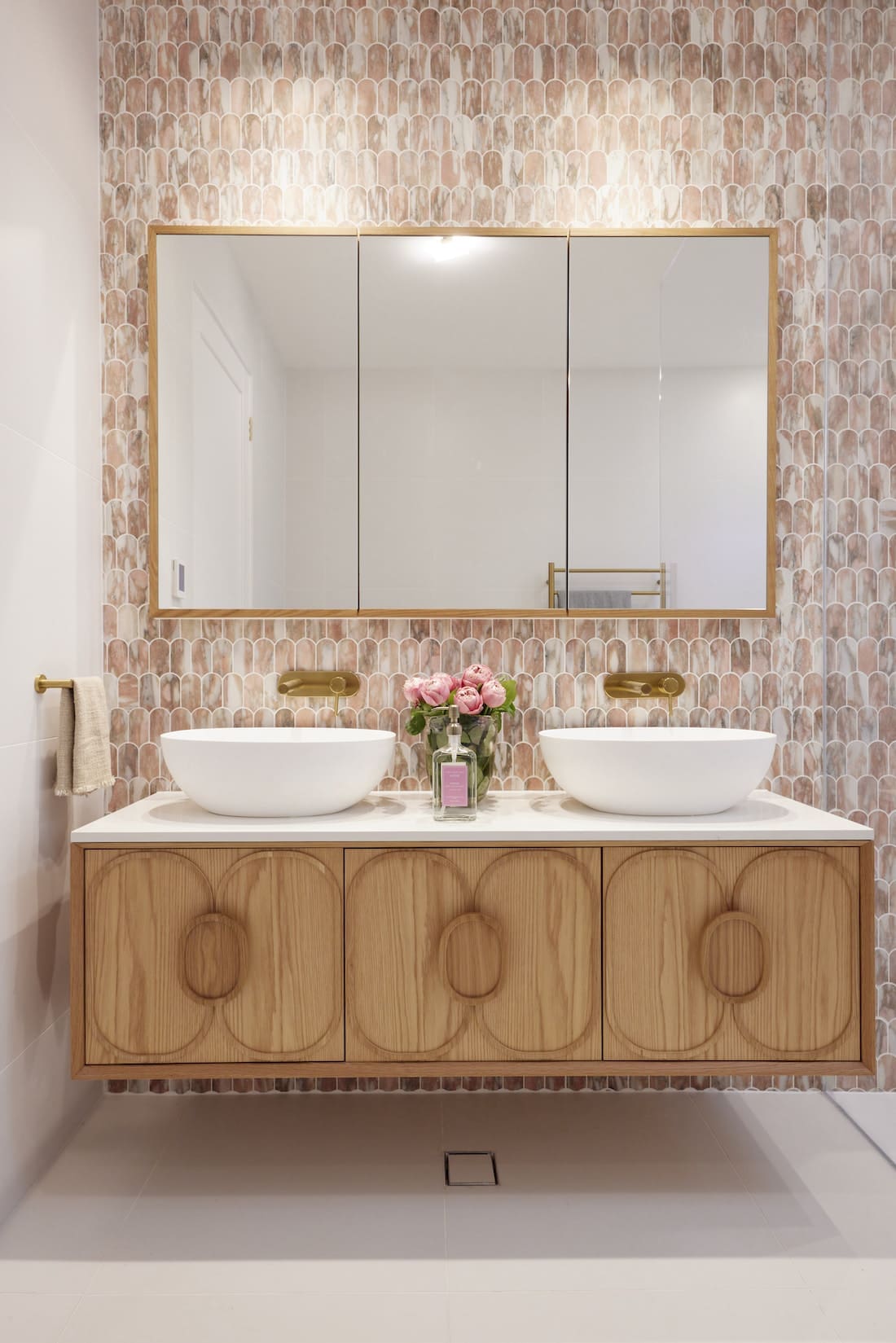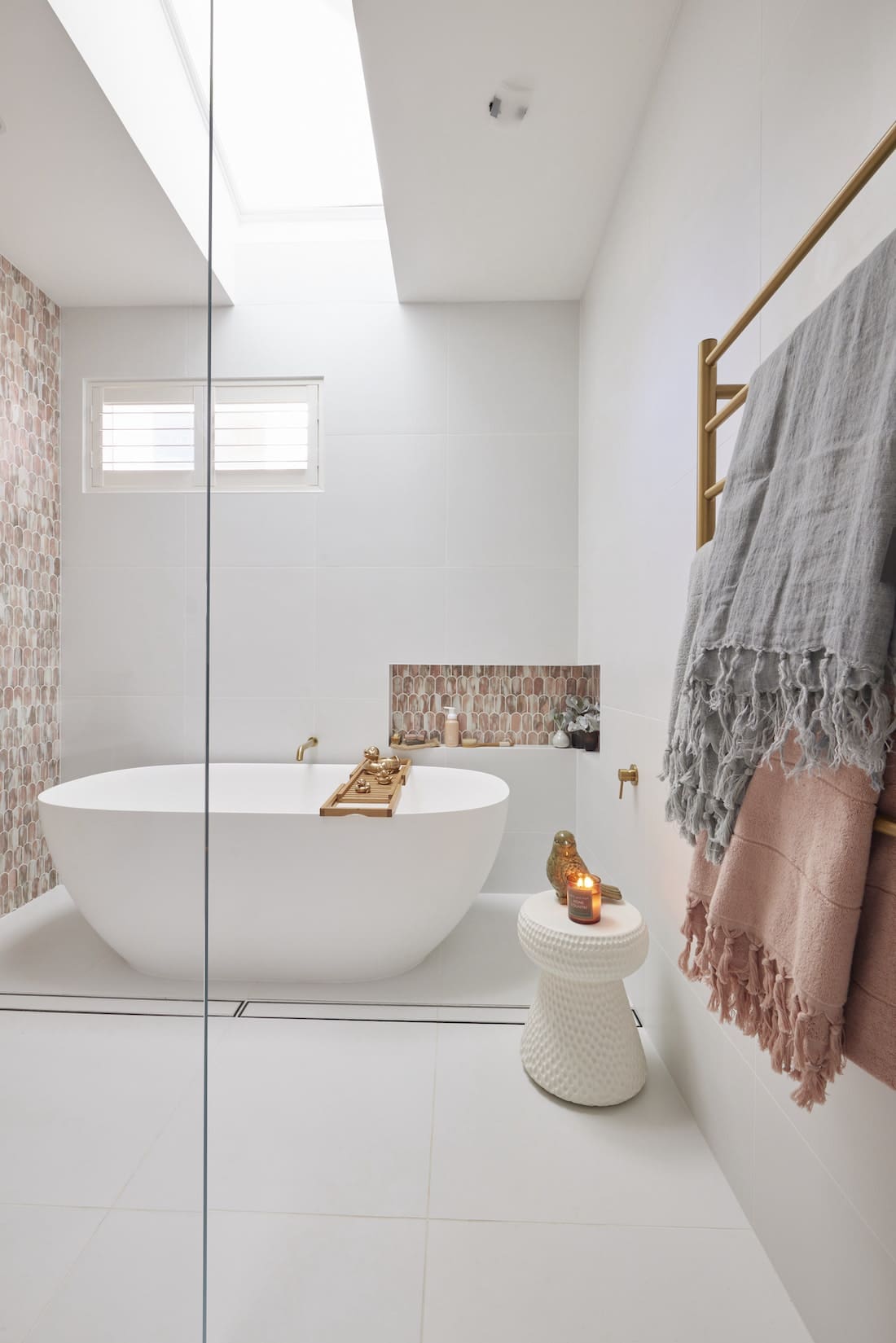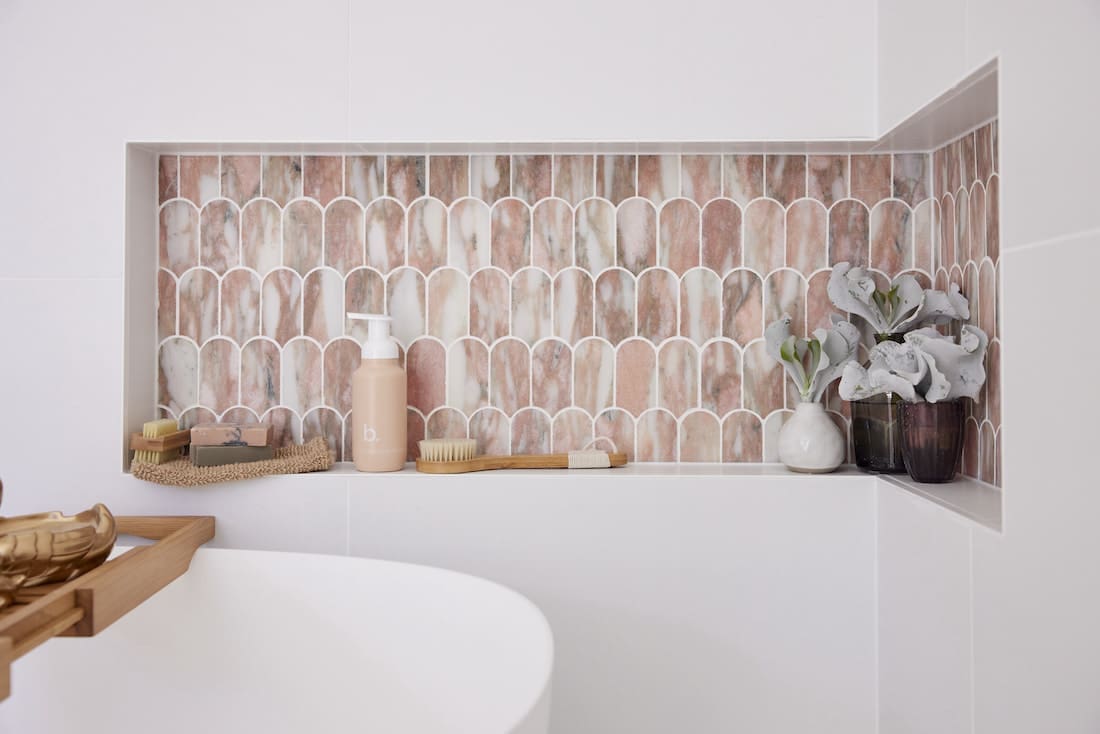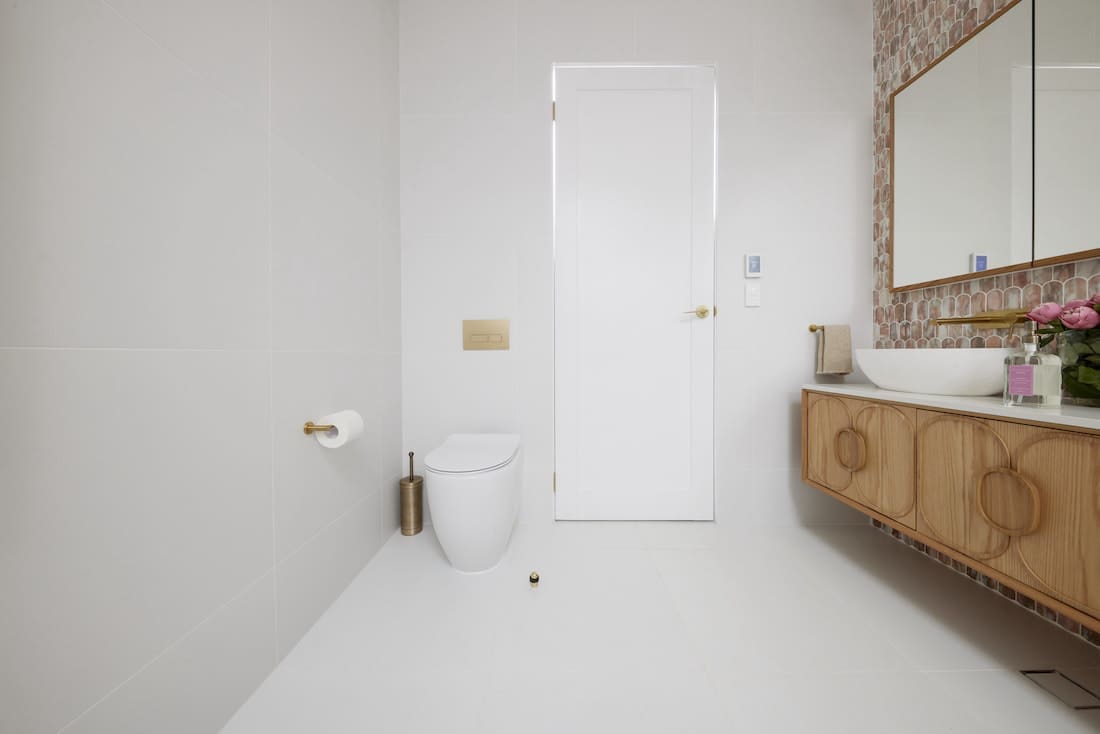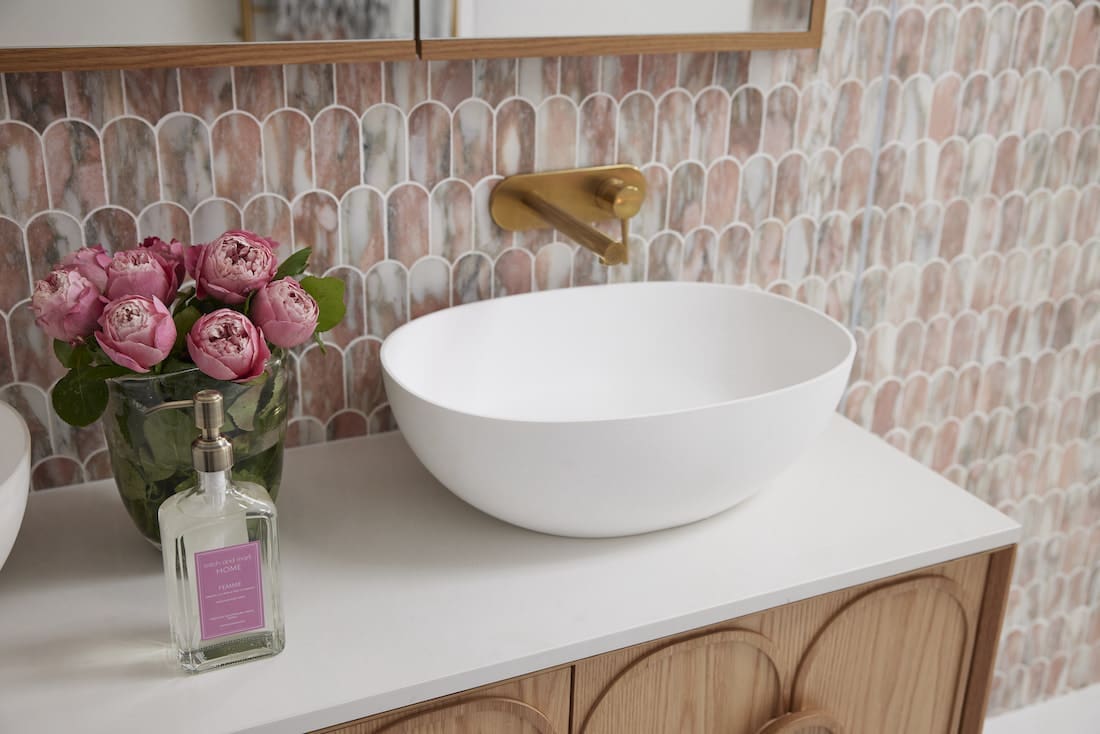 Tanya and Vito
The priciest of all the bathrooms this week, Tanya and Vito created a modern Moroccan bathroom. And we applaud their bold choices.
Terracotta tiles are coming through strongly and their feature tile is HEAVEN! We love how they used it — far more restrained and effective. Bonus points from us for creating a glass-free shower! Pairing it with that terrazzo floor tile is genius and the handmade square wall tiles add a beautiful texture to the space. The arch mirrors and black accents offer that modern element. And those concrete basins are the perfect complement to the feature wall. Styling could use some work but overall we loved the space and thought they should have tied for 2nd place.
The judges felt the room had beautiful ambience but the lack of toilet was controversial. As were the lack of towel rails… umm, do we not spy 3 vertical heated towel rails by the shower and additional hooks around the room for a hand towel and bath towels?! They did love the huge shower and how uncluttered the walls were to create the feeling of space though.
This ensuite is also a big change from their bedroom last week so we're not sure about the cohesion of their renovation so far, but it is only week 2, so we're excited to see what they do next.
Cost: $35,237
Score: 24½ / 30 (3rd place)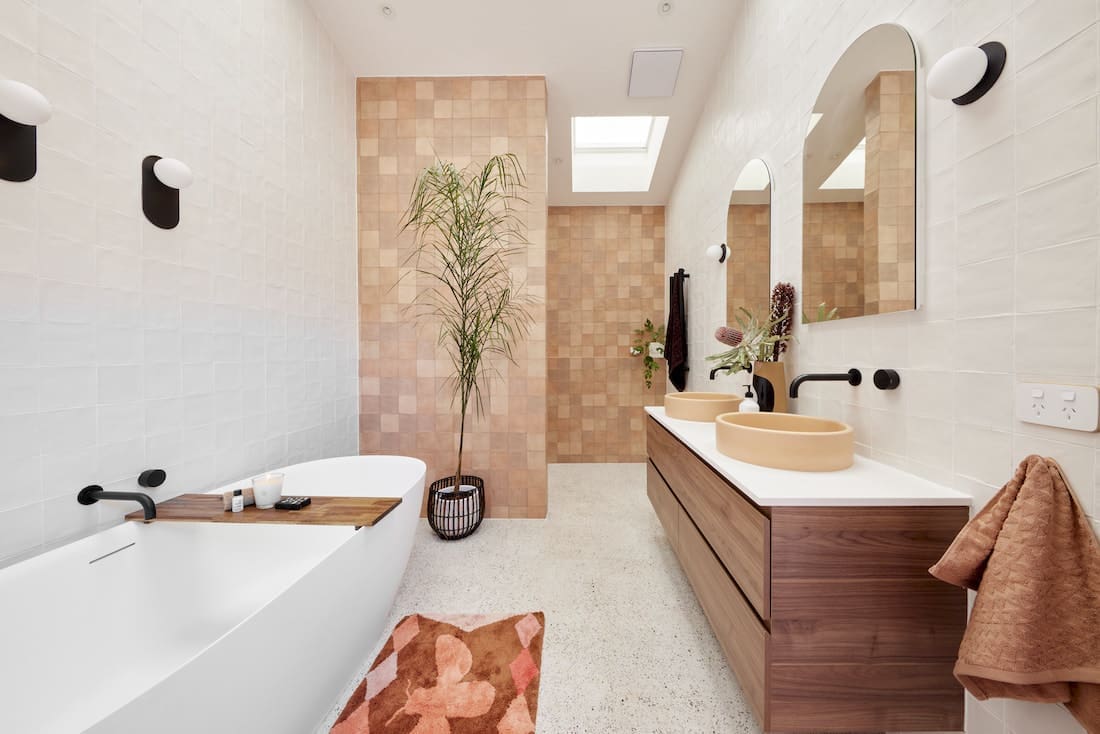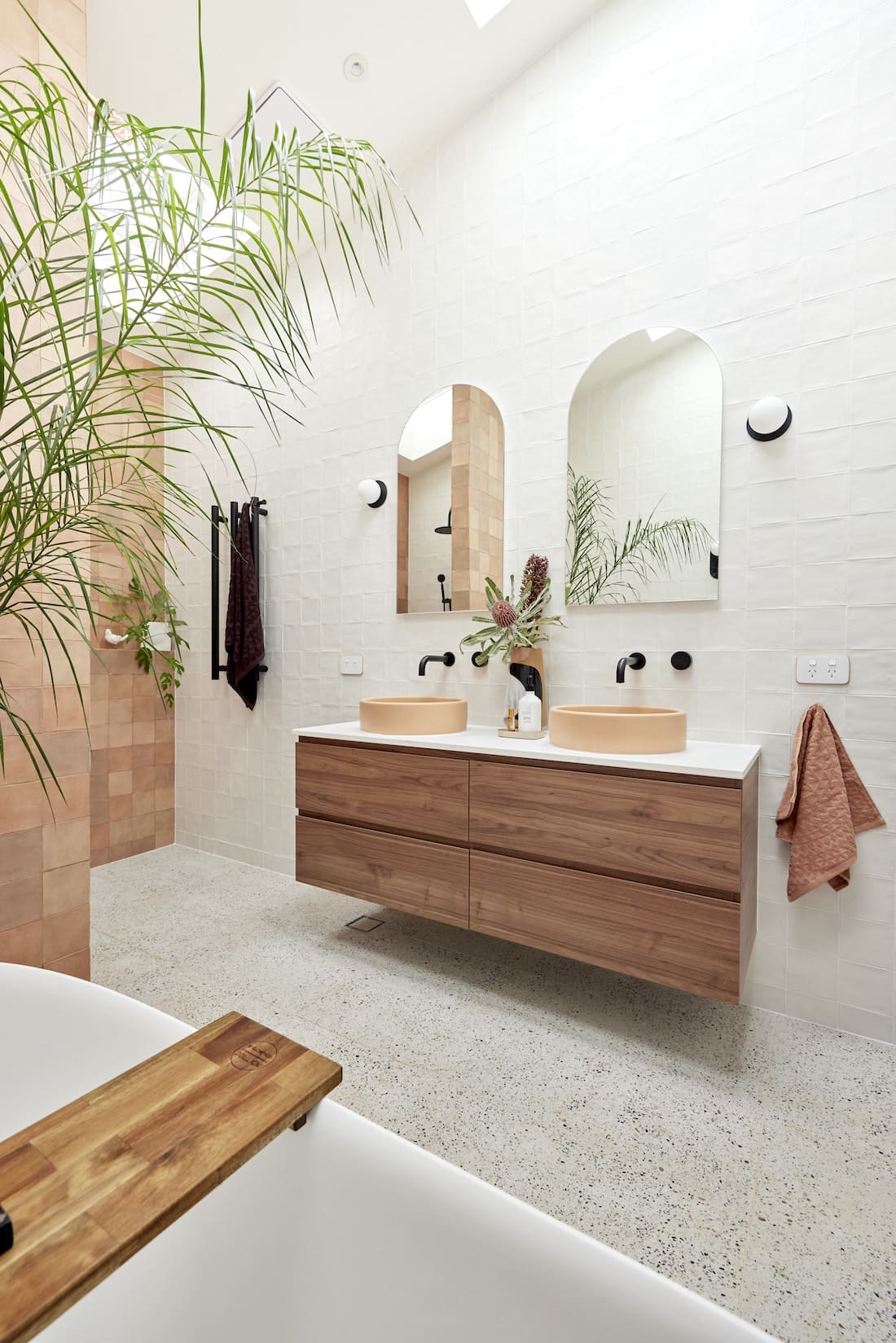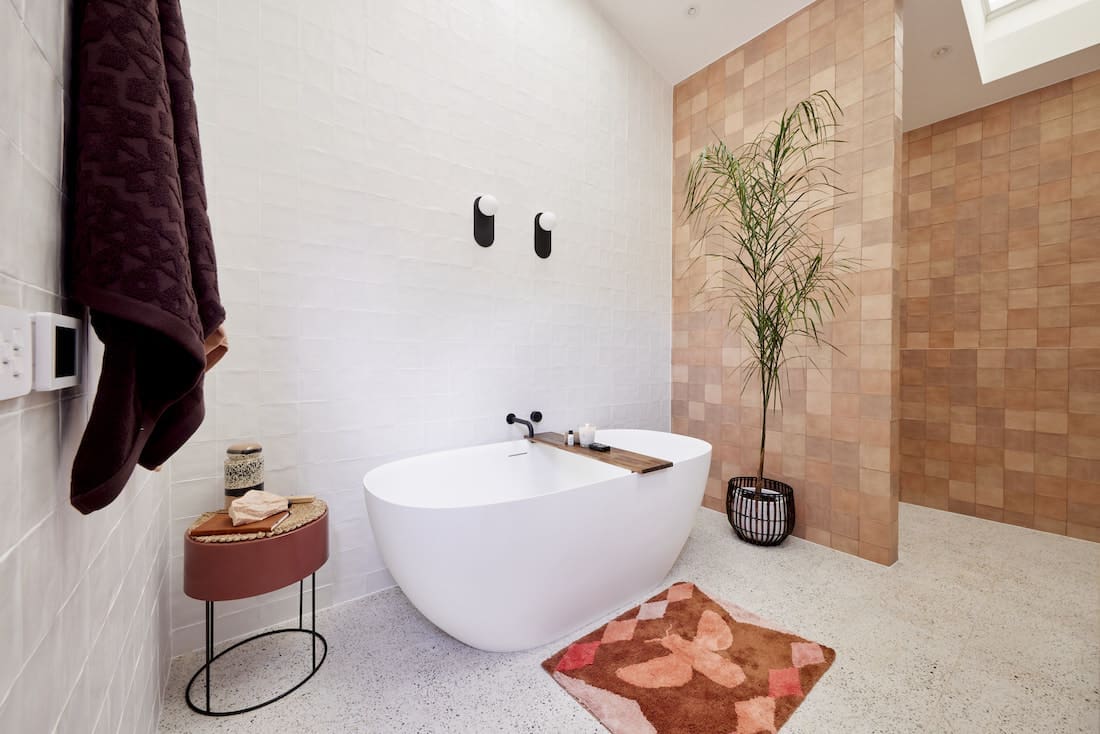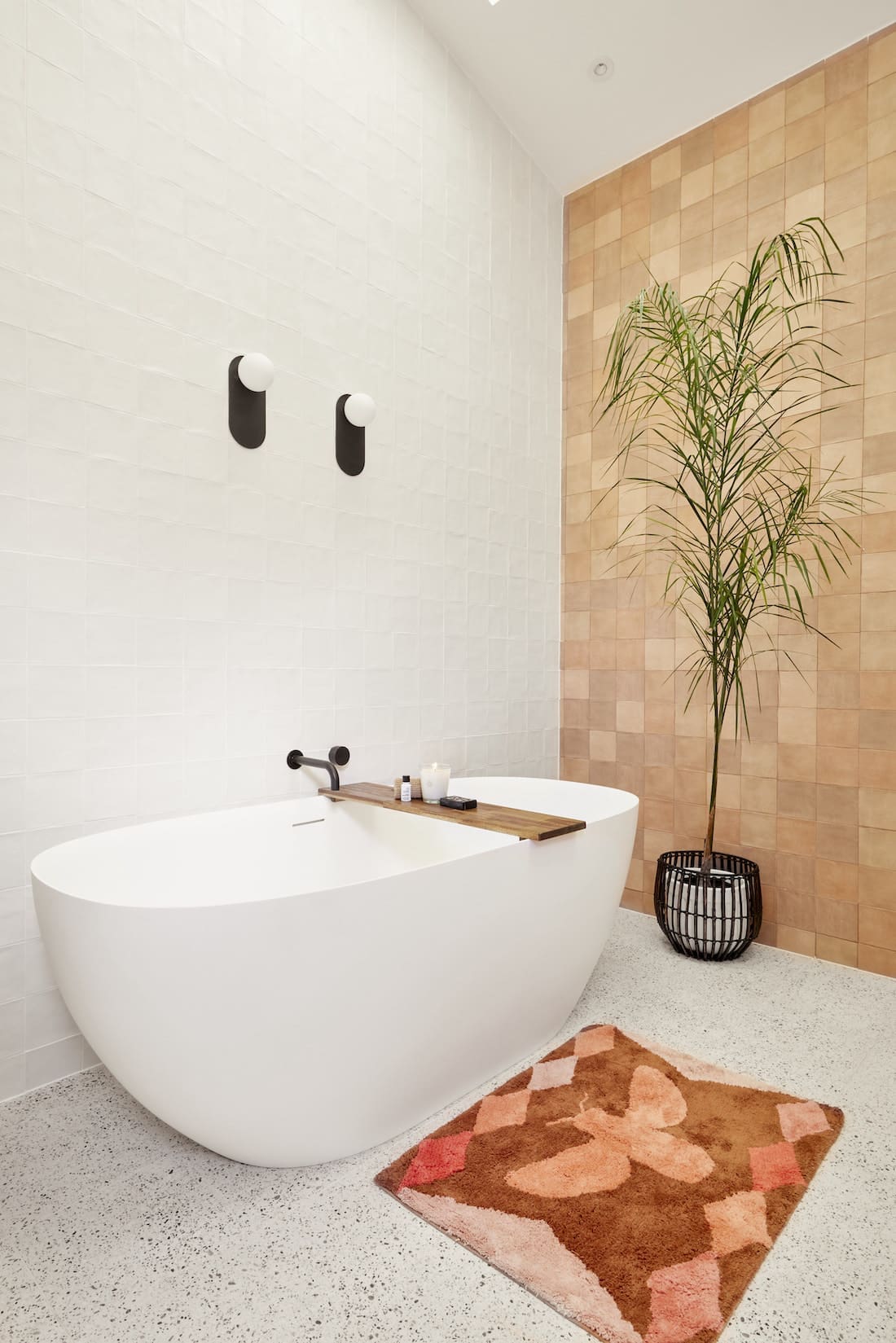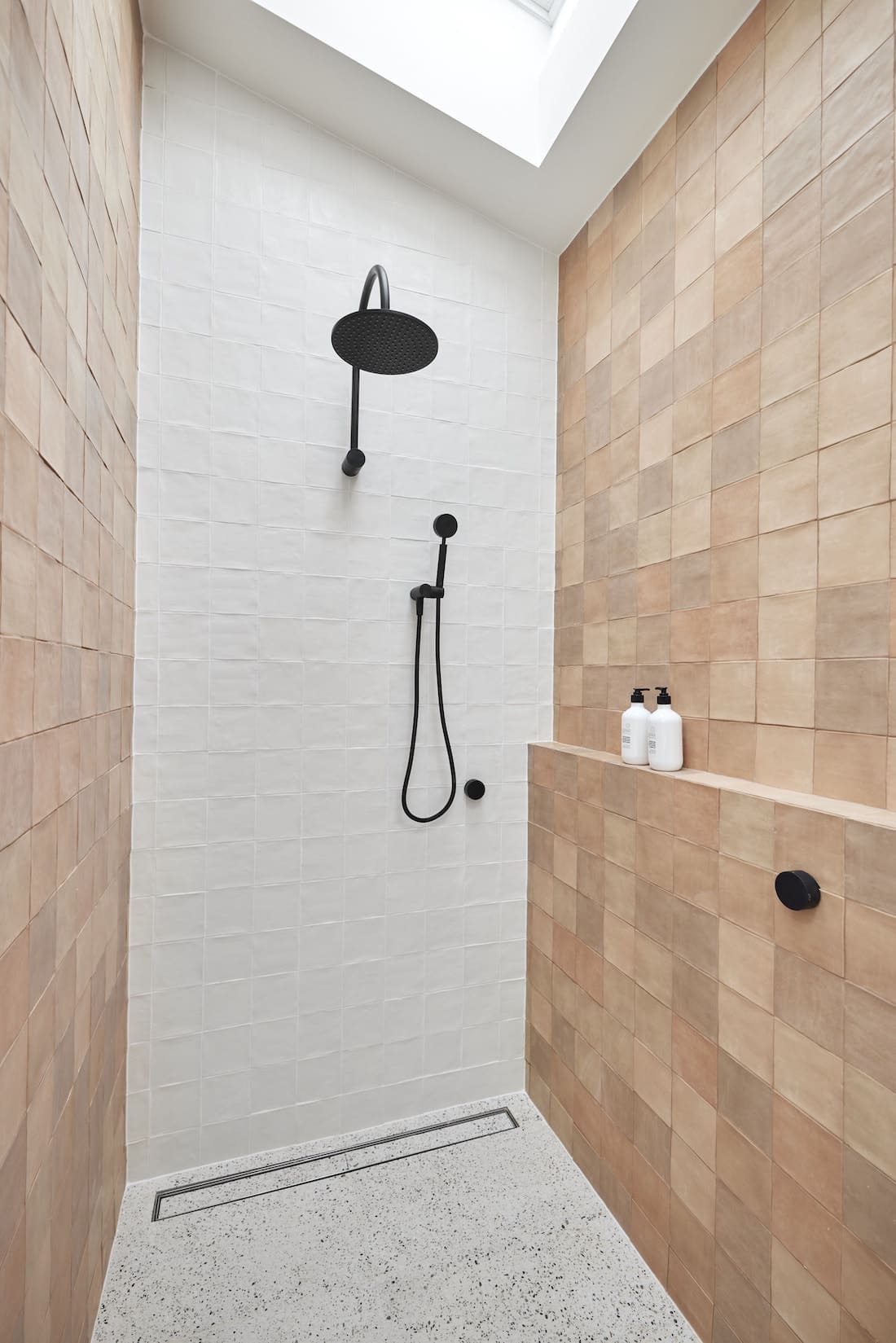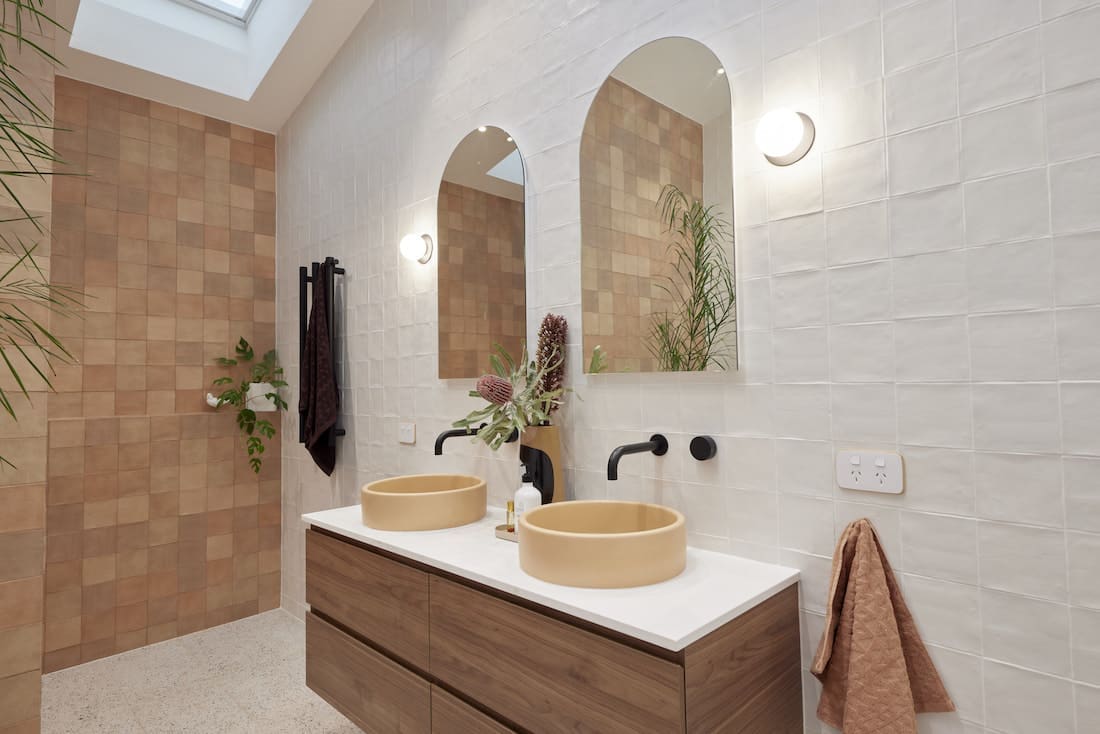 Josh and Luke
This bathroom is bigger than some small apartments — it's huge! Josh and Luke scored pretty low this week and we get it, the room doesn't have the same level of sophistication as the other bathrooms.
It's visually distracting how they only tiled up half the wall. We're the first to embrace the half-height tiled look when there's design intent behind it (Gina used this in the Erskineville bathroom). But in here, with the painted wall above, we're left questioning if they ran out of time or were simply trying to keep costs down. How has it been finished? Is there a chrome angle running around the top of those tiles? Whatever the answer, it's a no from us.
There's so much potential in here though and hopefully the guys take on board the feedback for their next bathroom. The dark and moody palette, TICK. The Venetian plaster, TICK. Those pill-shaped mirrors, TICK. And that vanity, TICK!
The judges also weren't so keen, putting them in 5th place with comments about the 'unusual chocolate a cheese styling on the bath board'. This is when we roll our eyes and try to focus on the ACTUAL bathroom features. This room will serve as a Jack-and-Jill style bathroom to the guest bedroom from last week, as well as a future room planned on the other side.
Cost: $25,356
Score: 20½ / 30 (5th place)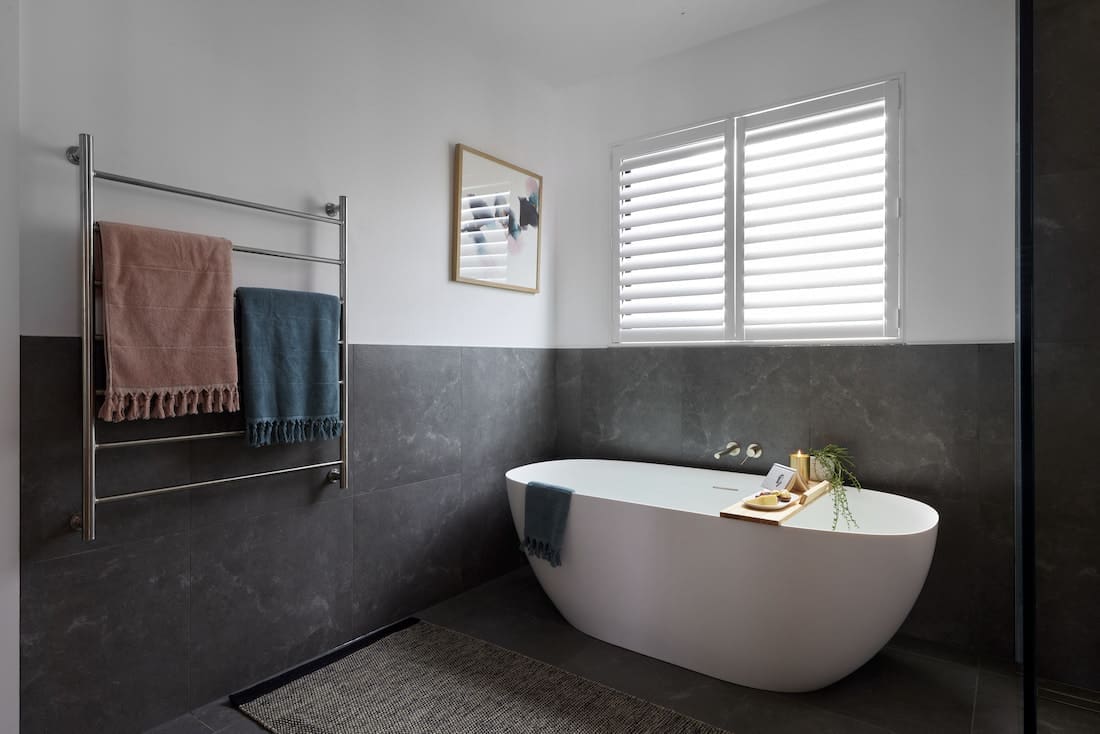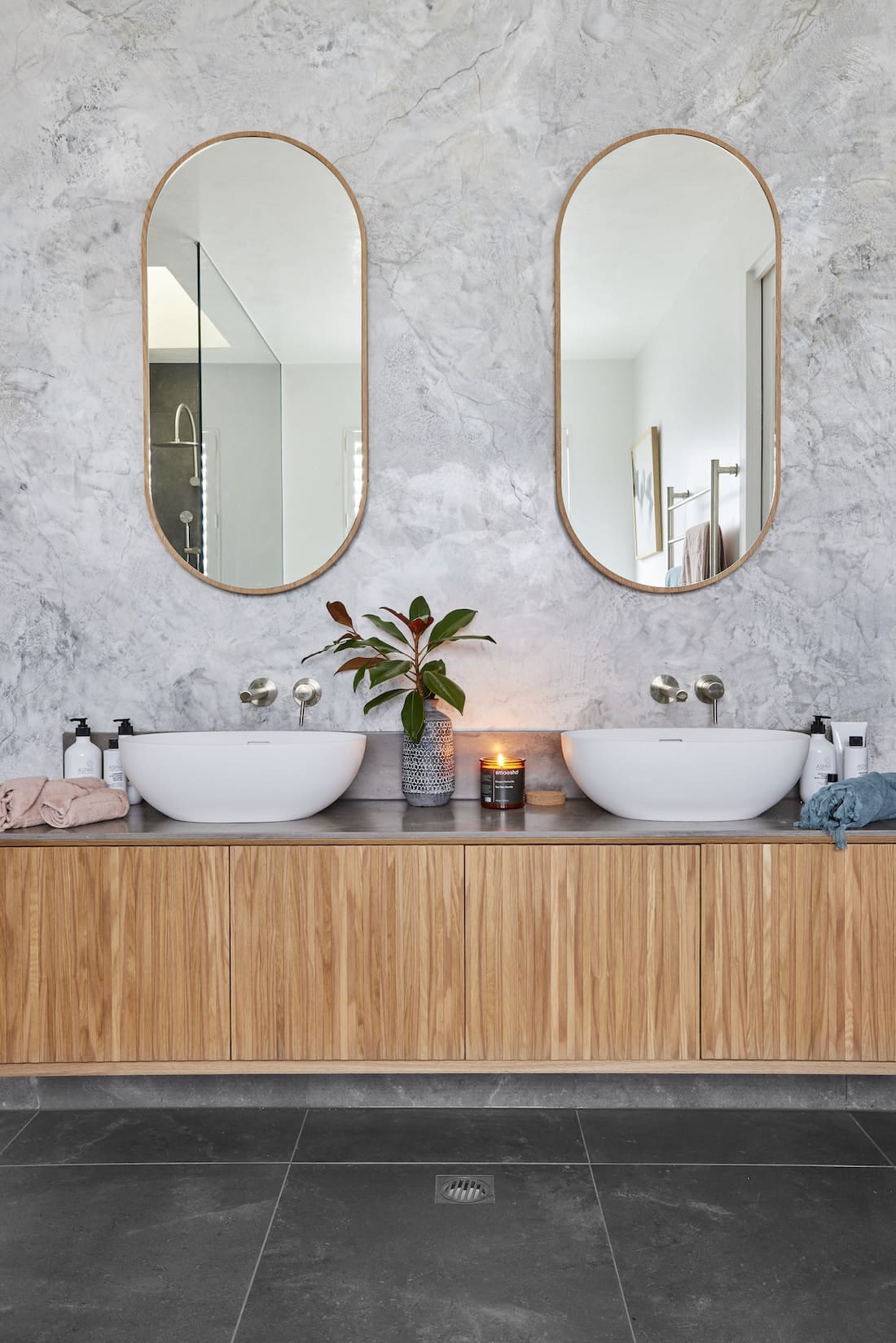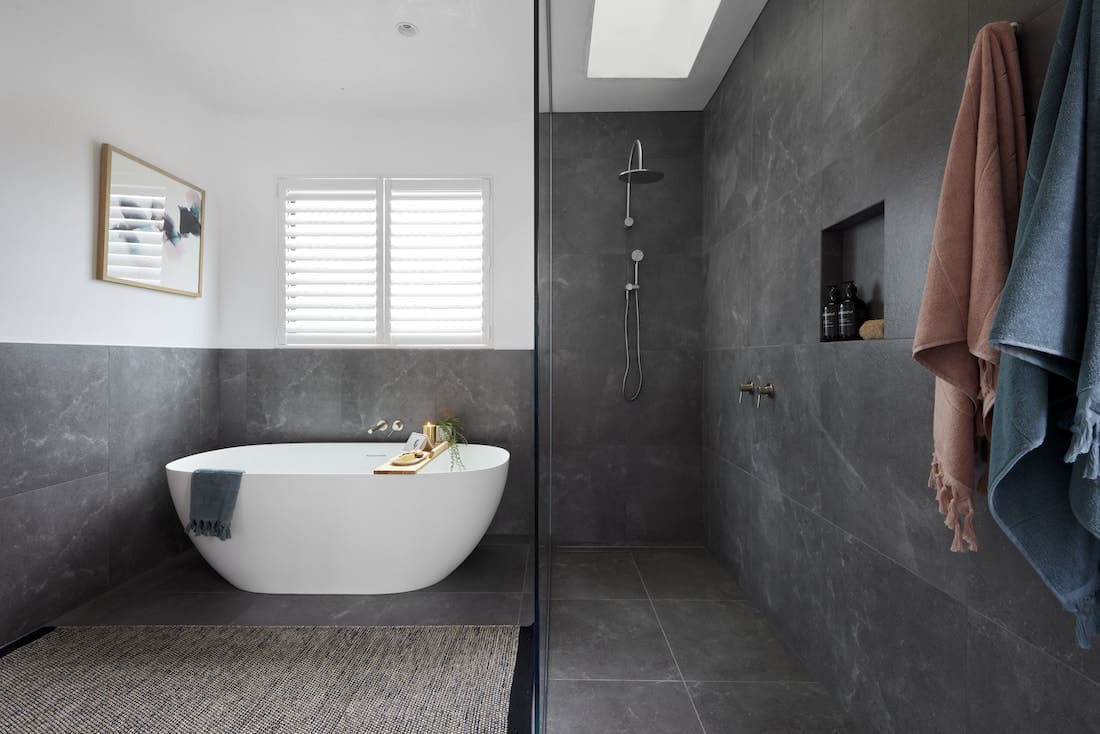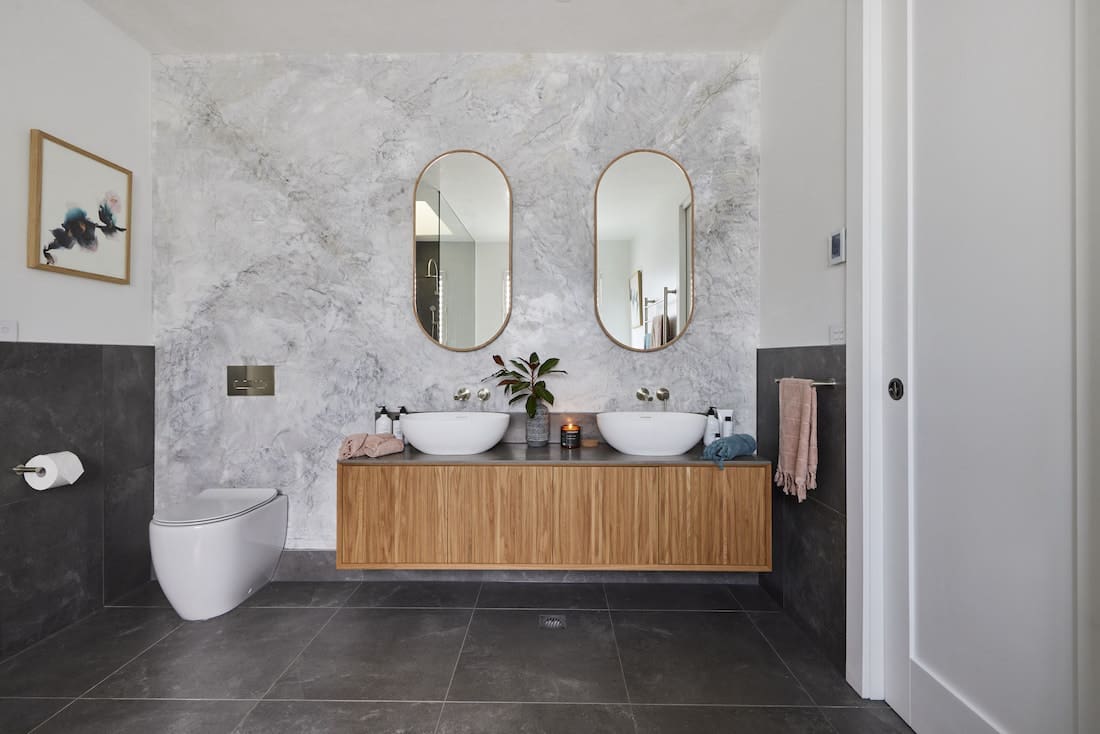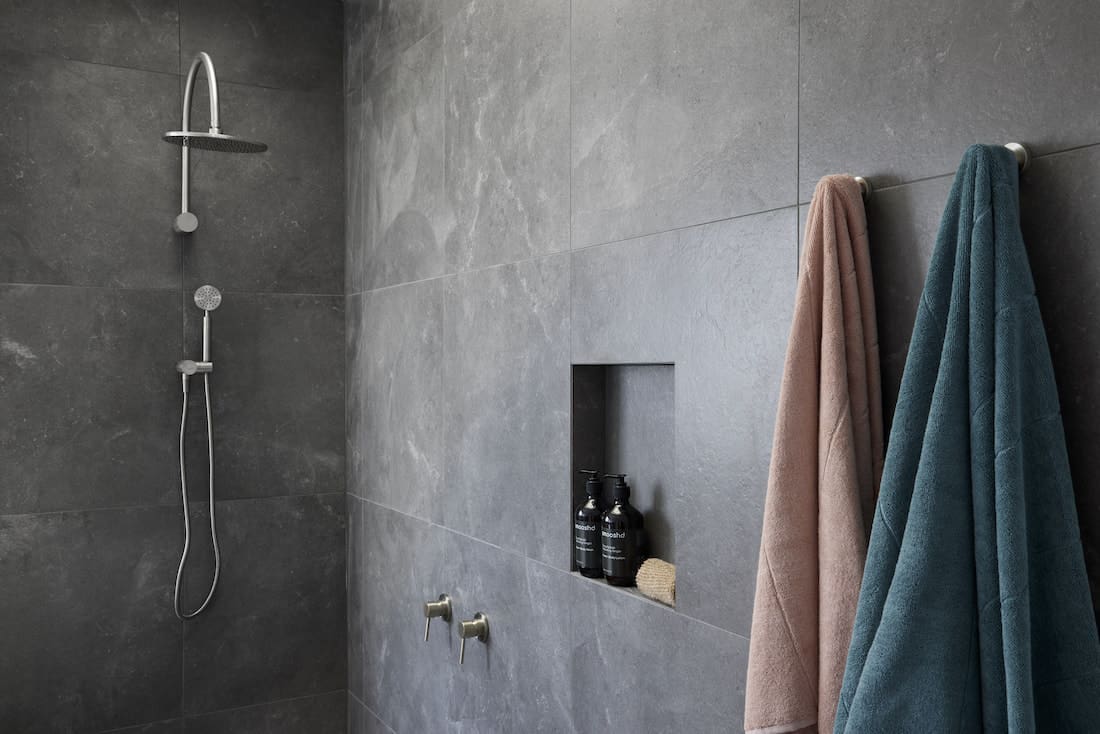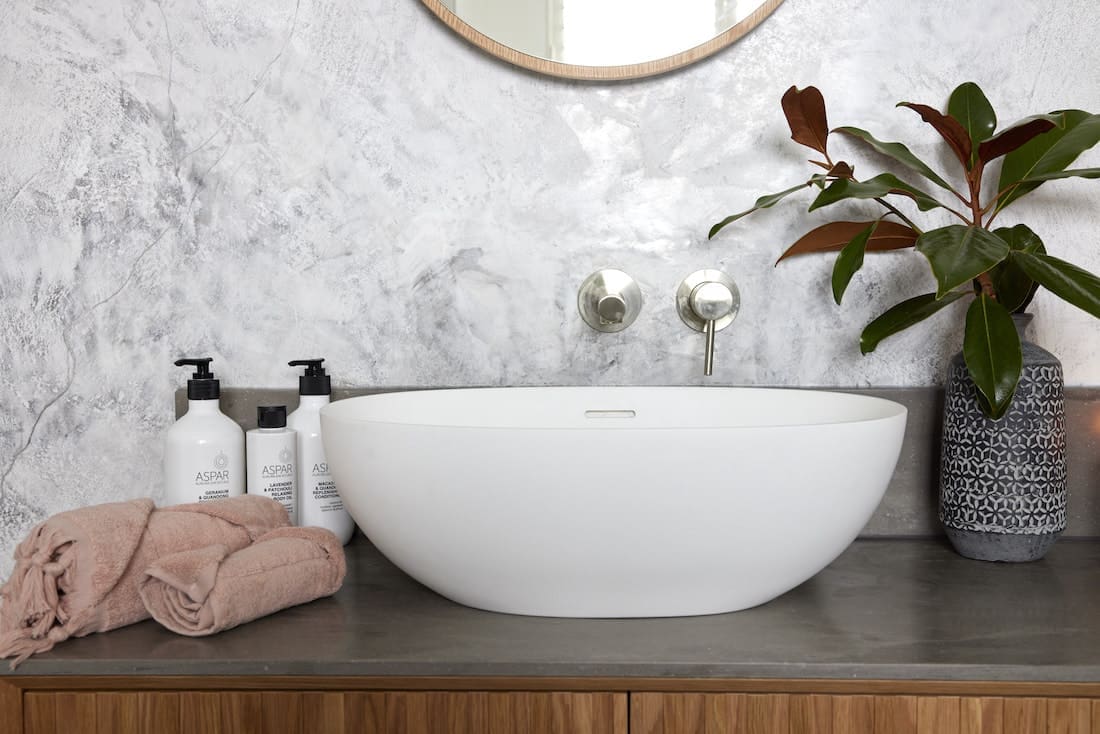 Kirsty and Jesse
Continuing the Hamptons style from their guest bedroom last week, Kirsty and Jesse delivered another pretty room in a feature blue. Their room was small, but well executed.
Look, there was nothing wrong with this bathroom — it was perfectly nice — but we were kind of hoping for something a little more exciting from Kirsty and Jesse. Having said that, it works well with the bedroom they delivered last week as they seem to be leaning towards a Hamptons / coastal vibe for House 5.
The judges felt the bathroom was neat, compact and well appointed. Erring on the small side, the space was nicely laid out and functional. Big ticks for the gorgeous skylight which allowed plenty of natural light to filter the space. The judges also like the powder blue sink and shower tile choice.
Cost: $19,022
Score: 24 / 30 (4th place)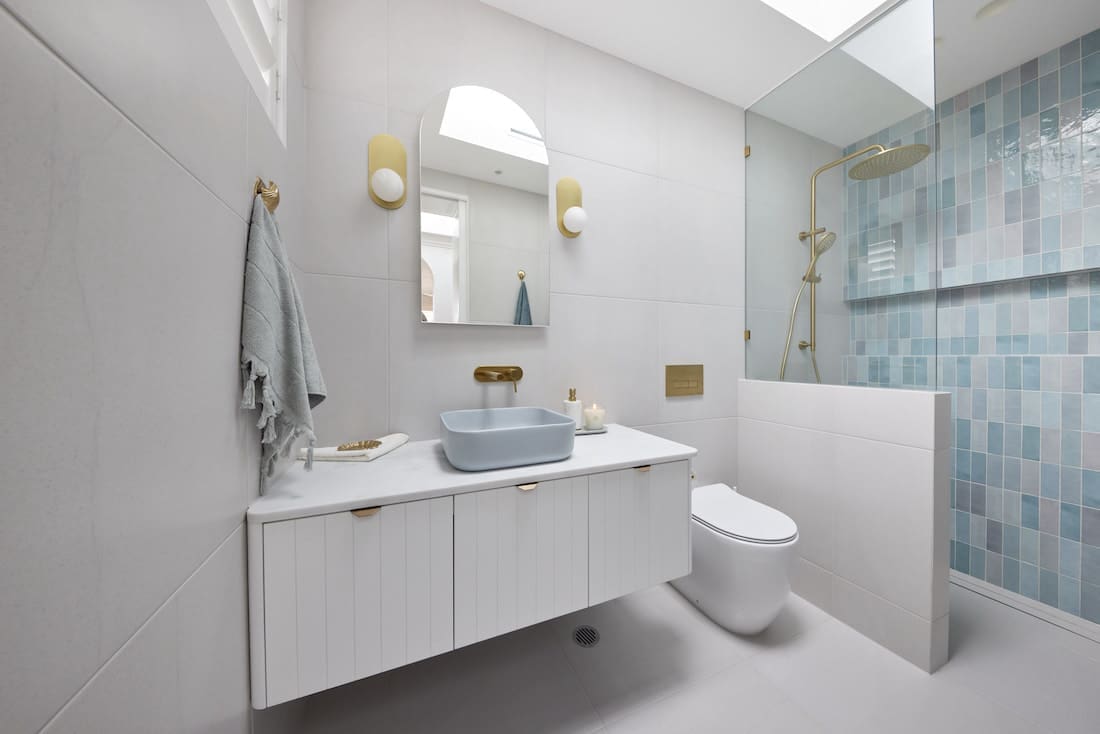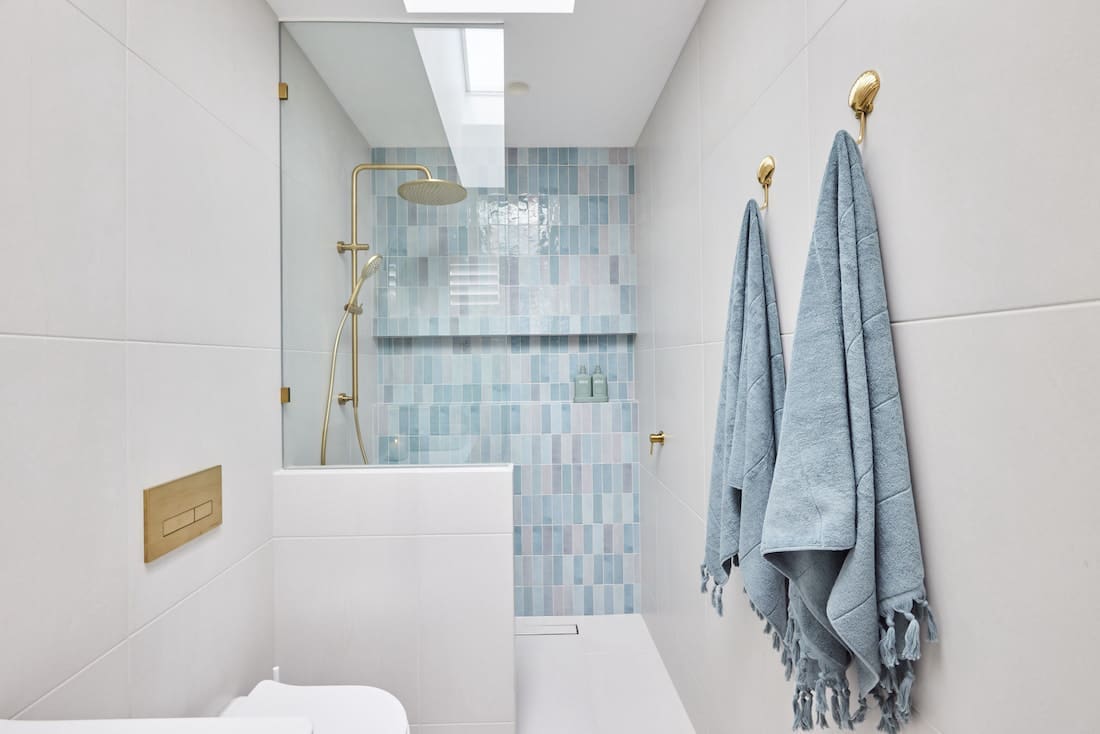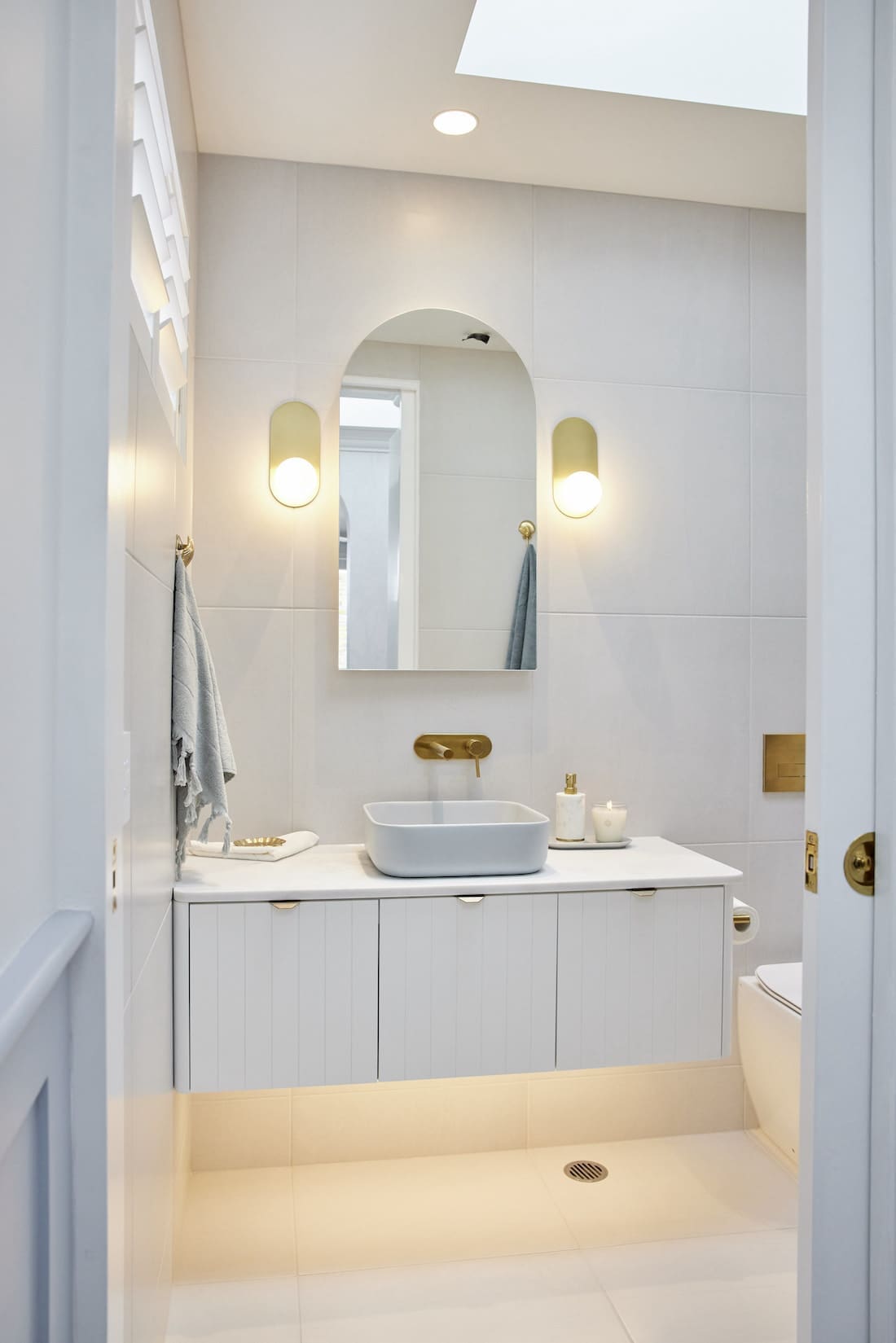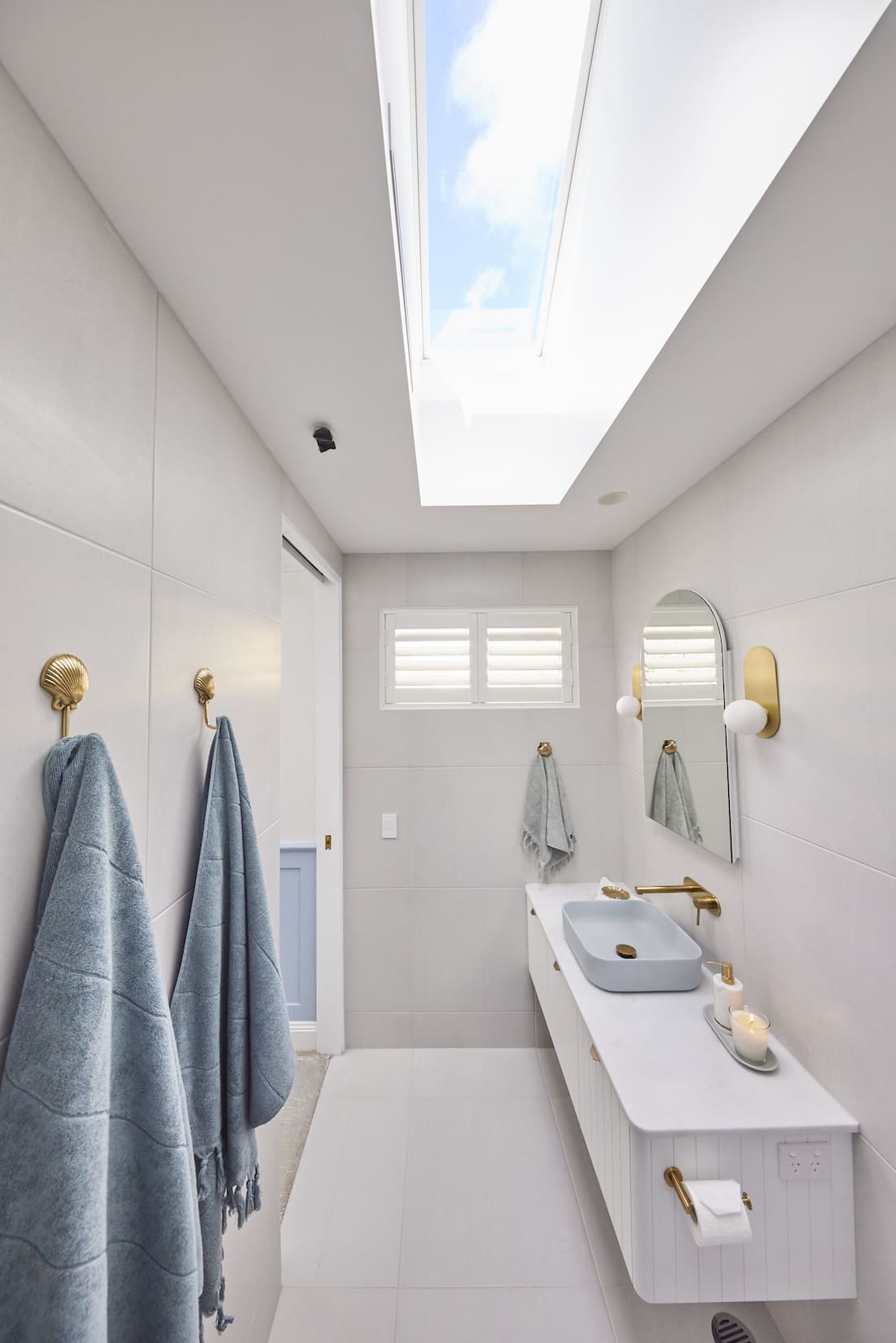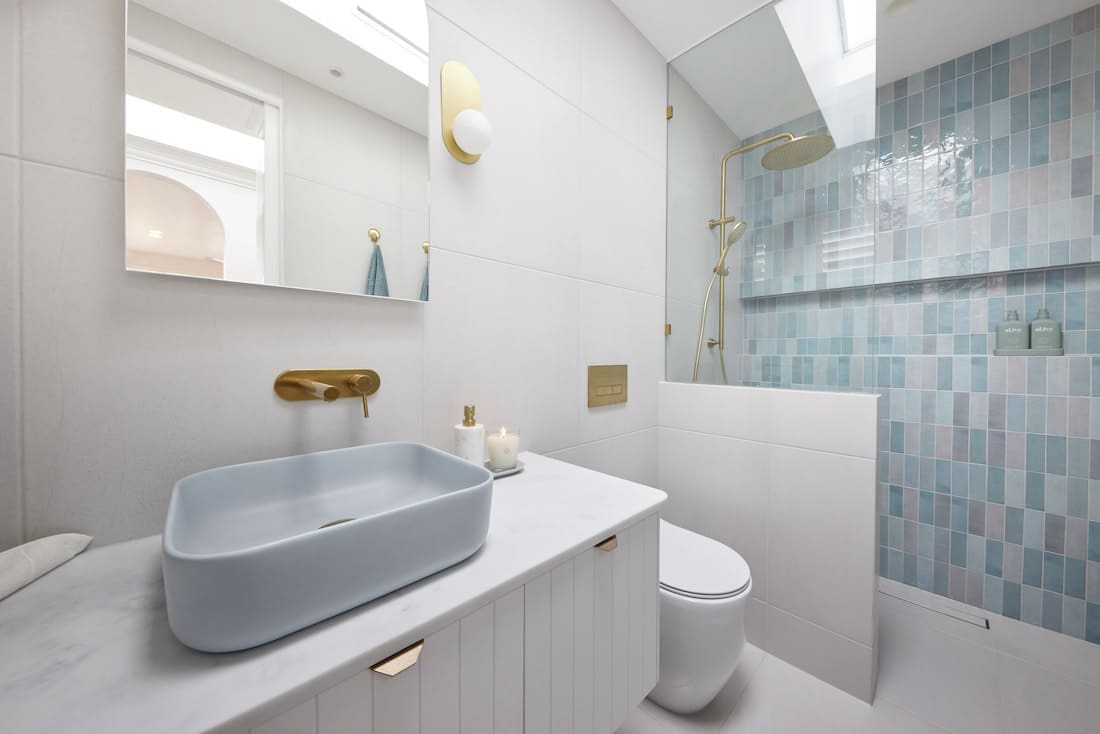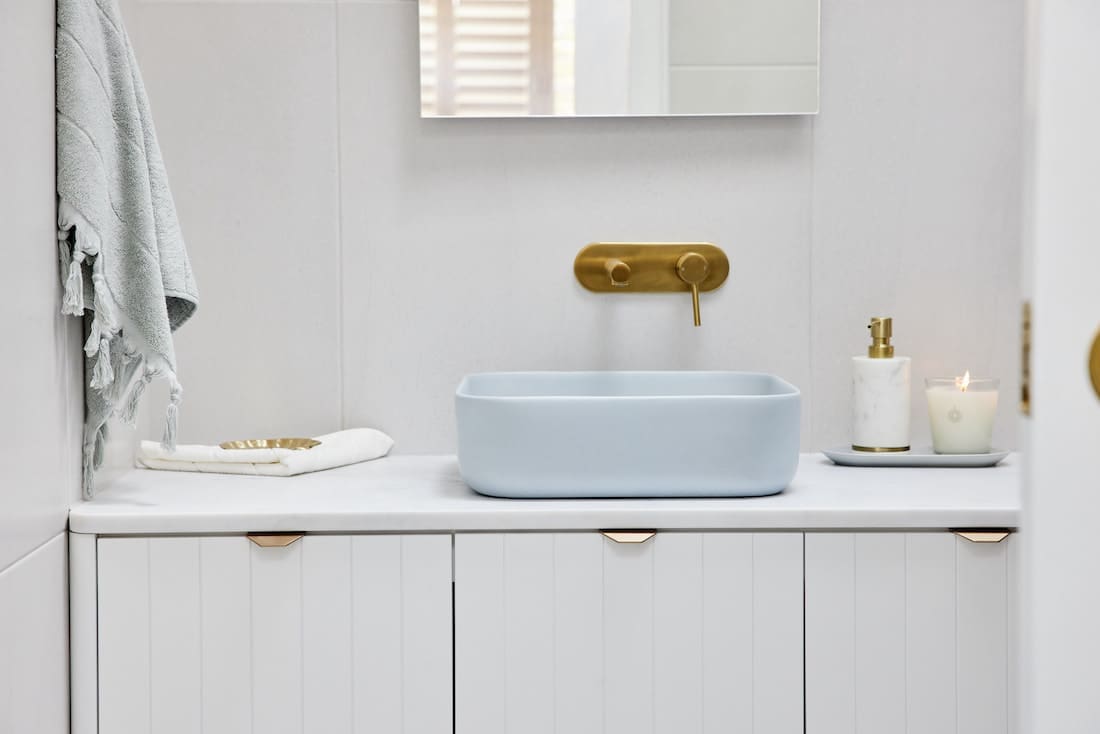 There was big variety in this week's guest ensuite reveals. What were your thoughts? Did you have a fave? Or a feature you fell in love with? What about the scores — did you agree with the judges (or us?!). Tell us in the comment section below!
Be sure to check out The Block Shop if you've spied something you love in this week's room reveals. And you can catch all The Block 2021 goss on the nine now official website.
All imagery by David Cook Photography