Custom joinery gives you the ability to tailor design to suit your personality, lifestyle, and space. It's an investment that can completely transform and add value to a space — both aesthetically and functionally.
We chat with Jessica Ball, Senior Interior Designer at Koichi Takada Architects, to get her insights on the dos and don'ts of custom joinery.
"I'm passionate about the possibilities and benefits of custom joinery deign. Whether it's a custom kitchen, in-built bookshelf or study area, custom joinery allows freedom to use an existing space to its advantage. It allows greater freedom in creativity and customisation of form, proportion, texture, materiality as well as functionality."
Do use custom joinery if…
"You have a specific functional need or uniquely shaped space that you want to maximise. Areas in which standard/prefabricated joinery would not fit effectively. Custom joinery means you are not restricted in terms of size and shape — it's a made to measure service," explains Jessica.
"I also recommend this option if you want to create a flexible/multifunctional living and work space. Joinery can be designed to be repositionable, moveable and flexible. Further, create an interplay of conceal/reveal for storage, display and function. This is becoming increasingly important in residential design as the demands on our homes to function for multiple uses (work/life/play) increases.
"The other main reason to use custom joinery as opposed to something off the shelf is if you want to create a holistic and seamless look. A look that ties in with design/architecture of your home."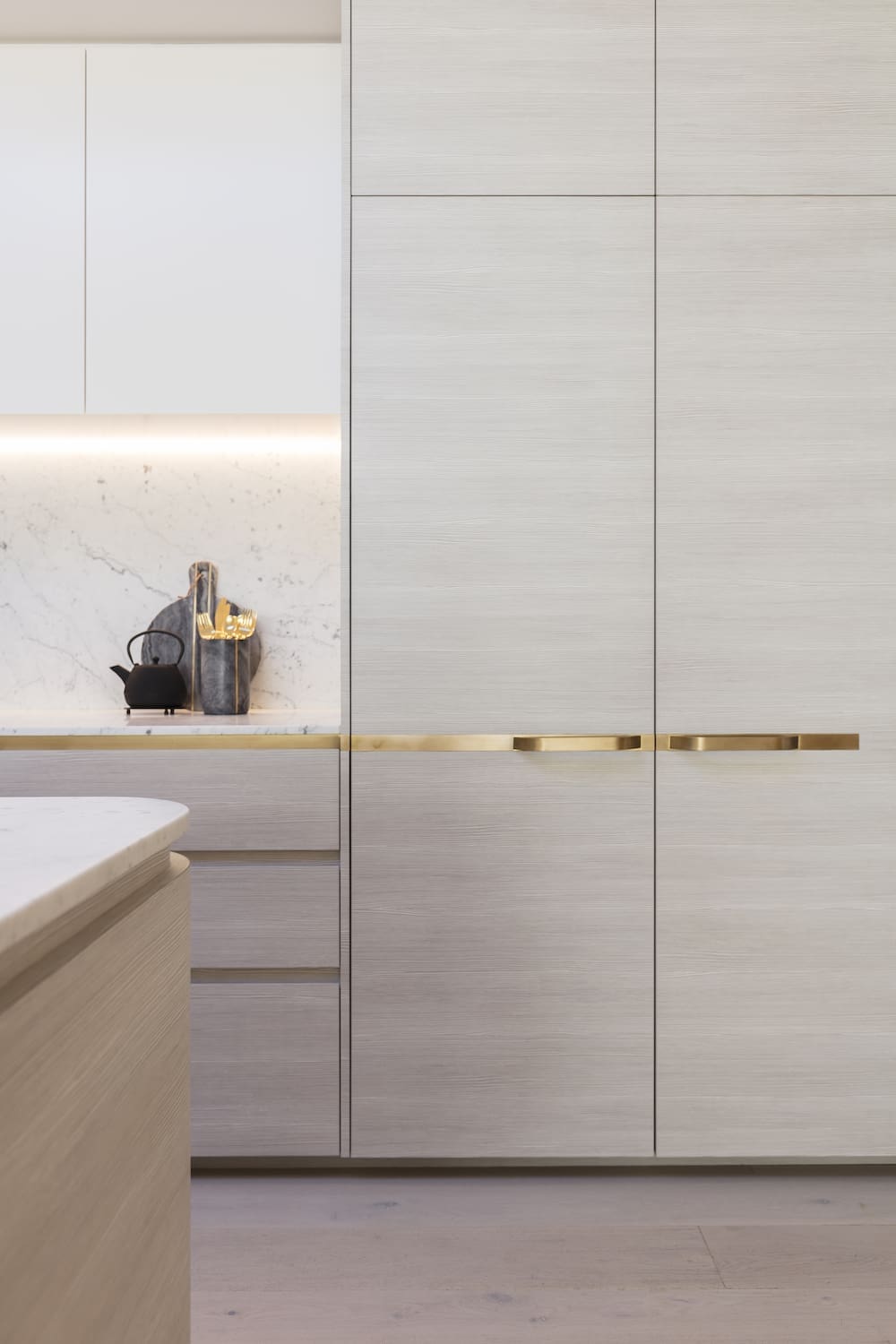 Don't use custom joinery if…
"If you have critical time constraints!" warns Jessica. "With custom joinery, everything is created from scratch and generally takes longer to build than prefab/flat pack joinery. If considering custom, you need to be aware of the time it takes to select and source preferred finishes, ordering and lead times.
"The other main reason you would avoid custom joinery is if you also have budget constraints. Custom joinery can cost more due to attention to detail and quality of materials used, and cost of additional tradespeople. However the price tag usually equates to a higher quality product in the end. Although with less maintenance and need for replacement it can save you money in the long run."
Do use custom joinery to create a seamless relationship between indoor and outdoor spaces.
"At Koichi Takada Architects, we generally use custom joinery to embrace views and natural daylight. Use subtle, reflective materials to reflect views and bounce natural daylight throughout a space. By maximising natural light like this, you'll make a space feel bigger and more luxurious.
"Another way you can enhance the connection between indoors and out is by using materials that reference those found in the natural surroundings of a space — textural layering of timber veneer or timber laminate and natural stone. Introduce subtle curved corners or edges in a joinery wall or kitchen island bench. This can soften circulation and flow and reflect organic forms found in nature."
Do pay attention to handles
"We see joinery handles/door pulls as the jewellery of the home — elements that allow the personality of a home to be revealed. This level of fine detailing in joinery can contribute to and echo a holistic style and aesthetic throughout. Generally, we recommend recessed finger pulls to keep the overall look of the joinery streamlined and sophisticated.
"However, in some of our recent projects, we used custom designed solid timber handles with subtle organic curves. These create a tactile and highly personalised feature of the space. It also ties in with the overall geometry of the architecture and interiors."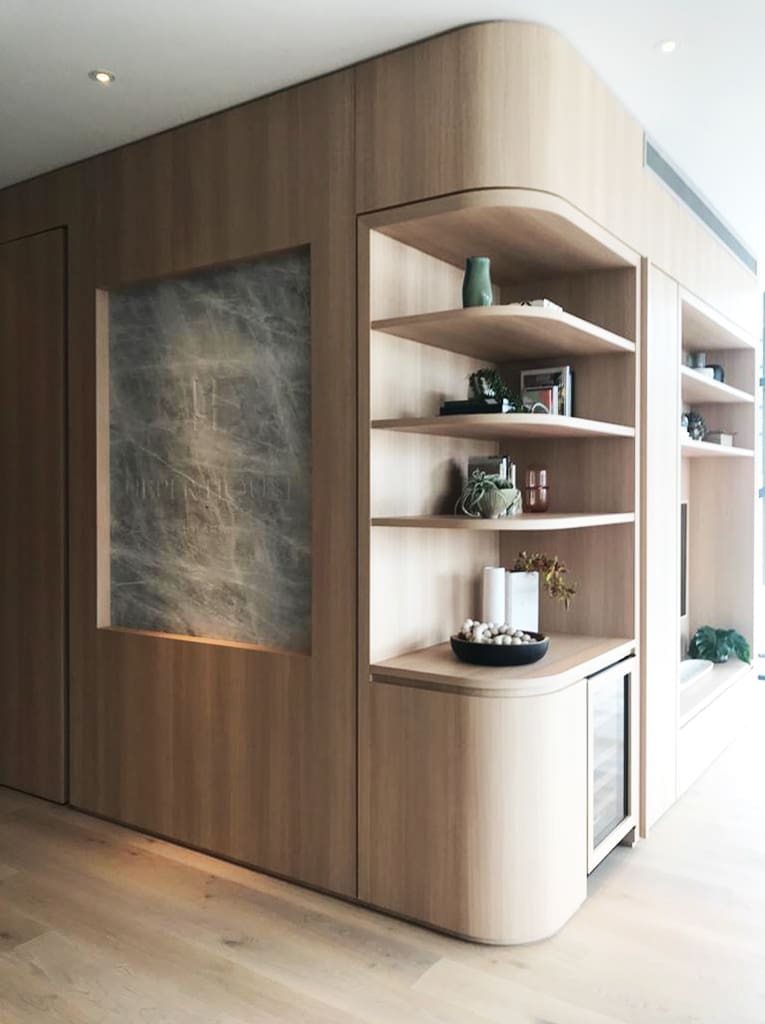 Don't skip doing your research
"There are so many options on the market now — especially around internal hardware. Internal hardware (the mechanisms that open and close the drawers) gives your custom joinery longevity, structural integrity and functionality. These features can add value to your custom joinery.
"These can include as soft close mechanisms for cupboards and internal drawers, organisational inserts for drawers including cutlery, cooking utensils, bottle and plate storage, pull out pantries, lift up doors for top cupboards for better access and use of space. Look for well-known brands like Hafele that offer long-term warranties."
Do look for opportunities to maximise the height of a space
"Custom joinery allows you to extend up to the ceiling. Overhead, high level joinery is great for longer-term storage of items. The extended joinery height will create the illusion of space, volume and luxury."
Don't conceal everything behind doors
"Find the right balance between storage and display. Closed cabinets create calm and order and conceal clutter. Open shelving allows for personal style and display of objects and artwork.
"Custom joinery can allow for a careful curation of and balance between storage and display that allows the eye to easily navigate a space — providing focal points and pause/quiet points throughout the home/workspace.
"An example of this is our recent Central Park apartments project in Sydney where we designed sliding timber screens to conceal and reveal the functional kitchen zones. Closing off and backlit to create a beautiful lantern like feature and sense of calm and order when the kitchen is not in use."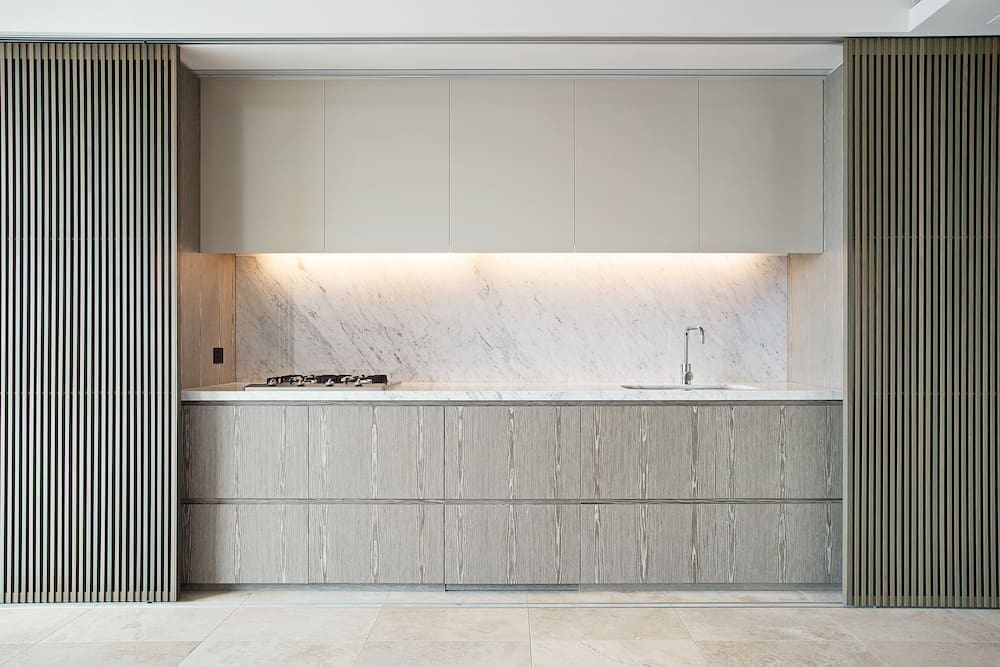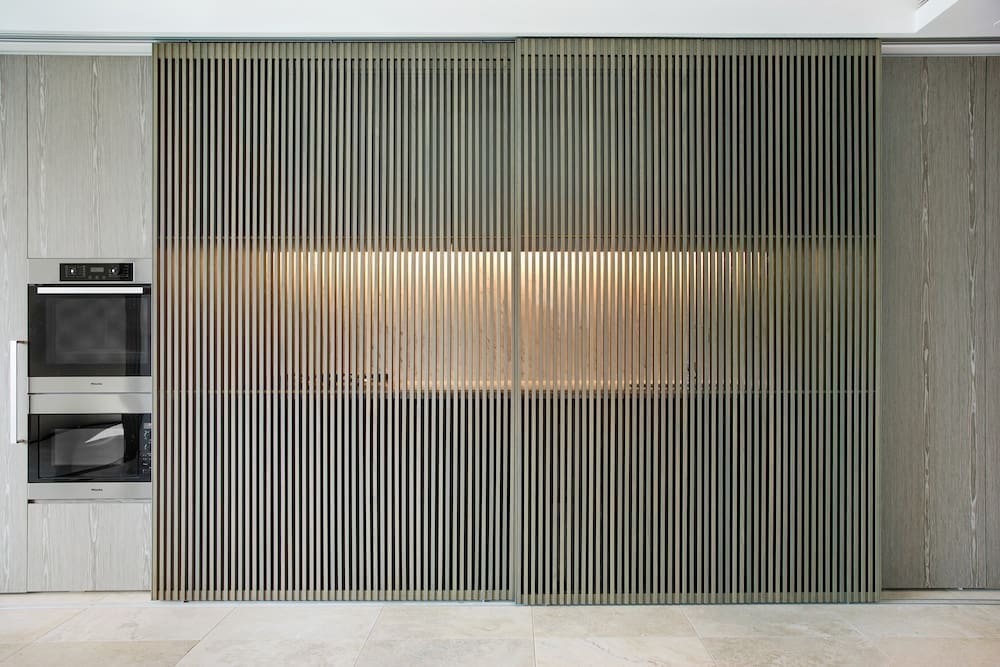 Do integrate lighting to enhance ambience and functionality
"There are many ways to do this, including integrating LEDs inside wardrobes or in overhead cupboards in the kitchen. You could even have lighting recessed into shelving to highlight display and artwork/objects. This can help to create a layering/interplay of light settings, moods and ambience within your home — as well as improve functionality. Dimmable lighting offers the most flexibility and ambience."
Do be realistic about your budget when selecting finishes
"Customise your finishes selection to match your budget. There are a lot of affordable options on the market that emulate the natural, luxurious qualities of timber and stone. Consider timber laminate in lieu of solid timber or timber veneer. Engineered stone or porcelain tile as a benchtop in lieu of natural stone.
"The timber species of the cabinetry (joinery structure) will affect overall price. Oak is the most cost effective if opting for a solid timber species. MDF or particleboard will be the most cost effective. However, it can be more prone to moisture and warping so won't give the longevity that a solid timber will. It's all about balancing your immediate budget with potential long term savings."
Do use adjustable shelving
"Adjustable shelving can be easily changed as our storage needs change."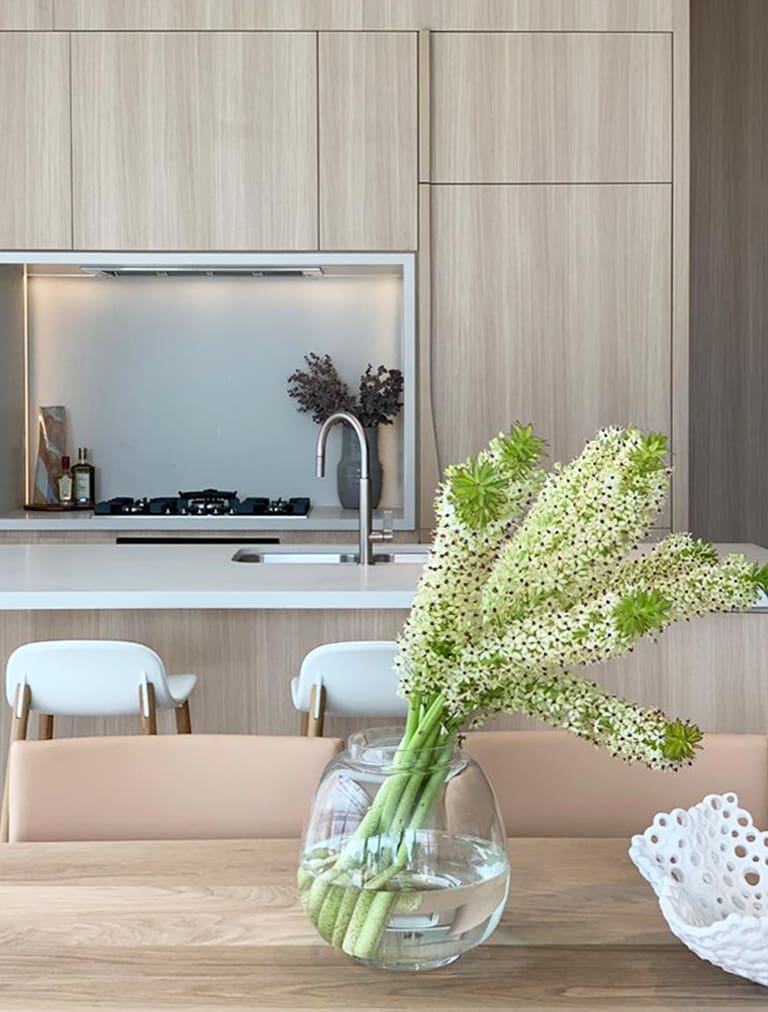 Do use some of Jess' tips to keep within budget
There's no denying custom joinery is more expensive than flatpack but there are ways you can keep costs down.
Combine prefabricated/flat pack base cabinetry (savings) with a custom benchtop, splashback or door pulls (splurge). This can add that touch of style and personality
Add solid timber edge to MDF shelving, focussing budget on the most visual and tactile part of the shelf/joinery
Rationalise the number of drawers. Generally drawers are more expensive than standard base cabinets with shelves. Be selective in the quantity and location of drawers to balance function and cost
Consider cabinetry and appliances that are standard in size and profile for the majority of the fit out. Then customise a selective part of the joinery where you might be dealing with an awkward space such as an angular corner, building out under stairs or filling in additional height
Consider the customisation of joinery handles to create a strong design language and tactile touch points throughout your home or workspace.
Jess reminds us that custom joinery can also offer savings. This is because there's less need for additional loose furniture/joinery for storage as everything is integrated into one joinery piece.
Do consider your materials palette
"At Koichi Takada Architects we love playing with different materials to create a subtle textural layering and elements of surprise. It can be a tactile leather or suede lined wardrobe interior revealed by natural timber veneer doors. It can be delicate metal detailing of door handles or door pulls to introduce an element of glamour. Or it can even be a 3 dimensional wall tiles to create a feature kitchen splashback. This textural layering is a great way to create a sense of luxury and individuality through joinery design," says Jess wisely.
"Soft touch, ultra-matte laminate is a relatively new and innovative (and cost effective) product. It combines a contemporary look with durability and also ease of maintenance. Many come with integrated anti-finger proof technology, such as Laminex's 'Absolute Matte' range.
"Soft/matte laminate finish helps minimise glare that can sometimes be created with more glossy, stark white finishes such as 2 Pac. The colour of matte finish cabinets can also appear more consistent than gloss due to the lack of surface reflectivity.
Do consider practicality
"Further, use high gloss 2 Pac or other highly reflective materials sparingly. A high gloss white finish will always bounce and reflect other colours within the room. Therefore colour is not always consistent and fingerprint, dirt and scratches are more noticeable and require more maintenance.
"If our clients have their heart set on a gloss finish we would generally only recommend high gloss on overheads cupboards/joinery (out of reach) to add some subtle reflection but minimise exposure to fingerprints, scratching etc.
"Timber laminate is one of our go-to products as it balances cost and durability with the aesthetic of real timber. There are some great suppliers in the market including New Age Veneers (Navlam range) and Briggs Veneers.
"Their timber laminates combine the warmth and texture of real solid timber with the functionality and durability of laminate. There's a great range of finishes and textures including rough sawn, cross grain or smooth finishes. I recommend a low gloss level finish for a more natural and timeless look and feel."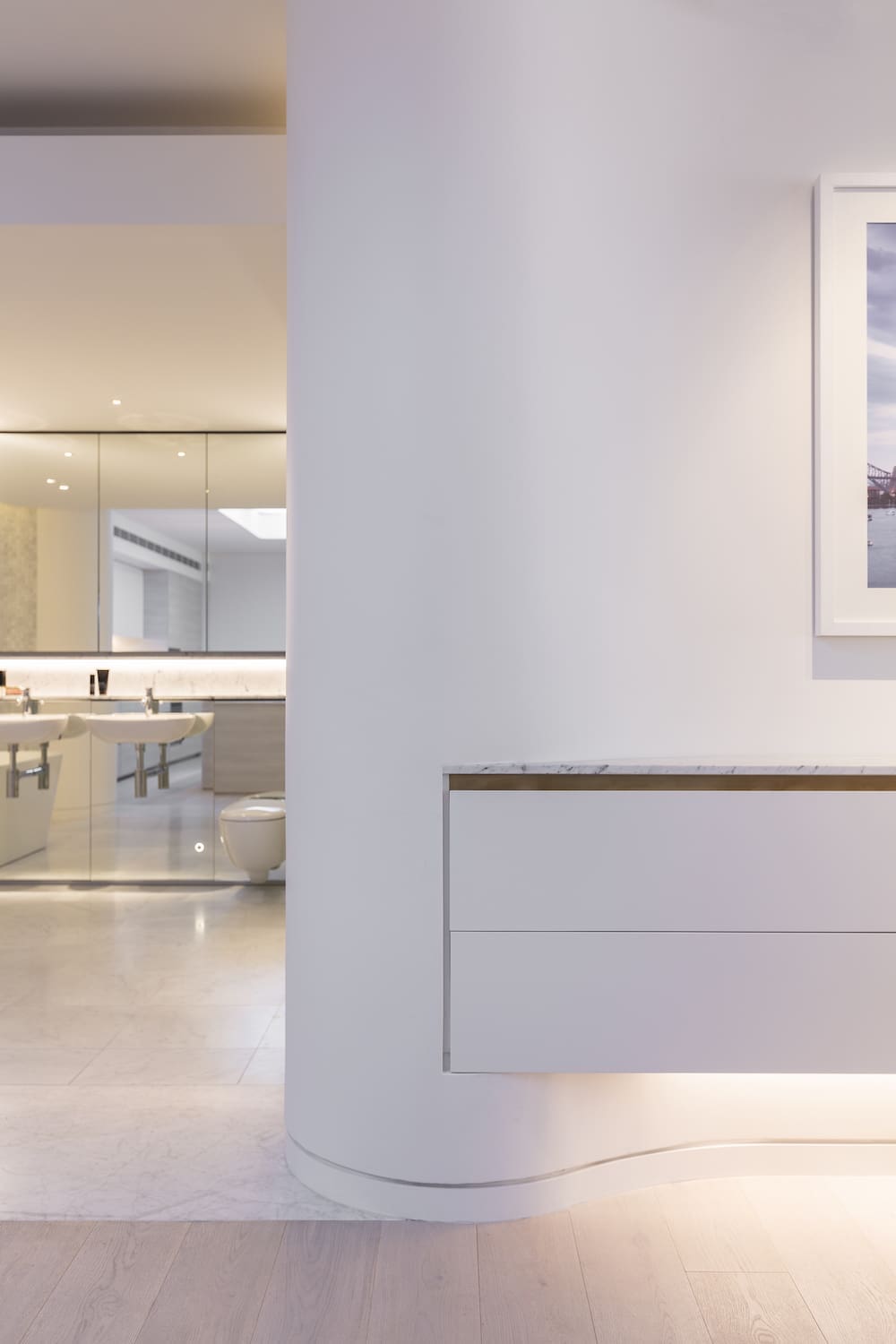 Do use a benchtop with a vein or subtle fleck to minimise the appearance of stains or abrasions
"In high-use zones, it's inevitable that some wear and tear of benchtops will happen. You can minimise this by opting for a product with a natural vein or subtle fleck."
When it comes to material, Jess says "We always prefer natural stone for its tactile and visual qualities as well as durability. However, porcelain has become a popular option in lieu of natural stone benchtops. It comes in large sheets eliminating the need for joint lines and providing a lightweight option which is easier and more cost effective to construct.
"Honed or matte finishes (as opposed to polished) for benchtops are best to minimise glare and express the natural veining/texture. Sometimes this texture/veining is lost in the reflectivity of a polished surface."
Don't rush through the design stage
"Invest in a qualified designer and joiner to help streamline the process, ensuring that your measurements, specifications and designs are both accurate and practical.
"Have a clear understanding of how you intend to use the space/joinery and what materials are most suited for this purpose e.g. wet areas, kitchen benchtops, and high traffic horizontal surfaces (more durable finishes required) vs vertical surfaces, feature display shelving (less durable required). Thinking the practicalities through at the start will save a lot of time and money in the long run and allow you to implement materials that offer longevity and durability.
"Also spend time thinking about your preferred style — sophisticated clean lines or a more decorative layering of details and finishes — so that you can work with your designer to set a clear vision. This will help you make decisions around finishes, colours and overall design of cabinetry. Creating mood boards and visiting showrooms can also help a lot with this too."
Thank you Jess for sharing your valuable insights and tips on the dos and don'ts of custom joinery! To be inspired by Jess' latest work, check out the Koichi Takada Architects website or connect with them on Instagram. What are you thoughts on the advice? Have we helped? Do you have any questions? Let us know in the comment section below!