Marble bathrooms, chevron timber flooring, elaborate plasterwork… yep, this is a home tour in a league of its own. And it shouldn't come as a surprise given the talented team at The Stylesmiths were behind it! Transcontinental Residence is a luxury home where European design meets contemporary living… with no expenses spared.
So hold onto your jaws and come take a look around with us.
Related article: Blurring the architectural lines: A charming Federation style home gets a modern makeover
Related article: One for the colour-lovers: A tour through Paul's Place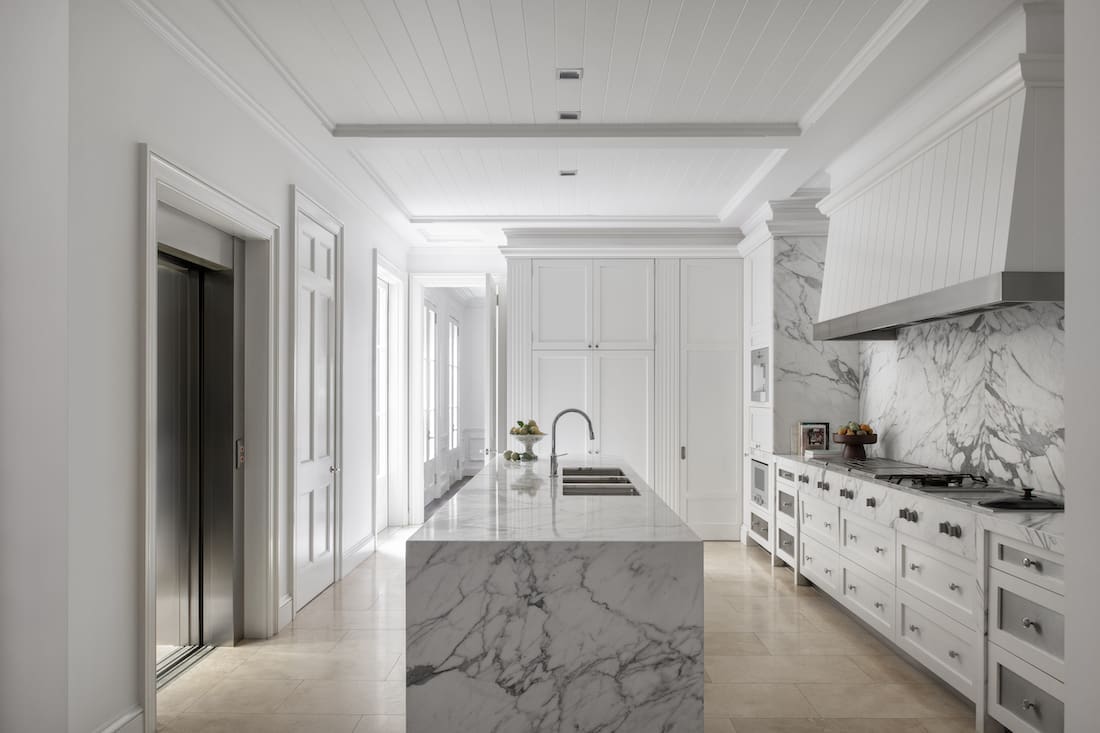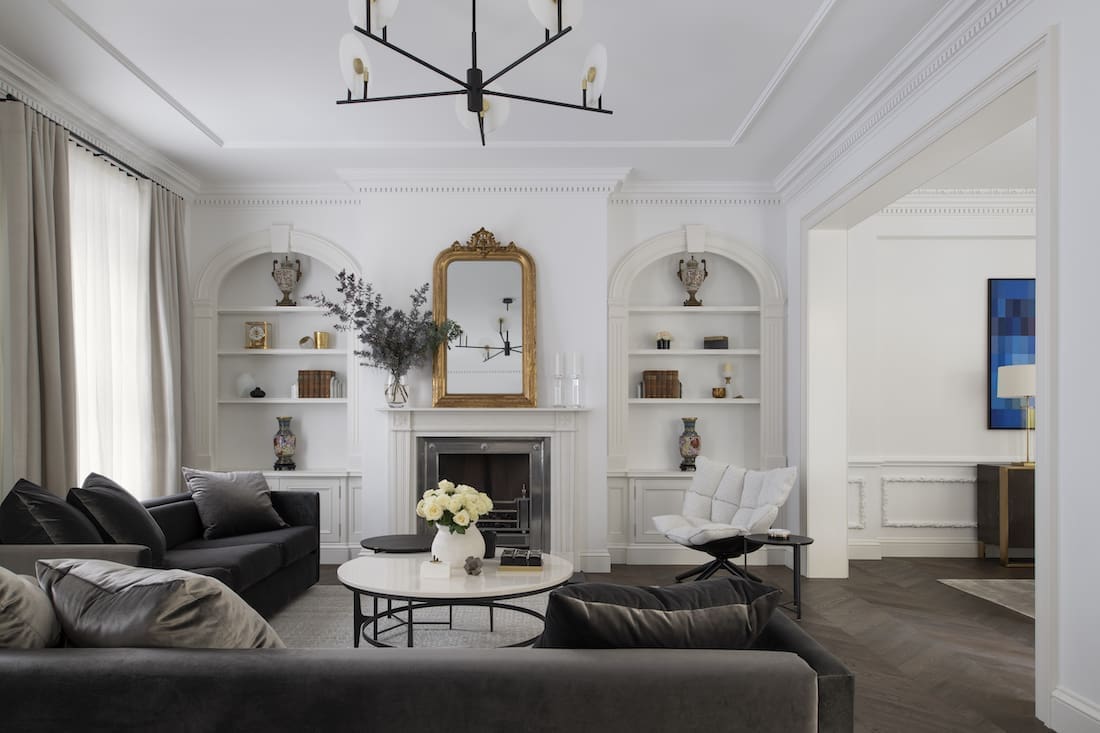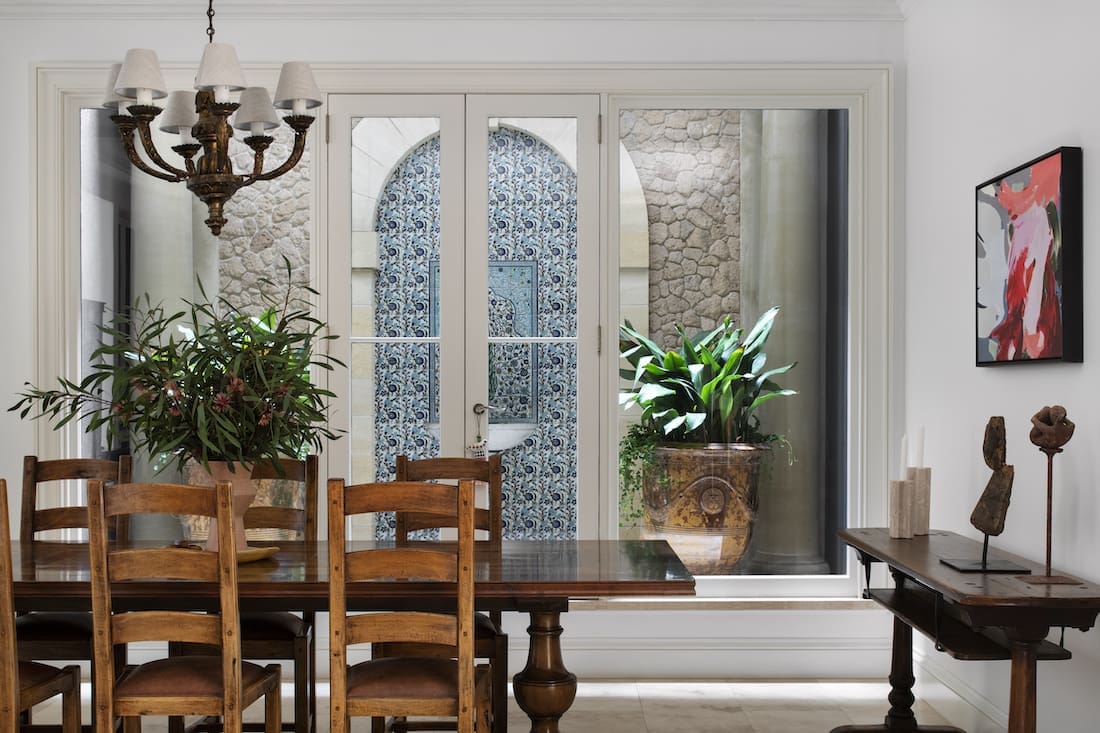 This Georgian style town residence is located in a busy Melbourne neighbourhood.
Originally built in 2009, this home was in need of a major design update to refresh its soul and show off its spectacular features. Home owners Julia and Paul enlisted the help of The Stylesmiths to unlock the style that would honour the home's original architecture.
The original home was decorated in a dark, moody colour palette which wasn't to Julia and Paul's taste. Stylesmiths Patricia Davila and David Puckering collaborated on this project and helped create a transcontinental home with nods to Italian, Parisian and also Turkish references, which establish the character of the home.
The result is a lighter, fresher and more liveable home. A private, urban oasis in amongst a neighbourhood of vibrant markets, apartments and commercial buildings, weaving in the couple's passion for travel, antique furniture and family time.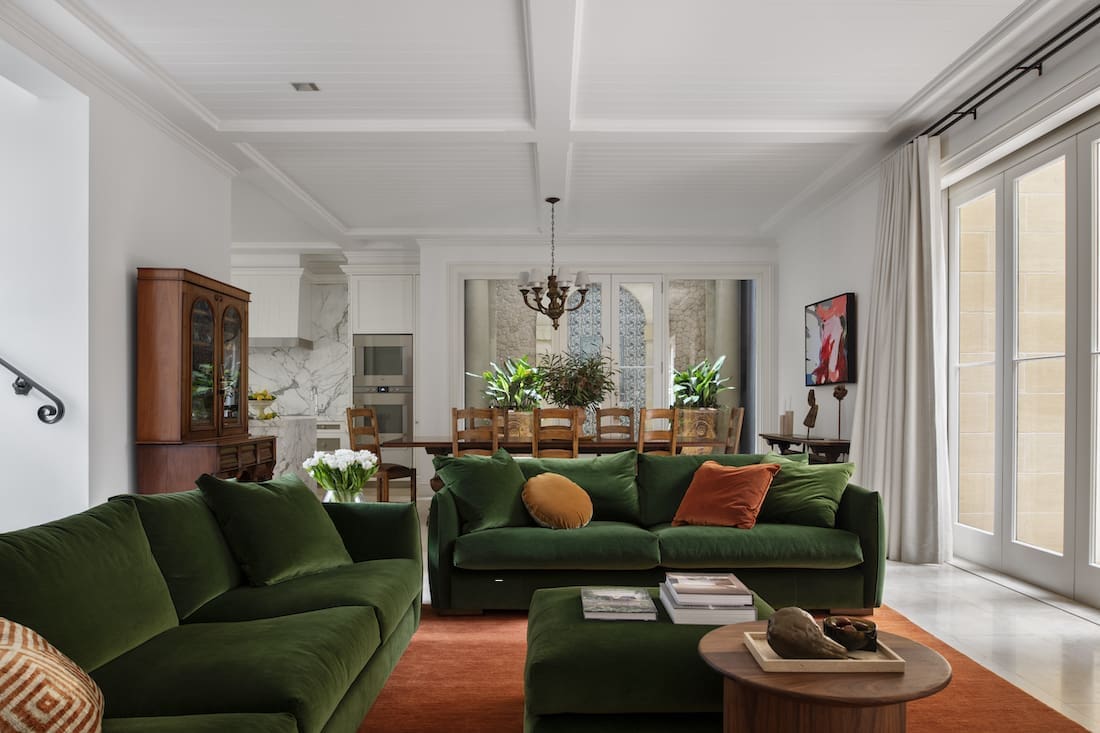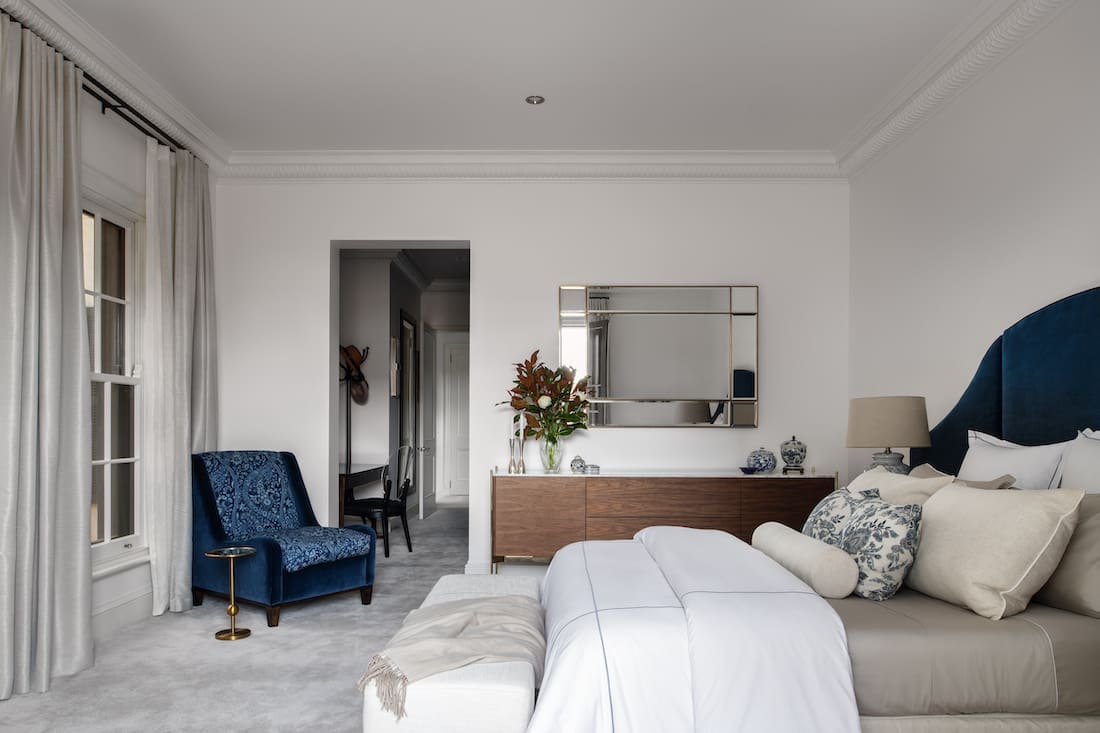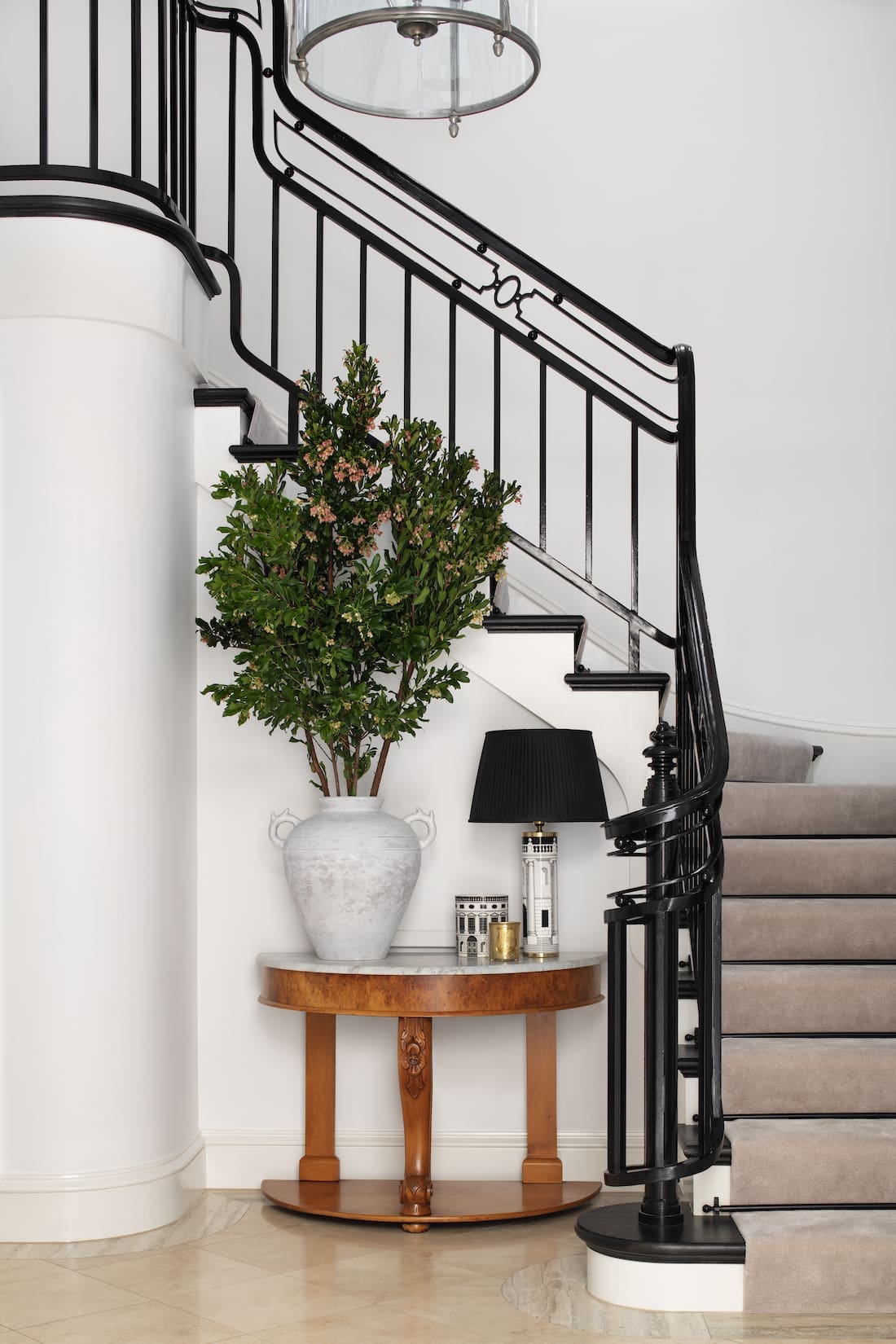 A standout feature in this luxury home is the central courtyard that creates a stunning backdrop for much of the lower interior.
From the street, this home looks like any other Melbourne property. But once inside, it's a safe haven away from the busy city, where classical European designed space meets contemporary living.
The central courtyard is home to a calming water feature with 2 bronze brolga sculptures in view. It's just the beginning of a what almost feels like an art gallery of Julia and Paul's favourite pieces of art, old world details and modern luxuries.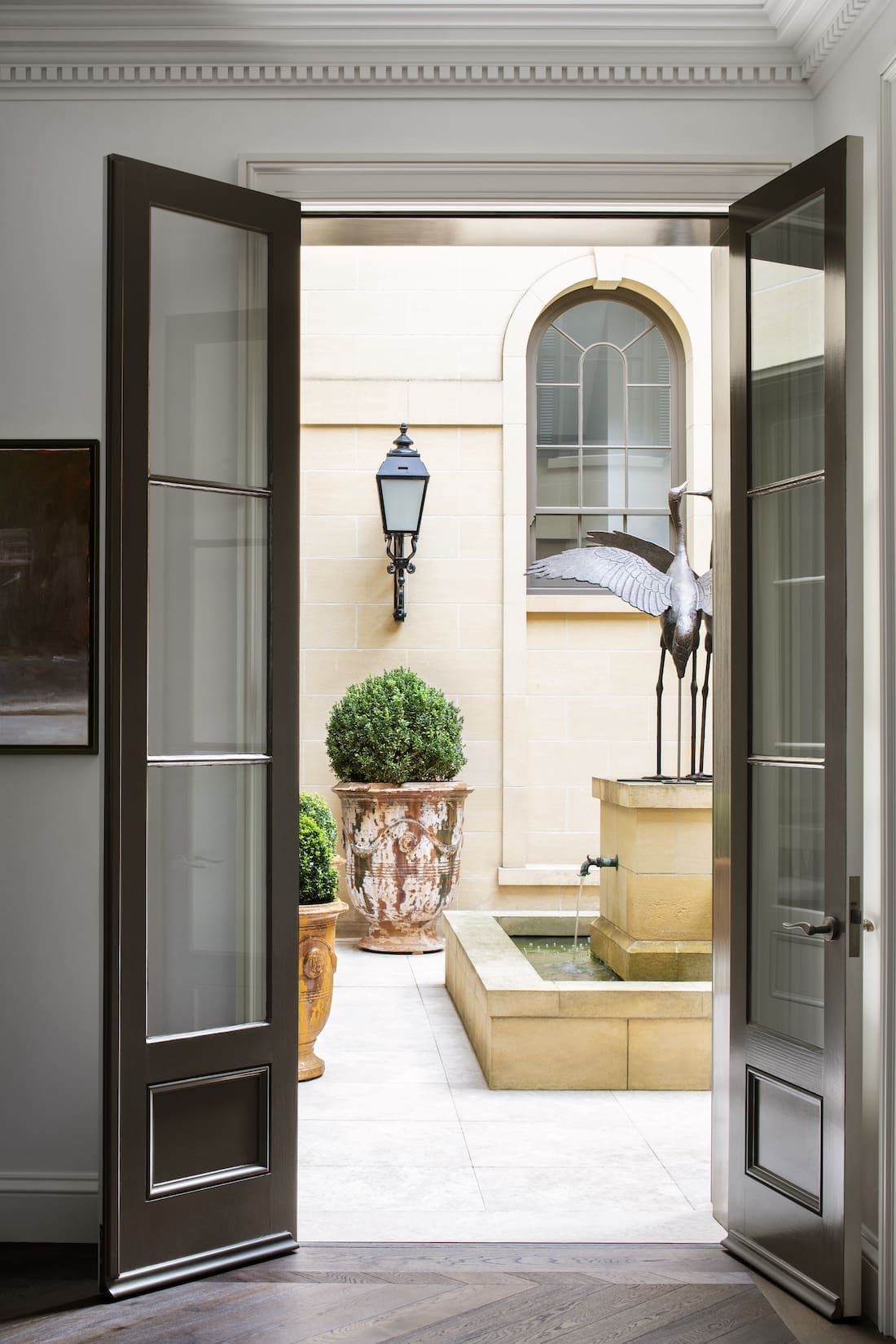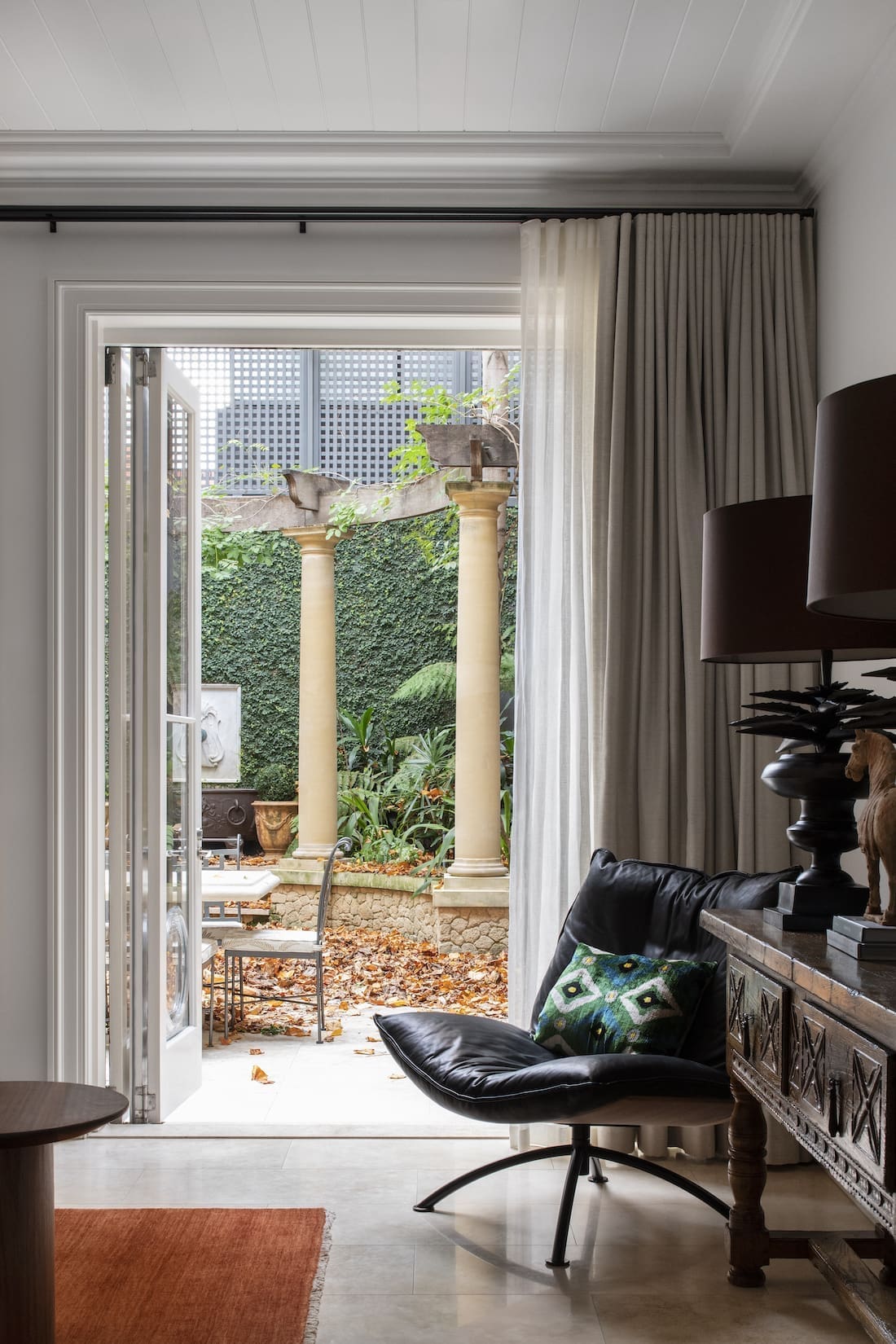 While a downsize for Julia and Paul, this townhouse still spans over 4 levels and features an elevator if the elegant staircase is too much for some days!
It's not a space that many of us can boast about, but for Julia and Paul, the reception lobby is a work of art in itself.
The home also features a 4-car garage, formal and informal living spaces, numerous bedrooms, marble kitchen, a terrace entertaining retreat complete with steam room, BBQ and heated rooftop pool, as well as cinema room and wine cellar.
Each room is elegantly composed, filled with rich textures and gorgeous furnishings. These marry perfectly with the surrounding architecture and joinery and balance against the modern artworks, combining the past with the present.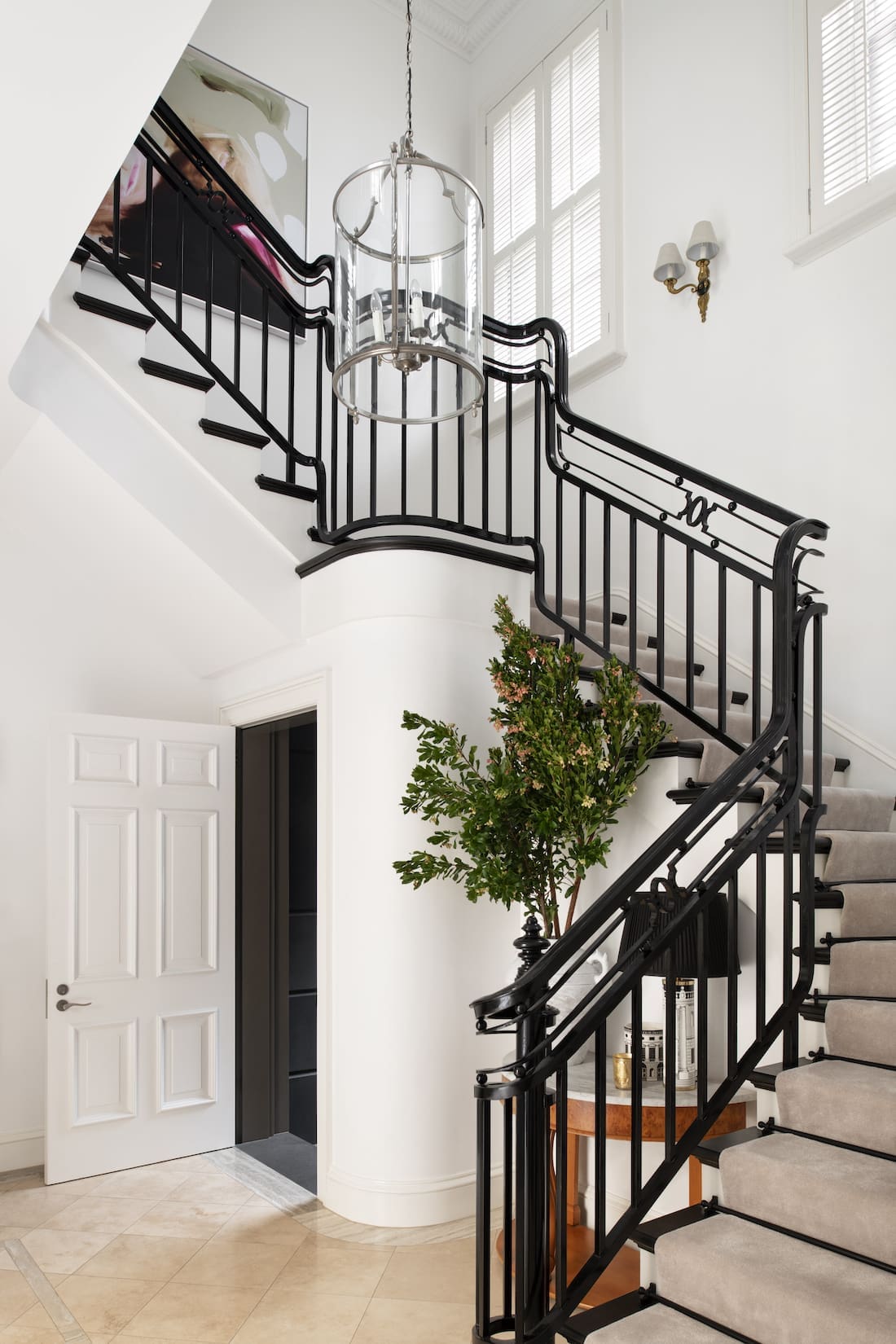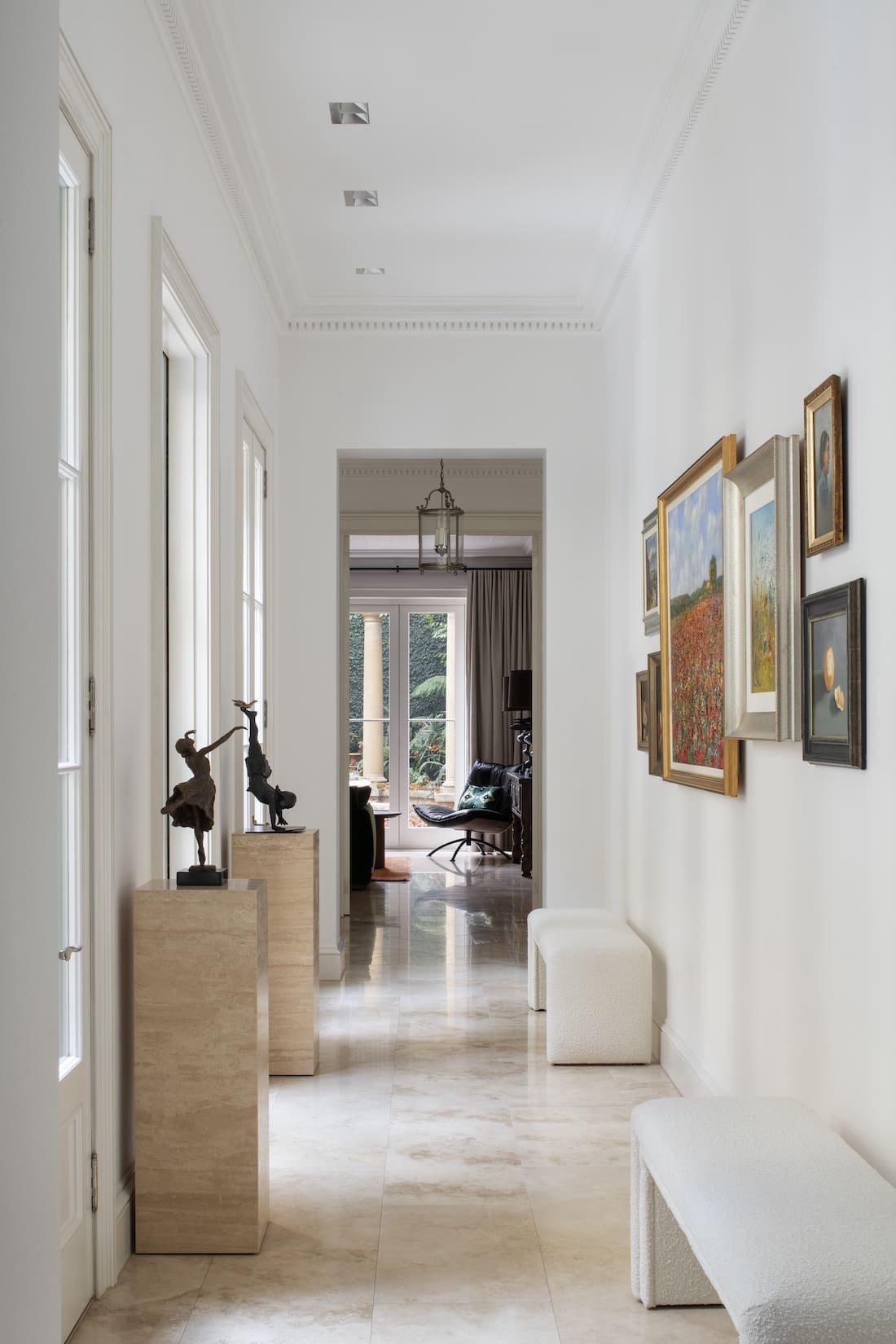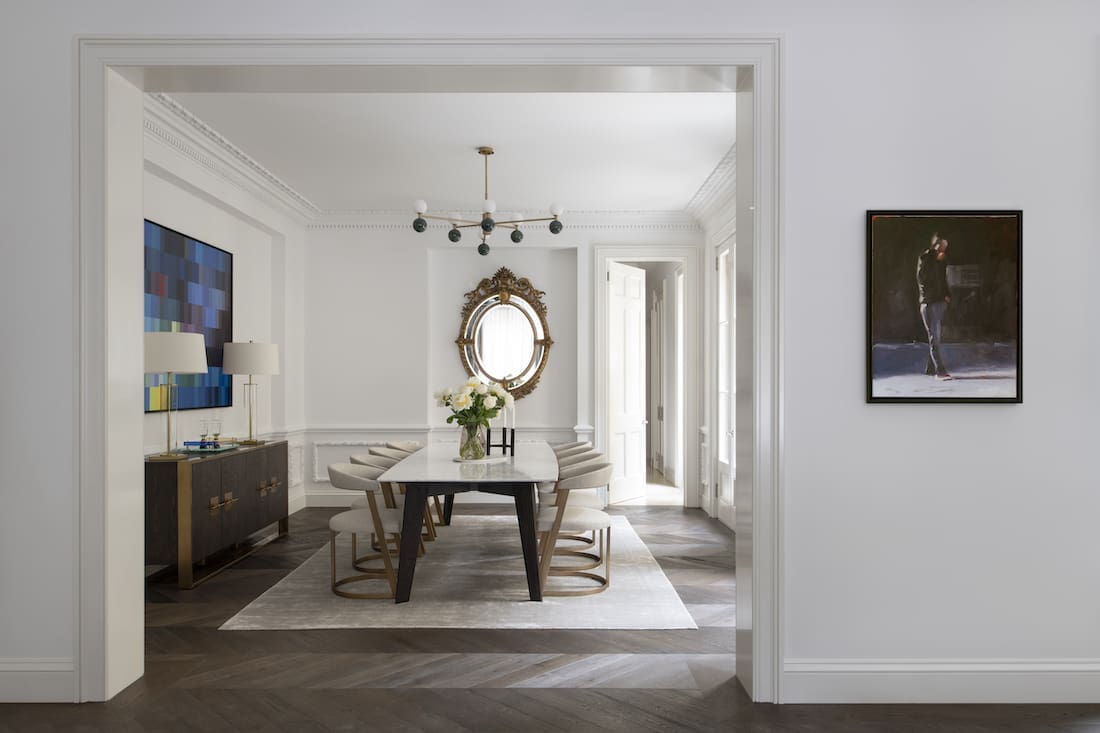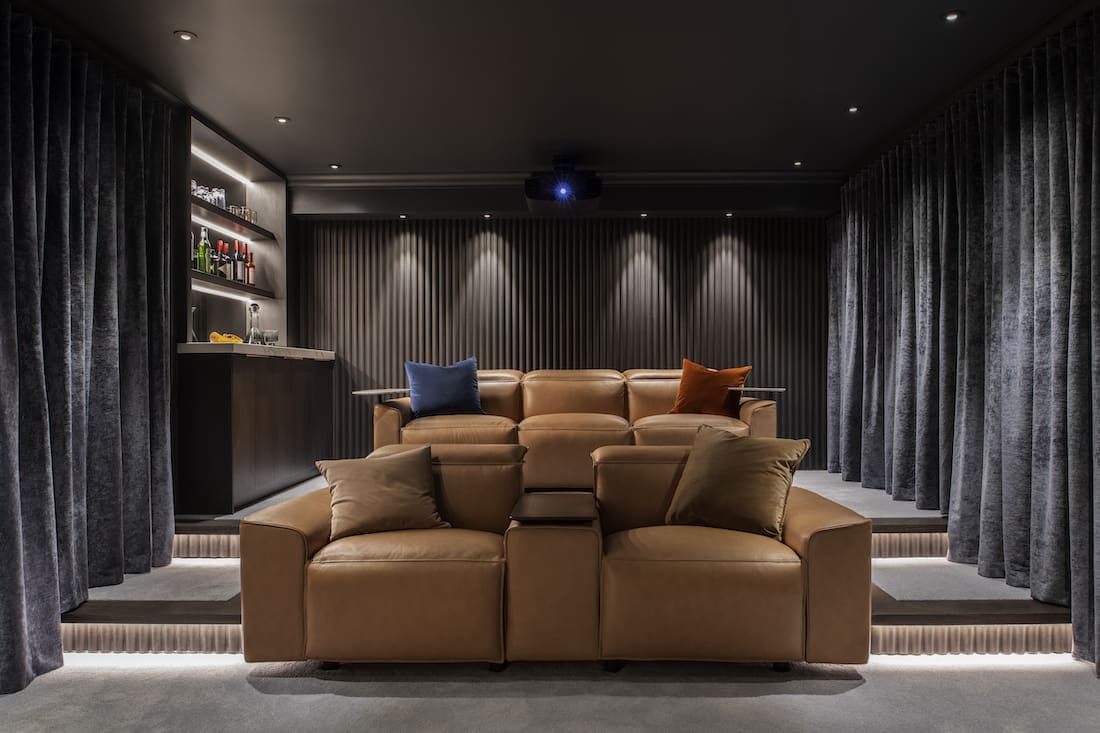 While much of the home keeps to soft whites and pale greys, there are bursts of colour to bring it to life and add an element of fun.
The galley style kitchen stands as a link to the formal and informal zones of the home. It showcases its own sense of sophistication with luxurious calacatta marble and an assortment of in-built appliances. These include the coffee maker, steamer, teppanyaki plate and 3 — yes, 3! — ovens.
From the white and grey to the bright and bold. The informal living and dining rooms are alive with colour. Most notably the stunning velvet green sofas paired with burnt orange accents. These rooms open out through elegant French doors to the tranquil gardens, designed with a Parisian garden in mind.
Photography — Nicole England
Interior Design — David Puckering and Patricia Davila, The Stylesmiths
We're not sure we can pick a favourite space in this luxury home. It's brimming with design inspiration and we already know we'll be pinning each and every image for future reference!
We'd like to thank The Smithstyles for taking us inside yet another incredible home. To see more projects from this talented team, check out their website, or Instagram page.