Kids bedding
Sack Me!
Seriously fresh and fun, we looooove Sack Me!'s debut range of bedding — Haute Bites!
Former architect turned graphic designer Li-Ann Scott launched the Sack Me! label at the start of August this year.
"Taking a cue from my family's 'live to eat' motto, our debut range features a quirky take on a gastro-art theme," says Li-Ann.
"The designs just evolved organically from our day-to-day adventures, seeing the world through my children's eyes, as well as conveying a positive message in a fun way children can relate to.
"I saw an opportunity to create a range that was truly unique and went for it!"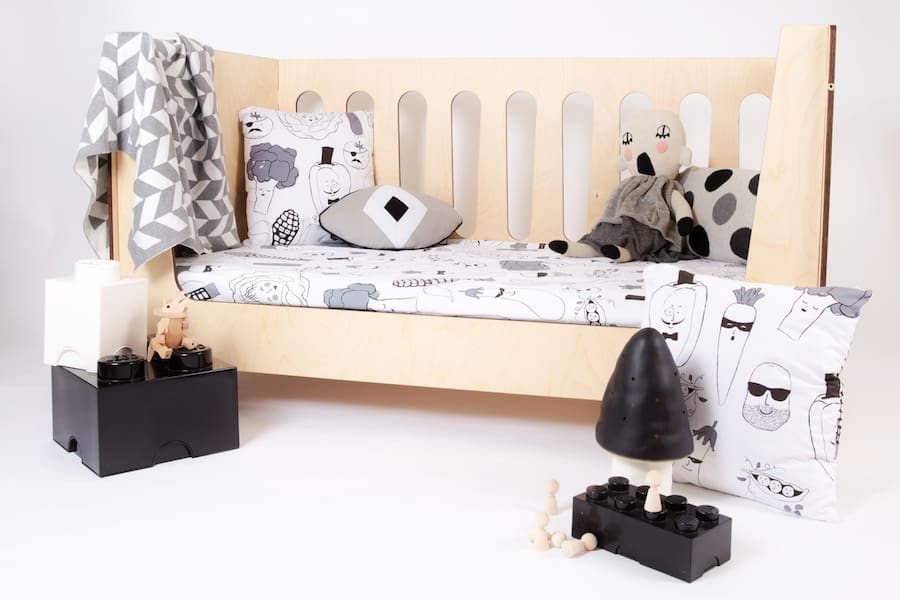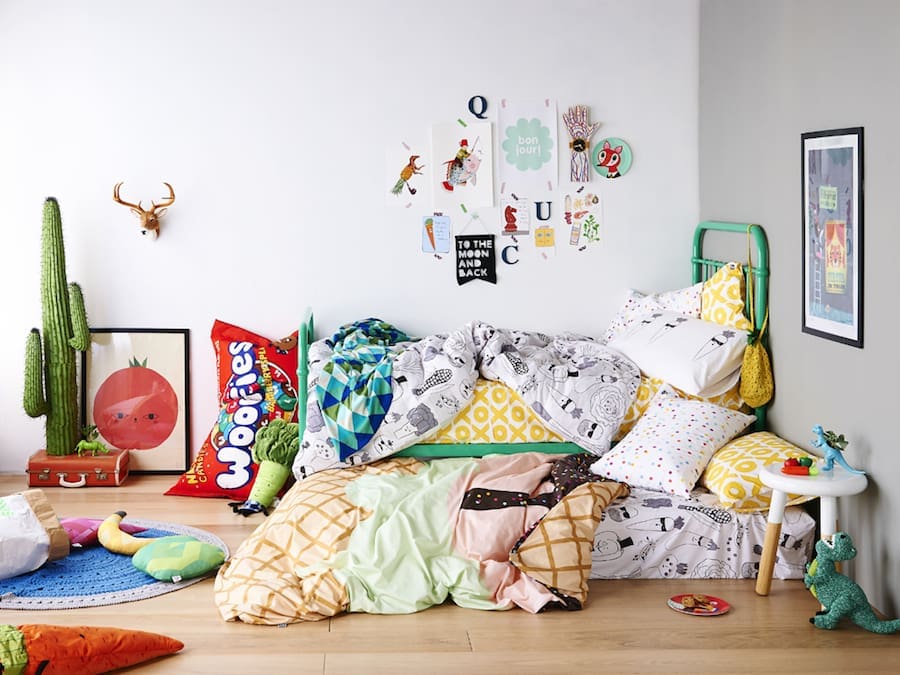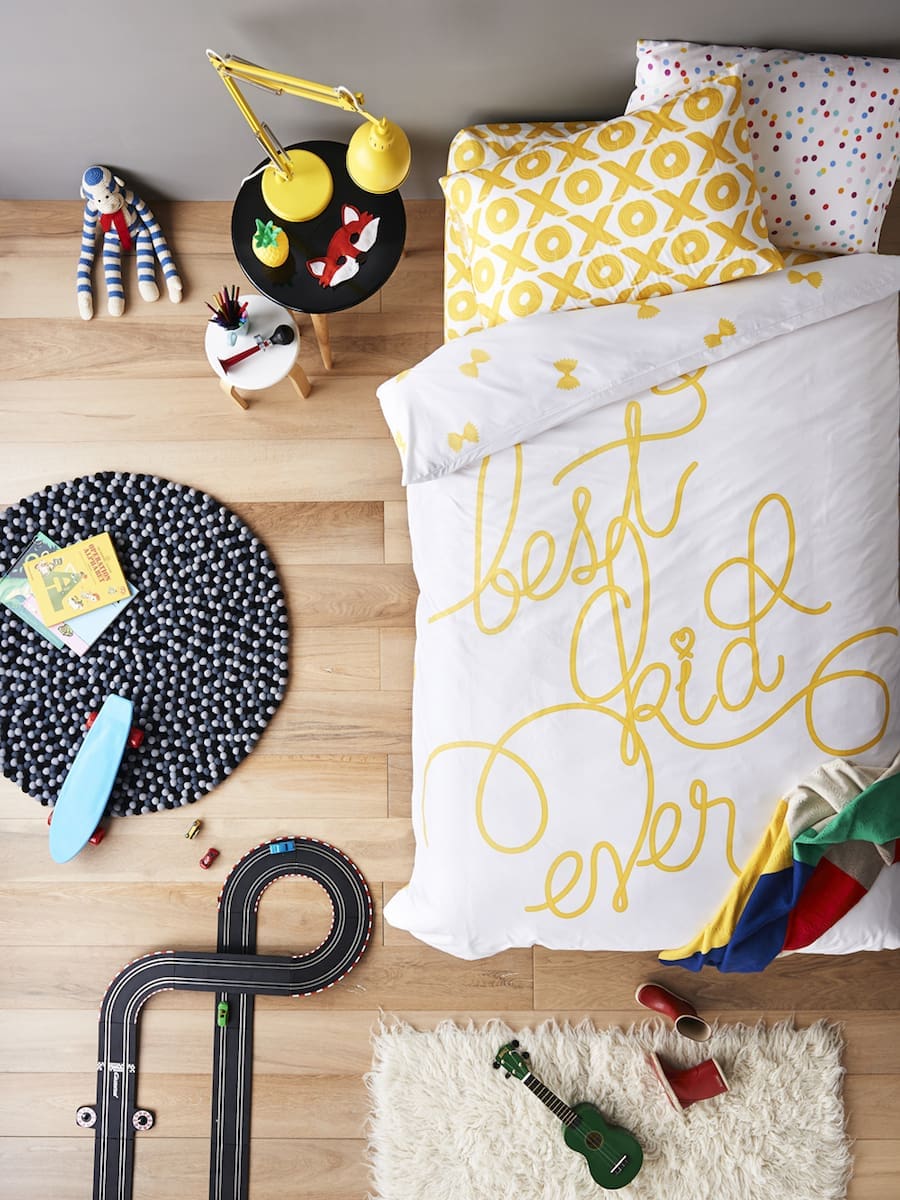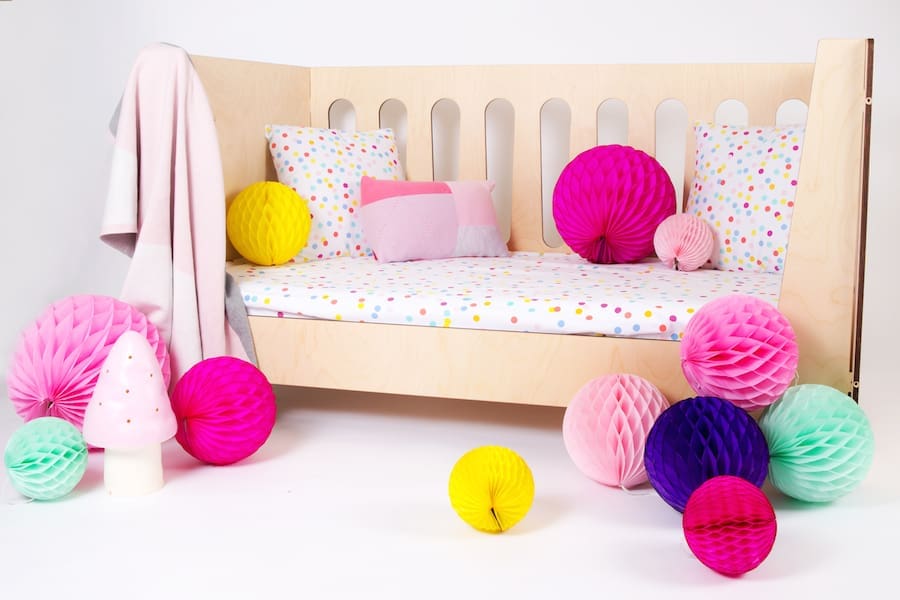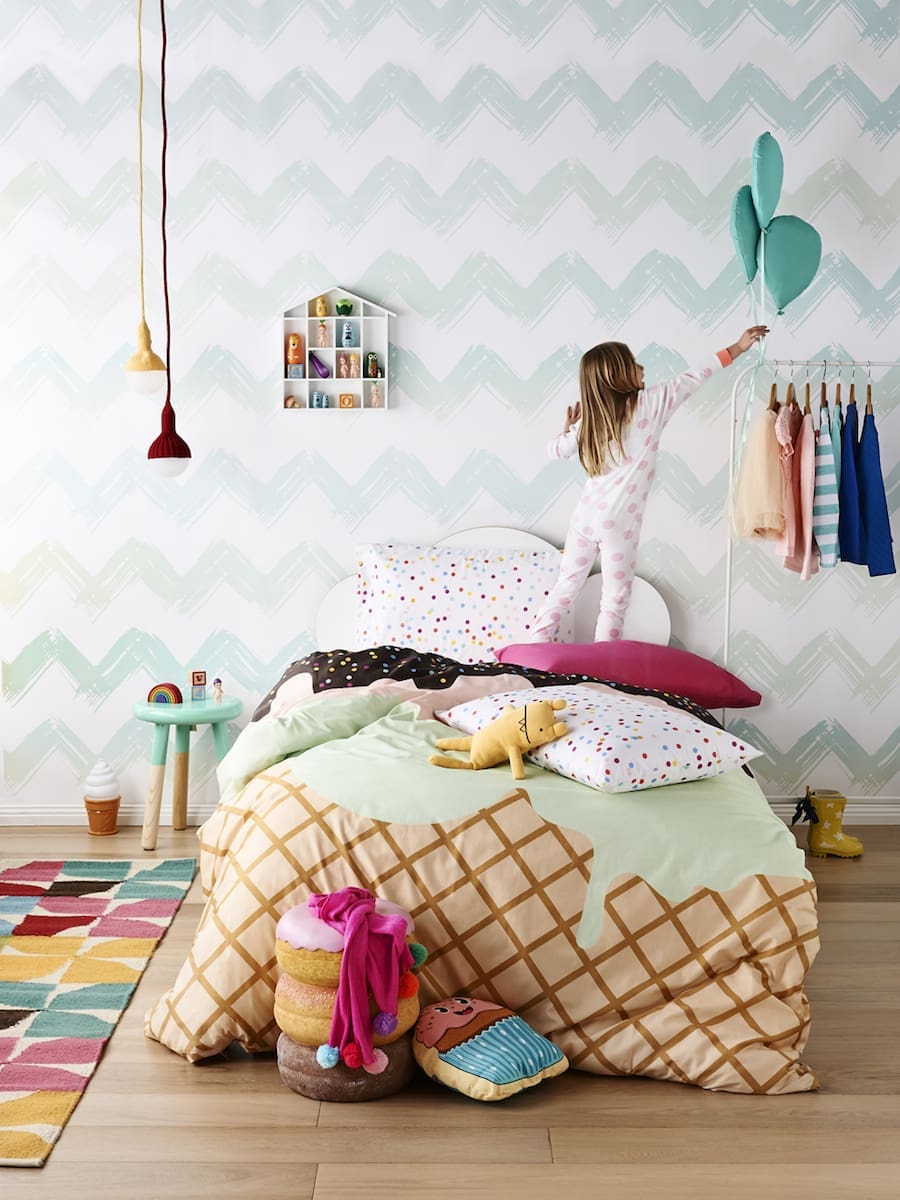 The collection includes fitted sheets for cots, single and king single beds, reversible quilt covers in single and double sizes, pillowcases and cushions to match. The entire range is Oeko-Tex® certified, made from 300 thread-count, 100% cotton sateen, and free from harmful substances.
"My kids have extremely sensitive skin so I understand the need to produce safe, quality bedding," says Li-Ann.
The quilt covers are all reversible too; a burst of fun on the front, with a (slightly!) more restrained complementary pattern on the reverse of each doona.
"Ultimately we want bedtime to be fun — a platform for creative little minds to explore and express by telling their own stories based on the designs."
If you can't wait to get your hands on this bedding, you can purchase Sack Me! directly from their website (they ship worldwide) or at selected stockists in Australia and New Zealand.
We're not sure if the unexpected monochrome Green Mob collection or super-sweet Sunday Sundae is our favourite?! What's yours?
Teen Bedding
Kip & Co
Kip & Co have just unveiled their One Fine Day Spring Summer 2014 collection and we approve!
Bold prints, bright colours and luxe textures, this collection caters to babies, kids, teens and adults.
The trio behind Kip & Co — Alex, Kate and Hayley — know how to create drool-worthy bedding. They launched Kip & Co in 2012 to offer "bright, colourful and beautiful bedding" and have quickly expanded into a vibrant lifestyle brand with a cult following.
"I'm in love!" and "Aaaaaahhhhhhh the new stuff is out [@tags friend]!" is a glimpse of the reaction this new collection is getting from fans.
Their collections are inspired by "life's big moments and sunny days, laughter, adventure and the next sip of champagne" — now that's a philosophy we like!
The boys on The Block Glasshouse, Shannon and Simon, are huge fans of Kip & Co, decking out their bedrooms in their works (remember that orange velvet quilt in week 3?).
Check out Kip & Co's full collection on their website or get behind the scenes peeks on Instagram.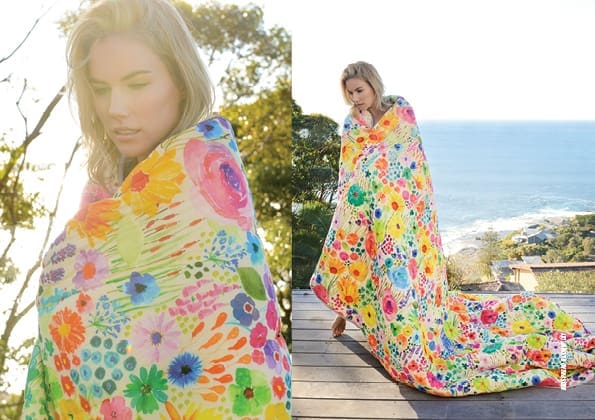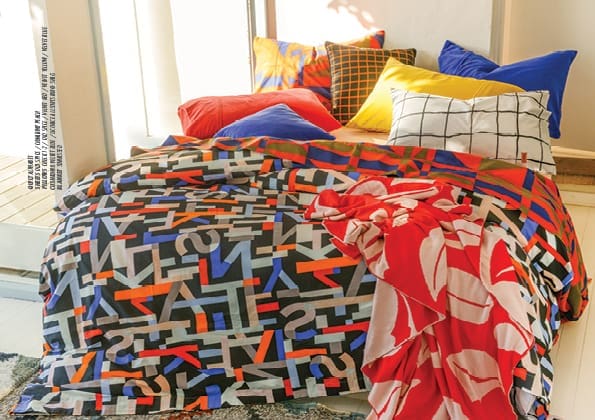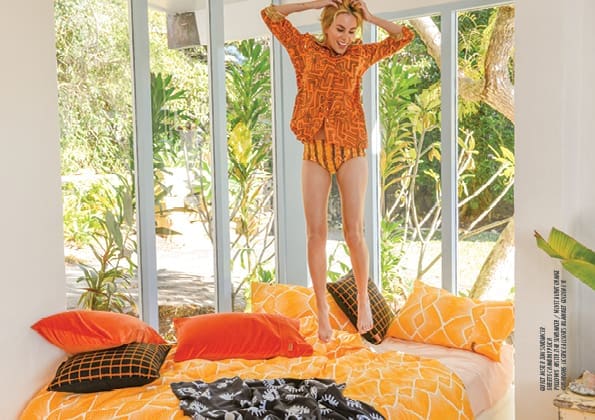 Adult bedding
Milk & Sugar
We adore the simplicity and sophistication of Milk & Sugar's bedding range!
Something about those gorgeous soft colours and prints reminds us of Sunday mornings (we're not weird are we?!).
Available in queen an king sizes, we like to mix and match prints to create fun pops of colour.
Launched in 2009, Milk & Sugar is a Melbourne-based lifestyle brand. They design and develop two major collections each year with the philosophy they should be "well designed, simple yet beautiful things for the home without the hefty price tag".
All their bedding is made from 350 thread count 100% cotton. To check out their full bedding collection, head to the Milk & Sugar website.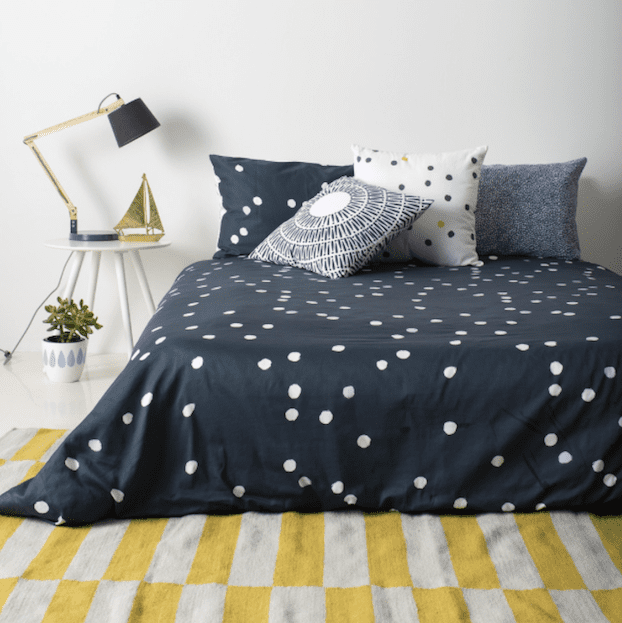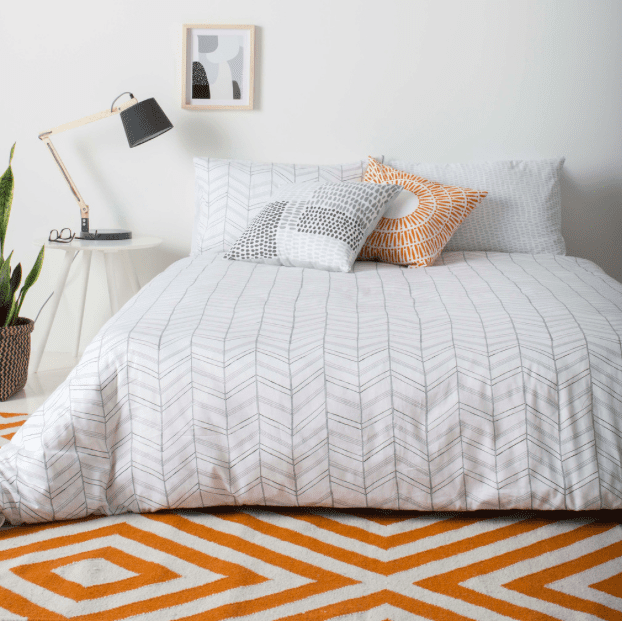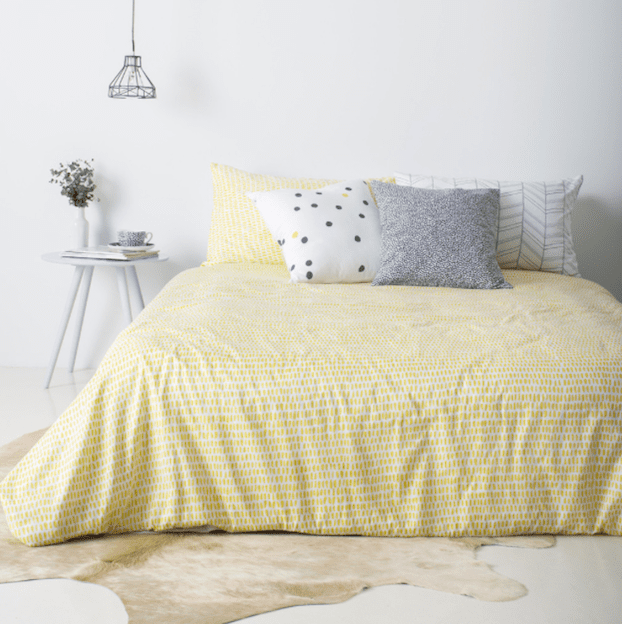 There you have 3 fun and fabulous bedding ranges we're loving right now. We're always on the look out for fresh designers, if you know of another great bedding range, share it in the comments below!