There's nothing worse than void, unused spaces in a home and if you're renting it can feel almost impossible to fix. Well we've got a secret to share — home changes don't have to be complicated!
Dulux Trend Forecaster and Stylist Bree Leech undertook a room makeover in her own rental property. By filling in a cut-out wall between two adjoining rooms, Bree created a more intimate and fun space with a beautiful pop of colour.
This project proves just how easy it can be to add colour to a rental, so read on as we chat with Bree about her project.
Related article: From drab to fab: The easy budget alfresco makeover DIY that will transform your outdoor living space
Related article: 4 ways to decorate your small rental apartment so it feels like home!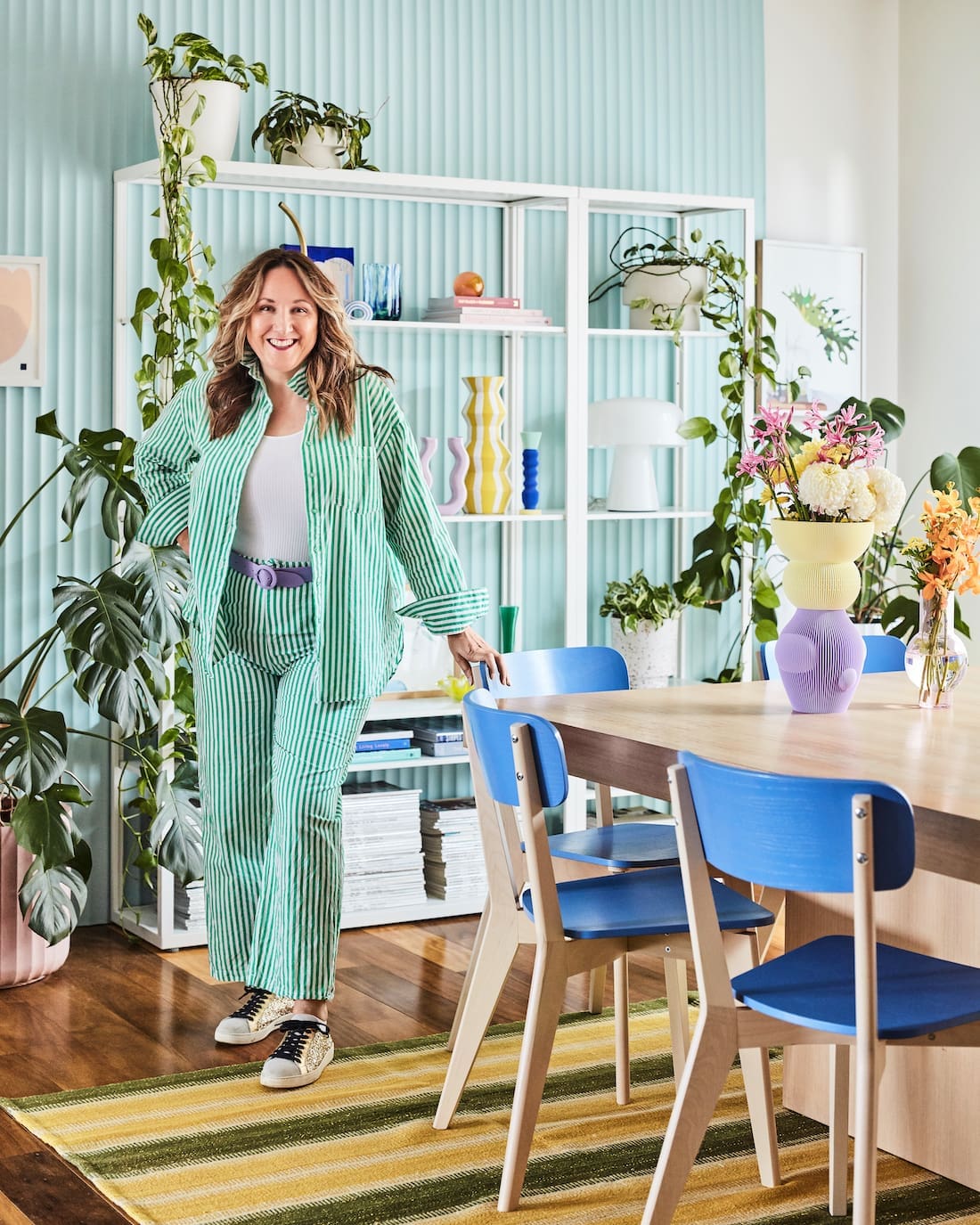 Wanting to create a happier space, Bree acquired fluted panels for the wall — to cover the cut-out feature — and headed straight to Dulux to select colours from the latest trend forecast.
"Our dining room had a feature that didn't work for us. I'd wanted to fix it for some time!" Bree says.
"It was a neutral space that had a cut-out in the wall that was serving no real purpose. It made the dining area itself just feel a bit flat.
"I settled on Dulux Harmonious in Wash&Wear for the backdrop colour. I also added new chairs painted with Dulux Plunder in Aquanamel, styled with a new rug and lots of colourful vessels to fill with flowers.
"The Wonder palette from Dulux best represents my personal style, making it the perfect choice! The palette is fun and joyful — everything I wanted for this room."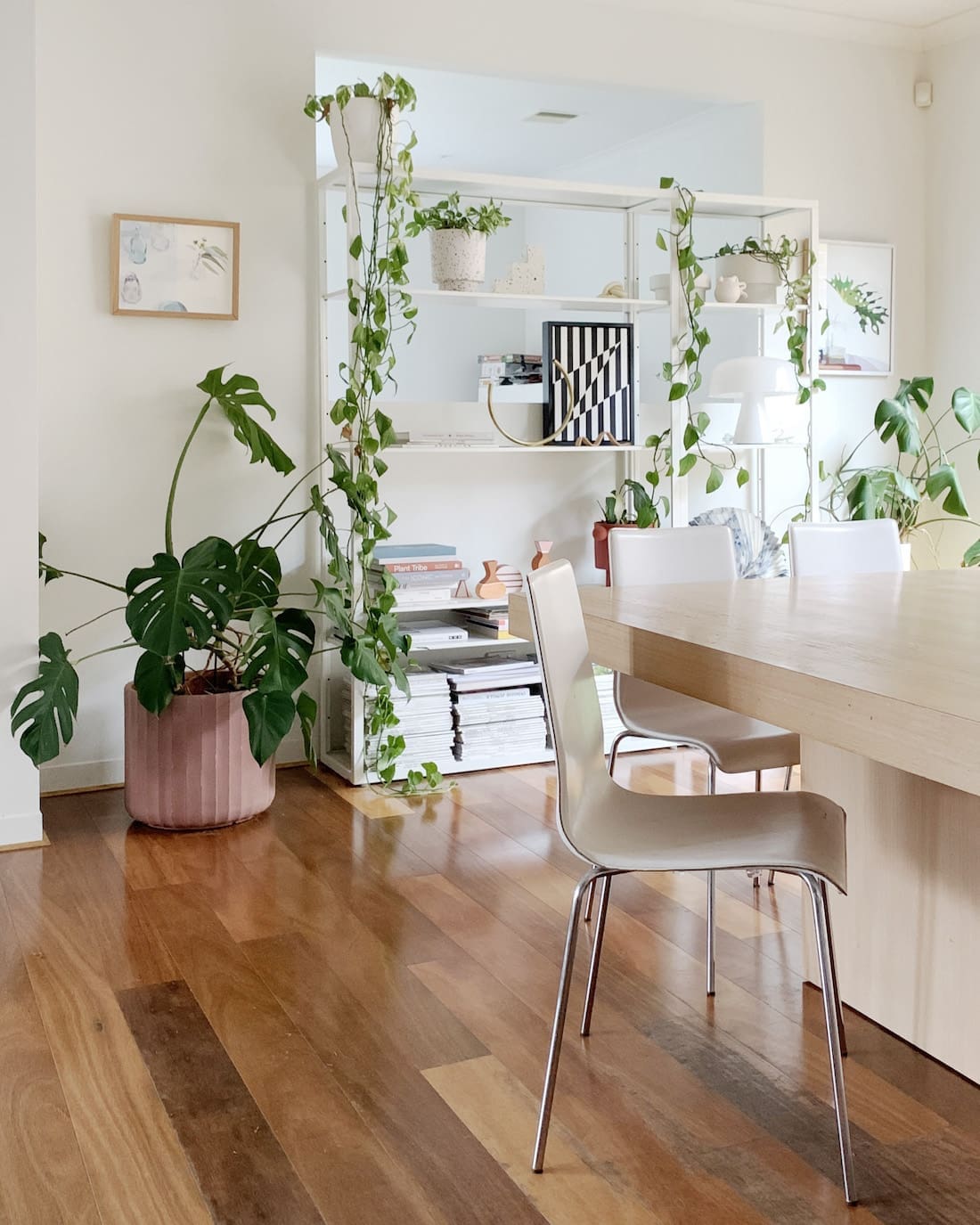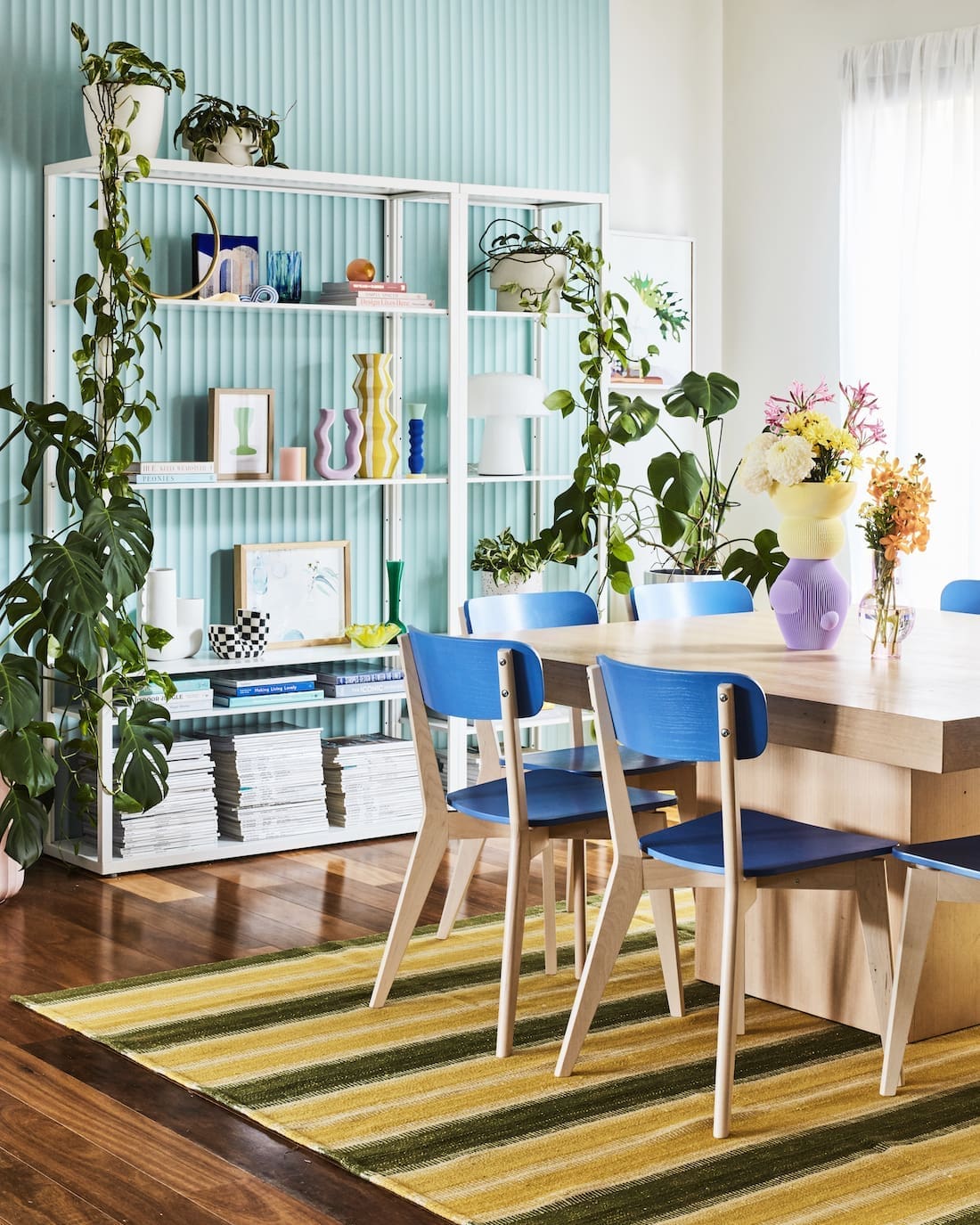 Bree suggests that if you want to add colour to a rental, you don't always have to go big.
"When it comes to colour scheming, going bold with colour can really pay off. Equally, small changes can make a big difference. If you want to introduce smaller pops of colour, you can choose furniture items or even small areas of a wall, doors or ceiling.
"If you're renting and working with shelving that has a backboard, painting a contrasting colour behind the shelves can help your other decor items stand out!
"Remember, colour is not just for walls! Painting dining chairs or a table is also a great way to achieve this look whilst renting.
"Or add artwork that references your colour scheme to bring it all together."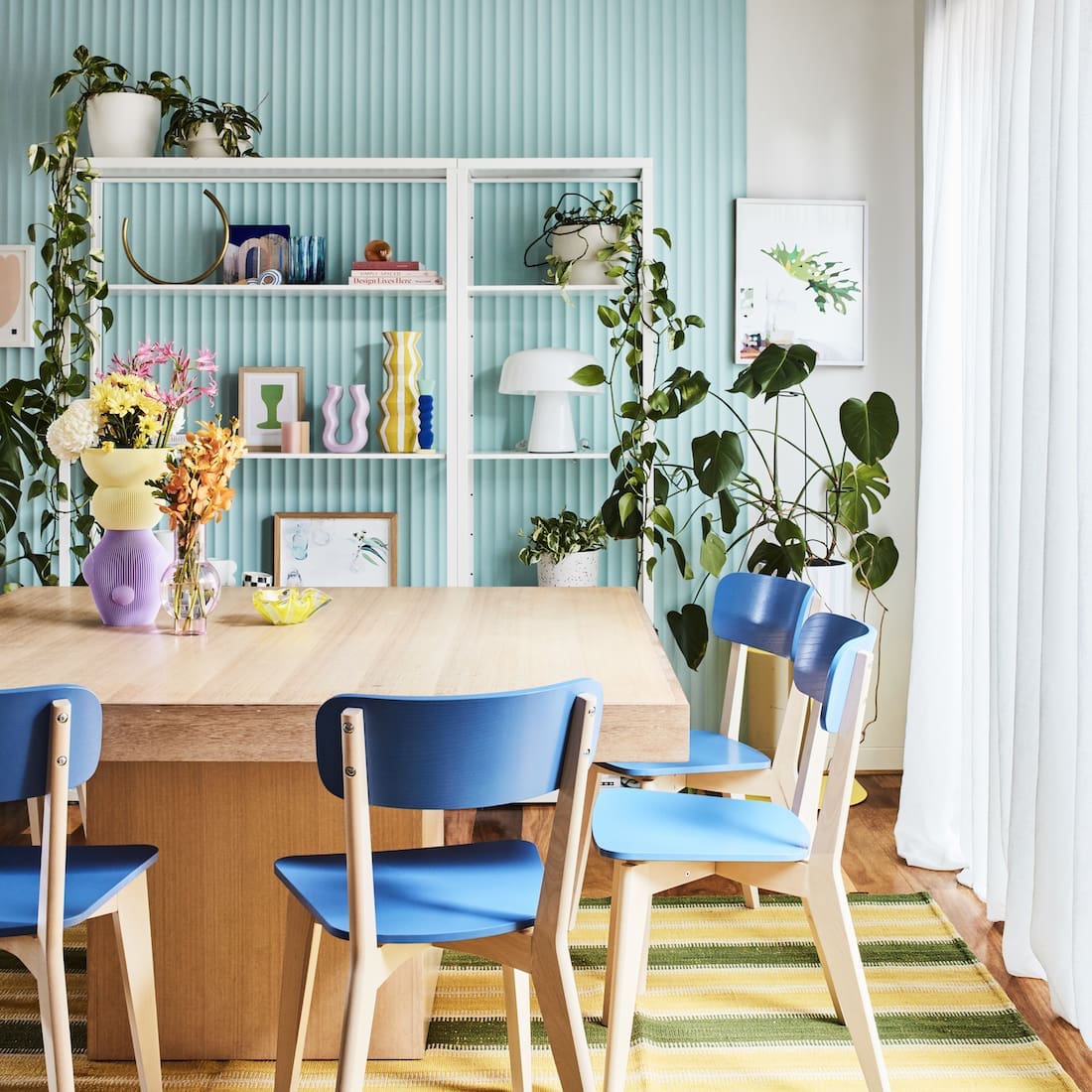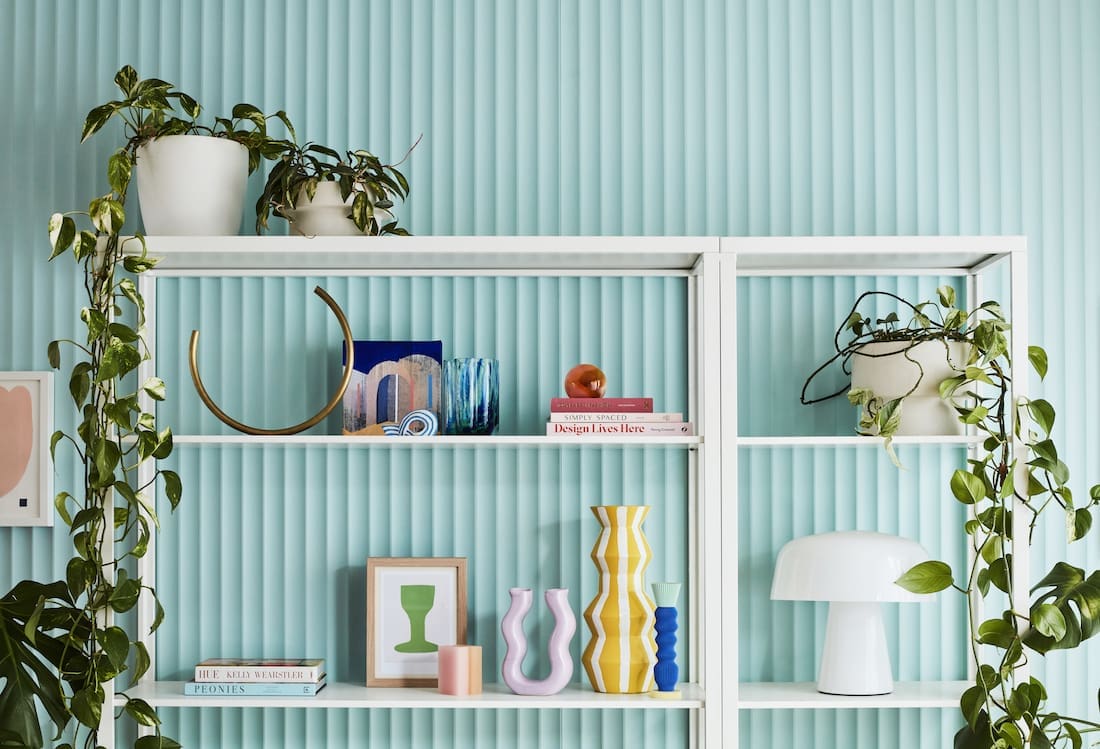 When selecting the colours, it's easy to feel a bit lost but there's a variety of ways to check that you're making the right choice.
"When selecting colours, always have an overall mood or style in mind and select colours that help bring this idea to life. It's helpful to have a visual aid you can refer to, like a mood board or materials board.
"I used Dulux Colour Forecast which offers endless colourways that work together. It allows you to customise your own scheme and feature favourite shades, before adding smaller amounts in complementary colours.
"Working with existing fittings and fixtures can often mean a clash on colourways. If you can't change them, you can always add rugs or other decor for a tonal effect to get you closer to your desired palette.
"For colour surety, test your shortlist by purchasing some A4 samples sheets and non-marking removable colour stickers. Paint a cardboard slip or piece of paper and leave the painted swatch up on the walls, checking it under different lighting conditions."
Image credits — Dulux Colour Forecast 2022
Styling — Bree Leech
Photographer — Mike Baker
Wall panels — Surround by LAMINEX
Rug — Halcyon Lake
We'd like to thank Interior Stylist Bree Leech for sharing her top tips with us today. You can find more from her on her Instagram here. Have you learnt how to add colour to a rental? Do you have any thoughts or questions? We'd love to hear what you have to say in the comment section below!