Get ready for a home tour that breaks all the rules. With hardly any painted white walls in sight, this home featuring black on black materials can only be described as sleek and dramatic. Nicknamed Casa Chiaroscuro, which translates to 'light dark' in Italian, it pushes the design boundaries. We're absolutely thrilled to show you around this Melbourne home designed by Biasol.
Related article: Dark joinery and pops of terrazzo steal the show in this modern home makeover
Related article: Inside Guy Sebastian's sleek, contemporary kitchen
The team's brief was to design a comfortable family home to suit the owners lifestyle now, and into the future.
They wanted plenty of space for entertaining, comfortable living areas and separate rooms for when needed.
Jean-Pierre Biasol, Director of Biasol, says the balance of natural light and dark surfaces creates voluminous and intimate spaces that give the home a calming effect.
"Drawing on the chiaroscuro technique, we contrasted the beauty of black and the splendour of light to create a family home," he explains.
And if you ask us, they seriously nailed it!
Using colours and materials not commonly seen, the design team contrasted dark and light features to create a timeless and tranquil home.
"The brief gave us the freedom to use colour and materials in a way we hadn't seen before.
"Firstly, we designed bold compositions of black joinery to provide depth and contrast in light-filled spaces. These denote the places where the family come together," says Jean-Pierre.
Despite the abundance of dark features, light pours throughout the entire home.
This is helped by the floor-to-ceiling glass windows, sliding doors and a central skylight. These allow ample light to flood the rooms and also allow for a beautiful contrast between dark features and natural-light filled rooms.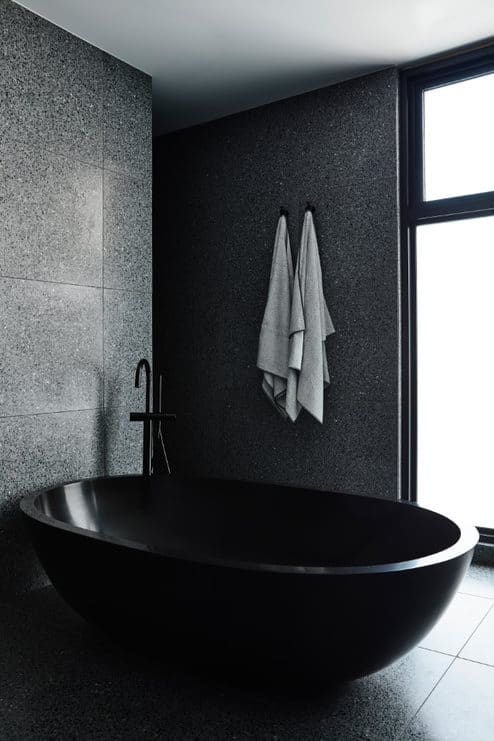 Custom black oak joinery is clearly the star of this home, featuring in various rooms throughout.
However tying for a close second are the two stunning bathrooms. Continuing the dark and moody colour palette and featuring incredible terrazzo tiling, these are like no bathrooms we've ever seen before. And those bathtubs?!
Thank you to Biasol for letting us share this incredible home. To find out more about the team, check out their website or follow their projects on Instagram. What are you thoughts on this house? Let us know in the comment section below!