Without a doubt one of the hottest materials in design at the moment is terrazzo. We're seeing terrazzo used everywhere from kitchen benchtops, to furniture, and of course tiles.
There are plenty of options when it comes to terrazzo tiles. Watch the short video below where we explain the main differences between real terrazzo vs terrazzo-look tiles.
Related article: 11 types of white kitchen splashback tiles: Add interest with shape over colour
Related article: 5 step guide to picking the right kitchen splashback tile
Real vs faux terrazzo tiles
The key thing to decide is whether to go with real terrazzo or a terrazzo-look tile (aka 'faux terrazzo' that's generally made of porcelain).
Real terrazzo is made from a mix of chips, such as marble and glass chips, held together with a composite. It's generally much thicker, 11mm-20mm, to prevent it from cracking.
A faux terrazzo tile is a terrazzo pattern that's applied onto a porcelain tile (or we've also seen it used on cement encaustic tiles). Technology has come a long way and many faux tiles are incredibly realistic.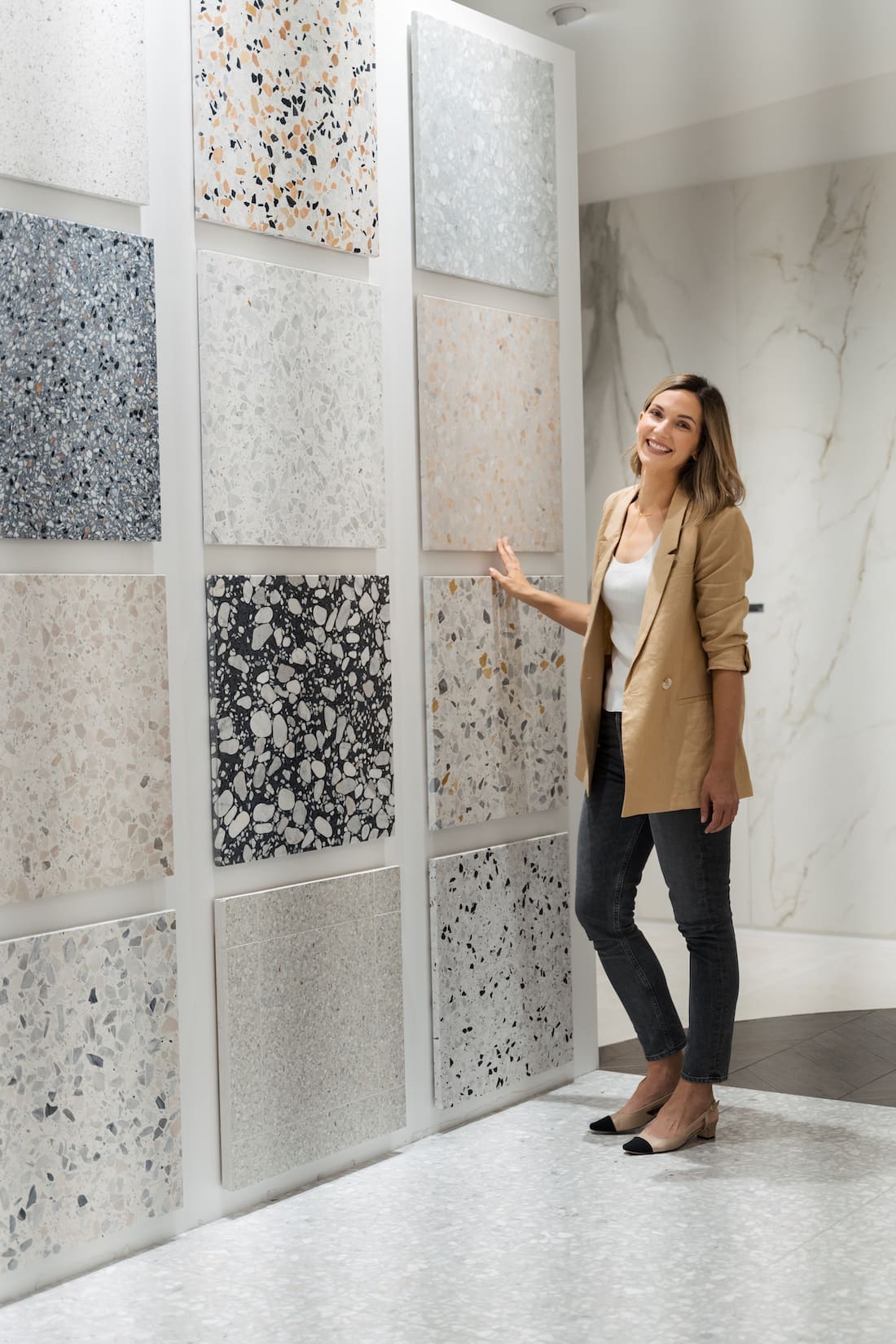 Pros and cons of terrazzo
There are some other key differences between real vs artificial terrazzo tiles that people need to weigh up before making a selection.
The downsides of real terrazzo are:
Cost. It generally costs between $120m2 and $300m2, whereas terrazzo-look tiles can be found for around $40m2 to $100m2
Installation. As well as costing more to buy, real terrazzo is also likely to be more expensive than terrazzo-look porcelain tiles to install
Thickness. Because real terrazzo is thicker than regular tiles, it needs to be planned for from the start of a project. In renovations, it may not be possible to achieve a level floor when using real terrazzo. This means you may need to use an angle at the door which can create a trip hazard
Maintenance. Most real terrazzo tiles are porous, and even when sealed they can be unsuitable for areas like a shower.
However, all that being said, the natural beauty of real terrazzo is second to none. So wouldn't you agree it's so worth it?!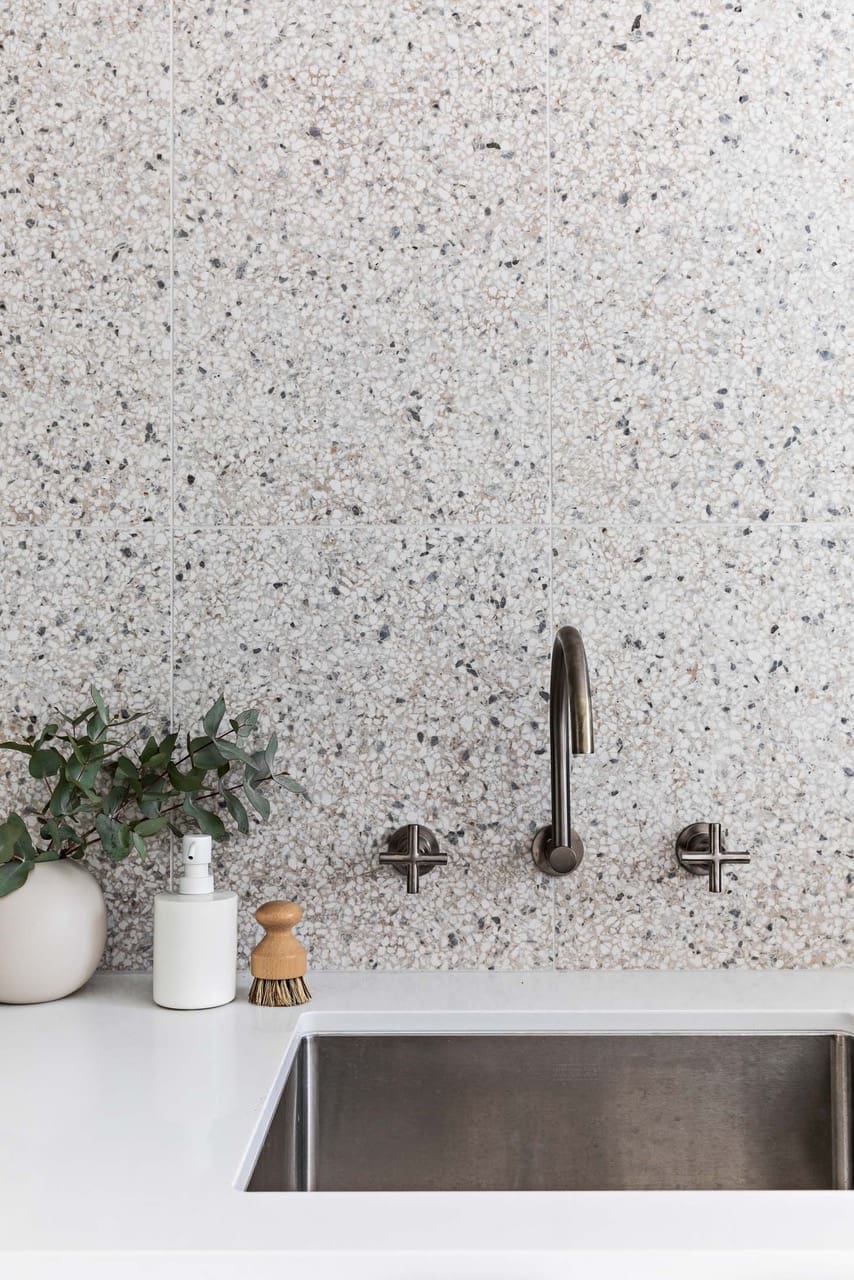 Top tips for installing terrazzo
When using real terrazzo, you should ideally seal it before installation to protect the surface from grout staining and to make it easier to clean once grouted. Once installed, after it has been grouted and cleaned, you should seal it again with a high-quality terrazzo or penetrating sealer. This will protect the surface from staining and to make ongoing maintenance easier. It's also important to note that when cleaning real terrazzo, you should use a quality PH neutral cleaner to preserve its beauty and integrity.
Due to the sensitive nature of terrazzo, many designers tend to steer away from using real terrazzo in bathrooms, or at least in showers. Alternatively, you could use real terrazzo in a different place in the bathroom such as as the vanity top.
However, terrazzo tiles continue to advance and this makes new applications possible. For example, some of the latest terrazzo collections are fired at a much higher temperature, making them less porous and suitable for bathrooms.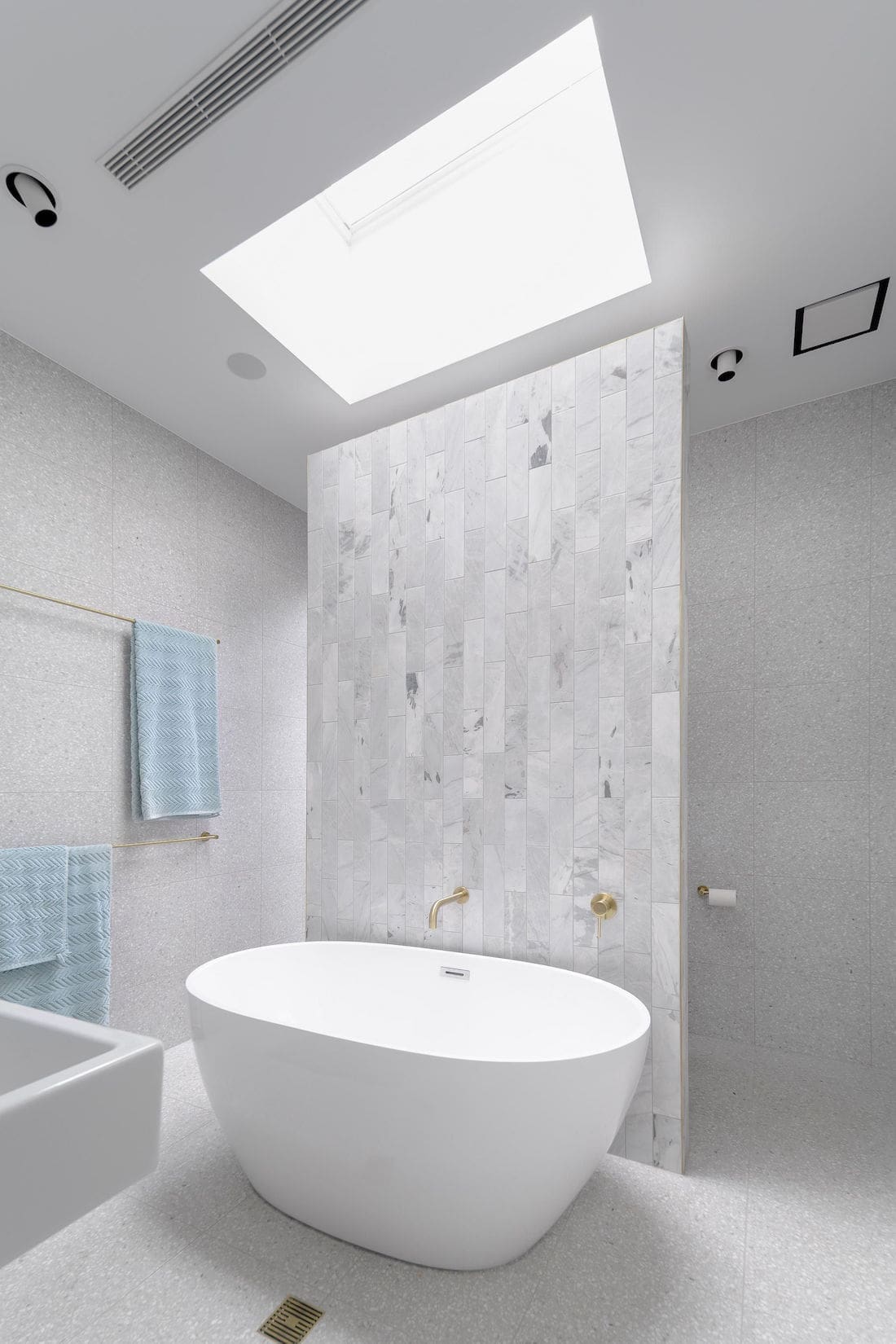 Colour and pattern
Whether you opt for natural terrazzo or a lookalike tile, you'll find there are plenty of colours and patterns to choose from.
In warm brown tones, cool and contemporary whites, or a few punches of colour.
You can also find terrazzo with oversized chips or smaller flecks, depending on how dramatic you want to go.
Size
Traditionally, terrazzo has been manufactured in 400 x 400 x 16mm and 600 x 600 x 20mm formats. These days, with enough time, suppliers are able to manufacture in virtually any format and even in different shapes — such as chevron pattern.
Keep an eye out for plenty more terrazzo options on the market over the coming years.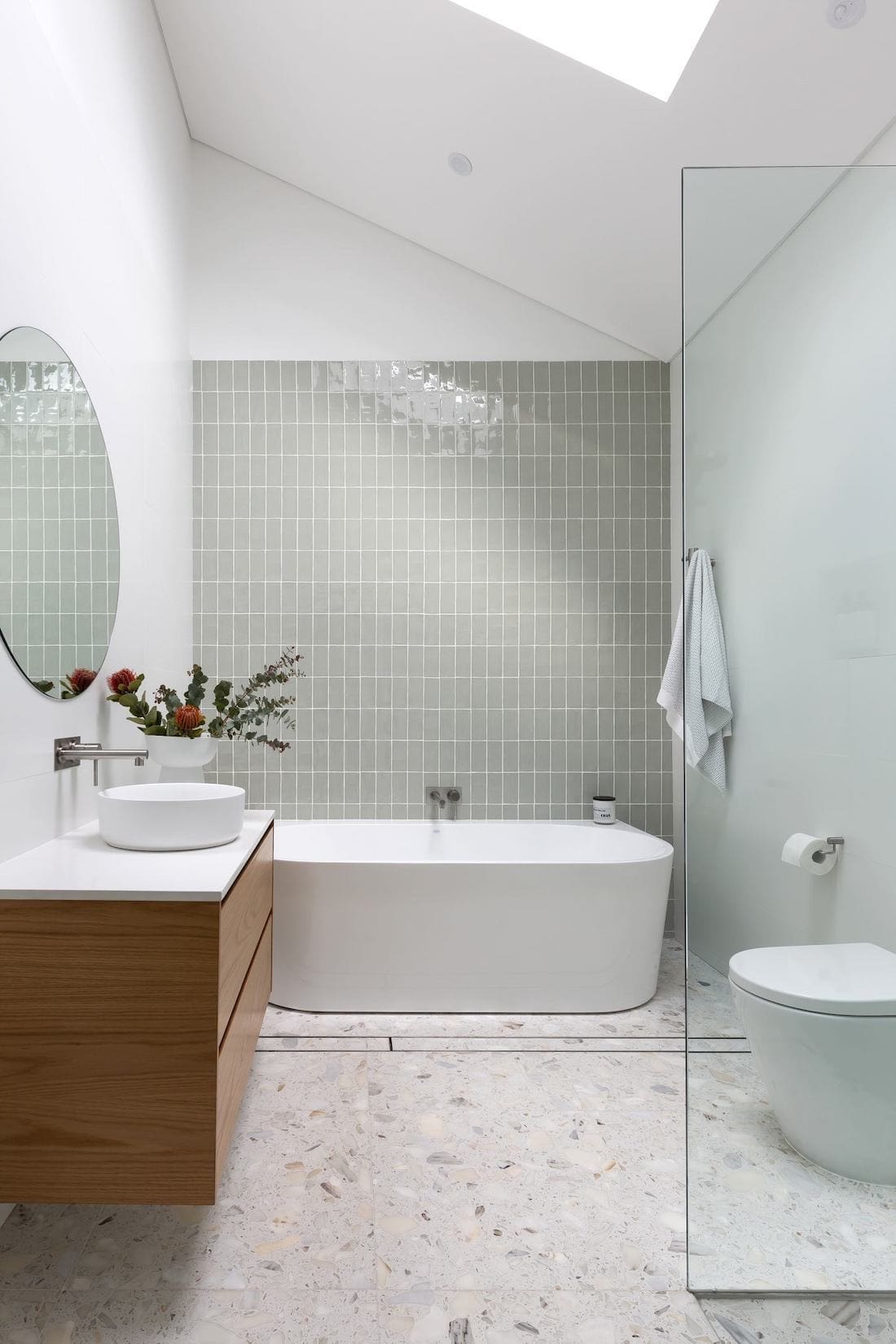 Do you have any questions about real terrazzo vs terrazzo-look tiles we didn't answer? Pop them in the comments below and we'll get back to you asap!
This article was first published in July 2019 and continues to be updated with the latest information and images.