It was the island bench with its gorgeous curved edge and those divine white kitkat tiles that stole our hearts in this boho kitchen from Interior Designer Alison Lewis. The Cecil Street Project is Alison's very own home, so there was never any doubt it was going to be amazing!
It's not the biggest kitchen in the world, but what it lacks in size, it more than makes up for in style.
Related article: Tips on how to plan the perfect kitchen: A dreamy, contemporary coastal kitchen
Related article: Where to splurge vs save in your kitchen reno: Inside a sophisticated black kitchen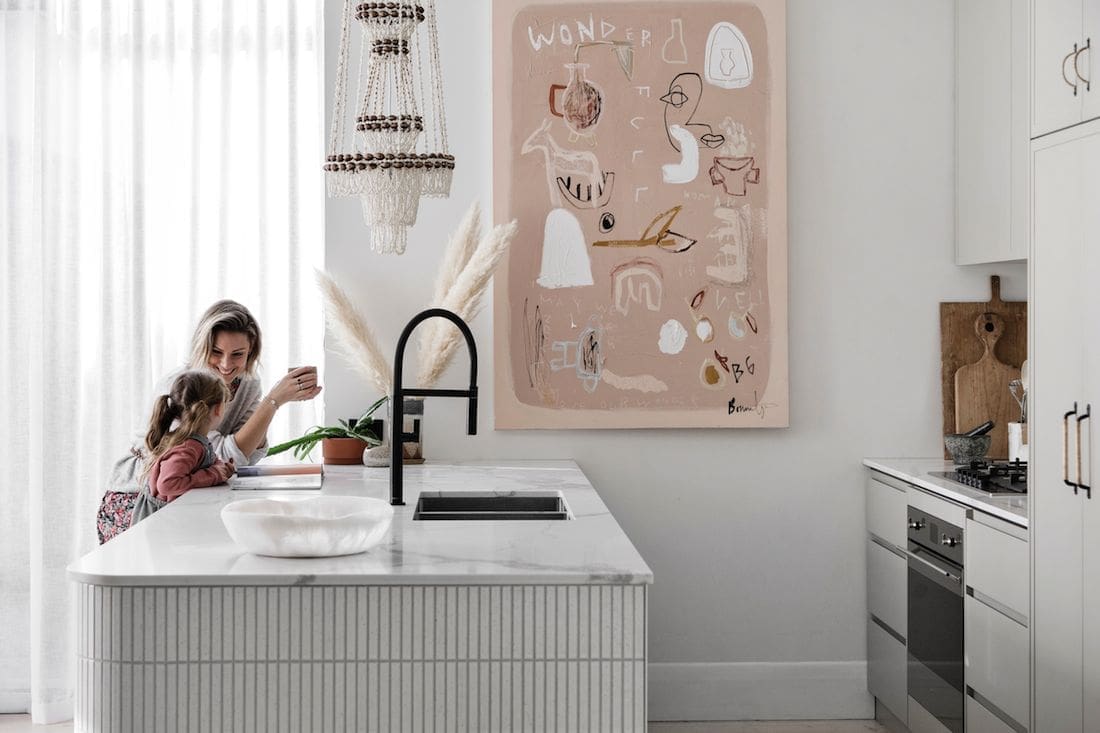 As part of a bigger home renovation project, Alison (who runs Alison Lewis Interiors) describes her kitchen as timeless, classic and fresh. And we couldn't agree more.
"I wanted to design a kitchen that sat beautifully in the new open plan living space," Alison explains.
"It was also important that it didn't encumber the magnificent floor to ceiling windows and doors leading out to the alfresco area. By reimagining the existing laundry as a kitchen, I was able to move the kitchen from its original location in the middle of the house, to this back wall.
"This enabled me to open the entire area. We created a kitchen, living and dining space that worked as one, rather than separate rooms.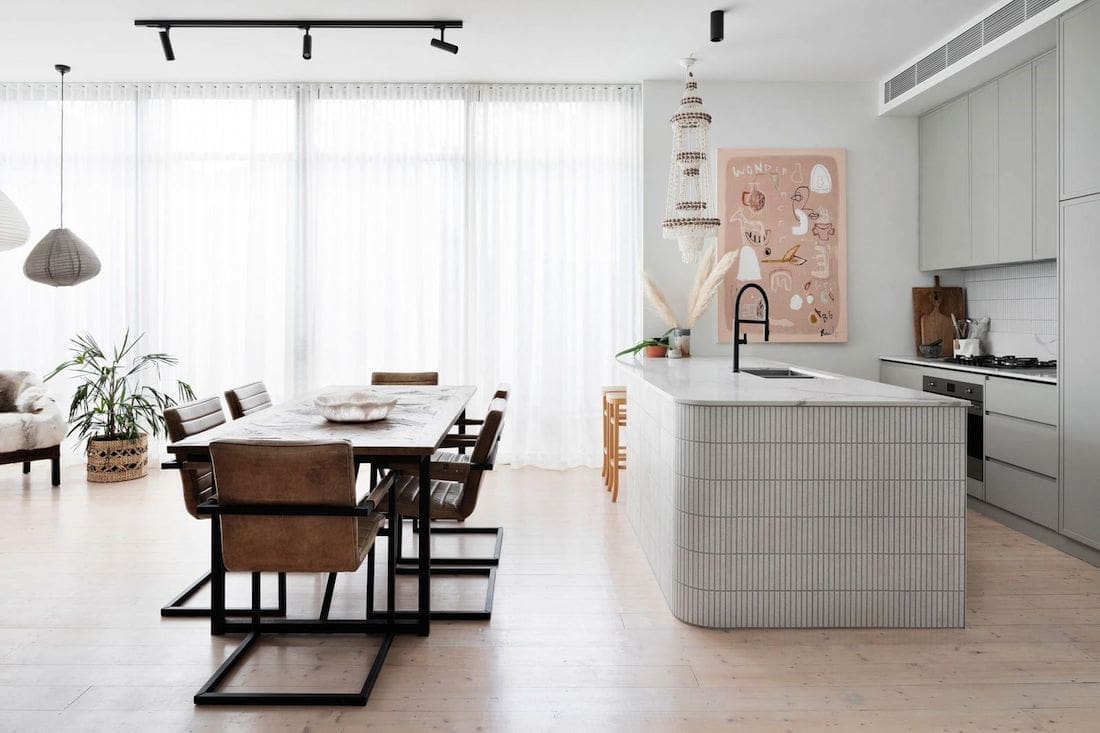 Renovating and extending their family home meant Alison could put her twist on an original, period home.
"As a designer, I love that I can implement different styles based on the type of home I'm working on. The Cecil Street Project is an authentic, creative and modern take on a 1930's Californian Bungalow," says Alison.
"I wanted to celebrate the original period features of the home. And then at the same time, create interior spaces that flowed into each other, making a seamless transition between old and new.
"The kitchen sits in the 'new' part of the house. It's become the focal point the home was previously missing. I used a palette of warm, inviting tones and textures and mixed them with a classic palette of crisp white and soft green to create a kitchen that I think speaks for itself!"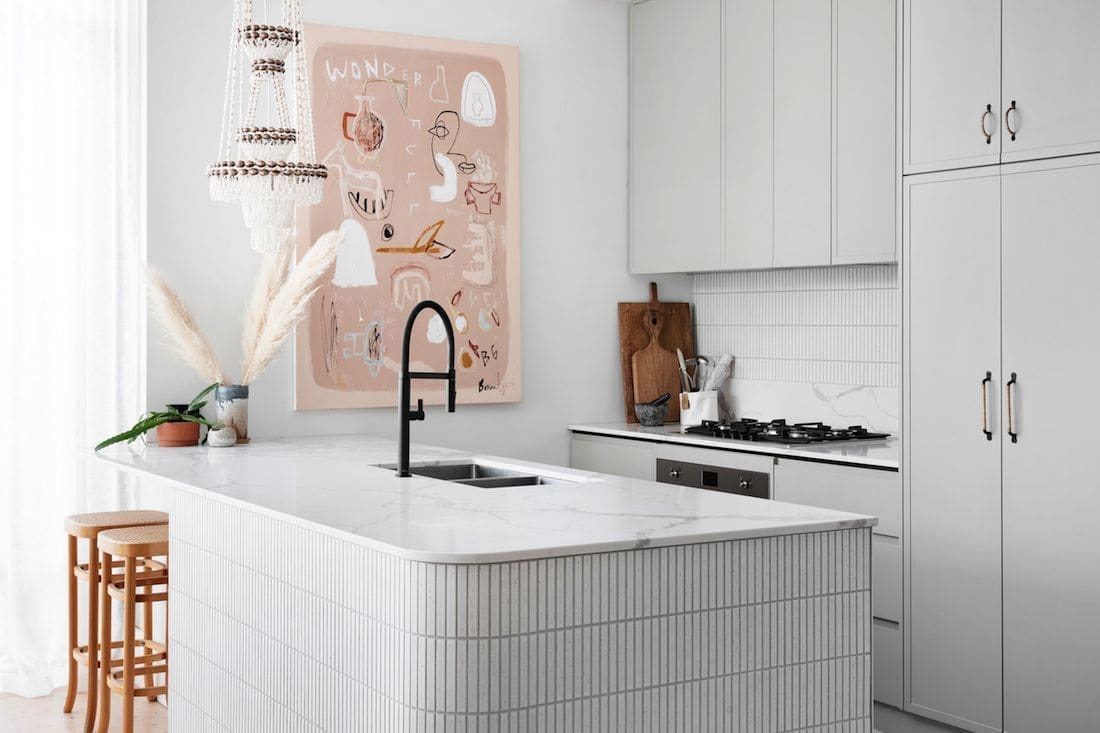 In a space that's fairly modest in size, this boho kitchen packs in so many stunning design features.
"The curved island bench, wrapped in feature tiles, just makes my heart sing and really gives the kitchen the WOW factor!" smiles Alison.
"My inspiration behind the tiles on the curved island bench came from Alpha House by BuildHer Collective. They did a tiled curved bathroom wall and curved island bench so I thought, why not combine the two!
"It was so beautiful to watch the curved island being installed. The island looked amazing before it was even tiled. But once the mosaics went on, I was beyond thrilled with the result!
"I also love the sage green cabinetry. We completed our kitchen almost 3 years ago and back then, it was a colour that felt a little risky. But now, it feels like sage green is the new white… so it was definitely a risk worth taking!
"Another feature that's really special to me are our rattan handles. There's something really beautiful about materials that patina over time and tell a story. When I found the rattan handles I knew straight away they'd be perfect in our kitchen."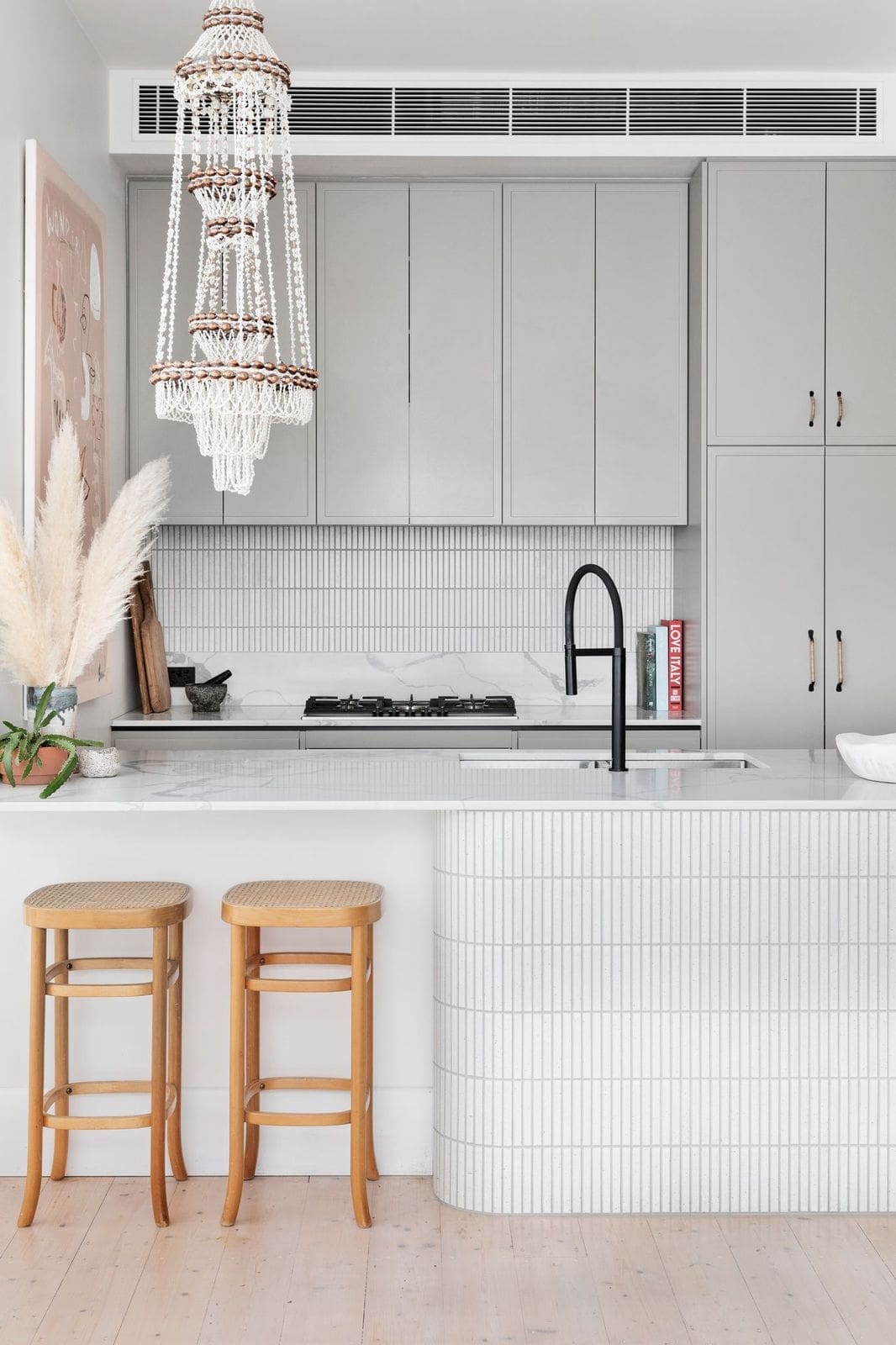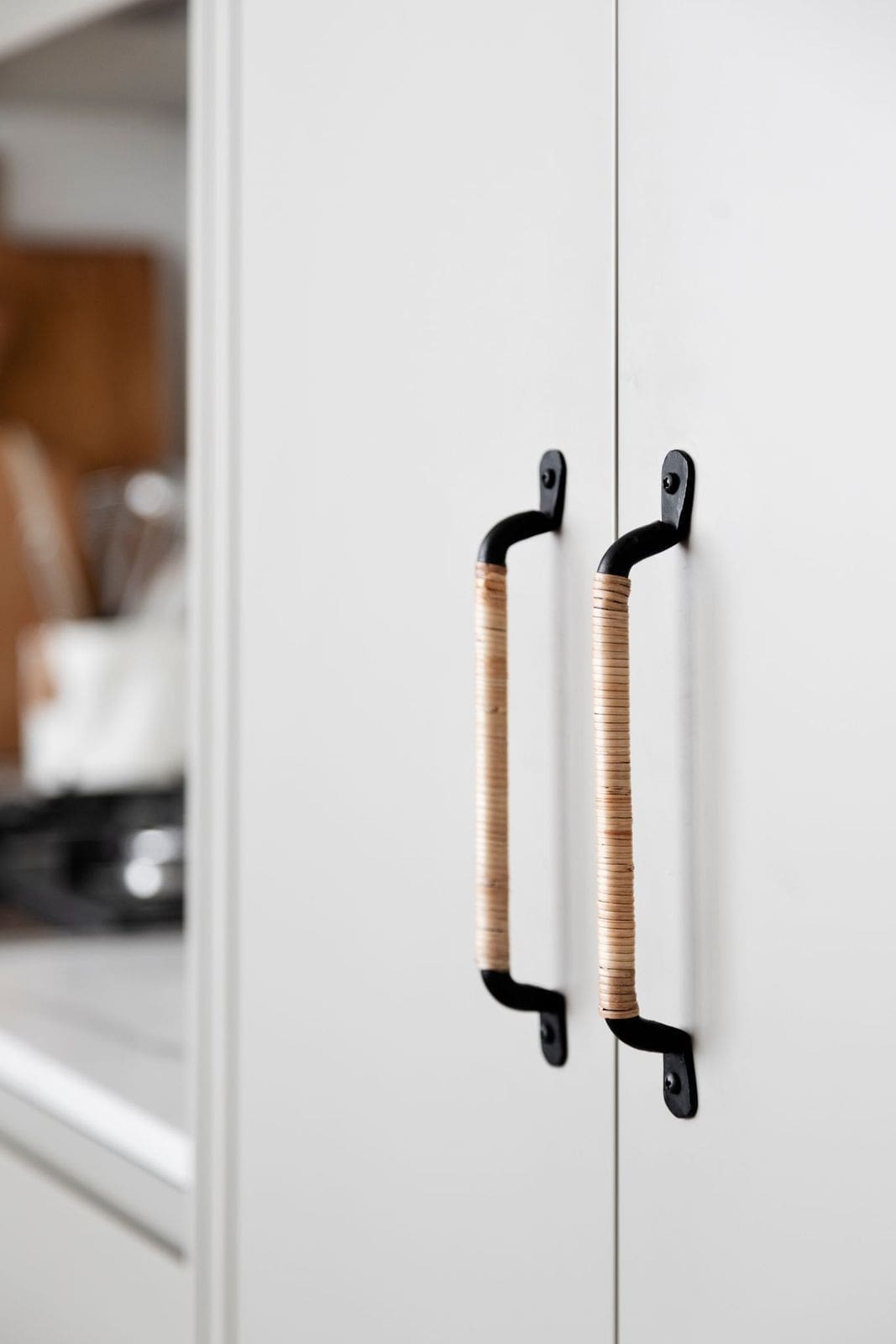 As an interior designer, Alison knows a thing or two about kitchen design.
"Take the work triangle seriously. The work triangle is the positioning of your sink, cooktop and fridge. It's the most important consideration for a functional and practical kitchen layout. My professional tip is allow no more than 3m between the 3 points of your triangle.
"Be storage savvy. Run your overhead cupboards right up to the ceiling and build in your appliances to maintain a sense of organisation. This is particularly helpful if you're working with limited space like we were. Storage becomes your best friend," smiles Alison.
"Be generous with your task lighting and playful with your ambient lighting. You need a variety of light sources in your kitchen. From under-cabinet lights, to task lighting over bench spaces.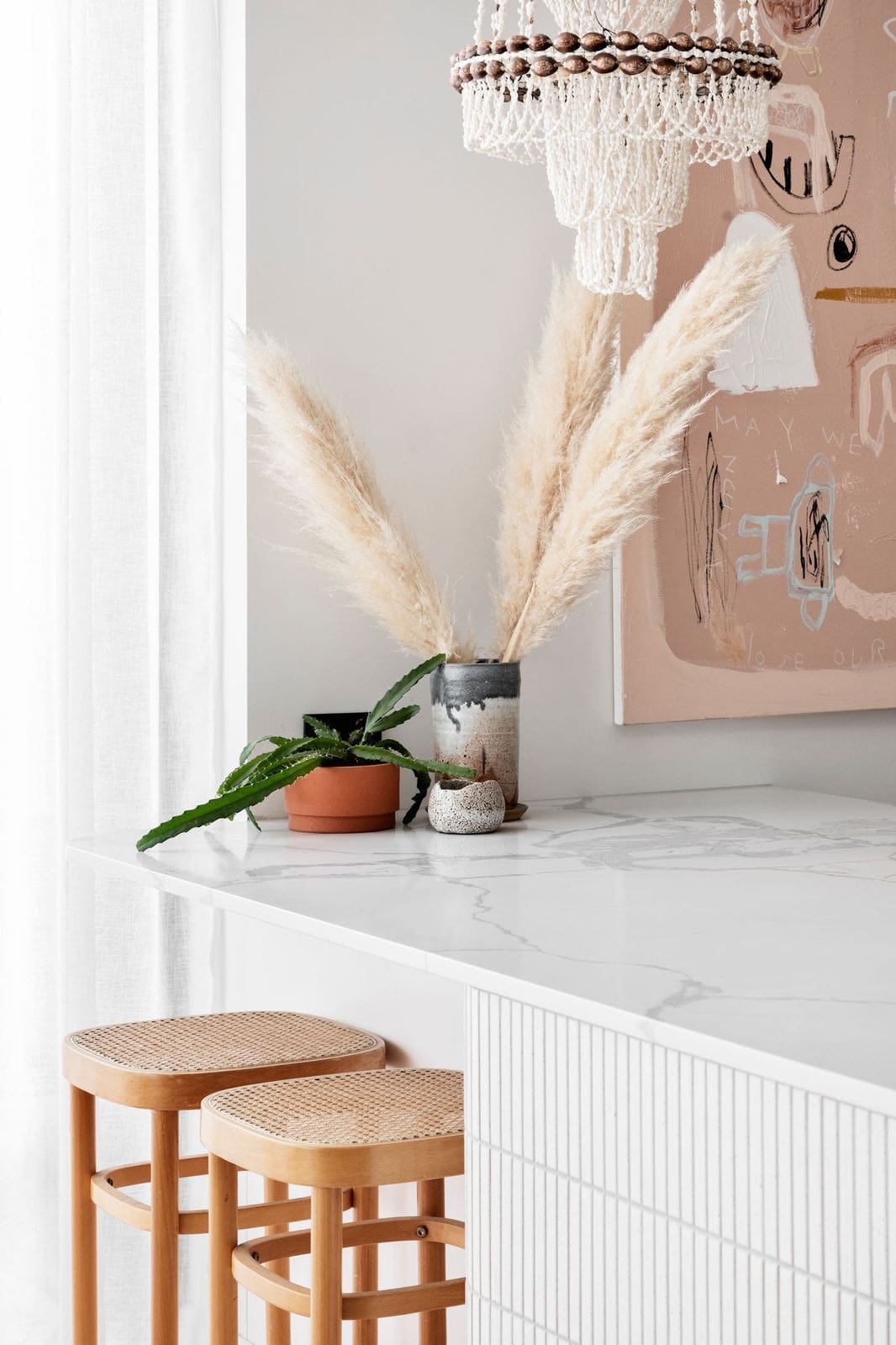 "Keep your finishes to three or four materials only. My style is pared back so I like to keep my material selections simple, yet interesting.
"One of my finishes always has texture to add interest and another is tonal to create cohesion. The third is either matte or gloss, depending on what else is being used. This helps give variety to a space.
"Maximise your bench space. Storage is key, but so is bench space. You want it to be free from as much clutter as possible and wide enough to spread yourself out without feeling cramped. Just another reason I love big, clean island benches!"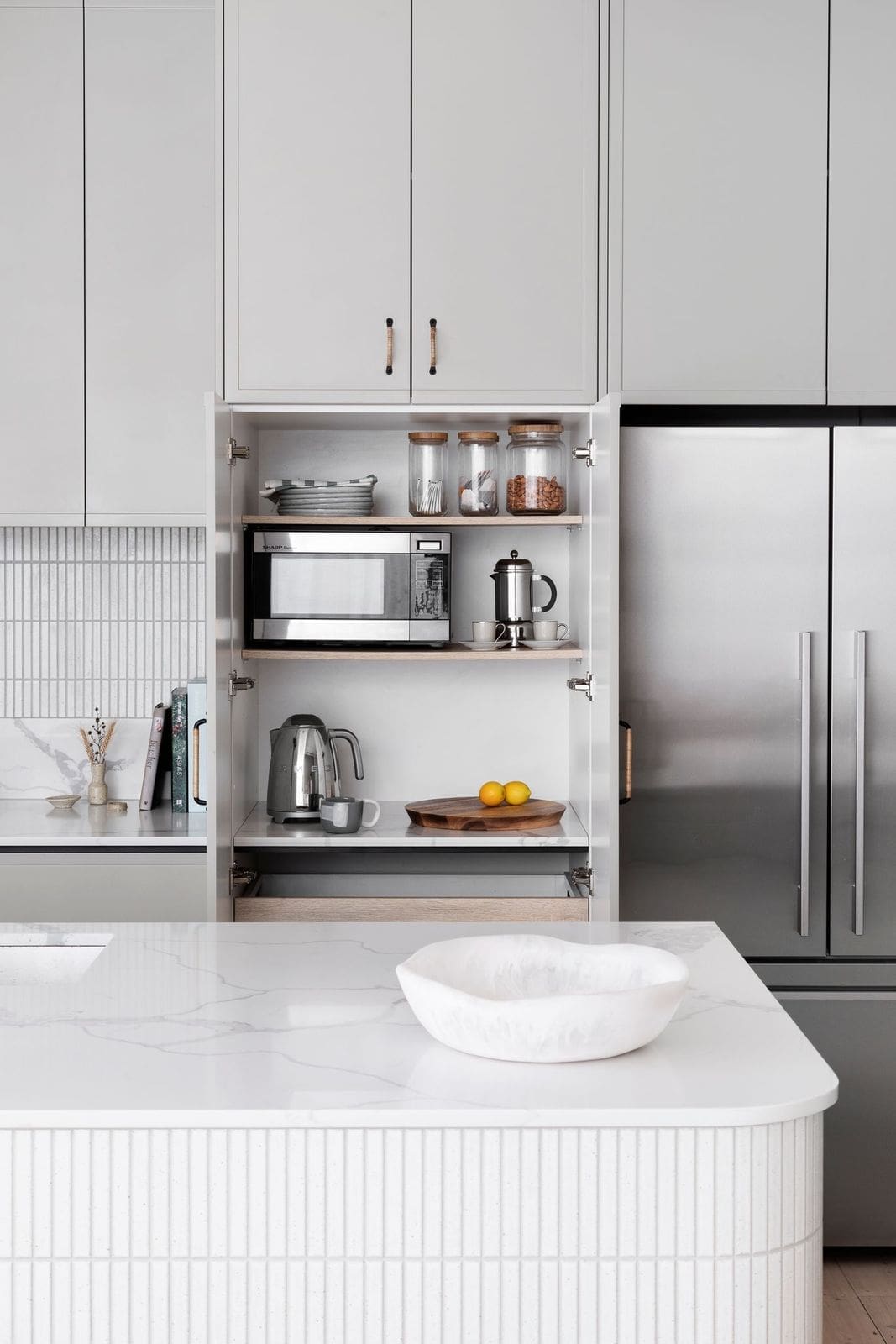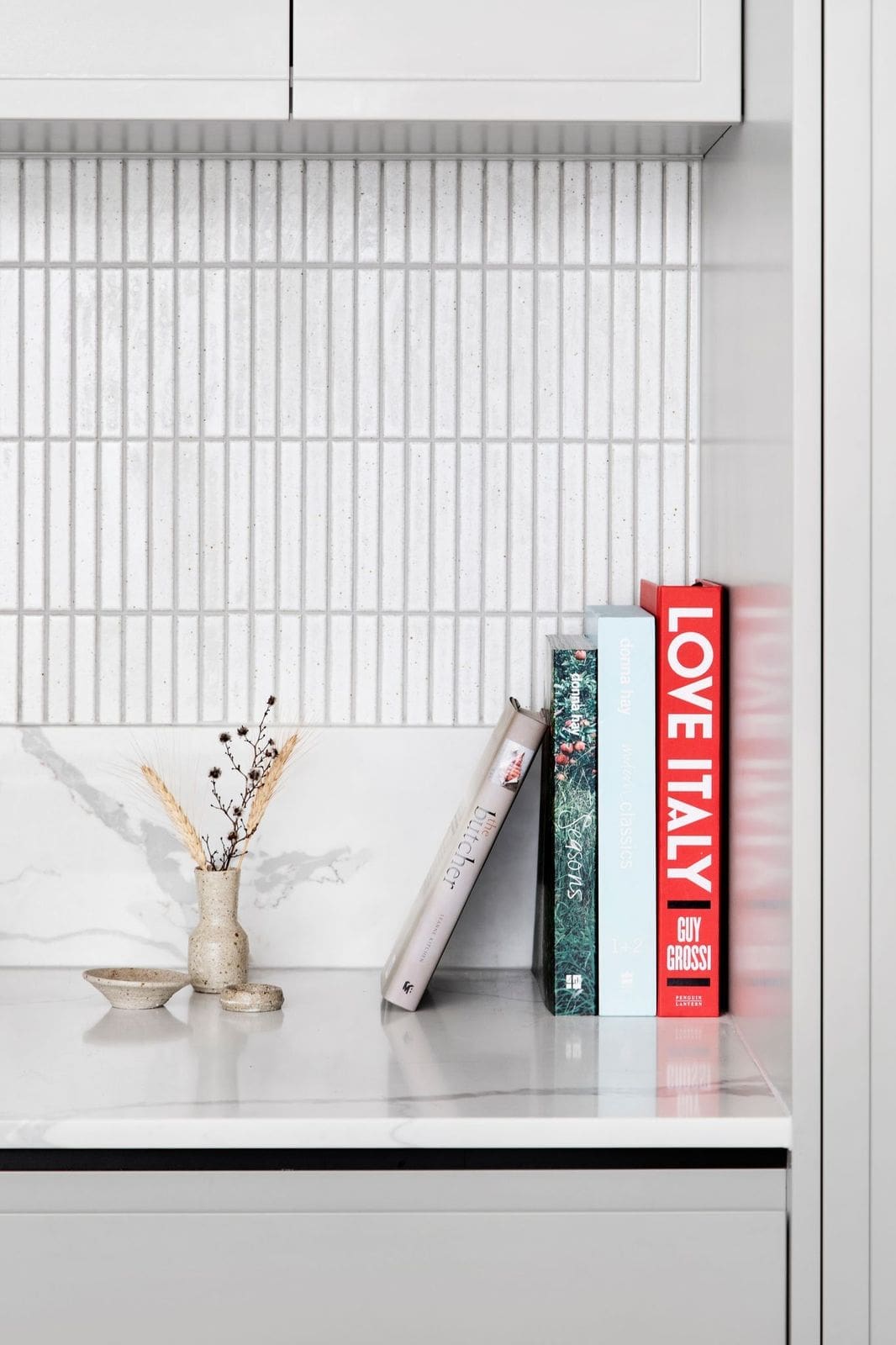 And then, Alison's luxe-have inclusions in a kitchen. Things you may not have thought about when designing your own beautiful kitchen.
"It's simple but I love a 900mm oven and cooktop. Bigger cooktops and ovens are perfect for family living and those who like to entertain.
"This is the first time I've included a double-dish drawer and I have to say, they are a real game changer. I have no doubt as integration becomes more affordable, an integrated dishwasher will become my new must-have," says Alison.
"An island bench. Free standing or connected to a wall like ours, an island is one of my favourite kitchen features. It's for good reason you see them in almost all kitchen designs nowadays.
"Deep drawers for pots and pans next to the cooktop. There's nothing worse than trying to get a big pan from a small drawer! I love a smaller drawer at the top for commonly used cooking utensils. Then two deep drawers for pots, pans, baking trays and everything in between.
"If you don't have room for a walk-in butlers pantry, an appliance cupboard is the next best thing! It's the perfect spot for the toaster, kettle, blender, microwave and anything else you use regularly, but want off your benchtop to keep it clear of clutter."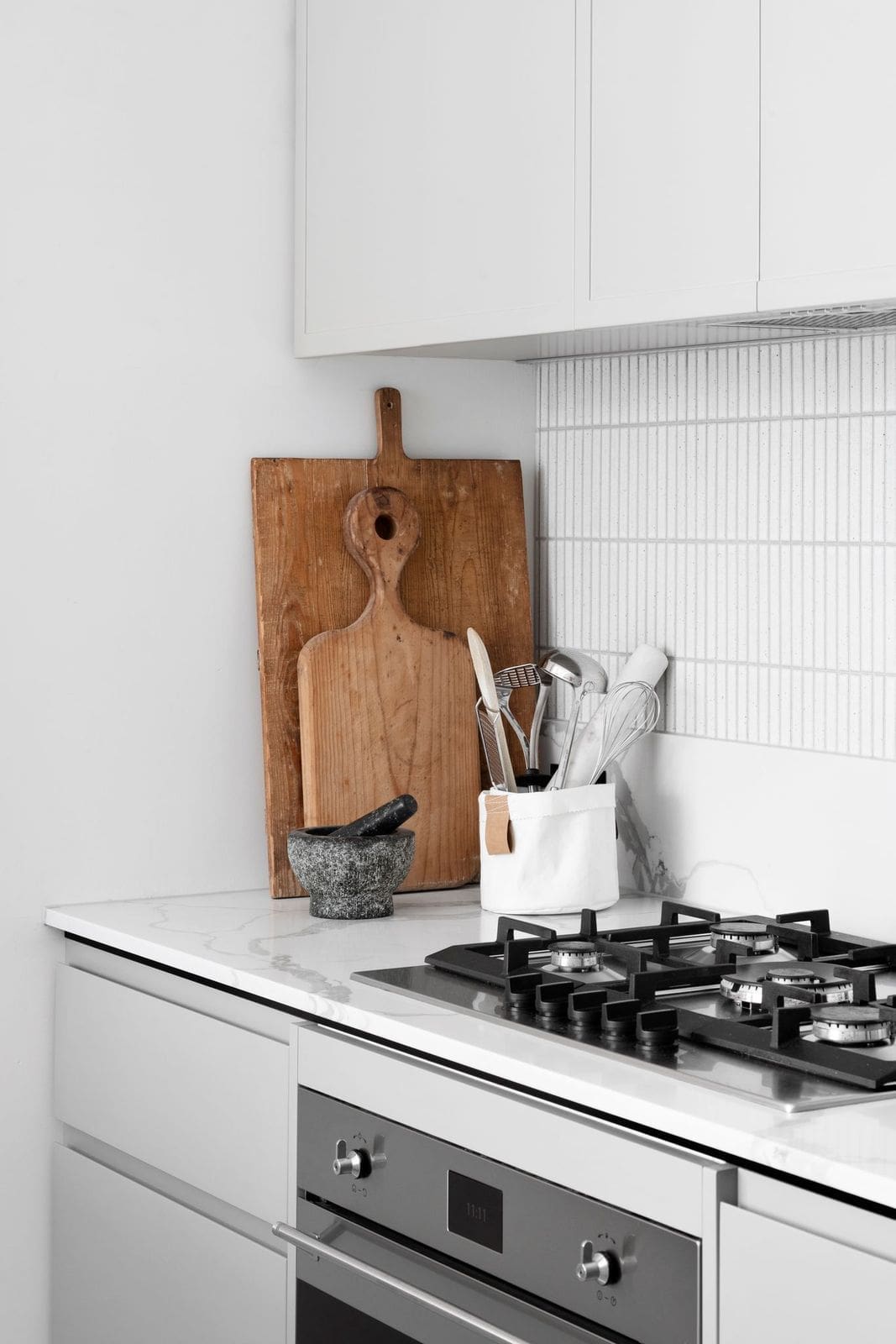 Supplier details
Photography — Dylan James Photography
Builder — CJ and C Constructions
Interior Design and styling — Alison Lewis Interiors
Cabinets — Project Cabinets
Benchtop — RHF Stone
Lighting — Sphera Lighting
Tiles — Academy Tiles
Handles — The Society Inc.
Artwork — Bonnie Gray
What a divine space! We loved taking a look around this stunning boho kitchen — small on space but BIG on style! Thank you so much to Alison for sharing her very own kitchen with us. To see more projects from Alison Lewis Interiors, visit her website or take a look through her Instagram feed.