As the wife of a builder, Veronica King has been around a kitchen reno or two (or 50!). So when it came to building her dream kitchen, she knew exactly where to splurge and where to save. She takes us on a tour of her modern black kitchen and shares loads of practical tips to achieve a fabulous kitchen design — within budget!
Related article: The dos and don'ts of custom joinery
Related article: The kitchen design measurements you need to know — from an Interior Designer!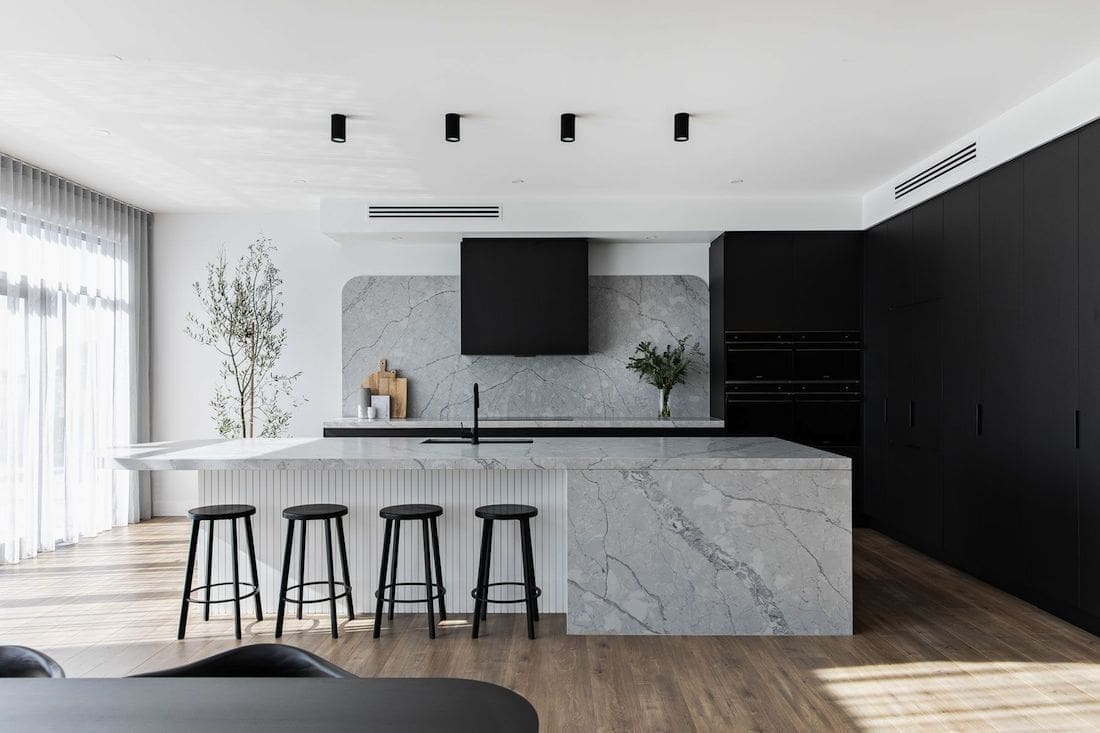 When it came to building her new home, Veronica knew she had to strike the right balance between function and aesthetics.
"Given we've seen so many houses built — my husband's company King Homes NSW built our home — we pretty much knew the kitchen layout that would work for our family and lifestyle," explains Veronica.
"It's a modern, monochromatic theme which was designed with plenty of storage including a cellar, bifold breakfast area, integrated appliances and a walk-in pantry.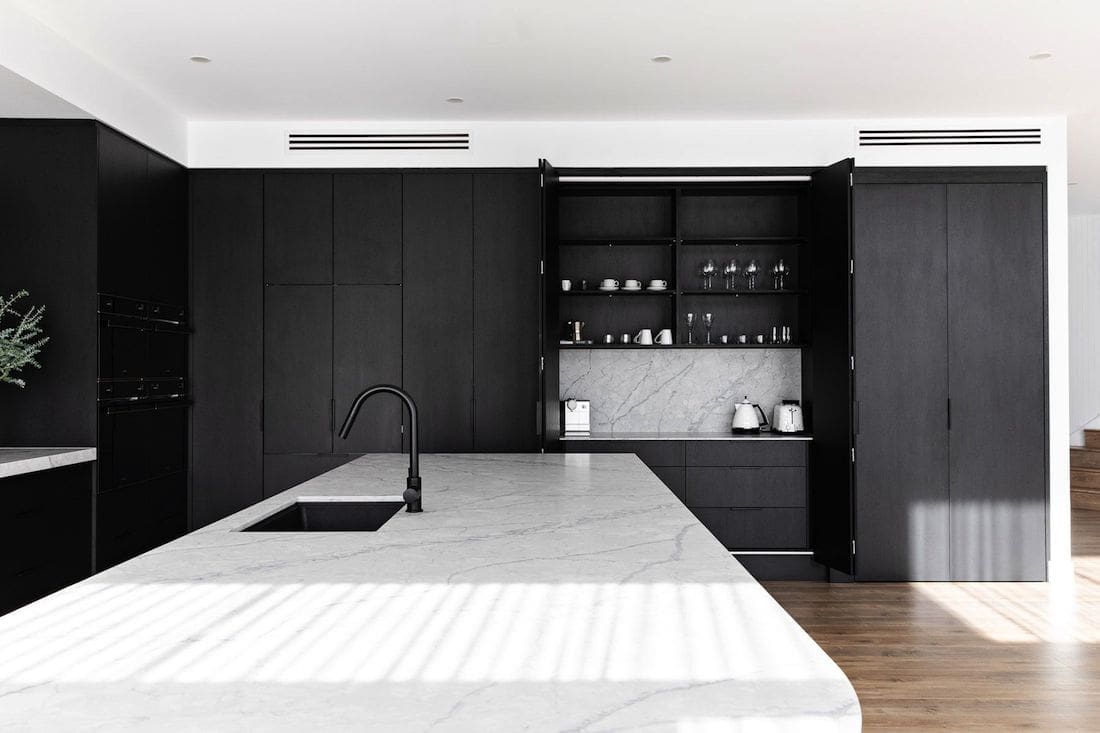 Veronica had her heart set on a black kitchen despite it being seen as 'risky' and hasn't regretted the choice.
"Although we have young kids (we have 1-year-old twin girls!) we always wanted a black kitchen. And, as the space was quite large, we were keen for something striking.
"I'm into the more minimalist feel so we opted for integrated appliances to really streamline the look of the kitchen but chose durable materials to suit our young family.
"A black kitchen doesn't always lend itself to being practical!" laughs Veronica.
"We chose the Polytec Black Woodmatt as the main material and yes, fingerprints are visible. There are some products which promote being 'fingerprint-proof' however thanks to some research, we realised they were prone to chipping and may not be as durable as what we required. We slightly reduced the fingerprint issue by using slim line black lip pull handles.
"The remaining aspects of our kitchen are durable and easy to maintain. For example, we used engineered stone for our splashback and benches, which is a hardwearing and a dream to keep clean. Plus our laminate flooring also reduces any risk of scratching so that's one less thing I have to worry about!"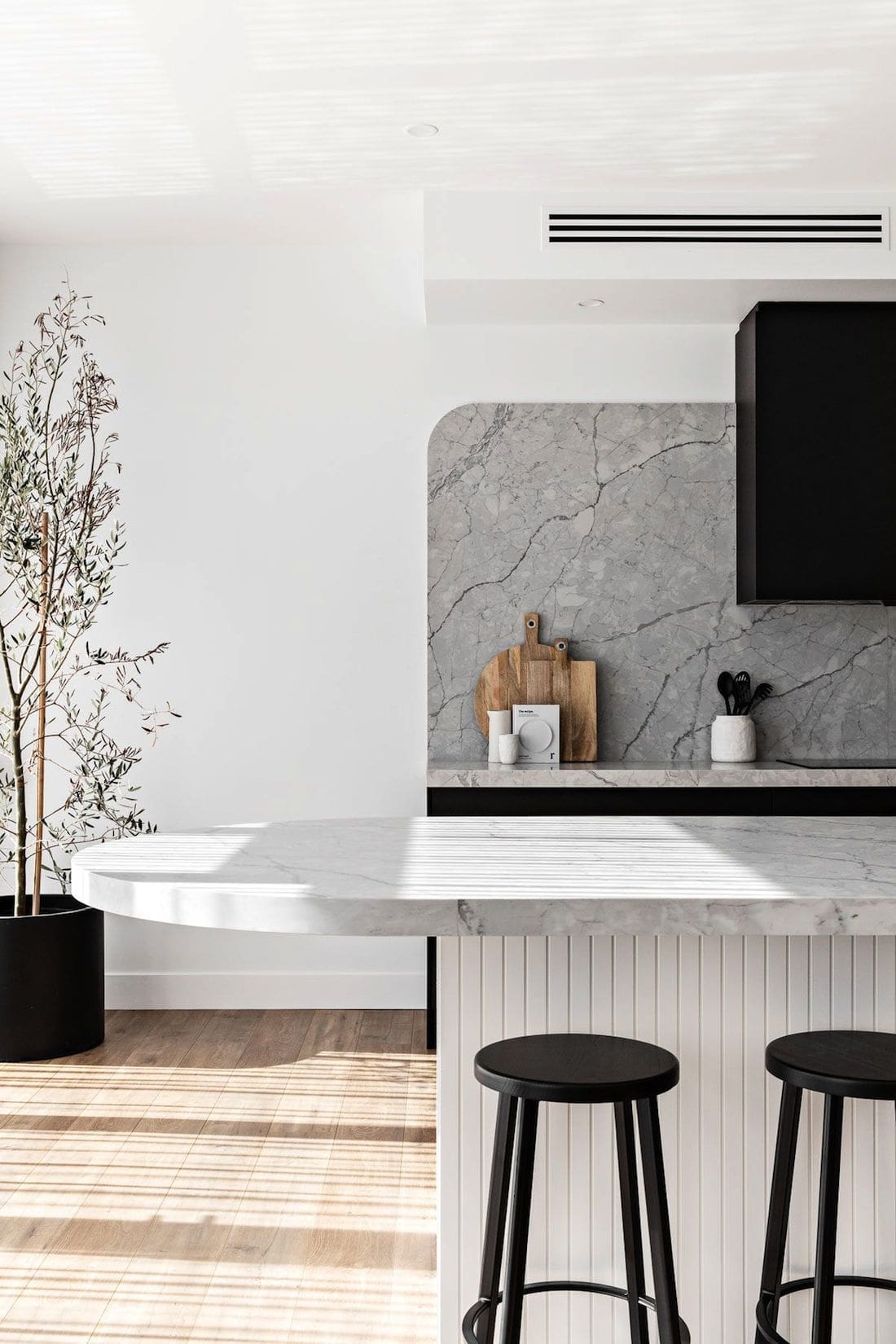 There's a lot to learn from someone's favourite design features… and what they'd do differently next time around.
"The island bench is 5m long and has a stunning curved feature edge. It really is the wow factor in our kitchen," smiles Veronica.
"It gives us plenty of space to entertain and being Talostone Super White engineered stone, it's easy to maintain.
"I also love our integrated appliances — they finish the kitchen perfectly and give it a nice clean look. My other favourite feature is our concealed breakfast bench. Hidden behind a clever bifold door is our coffee machine, kettle and toaster.
"If I had my time again, I probably would have changed our walk-in pantry to be closer to our island rather than at the end of the kitchen. We don't have a dishwasher in our pantry but it's where I do a lot of meal prep so I'm always going back and forth to the dishwasher.
"But these are the things you only realise once you're in and really using the space."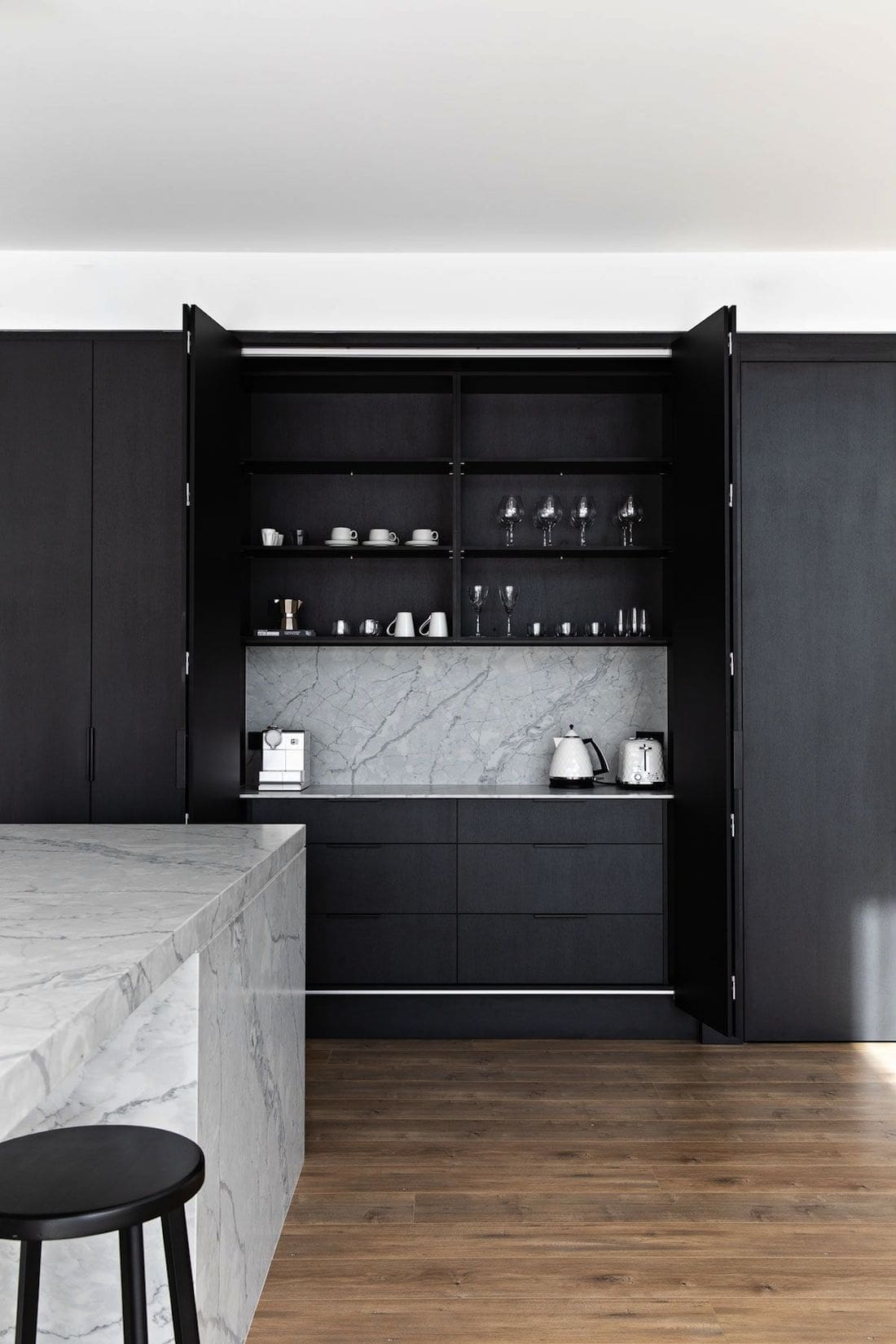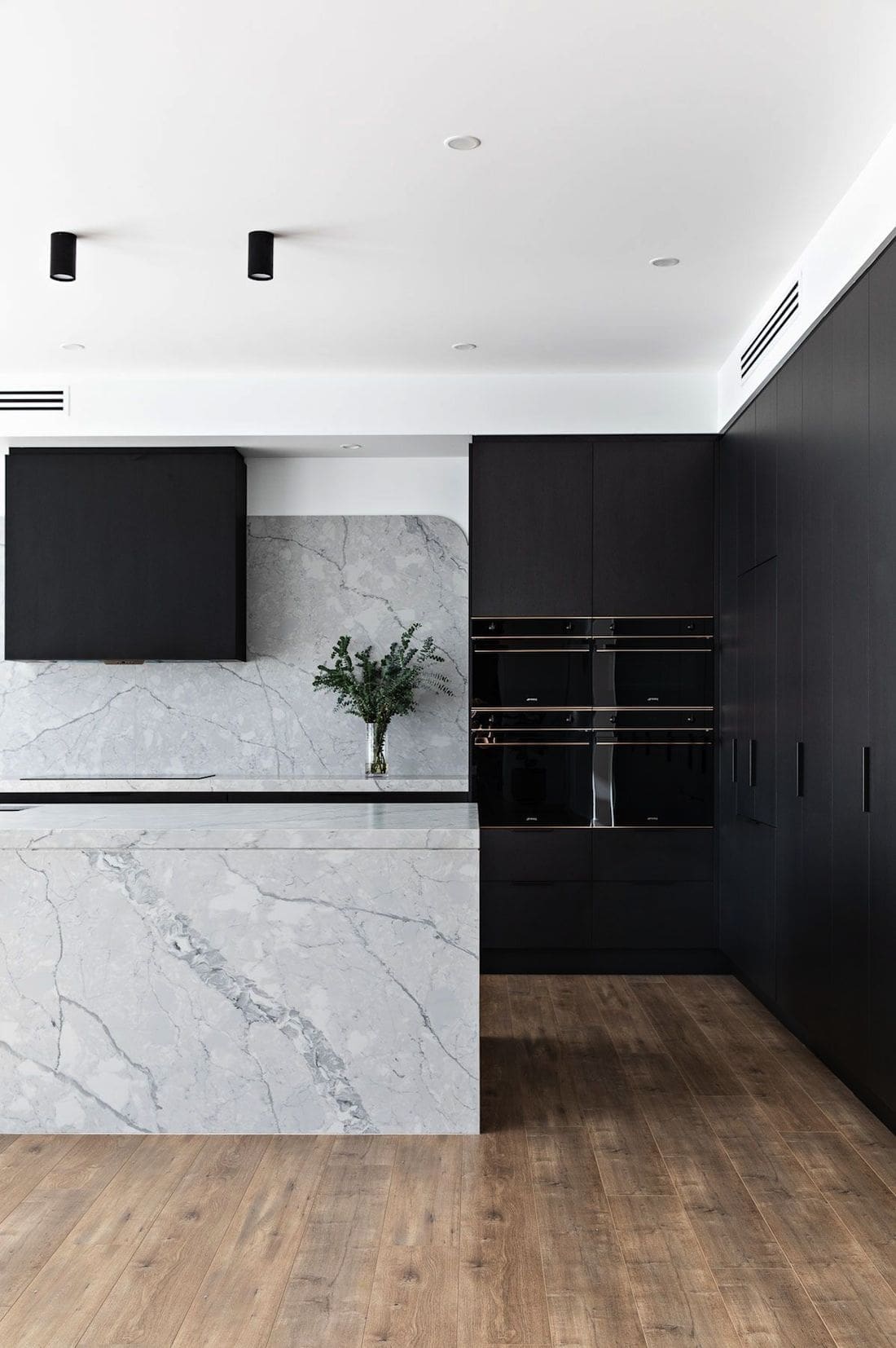 Having seen more than a few kitchen renos in her time, Veronica knew where to splurge and where to save in her kitchen.
Splurge
"Splurge items for me would be bulkhead around the cabinetry to ensure you don't have any empty space between the top of the cabinetry and your ceiling height.
"Also, if possible, try and continue your stone for your splashback for a consistent feel. If it's not in the budget, consider continuing the stone half or a quarter way up with tiles above for an interesting feature," suggests Veronica.
"Invest in good tapware and a good sink. These are things we use so often and I am really glad we chose quality finishes.
Save
"In terms of where to save, I definitely think you can do this with your cabinetry. There are so many beautiful laminate options available and this can significantly reduce your costs.
"Skip the pendant lights — there's no need to have the traditional 2 or 3 hanging pendants over the island. Instead opt for surface-mounted downlights for a modern feel.
"And finally, you can save with your stone thickness. Choose a beautiful stone to compliment your kitchen but don't be too concerned about having it a certain thickness.
"You also don't need to have the waterfall edge to have a luxe looking kitchen. 20mm stone can still look beautiful and luxurious if it's done well," says Veronica.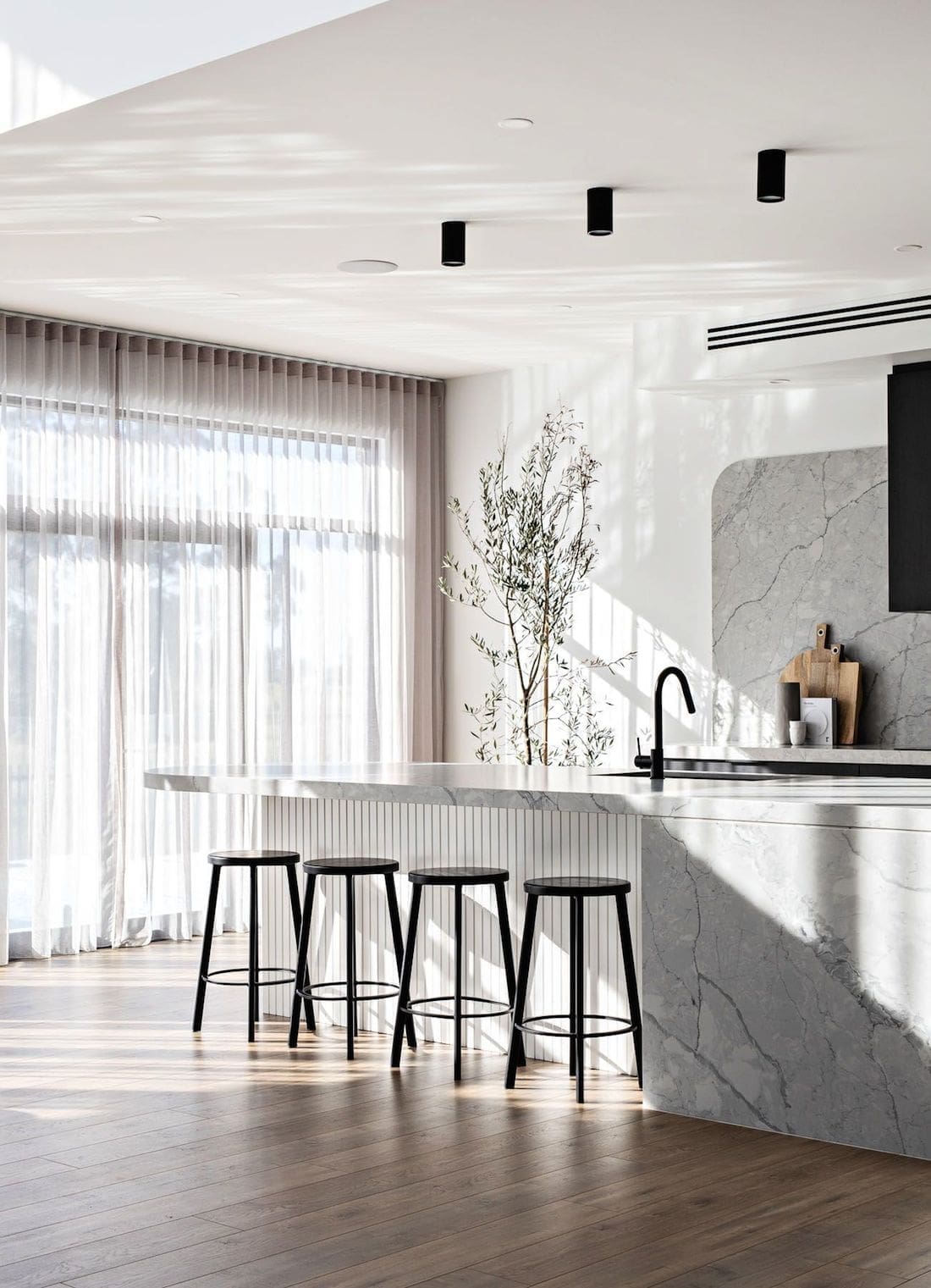 When it comes to building or renovating a kitchen, Veronica says not skimping on the planning stage is key.
"One thing I'm pleased we did was put in the time and effort to research things before we got started. Things like choosing our kitchen joiner. We went with someone we trusted and knew the quality of their work.
"Don't choose based on their final price, choose a joiner based on what you're getting — you won't regret this decision," says Veronica.
"Also, look into your appliances before you lock them in to ensure they have all the functions you want and need and can be installed into your kitchen the way you want.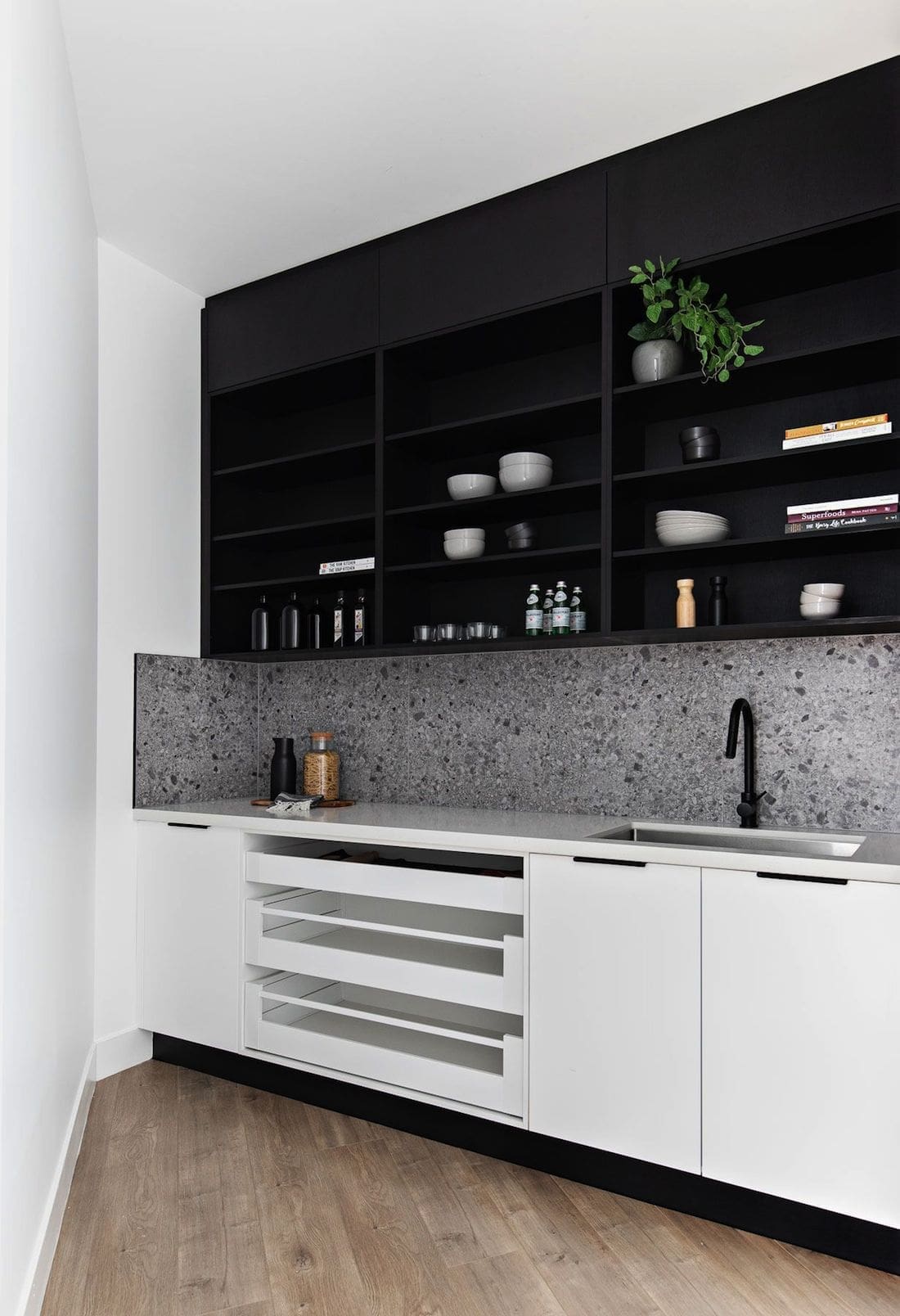 Choosing a mix of luxe must-haves and compromising on others helped this black kitchen come in close to the original budget.
"We wanted to keep our kitchen renovation budget around the $50k mark. We managed to keep close to it, and a lot of that was thanks to a cost reduction in choosing the Polytec laminate and lip pull handles.
"A big chunk of our budget was taken up by the cost of the stone, stone masonry and the appliances which could easily have blown the budget if we hadn't got it right. Another reason it pays to put in the time and do your research first!" says Veronica wisely.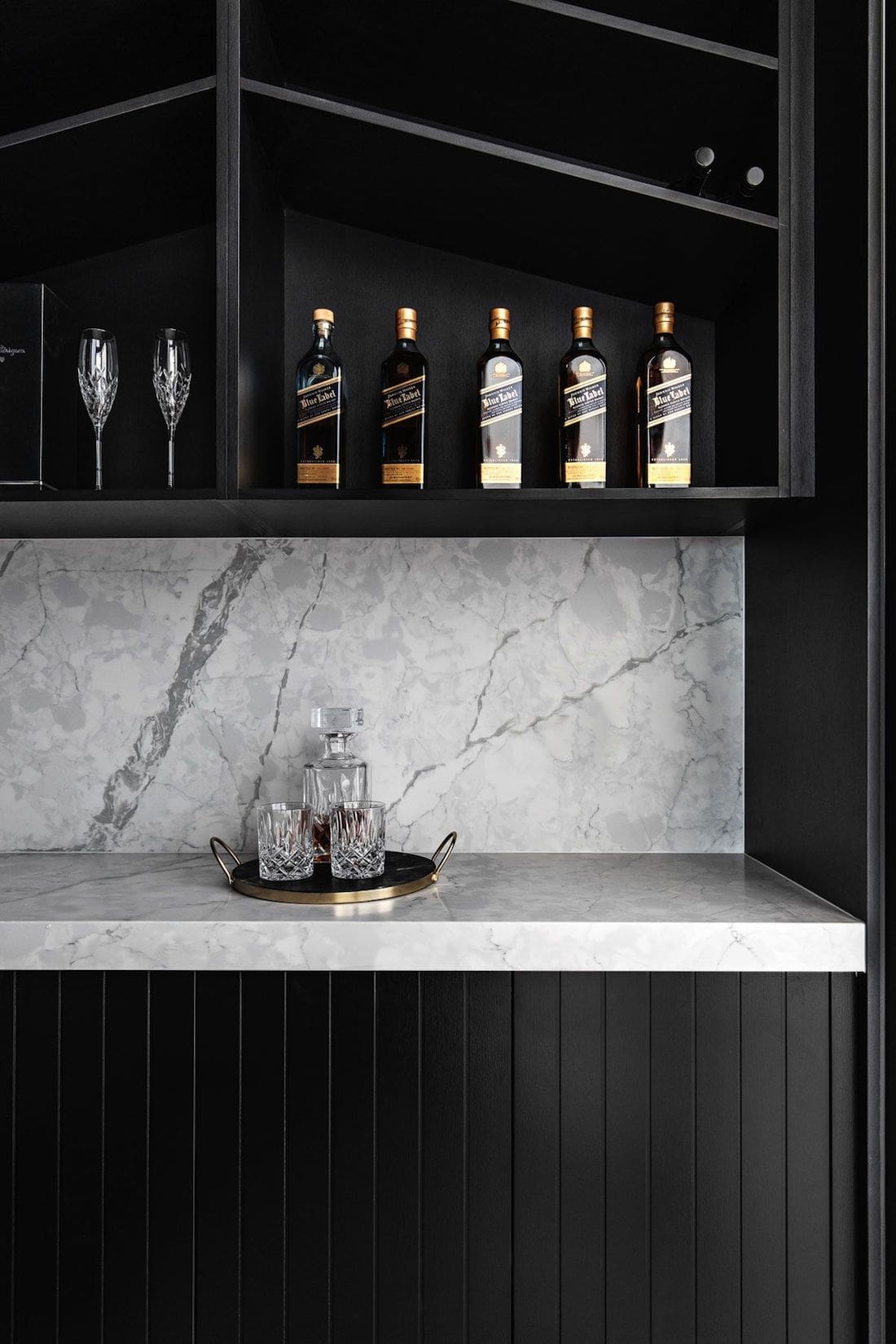 Thank you to Veronica for sharing her advice, splurge vs save tips and her amazing black kitchen with us. To see more of her gorgeous home, check out her Instagram page, The Builder's Wife. Or for more projects, take a look at King Homes NSW on Instagram or on their website.
Has Veronica's kitchen inspired you to consider going black!? Tell us in the comment section below!
Builder — King Homes NSW
Photography — The Palm Co
Joinery — Vision Kitchens and Joinery
Stone — Talostone Australia
Appliances — Winning Appliances