Carlene and husband Michael, former contestants on The Block, are no strangers to tackling big, ambitious projects. But creating their dream home from what was essentially just an enormous concrete slab was certainly one of their greatest challenges.
Now a picture perfect, functional resort-style family home, the duo behind design and styling business Cedar + Sage take us on a tour of their labour of love.
Related article: A colourful family home where artwork takes centre stage
Related article: Statement lighting steals the show in this Californian bungalow renovation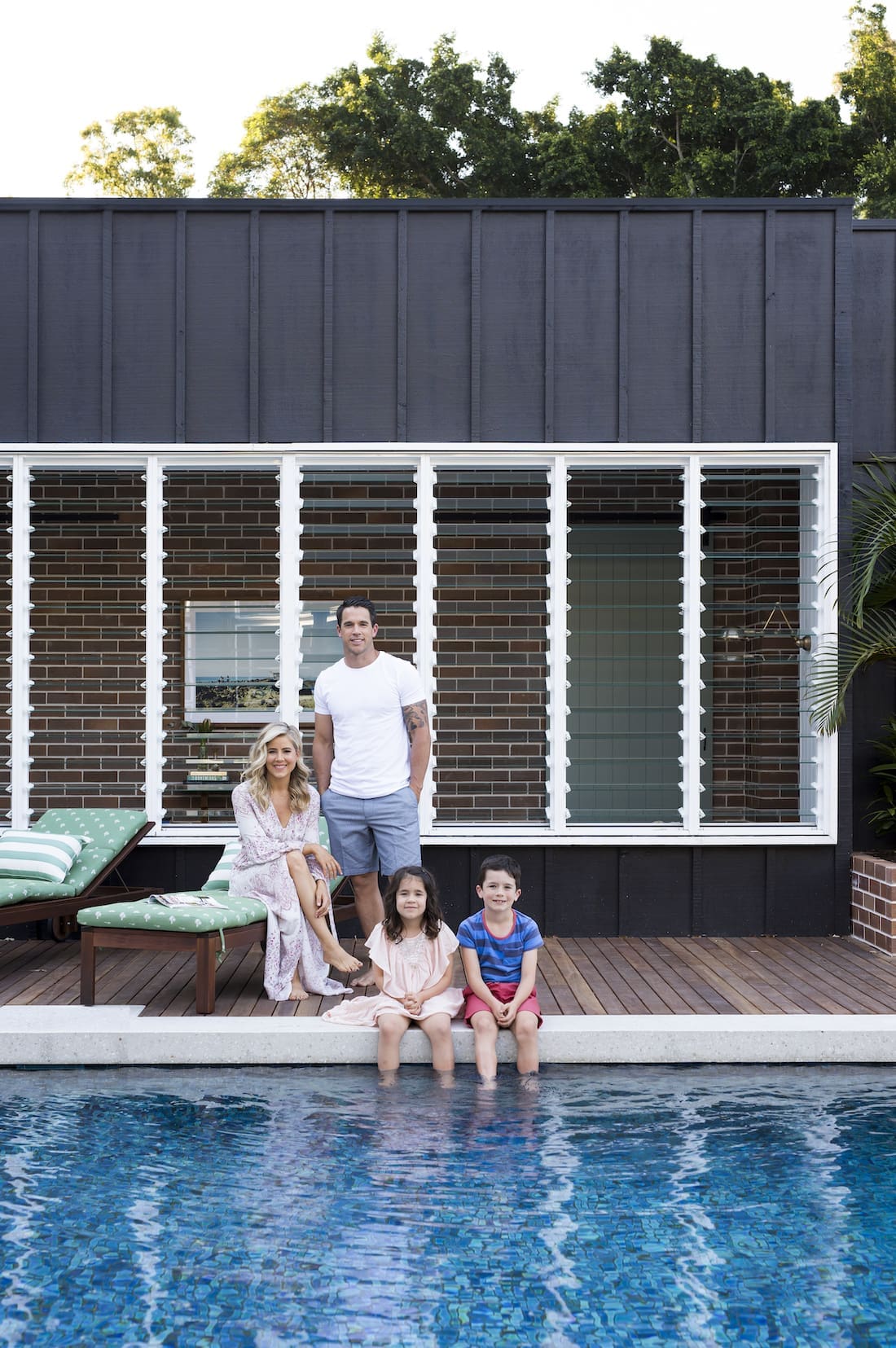 "We purchased our home about nine years ago and you can get the full back story here.
"Two years ago we embarked on the renovation that we'd been hanging out to do since we purchased it. It was more of a new build than a renovation but the slab was existing.
"We created a courtyard and breezeway that led to 3 bedrooms, 2 bathrooms, a rumpus room and loft space and we landscaped the pool area which is the hero of the home."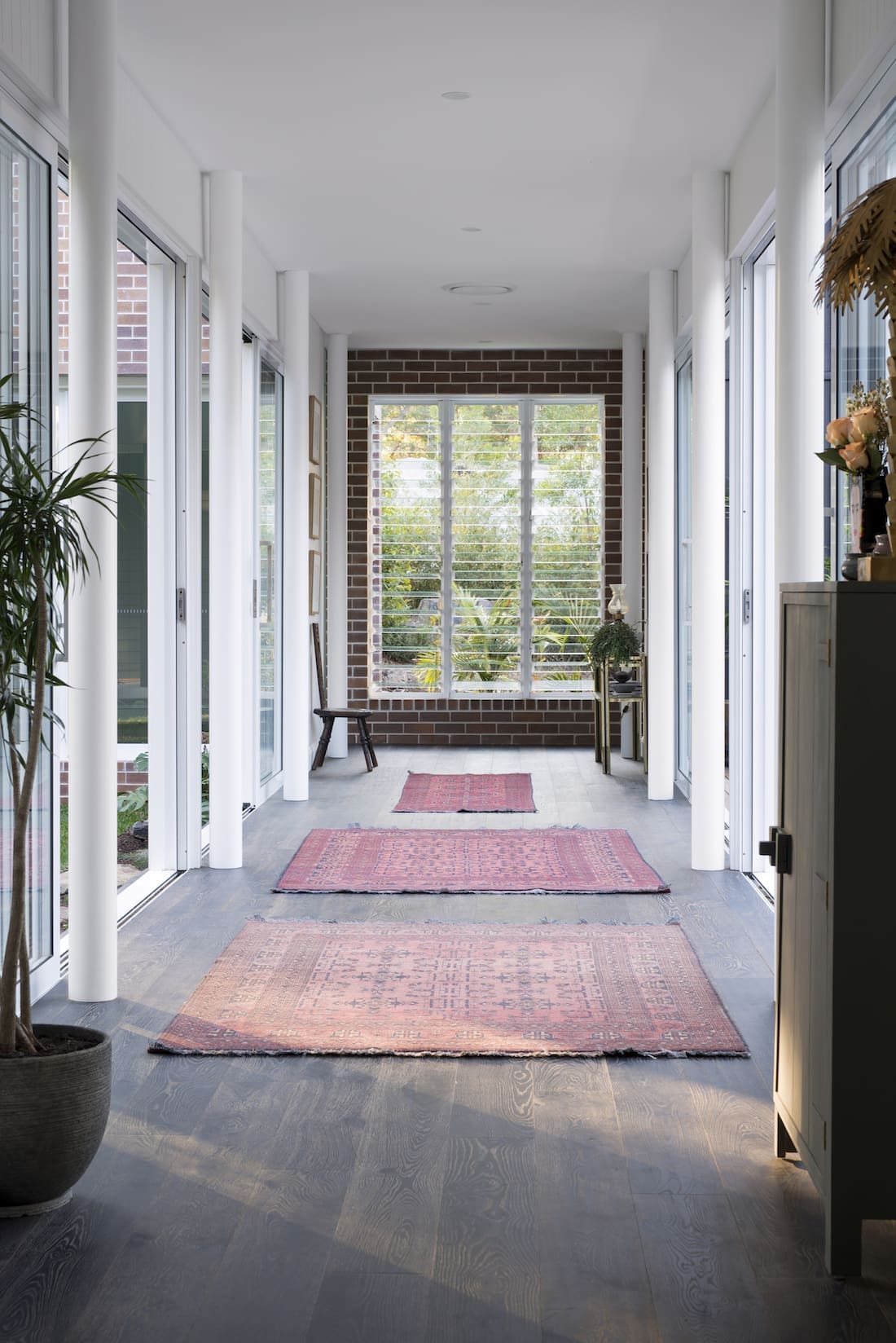 The stunning pool area, surrounded by easy maintenance landscaping looks out over the family's tree-filled block in Tallebudgera on Queensland's Gold Coast.
"I love these images of our exterior but no pic can reflect the feeling of a space, and this house emits seriously good vibes. It absolutely helps that we're surrounded by lush, mature greenery, the sound of birds and the fact that there's something very resort-like about this home. It's calming," she says.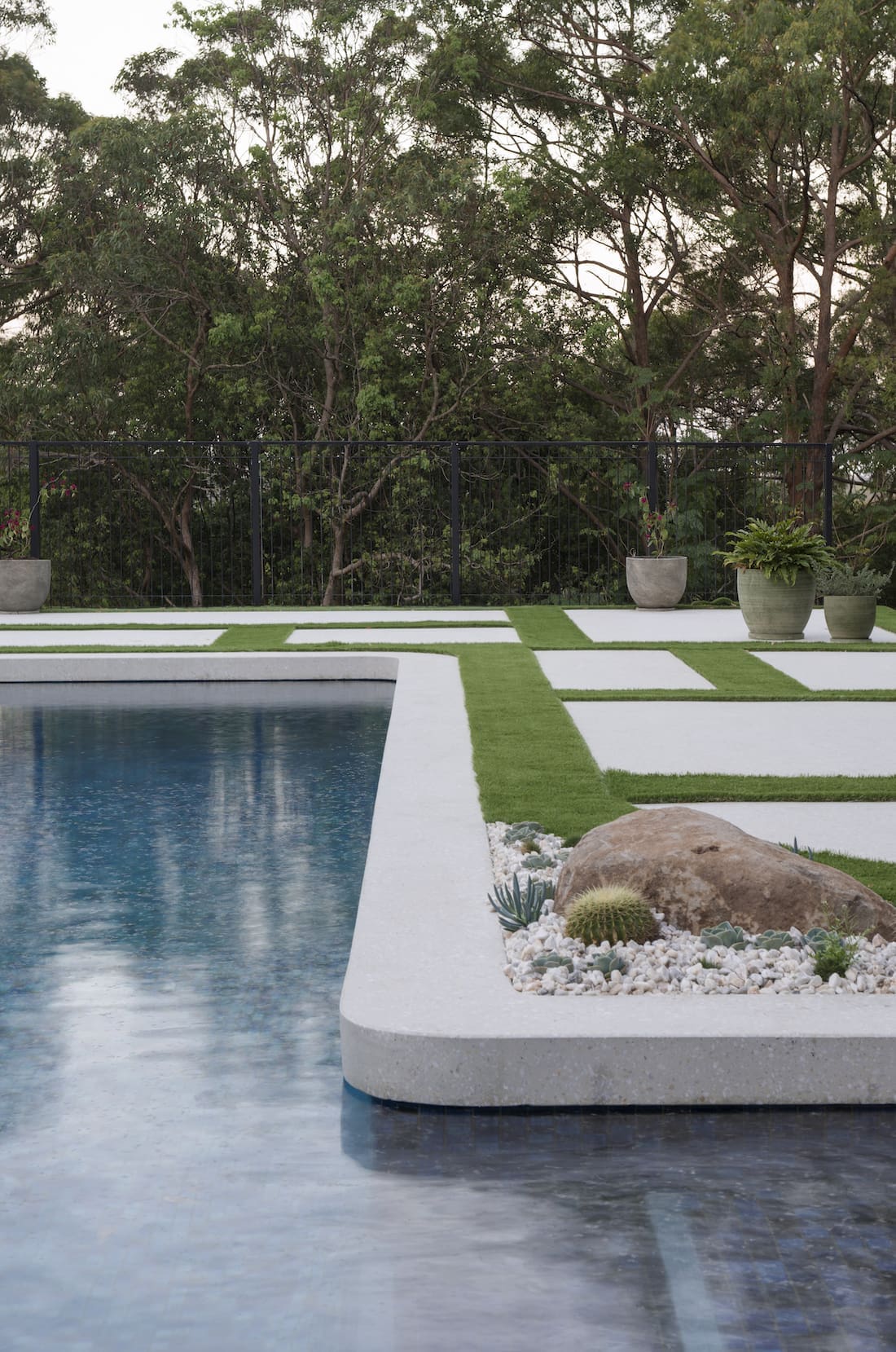 Carlene admits her style is difficult to define.
"The architecture is modern with a modernist influence and the pool and landscaping reflects a certain Palm Springs flavour," she says.
"The black rough sawn shadow clad exterior with white trims reminds me of a modern handsome beach abode."
"The interior is a happy mix of modern meets classic. We've softened the square set ceiling with VJ wall panelling and decorative skirting boards and also used rich timber flooring."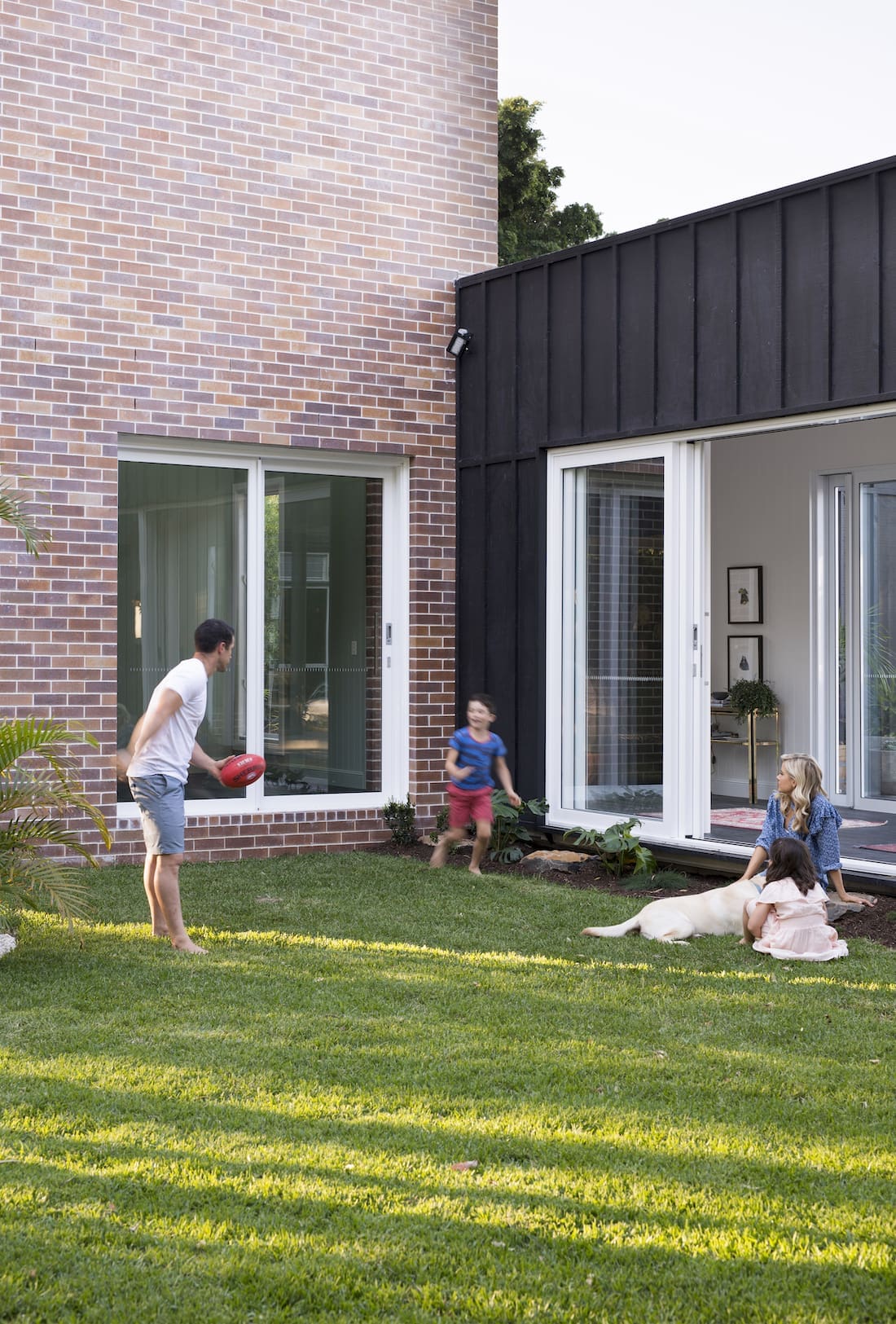 Housing their busy family of 4 — Carlene, Michael, Paddy 10, Stella 7, and Harry the Labrador — Carlene was excited to create a space that truly felt like 'them'.
"This was our first opportunity to create a home that was a true reflection of us so we really seized that chance. We had to make budget motivated decisions like everyone else but I don't feel like the outcome is compromised."
When talking style tips, Carlene has a refreshing approach. She's not afraid to mix old and new, and is also a big advocate for shopping second-hand.
"Be playful and experimental. Seriously, I know I'm a broken record, but regardless of your home style, everyone should second-hand shop. There is SO much goodness to be found and my vintage and antiques are always my most loved items, like the things I'd grab in a fire after my family."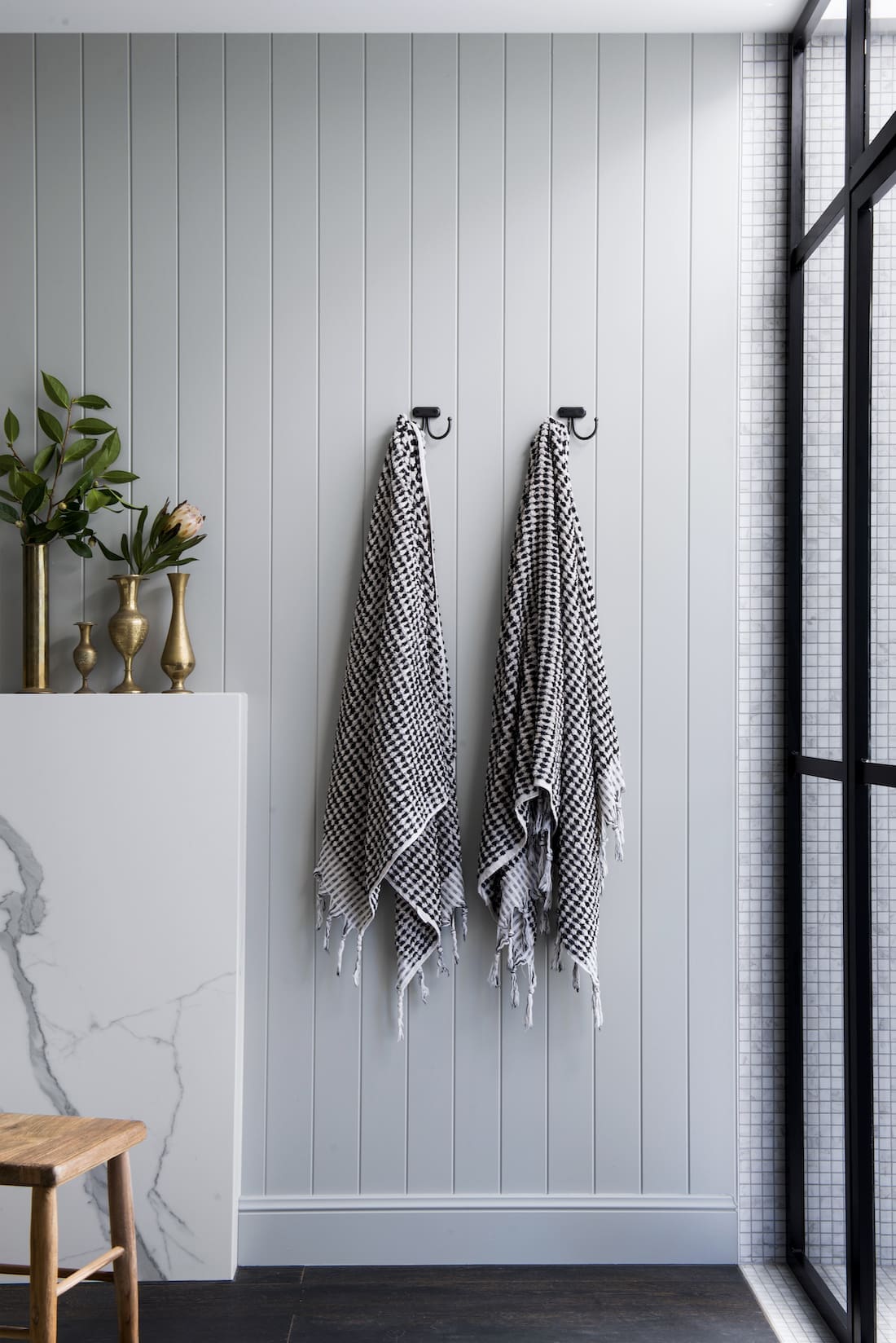 "I am a big believer that every room should include something old to give a space some heart," she says.
She also believes in displaying those special items for everyday pleasure and looks all over the place for her own design inspiration.
"Display your cherished and collected items for your own enjoyment.
"When it comes to the look and feel, I seek out a lot of inspiration from Pintrest, Instagram and magazines to gauge what it is I'm drawn to and to help narrow down my choices," she says.
Her tips also include striving for warmth and cosiness with plenty of layers and tactile finishes, something we love particularly coming into the cooler winter months.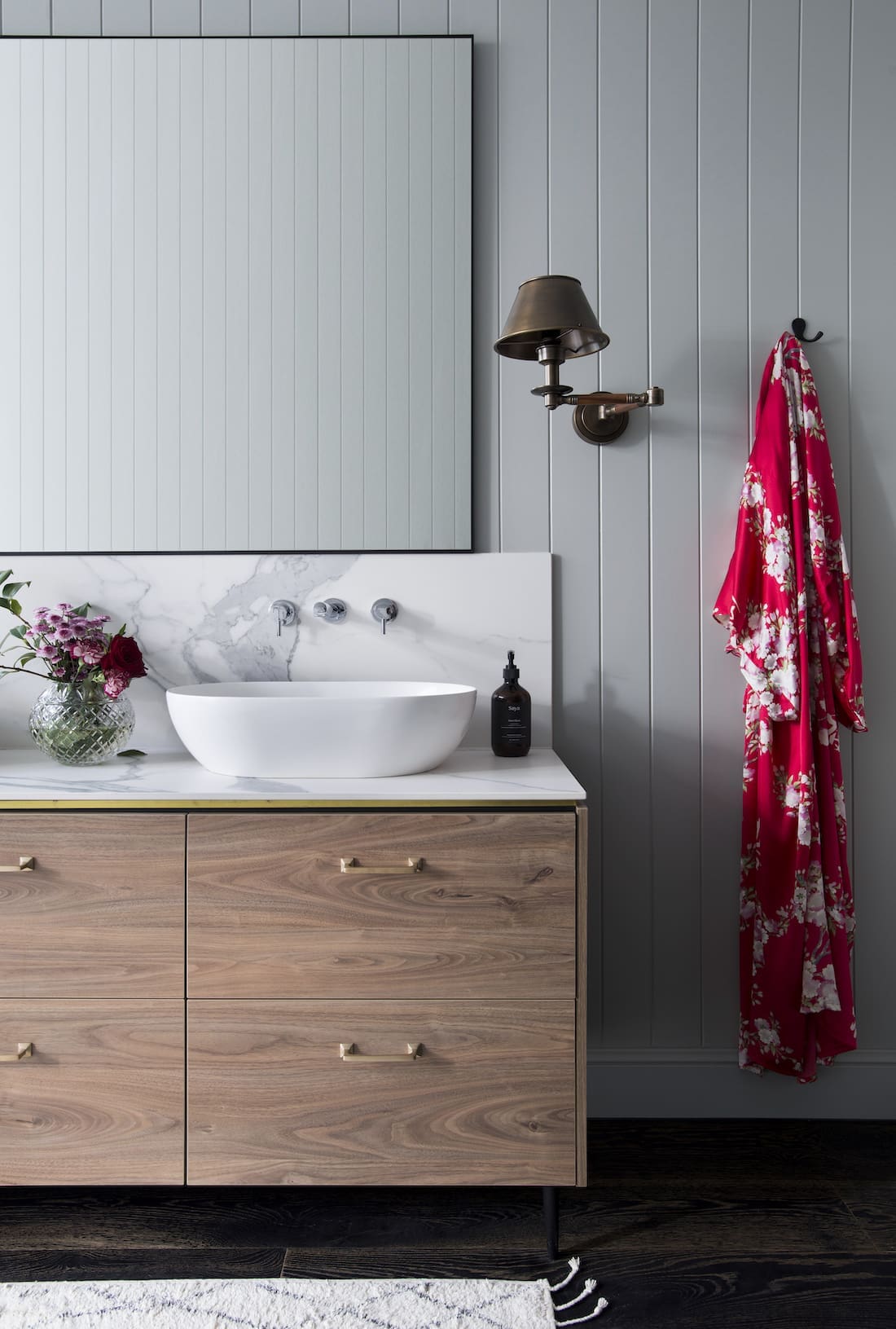 Carlene is known for her bold use of colour and says she allows the individual space to guide her style and colour choices.
"It's no secret that I don't do a lot of neutral. I'm typically more of a maximalist but I also always take my cues from the individual building.
"Get colour on your walls — it's a great way to create impact. Scrolling Pinterest is an ideal way to see how colour can be applied well (and not well, which is key)."
And finally, Carlene's last style tip is to utilise natural materials. She shows how it's done in their family home with stunning wood floors, exposed brick, rough sawn plywood cladding and spotted gum decking.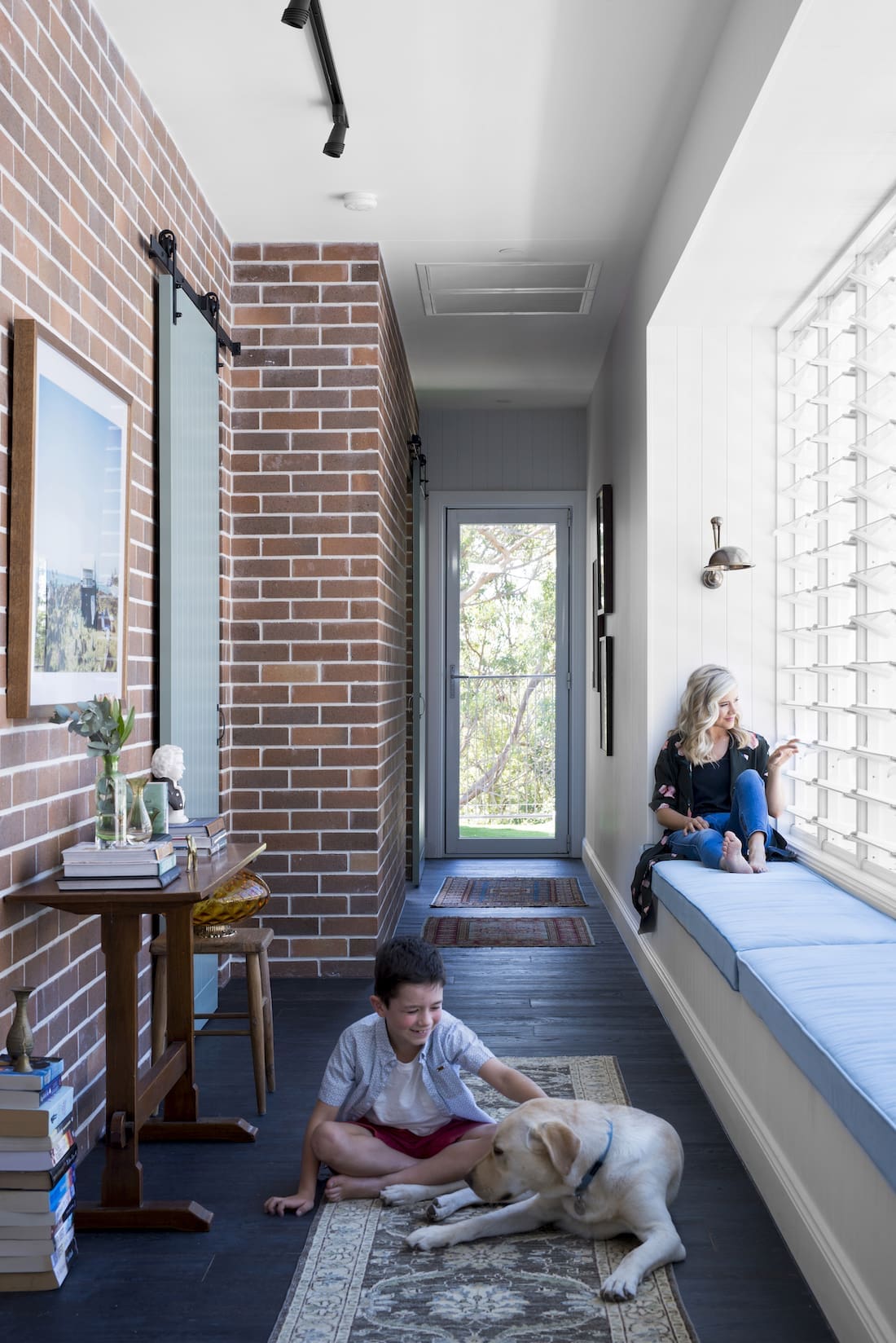 When asked what her favourite space in the house was, Carlene struggled to choose.
"It's so difficult to say. I love the master bedroom. It's a beautiful friendly haven made up of a warm and inviting colour palette that I'll never tire of.
"I genuinely love the result of every room of our home renovation but the master bedroom has got me good. It certainly helps that the huge window that takes up the whole of the back wall frames the top of huge ancient gum trees to form the most amazing 'picture.' And then there is this full wall of beautiful cabinetry, and colours that make my heart sing."
Thank you Carlene for sharing your beautiful resort-style family home with us. Keep scrolling for even more stunning photos or connect with her on Instagram for regular interiors inspo!