There's no hiding the fact that we immediately fell in love with Luke and Ebony's style and design choices during The Block elimination rounds. We tipped them as the ones to watch and were gutted (like so many of you) when they just missed out securing a spot on the show.
Each Sunday night during room reveals, we can't help but think 'hmmmm I wonder what Luke and Ebony would have done in this space…' which is why we just had to contact Ebony to find out what life has been like after The Block.
Related article: Alisa and Lysandra: The kitchen & bathroom Queens
"Since returning from The Block I've moved from my hometown of Busselton, Western Australia, to Perth," says Ebony.
"I'm currently working part time so as I can build up my own business on the side. With the amount of exposure The Block has given me, I'm getting a lot of interest and bookings for consultations, which is very exciting.
"At the moment a typical week for me consists of working 3-4 days, compiling furniture layouts, colour selections and giving design advice, then the remainder of the week is traveling between Perth and Busselton assisting in colour consultations and home styling appointments with clients."
We're so happy (although not at all surprised) to hear you're business is booming since returning home.
"That career boost is definitely the biggest change since being on The Block. I thought the choices we made would get a negative reaction from viewers but people have commented on how much they loved our styling and design ideas. I'm so thrilled about it."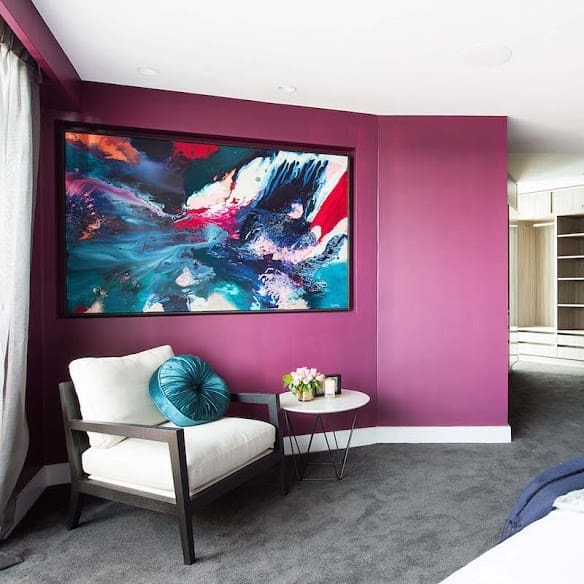 What else would you say has changed since being on the show?
"A lot more travelling," laughs Ebony, "each week I'm doing a lot of travel between Perth and Busselton which are roughly 2.5 hours apart but I'd be silly not to take up these work opportunities.
"Mostly though, it's the support we received from not just people in our home town but right across Australia and even New Zealand.
"It was a bit surreal because Luke and I had already returned home for a few months and gotten back to reality when the adverts for The Block first started airing. Then suddenly we're on television during primetime!"
You mentioned that support you received… There's no hiding the outcry when you and Luke had to leave the show, how did that make you feel?
"I'm blown away at the support Luke and I have received! I've seen there's even a petition online to get us back on the show!" says Ebony.
"As sweet as it is, at the time I really felt for Anastasia and Tim. They both well and truly deserved their place and their bathroom was magnificent so I felt awful for the comments they received after we left and they went through."
What would you say are the top things you learnt from being on The Block?
"Even though my Block experience was short-lived, I still took away vital lessons.
"Firstly, I realised that my bright, fun and sometimes 'different' design ideas are validated — that was so refreshing! I was fully expecting the judges and the viewers to see me as a young designer who uses too much colour. So the positive response regarding my colour and design choices was really encouraging!"
"I also learnt that I can push myself a lot further than I realised. The Block is both mentally and physically draining so staying positive and upbeat is crucial.
"Time management was another. I'm generally pretty good, but I learnt some tips to help out in the future. Also I learnt that Luke and I get along so much better than I expected. He trusted me completely and I him. We worked really well together."
Let's talk about that final bathroom elimination. We know it didn't go to plan, can you walk us through what happened?
"Unfortunately, as written on your blog — everything that could go wrong with our bathroom went wrong!
"As you and your readers would know, a bathroom is unlike any other room. The process has to run like clockwork otherwise the project doesn't get finished or not to a very high standard.
"Our first issue was securing tradesman, then we had difficulties with getting our stock delivered to schedule, and finally we had incorrect items sent which we realised too late in the competition. But I cannot speak highly enough of our tradesman, they were incredible and stayed so late in the night to help us 'try' and finish. Unfortunately it was one of those times where we couldn't get anything right."
You've recently become a guest judge for The Block online room reveals, are you loving being on the other side of the judging?
"I was so thrilled to be asked to become a guest judge and have my say on the weekly reveals for this series."
"I'm really enjoying being able to give my opinion and discuss how I would have changed or tweaked certain aspects. Sometimes I think that the judges don't completely realise the immense pressure the contestants are under, and how it is honestly a miracle to even finish the room. So I hope my judging reflects how proud I am of them to achieve what they do in the time frame."
Can you let us in on any of your current plans or collaborations?
"At the moment I'm focusing on residential design and styling, and continuing to build up my clientele in Perth and the surrounding areas. I love working closely with clients; getting to know them well and assisting in creating a home.
"There are a few fantastic opportunities in the pipeline, but I'm not at liberty to share just yet. But hopefully I can continue to work and continue learning.
"I look forward to heading to Melbourne for The Block Auction in the next couple of months to share my support and excitement with all the teams. So who knows? Maybe I'll just stay in Melbourne for a bit. It has been on my mind since returning from there…"
Ebony and Luke became the favourite couple for so many viewers, not just for their great attitude but also their brave choices with colour and design. While Ebony says she's always loved art and design, her passion for colour came during overseas travels where the world of architecture, fabric, texture and colour is so prominent.
So while Ebony and Luke didn't make it through to The Block Triple Threat, we're still tipping them as the ones to watch! Keep an eye out for Ebony's Interior Design business – The Visionary Co.