Do you ever walk away from meeting someone and think 'Wow, you have no idea how awesome you are, or if you do, you're just one incredibly down to earth person!'?
That's the exact feeling we had after chatting with the beautiful Chloe Brookman, one half of lifestyle brand Olli Ella.
She kindly opened the doors of her Sydney home to us and talked with us about her home inspiration, design style and the story behind her company.
Related article: Inside interior blogger's glam unisex nursery
Related article: A traditional Federation home takes on a classic and contemporary makeover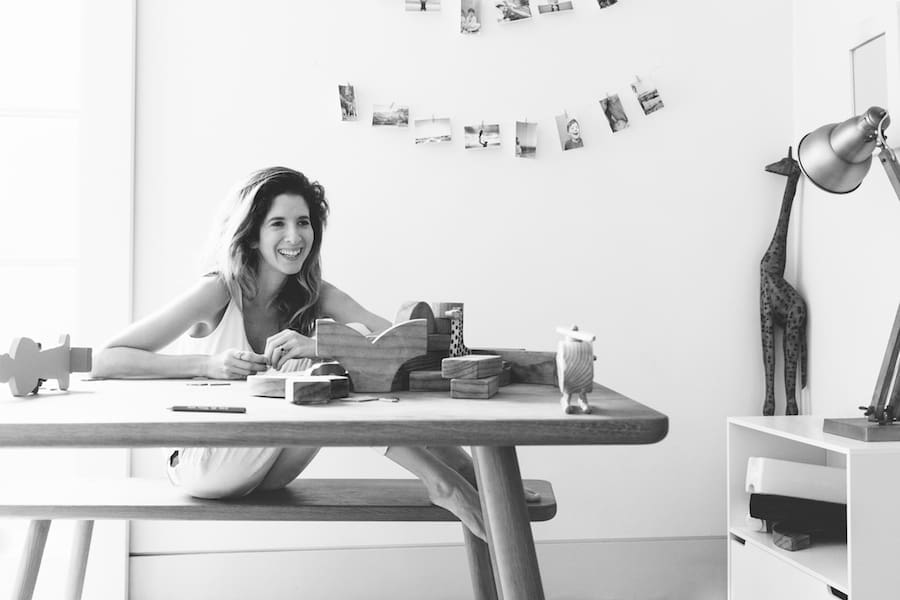 Firstly, your home is absolutely beautiful! How would you describe your interior style?
"For the last 10 years my style has been driven by mid-century design, very clean lines, but I'm also a clutter bunny and can't get enough of throws and plants. I'd say my style is mid-century meets bohemian-eclectic."
What is your favourite room in your home?
"I'd happily drape myself over any surface in my home," says Chloe.
"If I had to choose one room though, I'd say our bedroom. It's free from clutter and has a beautiful porch with blooming succulents. It's also where I keep all the vintage throws I've hoarded!"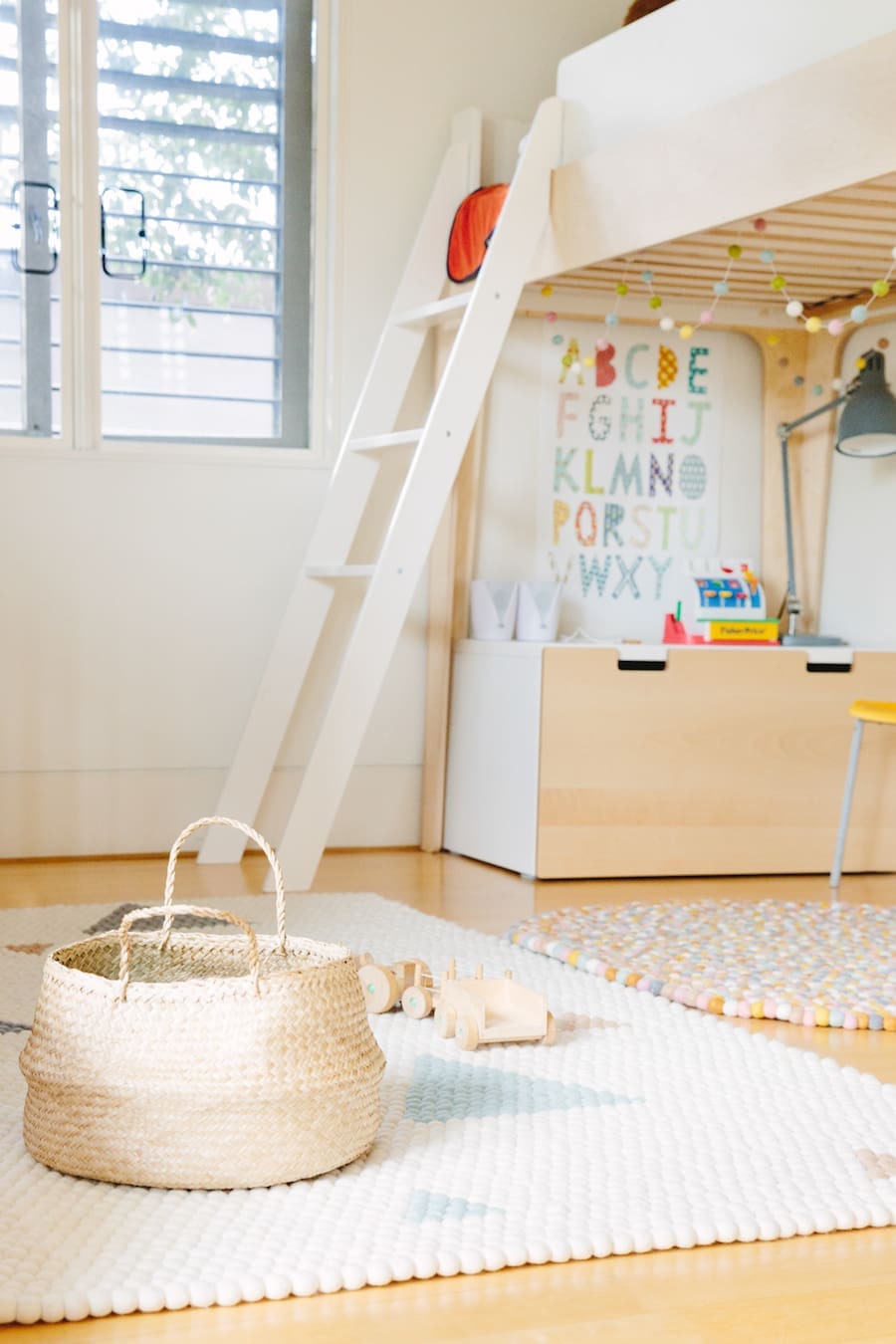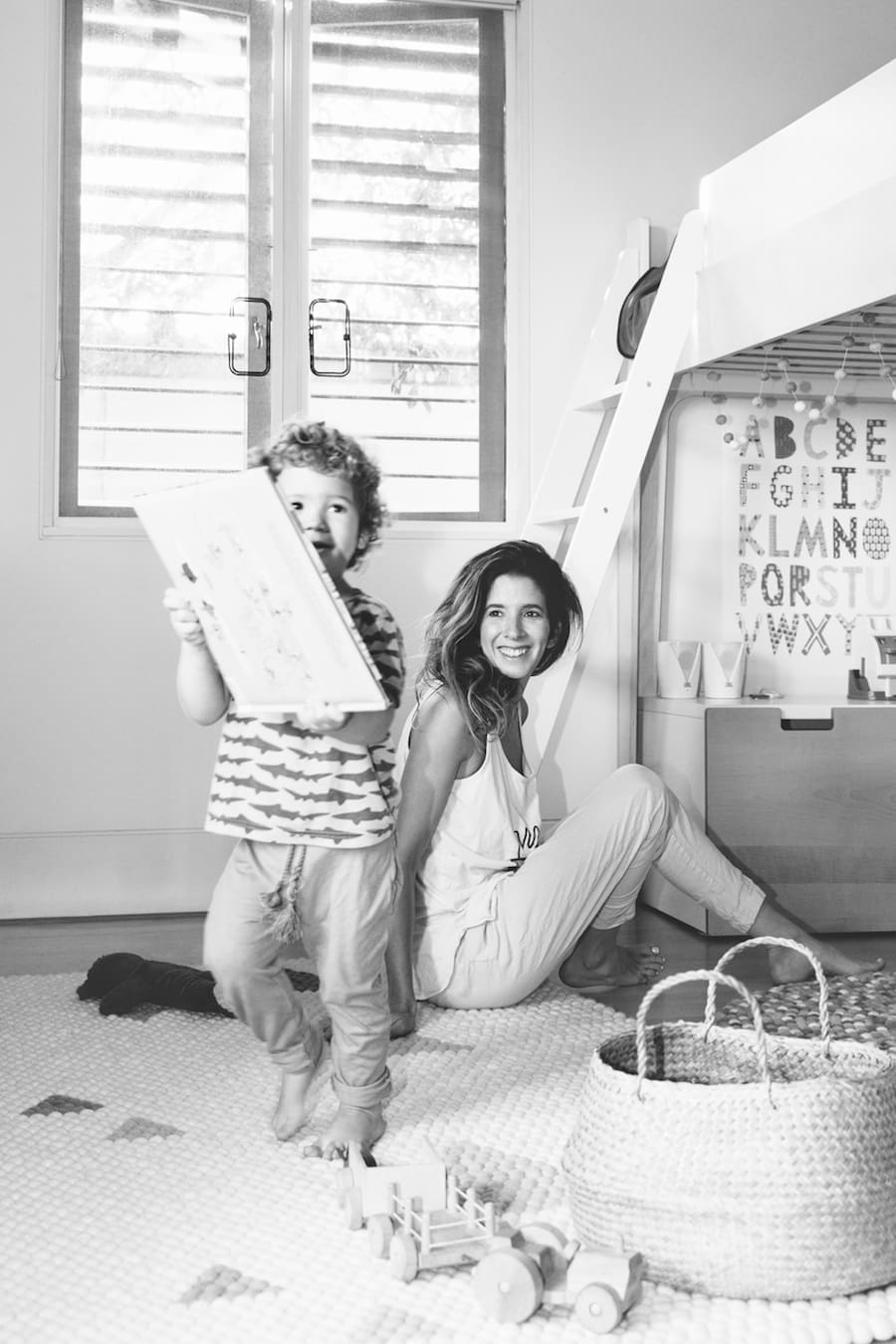 Your kids' bedroom is such a fun space, how did you come up with the styling in there?
"They informed the choices in that room.
"Tennyson, my oldest son, wanted a desk so we bought a vintage school desk from the '30s and decorated the walls with vintage and new posters.
"I think it's important to just have fun and constantly change the space to suit their needs.
"My two boys have shared a room since Arlo was 7 months old. At the time Arlo was in a cot and Tennyson had a bunk bed where the bottom bunk bed was removed and it was his area. Now they share the bunk bed and we can have a lot more fun with the room."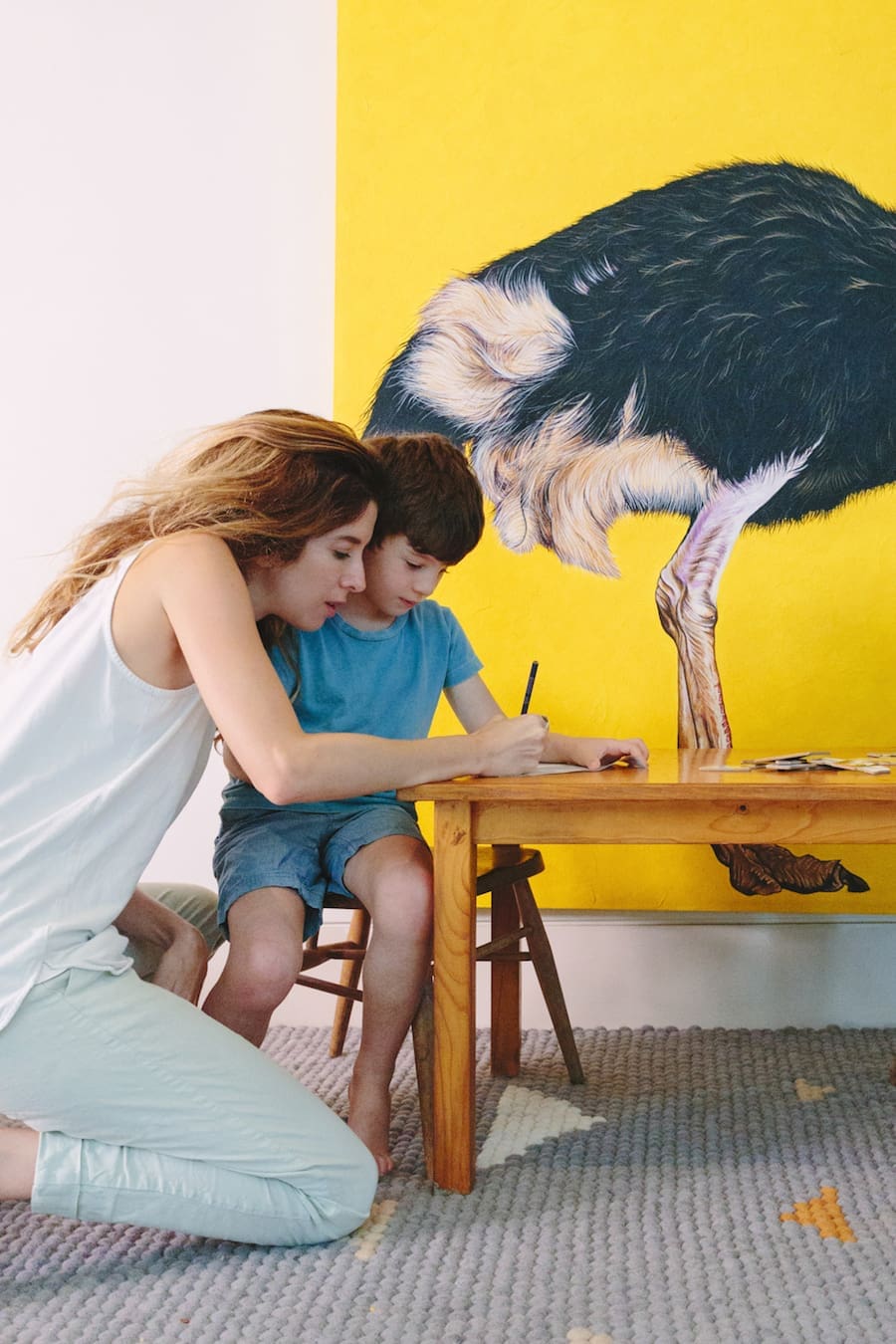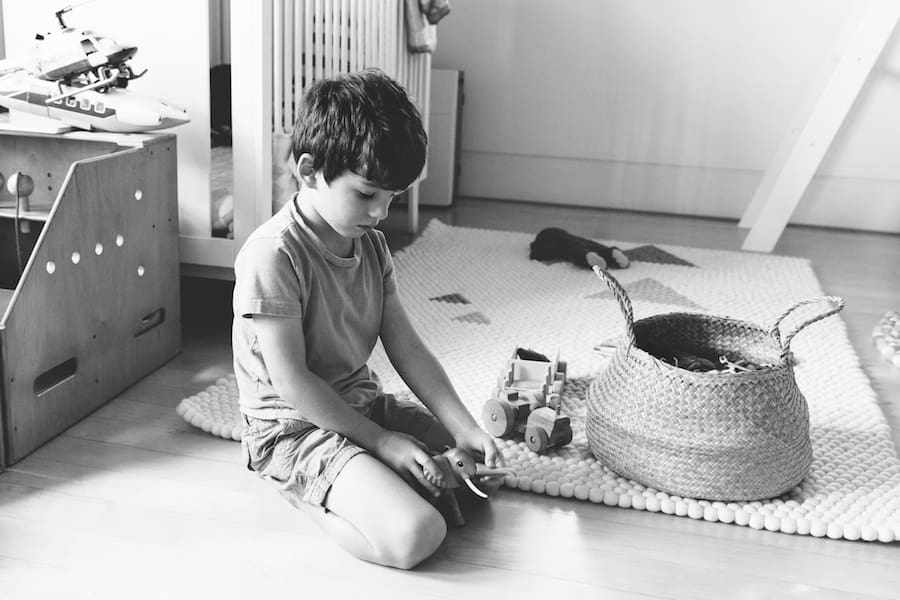 Your home is full of unique and stunning pieces, what would you say is your favourite object?
"Hmmmm, if I had to choose something I particularly loved, I would say a custom gumball rug we had made in the living room. That and two vintage 1950s armchairs I had reupholstered — I bought them for just $90 on ebay!"
The styling in your home seems very you, what does your husband have to say about it?
"He's given up! When we started going out he painted my bedroom pink for me and I knew we weren't going to have any problems," laughs Chloe.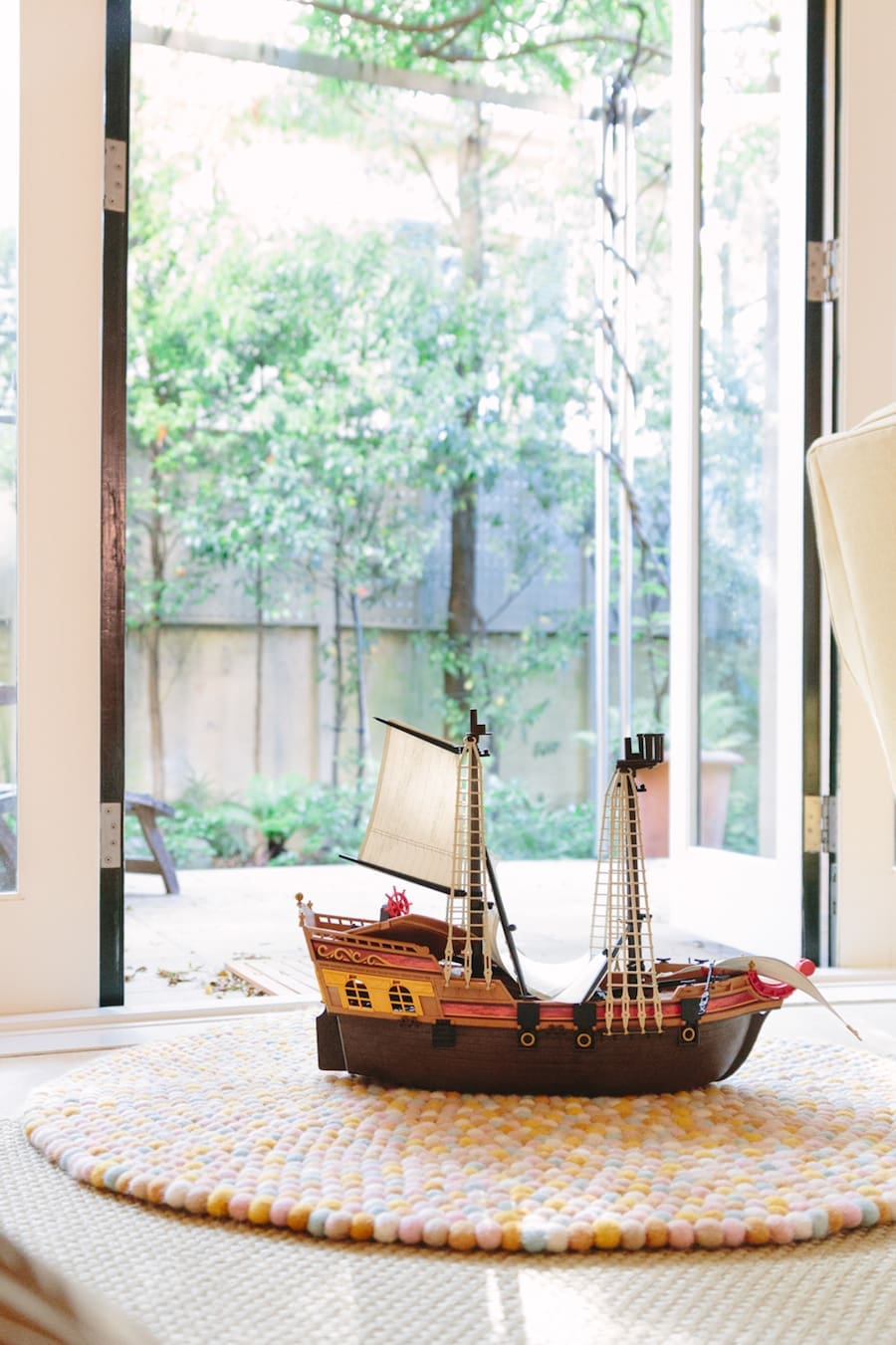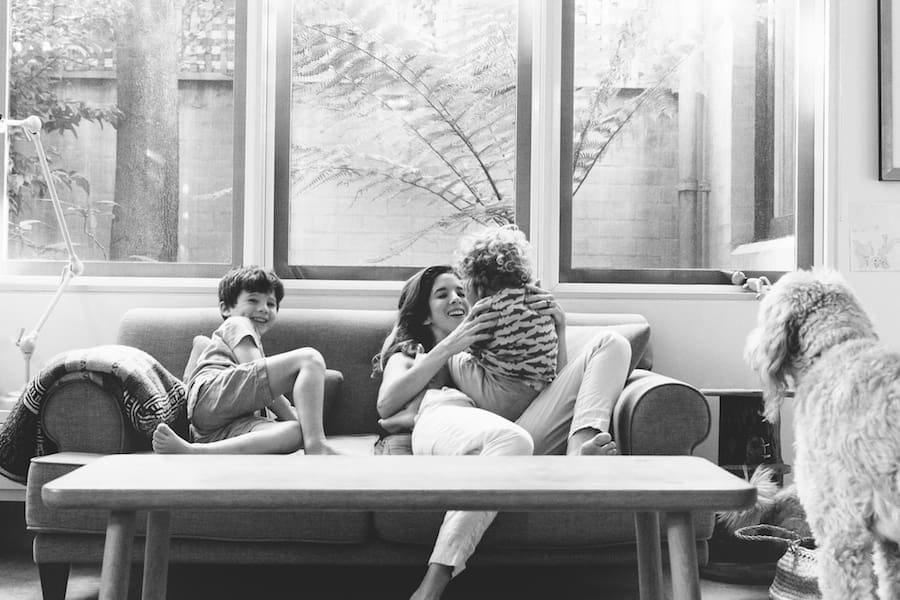 I've spotted lots of pieces from Olli Ella in your home, how did you and your sister come to form the company?
"Five years ago I was pregnant with my first child and we went looking for a nursery chair in London. They were all very traditional — like the kind your nanna would buy — and so I ended up designing and getting one custom made.
"A fried saw it and requested one too, and then a friend of a friend, and before I knew it I had an order for 10 chairs within two months.
"I was running an art gallery with my sister at the time, which we still own today, and we realised there was a gap in the market for modern nursery furniture. We launched seven months later!"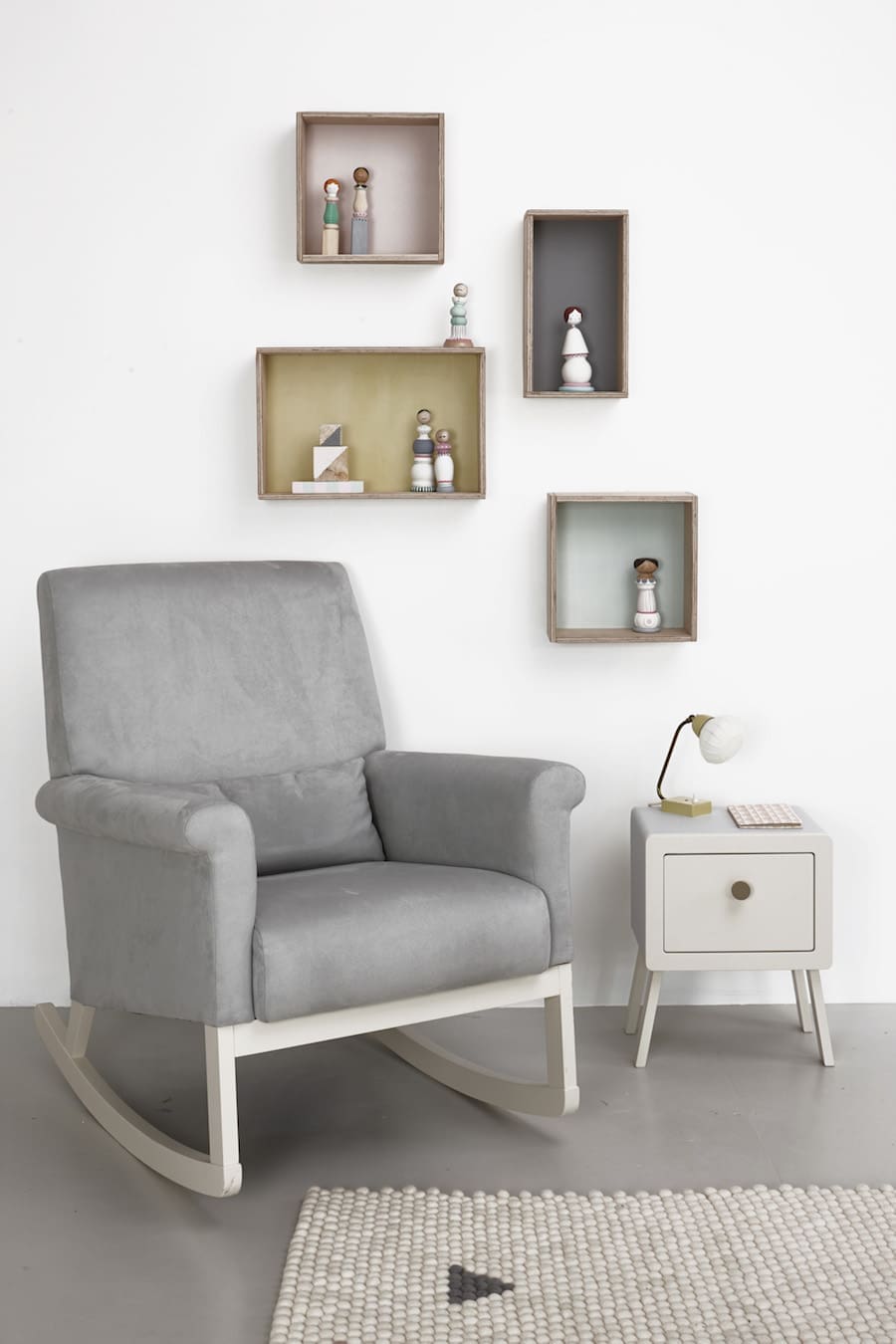 And how has Olli Ella evolved since you launched?
"It's all moved so quickly. Within three months of launching, we got picked up by Harrods."
Wow, that's huge! How did that opportunity come about?
"We don't even know! Generally they want to see a proven sales track record for at least two years. We couldn't have dreamed for the opportunity and were so surprised when they approached us."
Congratulations on that achievement!
"Thank you. From there, we really let our customers dictate the product range.
"We got lots of requests for contemporary children's bedding. Three years ago it was so difficult to find bedding that wasn't cutesie so we designed a bedding range.
"Now we offer furniture, bedding, décor and are constantly expanding our range."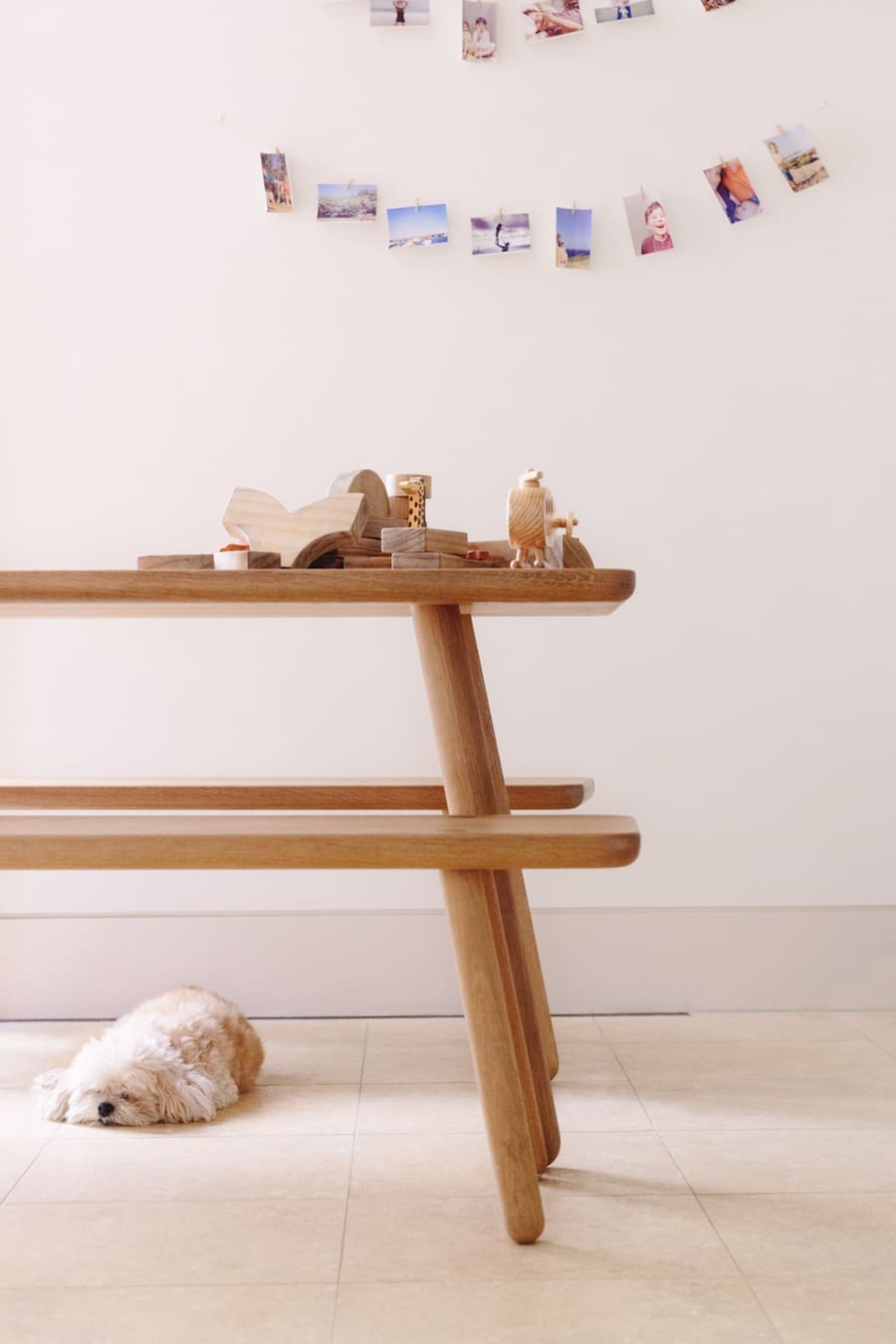 Do you design all your pieces or also source items?
"We don't source any ready made products. Olivia and I design everything ourselves.
"Olivia has an art history and business background. She's been running galleries since she was 18. And I have a design and marketing background. It's an interesting combination but it works."
What has been your biggest career highlight? I'm guessing getting approached by Harrods?
"That was huge! There are so many highlights including outfitting nurseries from Dubai to Russia, and for a lot of royalty.
"Last year we were chosen as one of Walpole's Brands of Tomorrow. They are a leading design body in the UK and the opportunity meant we got a year of business mentorship from incredible people like the head of Net-a-Porter. It's been an incredible experience."
What is some of the best advice you received from your mentors?
"To be self-funded. Olli Ella has been growing very quickly and the mentors we spoke to all encouraged us to remain self-funded for as long as possible. It means we can keep control of the company and make decisions we believe in."
What goals do you have for Olli Ella?
"For the past 18 months we've been focusing on creating products that aren't just for the nursery but for the rest of the home which is really exciting.
"Often the playroom will be part of the living room or study so it's been important for us to create furniture and décor for the home.
"We want to keep expanding our product range for the rest of the home. One of our latest products is a woven belly basket and in six weeks it's become a best seller.
"Our biggest goal is to keep our reputation as we continue to grow quickly. I think we have a reputation for outstanding customer service and it's important for me to maintain that as we continue to grow."
We have no doubt! Thank you for sharing your home and story with us.
For more information about Olli Ella or to check out their ah-mazing online store, visit their website.