We love seeing when a design risk pays off and this colourful bathroom designed by Sally Birch from Sally Birch Interiors takes more than a few risks! There are bold tile choices, curves, contrasting grout, coloured cabinetry, a concrete basin and more…
Keep reading to see how Sally made all these materials work harmoniously together and catch her tips on pulling off a bold bathroom design.
Related article: Terrazzo, pink, gold… a truly dreamy bathroom reveal
Related article: Gina's bathroom renovation reveal: Take a peek around my new bathroom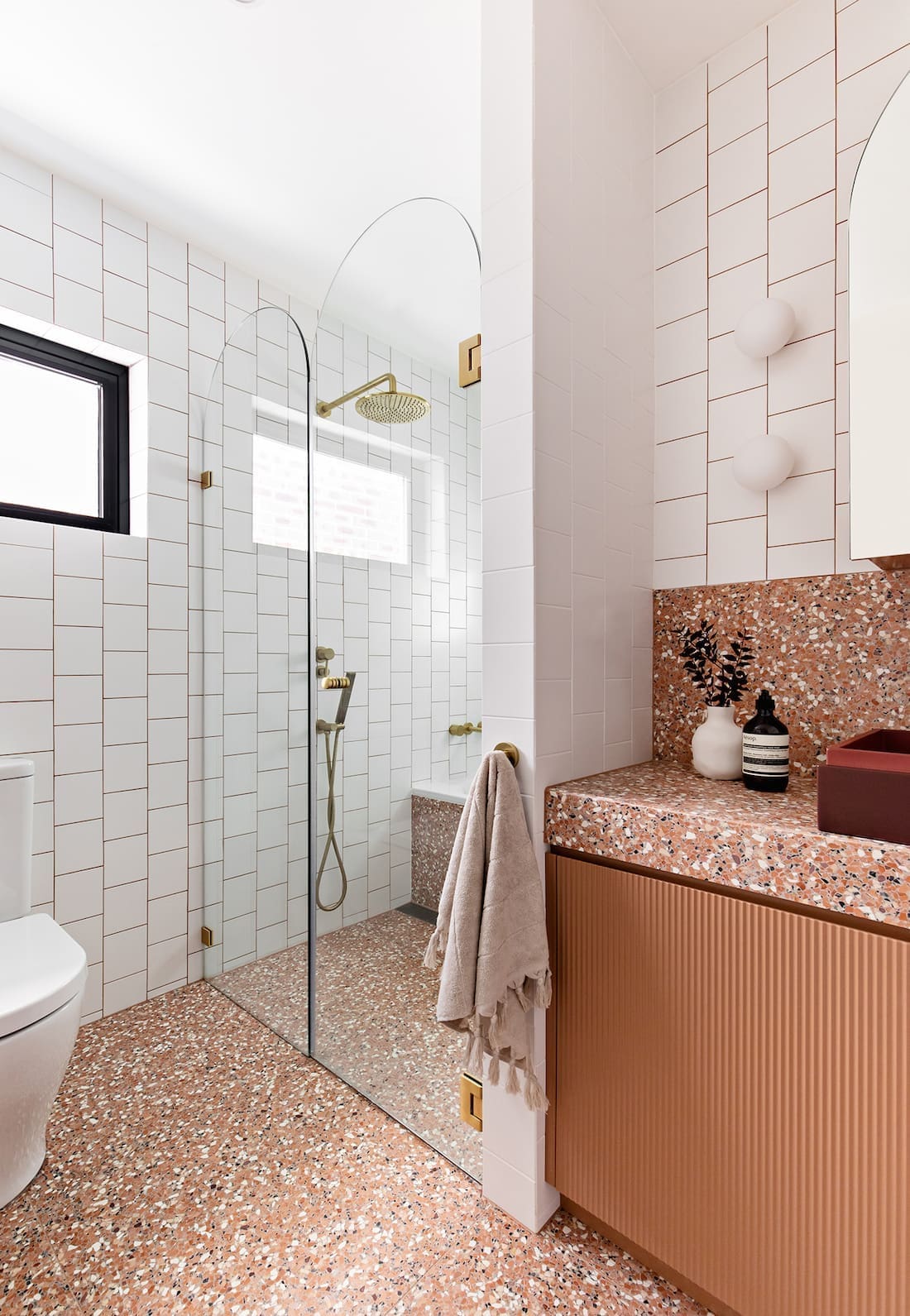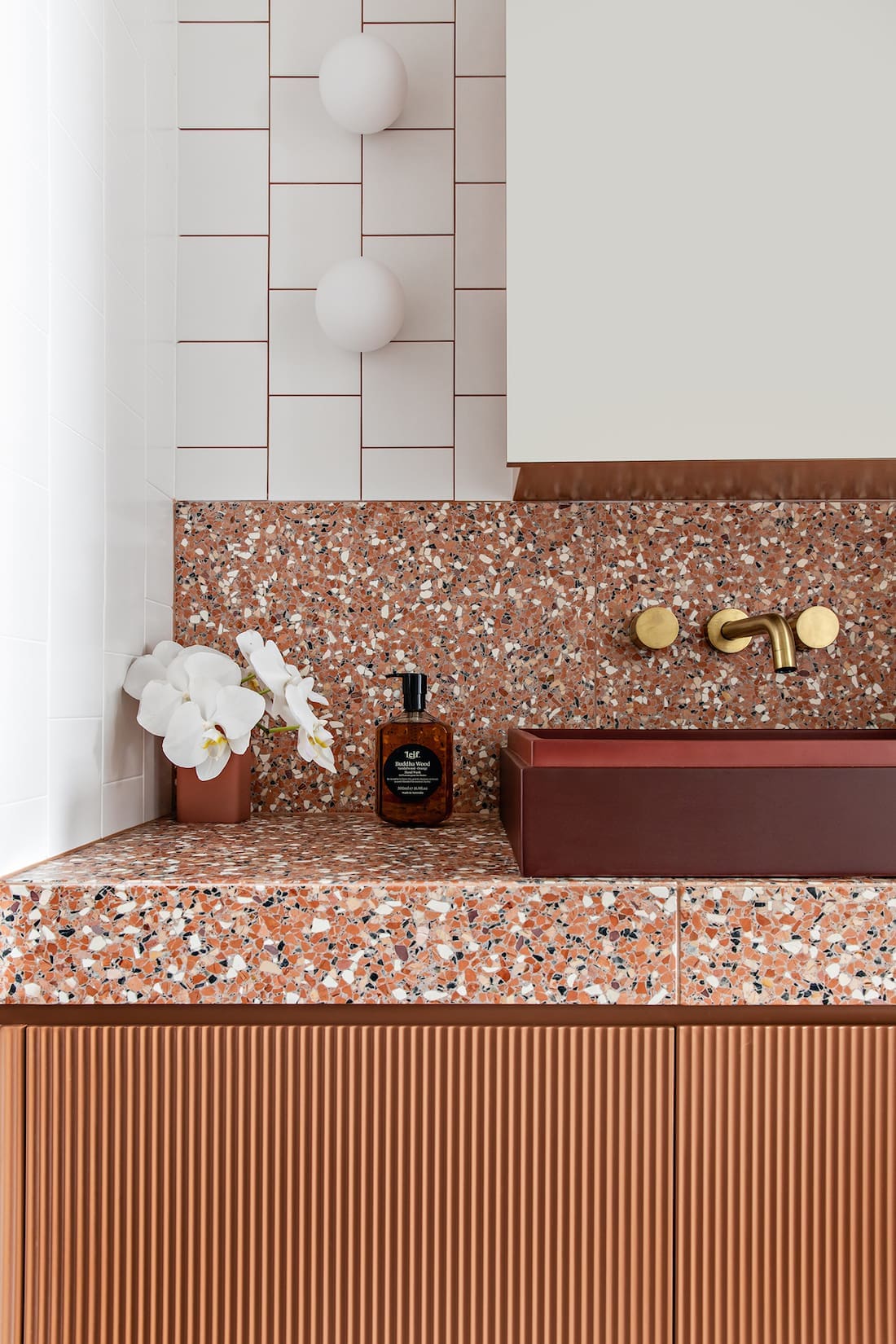 When we first saw this colourful bathroom on a recent Instagram scroll, what really caught our eye was undoubtedly that terracotta terrazzo stone.
"Isn't that stone incredible?! It's called Fatima's Reflection from Fibonacci Stone," says Sally with a smile.
"I've been wanting to use it for a while, and I thought my client would love it too. Luckily, I was right and she was as keen as I was! This was the starting point when it came to designing the space! It's a little bit glam, mixed with a touch of boho."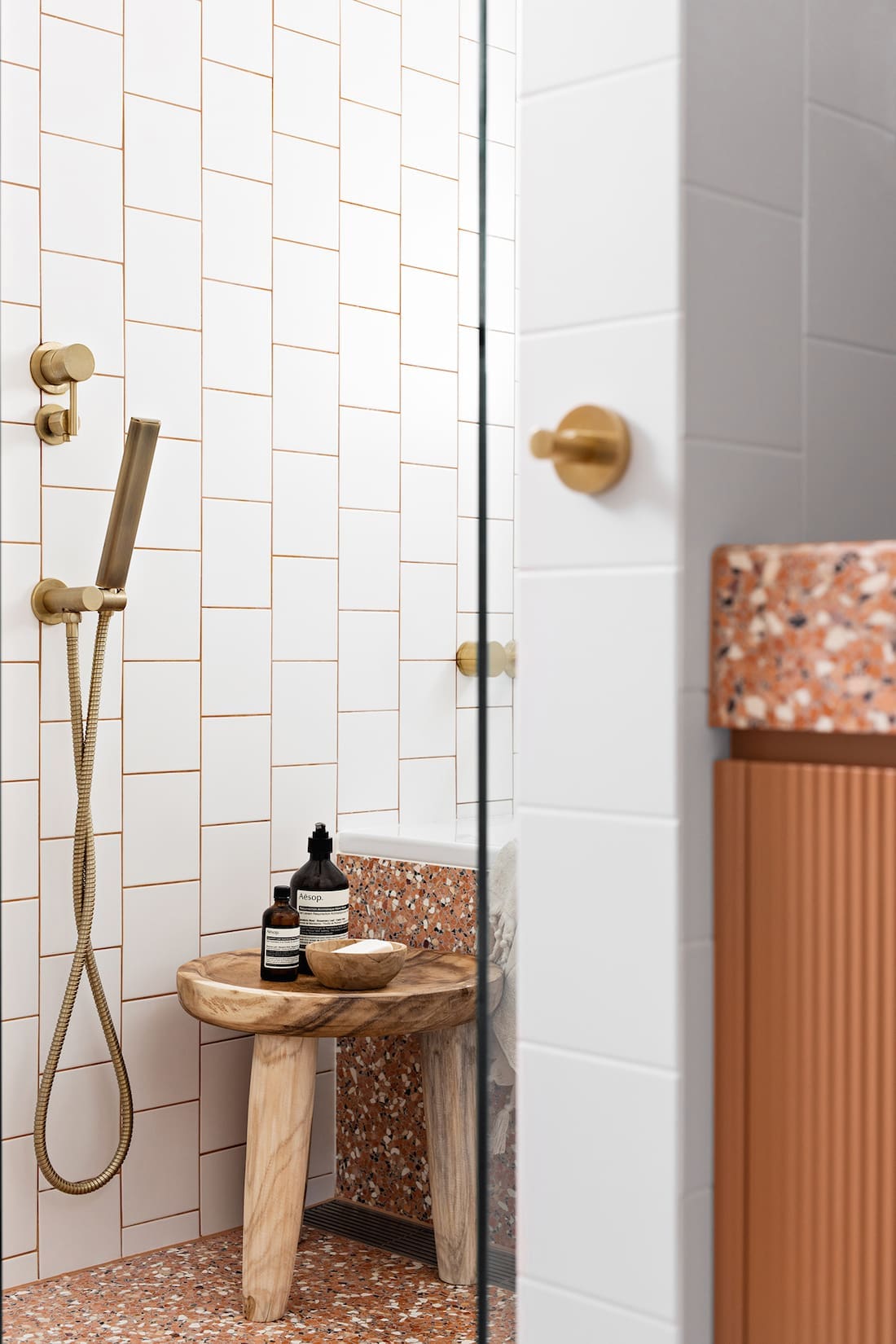 There are a lot of 'wow' elements in this space so we asked Sally her tips on how to make them complement rather than compete.
"I love mixing things up and experimenting with textures and colours. I always tell my clients that if they truly love something, go for it!" says Sally.
"When going bold, my best advice is to look for something consistent… something that ties everything together. In this bathroom, we started with Fatima's Reflection [the terrazzo].
"From here, we played with shades of warm terracotta. Lighter hues on the joinery, mid-tones in the feature grout and then that gorgeous rich burnt red basin from Nood. Next, we paired it back with a simple white subway tile and soft brass tapware."
For more tips on how to choose the perfect grout, check out this article.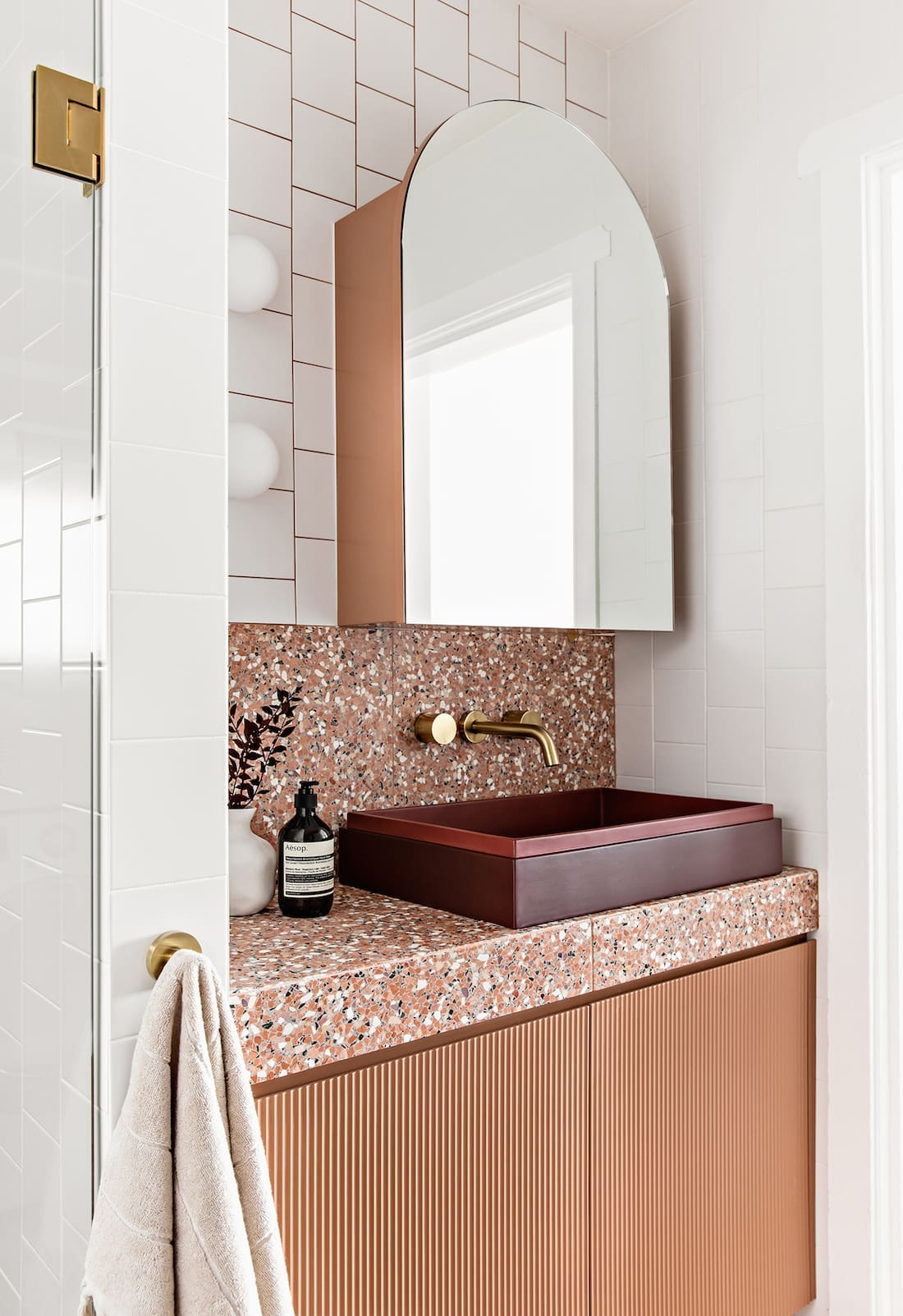 Clearly confident in designing bathrooms, we had to ask Sally her top tips to create a beautiful and functional space.
"Bathrooms are a big ticket item — they need to last the distance. So when choosing your colours, make sure it's a colour you love. Trends come and go, so go with what you love.
"To keep your budget on track, choose a feature tile and offset it with a less expensive tile, like this subway we used here. They always look beautiful and there are so many different ways to lay them — horizontal, vertical, brickbond, stacked or even herringbone.
"It's an obvious one, but you can never have enough storage in a bathroom, so make sure you add plenty. It will make it easier to keep your space beautiful and tidy on a daily basis if everything has a home," suggests Sally.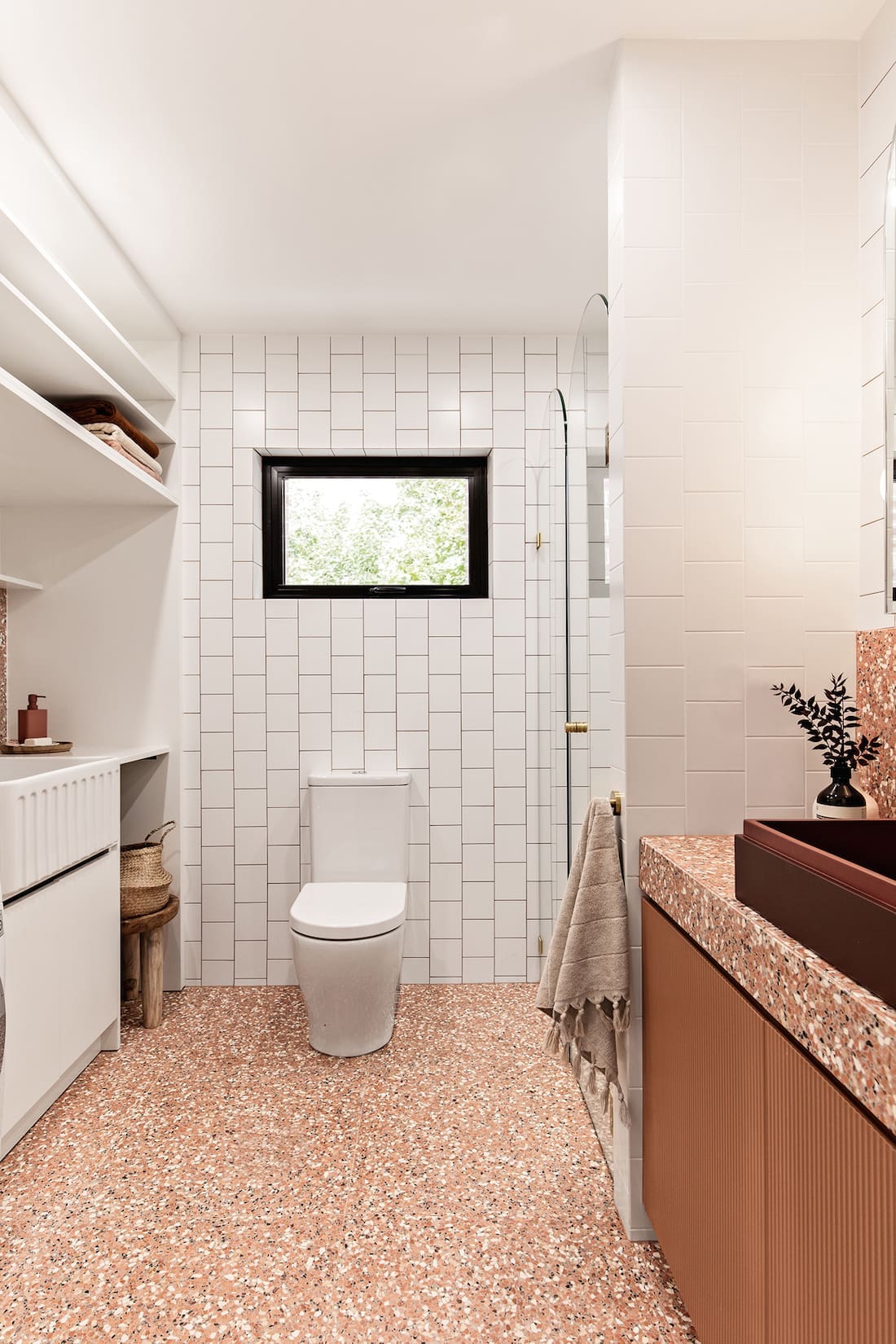 Photography — The Palm Co.
Basin — Nood
Terrazzo — Fibonacci Stone
Tapware — ABI Interiors
We absolutely loved taking a look around this fun, colourful bathroom. Thank you Sally for showing us around! You can see more from Sally Birch Interiors here.
Do you think you'd be brave enough to use colour in your bathroom? Do you love the terracotta terrazzo as much as us? Or perhaps it was the fab coloured grout that caught your eye! Tell us in the comment section below.