Ever thought about starting an at-home garden compost but it all just got a bit too hard? Well, we're here to help get you started with this simple step-by-step guide and composting tips for beginners. Trust us, your garden is going to LOVE you for this!
Related article: In the garden: Spring gardening guide
Related article: How to choose the right mulch for your garden
Why compost?
With so many people keen to reduce their household waste, starting a garden compost is a great idea. It's relatively low-cost, simple and an eco-friendly way to reduce the amount of waste sent to landfill while getting something free for your garden plants in return!
Composting is a natural way to fertilise your garden, save money and do your bit for the environment.
Step 1: Choose a bin
There are a LOT of options out there and it can get pretty confusing! A tumble bin is a great choice as it means you can simply turn the bin to mix up your compost. Standalone bins are also good, and often a lot cheaper, they just require a mix every so often (but we'll get to that later).
You can also have an open-plan composting system if you've got space, however in urban environments (and for composting novices) it's best to have a container system to avoid hungry nighttime visitors, insects and to keep the smells at bay.
Shop these composting essentials
Step 2: Decide on a location
Position your compost in an easy-to-access spot in your garden. You want it out of the way (because let's be honest, they're not the prettiest accessory for your garden) but still accessible so you'll actually use it! Make sure the spot is nicely shaded, on level ground and has good drainage.
It's best placed on bare soil rather than concrete or pavers to ensure worms and other nice organisms can make their way into the pile.
Step 3: Grab yourself a benchtop bin
Having a cute compost container on your kitchen benchtop encourages and reminds you to actually use it! It's best to get a small one because it takes up less bench space and gets full quicker. This is important because it needs to be emptied daily, especially in summer!
Step 4: Learn how to layer
To get started, add organic compost and straw to your bin. Try to keep an even ratio of brown to green waste.
Brown waste is made up of high carbon materials like paper, cardboard and straw. These will help feed the organisms living in your compost pile and help break things down.
Green waste is high in nitrogen and includes coffee grounds, manure and kitchen scraps.
Remember, your compost should be like a lasagna — nicely layered with newspaper, garden waste, kitchen scraps and grass clippings (avoid adding any diseased plants or garden waste).
Step 5: Turn your compost
The final step is to turn your compost to help your scraps break down faster. If you have a tumble-style bin, you simply need to spin the handle. For standalone bins, give it a mix with a compost turner or garden fork. Fortnightly is ideal but whenever you remember is better than never!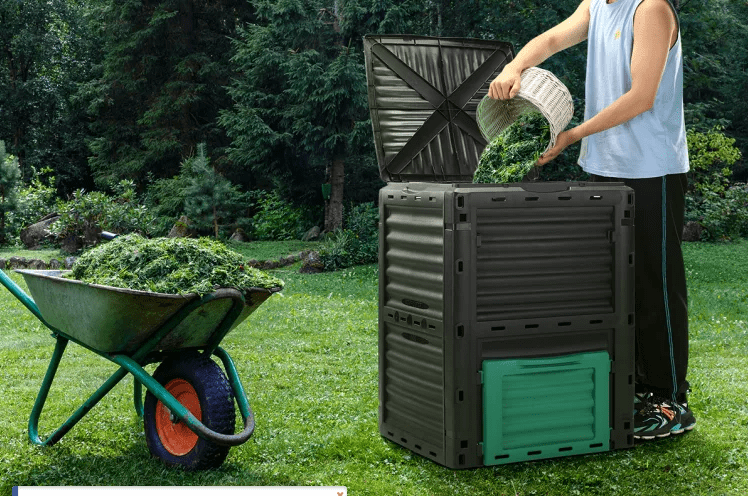 Composting tips — know what's good and what's bad
One of the best composting tips we can give, is knowing what to avoid adding to your bin. There are a few fruits and veggies that take an eternity to break down or will make your precious compost soil too acidic so it's best to avoid. Here's our 'avoid' list:
Citrus — this includes lemons, limes, oranges and mandarines
Onions
Garlic
Avocado skins and seeds
Go easy on the coffee grounds — a little bit is great but too much can be a problem. Just like us, your compost shouldn't have too much caffeine!
Pet waste — this can be harmful to your compost so definitely avoid. There are other specific composting pet waste products available at your local hardware and gardening store
Weeds with seed heads — they can re-sprout in your compost and come back to haunt you
Meat and dairy products — big no no. Keep it simple, just use fruit and vegetable scraps!
We created a graphic below that you can 'Save' to your Pinterest account or print out and stick on your fridge.
How to use your compost
Your compost is ready to use once it's black, damp and looks and smells earthy, or like soil. You can use it on the surface of your garden beds or work it in to the soil. However you use it, using homemade organic matter will enrich your soil and your plants will truly love you for it.
Thanks to all your hard work, your garden plants and landscape will grow healthier and stronger.
There is an abundance of information out there when it comes to home composting but we hope our simple composting tips have been enough to get you started! So has it encouraged you to get out into the garden and give it a go? Tell us in the comments below!
This article was first published in December 2019 and continues to be updated with latest information