When we spy an incredible home, we just know we have to share it with you. Today's home tour features sleek lines and a chic monochrome interior with room after room of design inspiration.
We chat with Karla Younan, Interior Designer for Build Carp Construction and Noir Blanc Interiors, to hear how it all came together.
Brace yourselves, this home tour is jaw-droppingly good!
Related article: A look inside the sleek, curved beauty of Turn House
Related article: The sleek and contemporary lines of Concrete House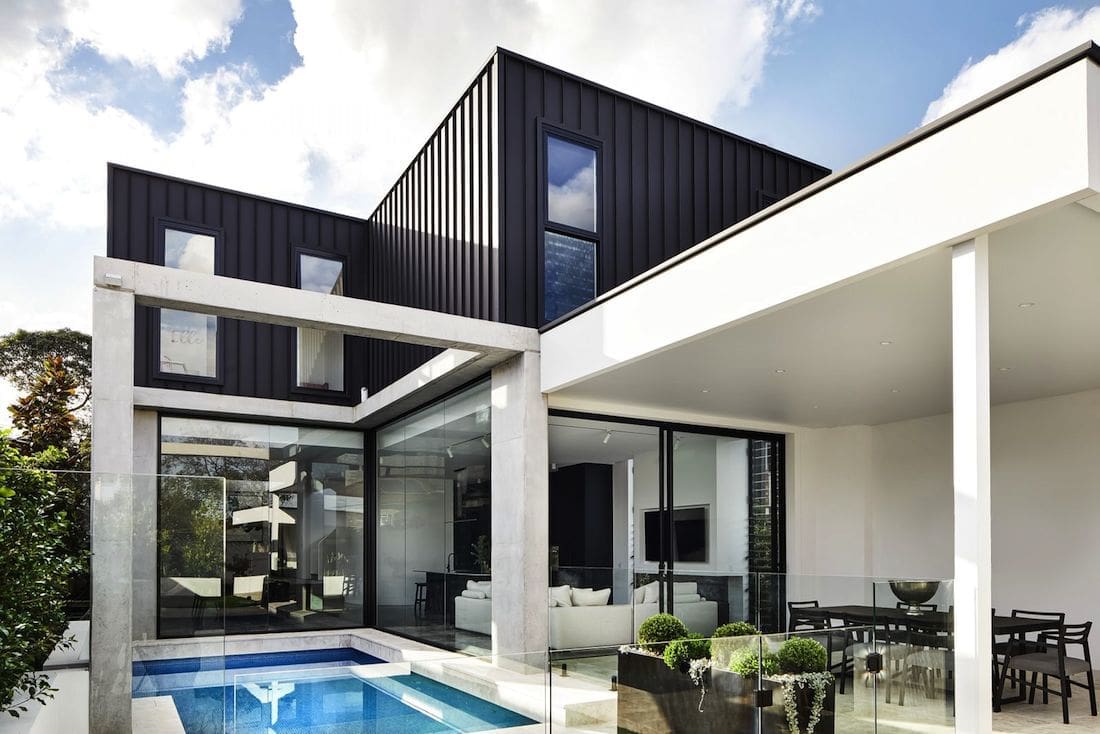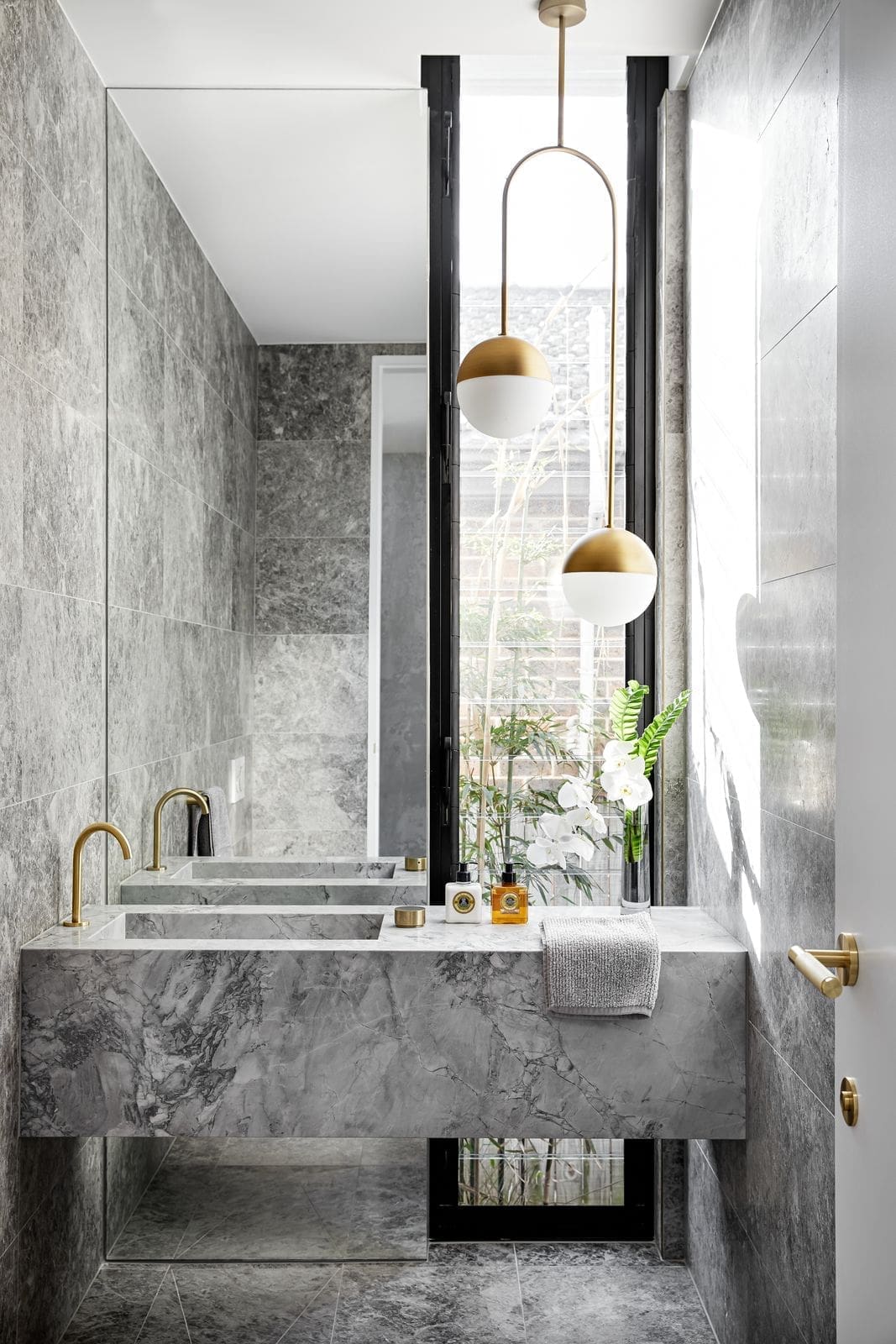 There's no doubt this inner-west Sydney home is pretty special. With luxe fixtures and sexy curves, it's the epitome of grand.
"This home was custom designed for a young family of six," explains Karla.
"It's located in a leafy street in Sydney, contrasting against it with its rigid concrete, black cladding and eye-catching angles.
"It features 4 bedrooms, all with their own walk-in wardrobe and ensuite. It's also got a cinema room plus an open plan living, dining and kitchen space that overlooks the outdoor area. The alfresco area includes a pool, dining space and landscaped gardens."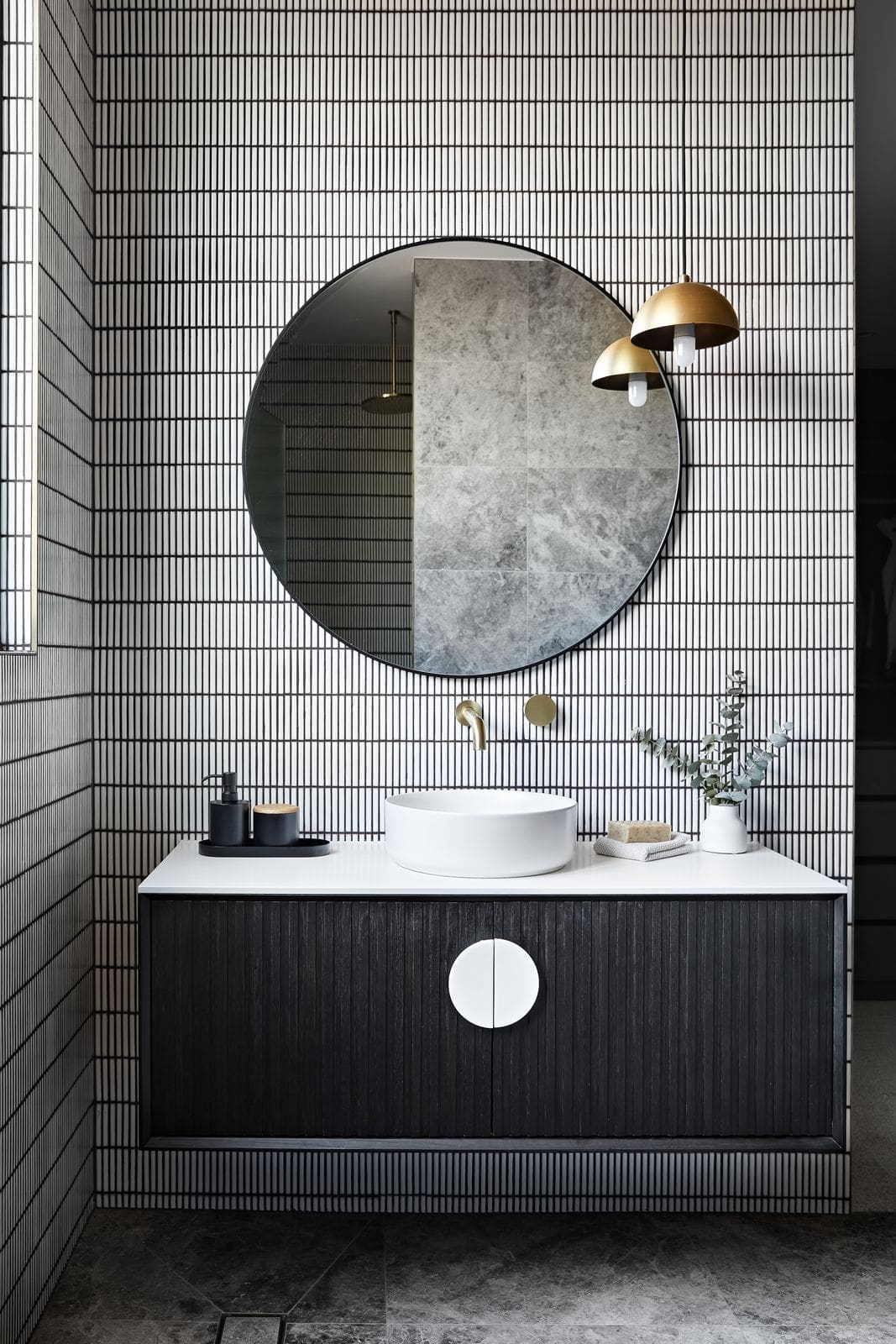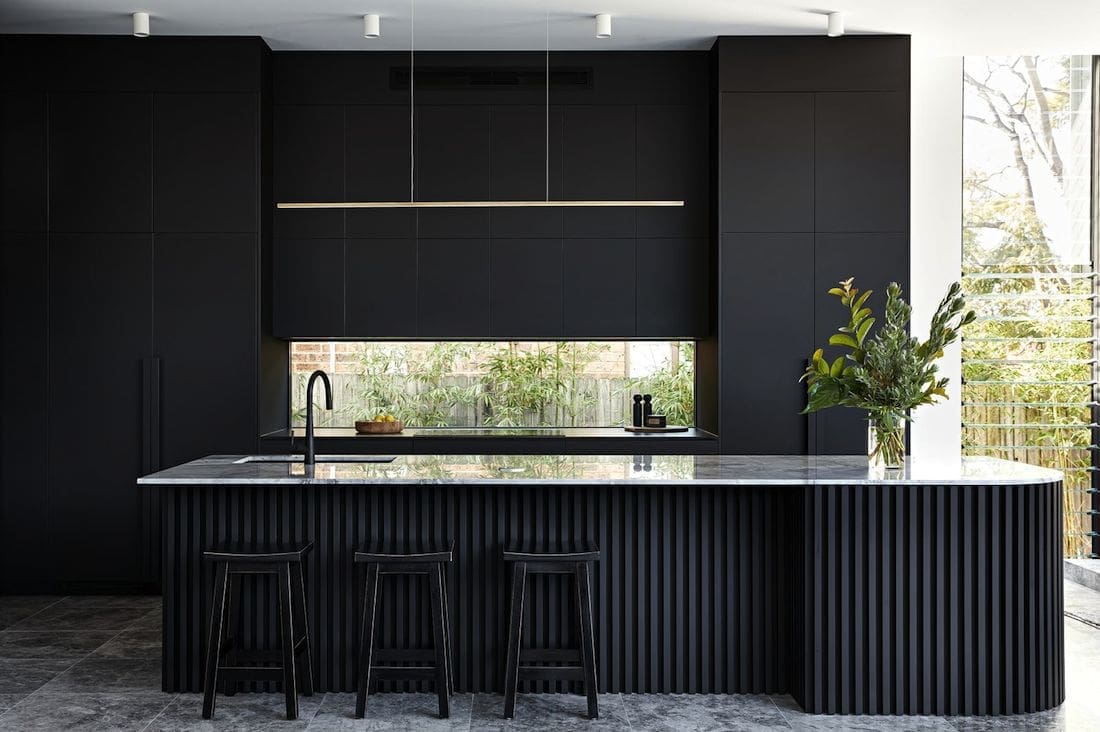 From straight, slick lines outside to soft curves inside, the Concord residence features a monochrome interior throughout the home.
"The basis of this home was to give it a monochrome interior. To prevent it from feeling cold and stark, we included airy high ceilings, reams of natural light and warm timbers to offset the cool marble flooring.
"Pops of colour can be found in the bathrooms and with the artwork and furnishings so it still has that homey feel. All the rooms feature floor to ceiling glass, looking out onto landscaped areas and rooftop gardens. This helps create a real connection to the outdoors.
"An absolute standout in this home is most definitely the downstairs powder room," says Karla proudly.
"It's finished in beautiful dogal marble and has a custom wall-to-wall super white marble basin with brushed gold tapware. The floor to ceiling window looks out to a beautiful feature tree, helping bring the outside in."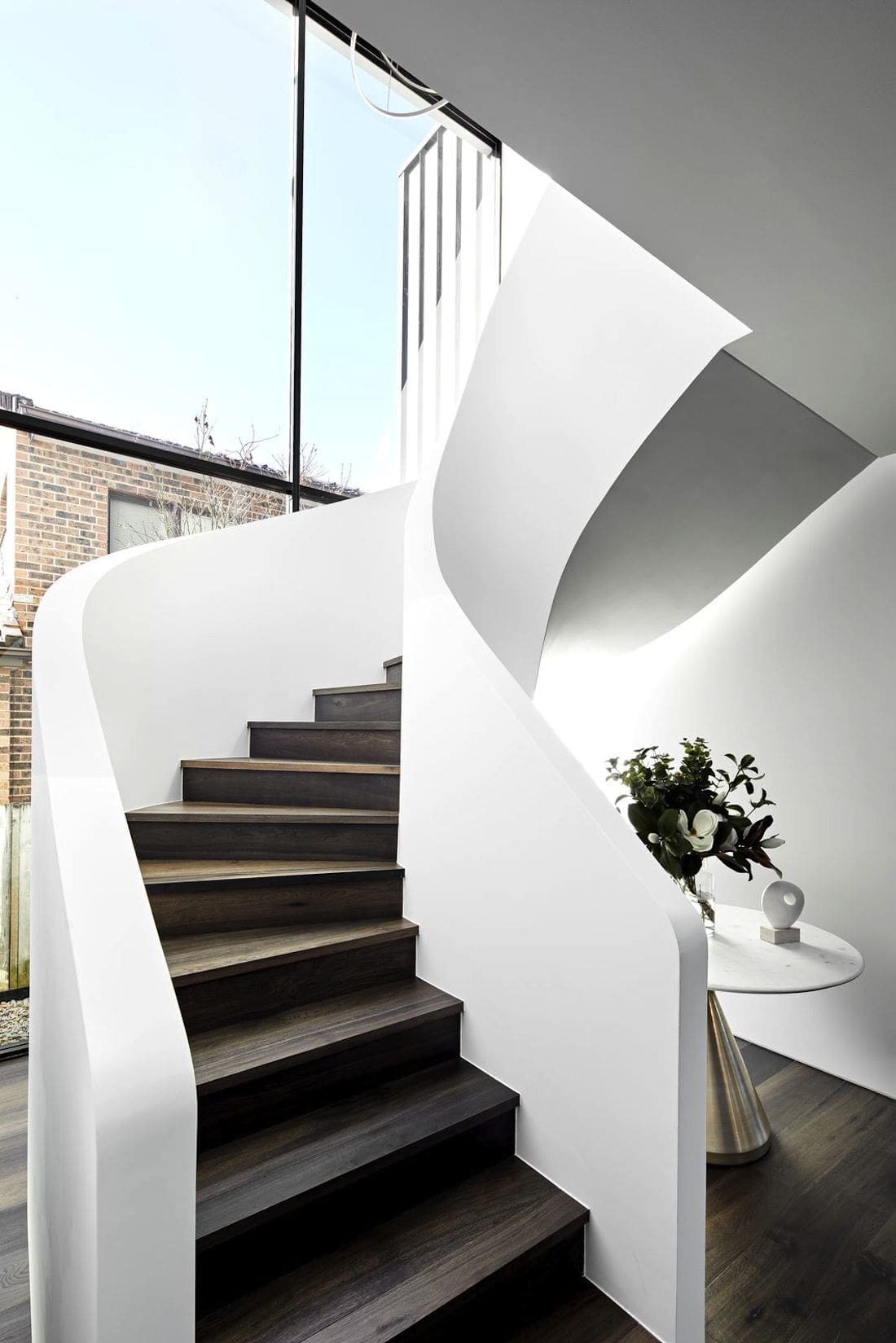 Upon entry, you're greeted with a grand, curved staircase — another stunning feature, but also a clever, yet necessary design.
"The curved staircase was a must for this build due to a super narrow block," Karla explains.
"We moved the entry door to the side allowing for a custom built 3m pivot door. This allows a larger opening to the foyer and greater viewing of the feature staircase."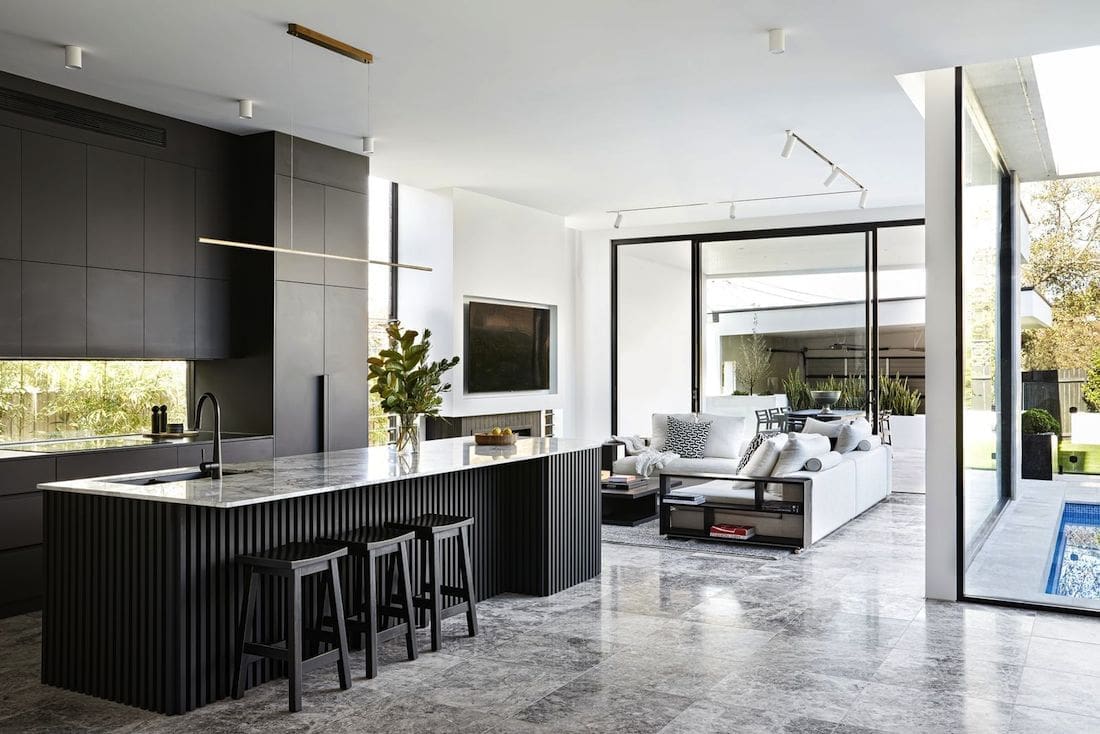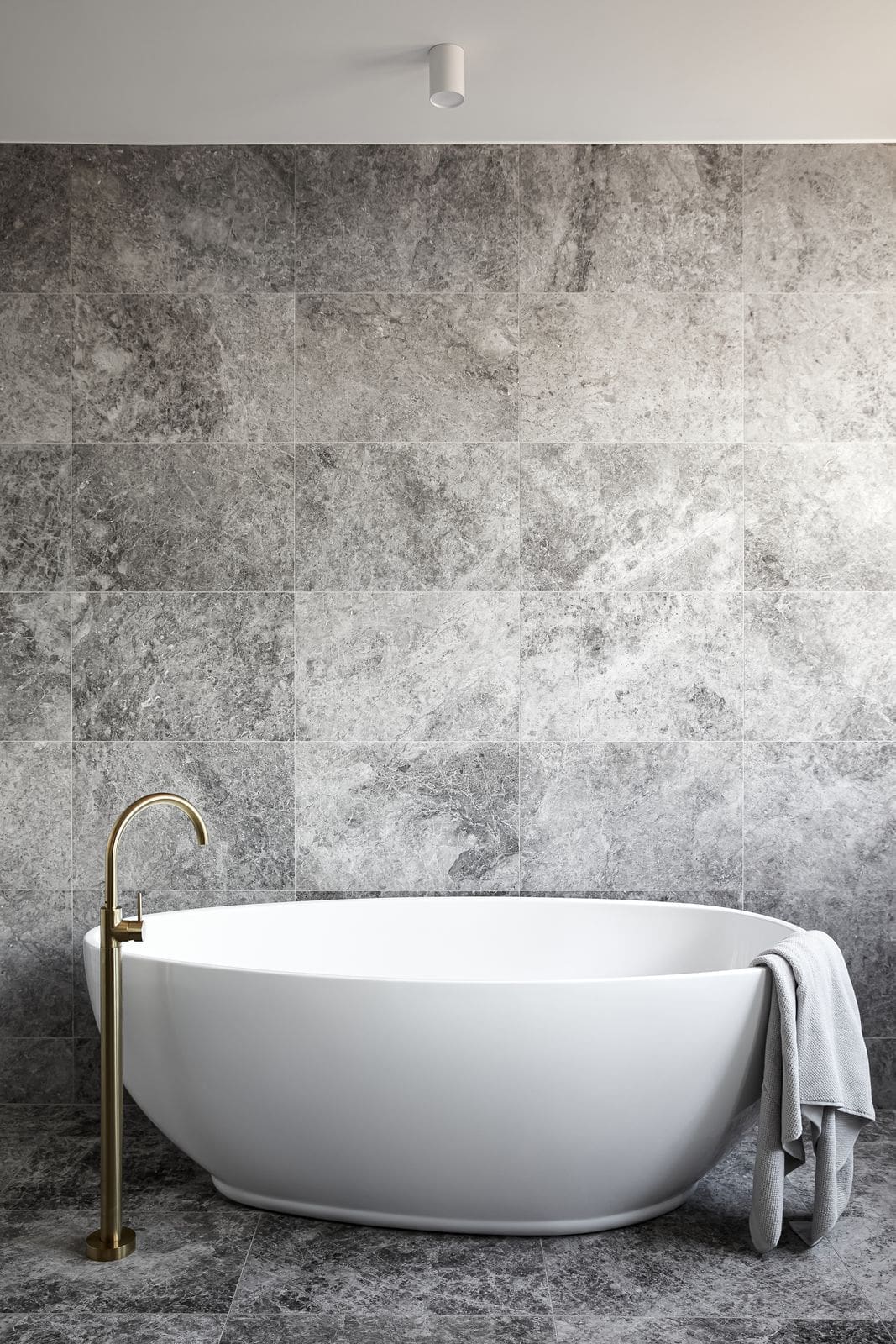 While the kitchen adheres to the sleek monochrome interior, the bathrooms continue the trend but with pops of fun colour scattered throughout.
"As with any house, the kitchen is the real focal point of this home," says Karla.
"We knew we wanted to design an all-black kitchen, but it still needed to be practical. The family have young children after all! So we went for Tesrol super clean in carbon, as it's fingerprint resistant and gives a perfect matte finish.
"We used feature slats on the underside of the curved island and finished it with a beautiful slab of super white dolomite stone. The colour comes through via the kitchen splashback which looks out over the garden, adding a pop of green and bringing a sense of warmth to the space.
"As for the bathrooms… well! They're pretty special!" she laughs.
"For the kids ensuites, we had for a bit more fun. They feature terrazzo flooring and kitkat feature tiles as well as fluted glass showerscreens and windows. Each has a fun, colourful sink too. A blue one for the boys and pink for the girls, although the rooms themselves are so beautiful, they can be be universally appreciated!
"The master ensuite uses more dogal marble with kitkat tiles and a contrasting grout. It's also got a stunning freestanding tub and his and hers vanities. I'm not gonna lie, we're incredibly proud of the bathrooms in this home, they're amazing!"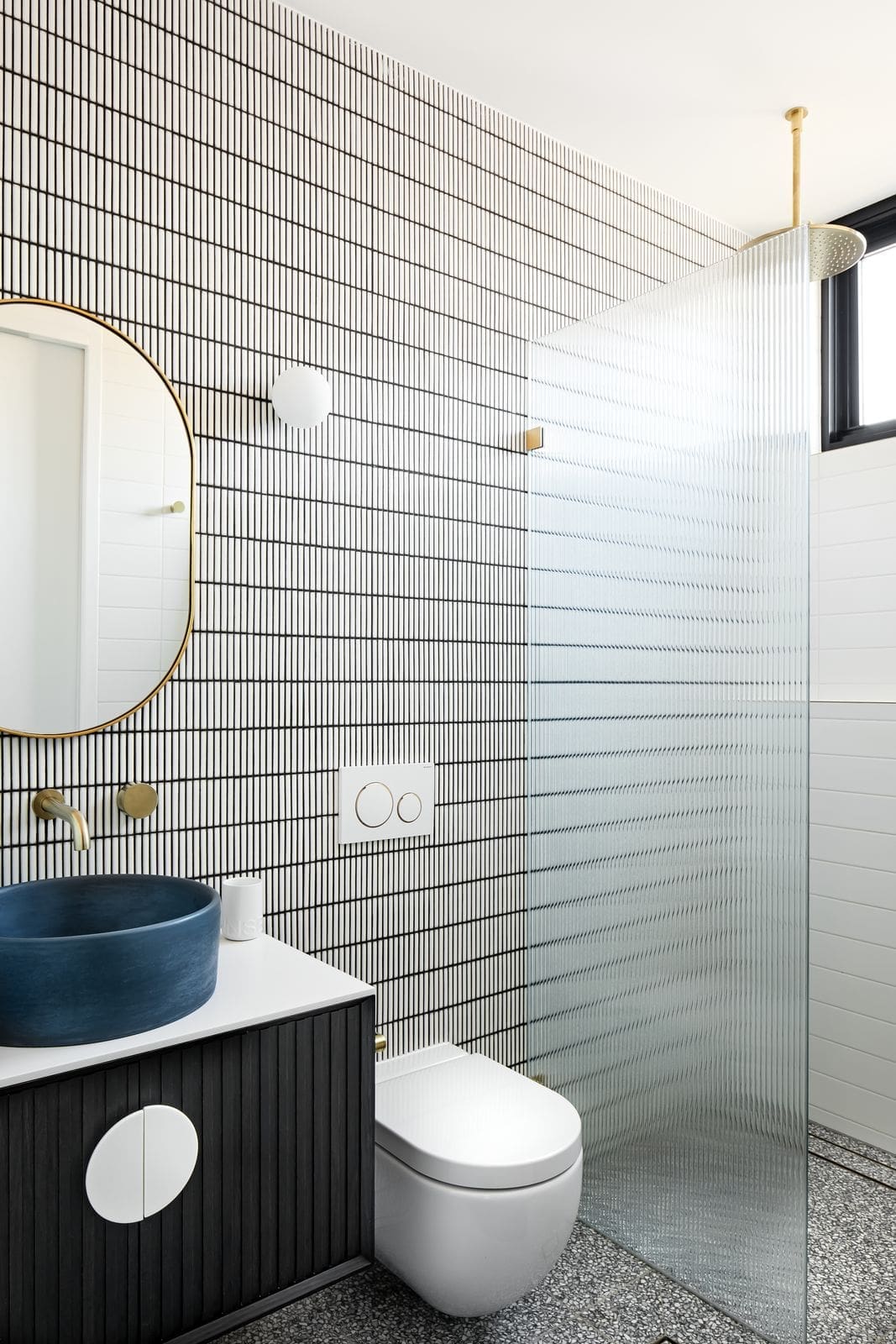 Wow… just… wow! We hope you loved taking a look around this home tour as much as we did. For more from Build Carp Constructions, take a look at their website. To view more of Karla's work, check out Noir Blanc Interiors on Instagram.
Has Concord residence inspired you to go for a monochrome interior? What was your favourite feature of this home? Tell us in the comment section below!
Photography — Ryan Linnegar
Builder — Build Carp Construction
Design — Habitat Housing
Kitchen and joinery — Vicello Kitchens
Landscaping — FCG Landscaping
Interior design — Noir Blanc Interiors