Curved walls are trending in a big way right now. But when they're done with purpose and as beautifully executed as in this house, it's really quite incredible. Come along with us on a tour of Turn House, with architect Rebecca Naughtin, who has taken curved walls to the next level in this incredible Victorian terrace extension.
Related article: The sleek and contemporary lines of Concrete House
Related article: A modern Australian home inspired by the elements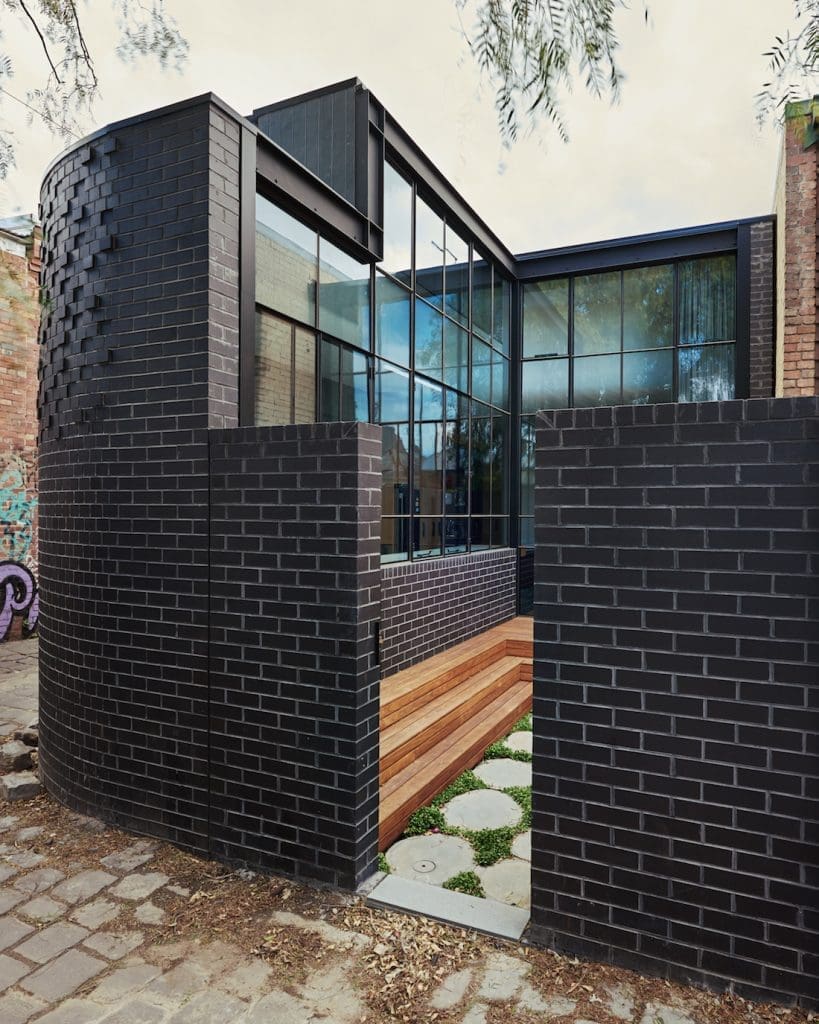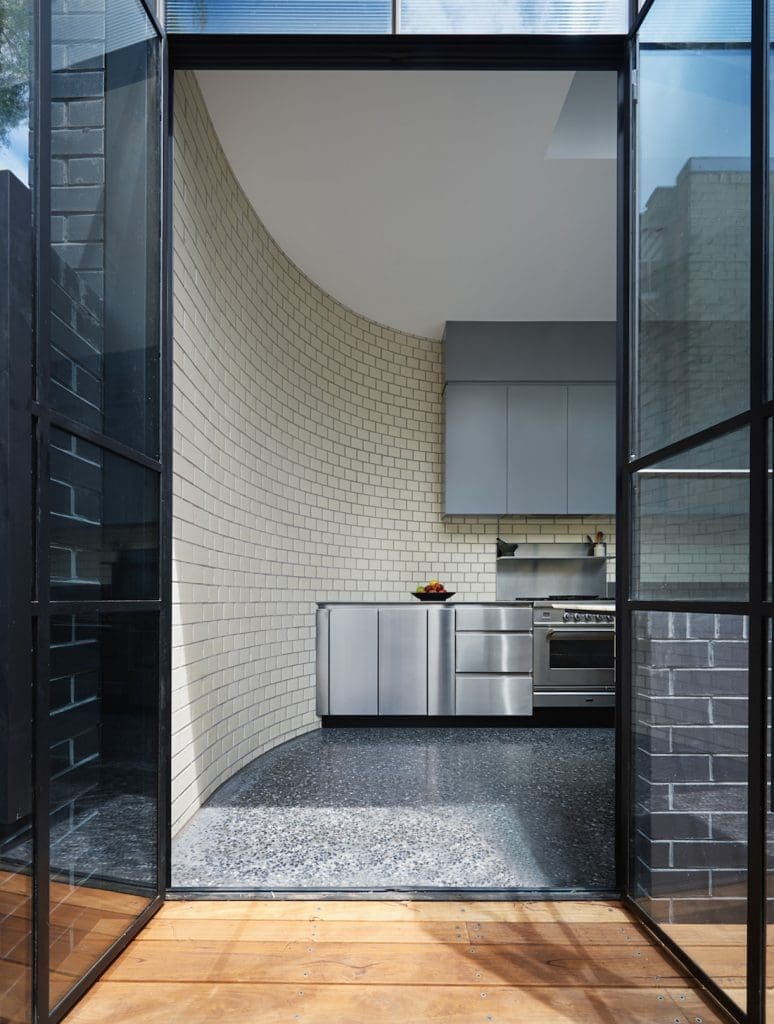 This modest Victorian terrace home in North Fitzroy proved to be quite the challenge for the owners when selecting the right architect.
"This is home to a couple who enjoy cooking and entertaining at home," explains Rebecca Naughtin, Director at Rebecca Naughtin Architect.
"They interviewed a number of architects for their renovation project, including some who suggested adding a first floor.
"I could feel that an additional level wasn't what they were looking for. The owners are two guys who don't have children, so I knew additional bedrooms and bathrooms weren't a priority.
"What they really love, is cooking and entertaining at home. This renovation wasn't about resale or maximising one's footprint.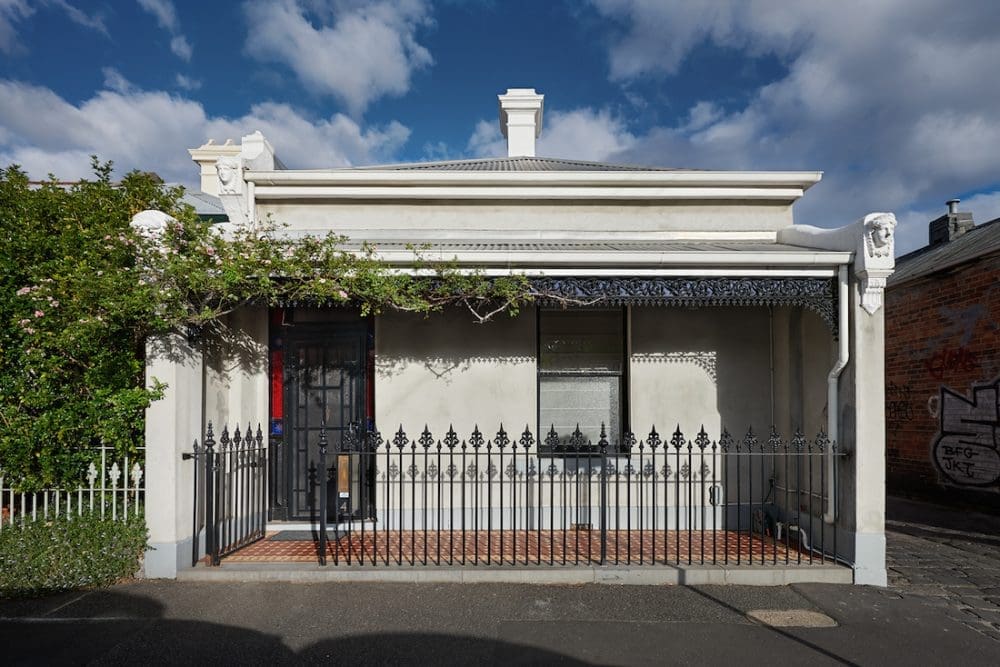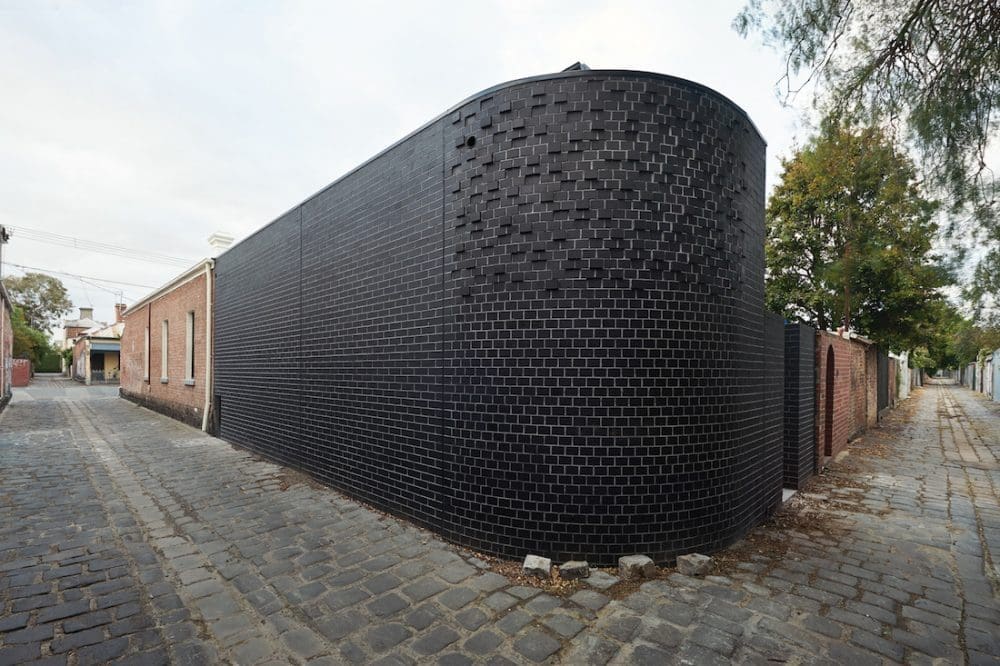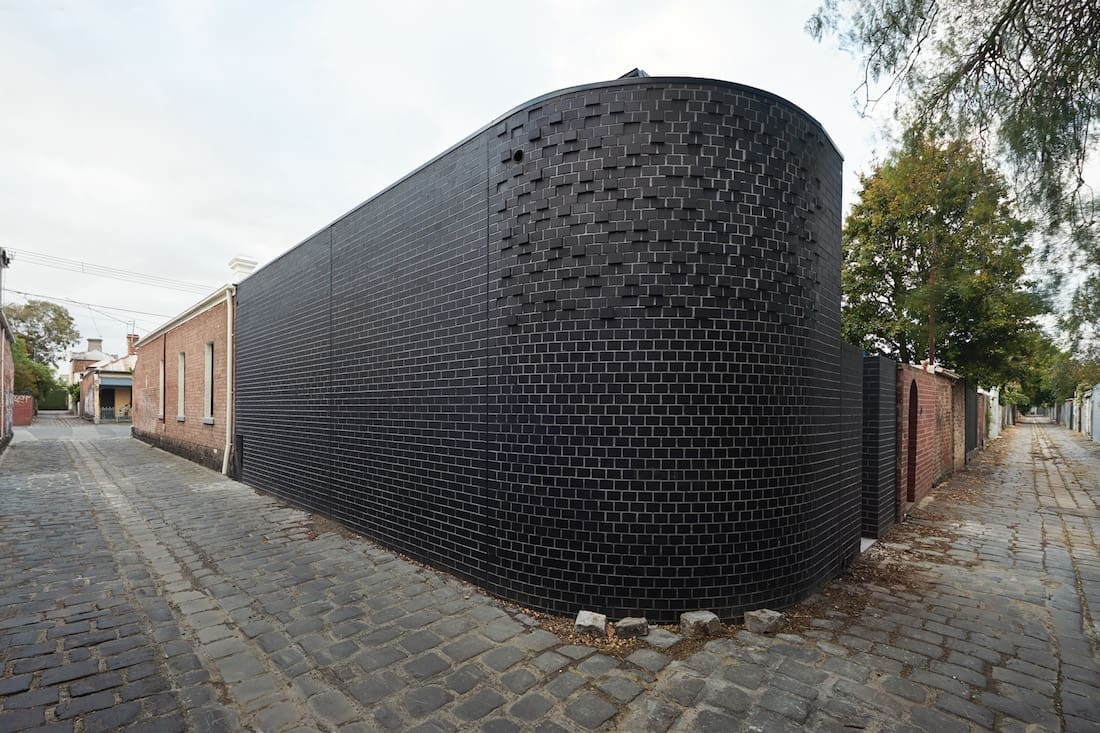 Turn House looks classic from the front, yet features a spectacular curved wall along the side.
"It's a single-fronted Victorian terrace typical to this area. The period wrought iron fence and scrollwork can be found in many of the neighbouring homes," Rebecca says.
"It's a single-storey property featuring 2 bedrooms, a bathroom with a European laundry, detached kitchen, living and dining room, and outdoor shed.
"What's quite unique about this home is the curve. The title curves, moving down the bluestone lane which is quite an anomaly in a subdivision.
"Following the curve felt natural, and helped maximise the property's footprint and create an existing interface for the laneway pedestrians.
"The curved brick wall encloses the northern courtyard and helps improves both the thermal and acoustic performance of the kitchen and living spaces.
"The black brickwork is a fun statement to the laneway. It challenges the other materials around it with its bold colour and pattern. Not just a challenge to look at, but a challenge to build!"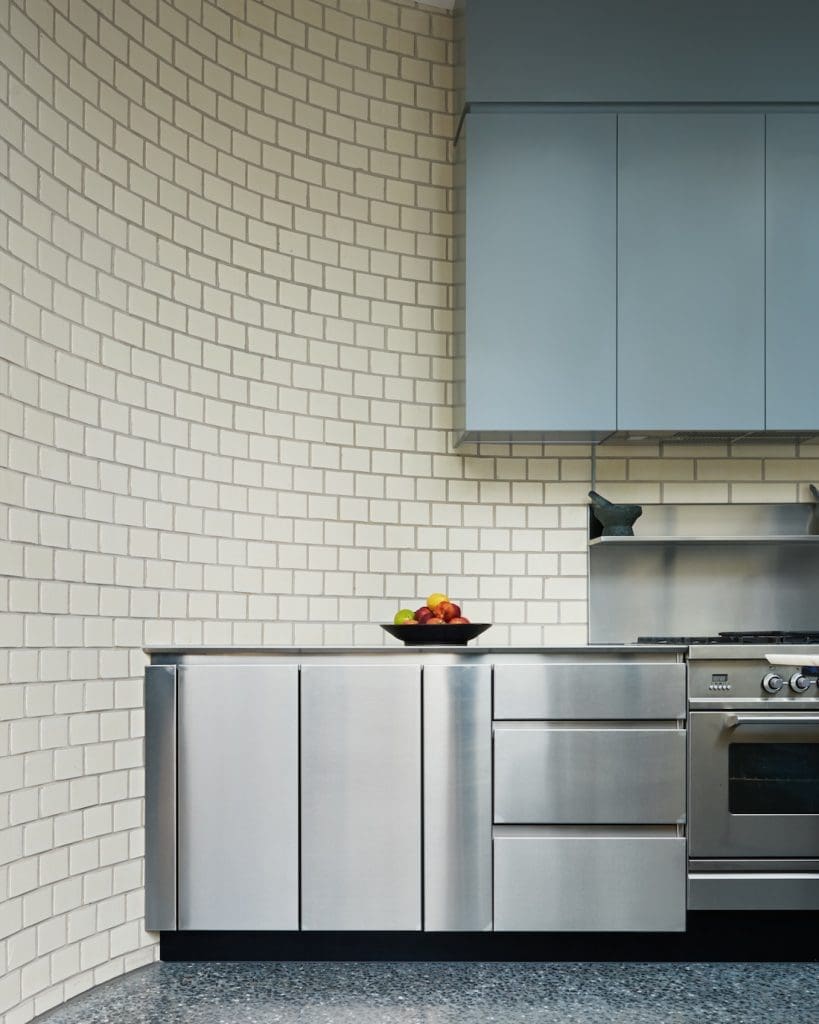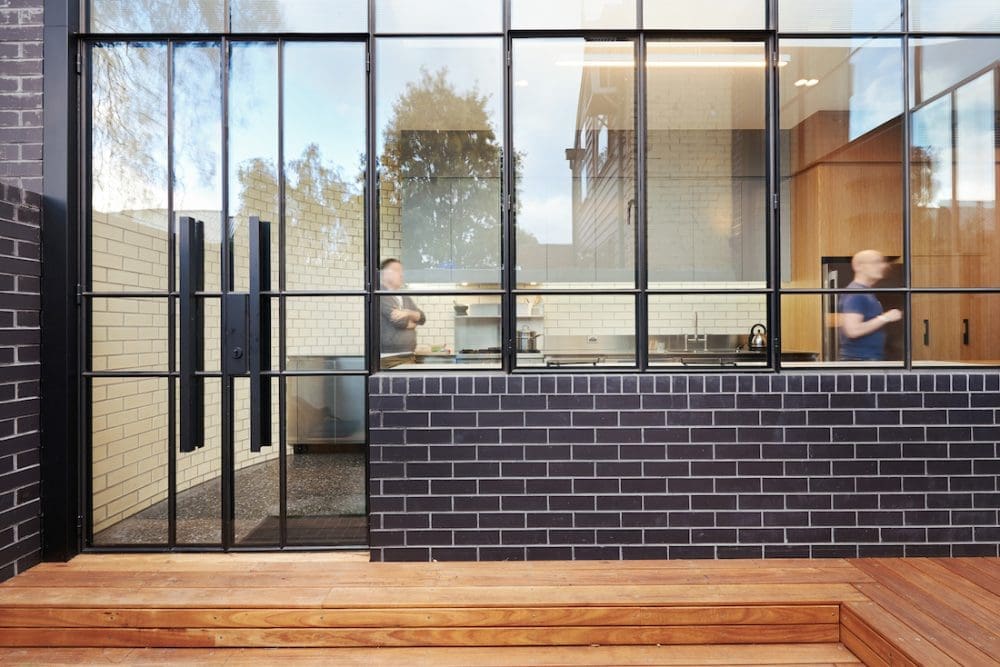 Then there's the kitchen. And it's not just any old kitchen!
"The brief for the kitchen was extensive and highly detailed," laughs Rebecca. "Before we began, I was handed a spreadsheet with all the kitchen utensils that needed to be accommodated… including every fork!
"One of the owners, is keen on sous-vide cuisine, while the other prefers making chocolates and pastry. So, on one side of the galley-style kitchen is stainless steel, while on the other is a long timber bench inset with marble. There's even a separate station for the coffee machine, fully plumbed.
"It's clear the kitchen is the homeowners domain. It's an area for them to prepare food, rather than to have people standing around an island bench and observing.
"Another wonderful feature is the almost 5-metre high steel and glass doors and windows. They absolutely flood the lounge and kitchen with light.
"They are partially curved to bring in light with double-glaze windows to purge hot air during the warmer months via the automated highlight celestial windows. And on warmer days, the canteen-style steel windows allow meals to be served on the terraced deck with built-in seating.
"At night the glazing illuminates the home. It's really something quite special."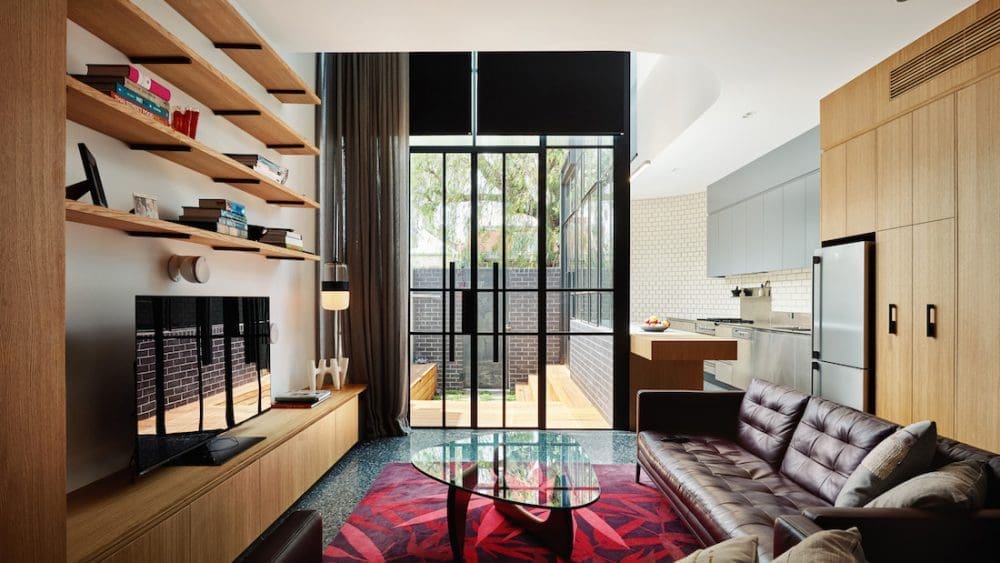 Clearly able to make an odd boundary into a standout feature, we asked Rebecca her top tips for renovating on an awkward or unusual block.
"Embrace the awkward!" she says.
"Think of it as a challenge that makes the site exciting and not a constraint.
"It's important to understand all the characteristics of the site, such as existing structures and utilities. Enlist the help of an experienced, responsive consultant team who will help with any challenges your project may bring.
"Be sure to have a decent contingency budget, and finally, don't let the site stop you from following best practice for building orientation."
We loved taking a turn about Turn House and hearing how Rebecca embraced such a challenging project. To see more from Rebecca Naughtin Architect, visit their website or take a look at their Instagram page.
Credits
Structural engineer — AMA Consulting Engineers
Builder — Clancy Constructions
Photography — Daniel Fuge
Cabinetry — Fine Form Joinery