Supported by Canberra Outlet
Just about everyone is feeling the pinch right now. Cost of living is at an all-time high… but I don't think that should mean your home should suffer! Cost effective home decorating hacks can sprinkle moments of luxury around your home without breaking your budget.
Today I'm sharing 5 of my fave affordable home styling tricks thanks to Canberra Outlet. Let me know which one you'll try first or add your own cheap decorating ideas in the comments below!
Related article: Autumn home decor trends 2023: The colours and looks defining this season
Related article: Before and after: A dated living room gets a dramatic makeover with Canberra Outlet
1. Level up your diffuser by using a stylish vase instead
For a while we've seen people ditch hand soap or shampoo bottles in favour of unbranded or ceramic options… but have you seen anyone put their home diffuser into a vase?
While home diffusers are a lot more stylish these days, I love this idea even more! I bought this vase from Adairs and simply transferred an existing diffuser into it.
With the huge range of vases on the market now, you'll be able to find the perfect small vase or ceramic vessel to level up your home diffuser. Now that's a simple home hack!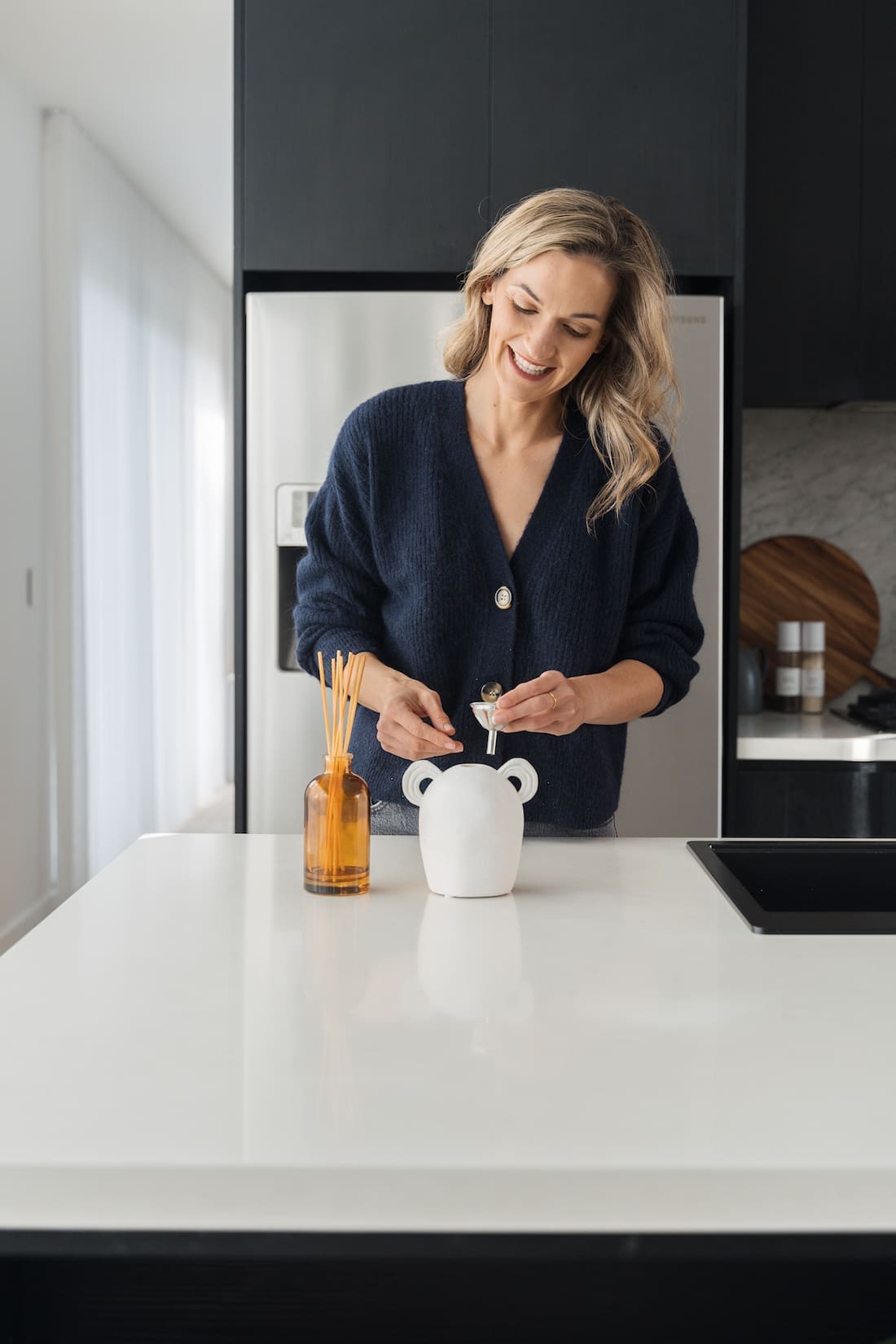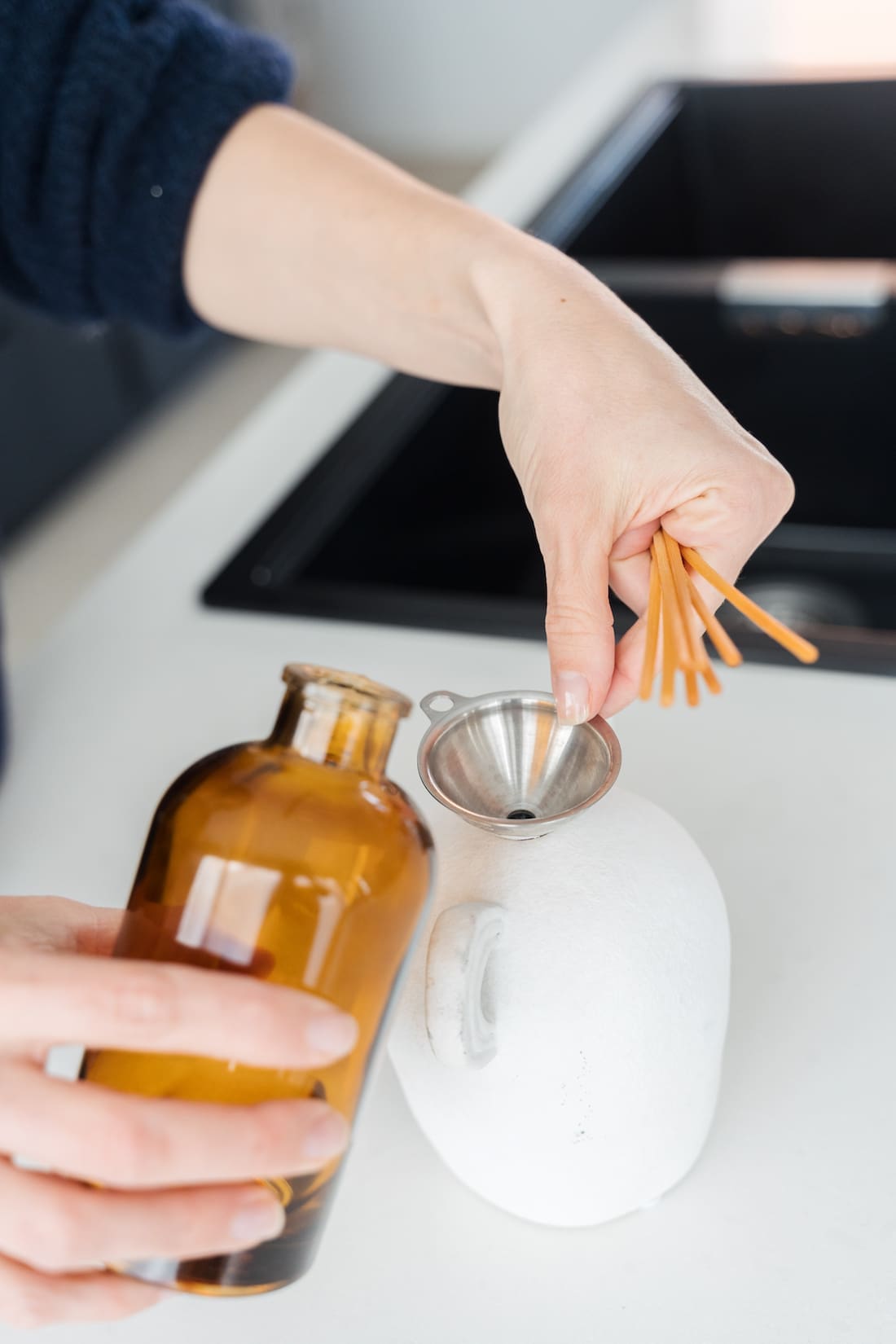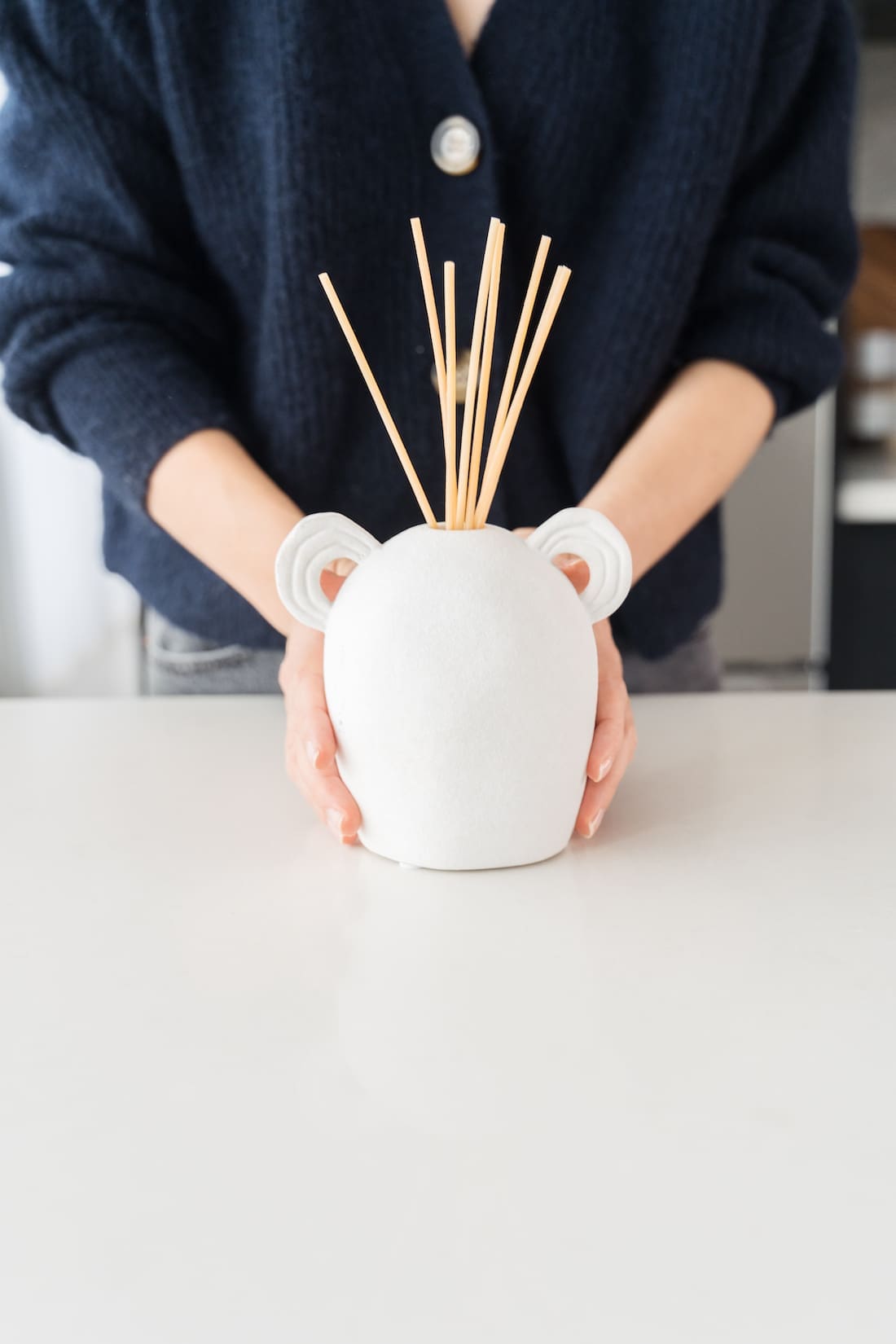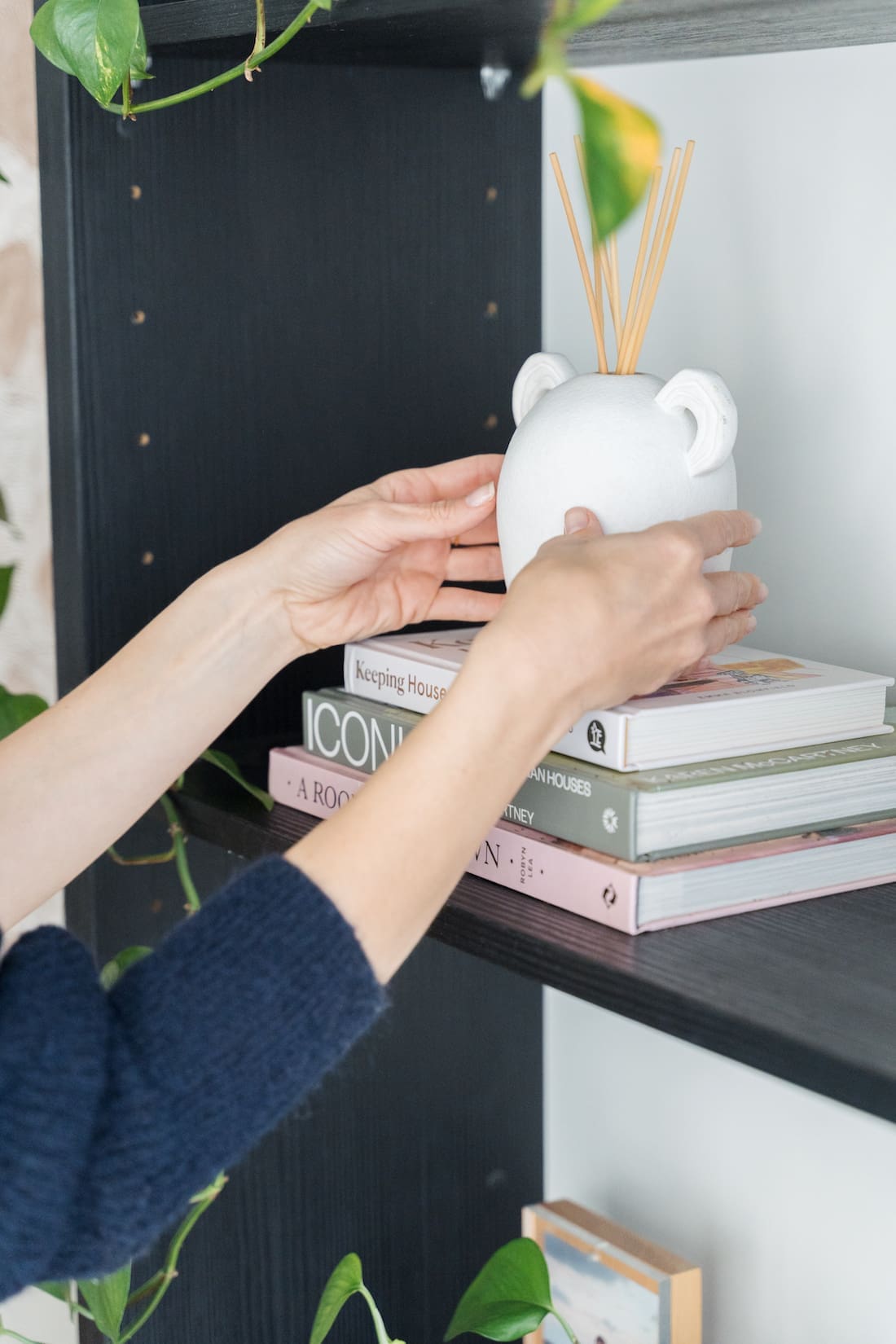 2. Take your cushions from flat to fabulous
One of my favourite cost-effective home styling tricks is to transform your space with cushions. Three to five new cushions on your sofa (depending on size) can give it a whole new look. And to take this up a notch, switch out the basic polyester fill with a feather insert.
Cushions with a feather insert create a fuller and more luxurious look, while also being more comfortable as they mould to your body.
I used this trick on this gorgeous textured cushion I bought from TK Maxx and turned a $30 cushion into one that looks 3 times the price! With cushions starting from $10 at Canberra Outlet, you can afford to treat yourself.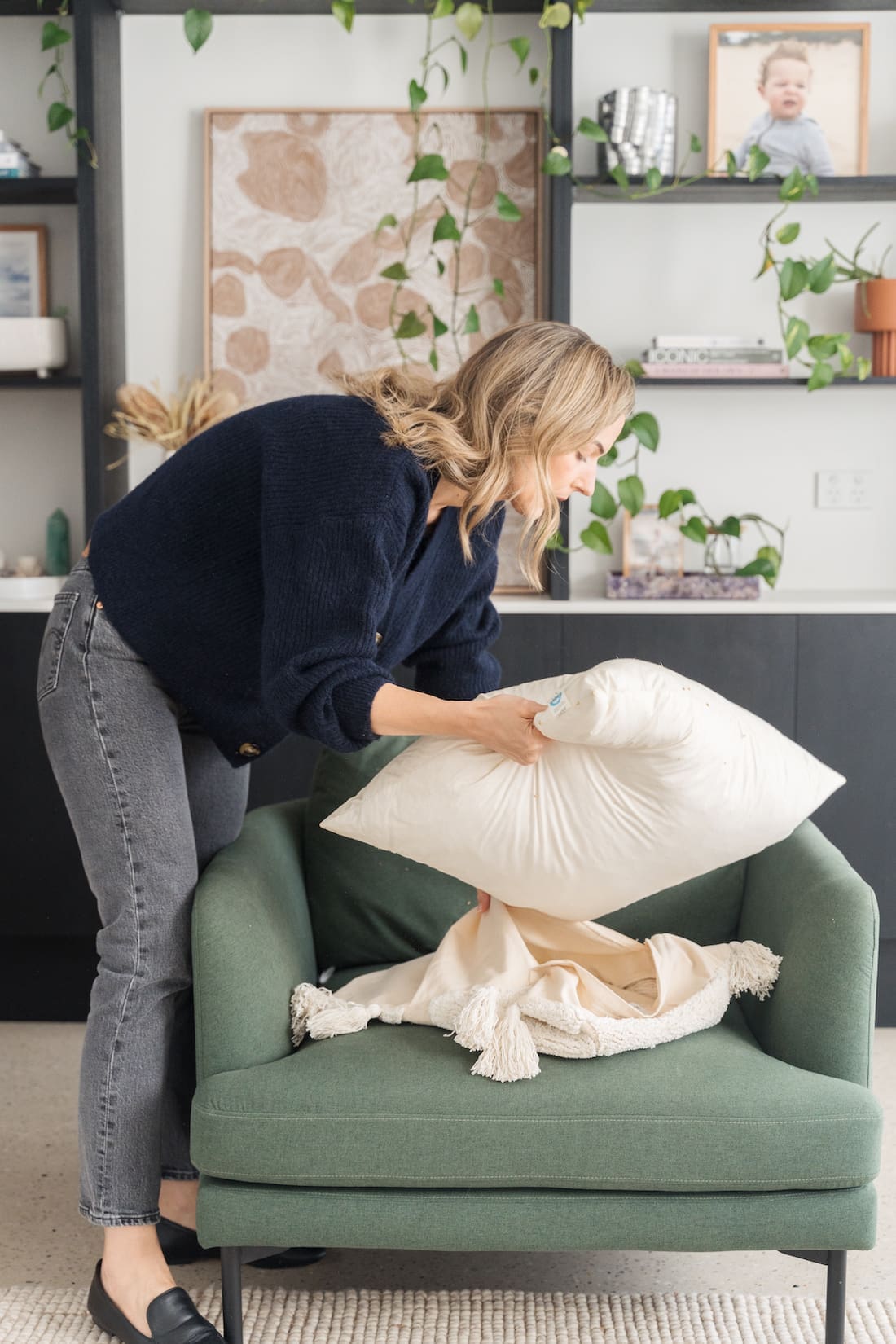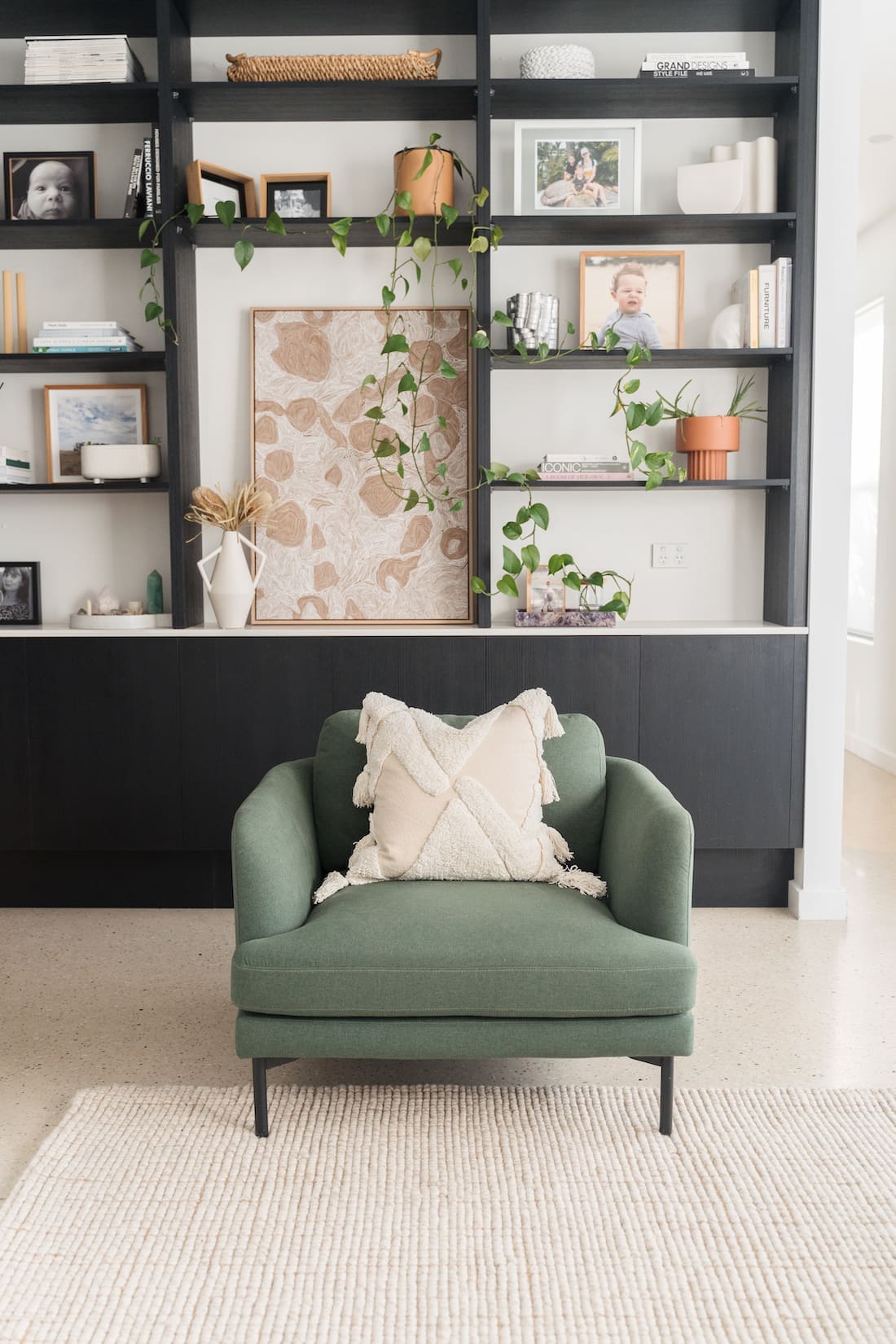 3. Use a cutting board as a stylish tray
A great hack is all about using something that was intended for one purpose for something else… and generally, a cutting board or cheese board is far more affordable than a decorative tray — even if they look almost identical!
I love to use trays around the home as the starting base to style a vignette. They are the perfect way to anchor small, styled arrangements. From soaps and a candle on your bathroom vanity, to coasters and salt and pepper shakers on your dining table, placing these objects on a tray will immediately elevate your styling.
So if you're on the hunt for a stylish tray, my tip is to look in the kitchen aisles at the cheeseboard and cutting boards. You'll find a huge range of shapes and styles to choose from and at a much friendlier price point.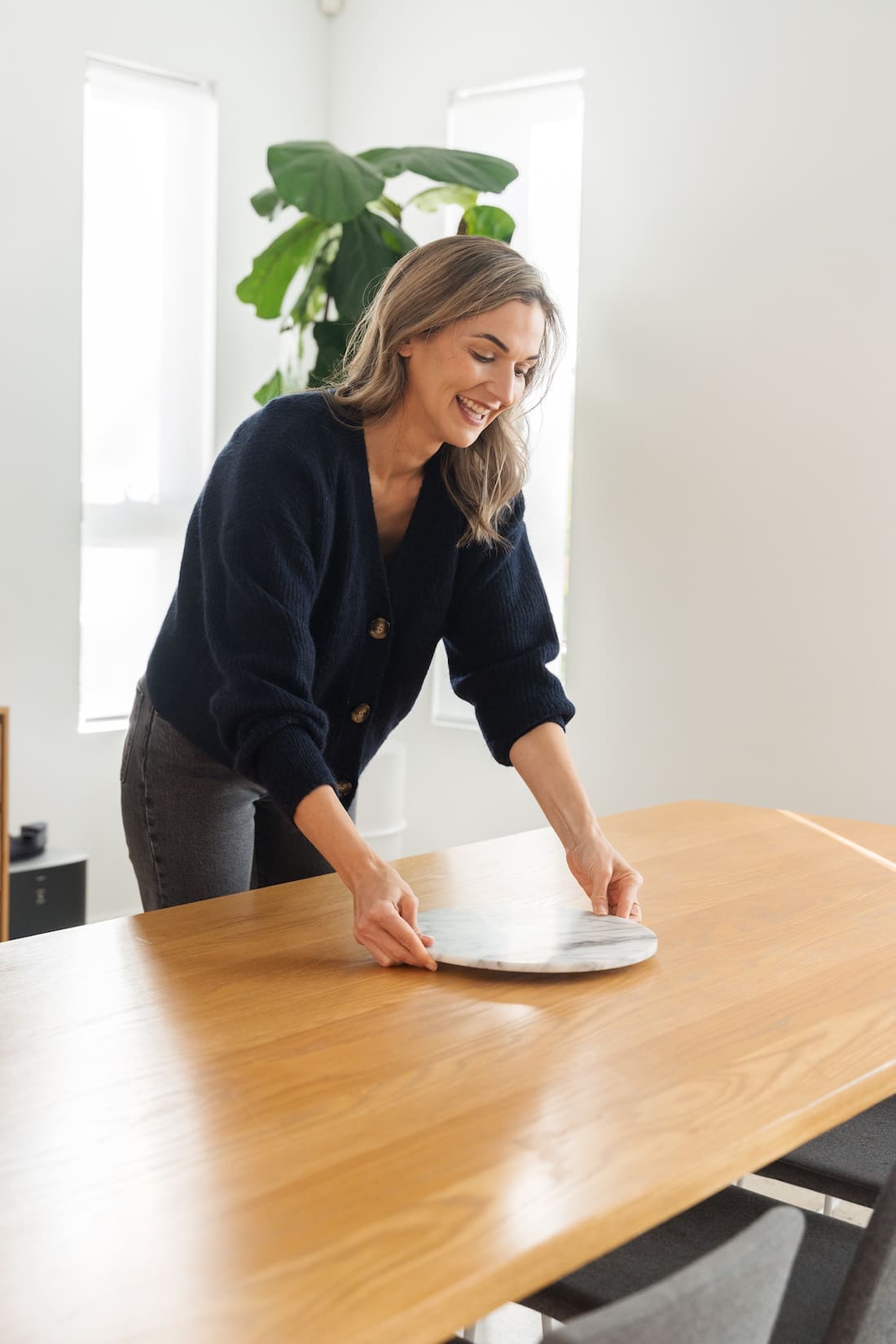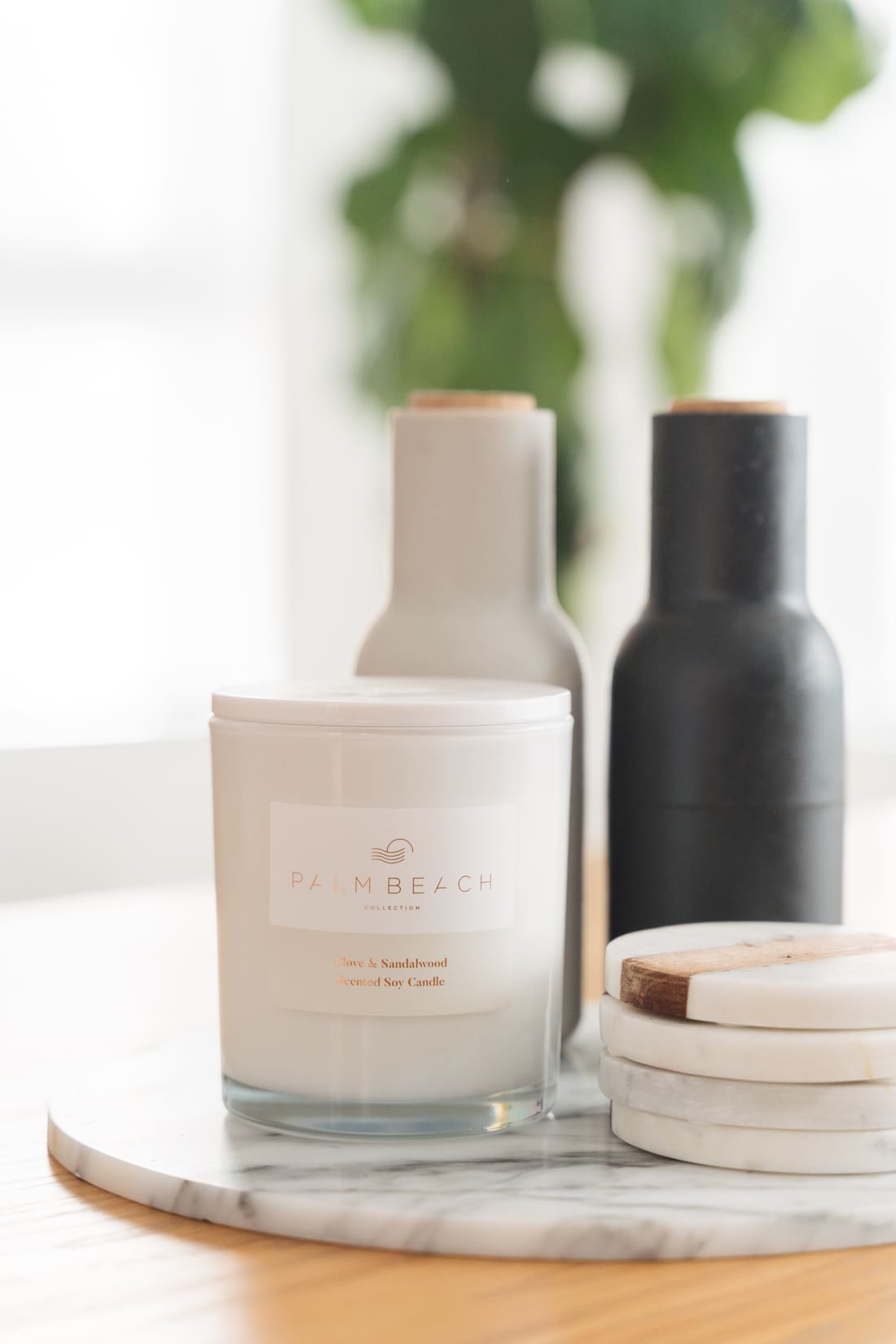 4. Use a high-quality frame to turn anything into expensive looking art
With a high-quality frame, like this one I bought from Adairs, you can put just about anything inside and create the illusion of luxe large-scale wall art.
Popular ideas to create affordable wall art:
Posters: sounds obvious but posters are no longer cliche sport star or celebrity pics! Many companies are collaborating with artists to offer photographic or abstract prints at accessible prices. Do some googling and thank me later!
Textiles: from tea towels to quilt covers, people are getting creative and putting all sorts of textiles behind glass to create their own version of wall art. Might be time to riffle through your cupboards to see what gems you could already have in your home
DIY: we all saw the plaster-effect wall art trend that took over last year and it's still going strong. Yet there are many other DIY ideas you could use to create your own luxe wall art. For example, you could try your own photography and edit it in a cool way to suit your home's aesthetic.
There's also a new crumbled paper wall art trend that's emerging. Hack your own by crumpling a piece of brown craft paper (sold for about $2 a roll in discount stores) and place it in your frame. The texture of the paper creates an artsy vibe that you've got to try before you diss.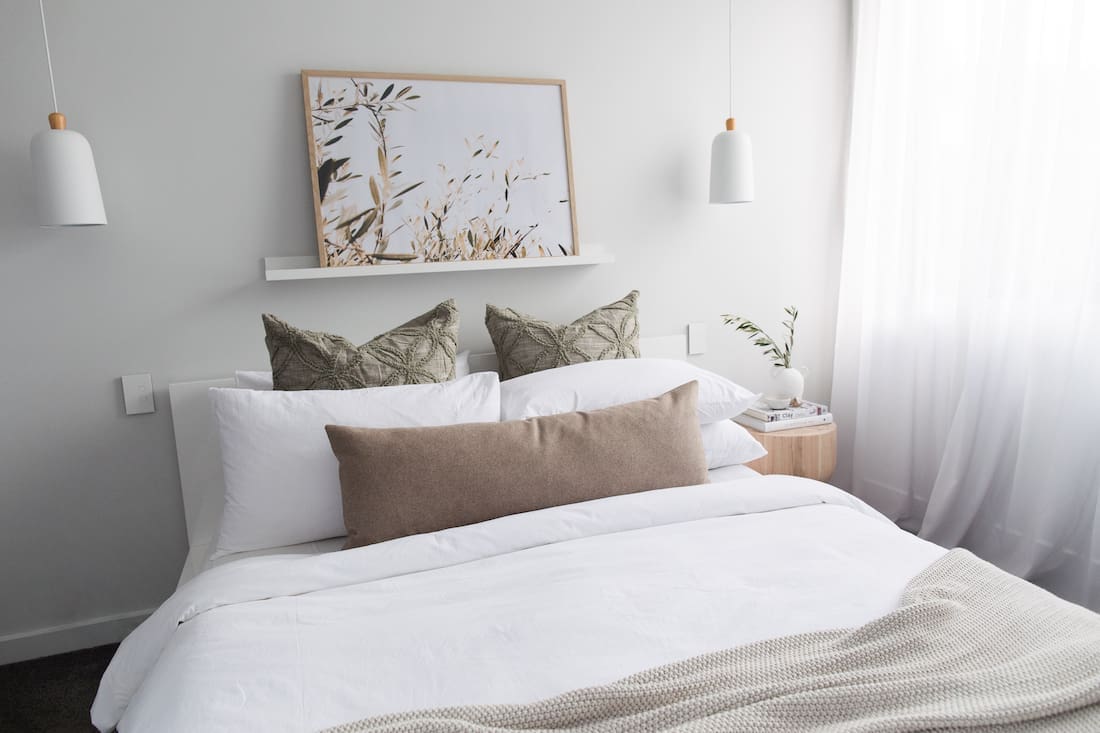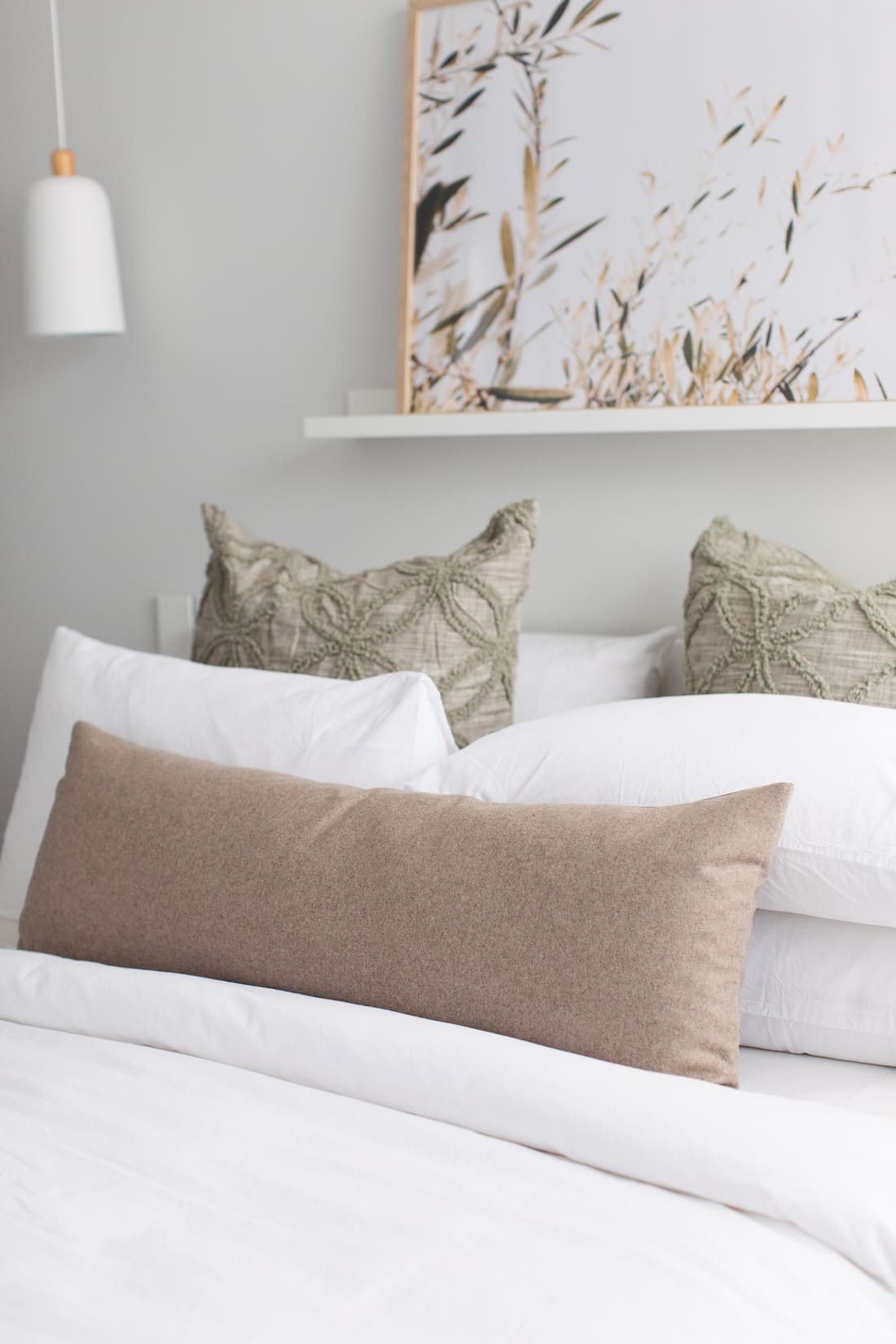 5. Use decor as bookends
Finally, a home decorating hack to elevate any bookshelf styling is to use objects of decor as bookends. With ceramic vases and small decor starting from around $15, these are not only more affordable than most bookends but can also add greater interest to your space.
I adore this faux coral bowl I bought from Freedom for under $30. It's a decor piece, a book end, and a functional bowl all in one.
Consider this interior design on a budget trick next time you go shopping and see home decor in a whole new light.
I hope these luxe for less home decorating ideas inspire you. What other cost-effective home decorating hacks have you come across? I'd love you to share them in the comments below!